Once Abandoned, Grand Old Buildings Are Now At the Forefront of Modern Architecture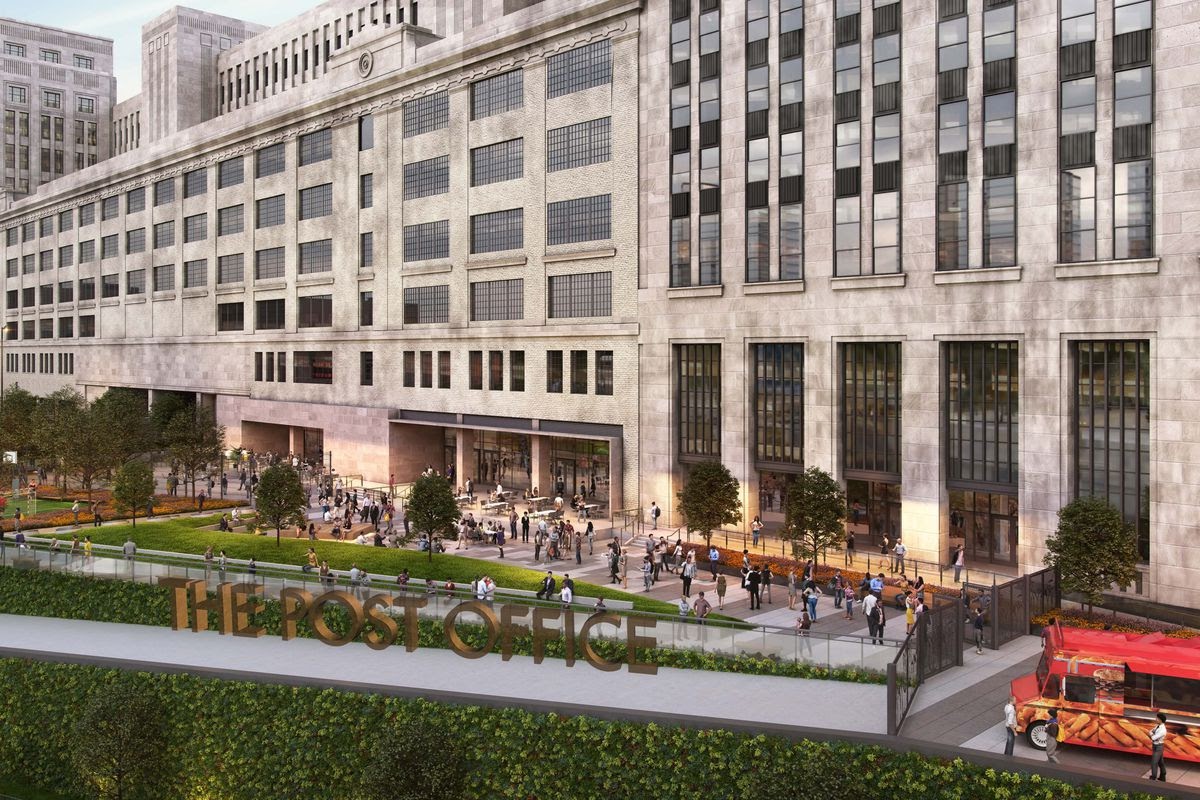 Photo by Gensler
Turn-of-the-century post offices in major urban centres are among America's most architecturally significant buildings. But, as the postal industry waned with the advent of electronic communication, the remarkable buildings these institutions often inhabited were often vacated and abandoned.
Such was the case with the Old Chicago Post Office: The Beaux Art splendor was designed by Graham, Anderson, Probst & White. The original portion was completed in 1921 as a brick-side post terminal. By the time of a 1932 expansion that saw it grow to 2.8 million-square-feet, the new addition with a new INDIANA LIMESTONE™ clad exterior, it was America's largest post office.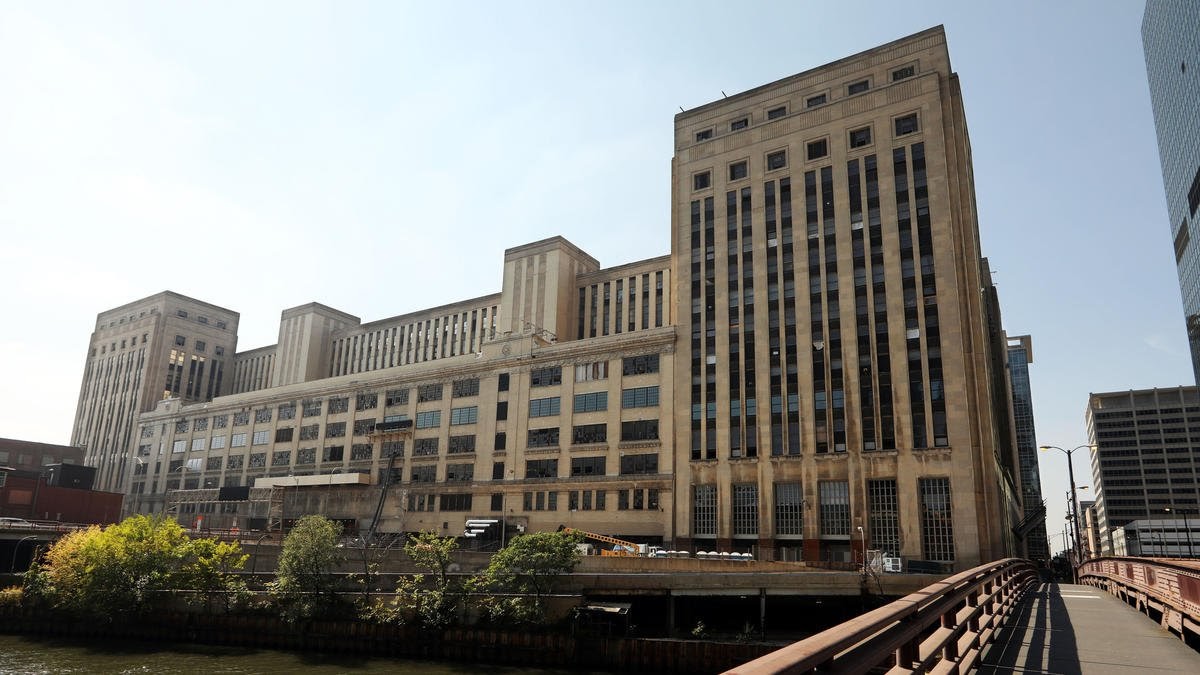 Photo by Gensler. With its 1932 expansion, the Old Chicago Post Office, with its Indiana Limestone exterior, was America's largest post office.
In recent years, despite its Chicago landmark designation, the beautiful building was left for dead, with non-functioning elevators and derelict fixtures being just a few of its host of issues.
Chicago's Old Post Office was recently repurposed in what could be called a model of historically sensitive adaptive reuse. Adaptive reuse is the resourceful alternative to demolition in which sturdy, iconic and cherished old buildings are repurposed and modernized in-line with today's social and technological needs, while preserving its magnificent original historic details. Not to mention keeping a city's original design intent, and skyline, intact.
After sitting vacant for two decades it was bought in 2014 by English real estate developer Bill Davies who resold it two years later. The new owners saw the potential for a historically minded, yet technologically forward repurposing of the building. New York-based 601W Cos and the Chicago branch of international firm Gensler Architects, helmed the project, with Gensler's Sheryl Schulze overseeing the many players involved. The Old Post Office became the largest adaptive reuse project in the nation.
"It takes a lot of collaboration and becoming really good friends with the people you're working with," Schulze told Chicago Magazine. "Being a highly complex project with a huge lift and short amount of time to address safety concerns, we had some people who were automatically on the front lines while we figured out the best way to approach individual efforts and assign dedicated teams."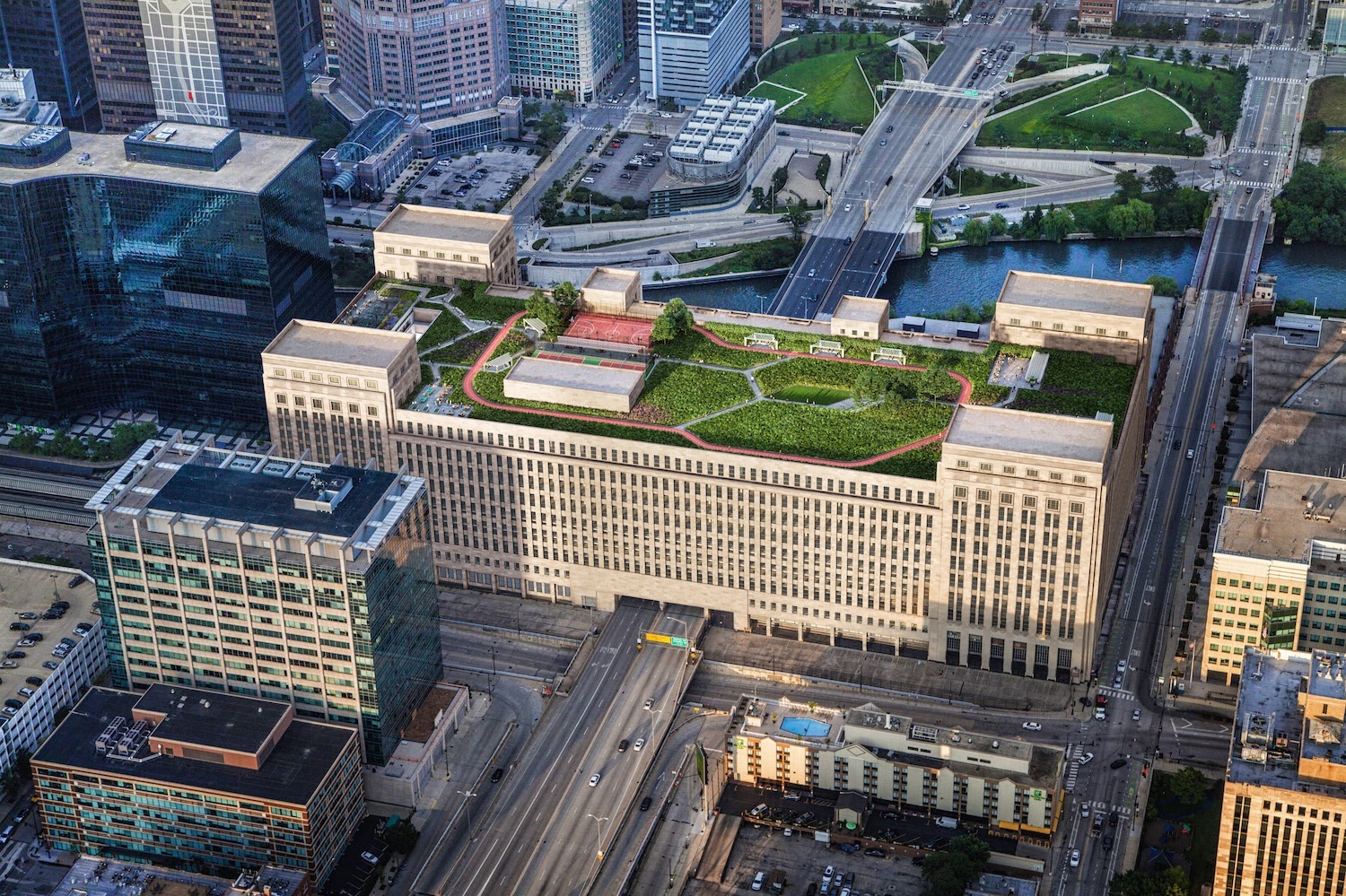 Photo by Gensler. Chicago's Old Post Office was recently repurposed in what could be called a model of historically sensitive adaptive reuse.
WJE, the Illinois engineering architectural firm, was among the key players working with Gensler on the project to develop cost-effective solutions that were also sensitive to the historical fabric of the building. This started with facade rehabilitation which included retaining the original Indiana Limestone facade and blending it with new cut-to-size slabs from 100 years later, sourced from the same Polycor quarry that supplied the original construction.]
LEARN MORE ABOUT STONE FACADE SYSTEMS
"Repair of the masonry facade was conducted using a design-build approach," WJE stated. Regal Cut Stone of Chicago fabricated the stone. Company president Gary Gofron said: "With a little effort we were able to match the existing limestone that was made 99 years ago." About the limestone from Polycor's Indiana quarries, Gofron said: "It's timeless. It holds up very well, better than any other material. The match is better than with any other stone I know of."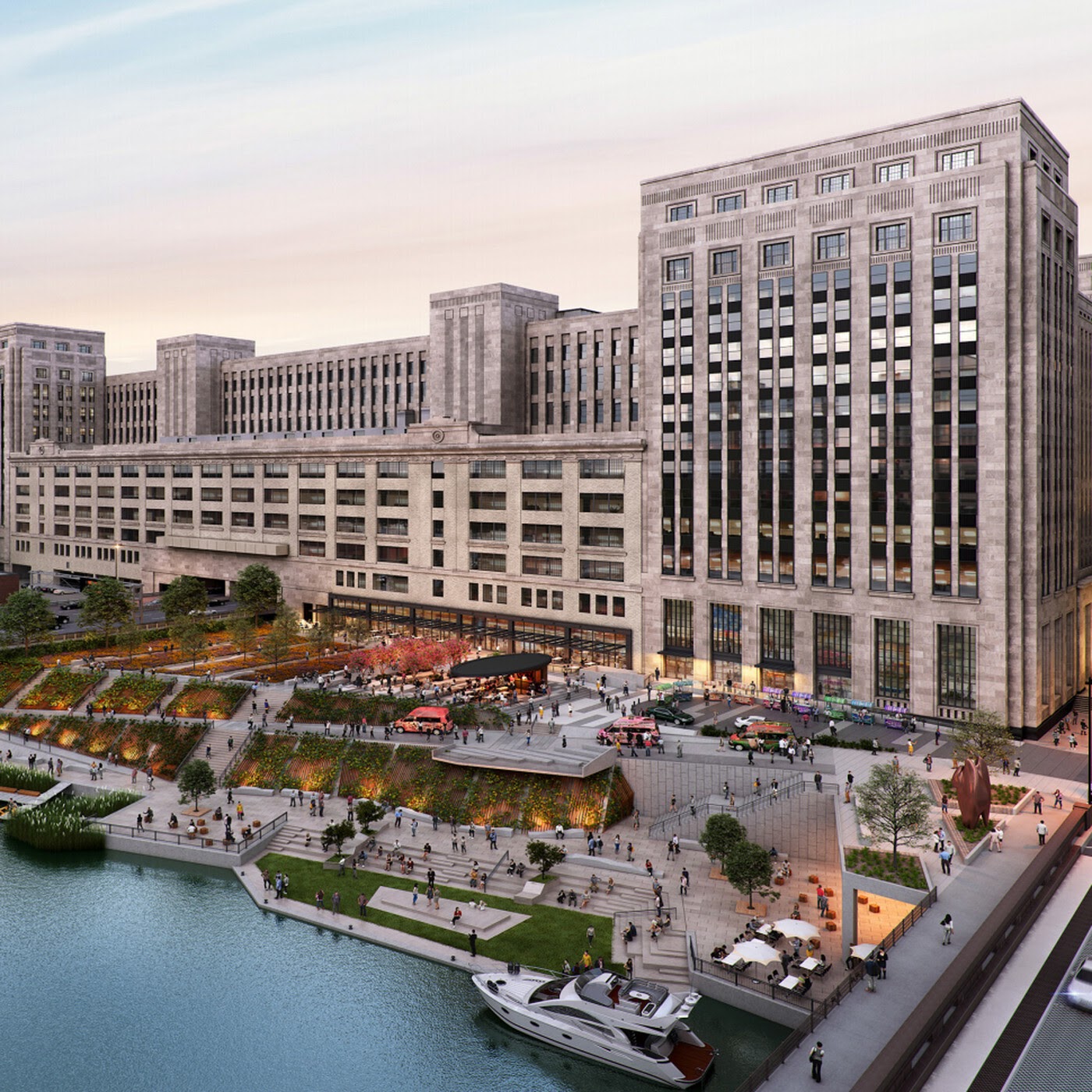 Photo by Gensler. The Post Office's new facade retains the original Indiana Limestone facade and blends it with new cut-to-size slabs.
Original mosaic tile floor, bronze entry doors, and marble walls are some of the other charming, distinguishing Art Deco details of the building that were kept.
Gensler documented all these features as well as vintage equipment from the post office, including mail chutes and scales. Besides drawing inspiration from these old items, Gensler looked forward when conceiving the design including tenant lounges and amenity spaces, now sought-after features in office buildings. A large second floor space became The Library, a place for tenants to go for some quiet time during the day: It transforms into a lovely event space at night. Another open area that features exposed columns and globe accent lights was repurposed into a work space and cafeteria.
The architects and developers also pursued LEED certification for the project. They replaced 2,000 windows with new, energy efficient IG windows that profile the original window's design. A multi-acre green rooftop and tenant deck were created and have become one of the old building's new defining features.
The $800 million project was completed in three years, a more than respectable time for a project of its scope. It opened at the end of 2019 with high profile companies such as PepsiCo, Ferrara Candy, Uber and Walgreens on the tenant list.
Adaptive Means sustainable
While building cranes dot cities' skylines, increasingly architects and developers are realizing that bold doesn't have to mean new. What we're seeing today is appreciation for a building that tells a great story. And, beyond our admiration of the exceptional architectural details, masonry and heritage materials associated with historic buildings, architects and developers are also understanding that adaptive reuse is very often the more environmentally or economically sound solution.
Besides being one of the most interesting ways to grow a city—while connecting its past and its future—adaptive reuse is also one of the most sustainable ways to build. It cuts into fractions the amount of emissions resulting from demolition, waste, and other aspects of using and building with new material. A recent U.S. Environmental Protection Agency report found that building-related construction and demolition debris account for 26% of all non-industrial waste generated in the United States.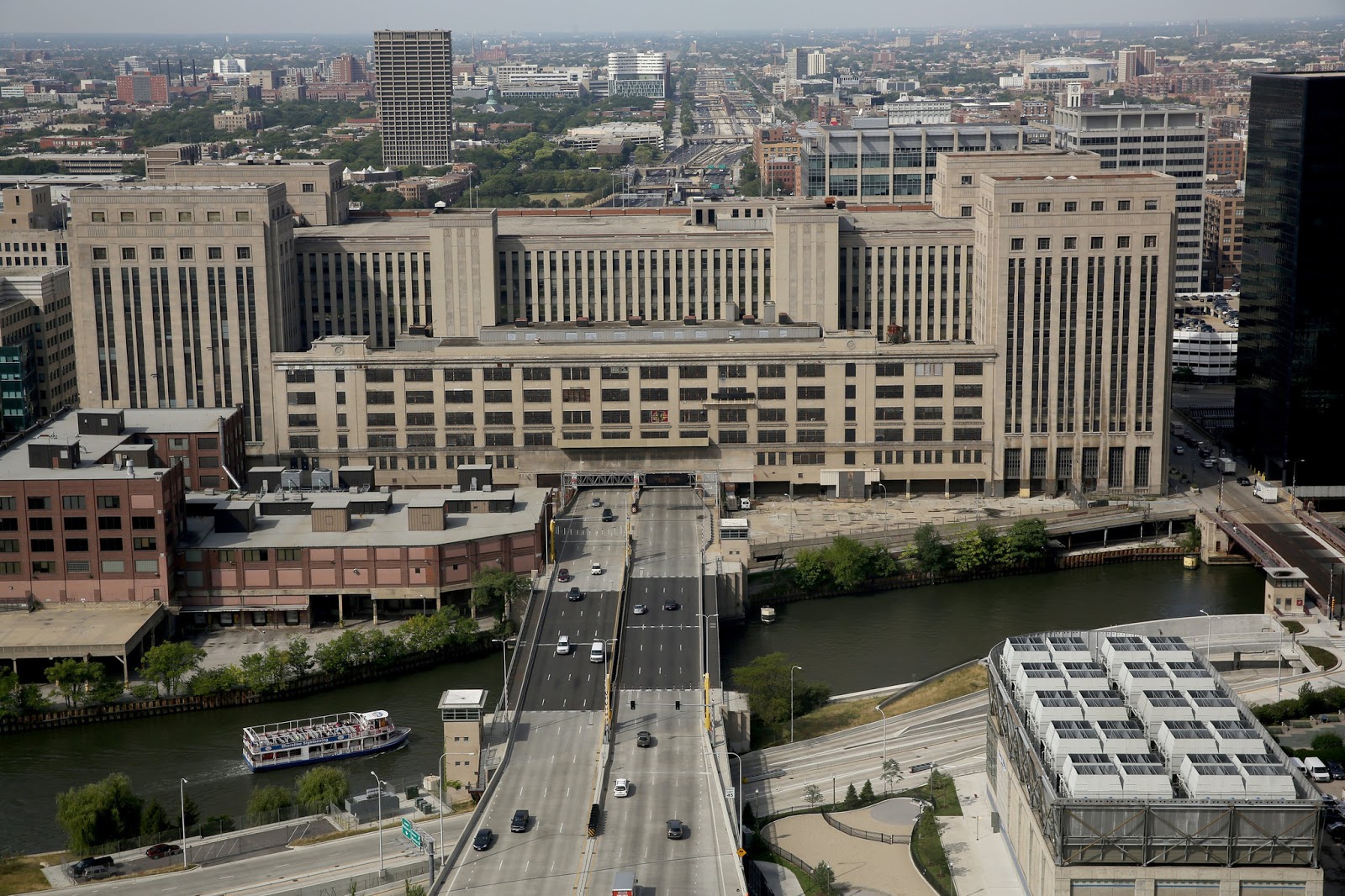 Photo by Gensler. The architects and developers pursued LEED certification for the project.
Further, according to Architecture 2030, a nonprofit focused on climate change and the built environment, "annually, carbon emissions are responsible for 28% of global building sector emissions, and embodied carbon will be responsible for almost half of total new construction emissions between now and 2050. A significant portion of a building's carbon emissions comes from the fabrication of building materials, transporting them, assembly, and EOL, or End of Life, practices, that is the final stages of a materials phase of use.
A statement Gensler made during the Chicago Post Office project says it best: "When developers choose adaptive reuse strategies over new builds, environmental advocates cheer."
ADaptive Reuse projects are on the rise
Across the country, the trend for adaptive reuse is growing. The historic Schumacher building in downtown New York City's NoHo is another example of a thoughtful and modernized repurposing of a fine old building.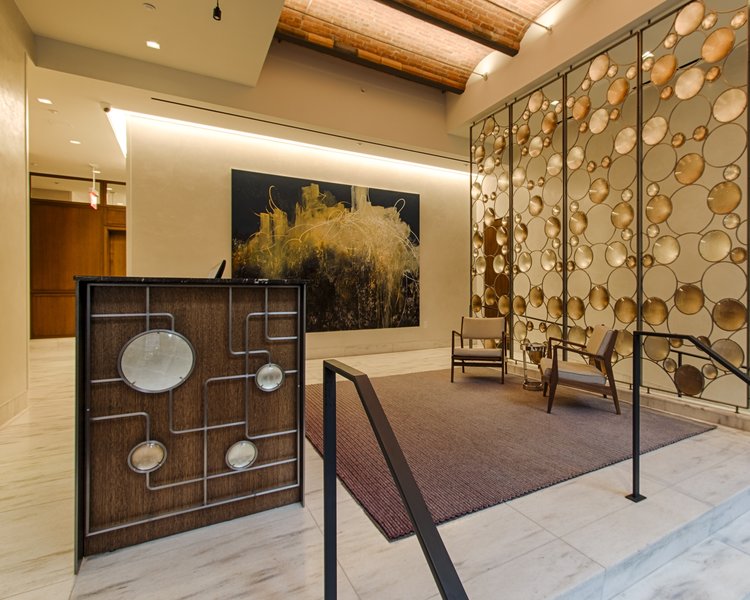 The Schumacher lobby. Photo by Focus Lighting
The late 1800's building originally designed for Schumacher and Ettlinger lithographic printing business was repurposed as a high end residential building, recently. Gorgeous American marble on the ground floor lobby was extended out to its courtyard where a modern installation of marble sits. It's an inspirational blend of old and new including heritage White Georgia marble, and an illustration of the authentic connection between past and present in adaptive reuse projects.