Adding Modern to a Mid-Century Kitchen Means Ditch the Kitsch and Bring in the Retro Glam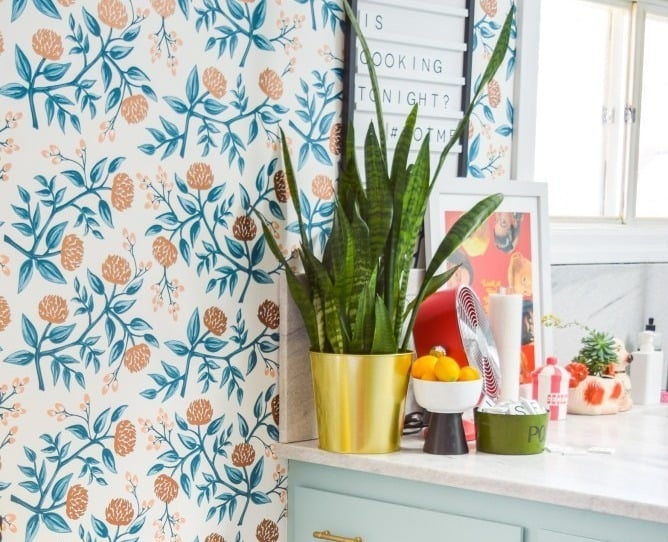 Ariel Garneau of home décor and DIY blog PMQ for Two began her designer adventure as part of an always-on-the-move military family when she married her husband Dan in 2013. She's built a blog and business around how to personalize Private Military/Married Quarters (PMQs), housing provided to members of the military and their families. Her devoted fan base loves to read her ideas on how to personalize these temporary rental-style spaces with smart solutions and delightful DIYs.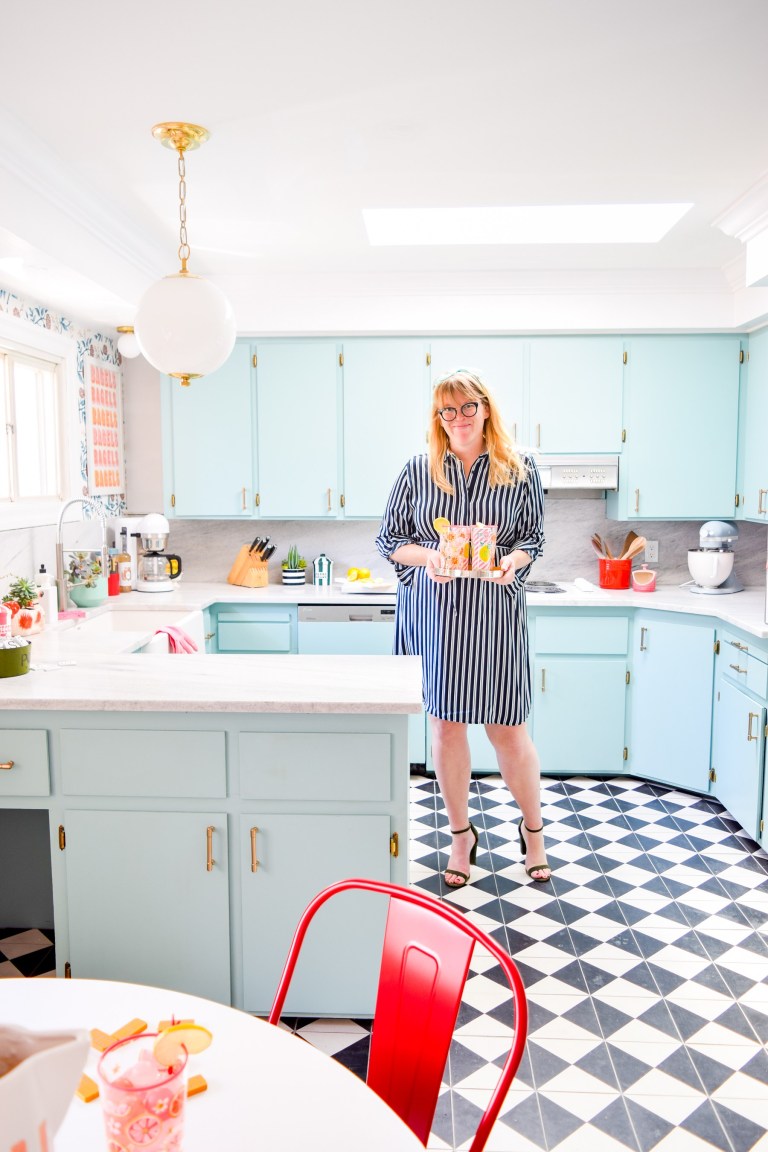 DesignerAriel Garneau serves up retro cocktails to match the vibe ofher revamped design and the home'soriginal charm.
After she and her husband purchased their first home, a 1960s fixer-upper, Garneau faced a brand-new challenge: fully renovating a kitchen, from top to bottom, while keeping as much of the homes' retro charm as possible.
"When we bought the house we're currently in, we knew we wanted to update it," she says. "The layout's good, the bones are good, it just needed to be modernized. We needed to take it from mid-century to mid-century modern. There has to be that modern part to it – it's about making it accessible."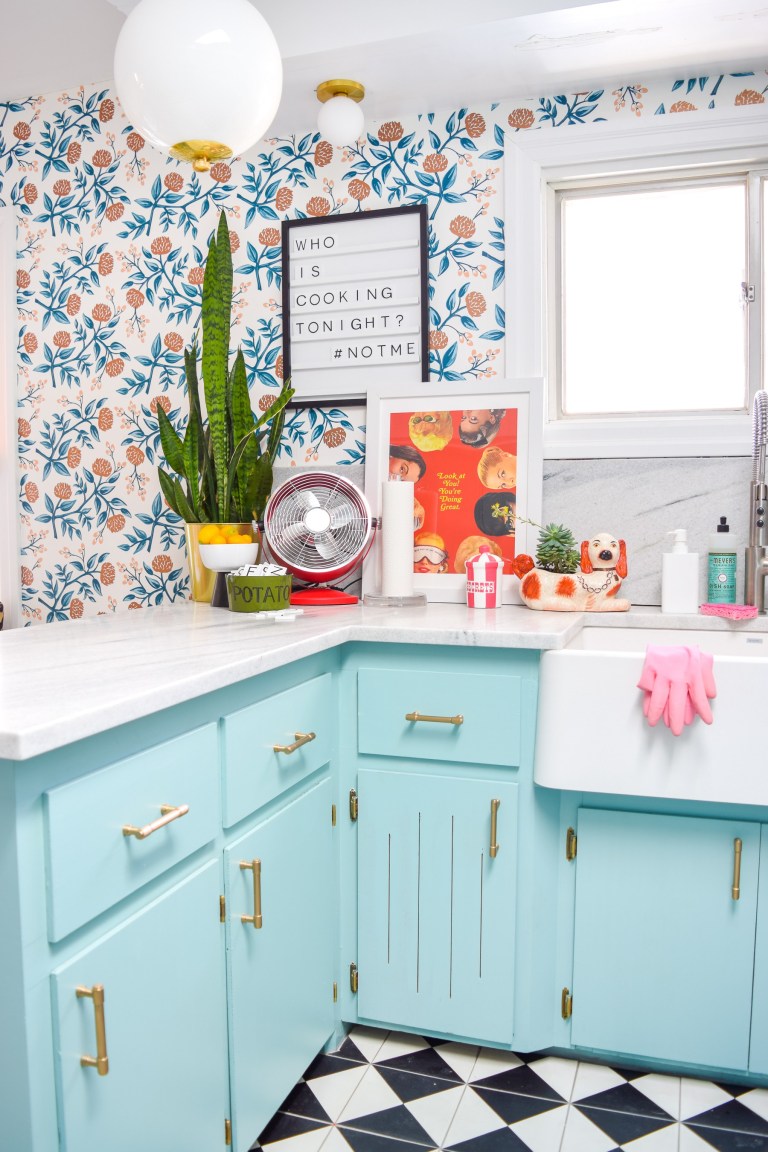 The American marble countertops pair nicely withCopper Peonies Rifle Paper Co. x Hygge & West wallpaper and satin brass Myles Lever door handles with Modern Rectangular Rosette and Jasper cabinet and drawer pulls, all from Emtek.
Garneau's style is a unique take on mid-century modern: bold and colorful and full of patterns and eclectic home decor that bring a smile. But she knows that not everyone is as enthusiastic about color as she is. And because this is a house they will probably have to sell in the next two to five years, the Garneau needed to make the most of the renovation budget, ultimately deciding on a substantial kitchen renovation.
But she wasn't overwhelmed. She quickly started on a mood board for the kitchen renovation and homed in on a retro glam approach.
"I would have gone full retro, but I went with retro glam because I needed to be able to incorporate luxurious, glamorous materials and finishes in this space so that it's ready for the next family when we need to sell," she said. "I can always take down wallpaper, I can always paint over something, but really nice finishes like countertops and backsplashes and hardware – those are the real showstoppers."
PUTTING THE GLAM IN RETRO GLAM
From early on, Garneau knew she wanted marble – because even though marble is very on-trend right now, it is an equally timeless choice. Plus, marble helped elevate the overall design — helping put the "glam" in her retro glam vision. But her location provided some limitation – her choices were basically limited to what was available in the big box stores. And that is not what Garneau wanted – she was looking for something special and a material that would enhance the space.
"I had been looking for marble, but I hadn't found a type of marble, or a brand that I really liked. I hadn't really loved the veining or the quality of the pieces I was finding," she said.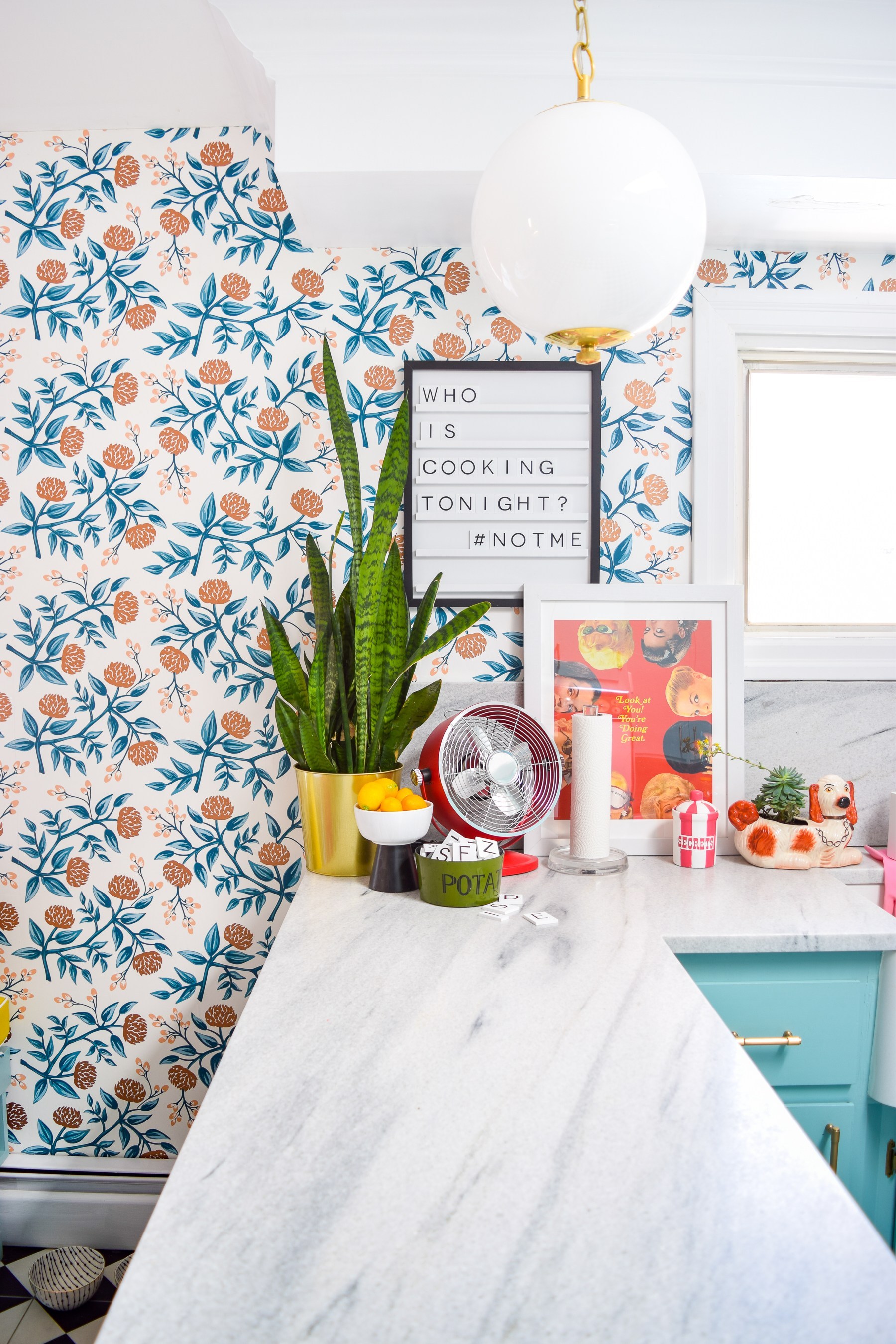 The subtle veining of the White Cherokee™ marble has a timeless look that helps make this space both modern and retro.
She finally found the stone source she had been searching for when she saw interior designer Holly Phillips' renovated kitchen featuring Polycor's GEORGIA MARBLE – WHITE CHEROKEE™.
"When I saw her kitchen, I was like 'Yep, this is it,'" she said.
Like Phillips, Garneau participated in the One Room Challenge with her kitchen renovation.
One Room Challenge is a bi-annual event that showcases 20 designers/influencers vetted and selected by the ORC team. The event, which kicks off the first Wednesday of every April and October, aims to inspire, entertain, and inform the audience of new ideas and trends in the world of home design.
Click here to see how the Charlotte-based interior designer brought glamour to her kitchen with Georgia marble.
Garneau then started researching Polycor, discovering the rich history of the company and its North American quarries and began looking on Pinterest to see how it looked in different spaces.
Fun fact: Garneau lives in New Brunswick, Canada near Polycor's headquarters in Quebec City. Having a local connection to an internationally recognized company was part of the appeal.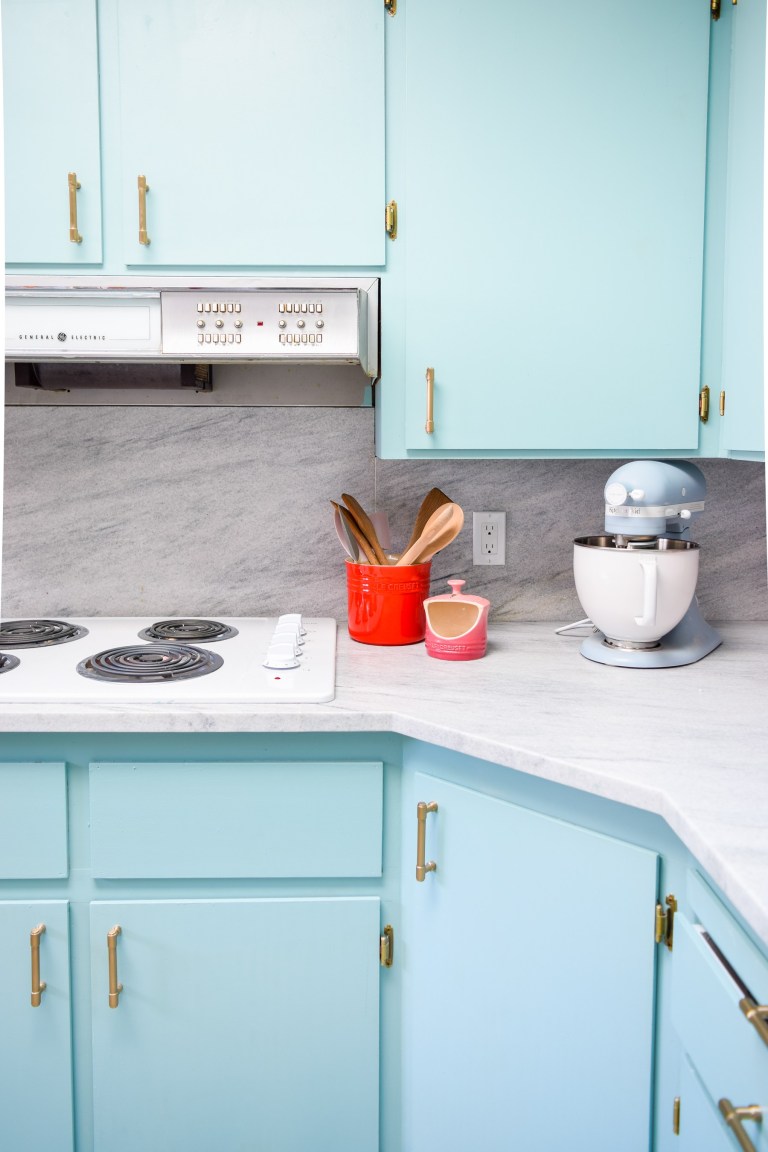 Garneau has transformed this temporary home into a welcoming nest for her growing family. It will be hard to leave this home behind with the next military move. Paint cabinet color: Opal Silk by Behr.
"The more I saw, the more I was impressed. It's quality stone and definitely worth the investment," she says. "And most importantly, it's going to age well. Anything looks good when it's fresh, but how does it look three years down the road?"
She specifically liked this particular American marble because she thought it would last, which was one of her main goals in choosing a countertop. Garneau also says honed White Cherokee was the right choice for her countertops because it is considered very strong for a marble and that utility was a factor in her decision, too.
The marble is not just being used as the countertop, but the backsplash too, which means its directly up against the Copper Peonies Rifle Paper Co. x Hygge & West wallpaper, so the subtlety of the veining was an important consideration. Other glamorous details in the kitchen include the satin brass Myles Lever door handles with Modern Rectangular Rosette and Jasper cabinet and drawer pulls, all from Emtek.
"The next person who buys from us isn't going to swap out the countertops," she says. "If anything, they'll paint the cabinets or take the wallpaper down. But they are going to buy it because they love the countertops in here."
RETRO KITCHEN WITHOUT THE KITSCH
Because the vintage charm was a leading reason as to why they bought the house in the first place, it was important to Garneau to keep as much of it as she could. She and her husband chose designs that were complementary to the era of the home and tried to keep as much of the original kitchen as made sense.
"It's so easy to take retro to kitsch town, and I am all for kitschy cute, when it comes to Christmas – give me the tinsel and the Santas, let's do it," she says. "But for everyday living I need my kitsch under control."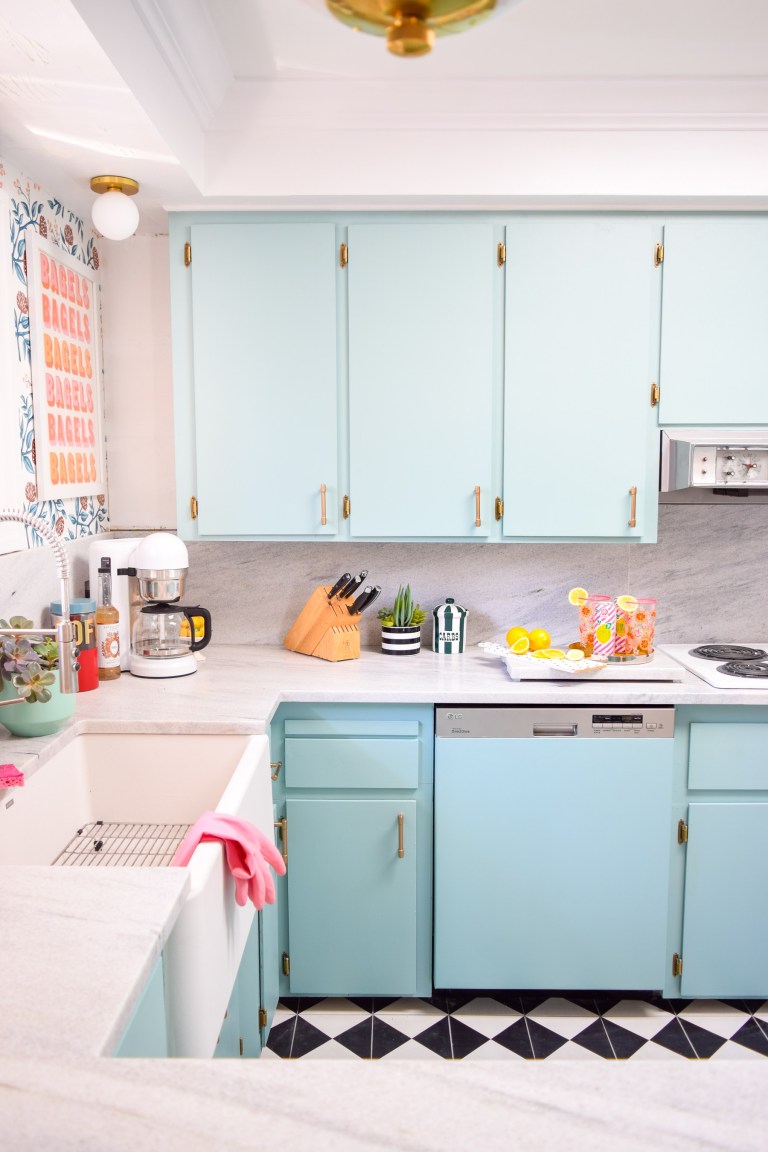 The cement tile here from Villa Lagoon looks like it might be the original flooring in a mint 1950's home. Garneau's clever sourcing balances retro and modern elements for a space that feels fresh.
A prominent design choice that leaned heavily on the retro part of retro glam was the black and white checkerboard floor. To add a modern spin she and her husband chose cement tile from Villa Lagoon, the Tugboat in Black & White. Another modern take on retro style is their new apron sink, the IKON 33 farmhouse sink from Blanco in Silgranit. The couple kept the original cabinets, which they painted along with a newly-built window bench in BEHR's Opal Silk PPU12-8m. After adding an internal thermometer, they were able to keep the home's original wall oven, too.
"When we were looking the realtor said 'Oh, you can swap that' and I was like "Why would I? If it works, it's going to stay. This appliance outlasted Eisenhower, it's going to outlast you,'" she said.
And a kitchen renovation isn't the only big project for Garneau this year: the couple is expecting their first child later this summer, a fact that weighed in on the decision-making process.
"When I think forward to the fall and then the next holiday season, the next year of my life basically, everything we do with her is going to be centered around the kitchen – whether it's sitting in the kitchen for a late-night feeding, or my husband pacing with her in there," she says. "The kitchen is the heart of the home, especially with a kid on the way."