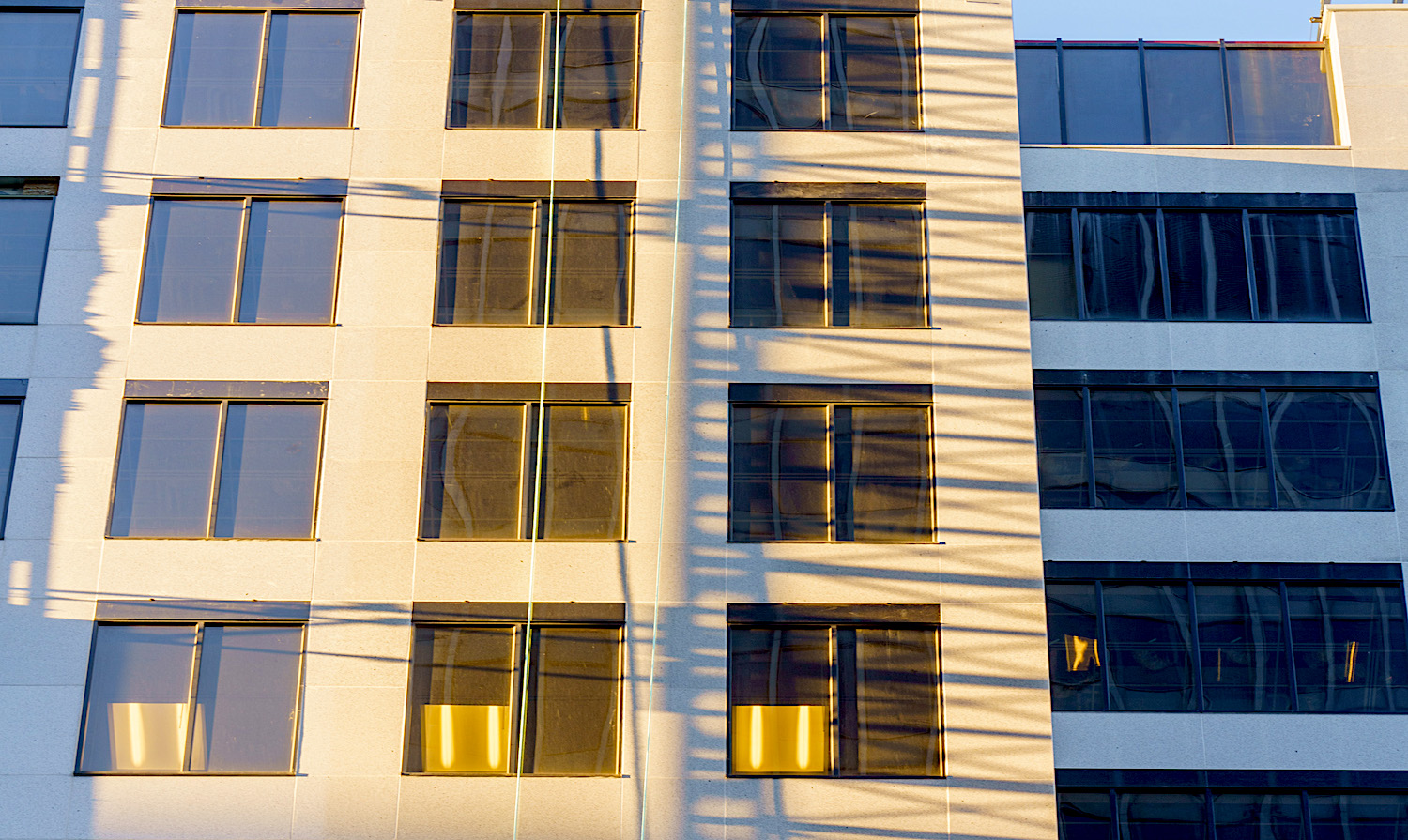 Building Facade Systems
Grid System / Ventilated
Facades
---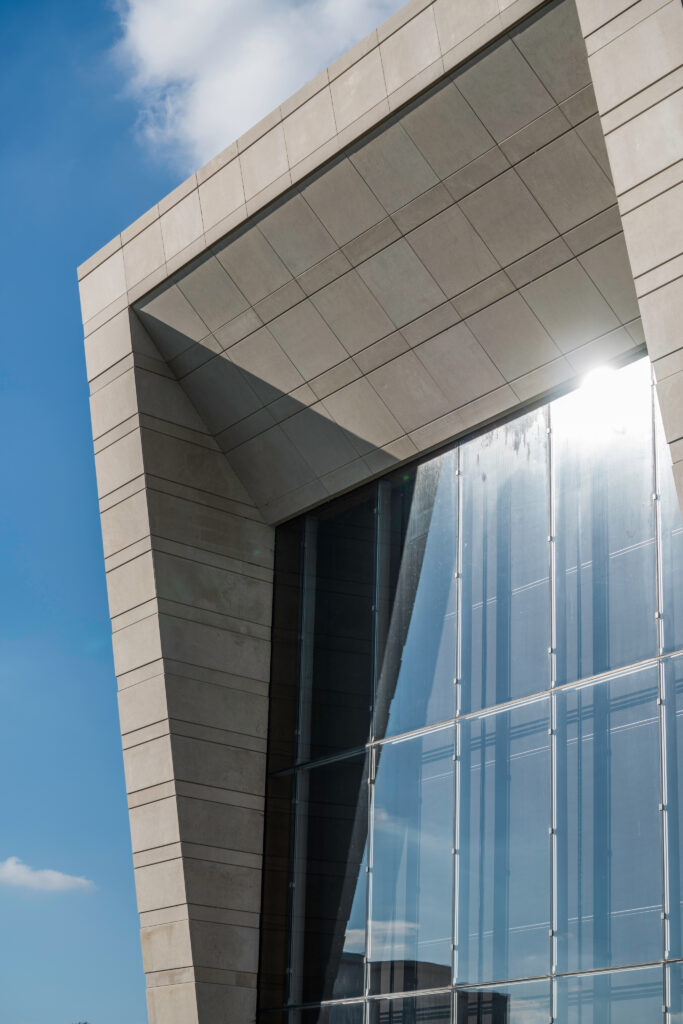 Veneer Rainscreens
Polycor Stone Veneer Rainscreen Panels: The Perfect Material for Beautiful, Long-Lasting Ventilated Facades
---
Ventilated Facade Systems, or Veneer Rain Screens, offer significant advantages in terms of energy savings, acoustic insulation and preserving the underlying building structure. Ventilated facades employing a grid system can be used in new construction sites or on existing buildings undergoing renovation and are designed to create a chamber between the perimeter wall and the exterior cladding.
This allows for the convective movement of air between these spaces, which moderates the exchange of heat, air, and light. Exterior stone facade panels help prevent heat transfer from the interior to exterior space and also provide optimal thermal performance for occupants by preventing thermal bridges that can also cause condensation.
Moreover, ventilated rain screen facades enable a greater variation in facade designs so architects can bring added creativity to their projects while still achieving superb levels of performance.
Grid Systems / Ventilated Facades
Benefits of Stone Veneer Rain screen Facade Grid Systems
---
Facilitates building movement (including seismic activity)
---
Allows installation of stone out of sequence
---
Windload attachments allow the system to move with building movement
---
Full wall system can support insulation and any other envelope element, such as windows, etc.
---
Can install on any backup wall, including CMU, concrete, steel and wood, or no backup wall at all.
---
Faster installation than handset veneer
---
Stone is fabricated like regular anchored veneer and supported independently
---
Cut with continuous kerfs on top and bottom edges
---
Can be fabricated and preassembled offsite to save labor time in the field.
---
A typical veneer wall anatomy is comprised of thermally broken wall ties,
weather barrier & insulation, vertical mullions, air cavity, horizontal rails on
slip connections (to allow for movement), and stone clips.
Carbon Fiber Reinforced Panels
Carbon Fiber Reinforced Facade Panels – The Next Generation of Stone Facades
---
Carbon Fiber reinforced (CFR) thin stone facade panels represent a major advancement in building facade design, combining modern building materials with Polycor's extensive knowledge of stone quarrying and fabrication techniques.
These ultra-thin 1 cm exterior facade panels are reinforced with a proprietary mesh featuring carbon fiber and kevlar, creating incredibly strong and lightweight building facades that have ten times the flexural strength of traditional 3 cm stone panels.
This impressive strength-to-weight ratio is further bolstered by undercut anchors on the backs of the stone panels which, when integrated with a grid system, ensure the facade remains securely affixed while concealing the fasteners.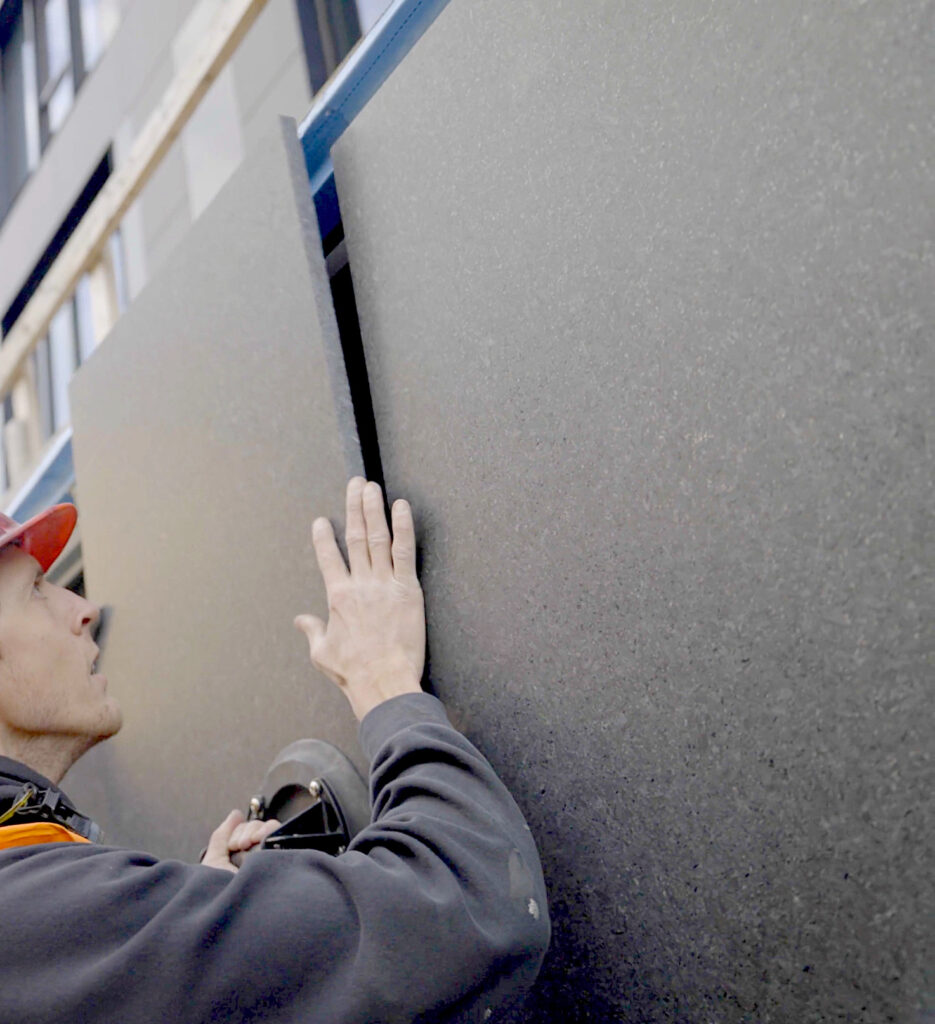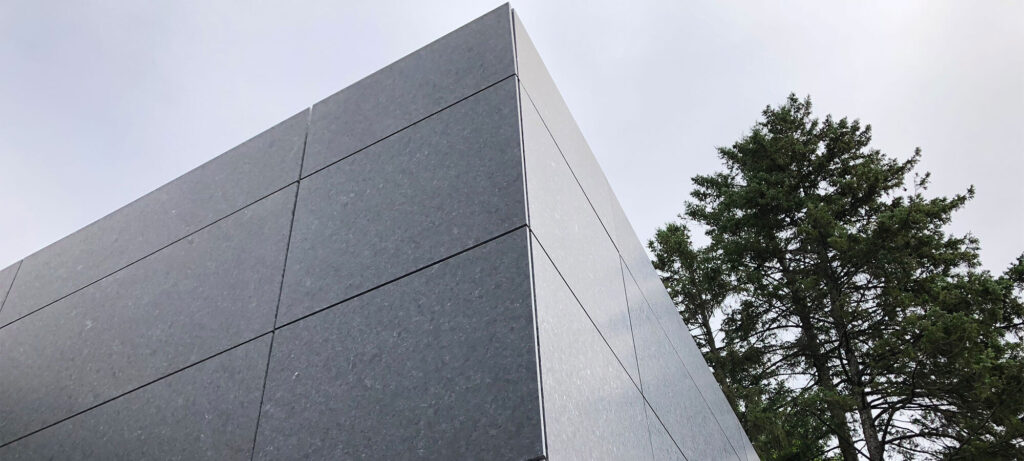 Lighter, Faster, Stronger
---
The increased efficiency of CFR facade panels makes building facades quicker and easier to install than ever before— typically available up to 9 feet by 5 feet in size, each square foot weighs just six pounds on average.
10 times the flexural strength of 1 1/4″ granite
Only 6lbs per square foot, ideal for retrofitting
Reduced transportation costs due to lighter weight
Mechanically anchored, unlike stone adhered to honeycomb panels
Stone panels supported independently
Installs onto steel or wood studs, CMU or concrete backup wall
Honeycomb Stone Panels
The Foremost Producer of High-Quality Stone Composite Panels
---
Architects looking for another lightweight and high-strength natural stone building facade material should consider honeycomb stone panels, a truly innovative approach to building wall structures. The honeycomb core is constructed from engineered aluminum which produces an incredibly strong yet lightweight material.
Polycor natural stones like limestone, granite, and marble are precision cut into thin veneer layers – 3/16″ to 5/8″ thick – and fused with the honeycomb panel by a tested bonding process, forming one cohesive unit. The interconnected core, fiberglass mesh, and natural stone layers are bonded together in an ultra-strong process that has been scientifically tested, giving architects full assurance of their quality and safety.
The result is a unique composite stone facade panel that weighs as little as four pounds per square foot. By leveraging this technology, architects now have access to a beautiful yet lightweight solution for walls that provide tremendous strength and impact resistance compared to standard facade materials.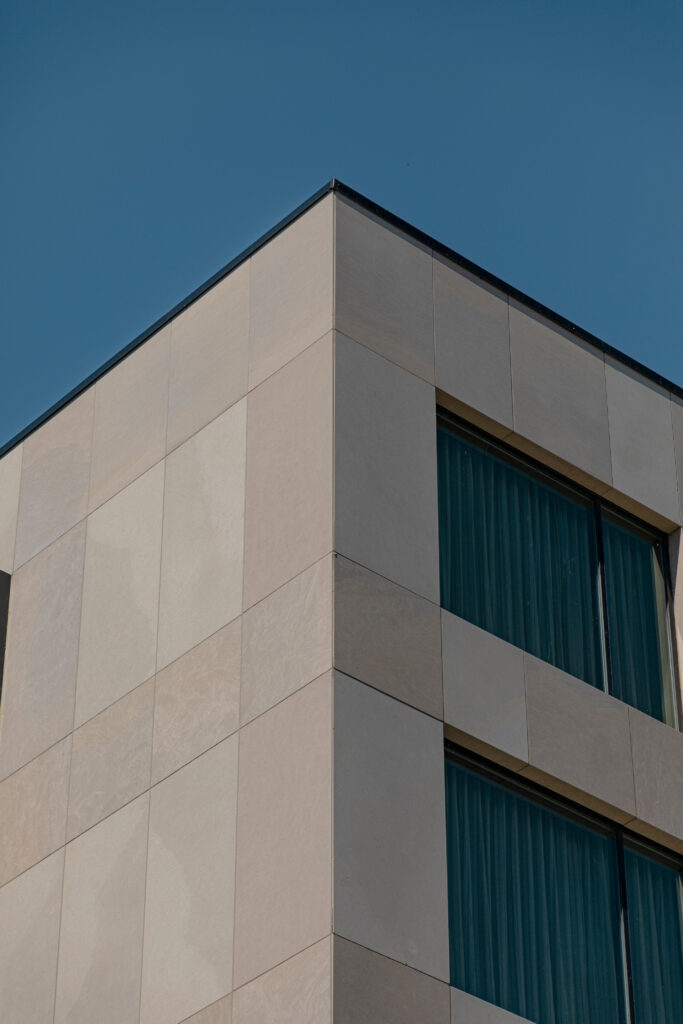 Building Facade Systems: Honeycomb Stone Panels
Key Benefits of Thin Stone Honeycomb Facade Panels
---
NFPA 285 Certified to exceed fire propagation standards
---
Approved for building codes and HVHZs
---
Miami Date NOA approved product
---
Sturdy panels withstand weather and temperature extremes with improved impact resistance
---
Ultra-light stone application (4lbs/sf)–80%lighter than 1 ¼" full-body stone
---
Lighter structural requirements, less equipment and reduced labor provide massive savings
---
Installs up to three times faster than other masonry materials
---
Modular design minimizes on-site cutting, resulting in less waste
---
Drastically reduces transportation costs
---
Can be installed by many different trades