17 Tips for Selecting Natural Stone Countertops
---
We've put together this simple checklist. It features 17 of our best tips to help guide you through the materials selection process.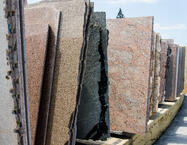 The Obvious
Good To Know
Oh! Did not think of that…
1. Bring cabinet door panel or sample of cabinet finish to the stone yard to help determine your selection.
Make sure the paint, stain or coating is as close as possible to the finished cabinets.
2.Take several preliminary options of flooring samples to assist in determining which is most suitable for the stones you will be considering.
It is best to wait to place the final order for the tile until you have seen how they work with the stones you like best.
3. If wall paint colors have been narrowed down to several options then bring them as well to better visualize the design.
4. Make a copy of your kitchen layout from your design, with all the measurements, to assist with envisioning the cuts on the stone and where certain sections of veining or color in the slab will fall.
This will help determine where the seam placement will fall on the countertops. Also take note of any island or peninsula area that may be very large as it is not generally preferred to have full seams through them when possible.
5. Print any photographs of finished kitchens with stones that you like in them as a visual aid while searching.
6. Bring a tape measure to take working measurements of the slab and see where certain countertops can fit into the slab.
7. Check the weather outside before scheduling to view slabs.
Although some stone yards may be inside a warehouse, most are outside and the appearance of the stone will be effected by rain or snow as well as what time of day you look at them. It is generally preferable to look at slabs on a slightly overcast day without tremendous amounts of full sun and when no rain is forecasted and not at dusk. Too much glare from reflection on polished surfaces or other bright colored stones will be difficult to view the slabs subtle characteristics. Conversely, when a stone has become wet and saturated from rain it will appear much darker. Scheduling a day with less sun and no rain will give the most true appearance of how the stone will look once cut, fabricated and installed in your home.
8. Determine the relationship of the cabinet, the floor and the slab for subtle or strong contrasts and compliments.
Unless you are going for an all-white kitchen you will need to identify which details you will want to bring to the surface in your design. Look at the grain of the wood in relation to the grain in the stone – do they fight each other or clash? Sometimes it is best to have one element remain solid and the other to have pattern to soften the effect or one to be lighter and the other darker. Identify appealing contrasts and compliments that keep the eye moving in the space. The trick is to find that subtle relationship, or common thread, running through all the selections that tie together the overall design
9. Determine what surface finish your countertop should have, whether polished, honed, antiqued or leathered, brushed, flamed, etc.
Most slabs will be offered in polished only which will narrow your choices. Polycor has the capability to produce any finish on any of our slabs which is unique to the industry. This surface treatment will play a strong visual role in the finished kitchen design.
10. Hold up or set down your cabinet, floor and paint samples against the slabs you are considering and walk around them at different distances and view them at different angles to see how they work together.
Keep in mind that the slab is oriented vertically and will feel very overpowering so try to focus on a few sections at a time. Once it is cut, installed and lying flat it will quiet down considerably. Also, the flooring is broken up by the cabinet so it will not be in direct contact with the slab and can be somewhat different – it does not necessarily need to match the slab exactly (unless that is the look you are after).
11. Also look up close at the surface character of the stone. Rub your hands along the face of the slab and feel for any natural inclusions, fissures, pits or any other unique geological occurrences.
This is the finished top of your kitchen countertop. It is the factory finish achieved at the plant from multiple steps of grinding, honing and polishing with technologically advanced machines. This is how your countertops will feel when you are working in your kitchen and cleaning them so make sure you take note of anything that could come as a surprise once it is cut and installed.
12. Looking at the copy of your layout, take your tape measure and starting with the largest and most visible area of the kitchen determine what area in the slab is the most interesting and see if it can be captured for that spot in the kitchen.
Your fabricator will be able to help you with this when it comes time to cut, but it is best to begin considering it now and have a plan. When choosing a stone with a lot of veining or movement you will need to determine which direction the veins will be oriented when looking at the finished counters. The same direction will need to be continued throughout the kitchen and will also dictate where seams will fall as well. When a solid stone is selected the countertop pieces can be oriented on the slab any direction for cutting, but with a veined slab they can only be cut in a specific orientation to maintain the flow of the veins to look as though it was all cut from one giant slab.
13. Think about your seam locations, the best areas for seams are inside of cutouts such as sinks or cooktops.
The reason for this is that there is less visible surface area at these locations. Take note of the measurements of where your centerlines for your sinks and cooktops are to find where it falls on the slabs. Most sink cutouts have only 4" of stone in the front and 5" in the back and a cooktop may only have 3" in the front and 3" in the back. It is much better to find areas within the slabs that match these small areas in comparison to a full seam that is 25" overall. With a veined stone it is very challenging to get a matching cut in a full seam.
---
---