A Charming Historic Home Restored With Classic American Marble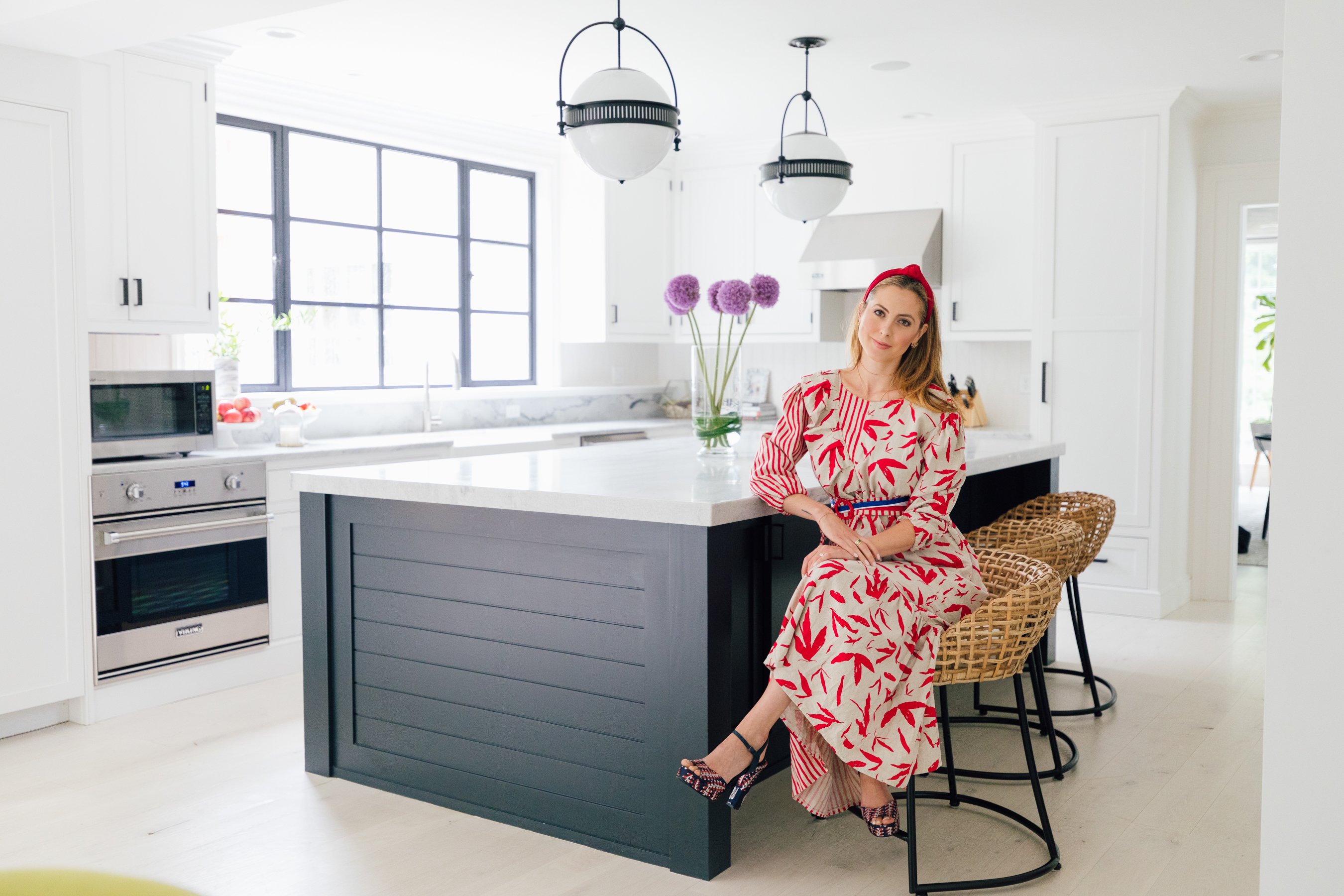 Eva Amurri, the multi-faceted (entrepreneur, actress, and mom) lifestyle blogger behind Happily Eva After has garnered her engaged following due to her open approach of sharing her life. She's shared details on her pregnancies, the challenges and triumphs of parenthood, and her family's move from LA to Westport, Connecticut, for starters.
Late in the fall of 2018, Amurri revealed that her family was on the move again: She had realized that while they loved Westport, they did not love the location of their home of nearly three years. She also had dreamt of raising her family in a space with historic charm. So, when an older home within walking distance of downtown Westport became available, she jumped at the chance to make it her family's dream home, a mix of historic character with modern amenities.
"I am drawn to the concept of old and new, and you really can't find character anymore in homes that don't have a bit of history in them," said Amurri.
Pairing thoughtful restoration decisions with modern upgrades
The foundation of this extensive renovation was pairing thoughtful restoration decisions with needed modern upgrades. Preserving and honoring the homes' historic elements was just as integral to this extensive renovation as adding modern comforts, like a renovated kitchen and bathrooms.
"We wanted to put emphasis on the fact that this is such a historic home, built in 1840, and we wanted to really celebrate that, and preserve the aspects that we could while also modernizing it for how we live as a family today with young kids," said Amurri.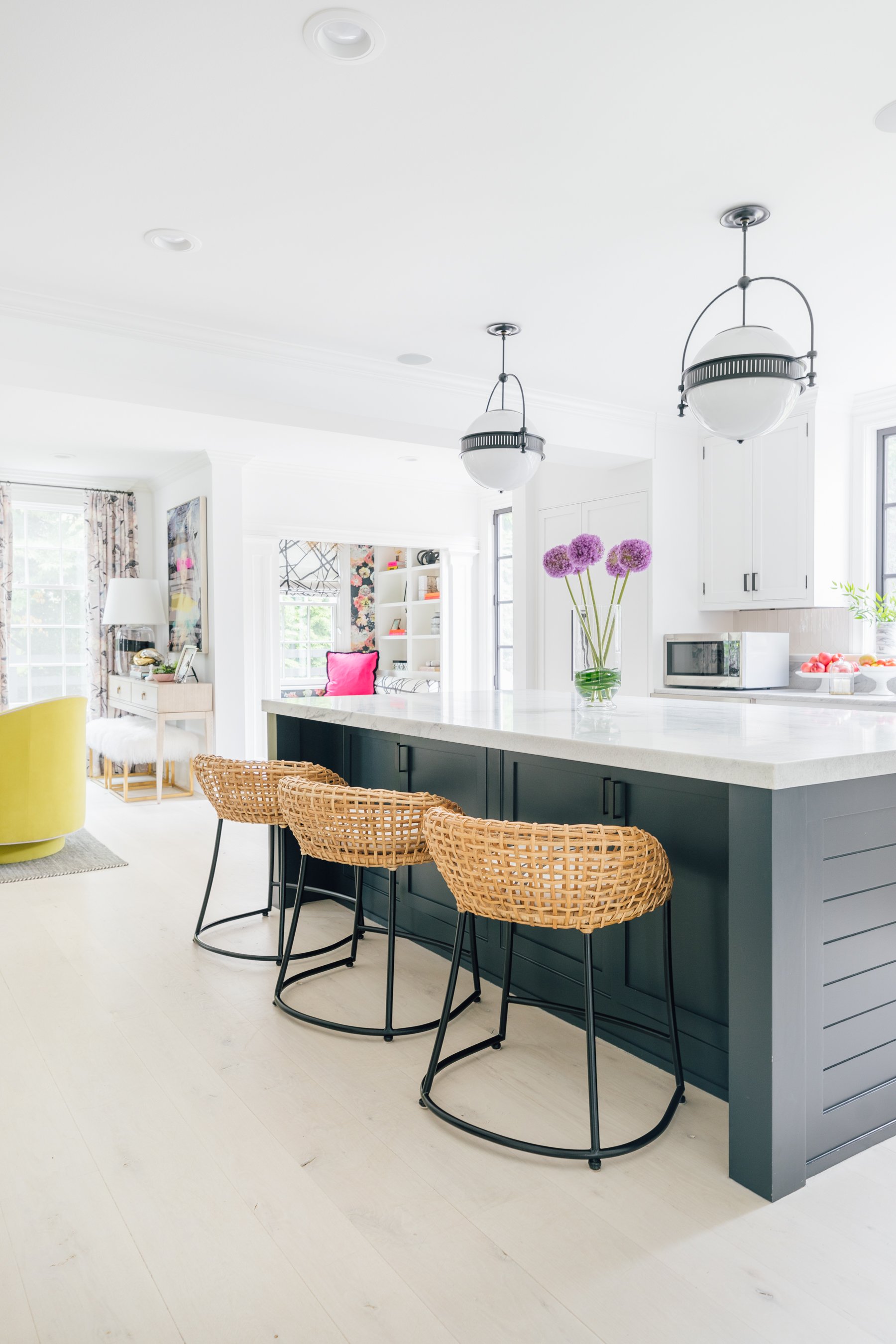 Amurri and designer Prudence Bailey worked together to preserve the historic home, yet add modern comforts.
Considering the scope of the entire renovation project, Amurri and her designer Prudence Bailey, founder and principal designer of Prudence Home + Design, obviously had many decisions to make: wood stains, wallpapers, paints, cabinetry, and for the kitchen and bathrooms, countertops.
Amurri originally wanted to use quartz. "But as we were looking at it, it just wasn't special. Then we looked at some quartzite that we thought was really lovely, but nothing was like 'That's it!' until we saw the Polycor marble."
On top of visual appeal, Amurri felt it was important to root the home in American tradition and use local products as often as possible. She was also looking for materials that were lasting and sustainable. It was the combination of all of these factors that drew Amurri to Polycor, and soon she was on a plane, flying to Tate, Georgia to check out the quarry firsthand.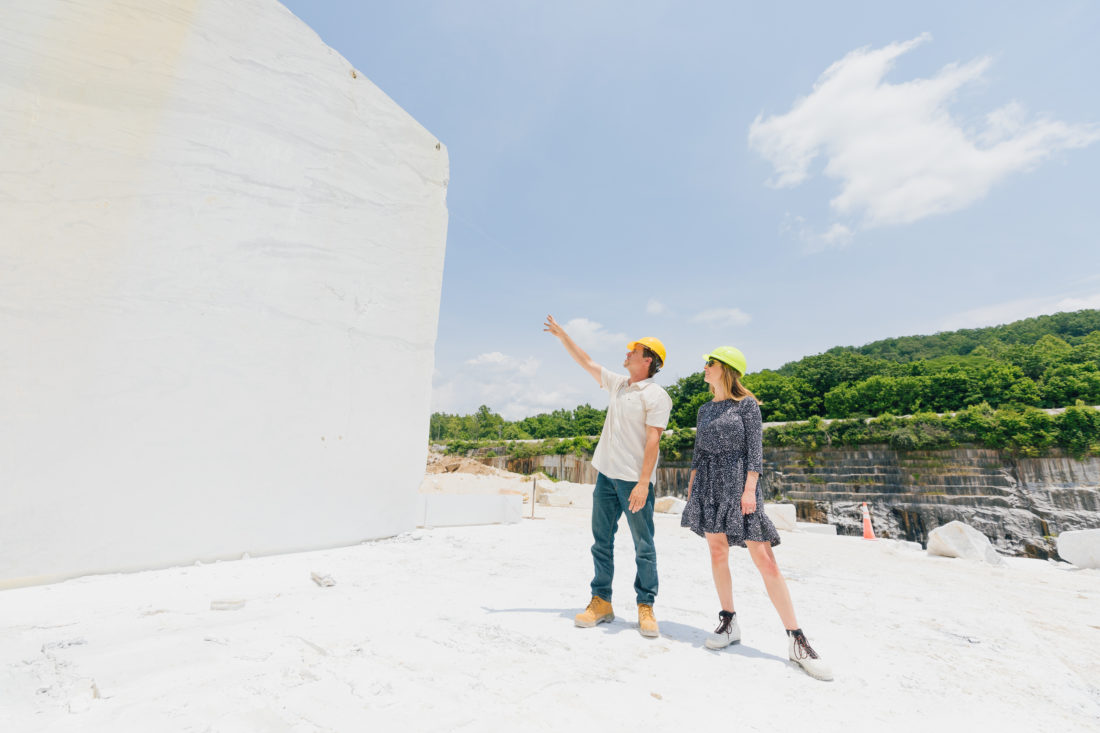 "I feel that installing a beautiful piece of natural stone in your home is almost like taking the history and energy of something that spans generations and centuries– and giving it a place of honor." – Eva Amurri
"When I went to the Polycor quarry, I really got an education on stone," said Amurri. "It was really eye-opening to me, to be able to see how everything was sourced, and the process, and to meet some of the people who have been there 40-plus years. It makes having it in our home just that much more special."
Read more about Eva's trip to Polycor's historic marble quarry.
Bailey, for one, learned a lot from Amurri's Polycor experience.
"It never even occurred to me that we have marble quarries right here in the U.S.," said Bailey. "Granite? Yes, but not marble."
Back in Connecticut, they chose GEORGIA MARBLE – WHITE CHEROKEE™ marble for the kitchen renovation.
"I felt really strongly that it was important to have something different in her kitchen than people see every day," said Bailey. "I wanted to stay away from Carrara marble, and Eva wanted something that was more family friendly. The Polycor American marble is not as soft as Carrara, so it gave her more of that comfort."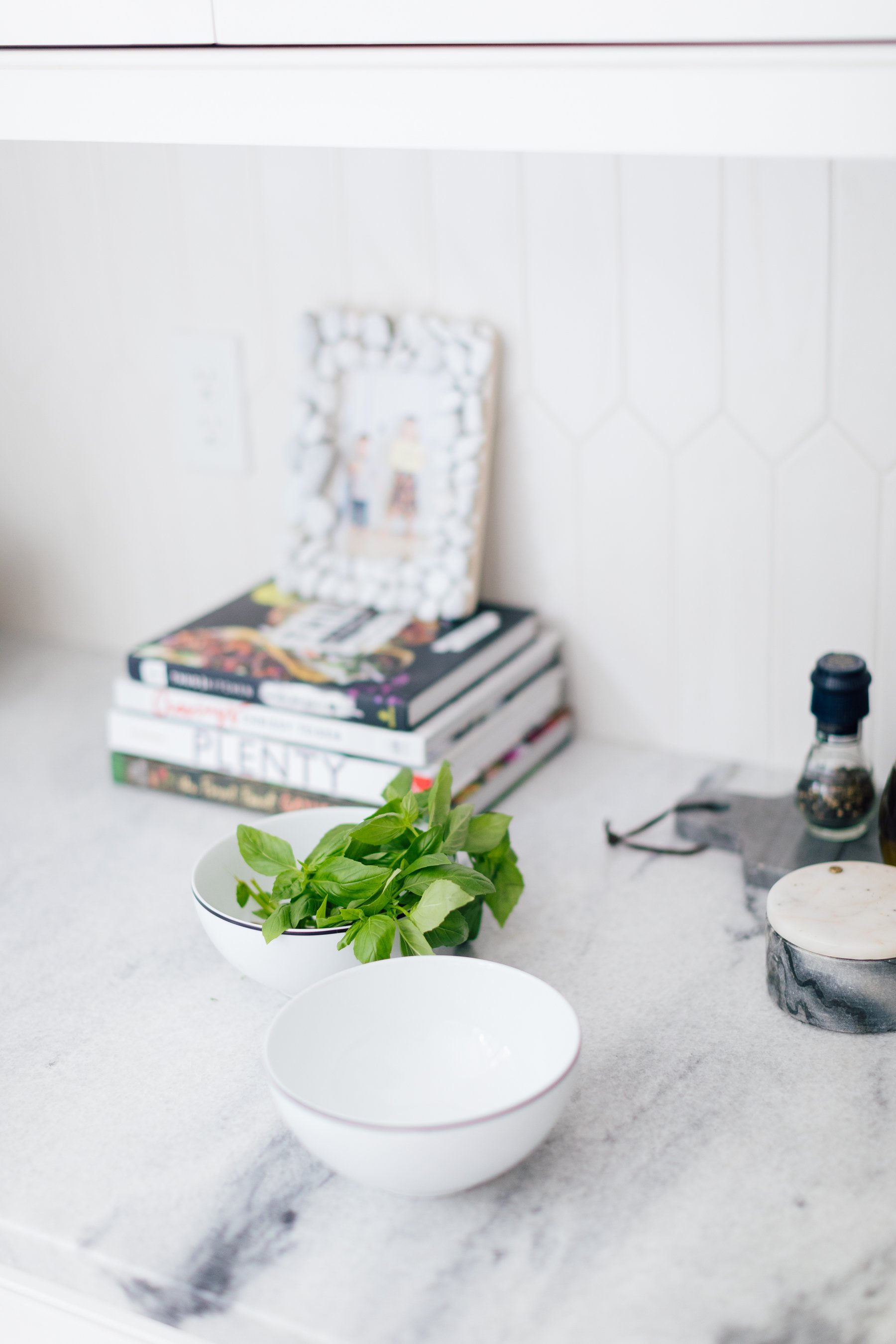 Georgia Marble – White Cherokee™ marble, quarried in Tate, Georgia, is known for its timelessness and durability.
"And the marble itself was just so spectacular," said Bailey. "In pictures you can see the beautiful patterns and gradations of the stone, but what you don't see until you're close up in person, is the really unexpected luster it has, almost like a sparkle in it. I've never really seen anything like that."
Amurri partnered with Stone Workshops in Bridgeport and Surfaces Westport to transform the Polycor slabs into Amurri's dream countertops for the kitchen and bathrooms. Bailey worked with the Surfaces team to create an island countertop with a 2″ mitered build up edge and strong gradations of the marble's grey tones.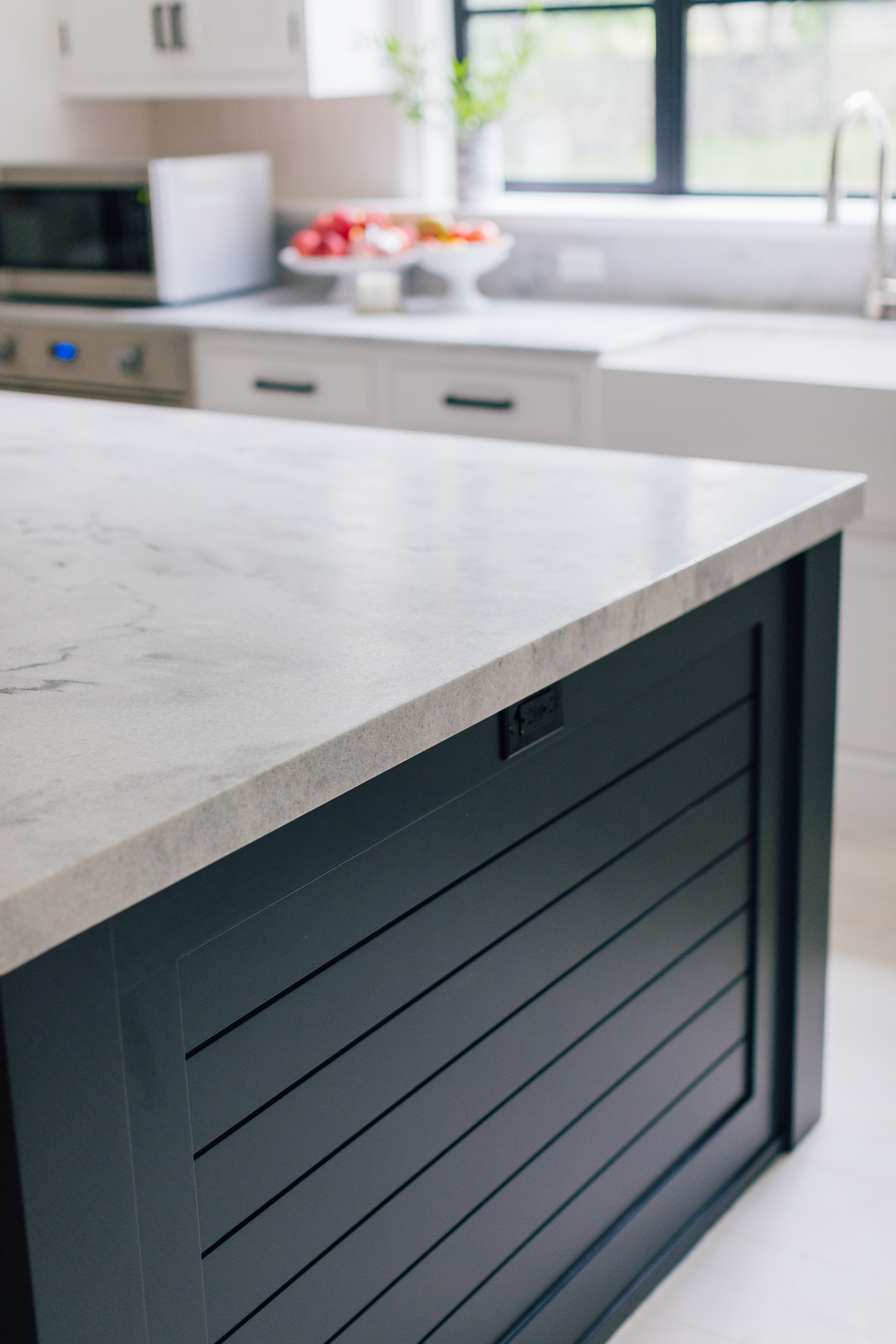 The team at Surfaces Westport created the Georgia Marble – White Cherokee™ countertops with a 2″ mitered build up edge.
"It's really amazing how they can do that built up edge," said Bailey. "Don't even ask me how they do it and make it seem like one big seamless slab, I have no idea. I do know that Polycor marble will probably be a go-to for me for kitchens. I brought it into my other project, a house in New Haven, because I just think it's so beautiful."
Giving bathrooms distinct personality with granite and marble
For the two bathrooms off the master bedroom—one with a shower, one with a bathtub—Amurri and Bailey choose two different surfaces that gave each room its own feel.
She wanted to bring a dark stone in to the space, but Bailey was concerned about how to balance the light and the dark without introducing muddy tones against the high gloss Benjamin Moore Black Beauty painted vanity, trim and door, which led them to SAINT HENRY BLACK™ granite from Polycor's Quebec quarry.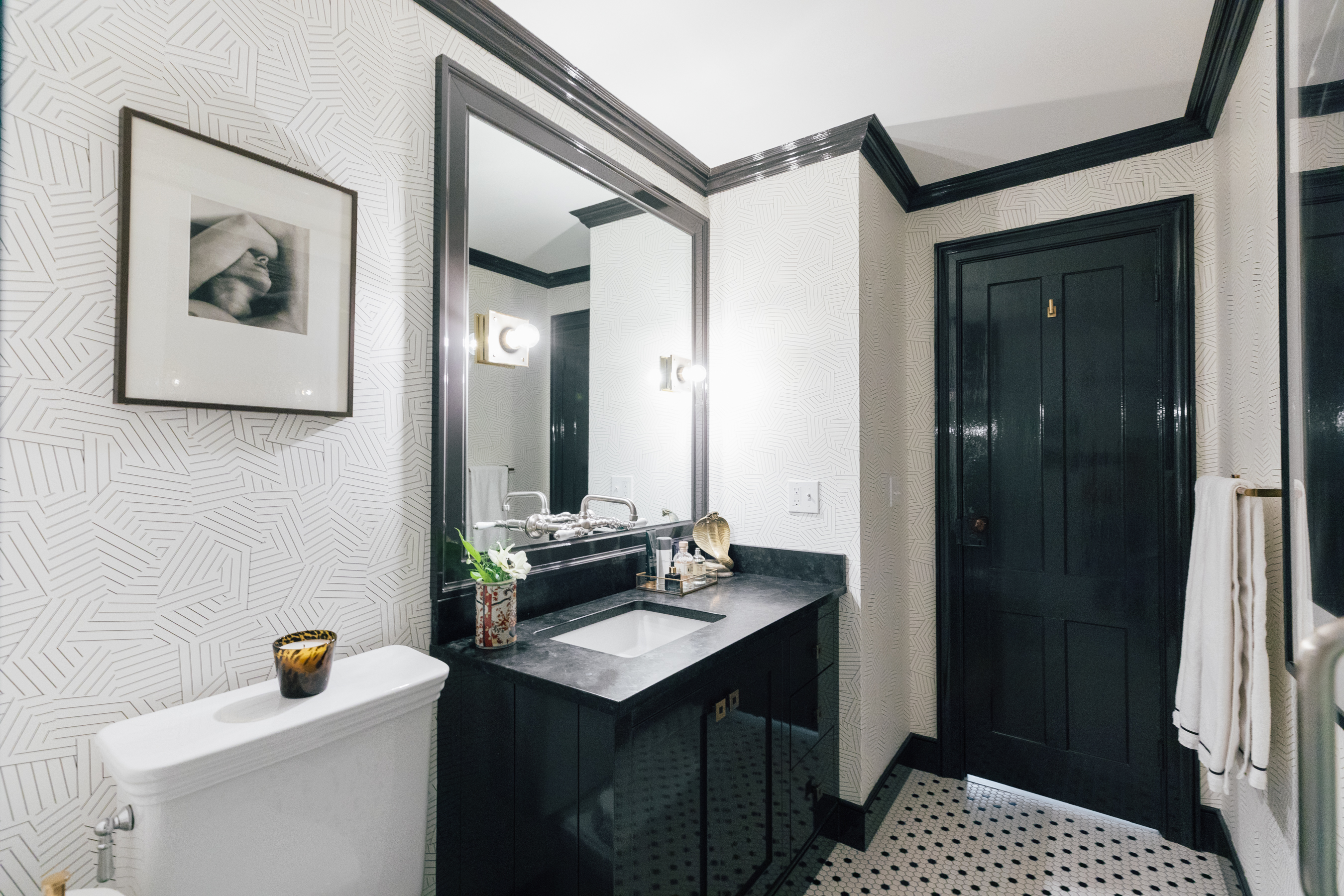 Saint Henry Black granite adds a sophisticated yet rugged edge to this moody bathroom.
"We looked at all of the stones, and there were a number of darker ones, but I just felt the Saint Henry Black granite was it," said Bailey. "It had a ruggedness that looked perfect for the space."
Amurri and Bailey chose an antiqued finish for the granite because they were trying to pack as much punch as possible into the small bathroom space.
"It pairs so nicely with the whole aesthetic of what we wanted," said Bailey. "It's a cool bathroom."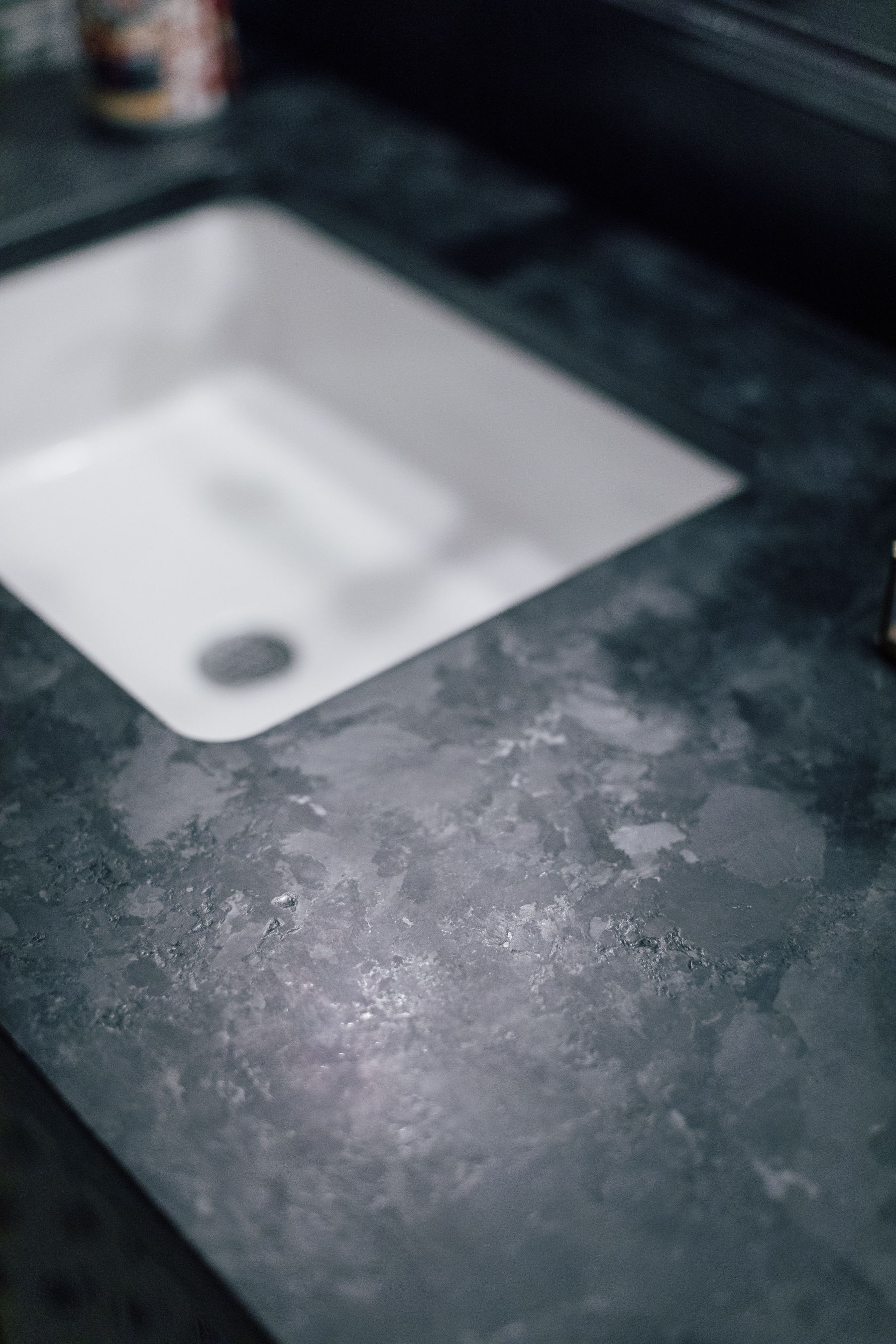 Metallic crystals assemble in Saint Henry Black granite to create a contemporary work of art on a black, textured canvas.
For the bathroom with the luxurious soaking tub, the approach was decidedly different: Amurri and Bailey wanted the bathroom to have a feminine feel with an edge. The movement of the white, gray and black veins of GEORGIA MARBLE – PEARL GREY™ marble, also from the Polycor Georgia quarry, gave the design the edge they were looking for to balance out the other, more overtly feminine, choices.
"I wanted to have a little bit of edginess to the stone that wasn't otherwise in there, to capture that part of Eva's personality, so that's why I picked the Georgia Marble – Pearl Grey™," said Bailey. "It had a lot of contrast with everything else."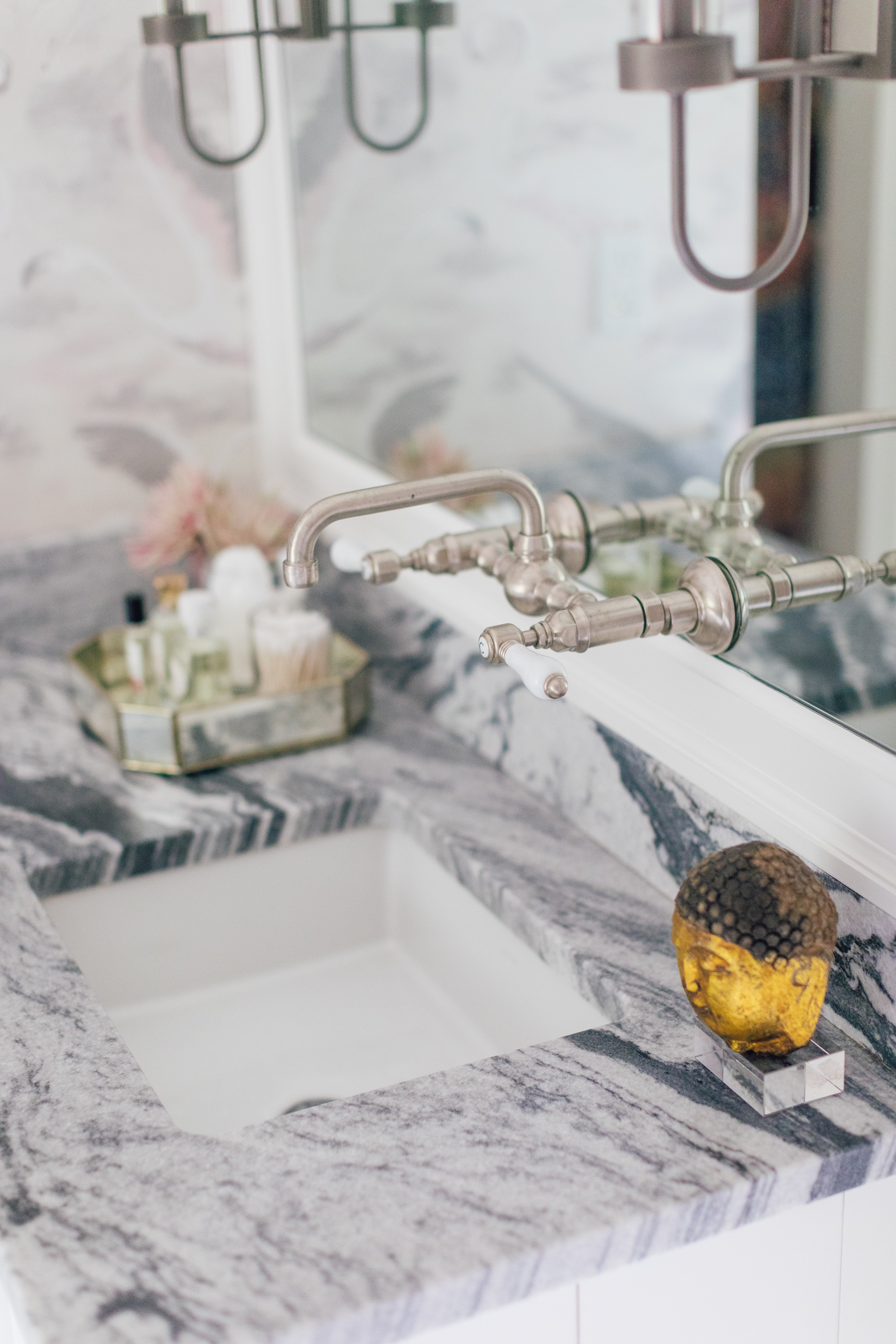 Georgia Marble – Pearl Grey™ marble has a broad range in character. Some blocks feature subtle veining, while some like this countertop have dramatic dark grey veins.
Amurri is basically a pro at the renovation process—she also just completed an addition and extensive hardscape renovation, both projects striking that same balance between historic charm and modern comforts.