A New Modern Classic: The GEORGIA MARBLE – WHITE CHEROKEE™ Marble Kitchen Design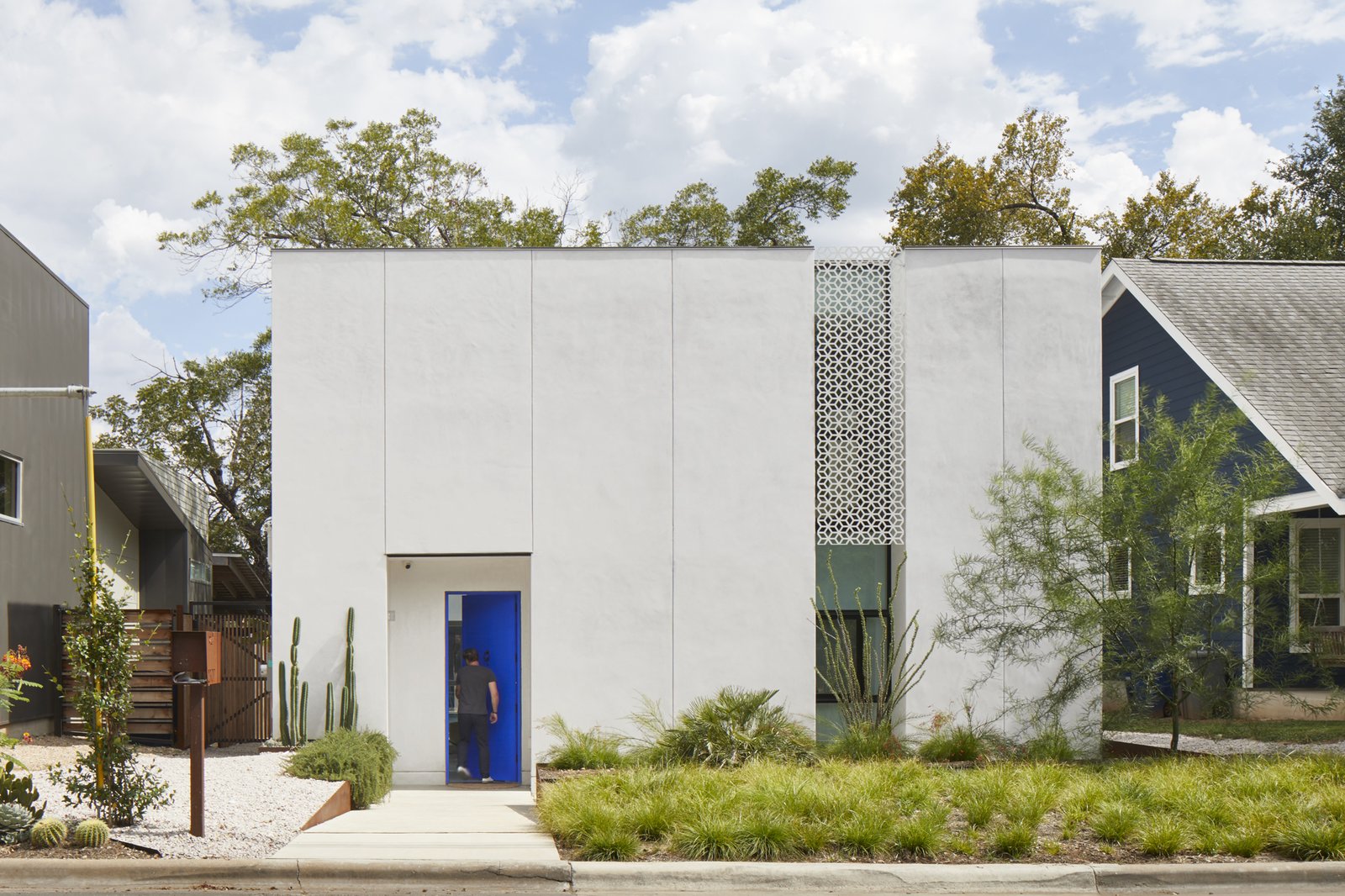 When Austin-based real estate agent Creede Fitch set out to design his kitchen he had two things in mind: style and function. He knew what he didn't want (the omnipresent Carrara marble) but hadn't yet figured out what material would properly fit the light, modern and streamlined look he was hoping to achieve.
Enter Georgia Marble – White Cherokee™. "They sent us some samples and we were in love with it," Fitch said. "It's light, bright color and standout silvery veins make it just the right alternative to the ever popular Carrara marble, but with a little something different."
Georgia Marble – White Cherokee™ is a historical stone and is often used in large architectural projects, like buildings and monuments (read all about its latest debut, here, in Washington D.C.). Yet, it's also one of the most homogenous materials to work with and therefore is extremely versatile for residential applications.
"When we went on the website to see some examples of [the marble] in other kitchens, most of the pictures were of the Washington Monument", laughed Fitch, "so, it was a bit of a punt but we are really happy with the way things turned out."
Since Fitch began his project other notable designers have created Georgia Marble – White Cherokee™ kitchens. Click here to see California designer Brooke Wagner's personal home kitchen featuring a stunning waterfall island.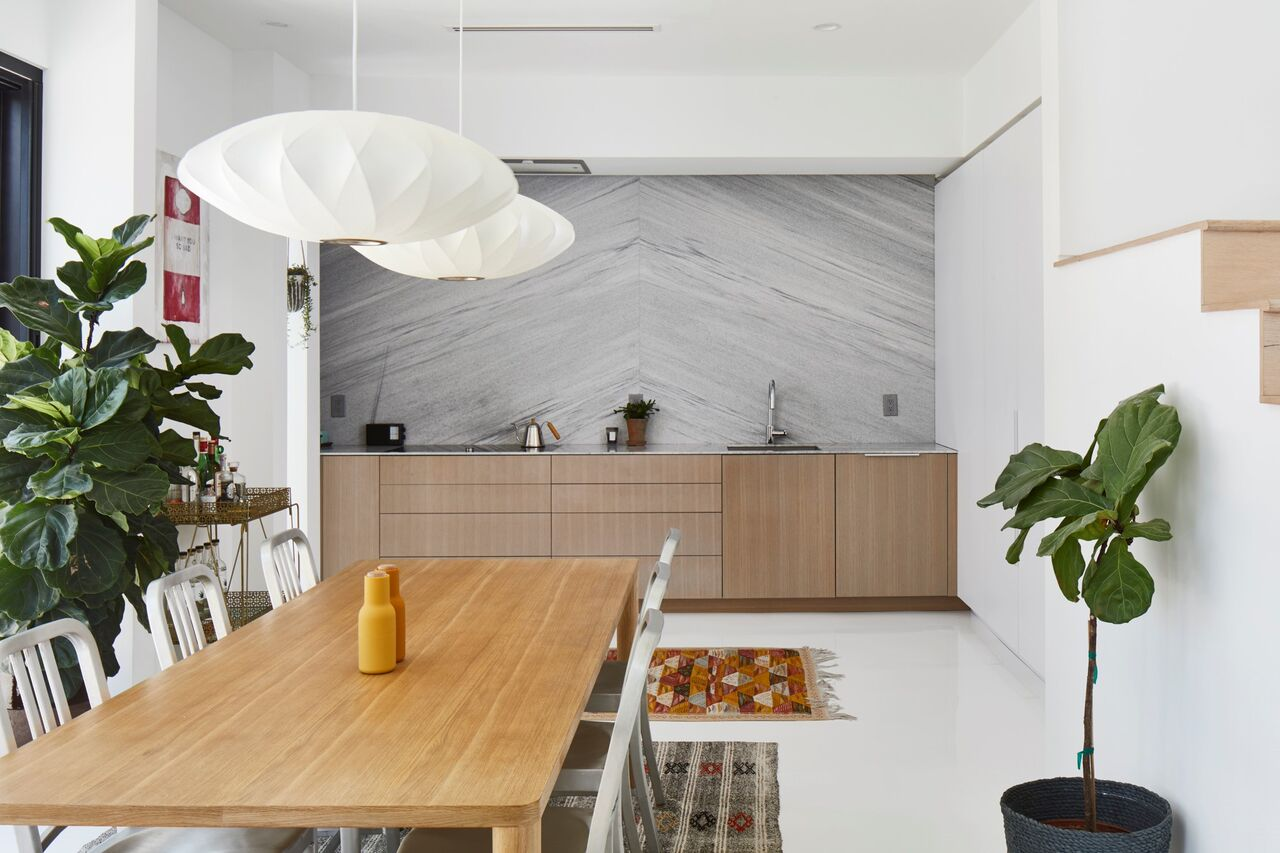 The sleek and modern vision of the kitchen and dining area that Creede wanted also included a totally open floor plan that would turn their kitchen into a functional yet design-forward space using 1 cm ultra thin Georgia Marble – White Cherokee™ slabs as the main focal point. "It's a modest sized house so the kitchen and living room are all about 600 square feet in total" Fitch said, "I definitely wanted it to feel less like a kitchen and more like nice built-in furniture in your living room."
To help him achieve the look, Fitch worked with the architects at Bercy Chen Studio and Austin-based Empire Fabricators to design and install a bookmatched backsplash and thin profile countertop using that ultra thin stone in a honed finish. The project was also completed in large part with Latera Architectural Surfaces who were instrumental in making it a great success.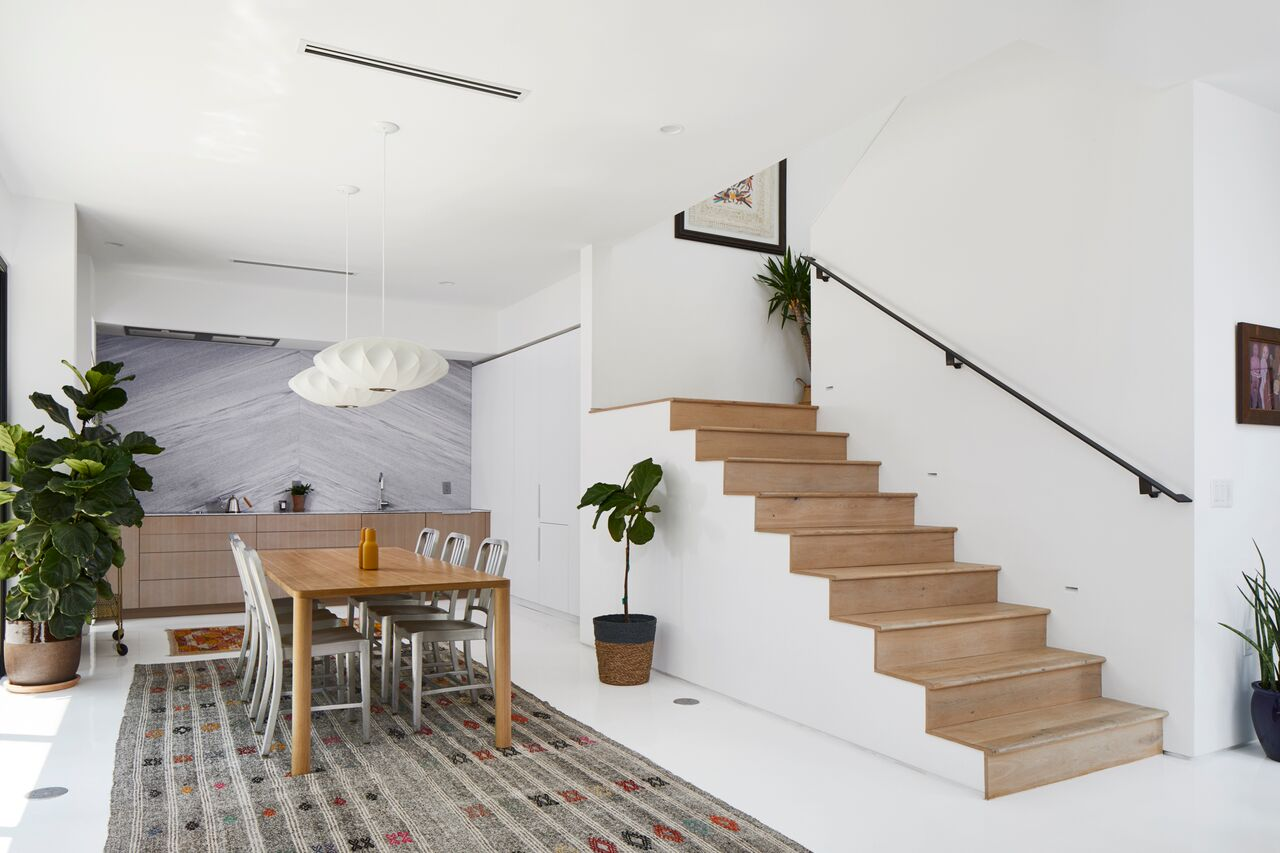 In order to marry style and function in the small space, Fitch decided a large backsplash would work as both a centerpiece and anchor point of the open plan room, saying, "a backsplash is something that you need in every [home]. Since it's in the kitchen it has to be functional but that doesn't mean it can't be pretty as well." To ensure the right look and feel, plus a seamless integration of the stone, Polycor quarried a custom piece of marble to help bring his vision to life. "This piece was quarried specifically for our project and is taller than pieces they would typically quarry so they had to go out and find a block that was specifically this [size]," Fitch said. Polycor stone experts took time to select a block that would yield the consistent linear veining Fitch was looking for. "The two pieces [of White Georgia marble] on the backsplash are exact slices, just reversed and bookmatched. They came from the same spot."
It worked. The marble's slim veneer profile created an integrated and streamlined modern look. Fitch decided to forgo upper cabinets and instead extend the stone up the wall so that it disappears into the ceiling and into a recessed pocket that contains a strip of LED lighting, highlighting the beauty of the stone and providing a functional worklight for the countertop space. He also incorporated aconcealed vent hood in the ceiling as well so nothing would interfere with the full slab wall.
Full wall backsplashes can be tricky (and heavy) installations. The architect and fabricator accomplished this project with 1 cm material. The ultra-thin and reinforced slabs are two-thirds lighter than a 3 cm slab and have 10x the flexural strength. This saves the installer's back when reaching over cabinetry and allows for on site cuts for outlets and fixtures. Thanks to the thinness, the installation process was simple and even required less people to lift the slab into place. "We really lucked into this" commented Fitch, "because it's a pretty significant piece of size marble [and] the fact that it was only one centimeter thick, made it a much simpler installation process than it would have been otherwise. I think it would have been quite the ordeal."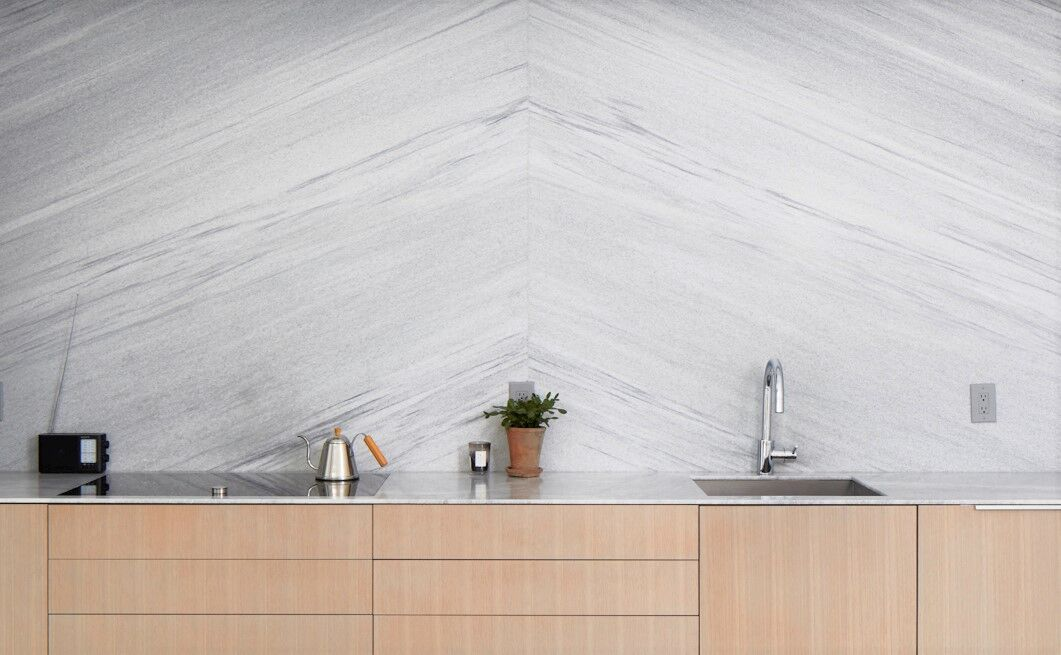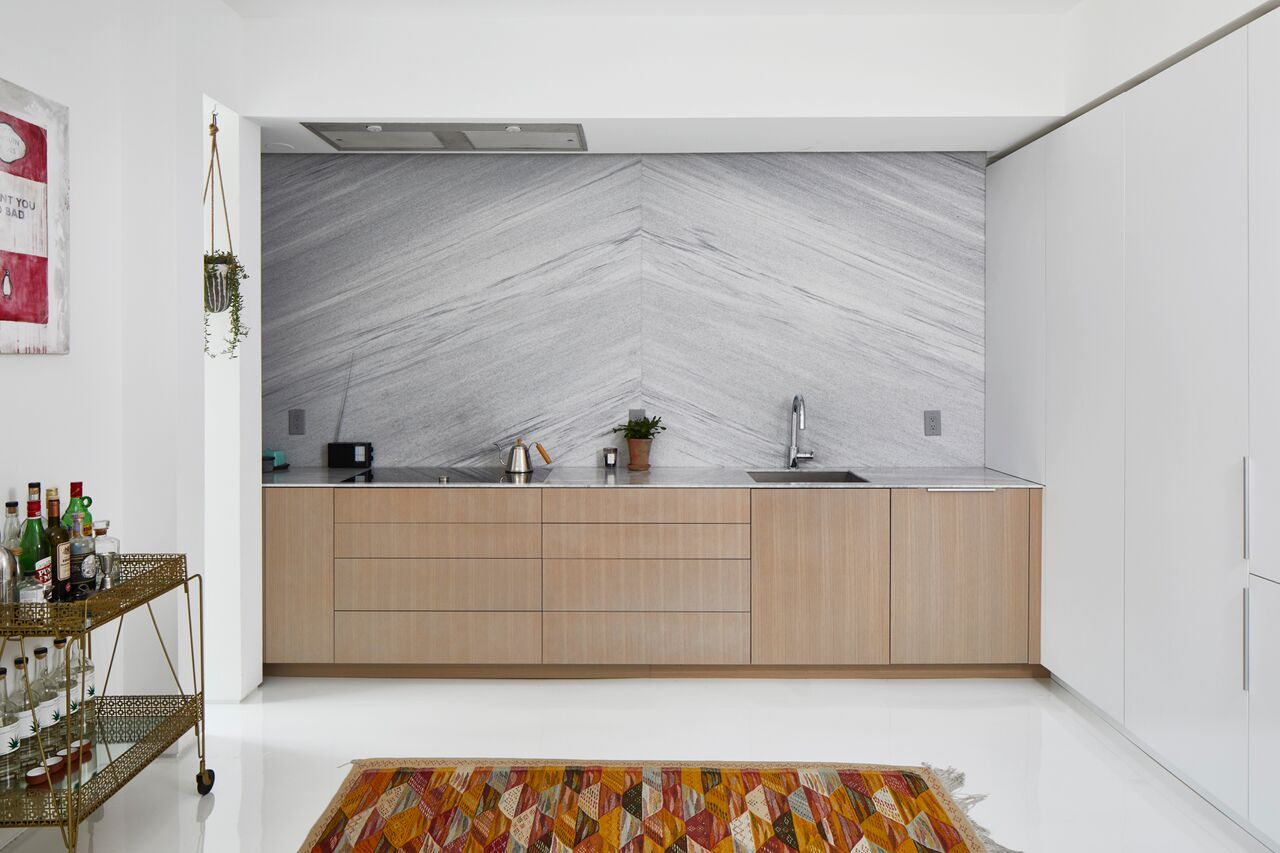 To continue the modern and minimal motif, Fitch used the Georgia Marble – White Cherokee™on the countertop as well. The main difference being that instead of a traditional cooktop sitting above the stone, the fabricators routed out the lip so the cooktop could sit flush with the surface of the countertop. "Just having that whisper of an edge really goes a long way in making it look like built-in cabinetry," he said. In a testament to the stone's durability and ease of customization, these recessed areas never compromised the integrity of the stone and were so simple that parts of the job were even done on site with minimal interference. The design details of this project were such that they were intended to disappear. "One guiding principal to modernism in general and especially to our house, is that less is more", noted Fitch. "This is our kitchen and it has to be super functional, but this is also our living room and our dining room so when you're not using it should disappear beautifully into the room." In a nod to their use of Georgia Marble – White Cherokee™he notes that, "the stone is sort of in that same vein in that it's visually less, it's lighter and simpler but there's a whole lot of technology, craftsmanship and work to get to that point."
"I had no problems at all with it [in terms of] the durability or the installation and we did some pretty unique things that are not readily available." Plus, he says, from a design standpoint, it's worth it, "it was great to work with as far as the counter top's thin profile, it's a look that not too many other materials could have achieved."