Precision Cut Stone: An Architect's Vision Realized With Indiana Limestone
Gillis Quarries is a longtime, 4th generation Canadian company which has made a name for itself specializing in the local dolomitic limestone to which they gave the name Tyndall Stone.
But for a new luxury residential project, architect John Duerksen and builder Cody Brown of Brownstone Estates specified Indiana Limestone products from Polycor Hardscapes & Masonry. The company incorporated a skillful mix of standard and raw products — about 2,800 square feet of 16″ x 24″ VANDERBILT CLASSIC® Indiana Limestone thin veneer in a honed finish. Small blocks of the same stone were ordered for other details requiring custom fabrication for trim, banding, balusters and columns.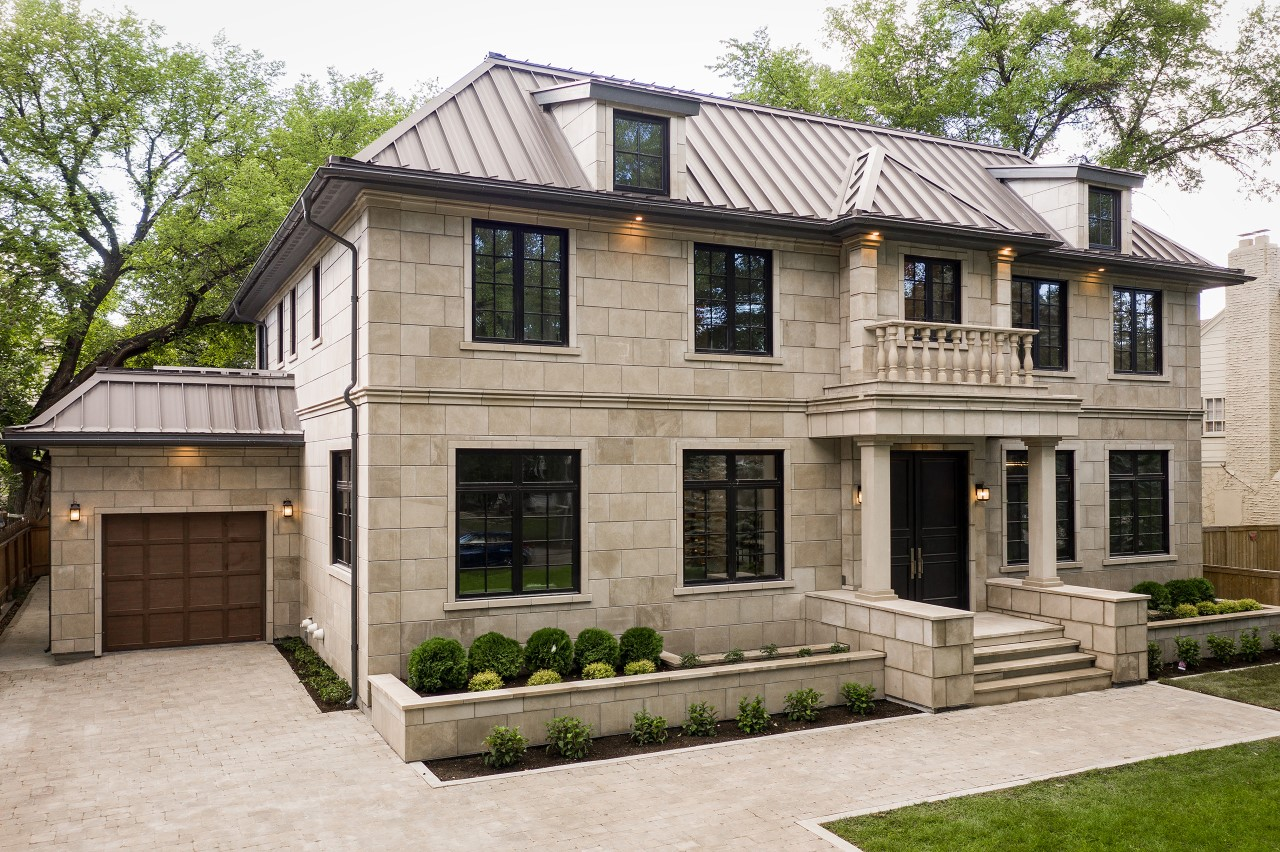 The Canadian home is a handsome and harmonious design that is clearly modernist yet includes classical undertones in the styling, as seen in the second floor balcony with balustrade, and columns flanking the front entrance. These, along with the cornices, and the window surrounds were customized with Vanderbilt Classic® Indiana Limestone thin veneer. The veneer was used exclusively throughout the façade and entryway.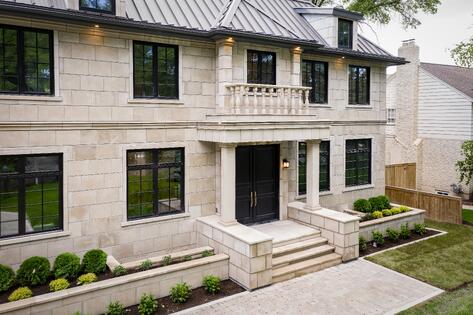 On the front elevation, surrounding the second-story balustraded balcony, the veneer is on full display with its tailored and clean-cut coursing being the focal point. The realization of the project was a success thanks to the masonry experience of Gillis Quarries who also expressed how using Polycor's veneer adds a new niche to their business.
Stone veneer, and architectural stone veneer in particular, has been used since the 19th century. Polycor's Estate Veneer Series is made from the same high quality, celebrated natural stone that has been used in a long and impressive list of American landmarks, (think the Vanderbilt's Biltmore estate or the Empire State Building for a start). Indiana Limestone is a natural oolotic limestone that has come to stand for elegance and durability after hundreds of years of use throughout the world. Whether in an iconic historic building or a new residential build, these veneers always make a lasting statement.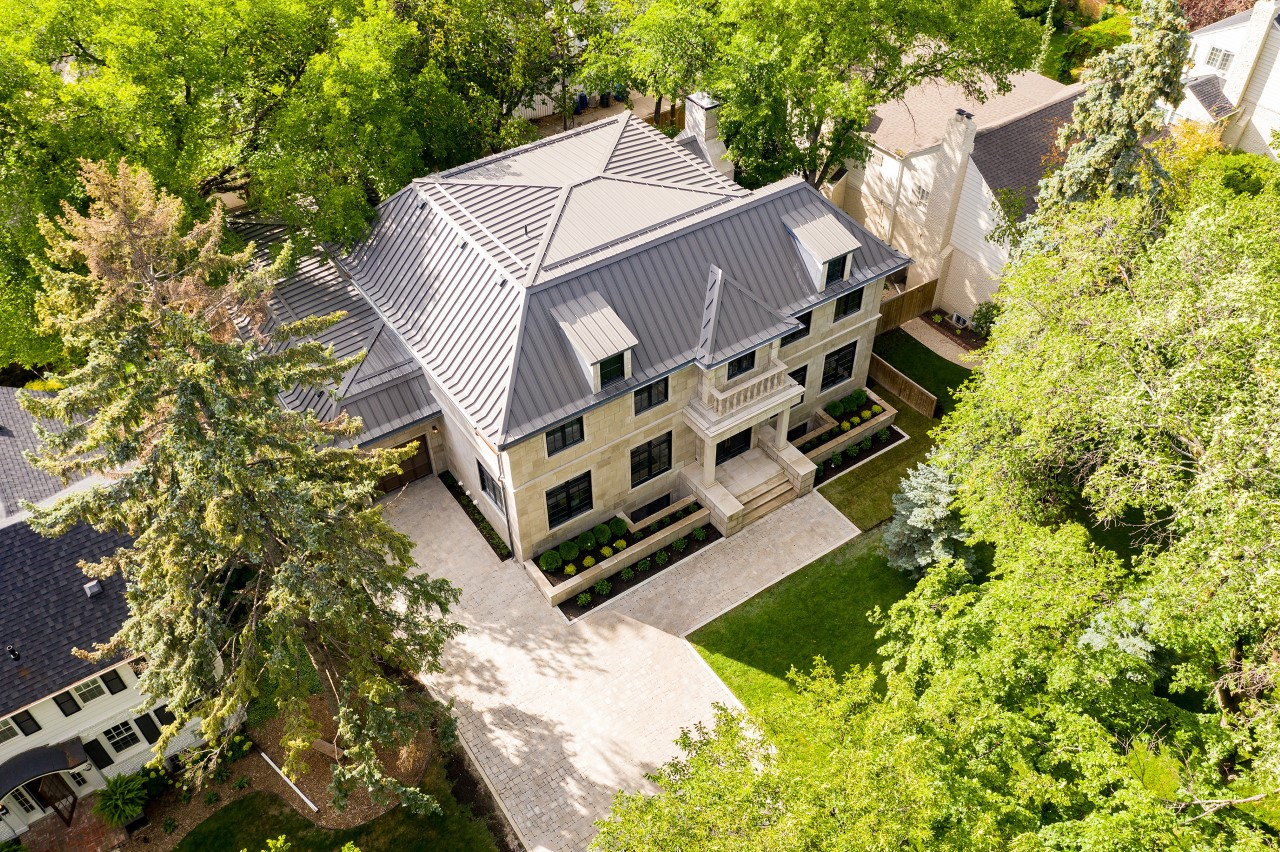 The Canadian residence is a great example of a stunning design executed by
the talented contracting team of Brownstone Estates and Shaun Sawatzky Masonry
with a direct line to Polycor's quarries. Gillis Quarries appreciated the fact that the thin veneers are lightweight, and that they are less labor intensive to install (you can read more about how thin stone veneer is installed here).
Vanderbilt Classic® thin veneer comes standard 1 3/16" thickness with four different heights: 3 ⅝", 7 ⅝", 11 ⅝" and 15 ⅝" – all in 23 ⅝" lengths. A wide range of effects can be achieved using this thin veneer as can be seen in the quirk mitered corners where the front of the home seamlessly transitions to the sides. In contrast, butt jointed veneer was used for the fireplace chimney section and rear elevations of the home where the joints create a different design aesthetic at the corners.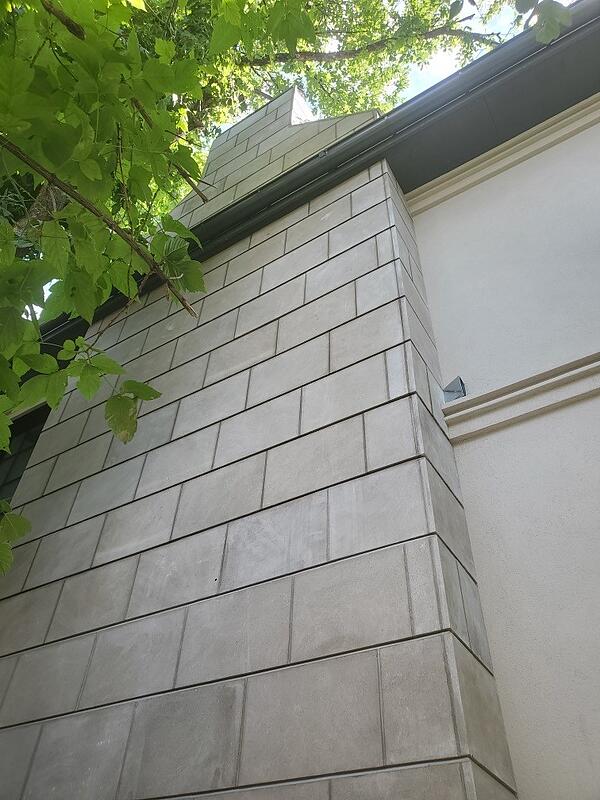 Indiana limestone is strong and durable enough for the freeze / thaw cycles encountered in Canadian winters and its smooth surface and uniform coloring is free of bedding planes: the same composition runs throughout the stone and resists fading over decades. "You can cut it in any direction, there are no bedplanes and there is no waste. You can use everything down to the finest cut," said Jeff Dolovich, Vice President, Sales & Marketing at Gillis Quarries.
It's a classic stone that is versatile and can adapt to different styles that demand the finest building materials. In addition to standard sizes and finishes, Indiana limestone and other Polycor Hardscapes & Masonry stones can be quarried or cut to order for projects that require specific dimensions or for fabricators looking to transform it in their own shops.
LEARN MORE ABOUT POLYCOR HARDSCAPES & MASONRY'S AUTHORIZED CONTRACTOR PROGRAM
Dolovich summed up the experience by saying "you need to have a relationship with a quarrier to have all that" working with Indiana Limestone offers. Polycor Hardscapes & Masonry Certified Contractor Program facilitates this to beautiful effect in this, and many other residential and commercial projects.