American Marble Gives A New Face To The Surroundings Of An American Landmark In St. Louis
Once a series of tired, disparate spaces bifurcated by highway traffic, St. Louis' Gateway Arch National Park recently saw a major overhaul to become a glorious (and contiguous) public space connecting historic monuments with modern architectural elements.
Besides the iconic arch designed by famed architect Eero Saarinen, Gateway Arch Park (formerly named Jefferson National Expansion Memorial) contains along a 1.5-mile riverfront promenade, a museum, a natural amphitheatre, green spaces, and a plaza grounded in natural stone.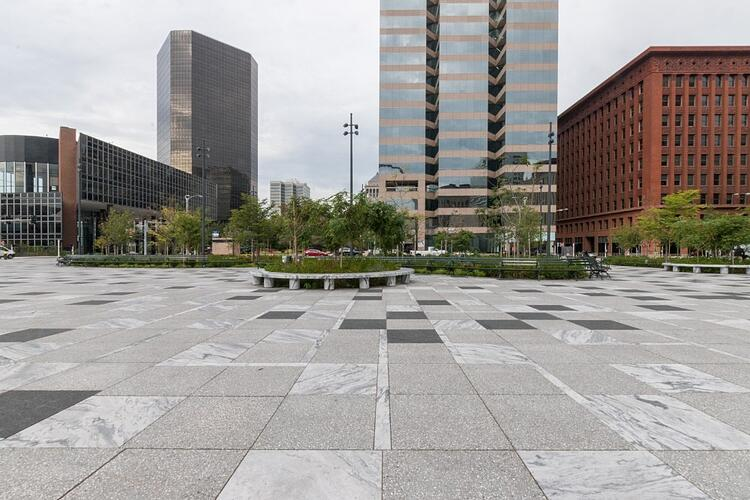 Kiener Plaza pictured here spans Market and Chestnut streets and offers prime views of the Old Courthouse framed by the arch beyond it. Kiener Plaza is named for Harry Kiener, a USA Track & Field member who competed at the 1904 Olympics, eventually becoming a steel company executive and philanthropist. His namesake park features a number of paths and a lawn that can accommodate a variety of events, including a bicycle parking grove, a shade garden with café tables and chairs, benches, a fountain garden with a splash pad, and a children's play garden, as well as a statue in honor of the former Olympian.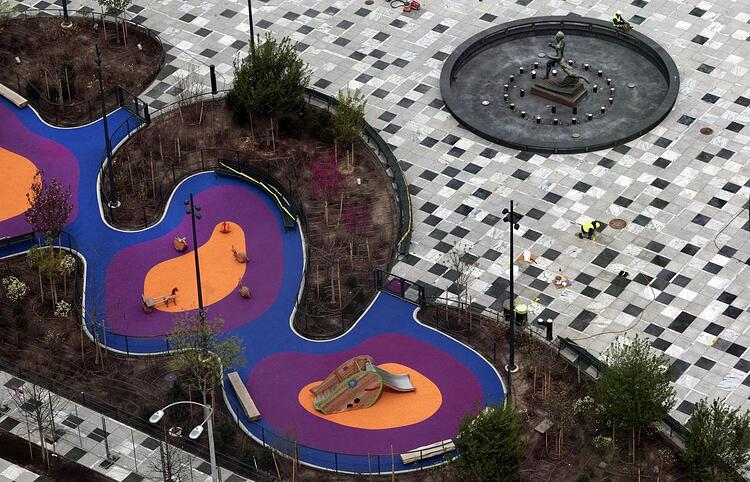 Nestled in islands of green are children's play areas and a splash pad. Photo courtesy of Gateway Arch Park Foundation.
Brooklyn-based landscape architect Michael Van Valkenburgh, whose firm led the changes to the Arch grounds, told the Chicago Tribune that the main objective of the public-private partnership project "was to undo the islandlike quality of the park," which the firm accomplished with a broad land bridge that spans Interstate Highway 44.
Previously a highway trench and a busy surface street cut off the arch from nearby downtown where pedestrians headed to the arch had to cross narrow highway bridges. According to the Tribune's architecture critic Blair Kamin, "Other visitors would deposit their vehicles in a parking deck on the north side of the arch's grounds, take in the 630-foot-tall icon, then leave without ever setting foot downtown."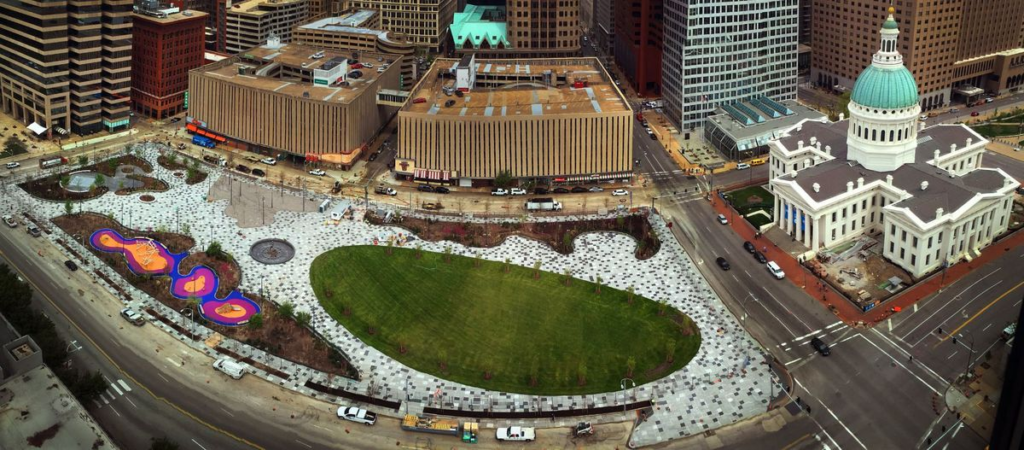 The Gateway Arch grounds reopened July 3, 2018 after a several year $380 million overhaul of the Arch grounds and adjacent Gateway Mall. Map detail from National Park Service.
GROUNDED IN NATURAL STONE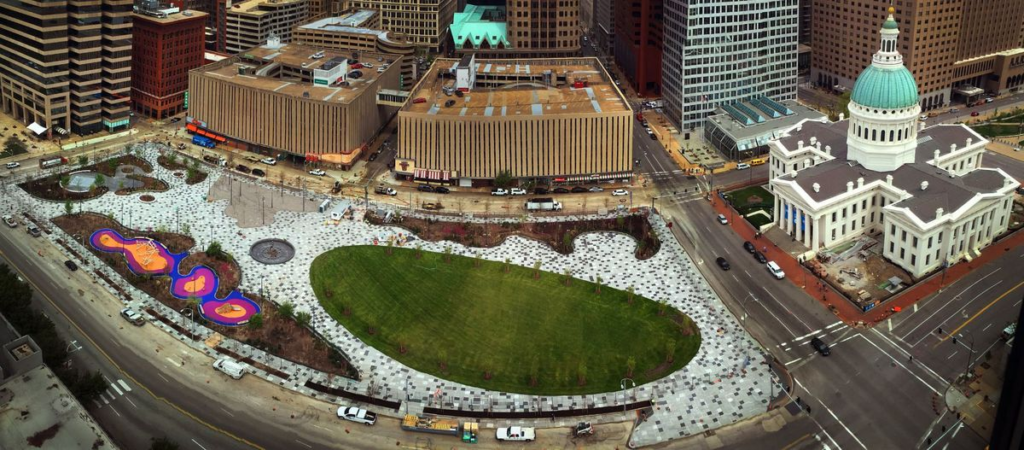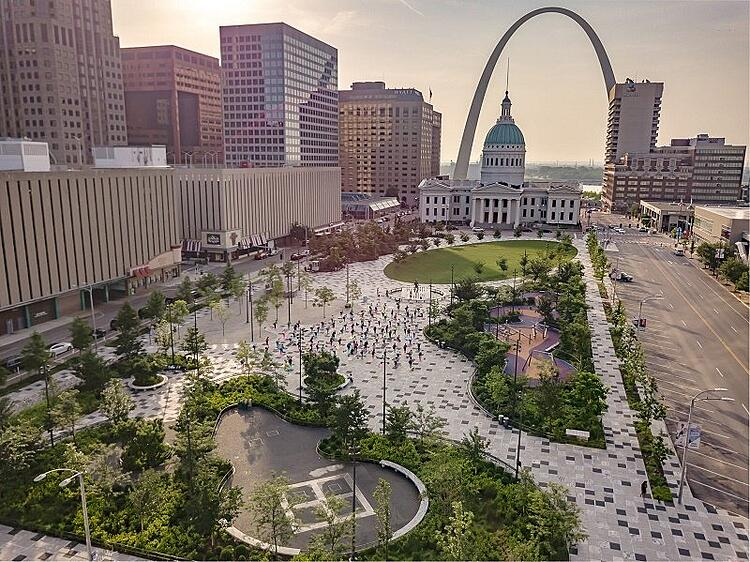 The plaza includes an irregular pattern of mixed natural stone pavers that includes GEORGIA MARBLE – PEARL GREY™ American marble and LAURENTIAN GREEN™granite, along with terrazzo pavers from Tectura in various sizes and shapes. Up close, the effect is a lively and engaging walking area dotted with green islands of grass and plantings. (From above the space looks like a pixelated satellite image.)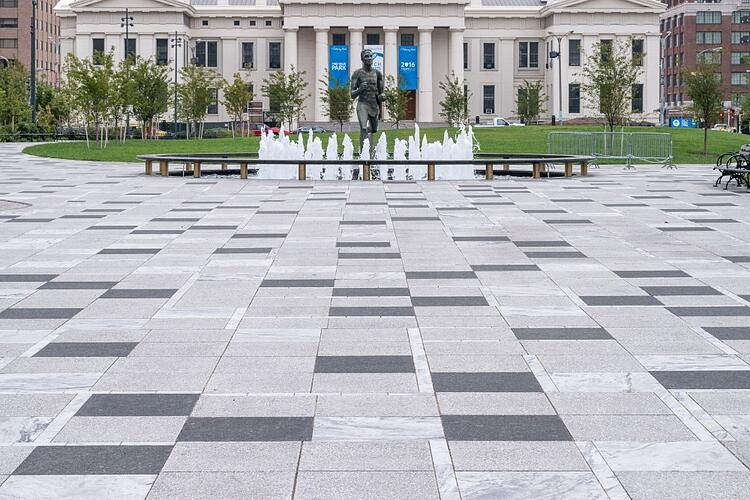 Marble for the curved, carved bench planters was quarried at Polycor's Tate, Georgia quarry. The thin, closely-packed and homogenous grain structure of this North American marble gives superior strength and resistance, which explains why it has been used for more than a century in indoor and outdoor architectural projects, including landmarks like New York's Saint Patrick's Cathedral.
Its white, gray and black veins create interesting surface movement. Pearl Grey comes from the same quarry as White Cherokee which makes up the benches of the Washington Monument Plaza.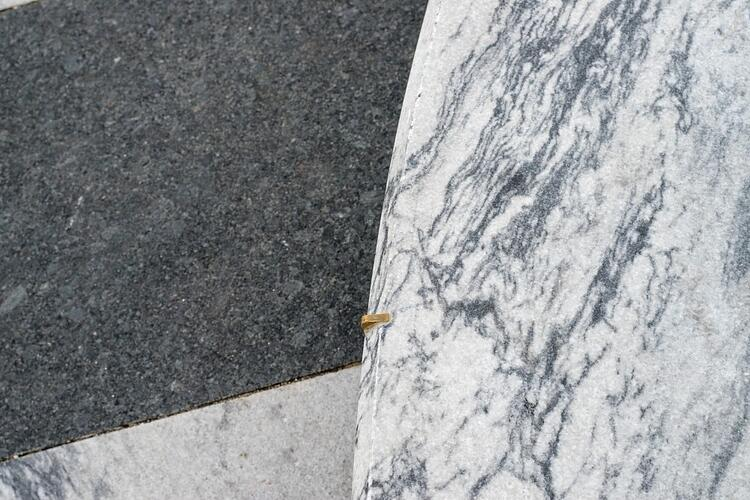 A detail perspective of a carved round Pearl Grey marble bench shows the contrast with a Laurentian Green granite paver.
Laurentian Green is a Canadian granite quarried in Lac Morin, Quebec. While similarly tinted stones may oxidize, this granite keeps its opaque dark-green color, flecked with blue quartz. In New York City, this granite was used for benches, planters and pavers at Paramount Plaza.
Associate Principal Nate Trevethan of Michael Van Valkenburgh Associates (MVVA) led the park expansion project, which included a $19 million renovation of Kiener Plaza. Trevethan told St. Louis Magazine that providing places for children to play in the plaza was just as important as spaces for adults to interact. "We wanted to have a place where families driving to St. Louis could stop to let the kids out to unwind," he said.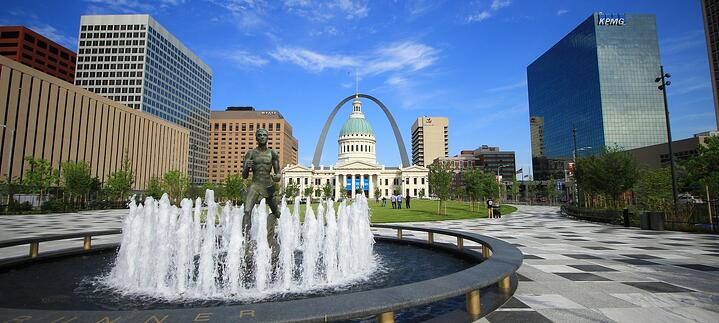 "The Olympic Runner" statue by William Zorach honors the former Olympian, and park's namesake, Harry Keiner. Photo courtesy of Gateway Arch Park Foundation.
In recent years, attendance at the arch was in steady decline. The hope is that this massive public-private partnership will encourage visitors to return. Thanks to the work of MVVA and partners, the St. Louis arch is no longer a drive by landmark separated from the daily life of the city, and instead is a destination where residents and visitors alike can gather to play.