Marble and Granite Designs Break Out Of The Countertop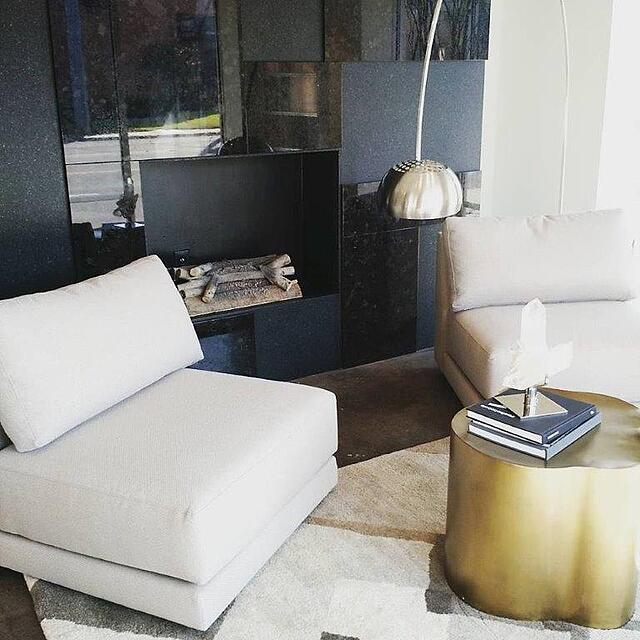 Our love affairs with design materials come and go, some for good. (We're talking to you Linoleum.) But the stone countertop is a classic that has outlived the fads of Formica and stainless steel tops. Instead of being replaced by newer materials, natural stone is actually breaking out of its kitchen restraints to stretch its legs and mark new territory around the house.
"I see a huge shift with stone moving out of the kitchen and into the living room," said April Graves director of marketing and operations of Aria Stone Gallery in Texas. Clients and members of the trade are now, she said, "Designing a whole living room around a piece of stone."
FROM ACCENT TO FOCAL POINT
In Graves' showroom that features premium, exotic stones like Manzanita, Lemurian and White Onyx, her team displays slabs on the wall like modern, abstract paintings. Tagged and priced they are pieces of art in a high-end gallery. Clients have taken the idea and incorporated slabs into their own living rooms. Their guests, Graves said, ask, "Where did that artwork come from?" "It's deceptive," she said.
The trend is in part driven by new technology in the material. For the last five years the Aria team has used natural stone in 1 cm thickness to achieve previously unattainable designs like ultra-thin desktops and marble sheathed drawers.
Recently the gallery used Polycor's thin Cambrian Black granite, which is composite-backed for strength, along with pieces of traditional thickness stone, to create another dimension – beyond color and finish – in what otherwise would have been a stark black fireplace.
Aria showcased the versatility of the solid black material with 2 cm thick polished pieces of irregular sizes paired with honed 1 cm pieces. The full wall clad chimney juxtaposes large and small, shiny and matte, flush and recessed.
"Even black within itself can be visually engaging," Graves said.
Stone on a fireplace isn't new, but the application is changing from stacked pieces and tile surrounds to full slab chimneys and plays on depth, color and pattern. See more in our slideshare.
BOOKMATCHING TO SHOWCASE MOVEMENT
Feeding the movement of stone in our common areas, is of course our insatiable hunger for open floor plans. Now a waterfall island isn't just the heart of the kitchen, it's a feature in the living room. Graves said when choosing a stone counter she encourages her clients to ask, "How does the color, pattern and movement relate to the other spaces? When looking from the living room, how can this piece be highlighted?"
The best way to highlight it, for designers like Graves is by treating the stone like the natural product it is. Engineered products like porcelain and Pergo offer uniformity and soullessness, a print of natural material instead of the real thing. Natural stone has the characteristics and variation of a living thing grown over time, a very long time. Like heartwood it can be cut and bookmatched to achieve a more dramatic effect. But not without the careful planning of the architect or designer to highlight the movement and pattern of the stone.
Graves cautions trade professionals to spec the stone so the pattern doesn't break off on a cabinet or counter.
"Treat it like you would wood that has a grain pattern you want to showcase," Graves said. "To achieve the bookmatch it might be the difference between a three slab or four slab project. Lay out the slabs to see how they should be cut to maintain a seamless pattern."
Christopher Martinez of Poggenphol in Paramus said his clients are gravitating more toward marble and granite with simple and elegant veining, which lends itself to bookmatching from floor to ceiling. "Rather than art or decoration that you have to change out, the walls themselves are a clean beautiful look," he said.
In Martinez' designs he favors St. Pierre and White Cherokee.
"It's not your mother's granite. It doesn't have a ton of speckles," he said. "It's a simple elegant look that has areas of interest, but not the eye pollution of granites of yesterday."
At Polycor we see more bathrooms with bookmatched stone (see an example here), but the look isn't limited to the bath.
In London, designer Justin Capuco of Rafael de Cárdenas / Architecture At Large, is working on a project where he will sheath a pool in bookmatched marble. I think that qualifies as literally swimming in luxury.