Cambrian Black: LBD of Granites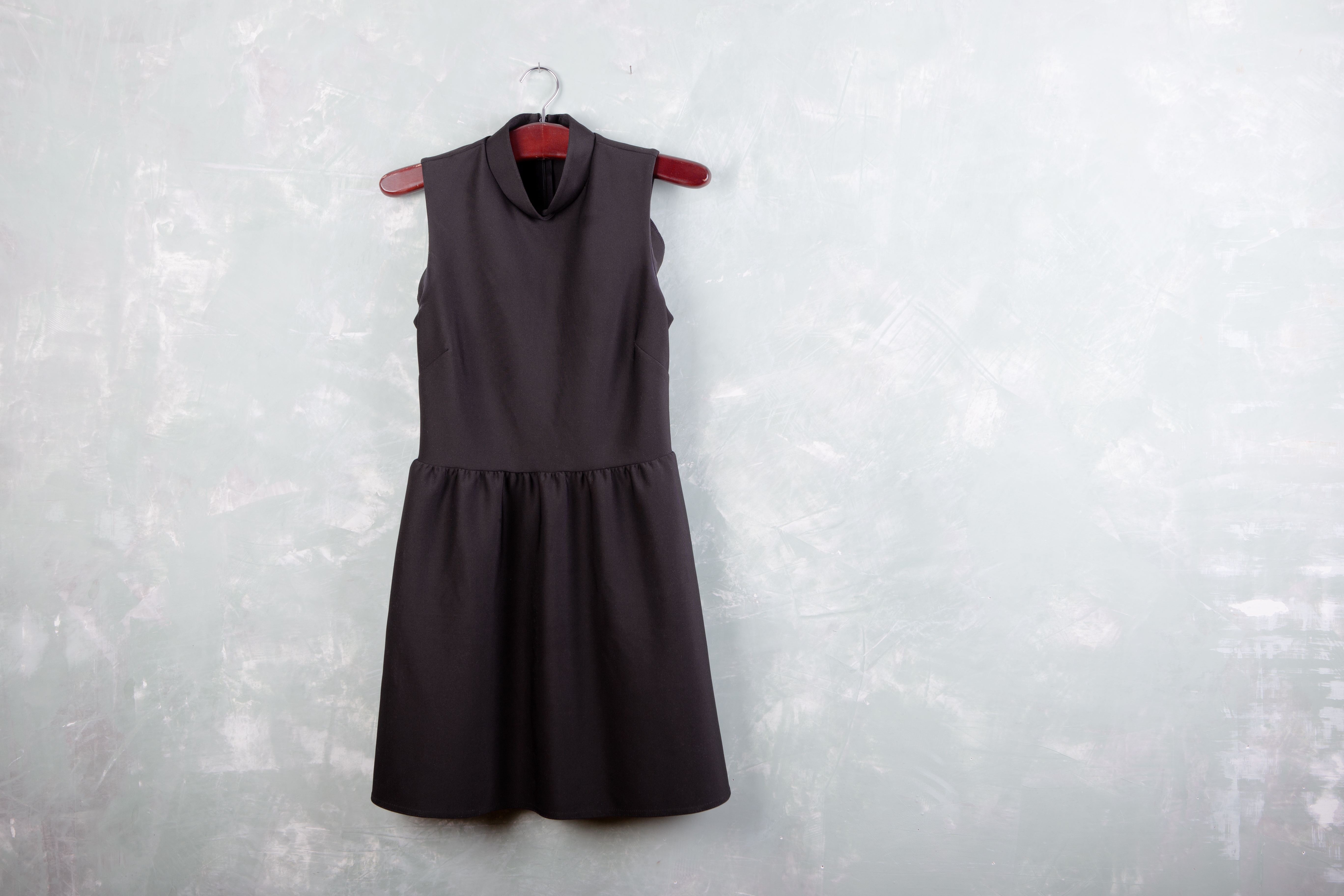 There are two reasons the Little Black Dress has earned itself the universal acronym LBD: versatility and longevity.
Chic for the charity event, sexy for a date, appropriate for the boardroom – it's all things to all people, a true wardrobe staple. The LBD dresses up with jewelry and down with a jean jacket and ignores the fads of color of lesser dresses. The Little Black Dress weathers trends and eras with its best features: a simple silhouette and timeless elegance.
Women purchase the LBD because it makes them feel feminine, strong and fashionable. And no matter if they buy high or low, the justification is easy for its high use value: It's a piece I can wear again and again, and always look great in.
A smart choice for an enduring wardrobe, but what about the spaces in your life?
Host to a thousand sandwiches, a million cups of coffee, years of family traditions and countless closely held conversations with the ones you love, your kitchen countertop is your home's most valuable real estate.
Shouldn't your countertop be chic, sexy and versatile for years? Able to endure the trends (beige, greige and the like)?
Enter the LBD of natural stone: Cambrian Black Granite from a quarry located deep in Quebec, Canada's countryside.
"It's truly, naturally black," said Jeff Lemieux, Vice President of blocks at Polycor and its head of development for the European market.
"We never use resin or coloring so it can be used in any application, interior or exterior. And the color is always pure and consistent, always a very deep black color. It's consistent throughout. You can take a block produced 10 years ago for a job you did, and if you need to restore some pieces you can take a block produced in 2016 and it's going to perfectly match."
Polycor exported more than 25,000 cubic feet of Cambrian Black rough blocks to Europe in 2015 and expects to expand that number by almost double in the near future.
We love Cambrian Black because like the beloved LBD, it looks good in all situations no matter how formal or relaxed.
Here in the U.S. and Canada designers are using the stone in both modern and traditional kitchens. Take a look at these two spaces where designers used dark wood and Cambrian Black to create two vastly different aesthetics, with just simple edge and finish changes.
Below a modern light-filled kitchen in the DC metro area features Cambrian Black Granite with honed finish complimenting the dark stained frameless cabinets.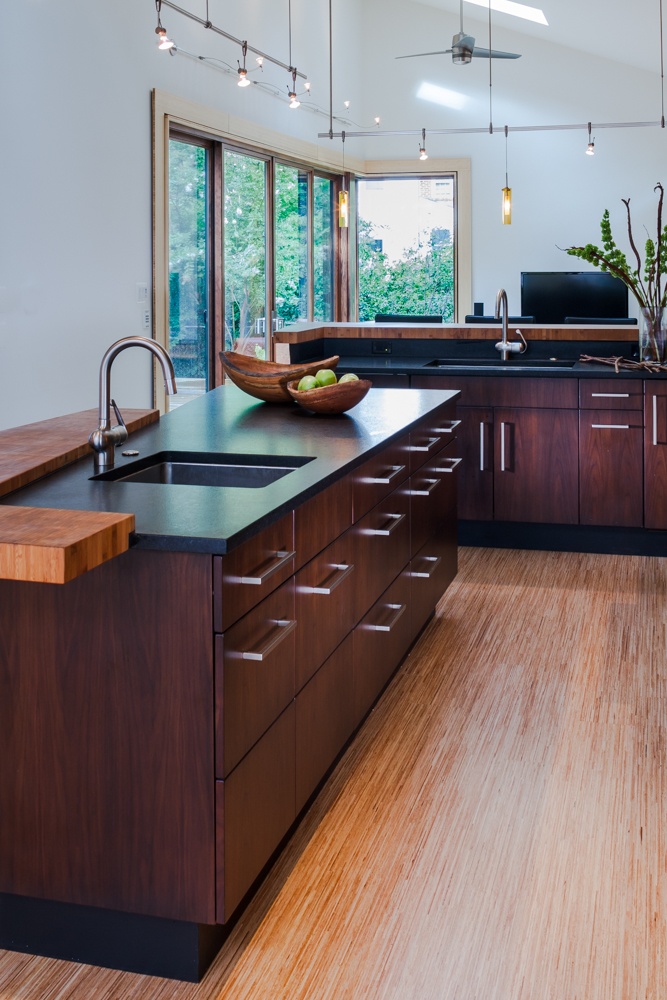 In this more classic style kitchen a Cambrian island with an antiqued finish (also called leather or brushed) anchors the space. The contrast of the raised panel doors in dark stain and warm white is carried to the surrounding light colored granite counters .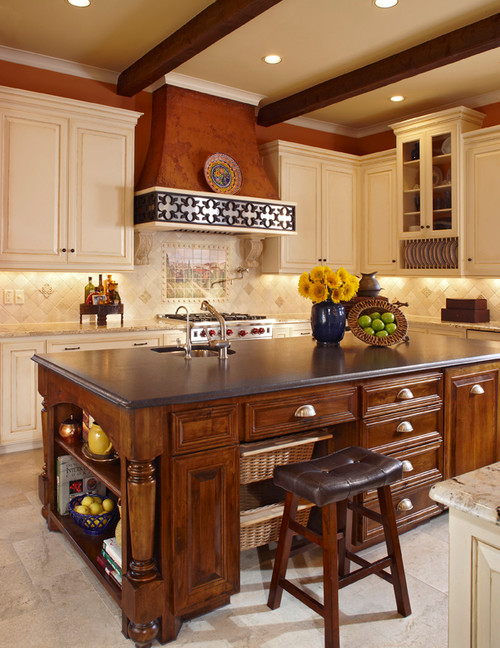 Traditional Kitchen by Dallas Interior Designers & Decorators Associate Interiors
The neutral material supports contemporary and traditional styles equally letting the cabinetry direct the space's point of view.
And like a dressmaker cutting a great black dress, fabricators can add elements of texture and shine to Cambrian Black to give it depth and personality.
Aria Stone Gallery in Houston used Polycor's 1 cm ultra thin Cambrian Black Granite, which is composite-backed for strength, along with pieces of traditional thickness stone, to create another dimension – beyond color and finish – in what otherwise would have been a stark black fireplace.
Aria showcased the versatility of the solid black material with 2 cm thick polished pieces of irregular sizes paired with honed 1 cm pieces. The full wall clad chimney juxtaposes large and small, shiny and matte, flush and recessed.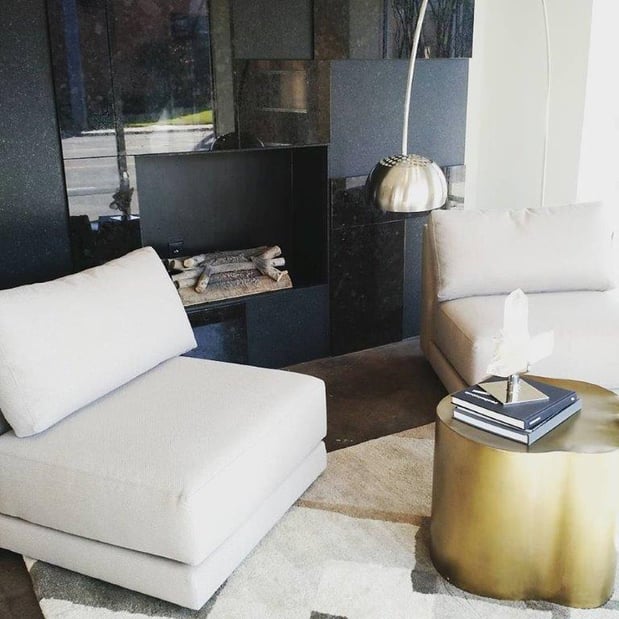 "Even black within itself can be visually engaging," said April Graves the gallery's director of marketing and operations.
Inherent in this granite are small crystals, sparkling granules unique to Cambrian Black. "It's a look that can't be found in other stone," Lemieux said. "When different finishes, like leather (antiqued) or high polish are applied to pieces of this black granite they really contrast with one another to make you feel like it's two different stones."
There are other black granites on the market, like Absolute Black and Black Galaxy, but Cambrian Black's color is the only one that maintains its true black color with a honed finish.
"When we extract it from the quarry it's not going to be black with a brown hue one month or black with green hue another," Lemieux said." It's always black and that's very rare."
Designers often select a honed finish because of its inviting, tangible quality. In the kitchen this means a lot of greasy fingers. With other honed granites, greasy touches leave dark black spots that can mar the surface.
Because its color is consistent throughout the stone, honed and brushed Cambrian Black (shown below), aren't vulnerable to those dark spots.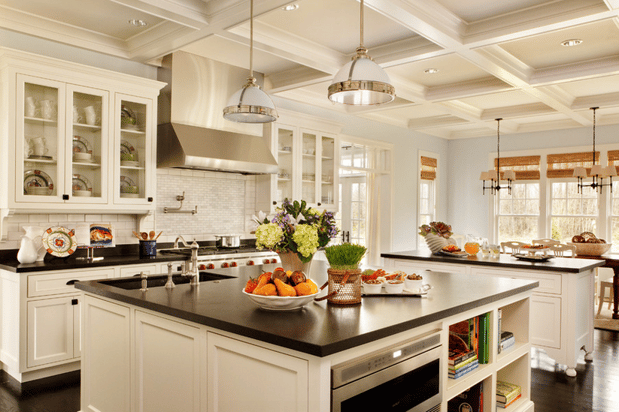 This year black is on trend, in cabinetry, accessories, lighting and even plumbing fixtures. But is it really ever out? Not a chance says Lemieux
"White and black are classic. They will pass the test of time, for us as a quarrier and for the customer. There will always be requests for stones like White Georgia marble or Cambrian Black granite."
Pairing a classic black granite countertop with trendier materials (custom artisan tile back splashes and copper accents anyone?) adds to the longevity of the material that's on trend.
"We have a saying in our industry," said Lemieux, "In a recession you'll be in trouble if you only have colored stone. Look at the market right now, there is a grey trend, and even grey with white and black, but black and white will always remain."