Elevate Your Concrete and Brick Projects With Natural Stone Accents
When it comes to hardscape projects, concrete products can wind up being a go-to for many contractors. Those man-made, interlocking concrete pavers that rose in popularity during the 1980's are like the default setting for cookie-cutter outdoor patios, garden walls and steps. But what if you could add a little bling that would not only upgrade the total look of a project, but might end up being easier to use than engineered stone?
Incorporating natural stone accents into many hardscape designs that use concrete pavers or bricks as the visual foundation is an easy way to elevate them from run-of-the-mill to next level. From WOODBURY GRAY™ granite whose classic coloring and hard-wearing durability make it a natural pairing with a variety of concrete and brick products, to Indiana Limestone — the quintessential American stone that adds a buff elegance to any hardscape, or the organic veining of GEORGIA MARBLE – PEARL GREY™ — natural stone plays well with many other products.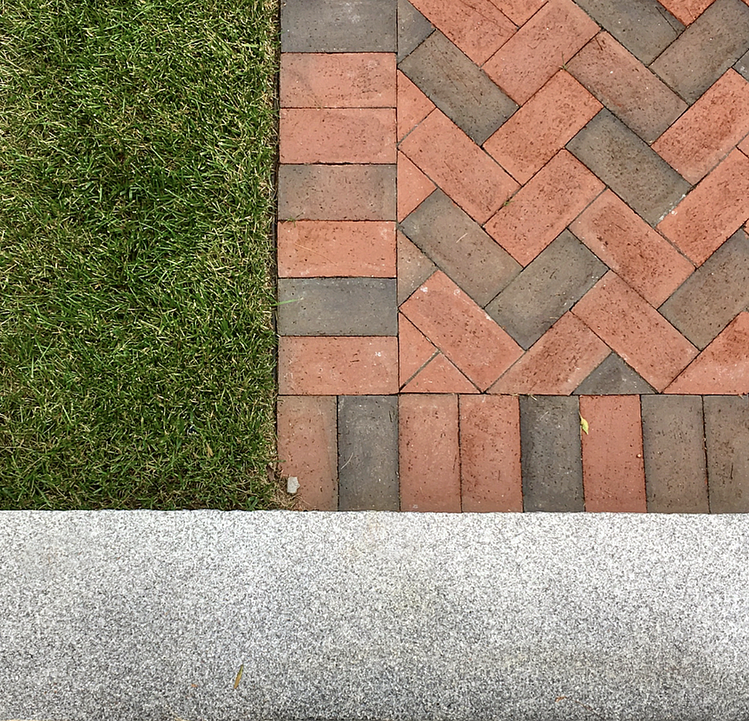 Woodbury Gray granite entry steps and brick walkway. Project by Seoane Landscape Design
NATURAL STONE BRINGS ITS 'A' GAME TO HARDSCAPE PROJECTS
As a hardscape accent, natural stone checks all your design boxes:
Creates visual interest: With organic textures and color contrast, natural stone creates focal points and makes certain elements in the landscape pop.
Ease of use: From a diversity of product sizes to ease of installation, natural stone can make any contractor's work a little easier.
Expands contractors' services: Homeowners interested in adding to the value of their homes appreciate the option of incorporating natural stone into their hardscape project, for a one-of-a-kind design that isn't just like their neighbor's.
Durability: Natural stone is inherently built to last, and with a 17,000 psi strength, Polycor Hardscapes & Masonry granites can withstand the elements for many generations. The proof is on display in the historic architecture and landmarks built over the centuries.
HOW TO INCORPORATE NATURAL STONE ACCENTS INTO YOUR CONCRETE OR BRICK HARDSCAPE
Polycor products make it easy to add natural stone to any project and set your space apart from the neighbors' to stand out from the pack. Natural stone accents not only enhance and protect your property, they also define and protect landscapes, increase property values and furnish a distinctive finishing touch.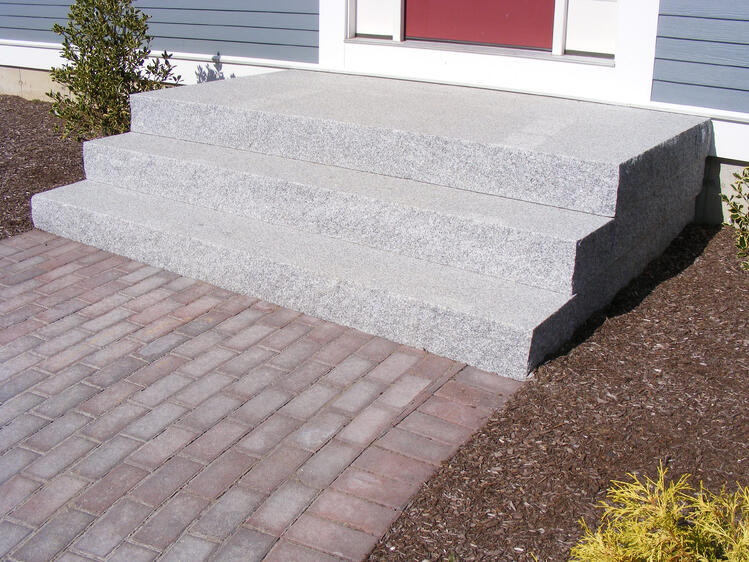 Woodbury Gray™ granite solid block entry steps and brick walkway
Entry Steps
Granite entry steps allow you to transform a door into an entrance. Installing granite entry steps can take less time by excavating, preparing your base and laying the stone, compared to the longer process it takes to build forms and pour concrete or lay CMU blocks while allowing for cure times. Plus, granite will outlast man made products, requiring no costly repairs over time.
SEE HOW TO INSTALL GRANITE ENTRY STEPS HERE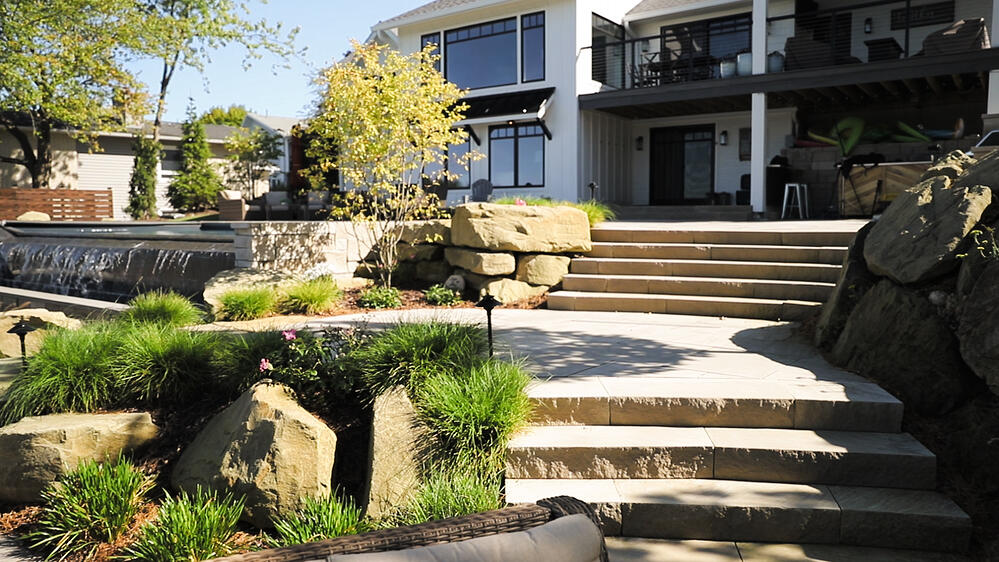 Indiana limestone – Full Color Blend™ landscape steps
Landscape Steps
Landscape steps lend a sense of weight and permanence to hardscaped areas. Create durable and timeless step elements from solid, single pieces of natural stone. Simply level a base and lay the stone in place for instant step transitions in sloping yards or into different adjoining elevations. Many contractors favor solid stone steps for their stability and the stone colors perfectly complement concrete paving or retaining walls, and look as if they are carved out of the landscape itself (because they are!).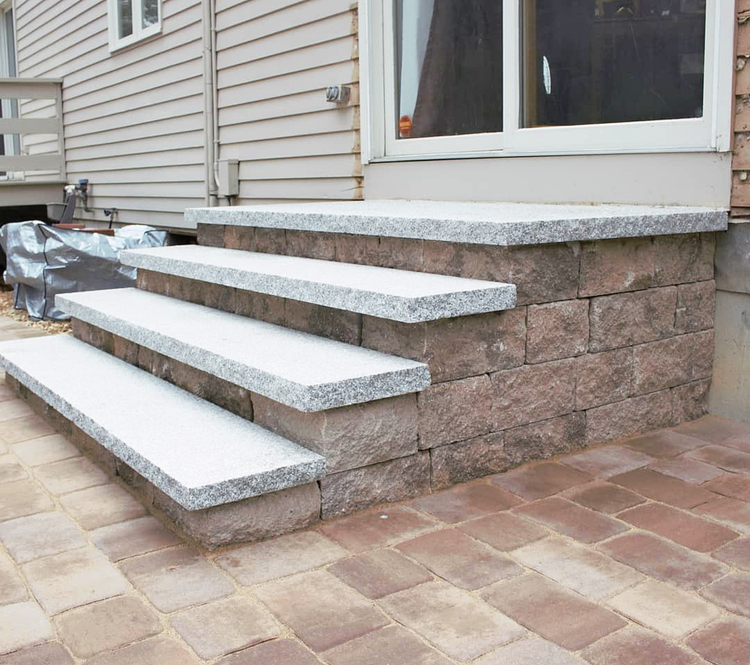 Woodbury Gray™ granite treads on precast concrete wall blocks and bricks. Project by: Mass Hardscapes
Treads
Natural stone treads add a luxury finish to standard steps built with concrete block. INDIANA LIMESTONE- FULL COLOR BLEND™ and Woodbury Gray™ granite have neutral buff and light gray tones that pair nicely with stucco. Pearl Gray™ marble treads give a rich look with striking veining on a white background.Textured, rock face and split face edges show the natural qualities of the stone's interior mineral structure.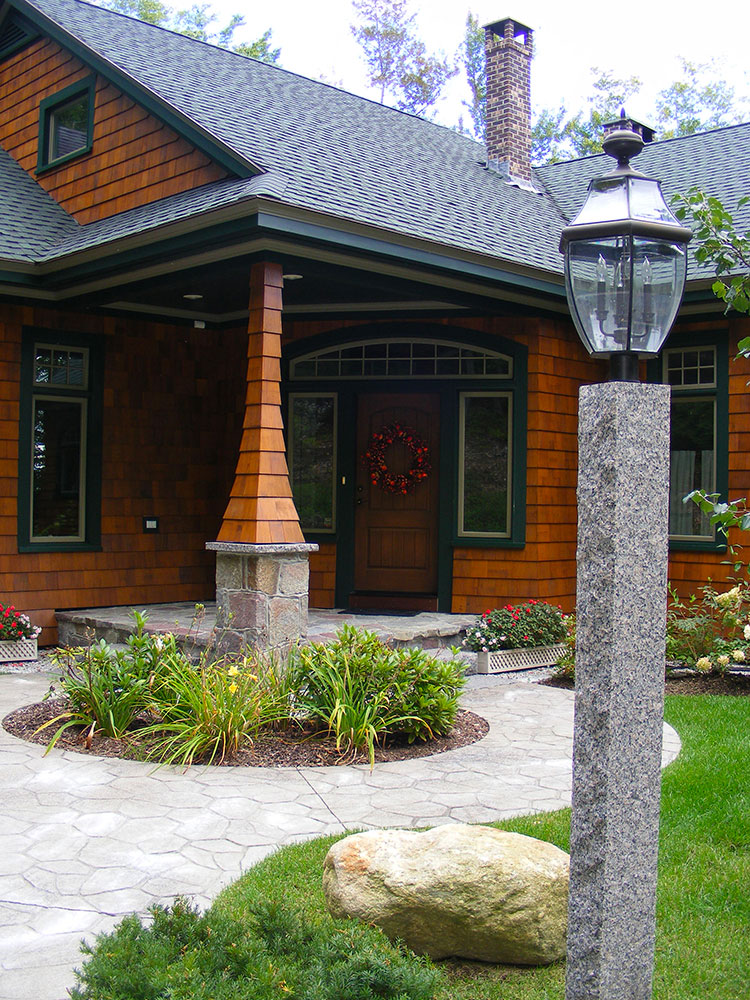 CALENDONIA™ granite lamp post next to a stamped concrete walkway light the path
LAMP POSTS
Easy to install granite posts and caps create an elegant, durable base for lighting. Lamp posts are split face on two sides and thermal finish on the two opposing sides and come pre-drilled for wiring, ready to accept mounting hardware for your lamp fixtures. Granite lamp posts are ideal for immediately elevating any space they are installed. Good for new projects or add lighting around an existing concrete patio, walkway, or driveway. Add a granite lamp post cap for an elevated finish.
LEARN HOW TO INSTALL A GRANITE POST HERE
Woodbury Gray™ granite wall cap and concrete wall blocks. Project by Mass Hardscapes
GARDEN WALLS & CAPS
Garden walls are a great addition to outdoors spaces and lend a sense of depth and definition along borders and edges of patios or walkways. Whether it be a dry-stacked natural stone wall or a concrete wall, the textures and colors used for caps and walls bring a unique visual interest. Polycor stone garden wall products have split face sides with various heights and play nice with concrete pavers or caps. For a tone-on-tone look, finish an Indiana Limestone wall with a cap made from the same stone.
LEARN HOW TO BUILD A GARDEN WALL HERE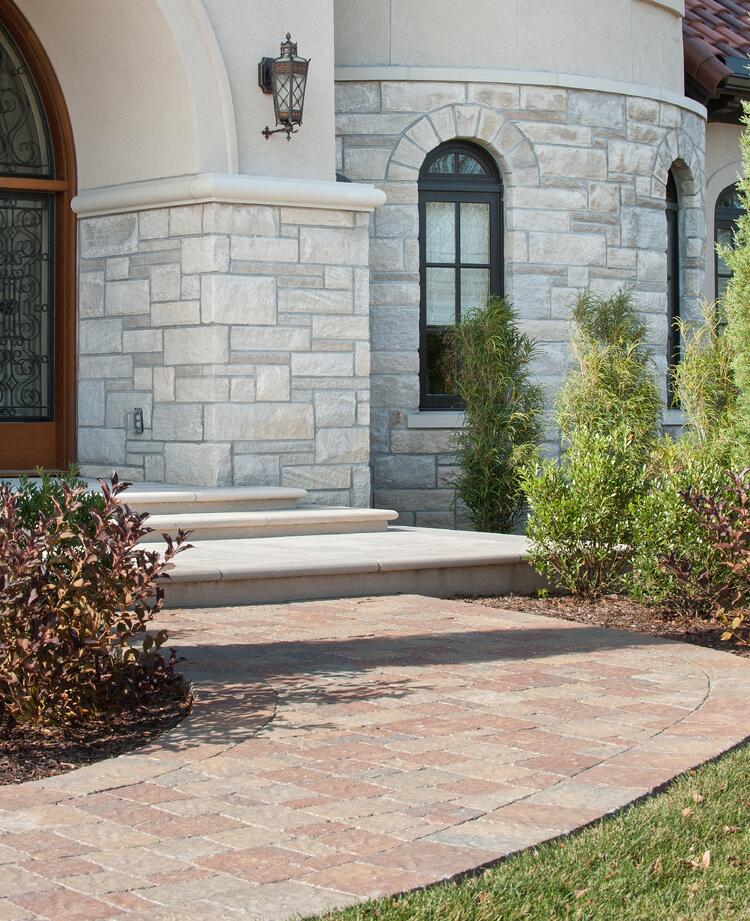 BERKSHIRE™ Indiana Limestone – Full Color Blend thin veneer with concrete paver walkway
VENEERS
Natural stone veneers lend a look of history and permanence to new construction, and can add that classic touch to your existing home as well. Whether you want the traditional depth of a full-bed veneer, or want to cover over an old brick fireplace with the space-saving dimensions of a thin veneer, the multiple sizes and thicknesses allow for many design possibilities. Transitions from other concrete finishes on a building's exterior to natural stone veneer creates opportunities for interesting feature walls and visual contrasts.
LEARN HOW TO INSTALL INDIANA LIMESTONE THIN VENEERS HERE
Aside from its visual beauty, texture and durability, there are advantages to using natural stone as a hardscape accent. Man-made products often come with some performance limitations. For starters, concrete products may come in shorter lengths or smaller formats, as longer lengths and bigger sizes require interior reinforcement that can make it a costlier product to work with. And if you need to make a cut in a concrete product, exposed ends could show unsightly cross sections of exposed aggregate.
When you choose one of Polycor's natural stones for a hardscape or masonry project you are adding timeless beauty that's guaranteed to last for generations to come.