Finding the Balance Between Historic and Modern at Bistro L'Orygine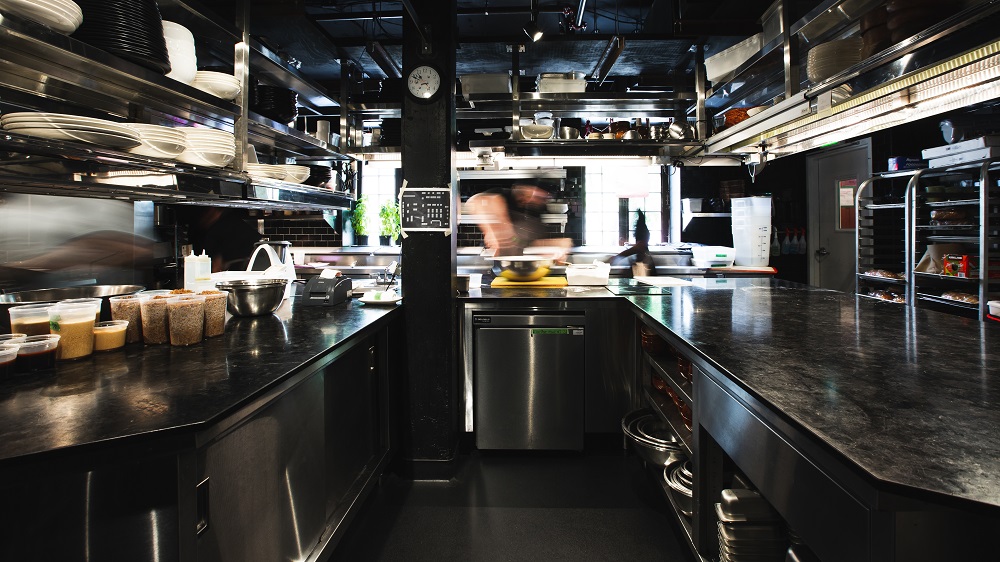 It's more important than ever to help support your local businesses and restaurants. We're all looking forward to when we can dine out again but until then, choosing to support a local restaurant when possible will help them operate during hard times like these. In addition to new take out options for your favorite comfort food, some businesses are even adapting menus for upcoming holidays. One of the Polycor team's favorite spots to join together and break bread when visiting headquarters in Quebec City is Bistro L'Orygine and (if we have room) Kerrmess, its decadent dessert shop next door. Like other local establishments across the country, they too are offering take home options and have even created a take out Easter menu helping people feel a sense of comfort during the holiday.Given the rapidly changing pace of everything, check out their Facebook page to get the most up-to-date info.
Bistro L'Orygine is a stone's throw from Place Royale in Old Quebec City, a UNESCO protected historic neighborhood, so it makes sense that there would be an element of heritage at this very modern eatery. The bistro is part of Groupe la Tanière, a well-known restaurant group in Quebec that has respect for nature and authenticity baked into its culinary philosophy, as well as into its ideas of decor. When the group opened this restaurant, they focused on local talent, using Quebec craftsmen for the design and local suppliers for their menu of creative organic dishes.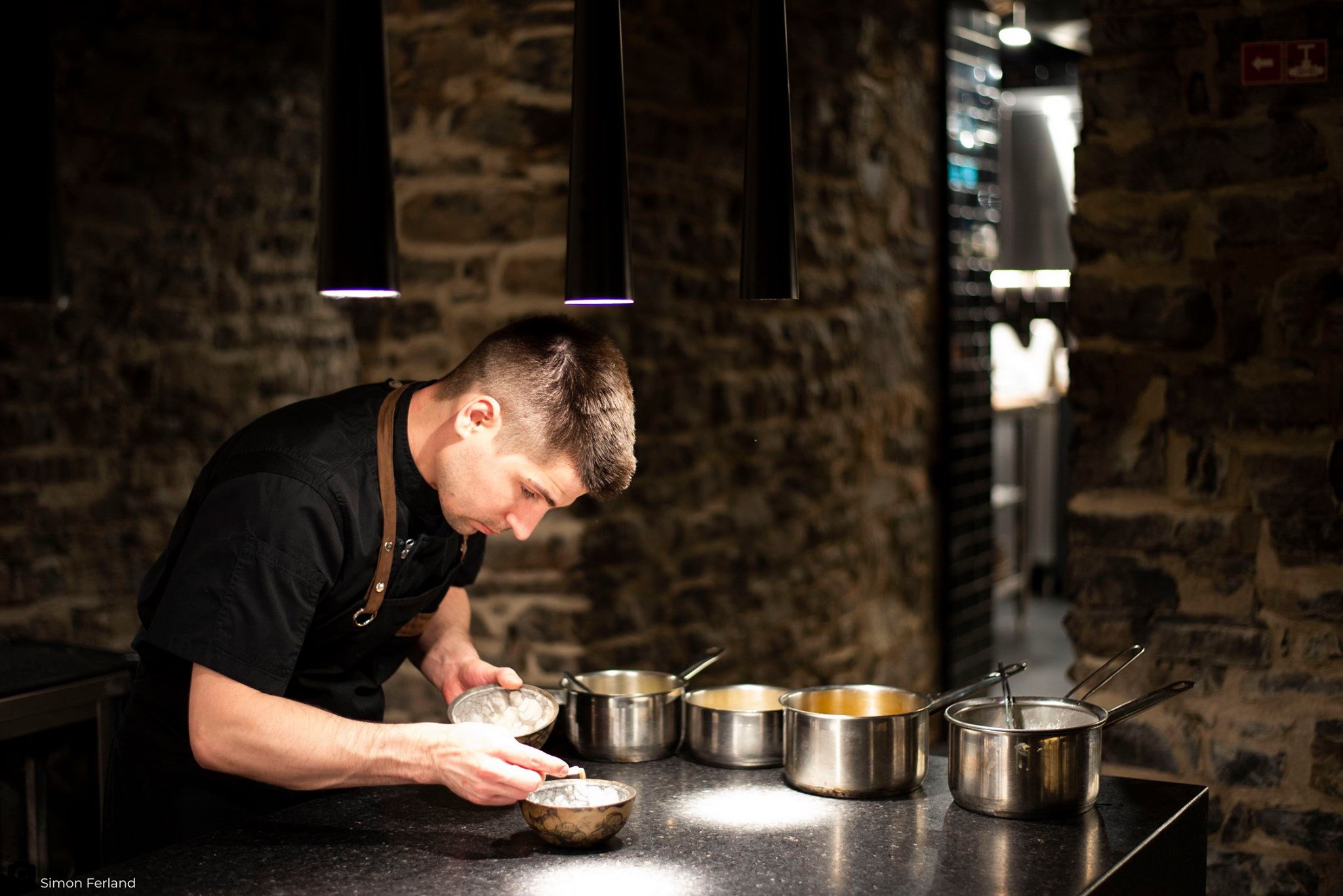 Durable SAINT HENRY BLACK™ granite counters stand up to the demanding needs of the culinary artists working their magic.
The restaurant is located in a historic 300-year-old building that at one time comprised three merchant houses belonging to families dating back to the 17th century when Saint-Pierre street was considered the Wall Street of Quebec City. When it came time to restore the building – an understandably daunting project that included everything from replacing pipes to foundations – Karen Therrien and Frédéric Laplante, partners in the Tanière restaurant group, used the same mix of heritage and innovation that they used in the restaurant concept. But as Therrien says, "We knew that we couldn't do just anything—this is a heritage place." And so it was that the farm-to-table concept of the cuisine was extended to the selection of the finish materials.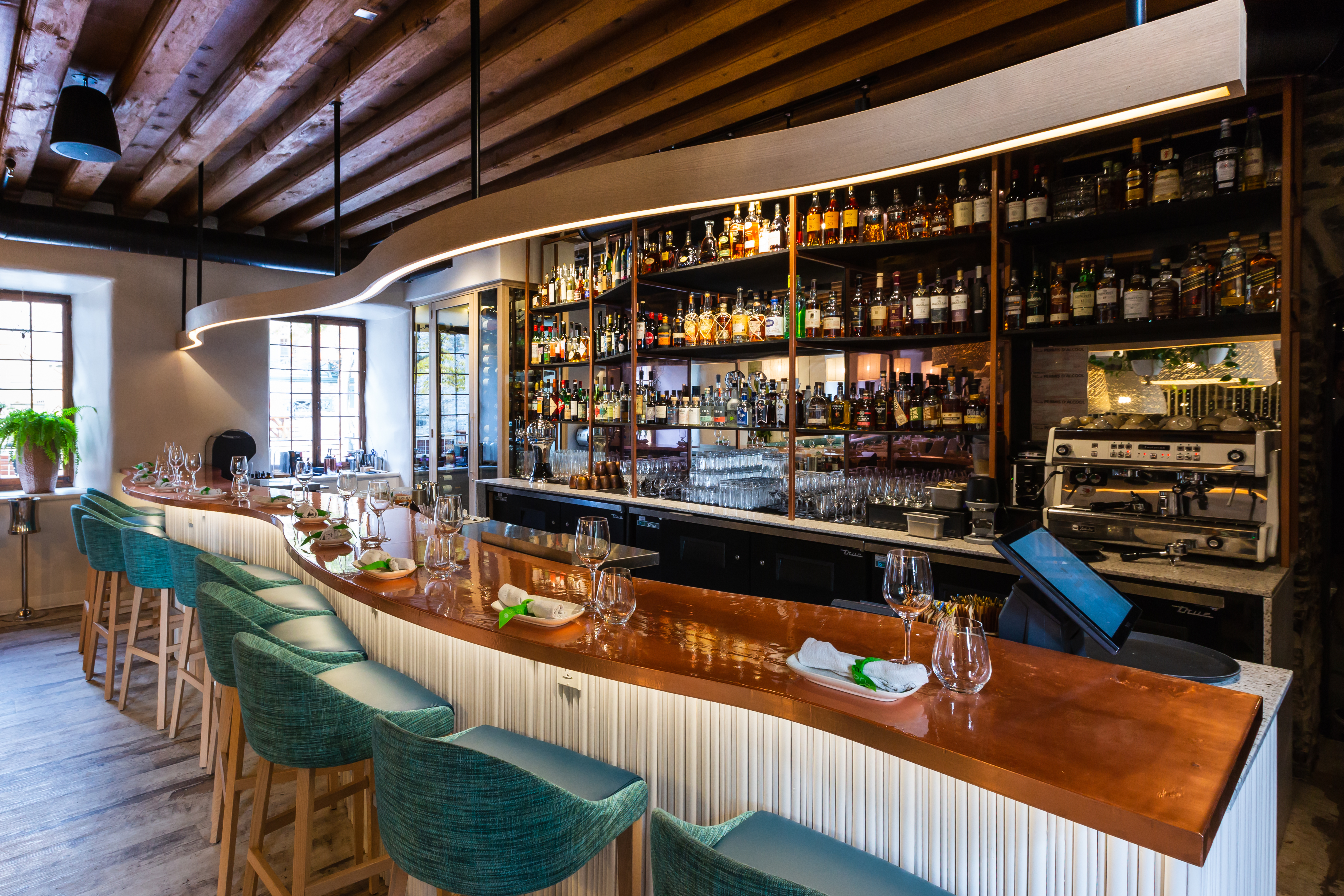 There is an element of heritage at this very modern eatery, Bistro L'Orygine in Old Quebec.
Now the space has been reconfigured as one large building with massive structural masonry walls and original vaulted cellars dating back to 1686. Due respect was also paid to the original wood beams, wood floor, and stone fireplace. With the heritage aspect taken care of, they wanted to send a message of modernity as well in the interior designs.
Many of the designs called for large, dramatic pieces of stone. For these large format surface installations, a mix of stone and thicknesses were used, from ultra-thin 1cm reinforced granite and marble to 3cm slabs.
"We narrowed our selection to three different stones for each space, and proceeded to a collective vote on which stone was the most appropriate. It was important for us to have something durable but aesthetically pleasing," said Therrien.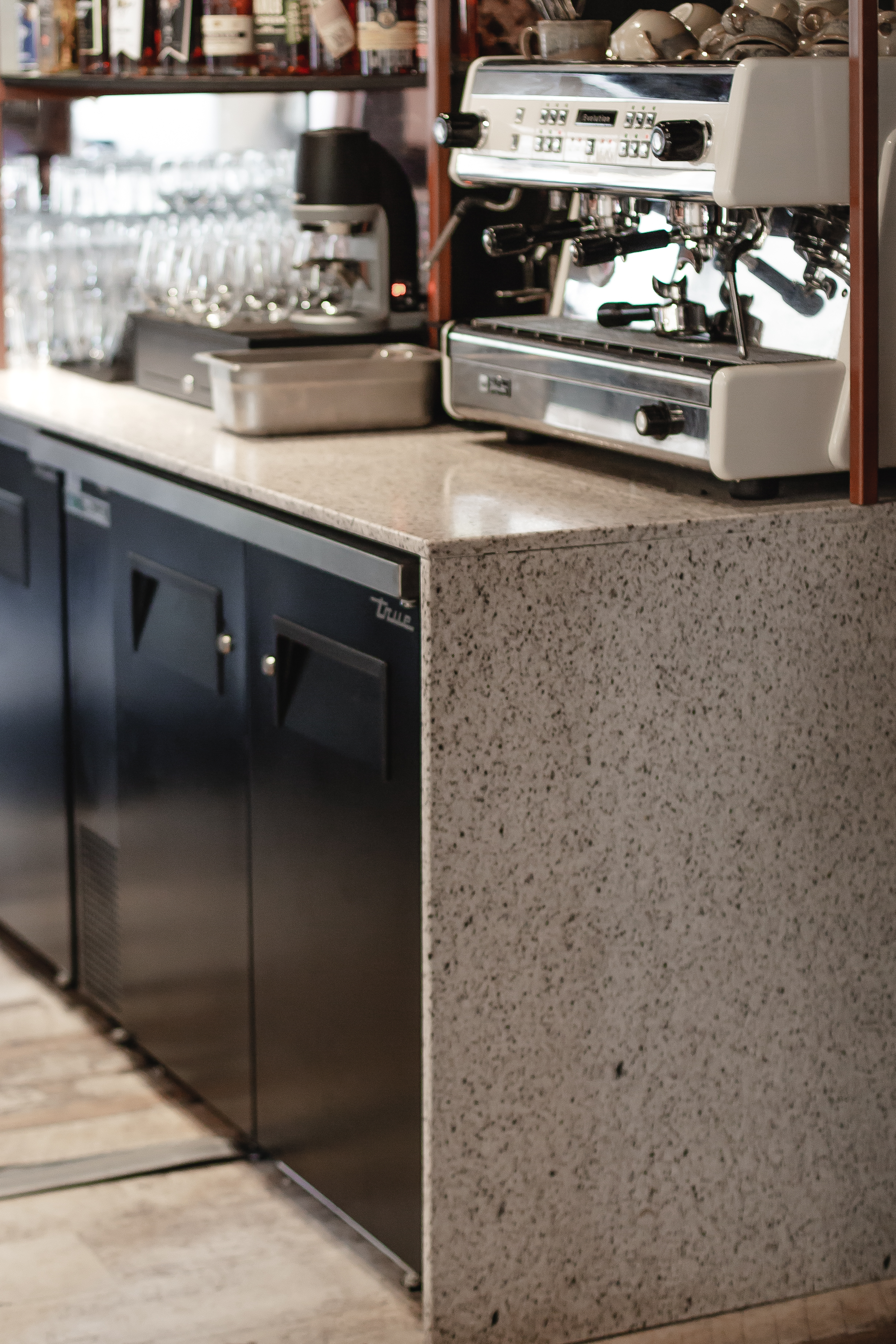 1cm ultra-thin natural stone slabs are a Polycor innovation that combines durability and distinction. In the main dining room, BETHEL WHITE® granite was used behind the bar.
The partners liked the stones for their own heritage and durability, having been used in iconic North American architecture for over a century, as well as for their strikingly modern appearance. The different slabs fit each of the ideas they had for the restaurant. Bistro L'Orygine serves inventive meals crafted from fresh, local, organic ingredients and sustainably sourced meat and fish, so having an eco-friendly solution was of value to them. For all of these reasons, they turned to Polycor. Different Polycor stones were used throughout the restaurant in the kitchen, bar, outdoor terrace, bathrooms and the restaurant group's decadent dessert shop next door, each evoking a different feel. Keeping with their culinary philosophy, local stones were effectively incorporated into the spaces, like SAINT HENRY BLACK™ granite which is quarried in Quebec and BETHEL WHITE® granite that's quarried just across the border in Vermont.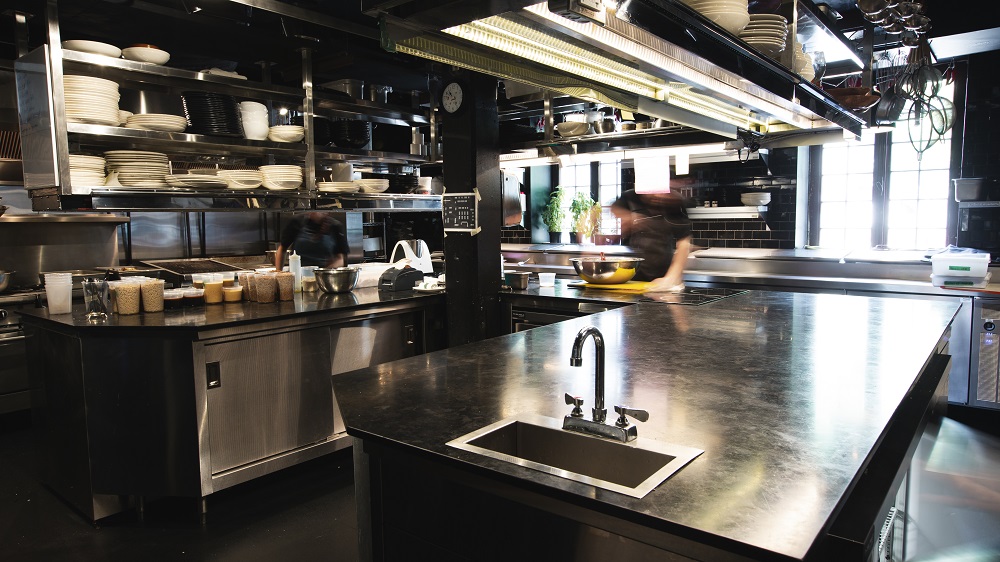 A moody and dark palette prevails in the kitchen lending a low-key presence, punctuated by the Saint Henry Black granite countertops.
"For a darker finish that matches our glossy, black subway tile in the kitchen, we went for Saint Henry Black™ granite countertops. We were looking for a sleek look for our outdoor bar, so we decided to go back to black by choosing the Saint Henry Black™ granite for our outdoor countertops, too," said Therrien. "Behind the bar in our main dining room, the idea was to go with something light and creamy to accentuate the off-white, aqua and copper tones, so we chose Bethel White® granite."
These 1cm carbon fiber backed slabs are backed with a revolutionary, proprietary reinforcement and have 10 times the strength of 3cm unbacked granite, at one third of the weight.
Polycor's composite backed ultra-thin 1cm stone increases the versatility of marble and granite in commercial and residential spaces.
Download the look book, here, to see how designers are using 1cm slabs.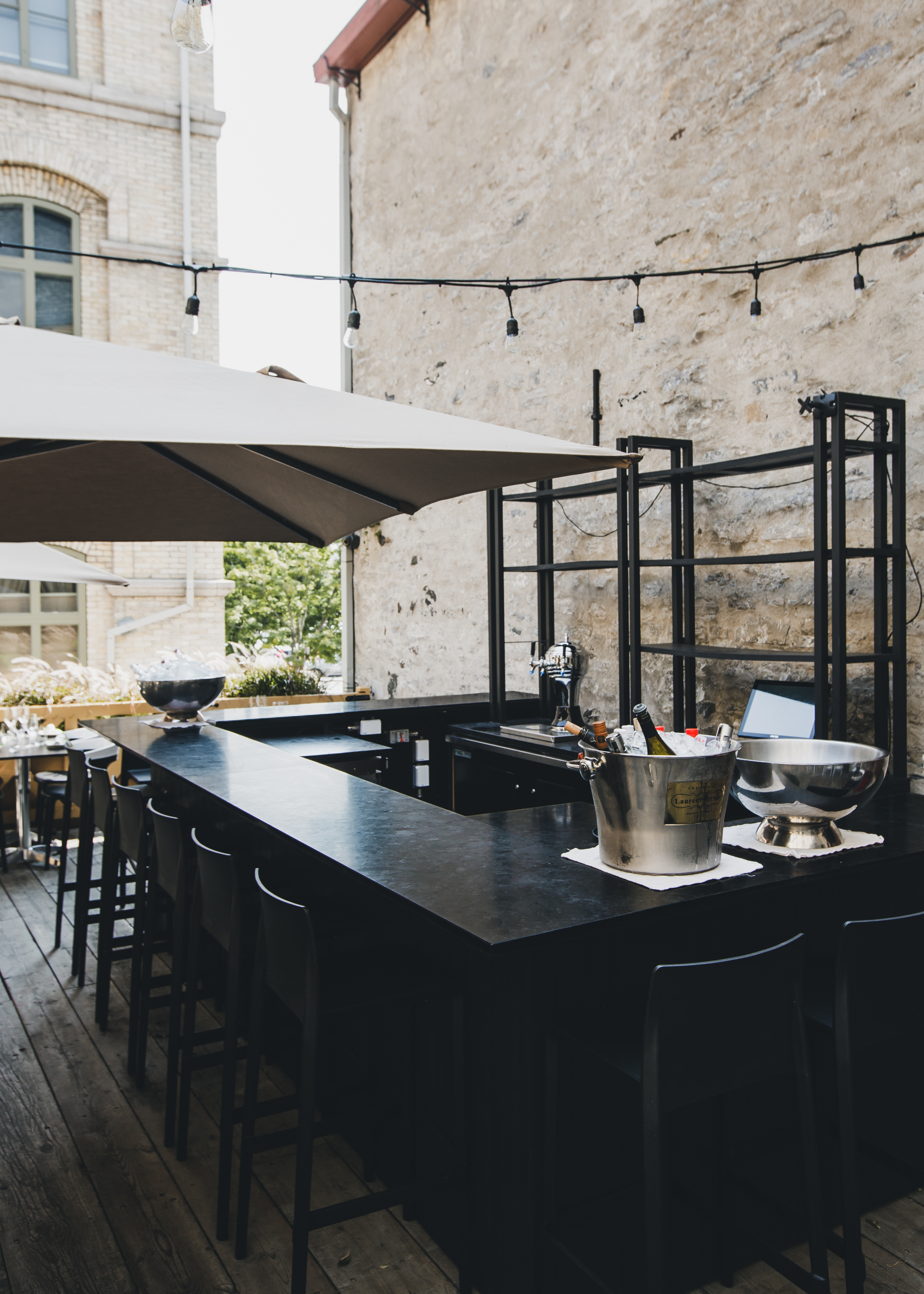 For a sleek look at the Bistro's outdoor bar, the restaurant partners went with Saint Henry Black granite honed.
The overall finish of the restaurant is a perfect blend of modern and rustic with touches of stone, metal, glass, natural wood tables with cream leather seats and aqua upholstery set against historic masonry walls and charming 17th century architecture.
"Our designer Stephanie Bélanger did an exceptional job of blending these two contrasting styles into a really harmonious space that is inviting and appeasing," said Therrien. "We obtained the perfect amount of contrast between textures and styles by using the slabs at the proper places."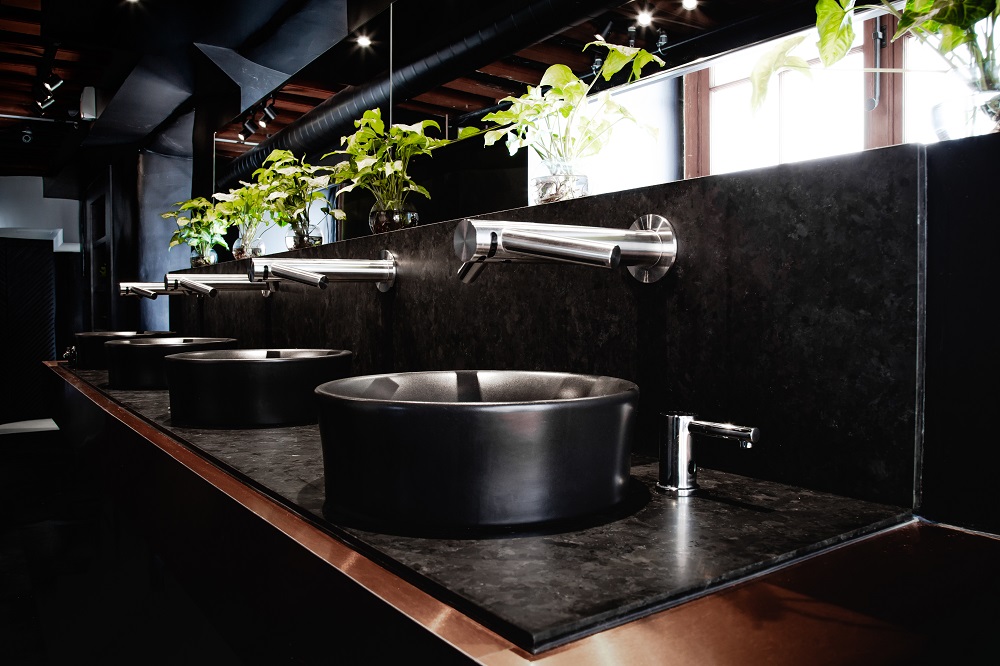 1cm ultra-thin Saint Henry Black granite slabs complement the sleek, integrated vanity and backsplash designs with wall mount faucets
The restaurant group also chose Polycor for the gorgeous contemporary decor of Kerrmess, the decadent dessert shop attached to L'Orygine. The clean white finish of the GEORGIA MARBLE – PEARL GREY™ marble enhances the white finish of the entire space, including the white epoxy floors.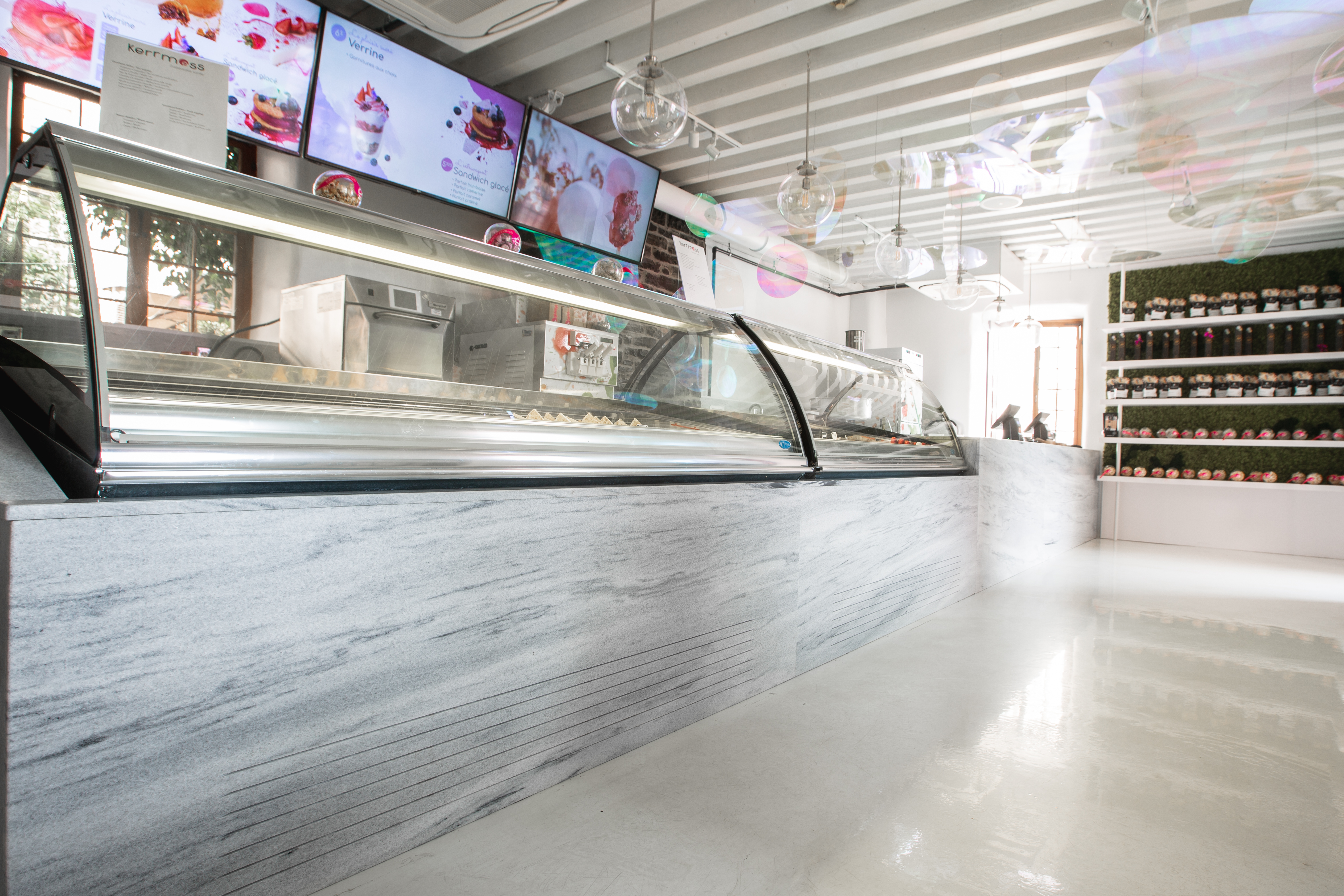 Honed Georgia Marble – Pearl Grey™ marble is featured at the restaurant group's neighboring dessert shop, Kerrmess.
The historic U.S. quarried marble, with operations that date back to 1887 in Georgia, has graced the halls and walls of countless iconic buildings across the world like the Field Museum in Chicago and the U.S. Capital building in Washington, D.C. It finds its place equally well suited for being surrounded by the colorful and delectable delicacies of the bright patisserie.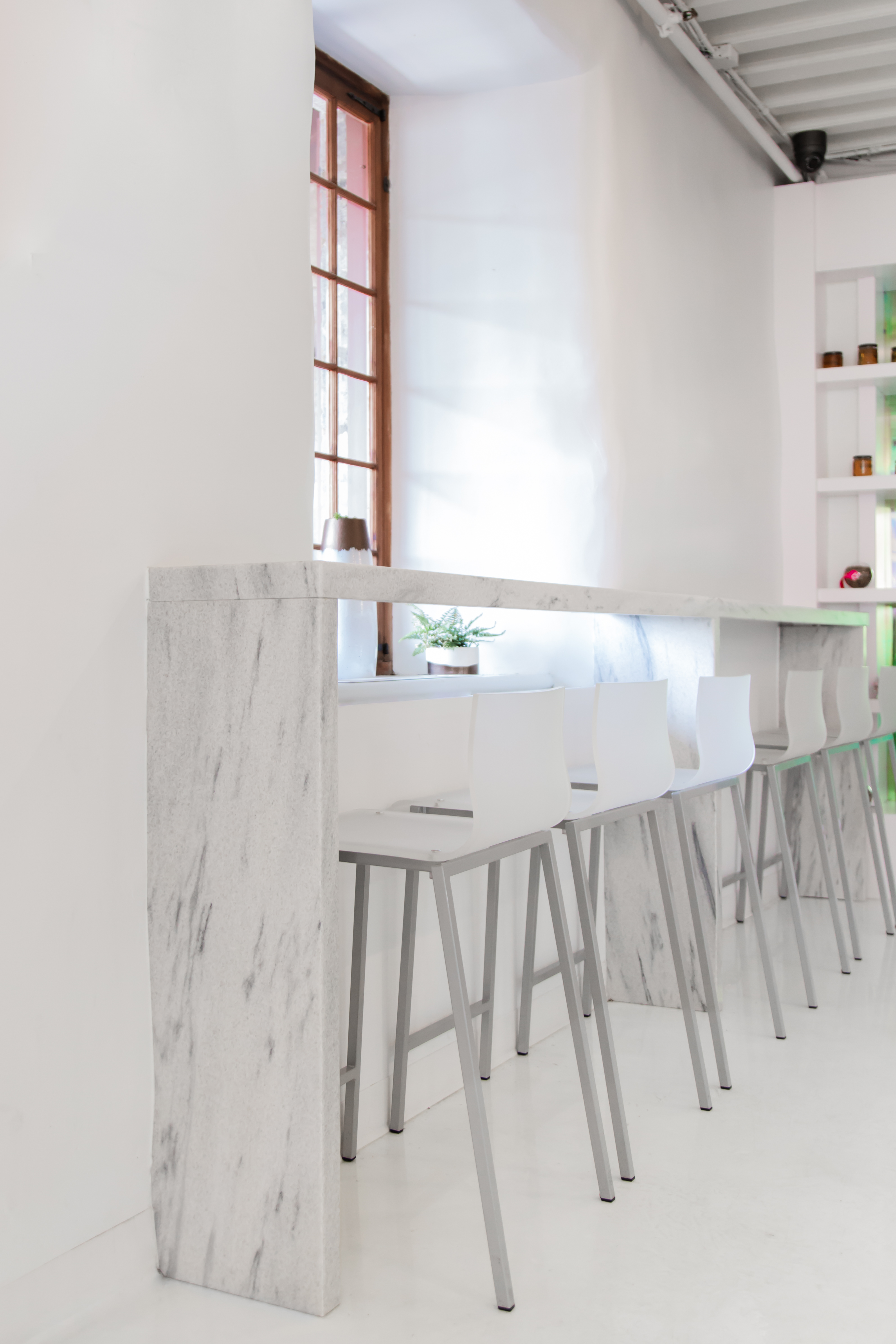 Georgiamarble dessert bar at Kerrmess, the restaurant group's attached shop.
"We wanted to create something bright and glossy to allow our products to really stand out with the colors and textures that they naturally provide," said Therrien. For both restaurants, the partners couldn't be happier with the different Polycor stones. "The stones add a touch of class and sophistication that really completes the look and identity we were going for when conceptualizing the space."