5 Focal Point Worthy Fireplaces In Marble, Granite and Soapstone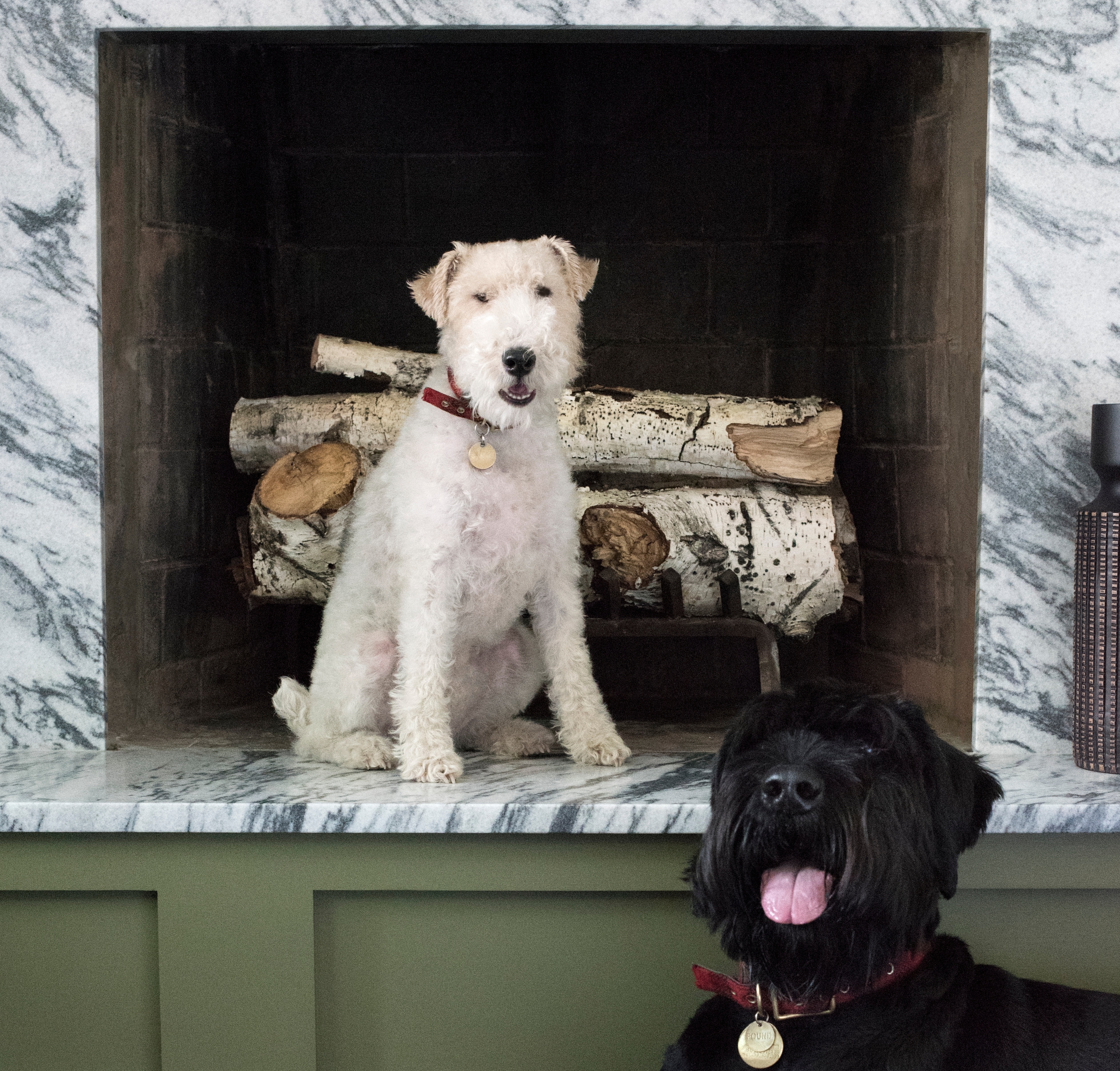 For interior designers, architects and their fabricators there's never been a better time to create a fireplace in natural stone.
With more domestic material coming online and custom options for slab thickness and tile size, design and stone professionals are creating truly focal point worthy fireplaces without having to import a European or Chinese product.
From Georgia, Virginia and the Canadian wild we're pulling blocks of white American marble, black granites (with veins or crystals depending on your taste) and velvety smooth grey Alberene Soapstone. The raw material is spectacular, but it's when designers and fabricators get a hold of it that it goes from a cold stone to a warm and inviting hearth.
This week we bring you our latest favorite fireplaces made with natural stone quarried right here in North America. See which one suits your style.
Transitional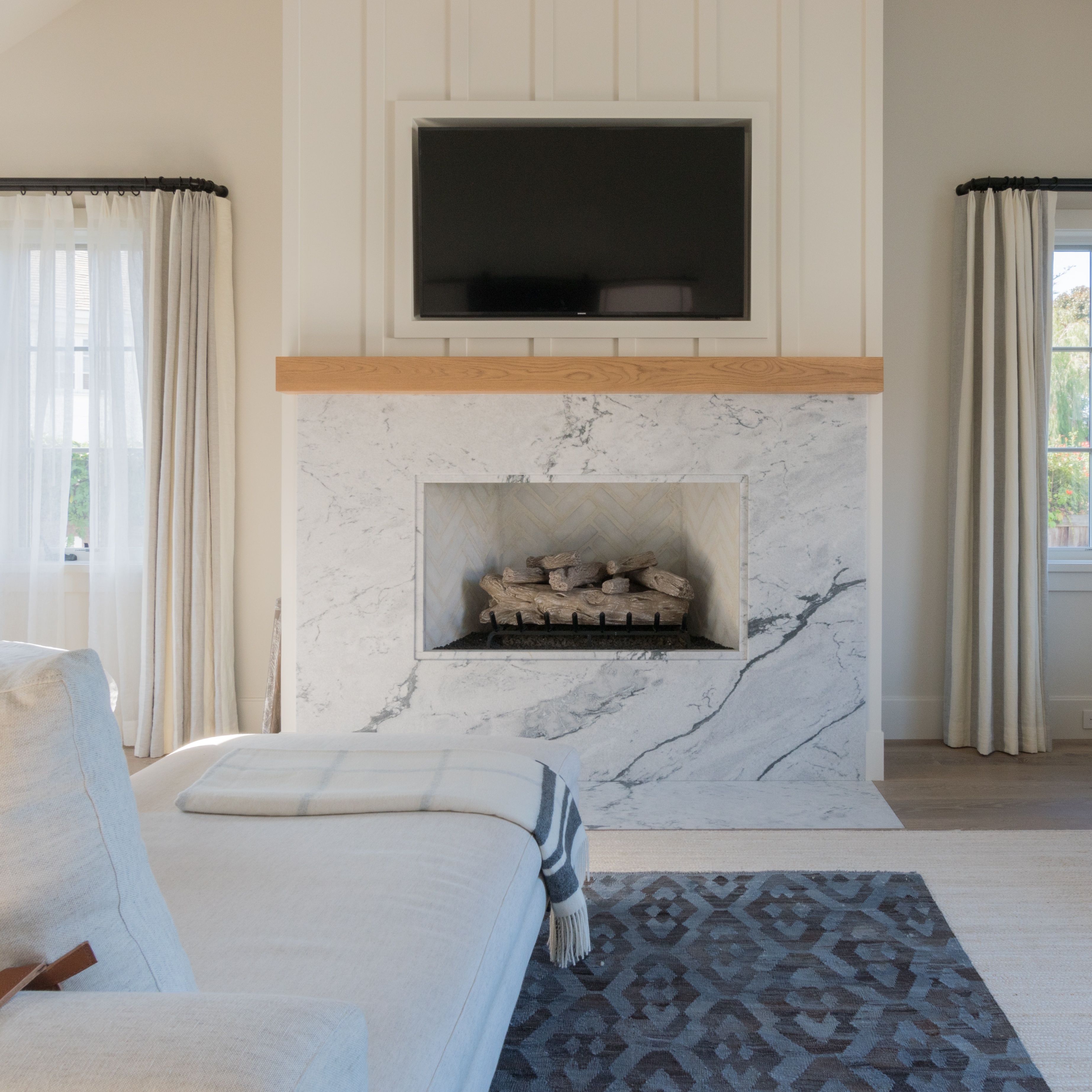 When designer Brooke Wagnerunveiled her new home on a recent house tour she hoped that the crowds would pick up the mellow, soothing vibe she wove throughout the interiors. She just didn't expect there'd be so much touching."There were 1,500 people walking through the house and the docents told me, 'Every single person touched that marble and everybody asked about it."
No doubt what drew the visitors to touch this natural stone fireplace were the strong grey veins of the Pearl Grey American marblethat continued from the flush mount hearth up and across the face of the fireplace. But what kept them caressing the surface was the antiqued finish.
"You can't help but touch it," she said. "You can see the texture of the antiquing. I love the veining of that marble, it's a dramatic contrast of the charcoal and white. We kept the whole room pretty neutral so that the marble surround really stands out."
Wagner said that lately her firm has been doing more transitional fireplaces using marble as the full surround and sometimes not using any wood trim. Here she topped it with a warm oak beam to match the rest of the woodwork in the house. (See her kitchen here.) Wagner specified a raised fireplace because she likes to see the fire from the bed. She worked with fabricator Fred Paulk of American Marble and Tile who templated the stone to make sure Wagner got the exact look she wanted with the vein orientation in the full slab.
To create added depth to the flat slab of the fireplace wall, Paulk milled down the marble around the cutout for a thinner reveal and added a second layer of picture-framed stone to the interior that miters back into the firebox so no edge grain is visible. Nothing but continuous vein pattern for a more monolithic appearance, almost as if it was carved from a solid block.
Traditional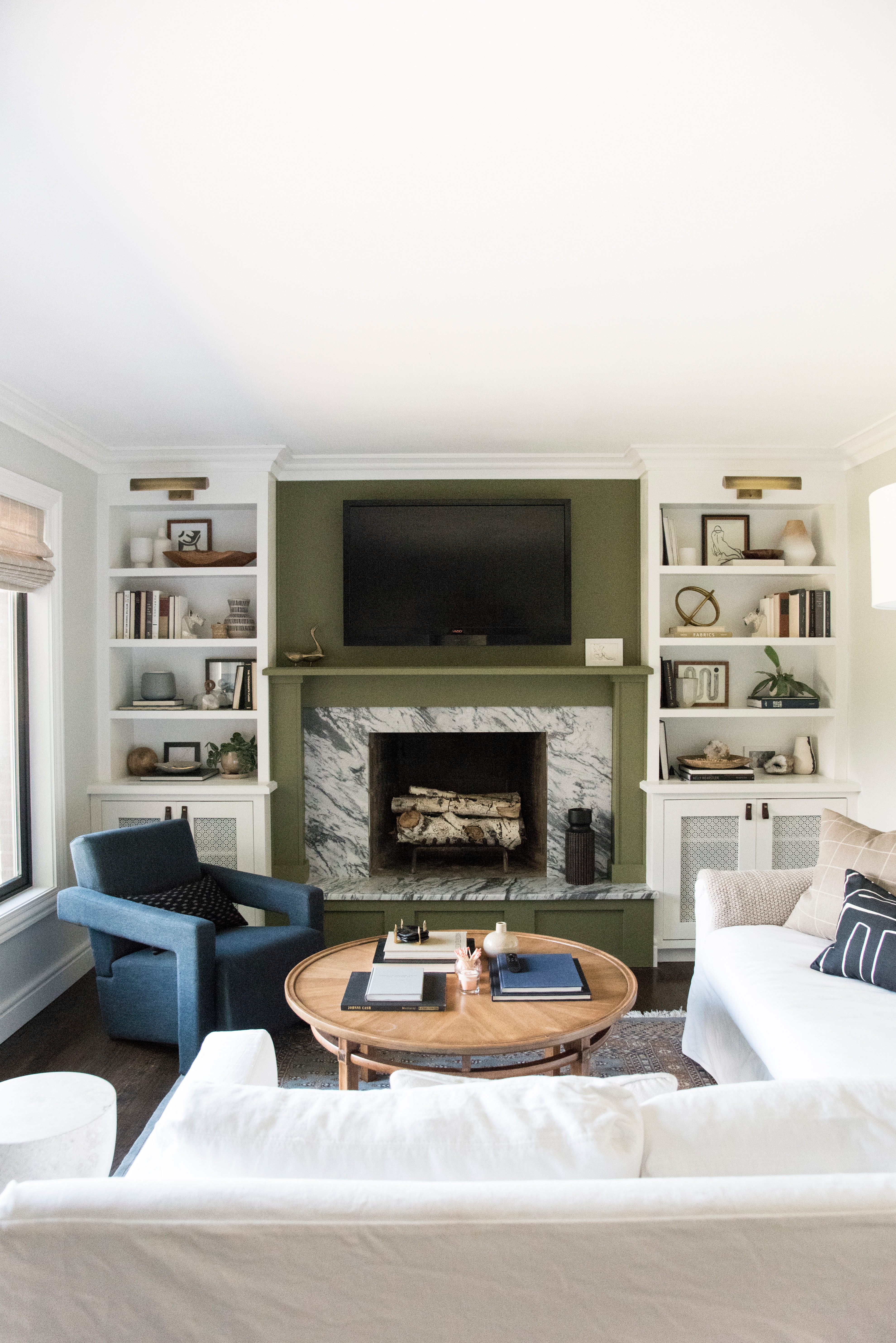 When designer Sarah Gibson of Room for Tuesdaymoved from Ohio to Utah she was anxious to put her personal touch on her new living room. "I knew I wanted marble but not your typical European Carrara. Don't get me wrong… I love the way it looks, so smooth, soft, and subtle- but it's everywhere. I wanted a slab that would stand out/make a statement, show beautiful veining, and most importantly – I wanted to source materials in the space locally. Made (or quarried) right here in America."
She had her aha moment on a visit to Polycor's Georgia quarry when she walked among the quarry's towering walls of American marble. It was the deep dramatic veining of GEORGIA MARBLE-SOLAR GREY™ thatstole her heart, showcased here in the thick edge profile fabricated byEllis Stone.
The dense and durable marble hearth will serve her and her husband (and their pups above) well this winter when they light up those Aspen logs.
Avant Garde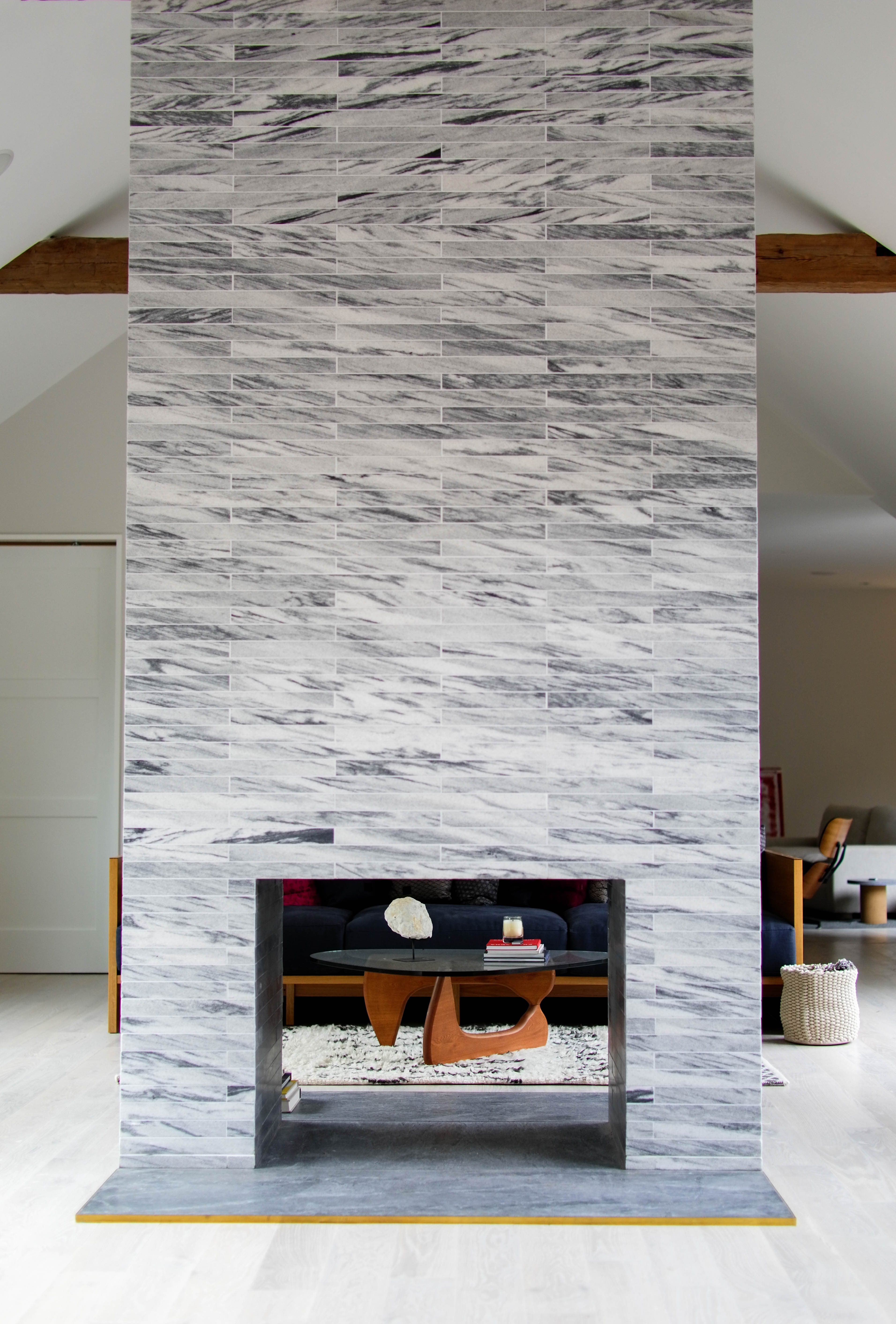 Photo byPhillip Yang, Studio Zung.
With lofty ceilings and a wide open space designer Tommy Zung could easily have sheathed the fireplace of this new Amagansett, NY home in full slabs of marble. Instead he went for "emotive experience" and achieved it with custom cut tiles.
"I might have slabbed it if it was in a commercial environment. This space called for a little more warmth because it is a very large piece. The coursing has drawn the calmness to it."
Zung worked with Polycor to create custom tiles 2 ¼ inches by 2 feet at ⅜ thickness from Pearl Grey marble. He staggered various lengths of tile over a surface that wasn't completely vertical for an ever so slight variation of depth over the surface. Zung said the tile design highlights "the sensorial aspect of the energy of the stone."
The unique application is a striking contrast to the serene, minimally appointed living space, as well as a departure from typical modern design. "You can go on Pinterest and see the horizontal tile on vertical style and see that it feels very straight and cold and a lack of personality," Zung said. "Every project asks for a different design in it's more implicit form and not one solution for every design or application."
As an alternative to firebrick, the flush hearth and tile inside the firebox are Alberene soapstone, a favorite of Zung not just for it's look, but it's ability to withstand direct heat. Soapstone also conducts and retains heat, which means sitting by this hearth will be extra cozy when those Long Island Sound winds are howling in February.
Modern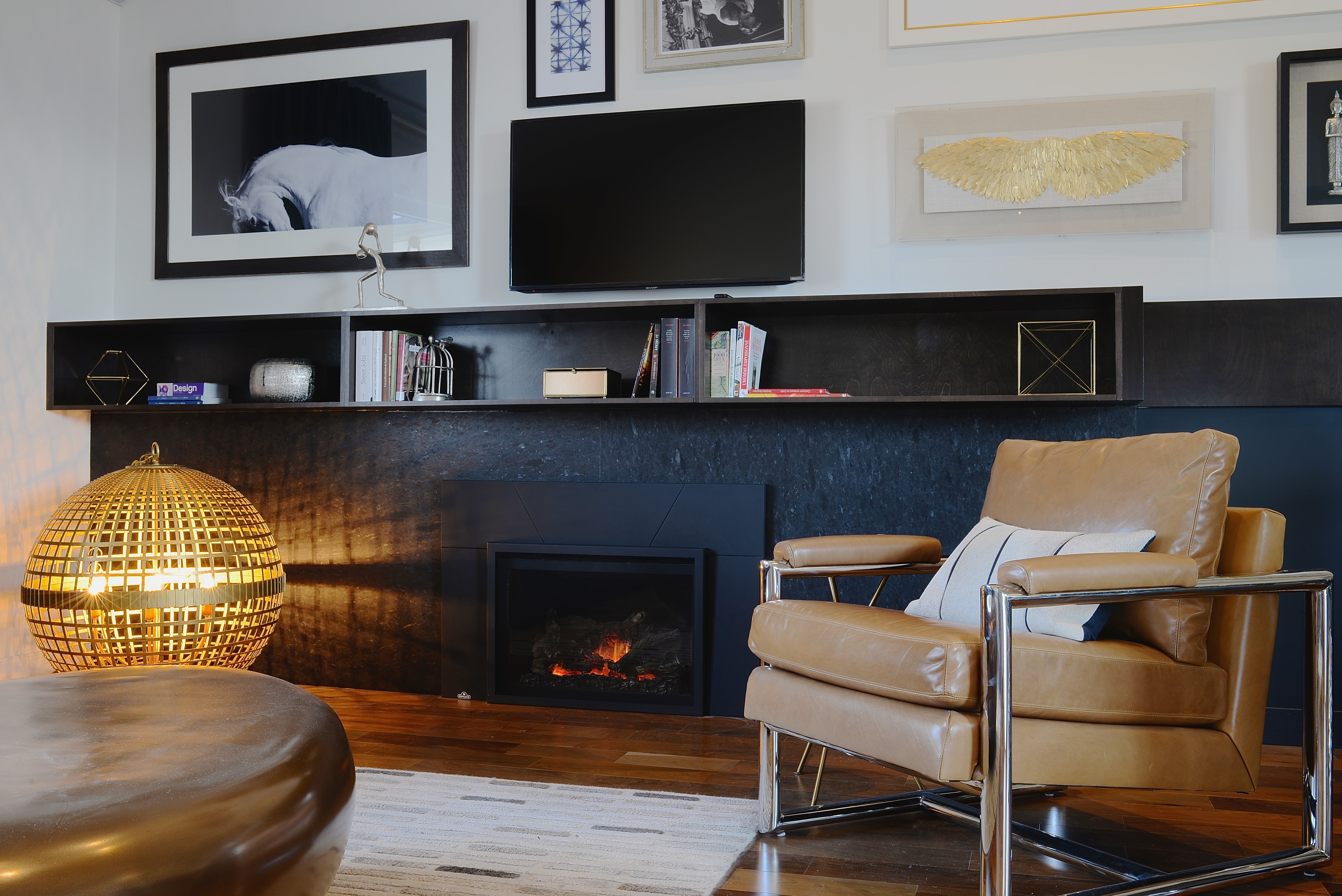 Like a black leather jacket slung over a cocktail dress, this SAINT HENRY BLACK™ granite fireplace has a relaxed cool with a sophisticated edge. The extra wide granite partial feature wall that occupies almost the full length of this Quebec living room was fabricated with 1 cm ultra thin slabs of the granite. No trim or decoration was needed thanks to the stone's mineral structure that features opalescent mega-crystals which provide a subtle tone-on-tone pattern when the surface is honed.
A true black among imitators, Saint Henry Black granite is unique in that it's classified as an anorthosite which is the same stone our moon is made of. The metallic-looking mineral flakes in the Saint Henry Black compliment the matte black metal surround of the firebox, playing off of their inner reflections. The visual texture offers a pleasing contrast with the uniform finish of the built-in shelf above.
Using granite slabs that are 1 cm thick (or thin, as we like to say) has special advantages when you want to take a fireplace vertical. Click here to see a full slab black modern fireplace using this same stone.
DIMENSIONAL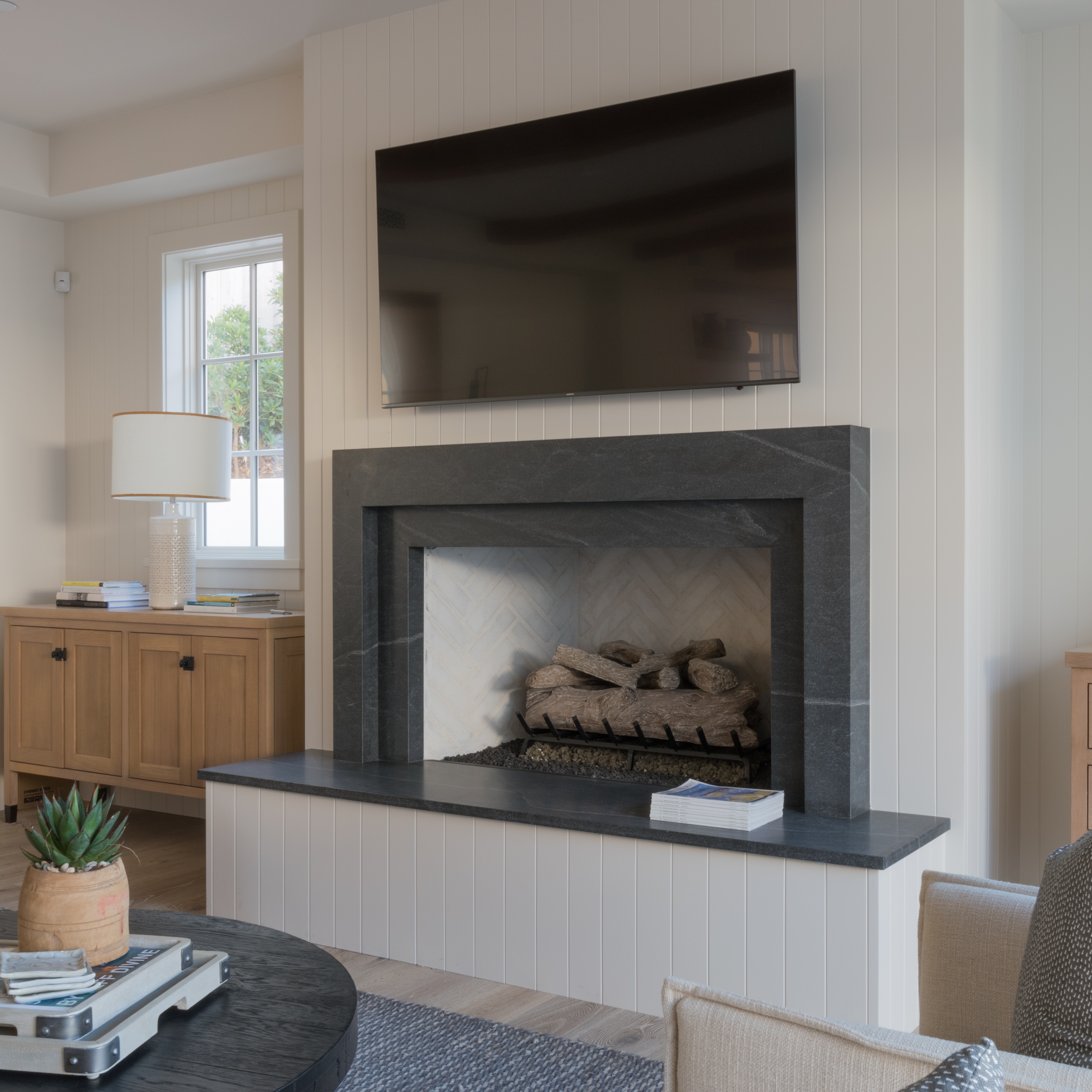 In her great room that connects to her kitchen designer Brooke Wagner wanted a raised family room fireplace where her kids and relatives could sit on the hearth and warm up together. "Growing up my parents had a fireplace, that's always the spot that people congregate around."
With this is mind Wagner designed a clean, simple and understated fireplace for her new home and turned to fabricator Fred Paulk to bring it to life. Paulk managed to make a slab of stone appear as if it had been folded like paper around a frame, where the soft grey vein of the American Black granite seamlessly wraps from cut to cut across a series of insets.
Paulk began by making a U-shaped cut in the slab. "On the first set of cuts the returns totally match. On the inner most you are trying to match what is existing, so you look through all the material and see what matches the best and you take a lot of time.Yeah it's challenging and does take a whole lot longer to lay out, but that's why it's beautiful."
With a subtle marble-like character to it, American Black granite is an ultra hard wearing natural stone. The granite doesn't have the typical speckle of other species or wild veining. In place of the noticeable crystalline structure of other granites that have a lot of coarse, angular minerals inside this granite has all the flowing movement of a marble, but with none of the maintenance, etching or staining of marble, making it ideal for a fireplace.
This was Paulk's first time working with the historic granite from Polycor's quarry in Elverson, PA where it's often used in exterior applications, and in modern renovations of historic homes (like this double vanity sinkcarved from a single block of American Black).
"We're hopeful to have more access to it in Southern California because everybody loved it," he said. "To purchase the material domestically, provide jobs domestically, pay taxes domestically, and it's a beautiful material from our country, how great is that?"