Georgia On My Mind: Designer Celebrates Southern Tradition with US Marble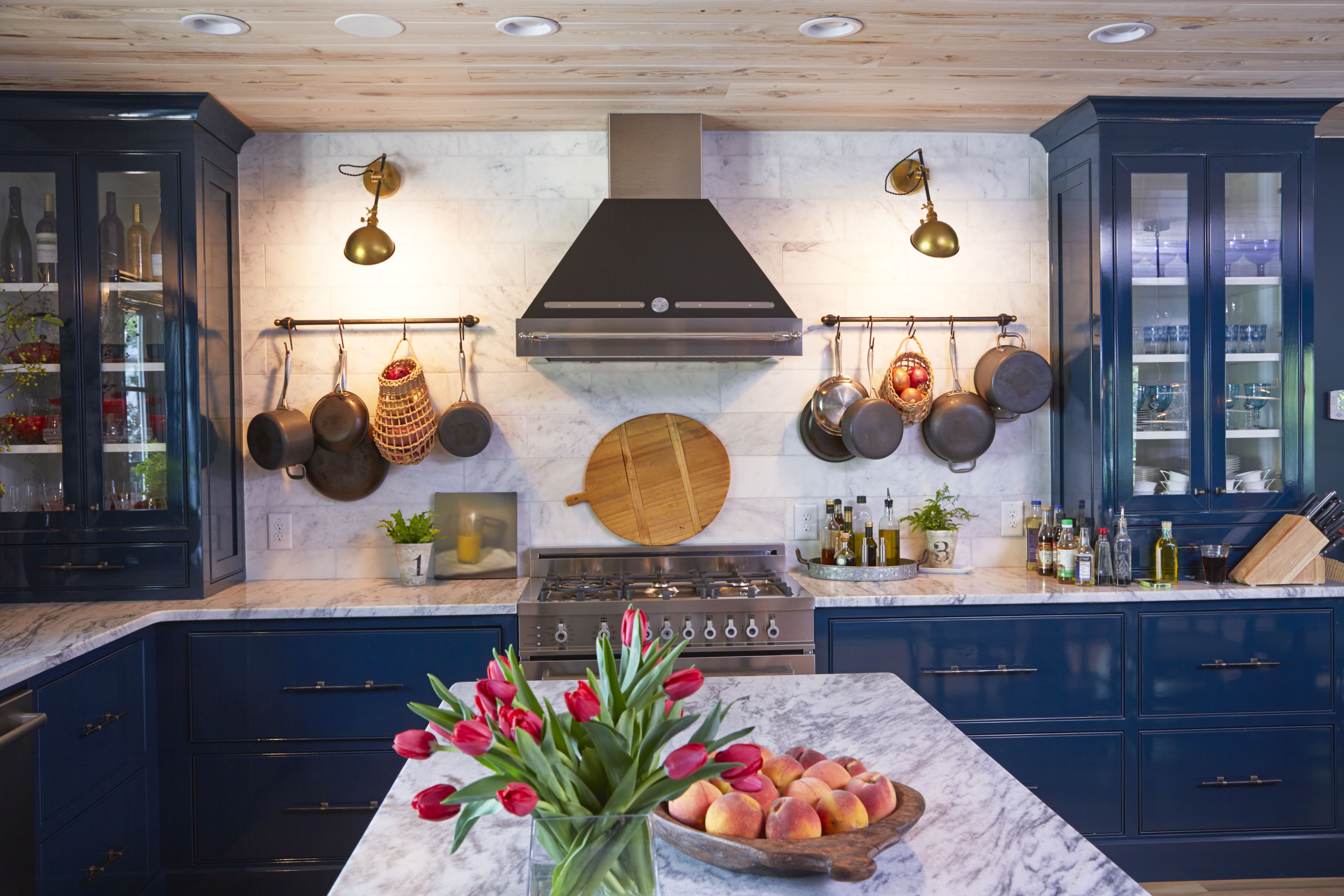 When Pam Sessions and Don Donnelly, the husband and wife team behind Hedgewood Homes, decided to downsize their nest, they brought with them a pedigree for building smart spaces, a love of southern architecture and a commitment to local talent and materials.
And they needed it. Their new home, a low ceilinged cottage built in the 30s, was half the size of their family home and in need of a total overhaul to recapture its southern charm. For Sessions who spends her days designing spaces for the company's new builds it was a chance to experiment.
"We build for others," said Sessions, president of the award winning building company, "and so when it comes to doing my own projects I consider them a laboratory for products, how they look aesthetically, but also how they perform."
Her most striking experiments in the kitchen are the lacquered teal cabinetry and the Georgia Marble on the island and countertops, a stone that Session has always wanted to work with.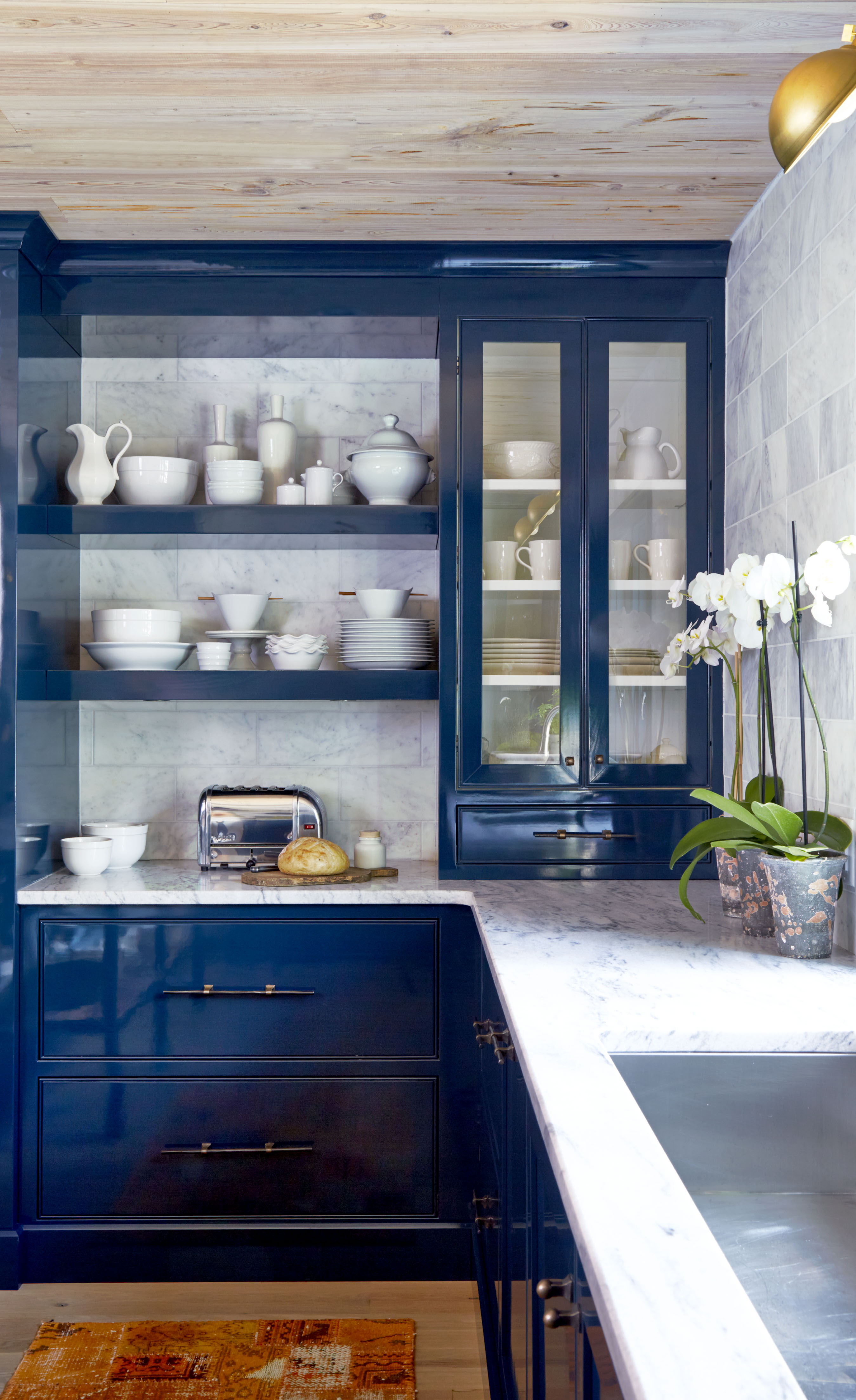 "I love the Georgia marble," Session said. "It has a little more variety over Carrara marble which we see so much of. It's extremely special for me to have it in my kitchen."
For her island and countertop Sessions chose honed Georgia Marble – Pearl Grey™, a white American marble with a deep grey veining quarried by Polycor in Tate, Georgia. (It's from the same marble quarry that supplied the Lincoln Memorial actually).
In her design work for the couple's development business Sessions has the opportunity to spec and work with a variety of natural stones. She used Carrara tile she had on hand for her backsplash, but when it came to the countertop it was the unique look, feel and density of the USMarble that drew her in.
"It seems to have crystals in it. You can see the little facets, which makes me think that is why it's more dense. You don't see that definition with Carrara. It's more uniform."
The crystals that Sessions identified are actually calcite crystals. Georgia Marble's tightly interlocking structure makes the stone less absorbent than overseas stones like white Carrara which has a higher absorption rate. (More time to wipe up those red wine spills.)
Download the GEORGIA MARBLE™ spec sheet here
Though this is her first time using the US marble, spec'ing local materials like the pecky cypress on the ceiling, and using local talent, is standard for the Hedgewood Homes president.
Local metalsmith Livingston Metal Work created the island base and hardware from bronze and steel. The custom cabinetry finished in Dark Night from Sherwin-Williams was built by Keystone Millwork. "It's wonderful to have access to such great talent and be able to pull it into one space," she said.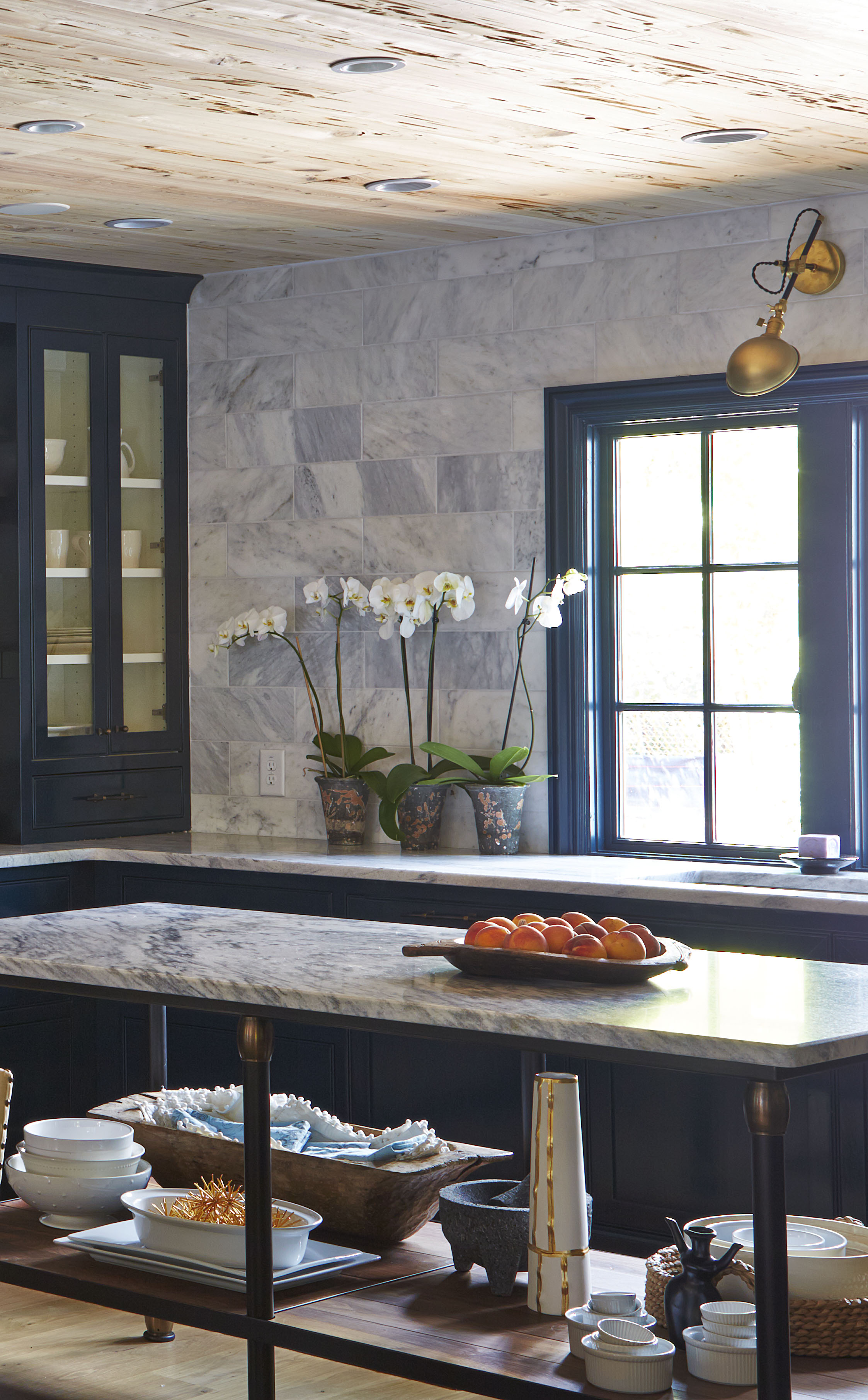 The Georgia-based design and build team are known for building walkable mixed use neighborhoods in the Atlanta area. They especially love carving out a neighborhood in a forgotten corner of the city where good housing and good design have dried up.
"We put more emphasis on design than a typical builder who is building in volume. We only do about 50 houses a year," said Sessions, who is also the firm's principal designer. "We're very selective about where we build."
Each project embodies what Sessions calls a purity of architecture, rooted in the modern architecture of the 20s and 30s. And that means higher end materials, superior craftsmanship and "starting with some rigid style guidelines of architecture and innovating within those guidelines," Sessions said. "We provide the maximum amount of design someone can get for their budget." Which she says is an answer to decades of the "dumbing down of materials" when production was emphasized over design.
In their business and in their home, Sessions and Donnelly look to Georgia's natural resources and talent to create beautiful, truly southern homes.
"We do as much local as we can, as much American made as we can," Sessions said.
That means an extra effort to shorten trucking trips, hiring local artisans and working with EarthCraft a green building certification program, facilitated by Southface, that provides a blueprint for healthy, comfortable homes that reduce utility bills and protect the environment.
It's a challenge Session says, because "today there are many links in that chain of distribution and we can't always control it at the source."
That's especially true in the stone industry where natural stone is quarried all over the world and shipped to different continents to be cut or sold, often losing its origin label or it's original name. (In fact ,some marbles sold as Italian are actually quarried in places like India and Iran and only cut in Italy.)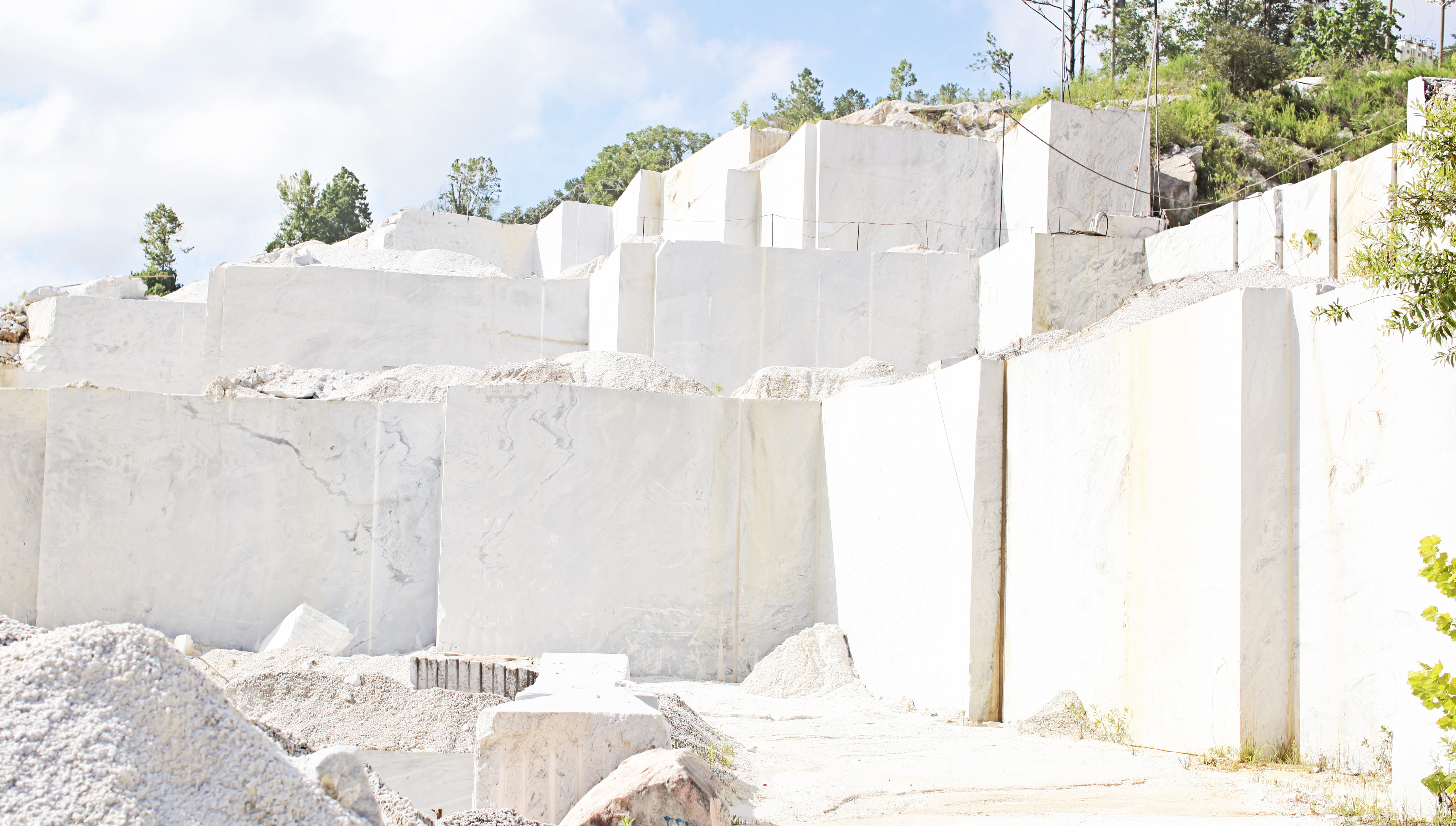 All of Polycor's stones are quarried on the North American continent and owned by the company, which enables them to keep complete control over their chain of custody for total transparency of origin, variety and grade and is also Cradle to Cradle Silver certified. The Georgia Marble quarry is also one of the few zero waste quarries operating on the globe.
Sessions' work puts emphasis on natural materials like wood and stone. (In fact only about 10 percent of Hedgewood homeowners choose quartz countertops). You can see that in her own home with the light white wash on the pecky cypress ceilings and the natural finished white oak flooring.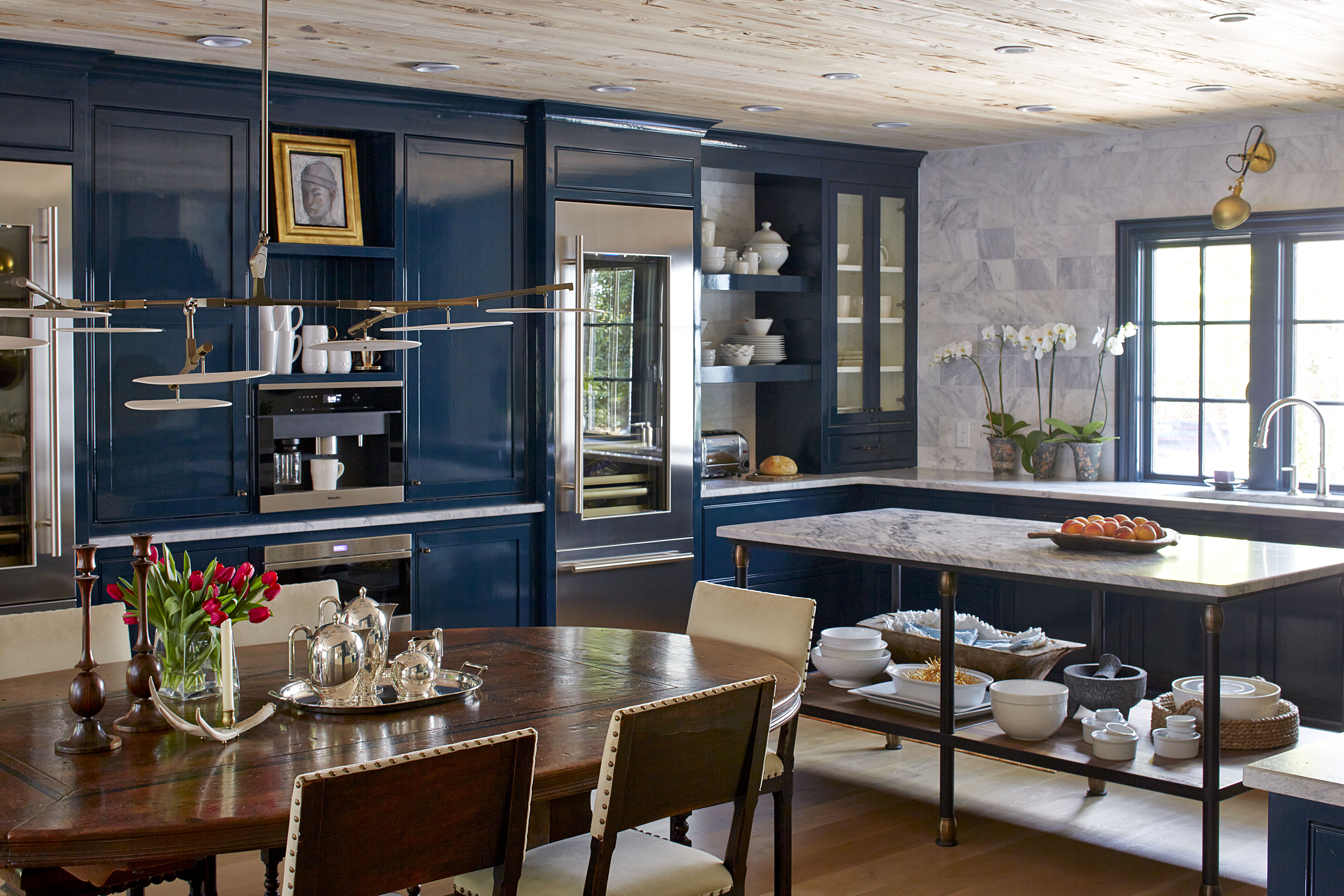 Even her furnishings have distinct character and history. The modern chandelier by Lindsey Adelman is designed and built in New York City. Sessions had a custom banquette and table built to accommodate large family gatherings (20 people to sit down for Thanksgiving!), but kept the antique dining table she's "had for a very long time" for the centerpiece for her open kitchen/dining area. It's wear makes the table look like it has always lived in this space. Like that table, the Georgia marble countertops will grow with her family and her home. She thinks of old country homes where the stone has hollowed just a little bit in front of the sink, the product of a thousand family dinners in a happy home.
That's something Sessions tries to pass along to her clients when they make their material choices like countertops. "Yes, you might be afraid to see marks when your home is new," she said, "but it will be more meaningful for things to age with you."
And that lacquer… Sessions said she wanted to see for herself how would it perform with everyday wear and tear. So how did it hold up? "Beautifully," she said.