How Do You Fabricate a Neoclassical Stone Mansion? With Tools, Talent and a Whole Lot of Marble.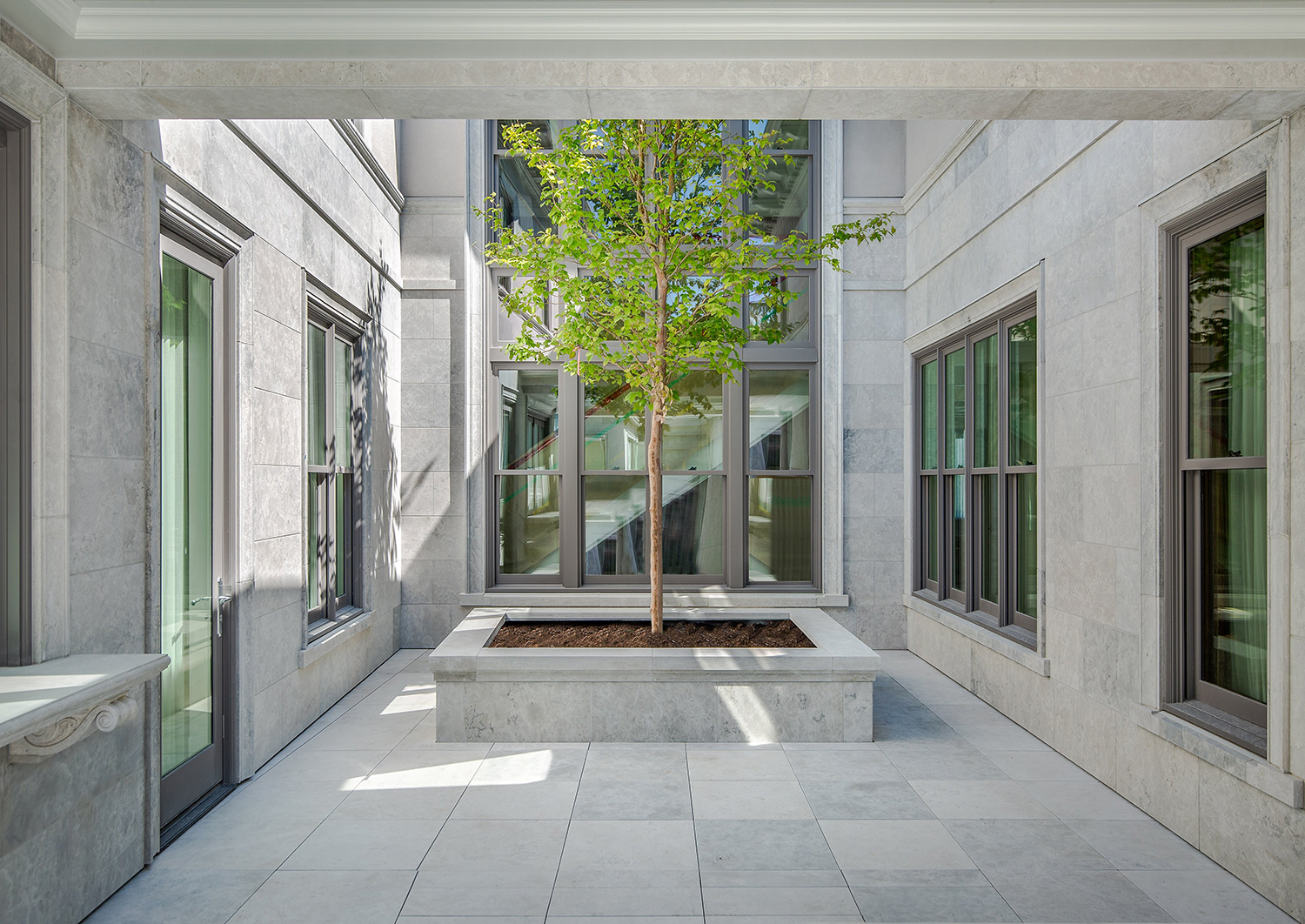 In their work in the Pacific Northwest, the craftsmen at Red Leaf Group are privileged to work on many architecturally inspired buildings, but few as special (and challenging) as a modern neoclassical mansion completely clad and ornamented in American limestone.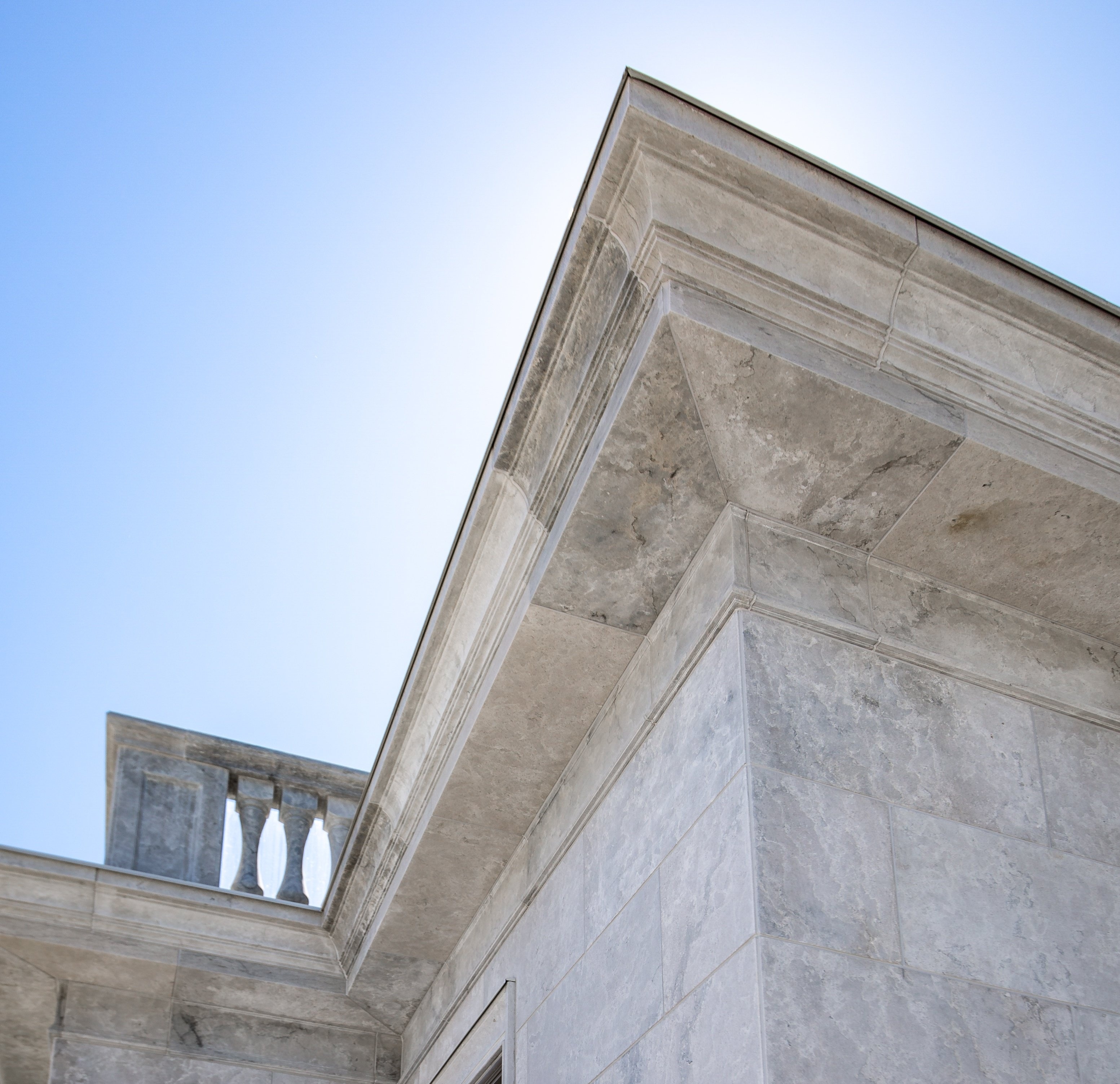 A private home nestled in the mountains that we're calling the Saint Clair Country Estate took three years and 60 blocks of Saint Clair Marble to complete. It was a project that challenged the team's skills and tools, but ultimately left them grinning from the chance to showcase their talents.
Today we talk with President Steffen Waite about the project that he says is a stone craftsman's dream and hear how he and his team fabricated and installed 435 tons of custom stone work. Red Leaf Group, based in Vancouver, is three companies: Red Leaf Stone Products, knowledge, pre-cut stone supply, accessories and services; Architectural Stonemasonry, restoration, fabrication and installation; andRed Leaf Stone Anchors, drafting, engineering and manufacturing.
I imagined most of your work is commercial and civic. Do you do a lot of residential work? On this project limestone is literally everywhere from landscape to pool to cladding to railing. Is this home a unique residential project in terms of its scale and scope?
Actually, in the Pacific Northwest, most of our work , 70 percent actually, is residential. Nevertheless, this home was unique relative to its caliber of classical detailing. We do not see this level of architectural detailing on a regular basis.
What went into the construction of this stone wall:
The wall featured here is a retaining wall on the north property line. The stone is mechanically anchored onto a reinforced concrete wall, that sits on a strip footing. This allows the stone to offer a decorative component, whereby structural retaining resistance is provided through the concrete. An air-cavity is introduced by hanging the stone on stainless anchors. This avoids any contact of the limestone with the concrete, eliminating any risk of effloresence. More on the anchors usedhere.
Piers and pier caps were milled via 5-Axis CNC, and the flat veneer panels with more conventional bridge saws.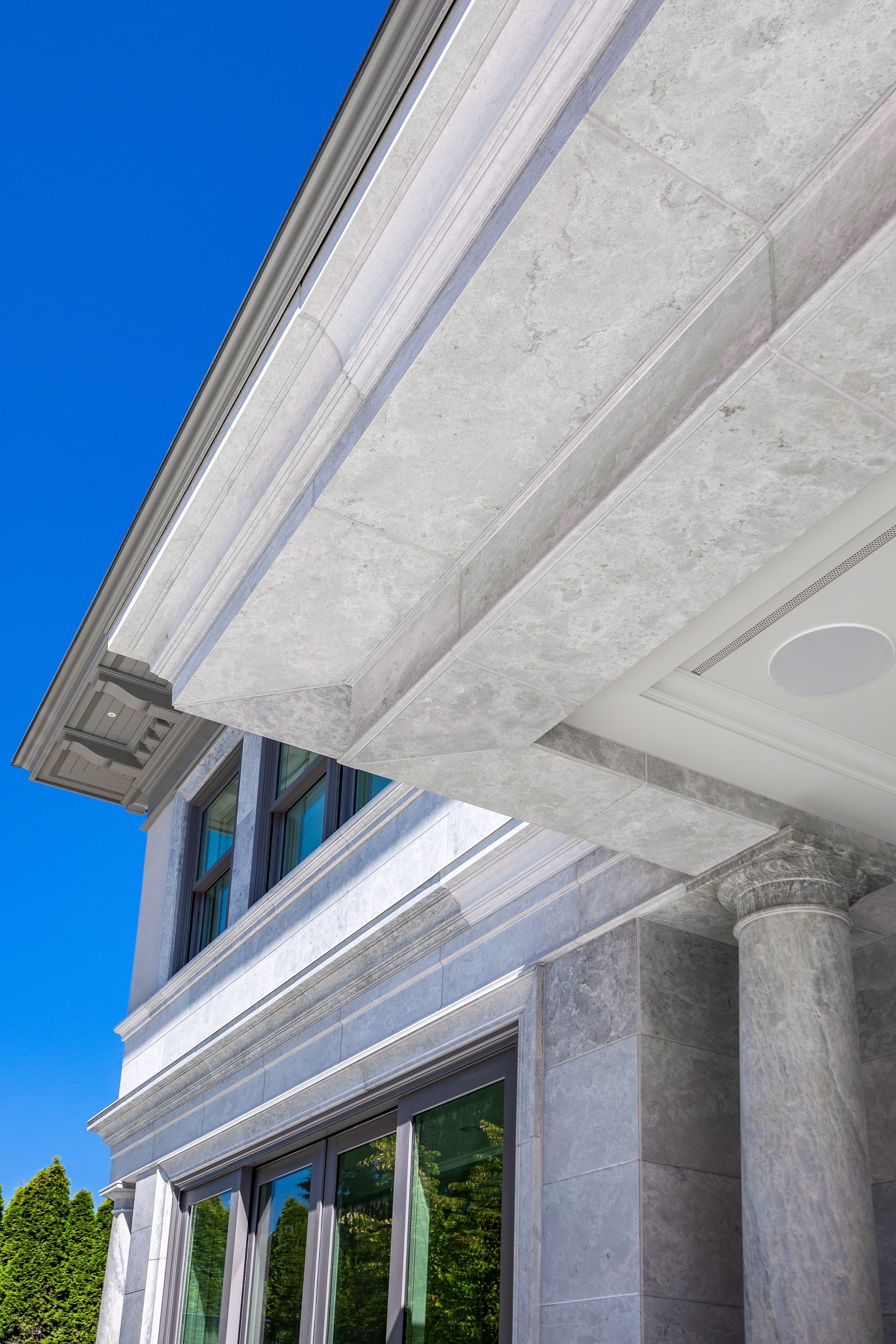 Tell me about some of the features of this soffit and terrace roof detail in the image above.
This was a complicated feature as it was framed as an oblique angle and was cantilevered. The geometry was intense. At the same time the cavity had to be constructed so that it would breathe.
Thankfully our drafting team is experienced and collaborated well with both the architect and builder. Only through assembly of detailed shop drawings could the work have been accurately fabricated and then also installed.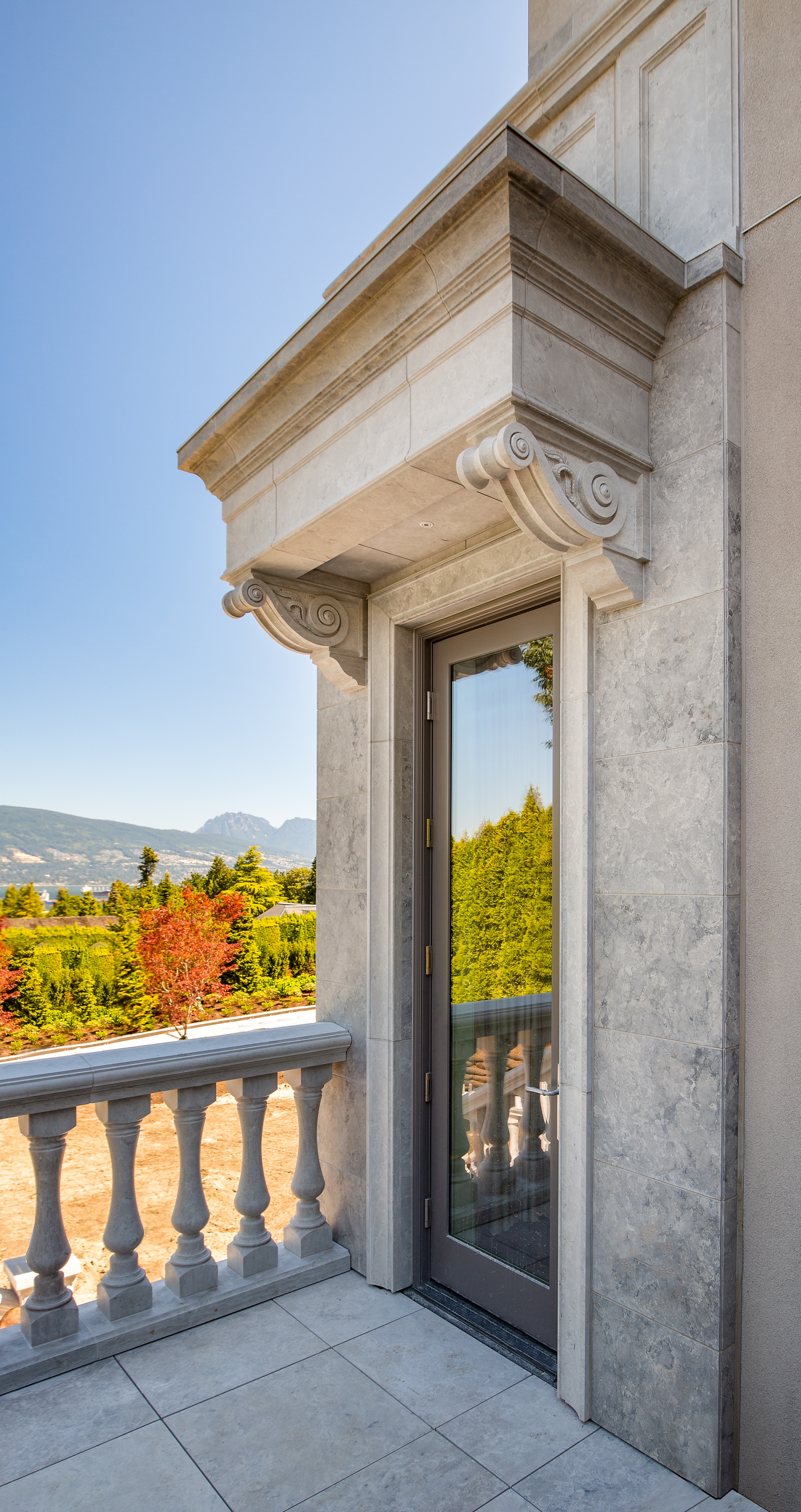 Tell me about the milling/carving of the railings, columns and corbels. What kind of tooling did you use?
There are five of these hand-carved corbels within the project. Each was carved by Andrew Swinley, Natural Stone Institutes Craftsman of the Year for 2016.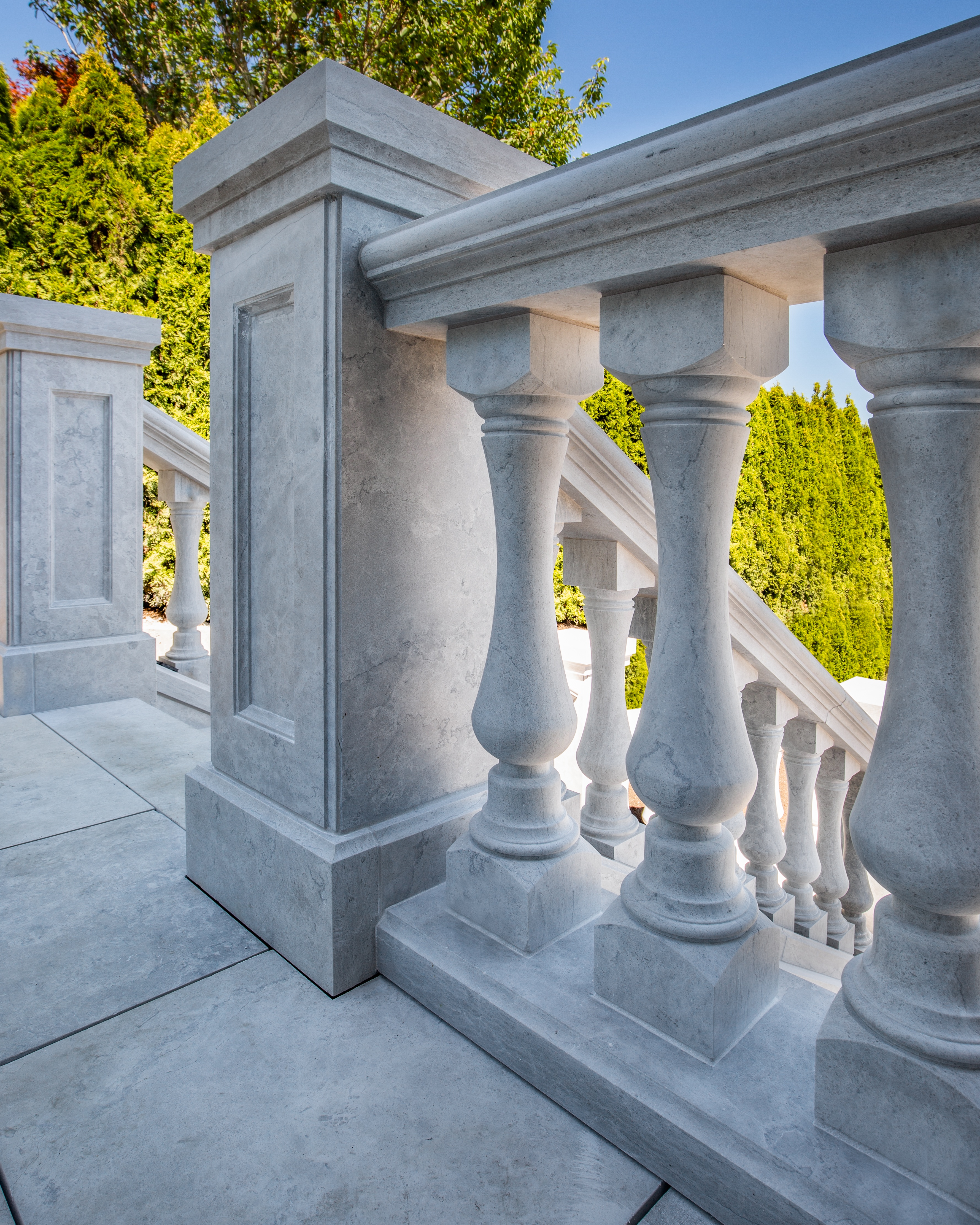 The project consisted of 450 balusters built into extensive balustrade systems, which were not only straight runs, but also acted as guard rails to staircases.At the onset, we didn't own a CNC lathe, so we converted an older machinist lathe into a homemade CNC lathe with servos and basic machine language (G-Code) controls.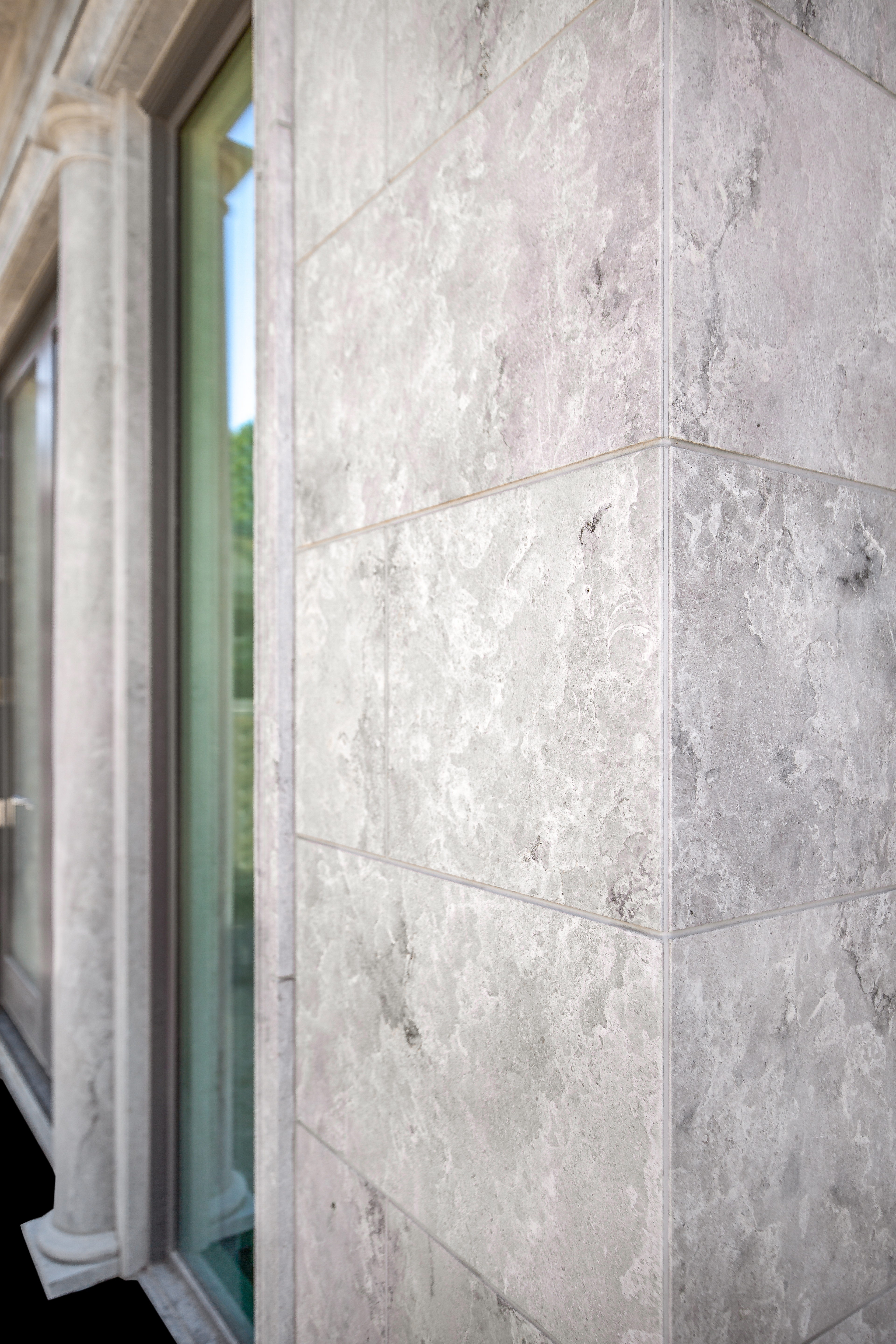 We milled the columns using a large CNC lathe which we purchased after we had started the project. Although we originally were going to use a manual lathe, acquiring the CNC lathe did make things simpler. That said, columns require an entasis, and this is not without geometric figuring and also programming of the CNC.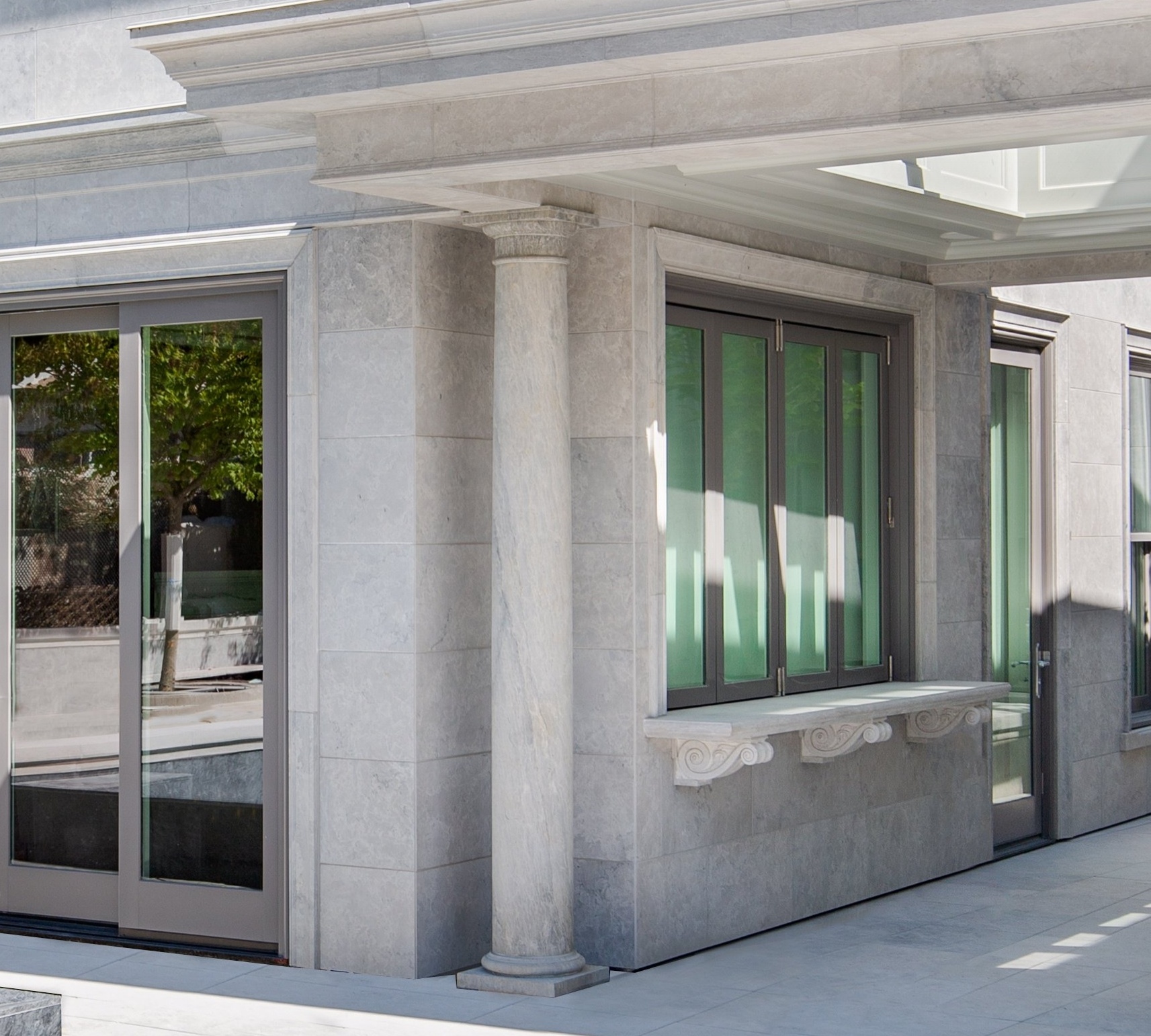 Once complete a hand honing process was required, and the columns still needed to be transported to the job site and erected. We needed a large mobile crane to position the solid columns into place at the project location.
Talk to me about the stone artisans you work with. Is it unusual to find artisans who can do this work today?
It is true, good stone craftsmen are hard to find, particularly within North America. Fortunately, Canada has a great mix of artisans from around the world, and as such we can draw on well trained talent from England, Ireland and mainland Europe. Our staff has a heavy British influence.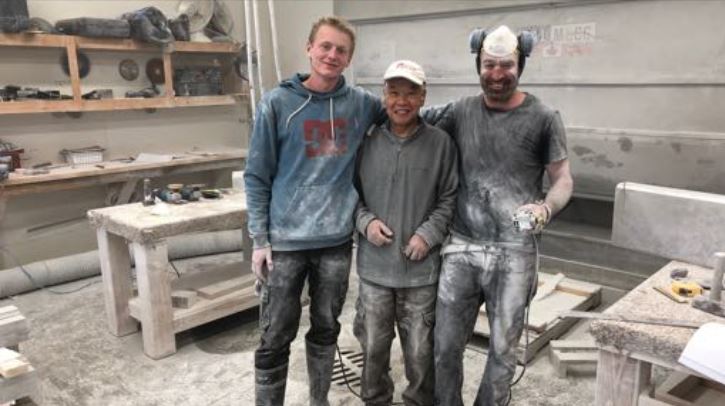 The stonemasons that work at Red Leaf Stone are gifted and talented people. They have invested considerable effort in training and evolving their art and craft. It is such a joy when a homeowner wants to create a house based on classical details. These styles never grow old, and our people get to stand up to the challenge. It's really motivating.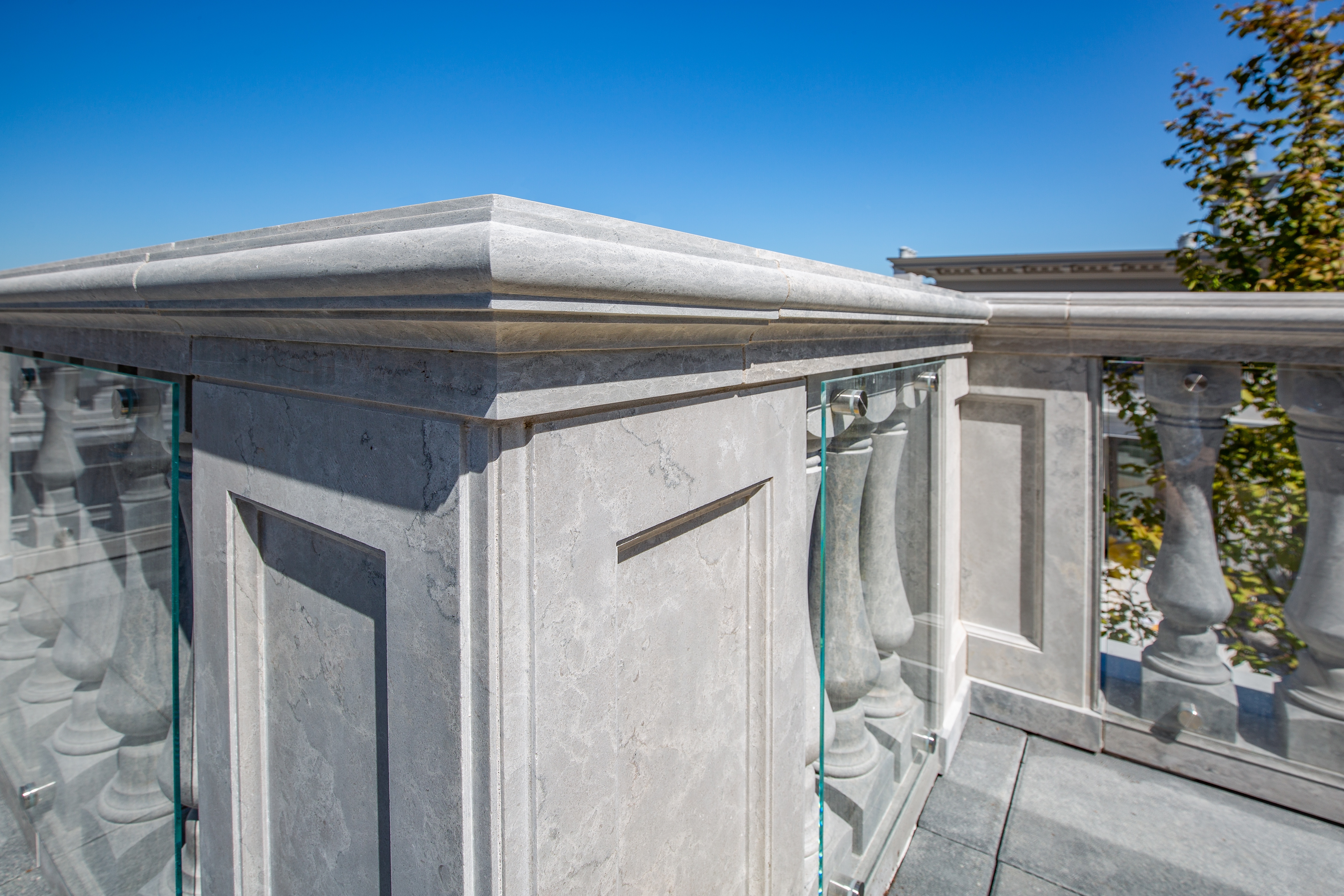 What led to your choice of Pacific Mist aka Saint Clair Marblefrom Polycor? Were you aware that thiswas an North American stone?
When we first laid eyes on Saint Clair marble, we knew it would be a success in the Pacific Northwest, but we had no idea where it came from. Actually, we thought it originated from Portugal. We tried very hard to find it and could not. At the time, prior to Polycor's acquistion of the quarry, it was called Aleutian Blue Marble. It turned out that two producers had some photos on the internet with that name. One thing led to another, and our pursuits took us to Oklahoma. We were very happy to discover this was a North American stone.
The drive to use the stone, however, came from the homeowner. They really wanted the stone. Saint Clair marbleis a natural fit of the Pacific Northwest. It's dense, freeze-thaw resistant and with its underlying grey tones fits in very well with the Vancouver skyline.