How Vetrazzo Turns Shards of Glass Into Your Kitchen's Best Jewelry
The holiday decorations are down and you can breathe a sigh of relief in the absence of color. But without all that bling your everyday surfaces may be feeling a little, well, every day.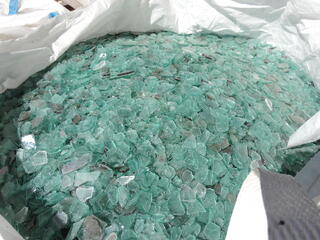 If your kitchen and living room feel sapped of personality, but ripping out the cabinets is not an option this winter, consider hardware with recycled glass.
Made with the same fragments of material used in Vetrazzo recycled glass countertops, the knobs and pulls come in an array of colors and finishes.
Vetrazzo, a Polycor company, recycles U.S. sourced architectural glass, Skyy vodka bottles, and even the humble green wine bottle and amber beer bottle, to make hand crafted countertop slabs. The glass fragments are blended in a wide variety of color combinations and suspended in one of several colored binders from white to shades of grey and brown.
Here's an example of recycled glass counter in Martini Flint color mix with a polished finish .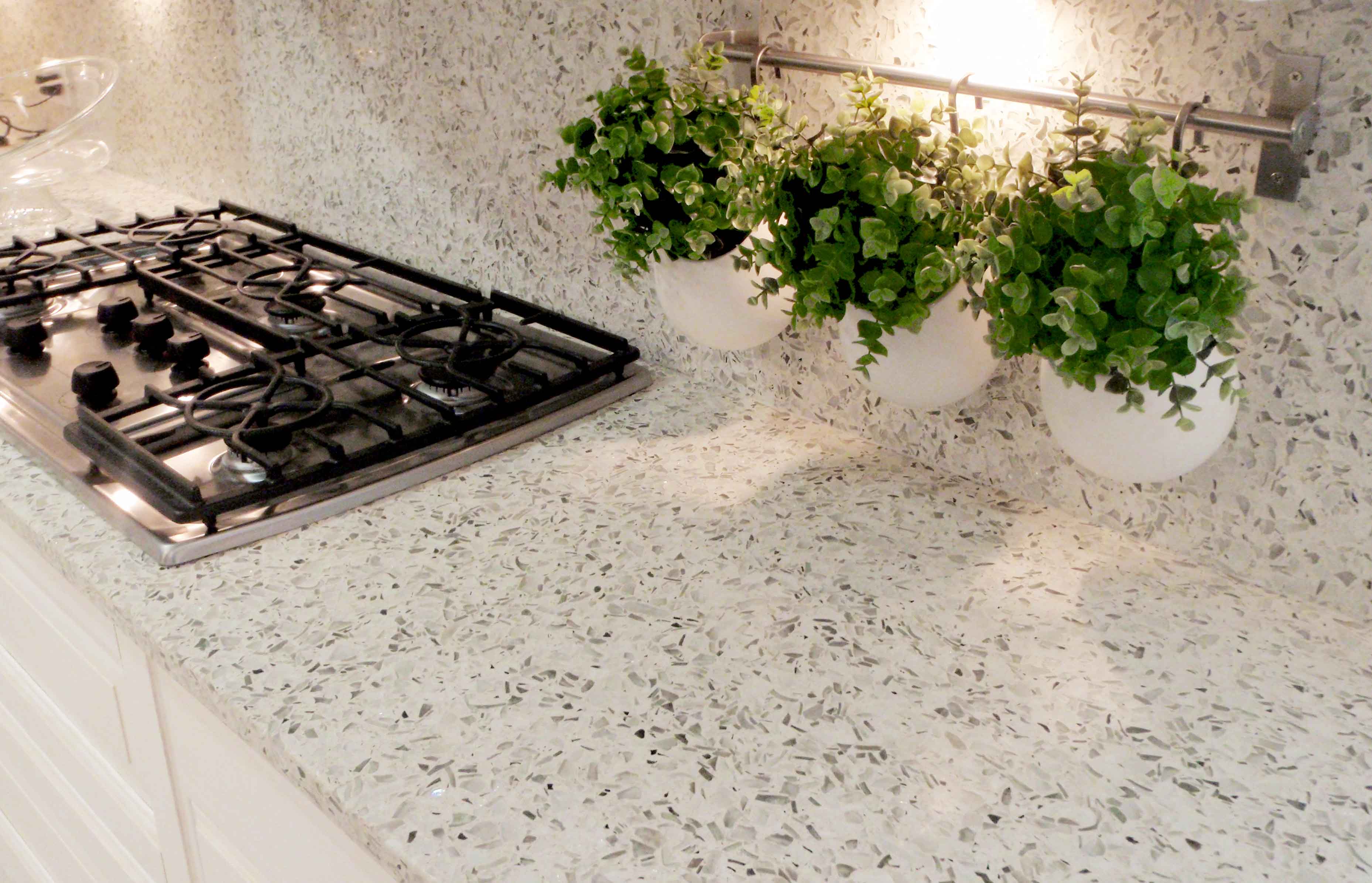 Cut and polished into a variety of shapes, the knobs and pulls are paired with traditional, contemporary and transitional style hardware to create a bespoke accessory for cabinetry and furniture. The result is 21 different recycled glass palettes to elevate kitchen cabinetry from box store to boutique showroom.
The recycled glass material is so unique, it defies style classification. Add it to Italian lacquered cabinets or a classic shaker and the Vetrazzo knob looks right at home.
With 21 color choices, eight finishes and several knob and pull styles it's easy to get overwhelmed. When designing kitchens and living spaces with natural stone and recycled glass we encourage customers to choose the slab they fall in love with and design their space around that surface.
If your surfaces and cabinetry are already in place, we suggest you look to favorite aspects of your current space for inspiration. Do you want to pick up the bright blue hue of a favorite piece of art? Or establish connection between the kitchen and the rich wood tones of your living room in your open floor plan? Honing in on that color and tone can give you the color inspiration you're looking for, whether it's Floating Blue or Alehouse Amber .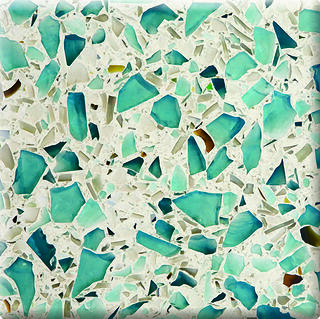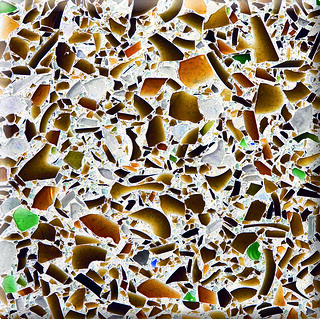 Try one of these techniques for narrowing down your knob and pull choices:
THE COLOR COMPLEMENT

The diamond ferrule knob in Glass House recycled glass is a subtle addition of depth and color for cabinets of natural wood color and white. We especially like it with shaker style cabinetry and on doors with glass panes. Coffee House pairs well with a warm chocolate kitchen and Bretagne Blue sparkles in kitchens with sea tones. See more of the diamond ferrule knob in circle or hexagon.
THE CONTRAST
I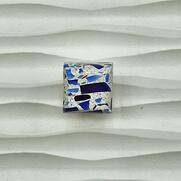 f you're looking for a statement accessory for your cabinetry choose a contrasting color as we've done here with Cobalt Skyy. It pops against white lacquered surfaces and creamy milk paints.
Pictured here is a square architectural knob.
For a straight ahead contemporary look we suggest the polished chrome finish with bar style knobs and pulls. The mix of colors in Ruby Red pop on this modern pull set against grey laquered cabintery. The designer repeated the red glass in the backsplash with the mosaic tiles in the same color mix.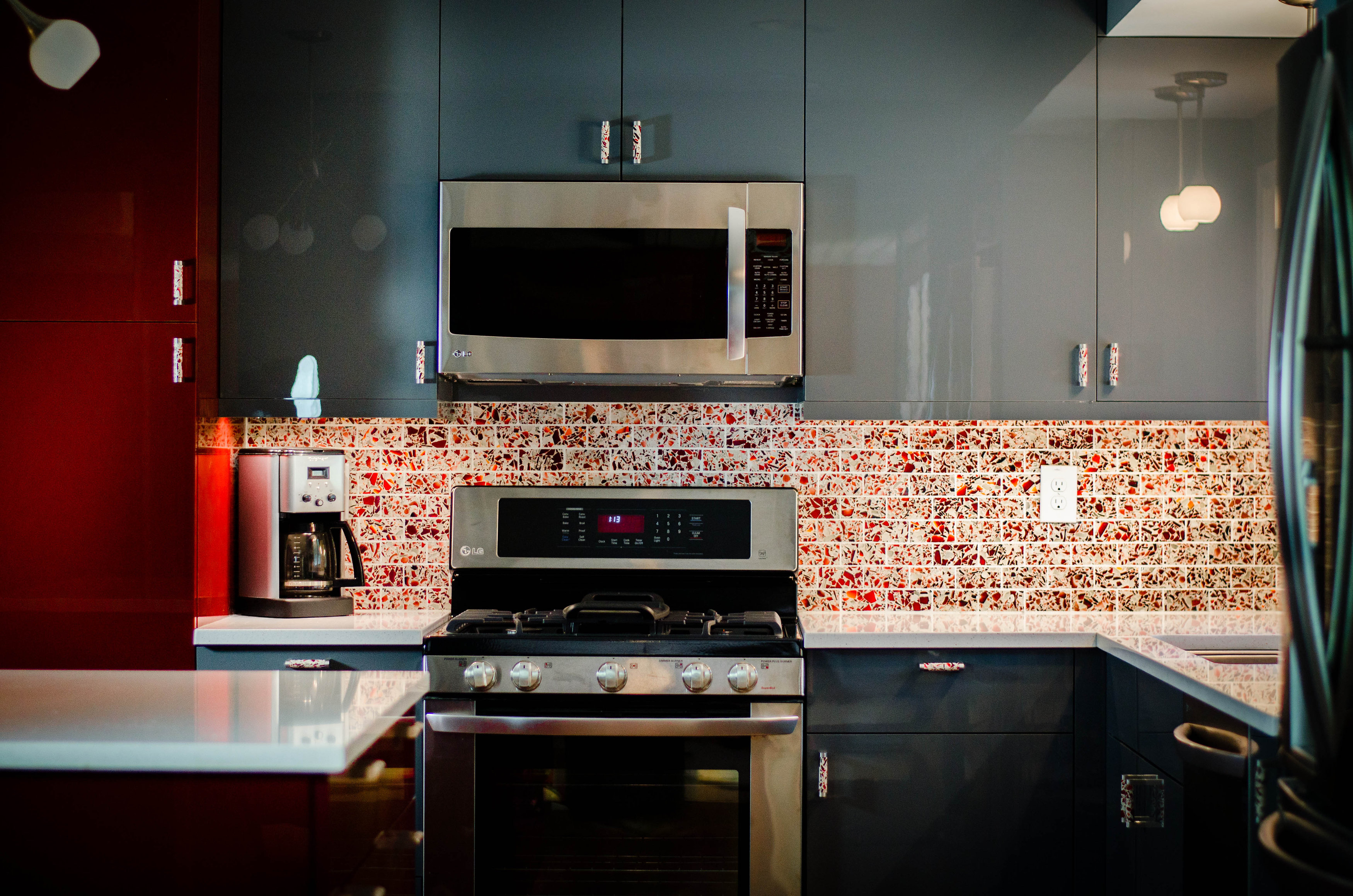 The artisan crafted glass hardware adds unexpected color and character to any style room. To see more colors and styles, including the 21 color mixes available for countertops, tables and hardware, visit the Vetrazzo and Polycor eBoutique.