Keeping It Local: Georgia Marble Takes Centerstage in Atlanta Designer's Home Renovation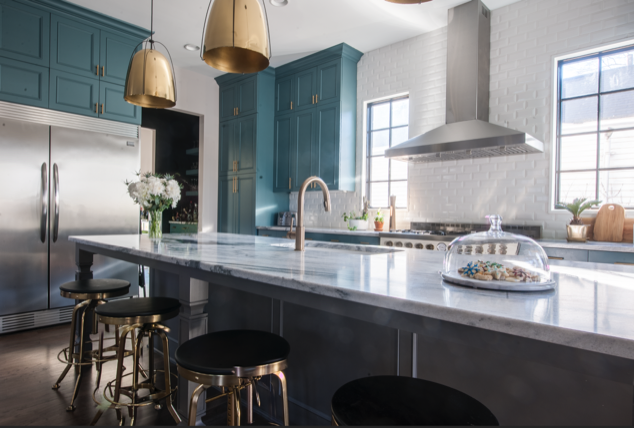 We are always honored when design professionals choose our stone for their own personal projects. We stumbled upon Atlanta interior designer Elisa Gangone's home kitchen on Instagram and were immediately drawn in by the gorgeous combination of deep aqua cabinetry, brass accents and locally sourced American marble from our Tate, Georgia quarry.
As a senior project manager and interior designer, Gangone is at the forefront of the design world. Which means designing her own home has all the makings of a dangerous situation: after all, there's no end to the resources at her fingertips and ideas percolating in her mind.
"Generally, I'm pretty easy going, but when it's a personal project I can ponder things over and over and over," said Gangone. "I turn the ideas over in my head to a point where it's ridiculous. It's just, you want it to be perfect. And you also know too much, but at the same time, that knowledge can lead to being relaxed when I can be sure of my decision."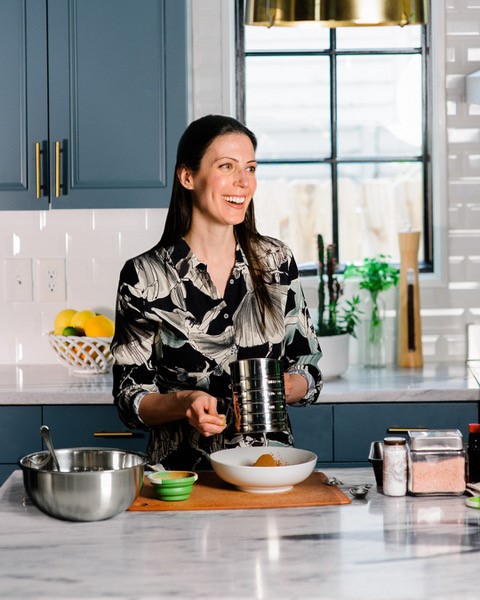 Atlanta interior designer Elisa Gangone chose a combination of deep aqua cabinetry, brass accents and locally sourced American marble for her personal kitchen.
In 2017, Gangone and her husband built a new, open concept home in Atlanta, which meant there were many decisions to make. It was an obsessive process, with function and efficiency guiding her and with a focus on each space having purpose and plenty of natural light. And the space needed to be somewhere that they could host both of their families and friends.
"We just love having people over, we love to cook, we both come from Italy and food is really important, right?" said Gangone. "So the kitchen was really important to us."
So while some design decisions kept Gangone up at night, choosing a kitchen countertop did not cause her to lose any sleep.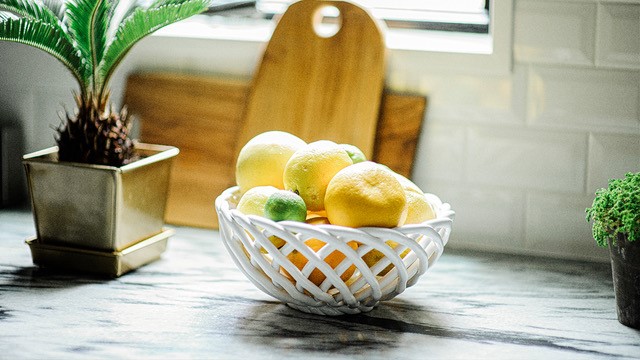 Gangone's material choice for the kitchen was an important decision, as cooking and entertaining are at the forefront of her and her husband's lives.
"With this stone, It wasn't one of those things that I obsessed over." she said. "I was like, 'You know what, I've been using Polycor marbles for years on different projects for work, I've seen them before, they're beautiful and they're local and that's what I want.'"
"And so that was super easy for me."
She was familiar with Polycor from her years of working on commercial projects, where our stone slabs were recommended to her by local tile reps. But she wasn't initially sure which stone was right for her, but the answer quickly became clear: GEORGIA MARBLE – PEARL GREY™.
"I am a sucker for veining," said Gangone. "And the veining in the Georgia Marble – Pearl Grey™ is so dramatic, but it's not so dramatic that it takes over the space, it still blends in beautifully."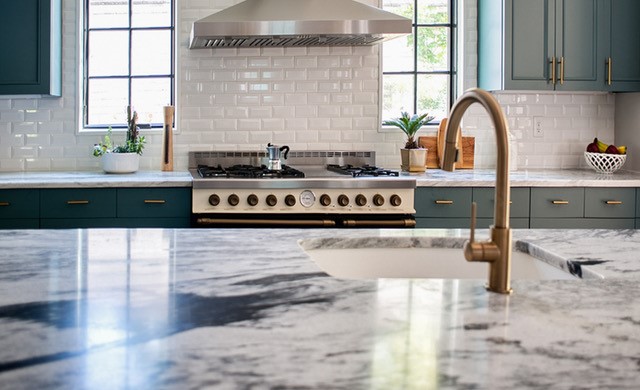 Georgia Marble – Pearl Grey™ is known for its white, gray and black veins that create interesting surface movement.
Gangone always prefers to source locally where she can, and since the Polycor quarry in Tate is a mere 60 miles from Atlanta, the geographical closeness became another in the plus column for Georgia Marble – Pearl Grey™.
"I feel like it's underrated in Georgia," said Gangone. "I feel like people should be using more of it, it's nice to have that option nearby. And I like the sustainability story, especially because it is a local material. Why not celebrate a local material that is beautiful and has very unique characteristics that the others don't, and also be able to be part of that sustainability story?"
She sourced the slabs from Ceramic Technics in Alpharetta, worked directly with the Polycor quarry in Tate, and Stone Crafters in Atlanta fabricated the counters—the entire process from quarry to installation taking place within the state of Georgia.
While Gangone was born in Italy, Italian marble was never on her list for a handful of reasons: the environmental and financial costs, its porous nature, and the fact that it's not an especially forgiving material. And while engineered materials tick off most of those boxes, they weren't a consideration either.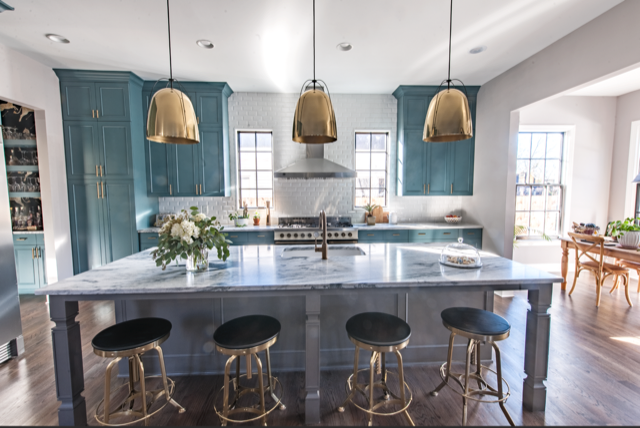 Gangone always prefers to source locally where she can. Polycor's quarry in Tate is a mere 60 miles from Atlanta.
"I didn't want to go to a synthetic engineered stone. I like honest materials," said Gangone. "And I'm okay with the counter having a little bit of a patina, a little bit of etching."
Even though her kitchen looks beyond perfect in these photos, Gangone is not one of those people who demands indestructible perfection.
"I think that the natural characteristics that you get from a real product are worth the aging and upkeep," said Gangone. "I will say we haven't ever resealed these counters, so we haven't even been maintaining it like maybe we should and they still look great."
While the countertops were an easy decision for Gangone, that was not the case with everything else in the kitchen. In particular, the paint.
"Even though paint is easy to change, you want to pick a color that you won't get tired of and that will be timeless for a while," she said. "And so, I obsessed over the color for the kitchen cabinets forever. Finally, I just looked at my husband, who has a background in art so he can understand color really well, and asked for his help to narrow down the colors."
All of that laborious decision making paid off in a kitchen that is stunning but not pretentious, equally glam and welcoming: the cabinets are PPG's Superstition, a deep gray aqua with a turquoise undertone. The island is Gibraltar Gray also by PPG, the oven is by Tecnogas, the pendants by Rejuvenation, and the bar stools are from Restoration Hardware. The gathering space doesn't end at the kitchen; a nearby coordinating bar captures much of the same look—shelves and cabinets to match the kitchen and with a Georgia Marble – Pearl Grey™ countertop —with a slightly more playful spirit.
"Just like with the kitchen, being able to have people over and being able to have a great bar, and a large selection of offerings, is something that is really important to us," said Gangone.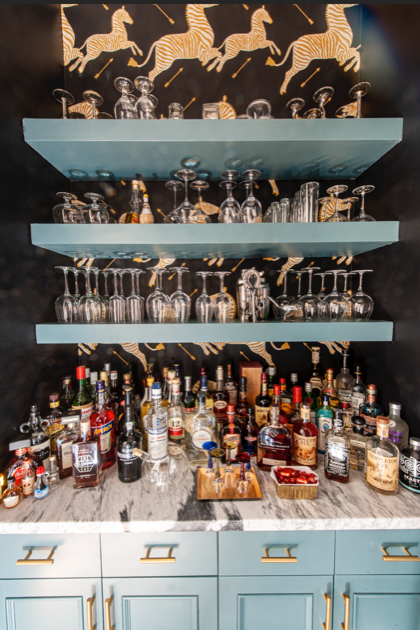 A nearby coordinating Georgia Marble – Pearl Grey™ bar captures much of the same look as the rest of Gangone's kitchen.
The bar features a large selection of spirits, including ones brought home as souvenirs from trips Elisa and her husband have taken around the world. And while the collection of bottles is impressive, it's the Scalamandre Zebras wallpaper in Black that's instantly eye-catching.
"I love fun things. And you know, it doesn't have to be crazy, that bar area is not huge," said Gangone. "It's just a little pop as you're walking from the kitchen to the dining room. I think sometimes it's okay to do something kind of out-of-the-box and not just the normal or the expected, I just love that it's just fun and unexpected and joyful."