From Modern Rustic to Mid-century, Marble and Granite, Designs That Mix It Up from The Kitchen to The Backyard
Maybe it's the change of seasons but we've had new combinations on our minds lately. Cool mornings and hot afternoons, rustic wood and high polish lacquer, deep black granite and subtle grey marble. (You know, things stone people think about.)
In design as in life, I think what we love is contrast, the unexpected pairings that equal more than the sum of their parts. What would lemonade be without the sweetness of sugar? (Or a margarita without the bite of lime…).
So today we're pulling from designers all over the style map who are mixing American marble and granite with natural and engineered materials, playing with color, texture and sheen in traditional kitchens, mid-century kitchens and a rustic modern kitchen like you've never seen before.
See if you find a style match here…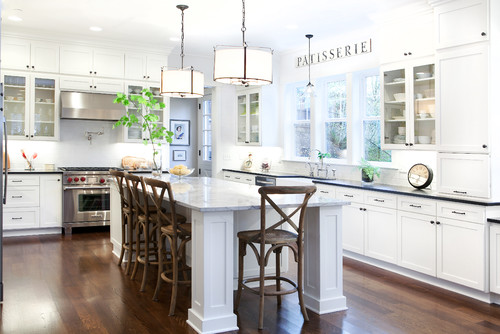 Like a black outline on a drawing, Polycor's Cambrian Black Granite on the perimeter counters give definition to the space, showcasing the marble island in this dream kitchen by Tracy Herbert. We're seeing more designers featuring two surfaces in their kitchen designs and we love how it highlights each material and offers separation of spaces. The natural granite is sourced from our Polycor quarry in Canada.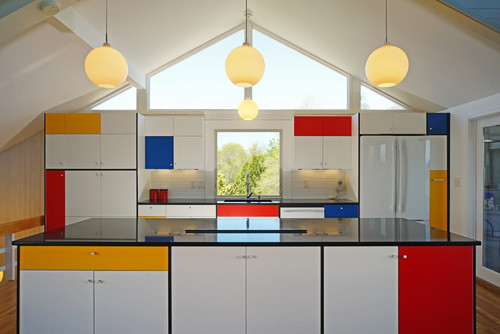 This Mondrian inspired kitchen uses the deep gloss of Polycor's Cambrian Black polished granite to connect the bold, but balanced, color palette and the black framing of the cabinets. Design by Carole Hunter Home Design. Betcha can't even find the fridge.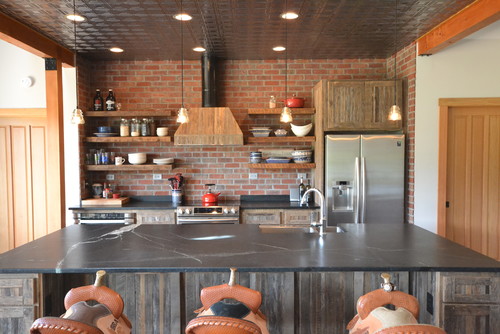 This gorgeous soapstone island in a restored pole barn home in Virginia blends reclaimed wood, stone and tin ceiling tiles for a modern rustic design. Sarisand Tile sourced the Alberene Soapstone for the counters locally from our Schuyler quarry. Check out that killer natural veining. You don't get that unique character with quartz countertops. And those saddles, giddee-up! See a rustic modern chef kitchen here.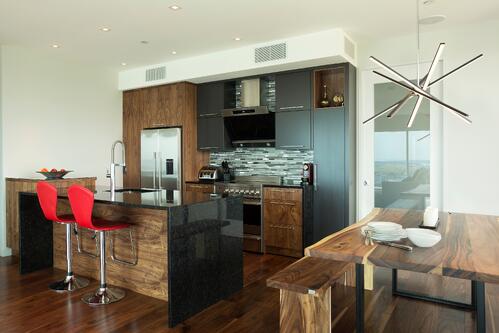 The designer of this Quebec City kitchen made bold choices with bold materials, and yet they complement rather than compete. The bookmatched wood furniture and cabinetry have a strong grain to stand up to the mega crystals of the St. Henry granite, and the matte black cabinetry and steel table base provide relief. Read more about the stone with the mega crystals here.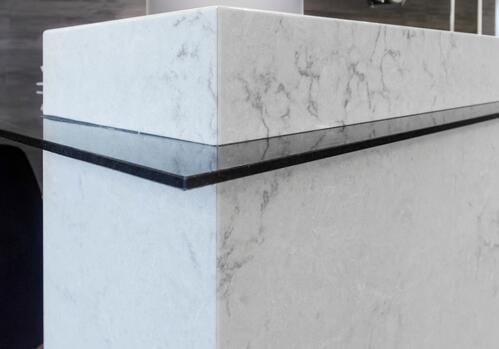 Believe it or not, this is a 1 cm ultra-thin granite desk. But how amazing would it be as a kitchen island? Polycor's ultra-thin stone slabs are the thinnest and strongest natural stones you can get for your design project. Here, Cambrian Black granite bisects quartz like a sword through a stone. Had this project been all one color it never would have achieved that effect. Read more about this stone desk that's thinner than an iPad.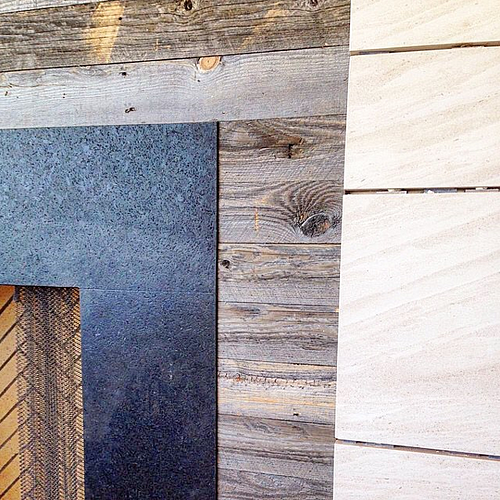 This modern rustic fireplace is all about texture. Look at the surface of that Cambrian Black granite. The antiqued finish just asks to be touched. A perfect pairing for the subtle shades and textures of the reclaimed wood on this fireplace surround by Kristen Rivoli Interior Design.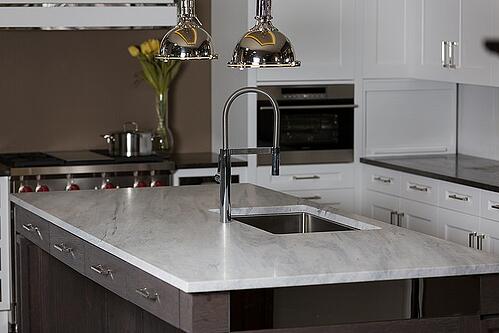 US marble and Crystal Cabinetry, the perfect pairing of strength and delicacy. I love the combo of the heavy brown island and the light top. Polycor's White Cherokee honed marble complements this sophisticated Crystal Cabinetry and hardware designed by Christopher Martinez of Poggenpohl Paramus, NJ. Read more about this kitchen and the use of marble in modern and traditional kitchens.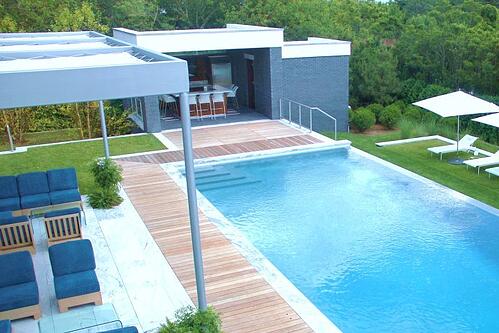 And because it's summer, we've got to include at least one backyard design and this one is a stunner. This Deal, New Jersey residential design incorporates contrasting elements in the natural wooden planks and the signature grey veining of our Pearl Grey American Marble in the patio pavers, pool coping and cabana counters. The simple, clean design allows the natural elements of water and plantings to pop. Fabrication by AW Eurostile. You can see more of the amazing cabana here.