Meet Mega Crystal: Likes Shiny, Plays Well With Wood [PHOTOS]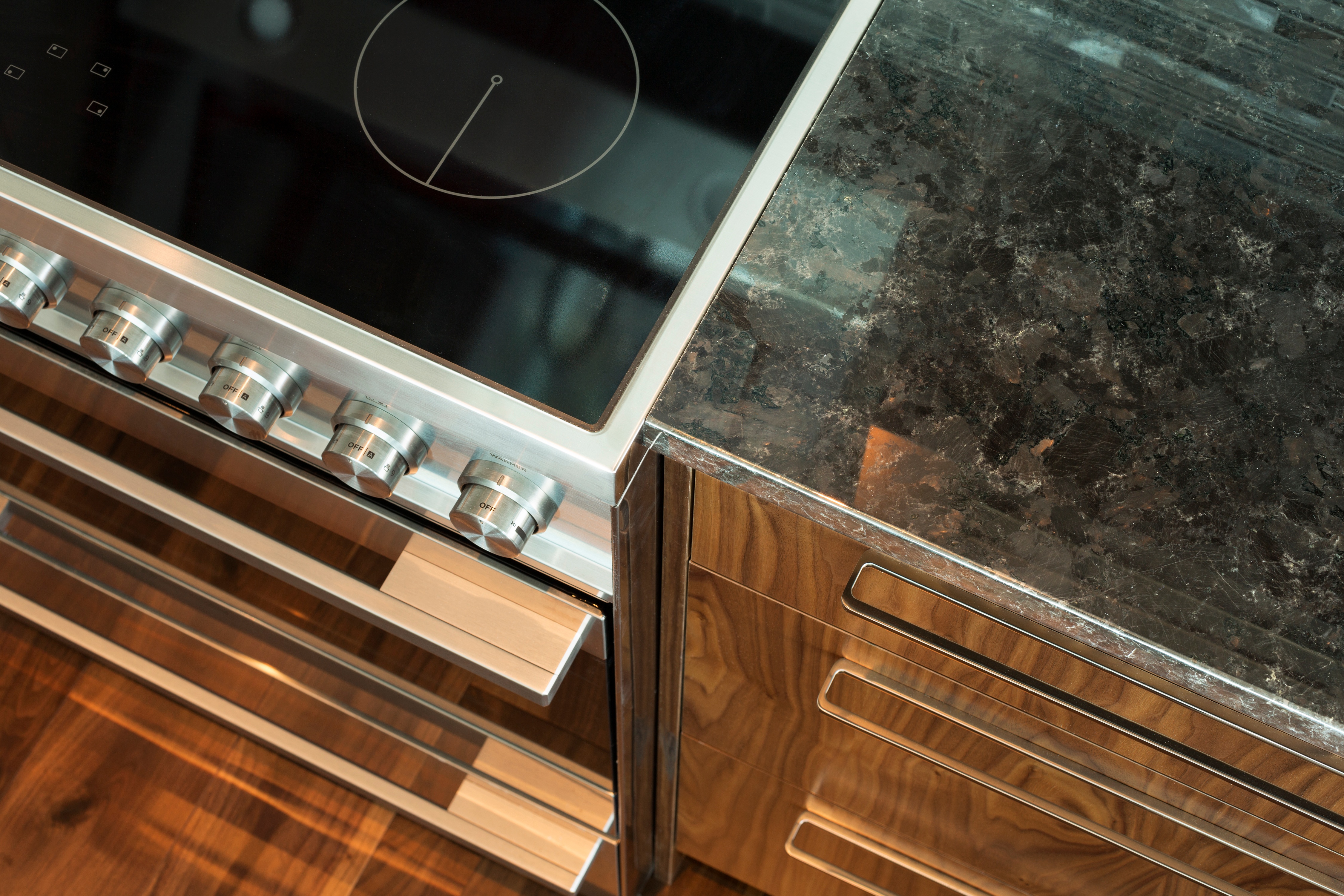 Move around a St. Henry granite kitchen and you'll do a double take as you round the corner of the island to put your coffee cup in the sink.
What looked like straight black from far off turns out to be black and grey opalescent mega crystals nestled within. This is a natural stone that doesn't so much show off as it does reveals itself. With depth and interior movement, St. Henry has a unique visual texture that interacts with your eye as you see it from different angles.There at the surface and just beneath, you can see the junction of minerals, like a snapshot of a geological event. This slice of igneous rock is telling a story of intense pressure and heat, of cool air and hot magma where extra large crystals became sandwiched together inside the earth. When blocks of the granite are cut into slabs the result is a dazzling crystal like display – some crystals flat, some skewed – making visible cross sections of the minerals.And there it is, this proof of the phenomenon of our ever changing earth, right there under a cutting board grabbing light from the window and the reflection off the fridge to produce iridescence that geologists call labradorescence. (I think designers just call it, WOW.)
Now to put a little shine on that diamond
All granites polish well, but St. Henry is able to achieve a higher degree of polish than most and rates at a higher luster than other natural stones. St Henry has an inner luminosity. When the light hits it, it almost looks like abalone.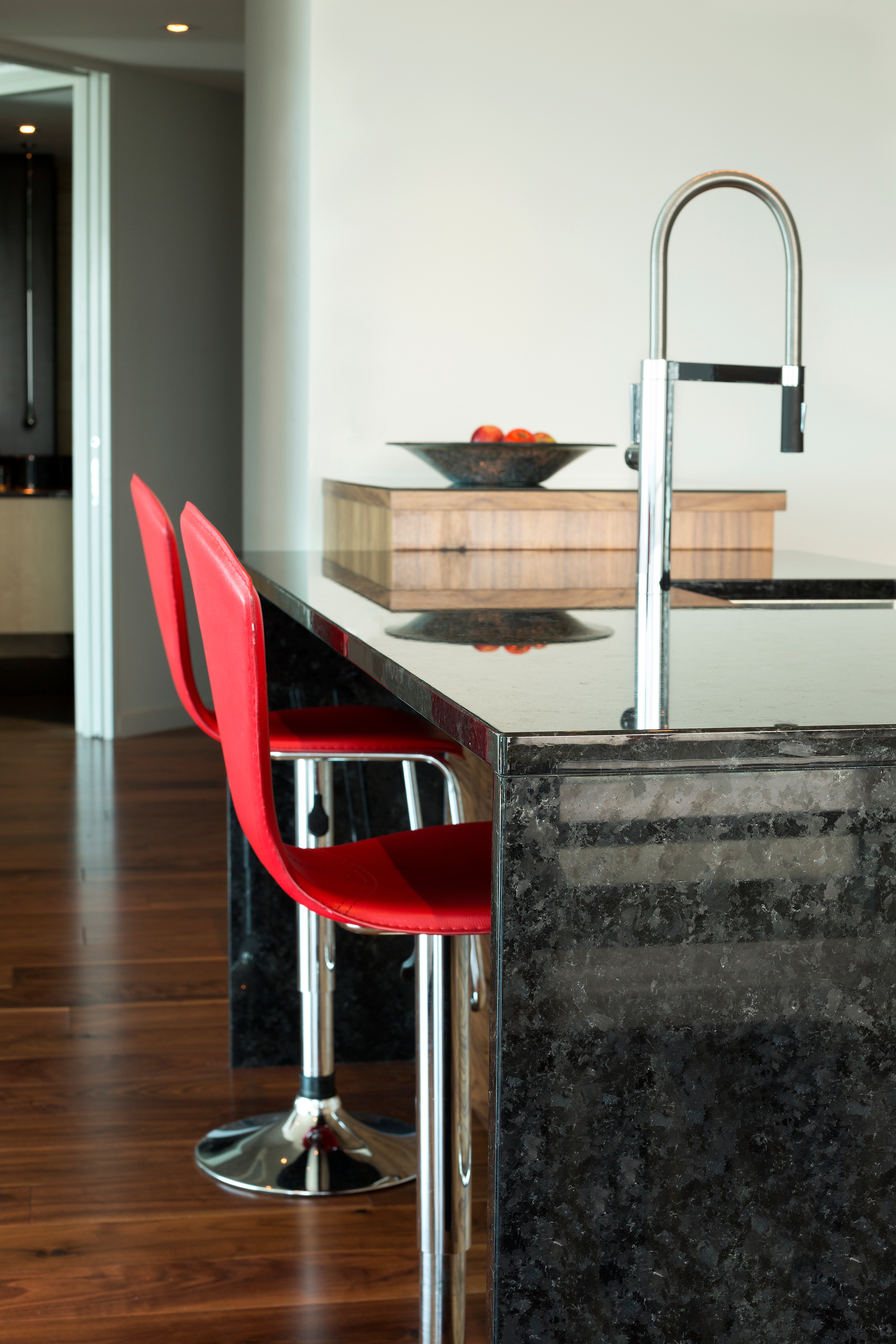 Here the fabricator gave special attention to detail, even polishing the inside of the waterfall overhang to a high polish so even the shadow there is sparkle.
Active, but not busy
Black stone is always in fashion but the degree of movement in the stone, texture and polish tend to be more a personal aesthetic.Medium grain black stones like Cambrian Black granite or treated Alberene Soapstone have a strong monochromatic style great for someone who wants a matte black look. Their finer grains give a uniform appearance with minimal patterning.Quarried in Quebec, St. Henry is a medium to coarse grained granite, which is why it has those unique black and grey mega crystals. Some granites have large quartz or mica crystals, which yield a confetti appearance with a lot of coloration. That means a chunky visual texture and movement within a slab that can be overwhelming to some. St. Henry has a similarvisual texture but with quieter range of tones, which makes fora strong appearance that at the same time isn't busy. Download the spec sheet here.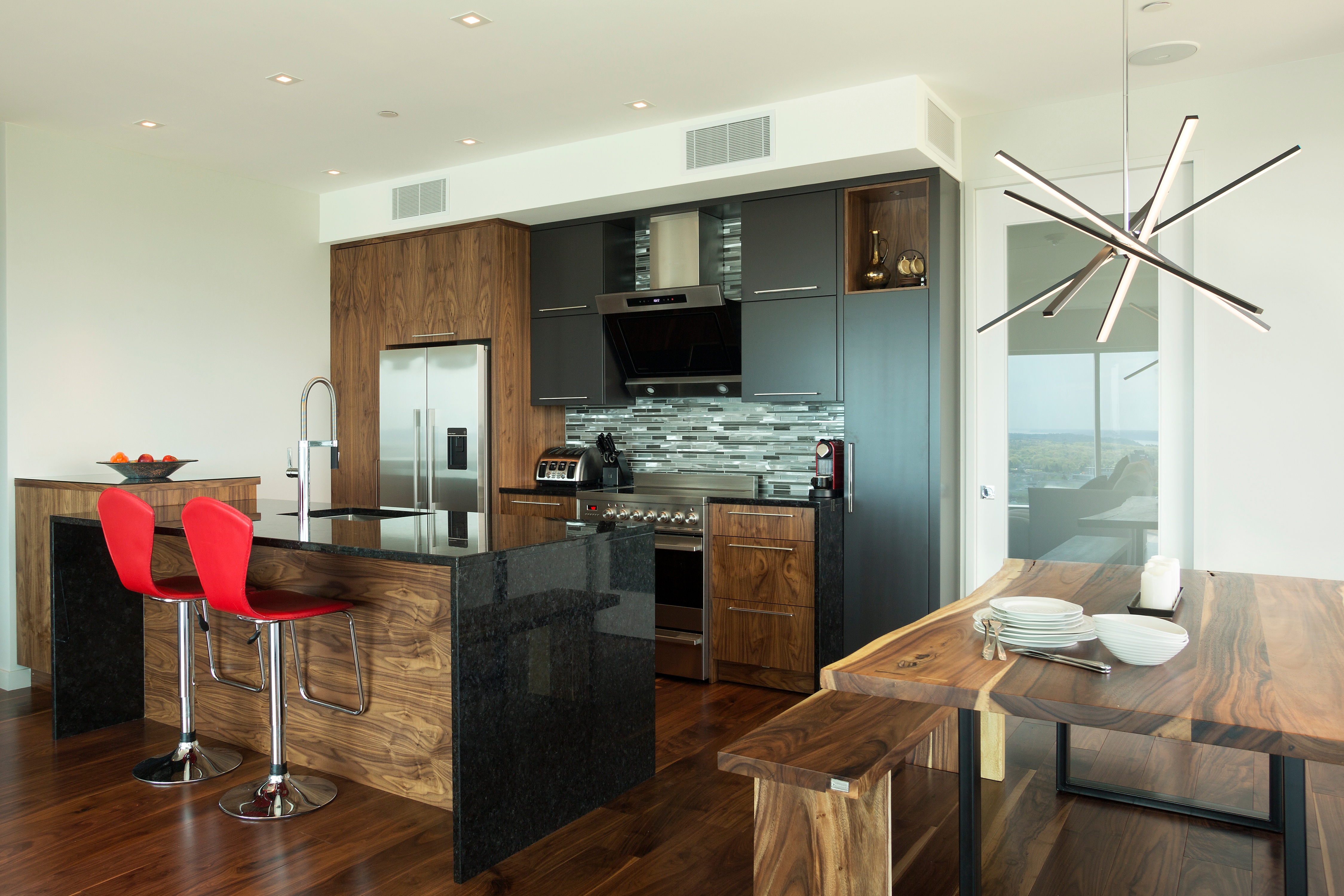 The designer of this Quebec City kitchen made bold choices with bold materials, and yet they complement rather than compete. The bookmatched wood furniture and cabintery have a strong grain to stand up to the mega crystals of the St. Henry granite and the matte black cabinetry and steel table base provide relief.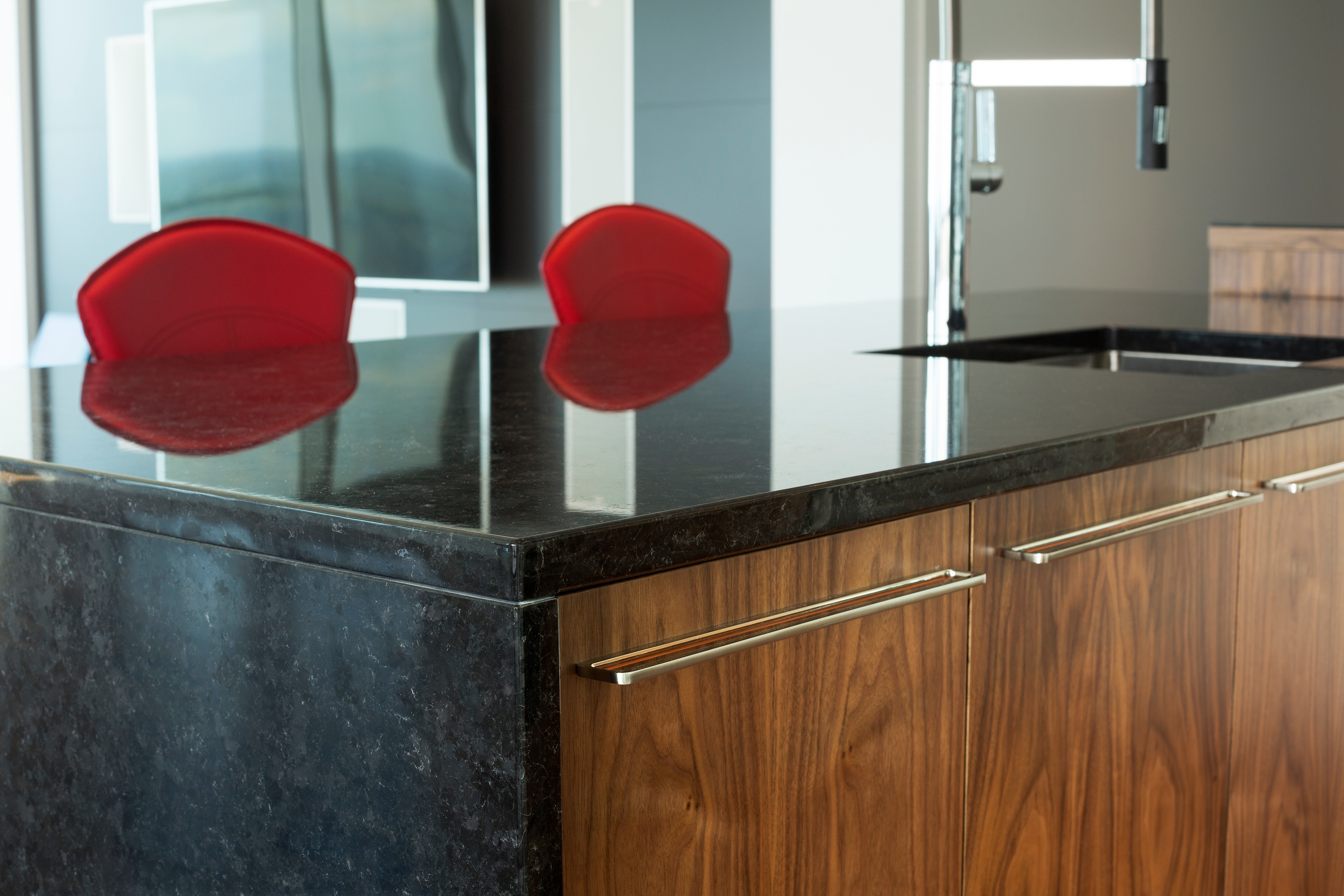 Sometimes what glitters, is actually just glitter
The natural variations in luminosity, crystal size, color and depth of natural granites like St. Henry are difficult to duplicate in a factory. But that doesn't mean some manufacturers don't try.Quartz makers attempt to mimic the luminosity of natural stone crystals with the addition of small, uniform pieces of mirror flakeswhich comes off as contrived. The repetitive patterns, flat surface quality and lack of depth tend to make the engineered stone look as though you went toa craft store and dumped glitter in there. Sparkly, yes. Luminescent with depth, no.
When is shiny too shiny?
Though an ultra-high polish brings out the depth and visual texture of St. Henry's mega crystals, a high shine doesn't work in all designs.Designers can maintain the unique look of St. Henry and subdued visual texture by ordering a honed finish for the slab. Honed finishes and brushed finishes (also called antiqued or leathered, read more on that here) work well for a more matte black tonal palette, and when an abundance of natural light in a kitchen might cause too much glare. When you hone this granite you don't lose that quality that the mineral has inside, you just quiet it down.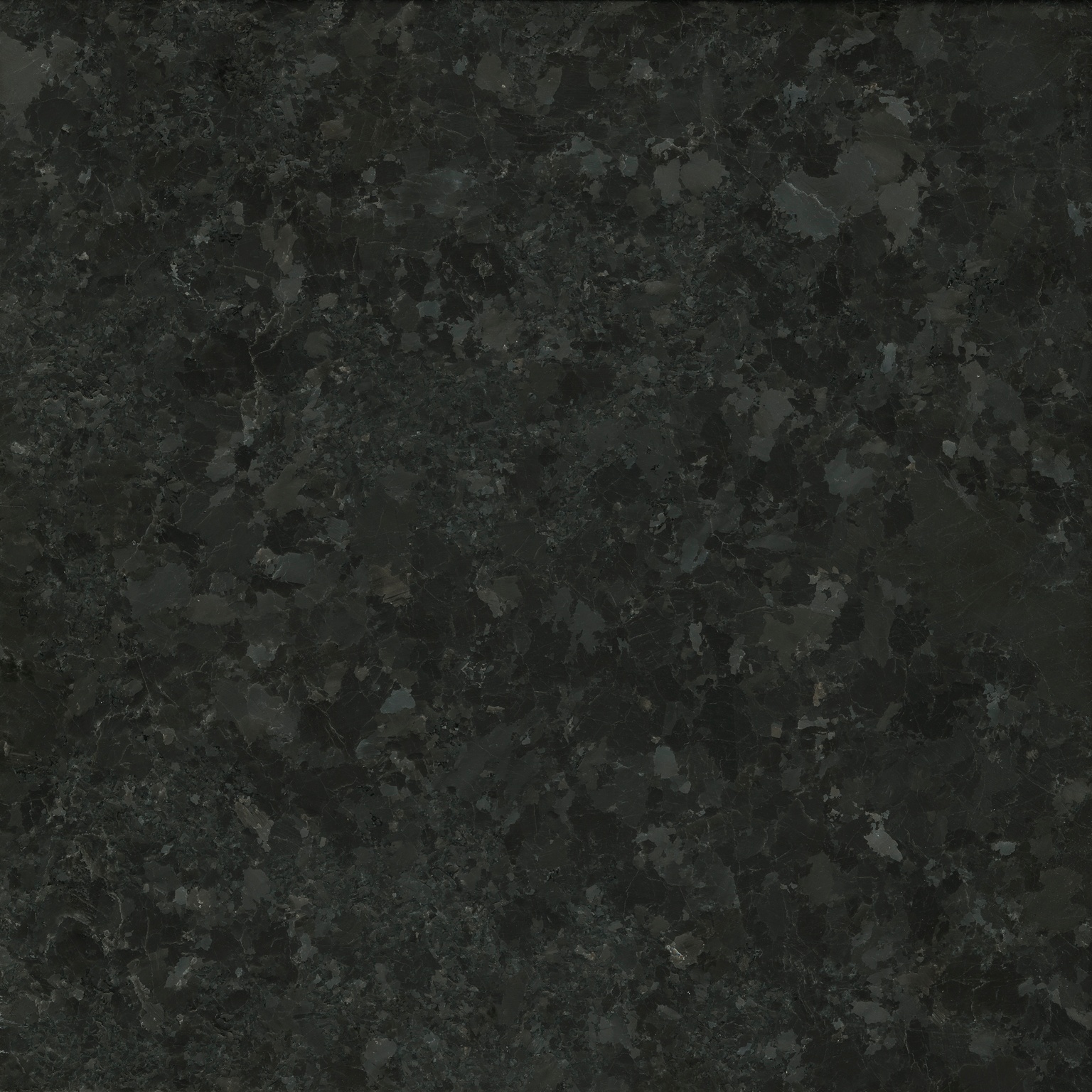 Here 's a close up of an antiqued St. Henry sample shows how the crystals still appear dynamic.At the quarry or at one of our U.S. or Canadian plants, we use a flat abrasive brick to flatten the stone. Next we use a special round rigid brush with diamond fragmentbristlesto finish the surface.As it spins and moves back and forth over the stone, the composition changes. (Granites for instance, are an agglomeration of minerals – feldspar, quartz, silica – and each one of those minerals has a specific hardness.) As the bristles push down, they wear into softer areas and glide over harder ones. As you progress the surface develops a matte appearance with a subtle luster.
But here's what's cool about St. Henry: Because of the hardness of this granite's extra large crystals, the antiquing brush slips over their surface and goes deeper in between the rectilinear shapes. What you get are soft undulations, with raised islands you can see and feel. It just makes you want to run your fingers over it and trace out those opalescent shapes.Polished, honed or brushed, the visual weight of crystals in the stone stand up to strong pairings of dark woods with prominent grain and metallics, either brushed or polished. And speaking of metallic, the flakes in this stone even resemble the patterns found in galvanized steel, making it a great addition for spaces with an industrial feel.