Move Over Marble. Your Cousin Wants a Seat at the Kitchen Island (and dibs on the guest bath too)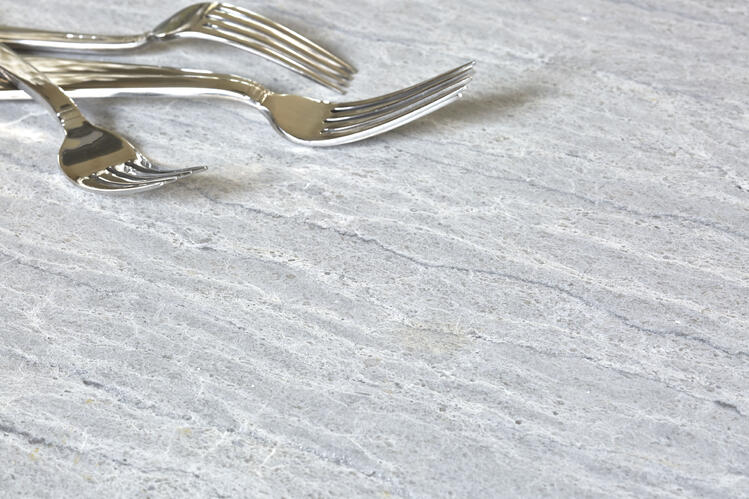 Luxury. Elegance. To achieve these in a kitchen or bath design has always meant choosing marble. It's classical provenance and touchable texture are unmatched. And yet, it's cousin is getting a lot of attention from designers who want both the classic look and feel of marble and a fresh take on the soothing grey tones that continue to trend in the kitchen and bath world.
American Saint Clair limestone is a hard wearing and subtle toned natural stone that acts like a marble. Quarried in Oklahoma, Saint Clair is a high density limestone that offers design professionals a local source for that cravable soft grey palette in a surface suitable for countertops, vanities, flooring, cladding and even pavers. Harder than other limestones, Saint Clair has the properties of an American marble (known for their stain resistance and durability).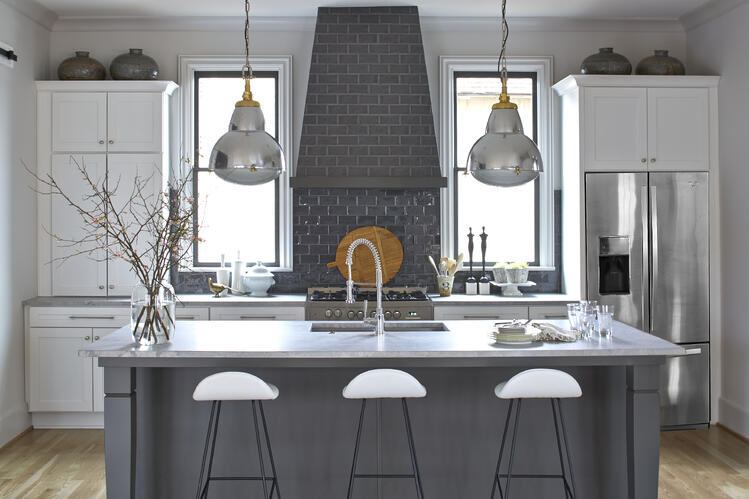 In Pam Sessions' designs' the kitchen and its island are a focal point for the home. She chooses American natural stones for many of her kitchens. Here she's specified Saint Clair limestone in a linear cut.
Atlanta designer and developer Pam Sessions of Hedgewood Homes is known for her livable, walkable communities with a European flair. Though Hedgewood Homes are built new they look as if they are perfectly preserved old world neighborhoods with tall windows and climbing ivy. Inside kitchens and bathrooms are custom tailored to new homeowners with Sessions' aesthetic – chic, tranquil and cool like blue jazz.
"I am especially attracted to the soft warm neutral color of Saint Clair," Sessions said. "It fills the need for a lightly colored top without going to a brighter white. I also like the fact it looks great with both light and dark cabinets."
And it looks killer with hand glazed, dark grey subway tile. Am I right?
The gently figured limestone is available in two cut patterns, linear and fleuri – each revealing a unique character of the stone. Here in a powder room Sessions chose a Saint Clair Linear slab with a more homogenous grain pattern.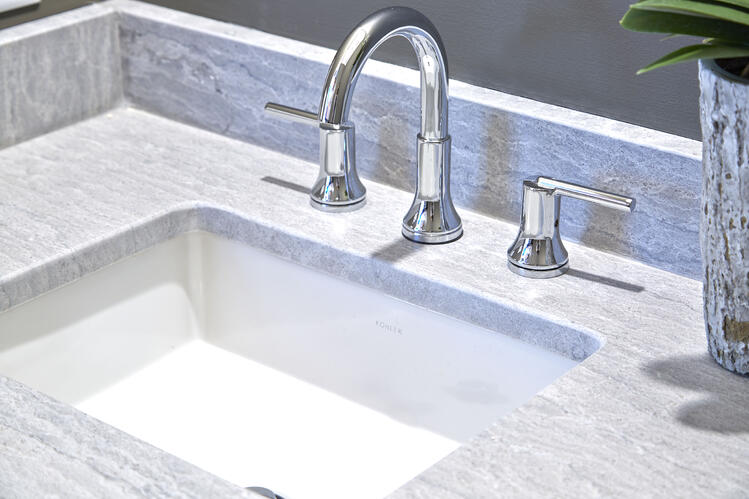 Saint Clair limestone's density means it can take a polish like a marble, adding elegance to even a small powder room.
As a surface material Saint Clair is a versatile base layer equally suitable for light bright spaces with high contrast materials and darker rooms with moody and masculine tones. The two examples below are from the personal home of designer Brooke Wagner.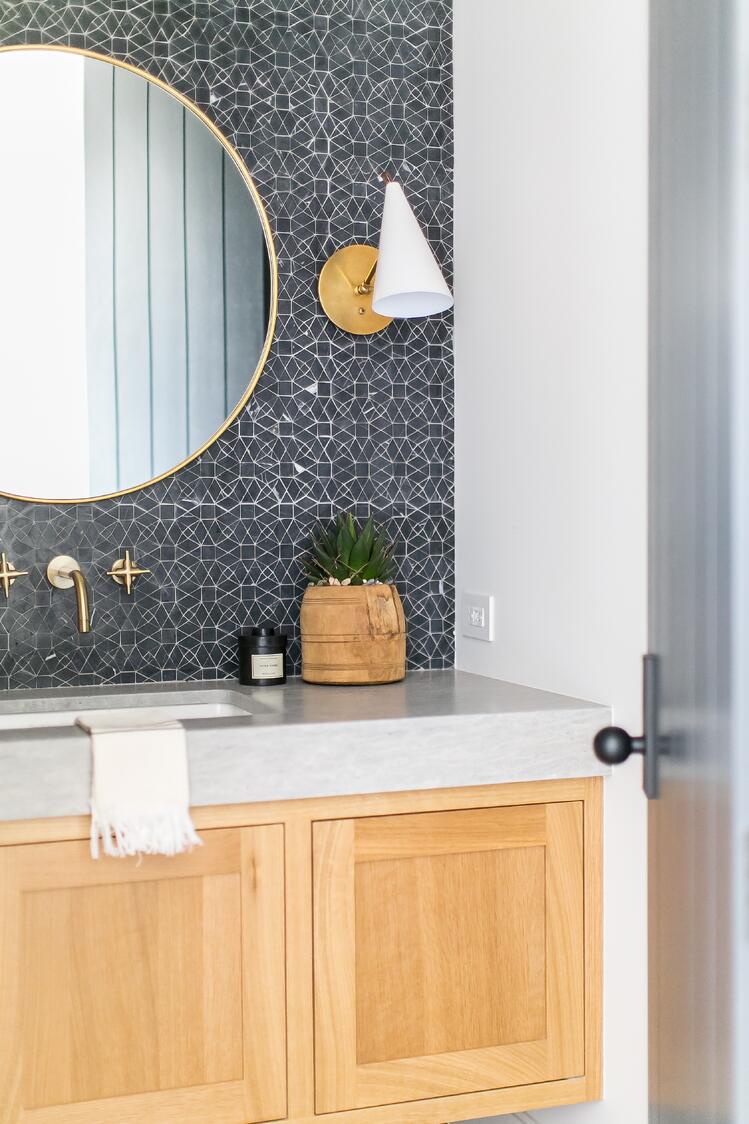 Powder room design featuring Saint Clair limestone with built-up edge by designer Brooke Wagner.
This powder room features black marble Famosa tile, accentuated with light grey grout for a look that's engaging, but not too punchy, Wagner said. The minimalist warm oak floating cabinet with push latch is topped with honed Saint Clair with a 4.5 inch lip build up to add some heft.
But it's the feel of this stone that catches visitors attention.
"Everybody runs their hands over it. It has almost a velvety finish when honed, " Wagner said, "and it has a softer movement than other stones. It's so pretty. I love it."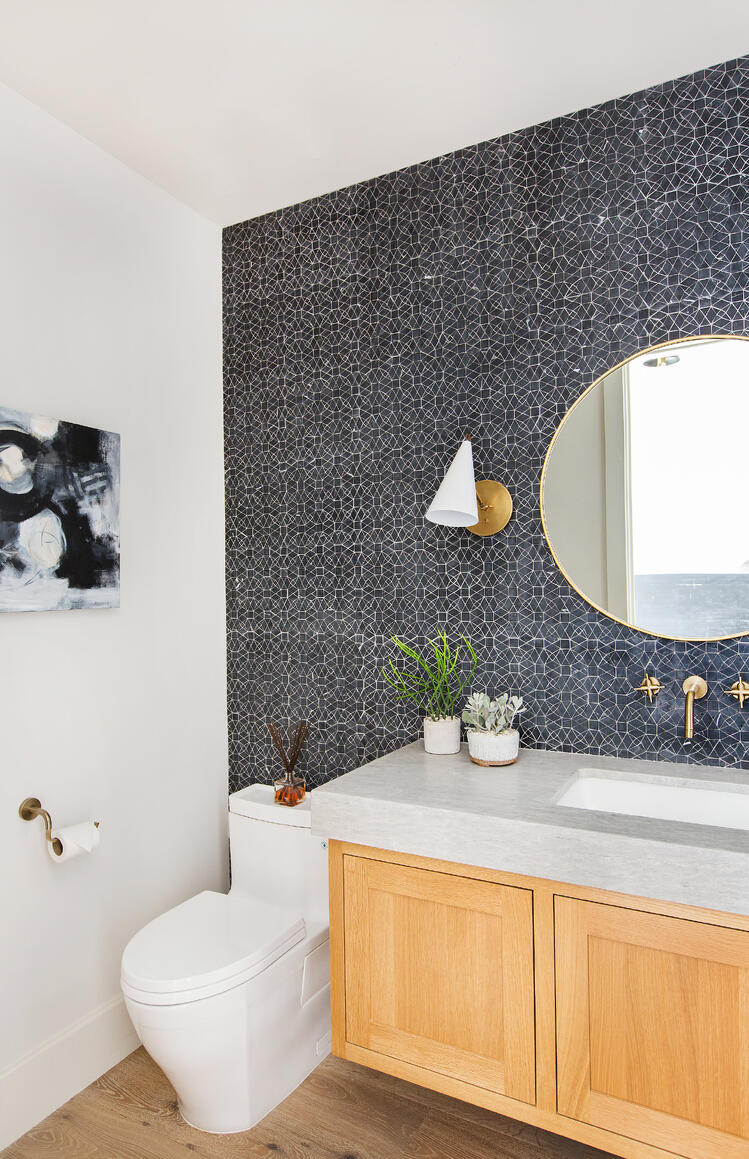 Wagner loved the American limestone so much that she also specified it for her master closet island top and her son's bathroom vanity plus the curbs and jambs of his shower. With black fixtures and navy blue cabinetry supported by the sublte grey tones of the limestone, the bathroom feels masculine and grown up, without being stuffy.
Fabricator Fred Paulk of American Marble and Tile sourced the stone from Pacific Shore Stones' Irvine, California location which has a boutique, designer feel popular with local clients.
More about limestone on Pacific Shore Stones' blog here.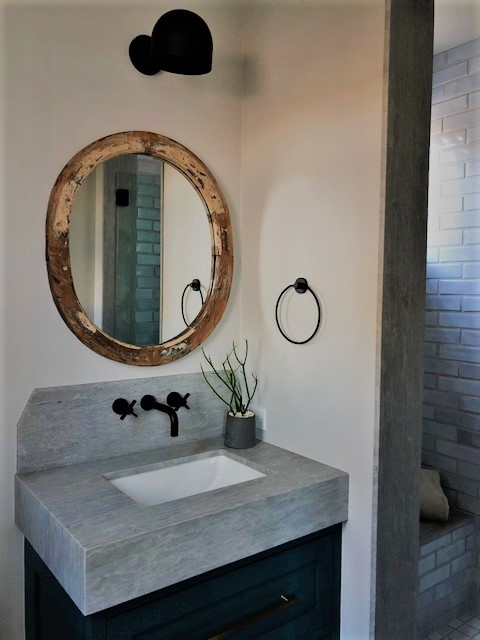 "I've used limestone for fireplaces, but not countertops in a long time," Wagner said. "I feel like it's coming around again. Saint Clair is a lot denser than other limestones which makes it great for bathroom applications. I love the movement of it and its pretty warm grey tone. It's such an easy color to use for a lot of different applications."
Here the limestone top makes a subtle complement to the chocolate colored cabinetry of the master closet.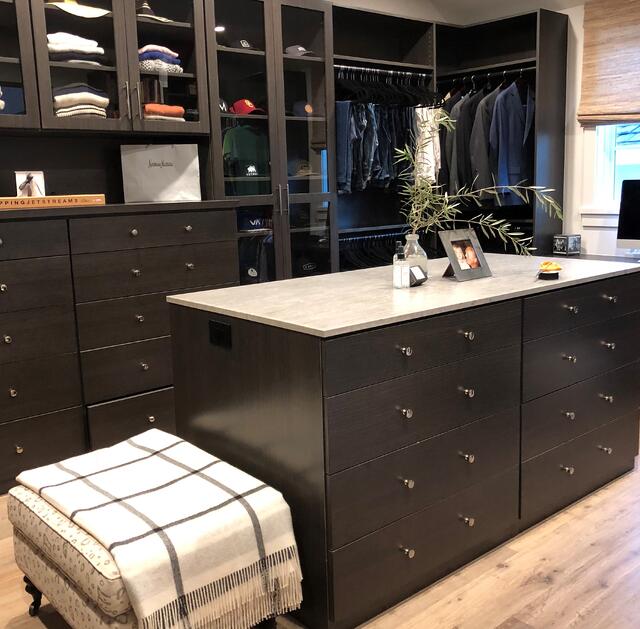 Certainly Saint Clair limestone is not the only grey surface on the market. There are quartz and porcelain surfaces with engineered veining in similar light grey palettes.
But for designers like Sessions and Wagner, the real thing is always better than a picture of the original.
"I love natural stone, " Wagner said. "I do use quartz from time to time, but if I ever have a choice I choose natural stone. There is nothing that can compete with a piece of natural stone. I can always tell the difference."