New Ways To Go Big with Large Pavers for Outdoor Spaces
You know the saying, "Go big or go home." Now you can go big AT home! With Polycor's new extra large, natural stone pavers, you can enhance entrances, walkways, and patios, boosting your home's curb appeal and resale value.
By going big, you can cover more space with fewer pavers and give your outdoor space a clean, contemporary look. The large format pavers give areas a seamless, unifying effect that makes any space feel immediately larger.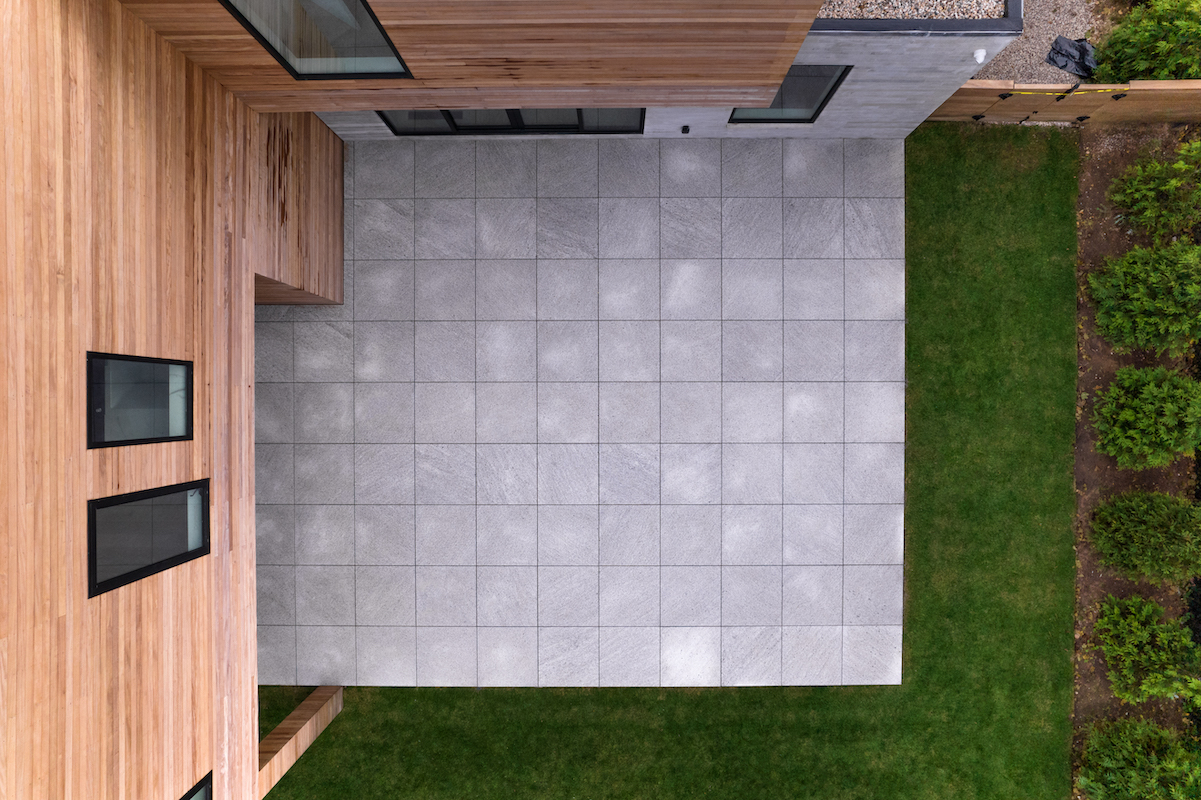 BETHEL WHITE® granite extra large 36″ x 36″ pavers, shown in thermal finish, from Polycor's Vermont quarry. Architect: Studio Zung. Project: 96 Bluff, Amagansett, NY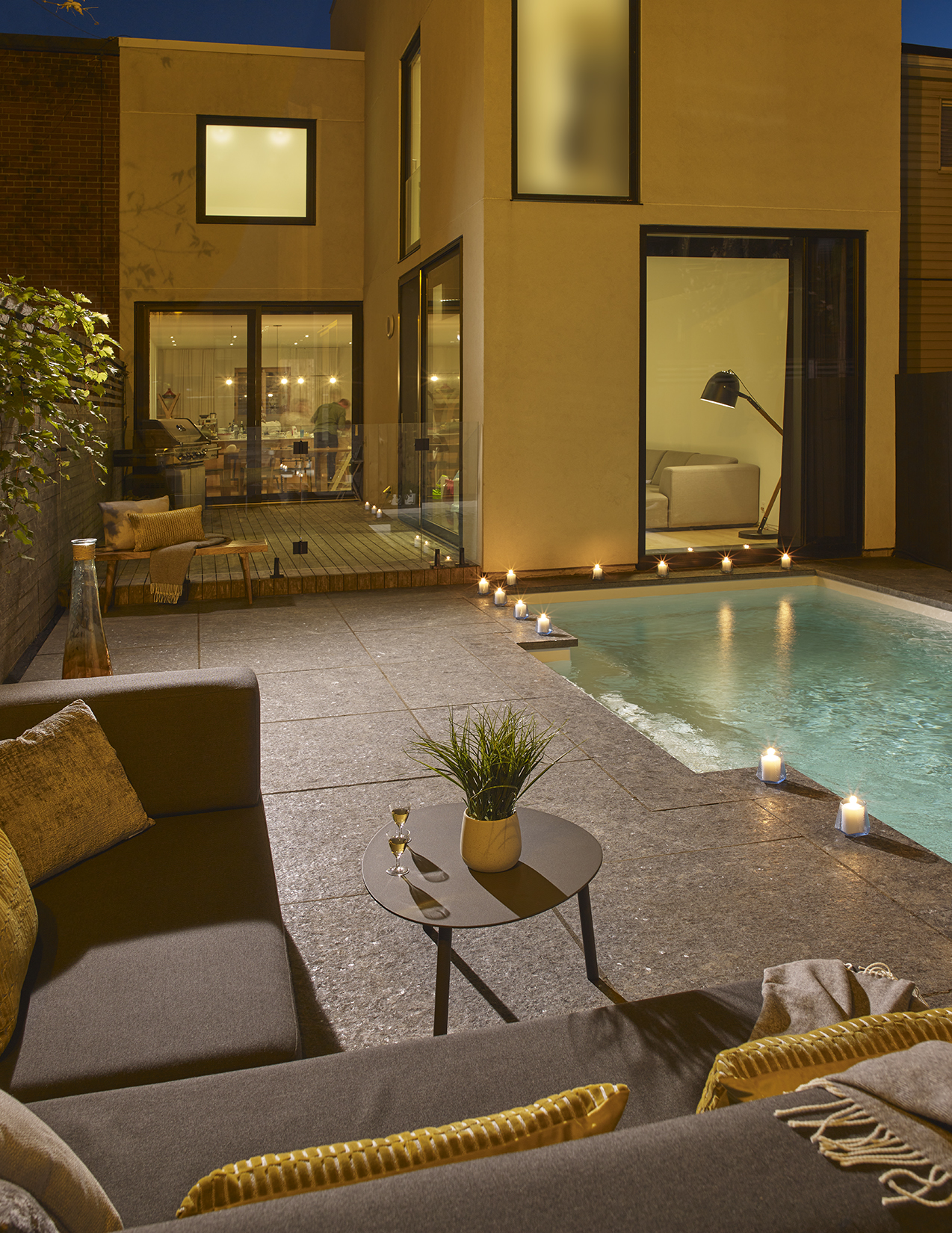 SAINT HENRY BLACK™ granite 36″ x 36″ extra large pavers, shown in a thermal finish, from Polycor's North American quarry.
Why Living Large With Extra Large Pavers is Better
Large outdoor pavers also mean fewer joints, sleeker spaces, and a cleaner appearance. They also cover a large area faster, so installation is quicker. Our XL pavers are available in two sizes: 36" x 36" and 24" x 48", and three stone styles: granite, limestone and marble.
Use the 48" wide large walkway pavers to accomplish a finished, standard walkway size in one step. You can lay eight or nine square feet of large paving stones in 30 seconds as opposed to small format interlocking concrete pavers that take much longer to cover the same square footage. Watch this video to see how it's done.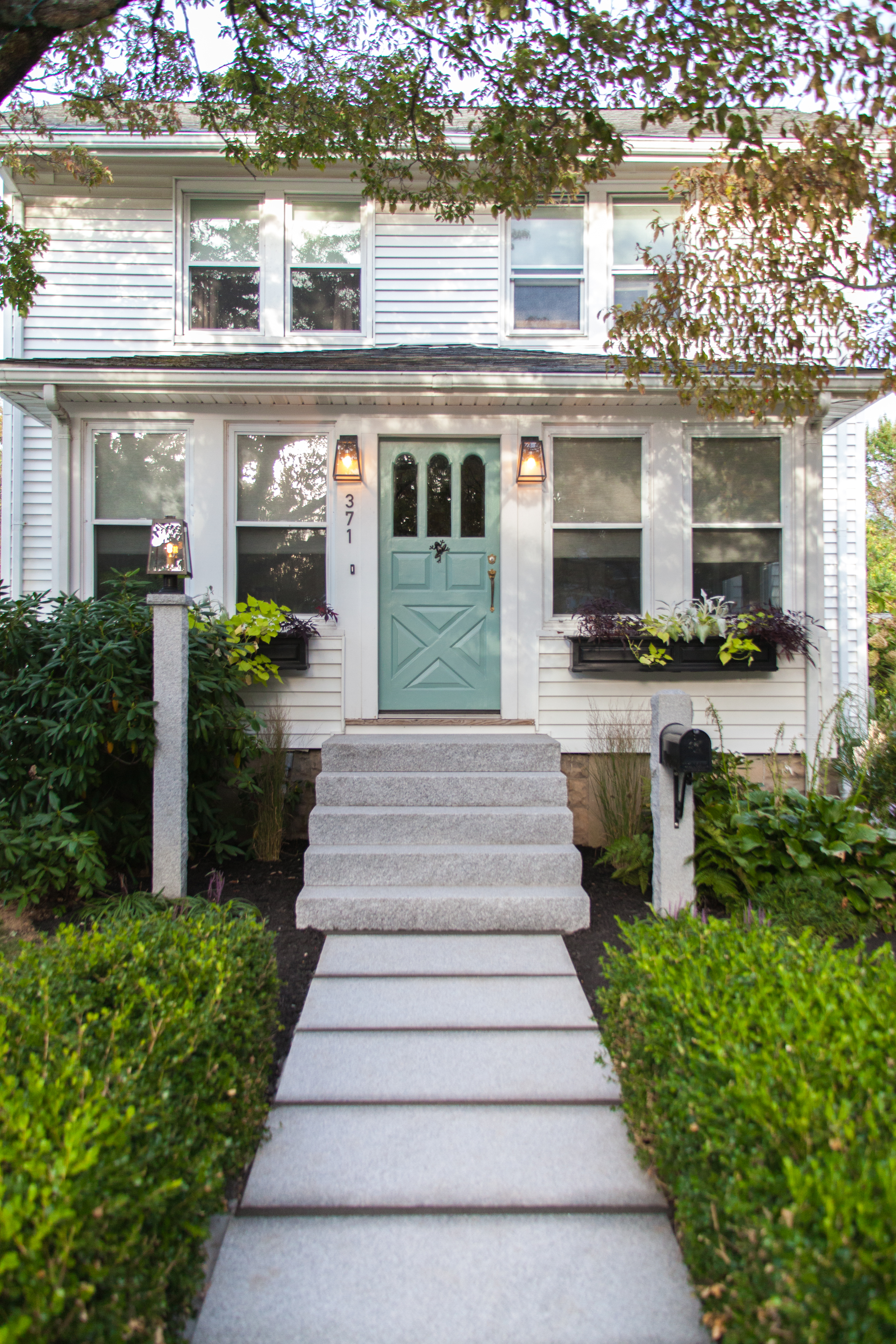 EASTERN GRAY™ granite XL Pavers, shown in 24″ x 48″ size, are an ideal width for walkways allowing for single pavers to fill the standard walkway size in on piece.
The 1 1/2" thickness of each XL paver makes it compatible with other Polycor pavers, so you can mix and match with our other natural stone pavers to make creative layouts.
Compare that to concrete XL pavers, which can only be made in a larger thickness of 3 1/2" [90mm] because of break potential. That increases the weight of each concrete paver to approximately 450 lbs. Polycor XL pavers weigh between 140 – 200 lbs each and have a greater psi strength because they are made from natural stone.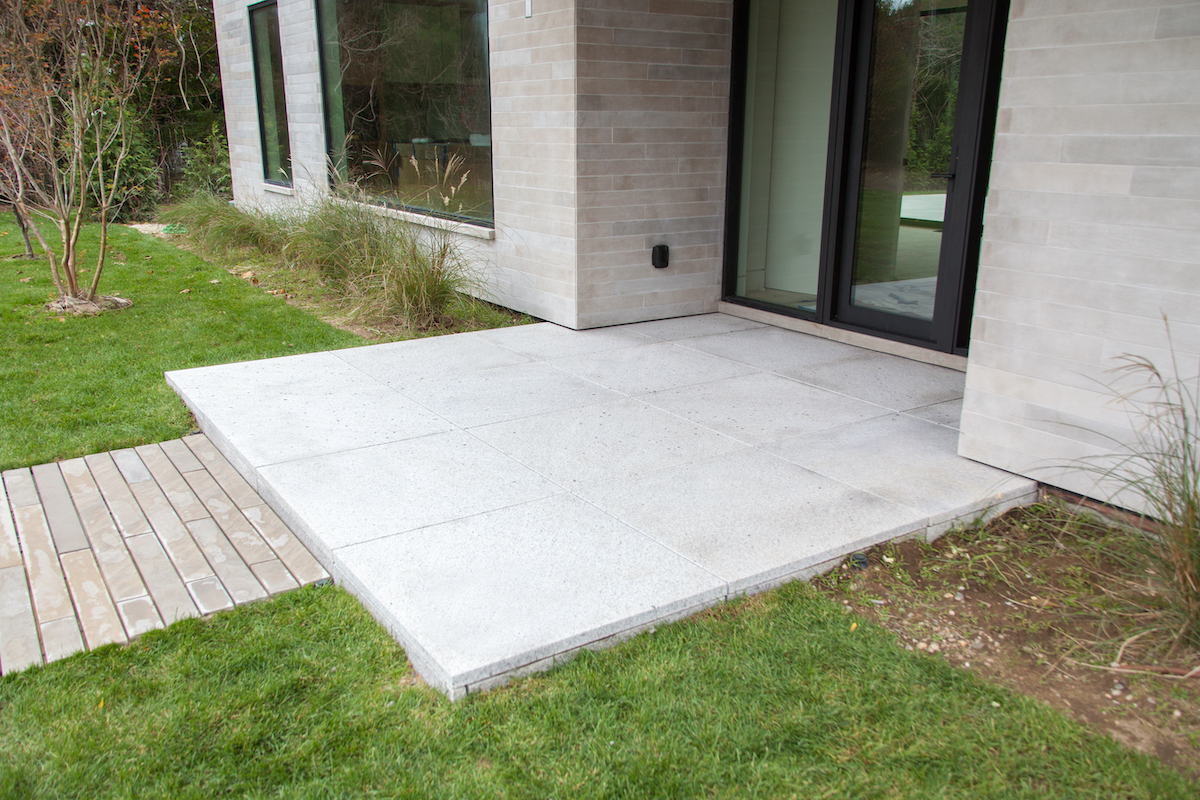 BETHEL WHITE® granite XL pavers used for an entrance, installed over an open-graded base.
Compare the thickness of our large stone pavers to other imported stone pavers, which are less than 1" thick, and you'll find ours are more resilient, stronger and less likely to break. In this blog, we'll demonstrate two methods for installing XL Bethel White granite pavers from Polycor's Vermont quarries.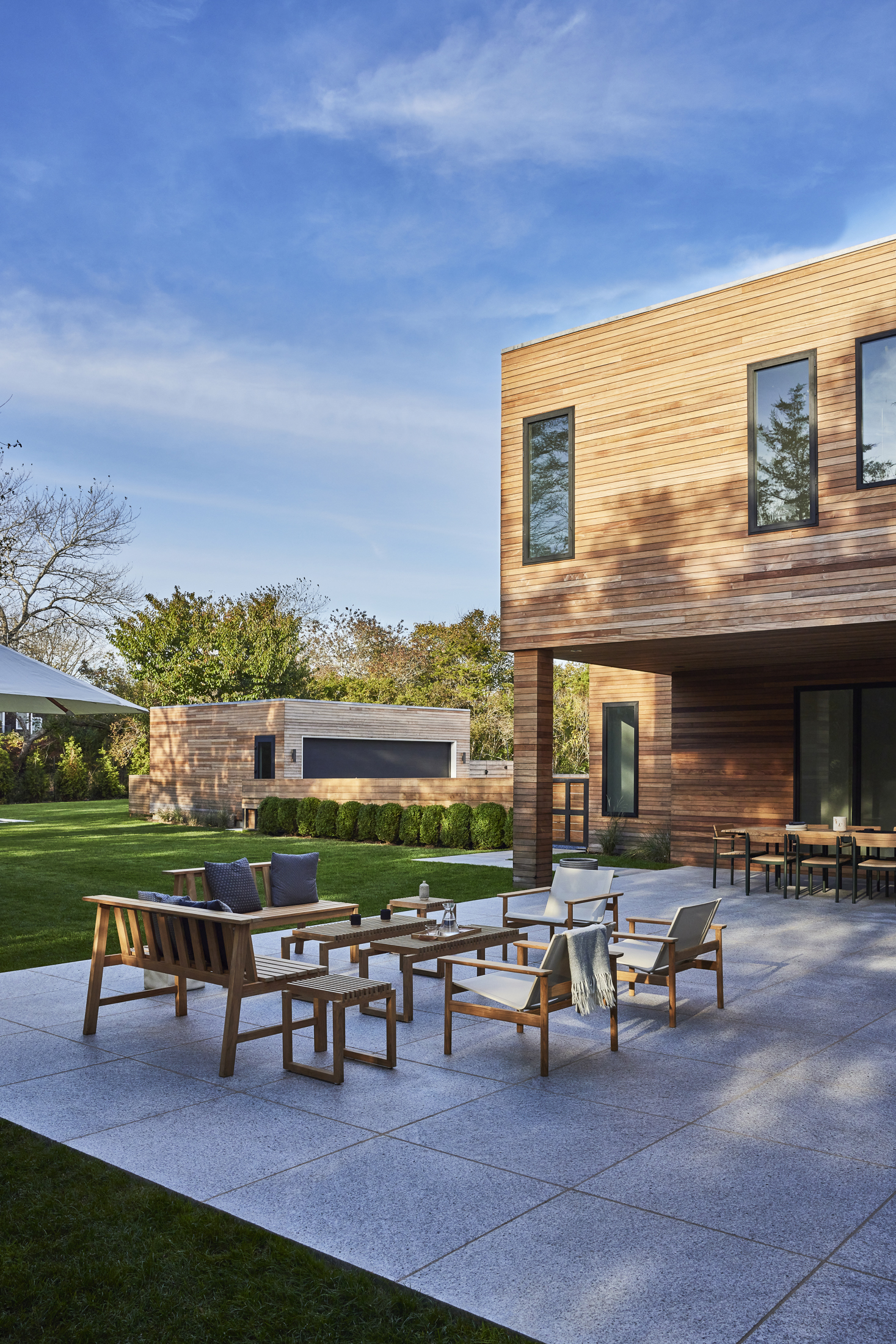 How To Install XL Granite Pavers
For the first method, we'll use an open-graded base system which provides greater permeability and assists with water management, directing rainwater down into the subsoil.
Excavate the area for a walkway or patio keeping a slope away from any foundations to divert water. Cover the bottom of the excavation with a geotextile membrane, fill with crushed stone, and compact. Next, add a layer of finer, angular stone. Then screed the aggregate and make it level in preparation for the pavers.
Large backyard pavers for patios are heavy, so we've enlisted the help of one of our favorite pieces of lifting equipment. MQuip's MK2 vacuum lifter makes easy work of handling and setting the pavers with ease.
SEE THE FULL LENGTH HOW-TO VIDEO ON POLYCOR U
The second method is wet setting the paver into a mortar bed. Excavate the area, fill with crushed stone and compact with a plate compactor until firm. Verify proper slope is maintained during the process.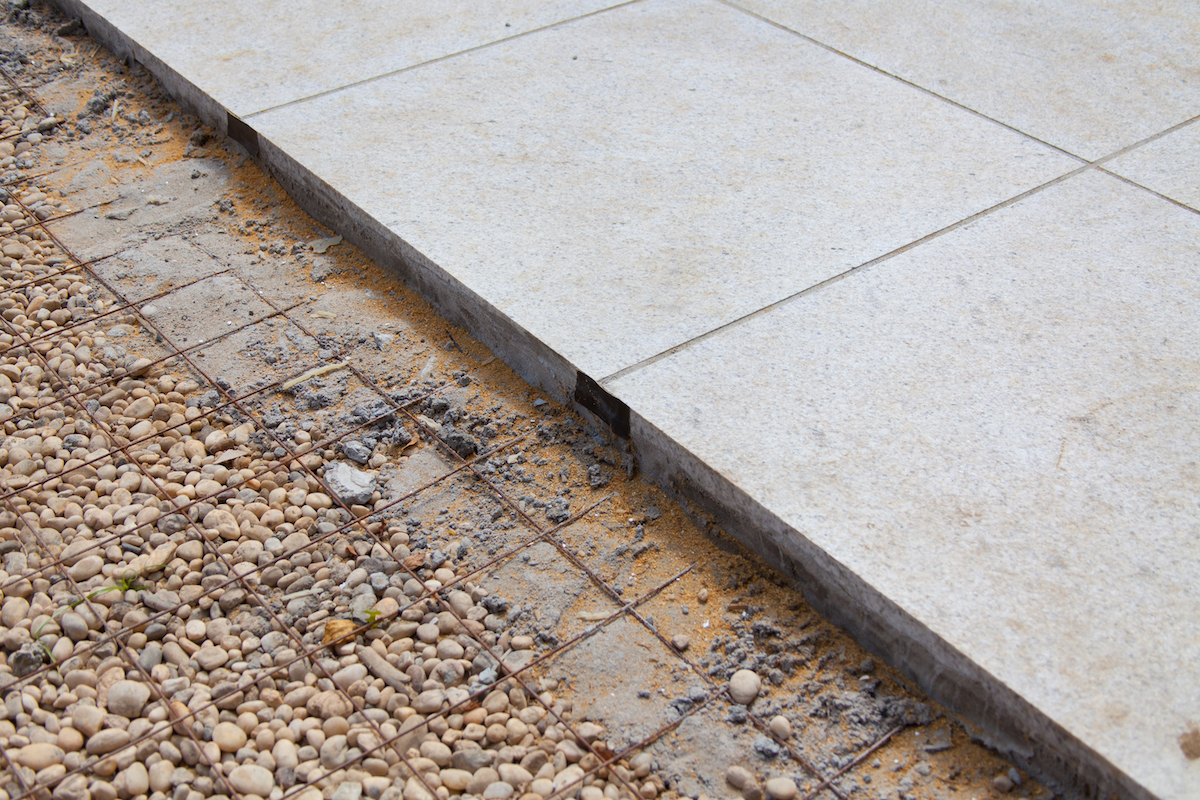 BETHEL WHITE® granite XL pavers used for an entrance, wet set on a densely graded base.
Mix Portland cement, sand and water to create a fairly dry mix so no water drips through your fingers when the mortar is squeezed. Next, mix a slurry bond coat with only Portland cement and water.
Place the dry mix Portland into place and spread thoroughly, then lay a sheet of heavy wire mesh into the mortar. Using a cup, evenly pour some of the slurry bond coat onto the mortar and set the paver into place. Tamp as needed to embed and level. Then mortar the joints with an approved mortar.
GET ALL THE DETAILS, WATCH THE FULL VIDEO AT POLYCOR U
Design Ideas for Extra Large Pavers Made With Natural Stone
Creative Spacing
You can space out large patio pavers to create visual interest in walkways and patios. The way you fill the space between can leave room to get your creative juices flowing.
Whereas standard paver joints will vary in size up to 3/8″ in width, large stepping stone pavers look great with even wider joints paired with different joint fill materials versus typical polymeric sands. Think about using grass, pebbles, river rocks or even bricks in a similar or bright red color for a strong outline.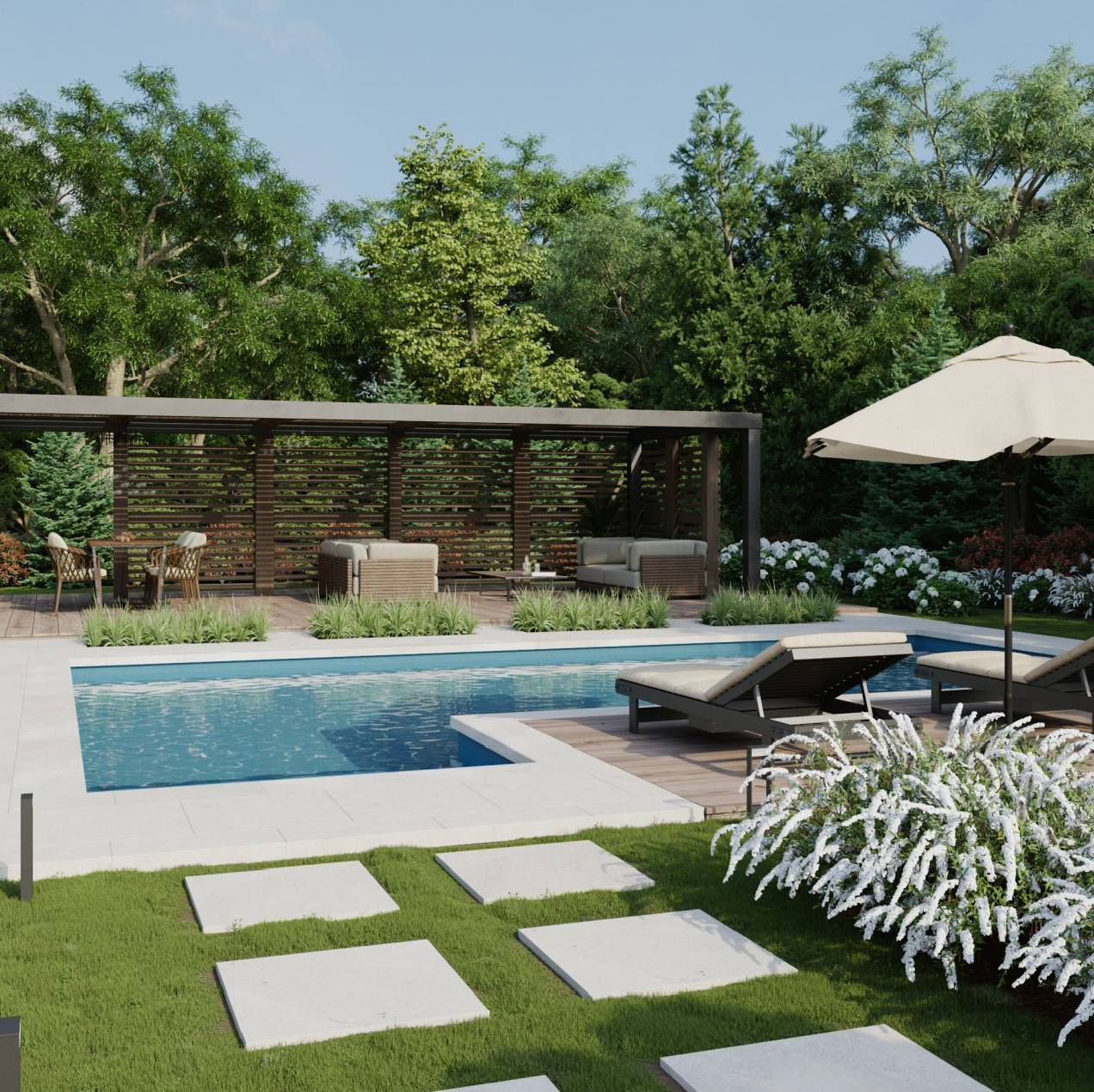 INDIANA LIMESTONE – FOSSIL BEIGE™ pavers
Go Bold With Patterns
You can mix large pavers with small ones to create interesting patterns. Polycor's XL pavers are the same 1 1/2″ thickness as our other natural stone pavers so you will get a consistent look with no lippage or changes required in the setting bed, no matter what size you use.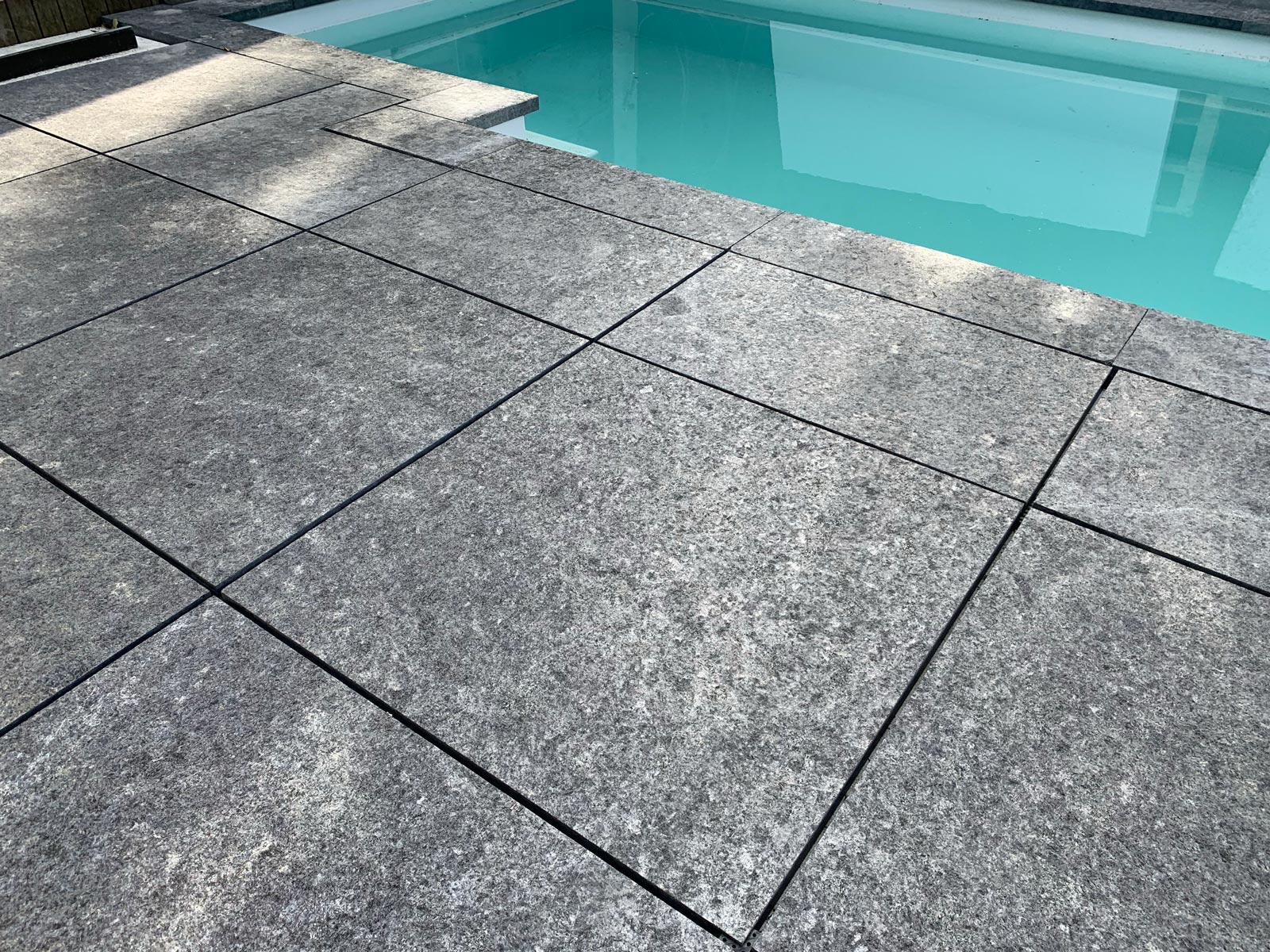 SAINT HENRY BLACK™ granite pavers and pool coping
Get Colorful
If you want to use some color in your outdoor patio with large pavers, our XL pavers not only come in three stone styles: granite, limestone, and marble but also a variety of natural stone colors. Create a complementary color palette with several colors, or consider a checkerboard effect using light and dark tones.