Philly Chef Prefers Patina over Polish for His Soapstone Kitchen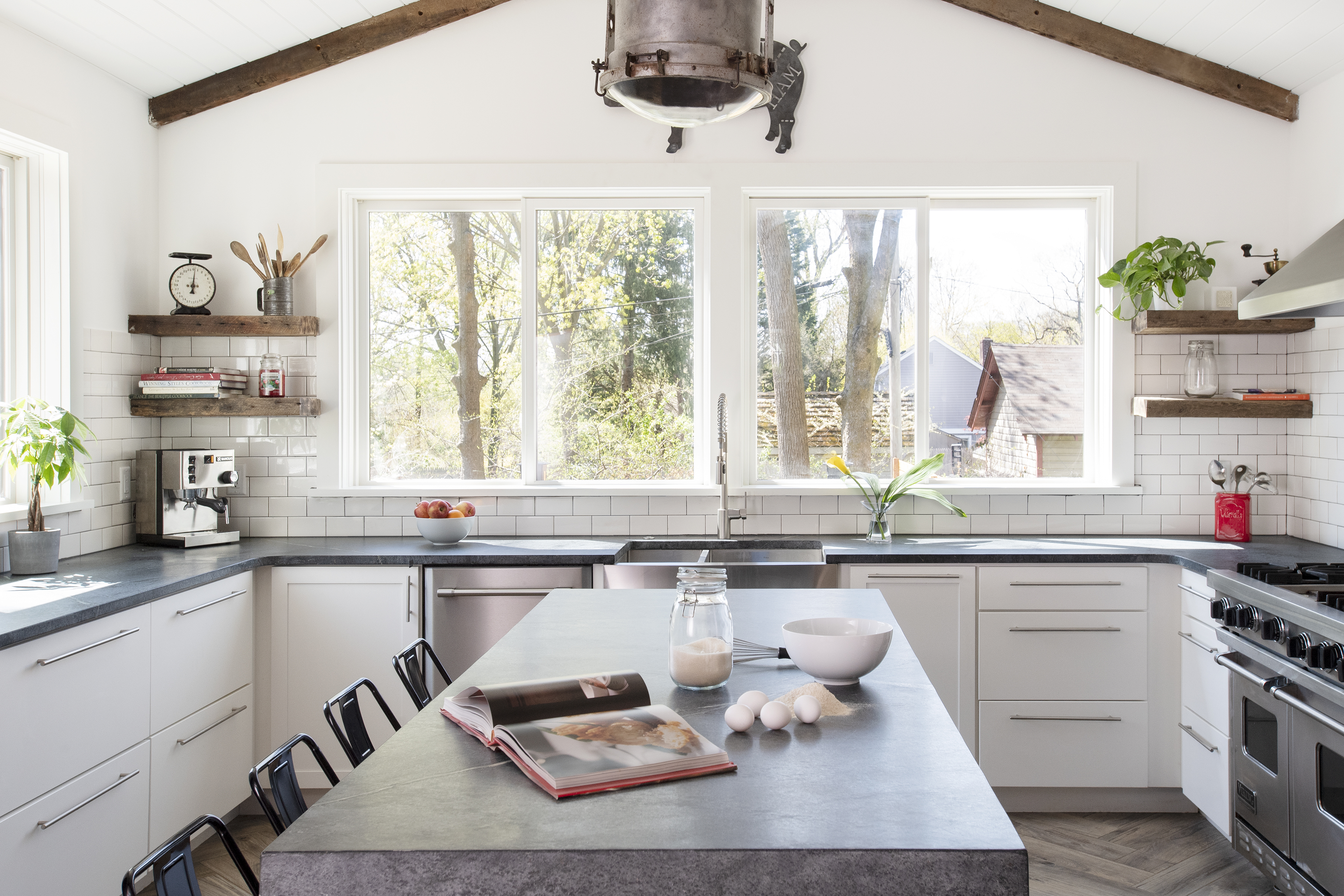 When Loïc Barnieu moved to his new home last year, he knew a complete kitchen renovation was high on the list of home projects. It's on the wish list for a lot of homeowners, but the urgency makes perfect sense when you realize that Barnieu is an award-winning CEO and executive chef of four restaurants in the greater Philadelphia area: Diego's Cantina & Tequila Bar, La Belle Epoque Café, and Sterling Pig Brewery, all in Media, and Sterling Pig Public House in nearby West Chester.
"For me, I like to be involved in the design of my restaurants; you have to find a balance between design and efficiency to be able to run the kitchen," says Barnieu. "So, when I design something like a kitchen, it needs to look good, but it also needs to be workable. Whatever I do, I have to make sure that the flow is correct."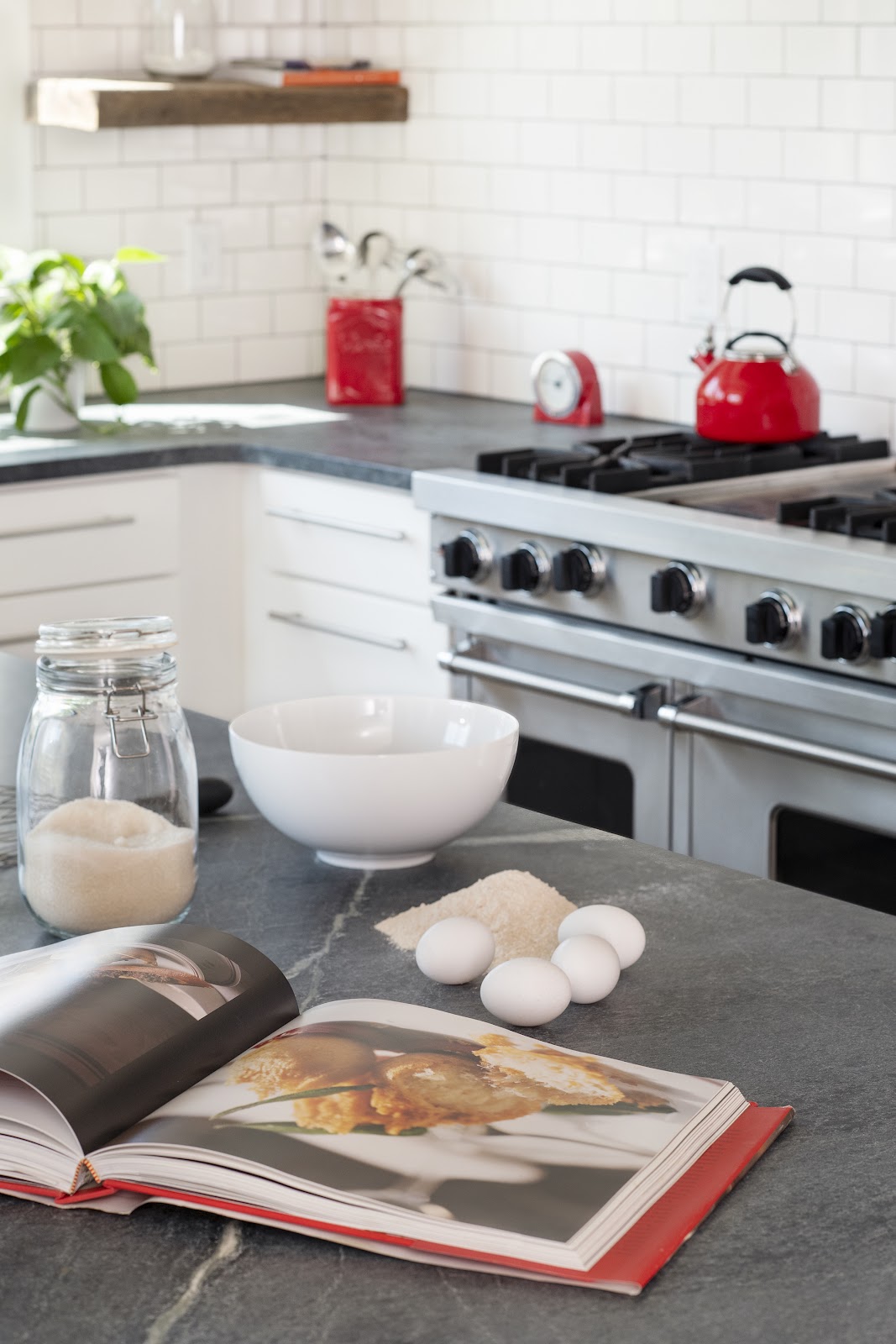 Barnieu designed his island around a prominent vein in the Alberene Soapstone™.
Rather than work with a designer on this project, this high-profile chef (and father of four) designed the brand-new kitchen himself. He spoke with design industry friends and partnered with professionals, but the fundamentals of the design were his decisions alone— which is just how he wanted it.
"When you work with a designer, you have papers and a drawing, and I didn't have any of that. I had what was in my mind and I had to bring my ideas," Barnieu said.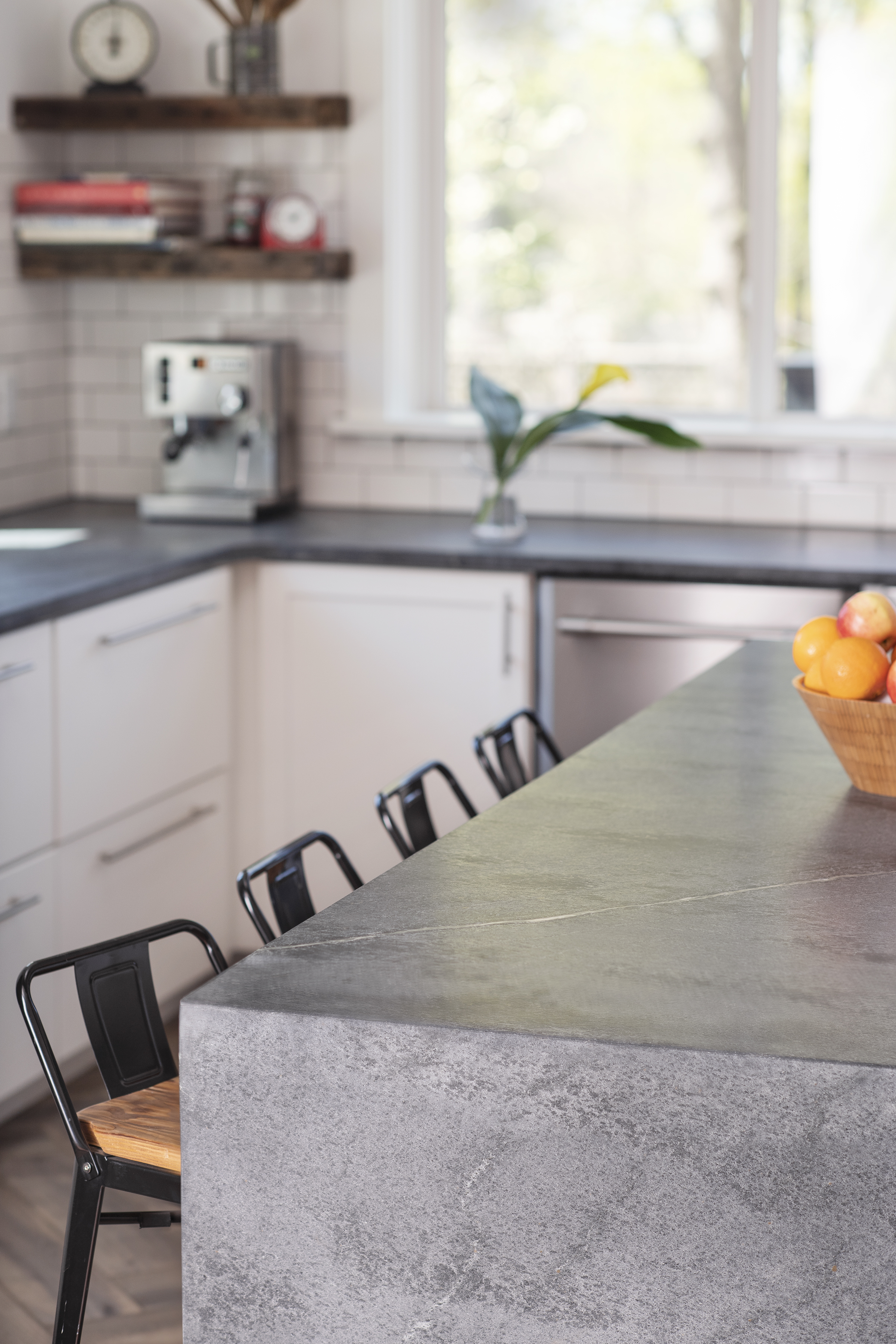 This kitchen features a double sided waterfall island fabricated from Alberene Soapstone™ quarried in Virginia.
The first step was to remove a small shed at the back of the house, making a blank slate for the chef to create this custom space. A roughly 17-by-18-foot addition was added to the house for an all-new kitchen and includes many features that the chef required – primarily plenty of open counter space and natural light.
"This kitchen is amazing because I have so much light and there is so much room," he said. "It's easy to prep, it's easy to cook; it's a very efficient layout."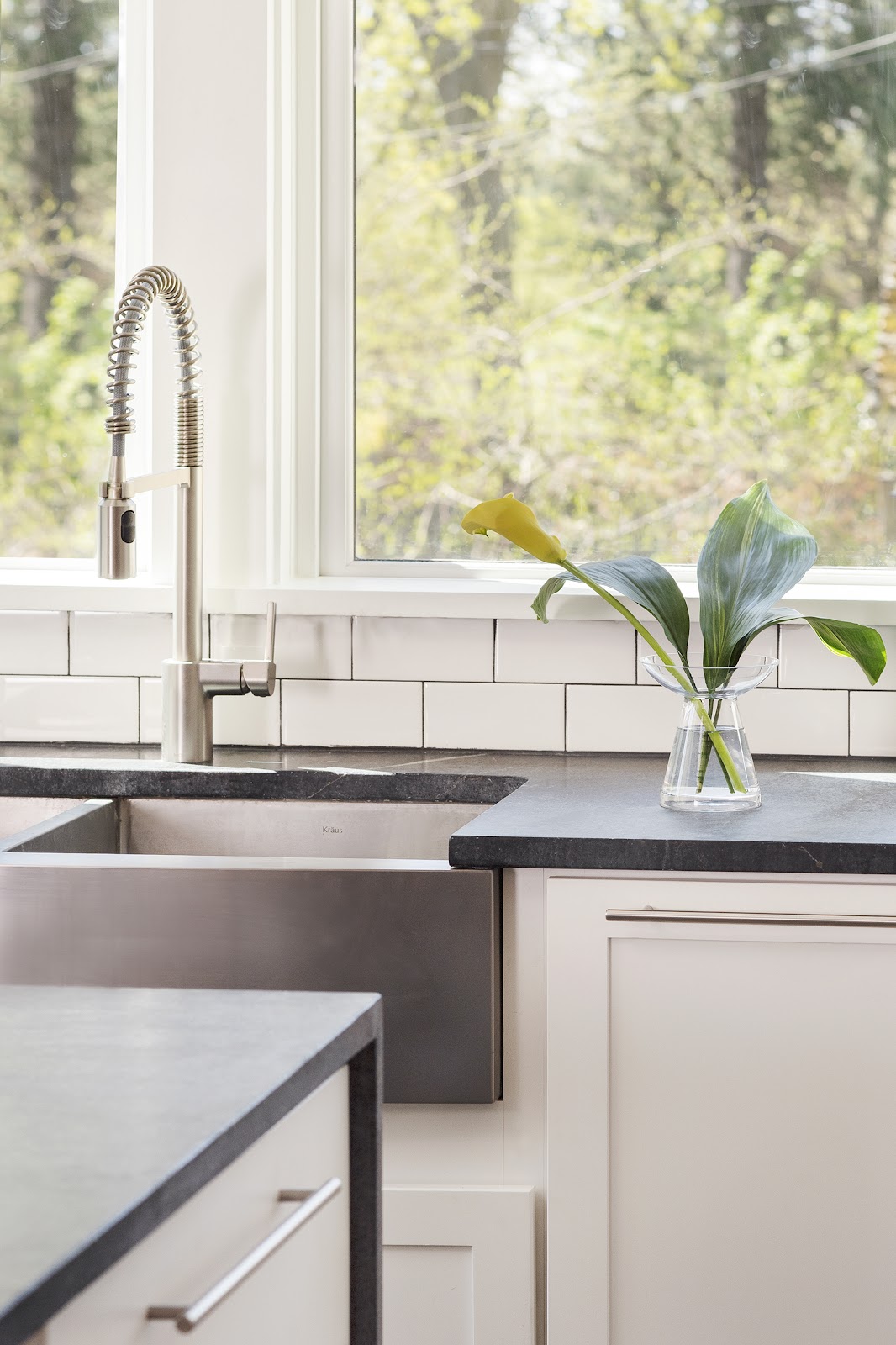 This light bright kitchen favors understated finishes, natural materials, and plenty of sunshine.
To establish that open feel, Barnieu knew early on that he would forgo upper cabinets and instead create plentiful storage around the lower perimeter with extensive kitchen cabinetry.
"I find that upper cabinets clutter the room," Barnieu said. "I wanted that feeling of open space, and also because we built that addition to the end of the house, I wanted to let in a lot of natural light."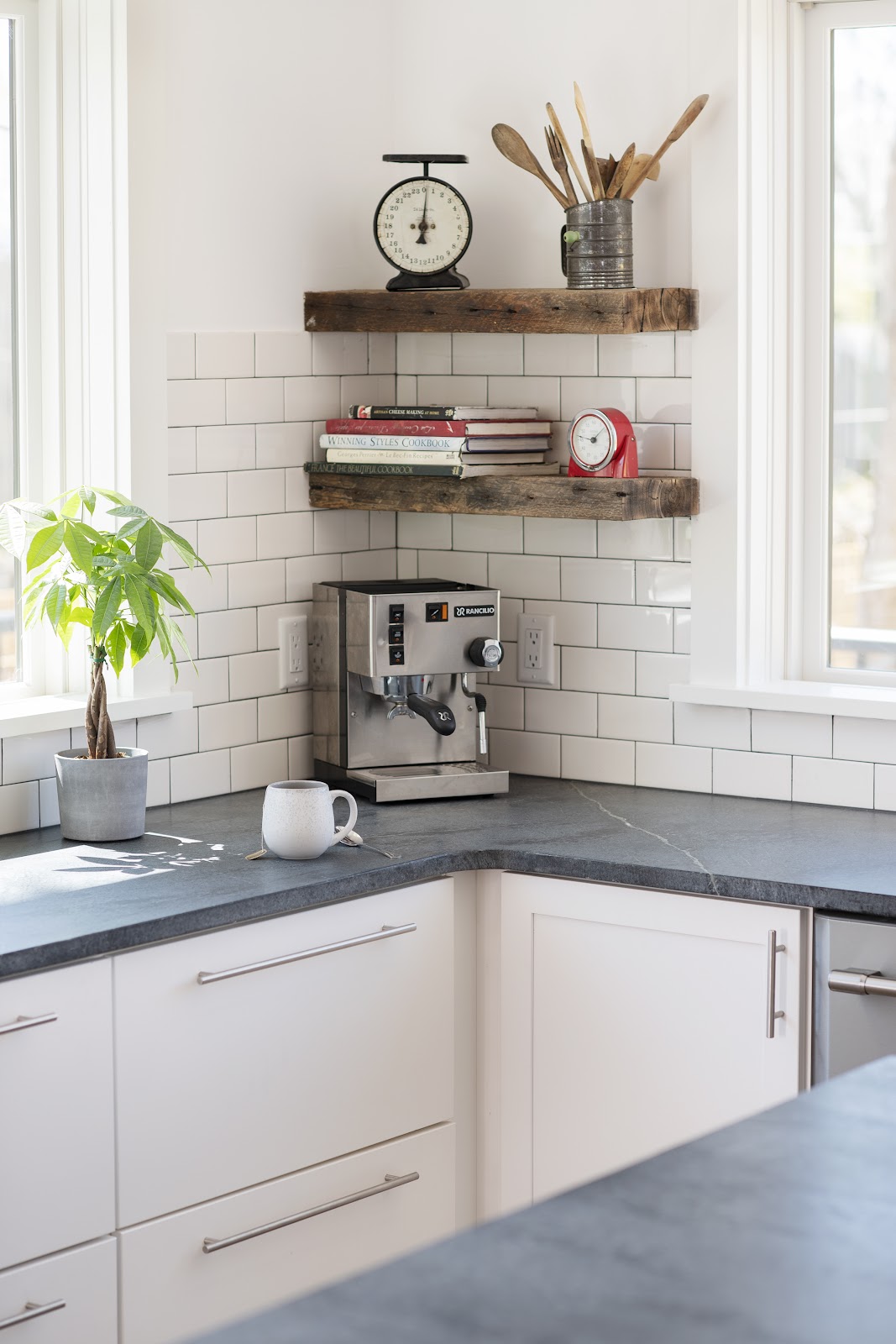 Getting rid of a shed cleared the way for an expansive kitchen flooded with natural light. Barnieu eschewed upper cabinets for ample under counter storage and open shelving.
When it came to making the decision on the right surface to top all of the cabinets, Barnieu turned to his friend Alexandra Niedbalski, Senior VP of Sales at Polycor. He knew he wanted a strong surface that could handle a hot pot, and that he didn't want anything high maintenance.
"She knows how I am as a cook—she felt like soapstone was the right stone to have in my kitchen because of its strength," he said. "I like to be able to put the pots and pans directly on the countertop. She said that soapstone would be right for the way I work in a kitchen."
So, ALBERENE SOAPSTONE™ is used throughout the kitchen, on the countertops and on the substantial center island, which has a waterfall on both ends.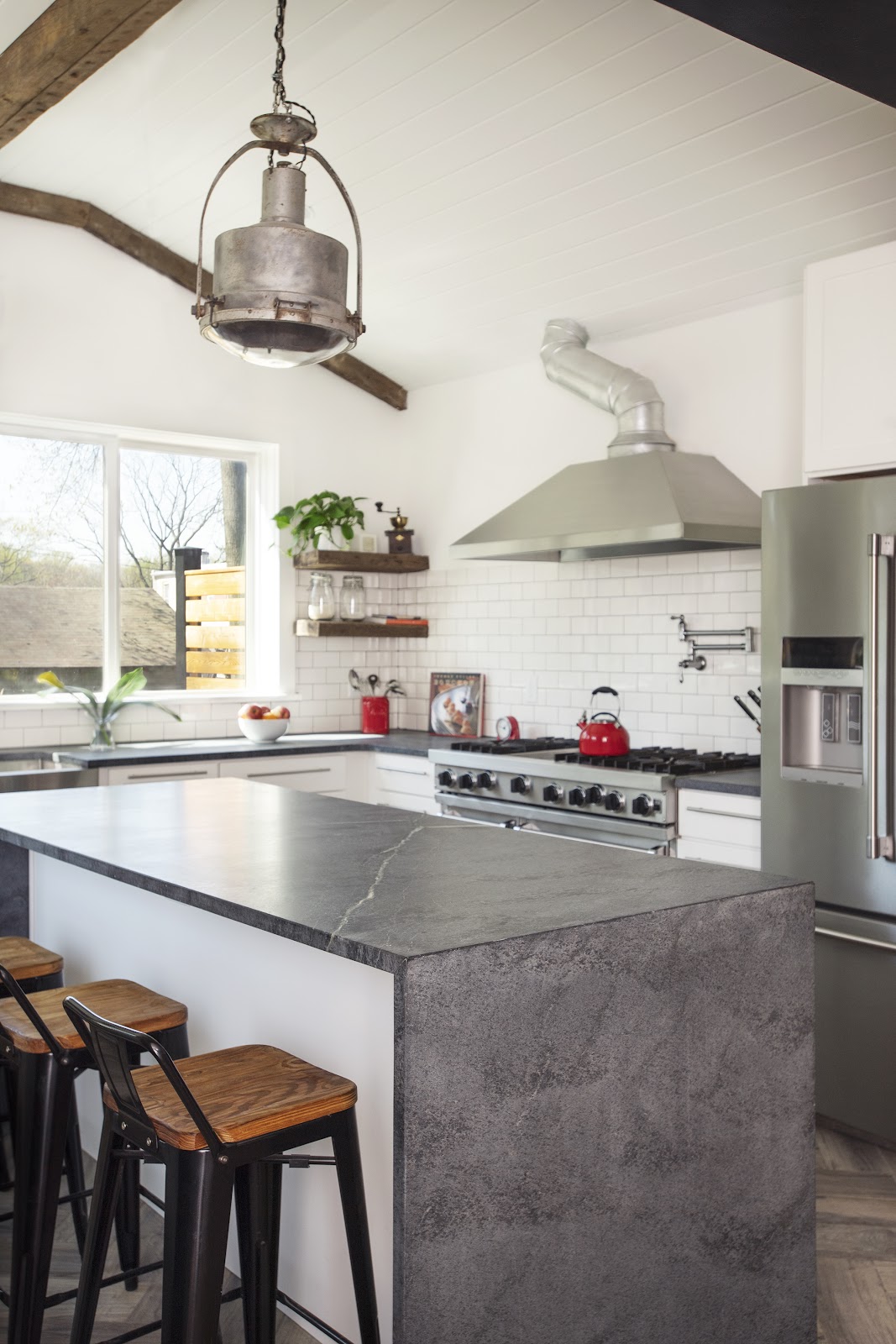 The chef and CEO of four Philly restaurants prefers patina over polish and so left his soapstone countertops untreated.
"I love the waterfall – love it," Barnieu said. "Sometimes people just put it on the side you see the most, but I put it on both sides."
The natural variations of Alberene Soapstone™ were just what this chef wanted, and he is particularly smitten with the prominent vein featured on the island. This soapstone which is quarried in Virginia, is a very even and consistent silky blue grey surface, with occasional white veining.
"I asked them to capture the vein when they cut the stone," he said. "I wanted the vein where it is to break the continuity of the island countertop."
The vein wasn't the only natural element of the soapstone that the chef wanted to keep – he also kept the stone untreated with its honed finish. When enhanced with wax or oil Alberene Soapstone™ takes on a deep black tone unlike others that turn more green. The natural blue grey look though seems to be especially popular with chefs.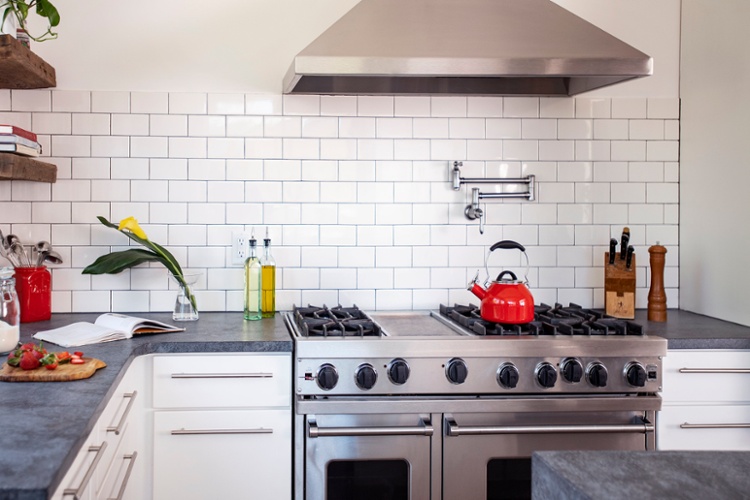 This commercial grade stove can handle anything the professional chef can stir up, though these days it's mostly crepes for kids.
"The surface has character. It's not smooth, but it's not rough either," Barnieu said. "It's not polished, it has some texture to it. That's what I like about soapstone; the more you use it, as it gets older, the patina of the stone gets more and more charming —and I use it quite often."
To learn more about how soapstone wears over time read this post.
The countertop is the star of the show, up against clean and simple white walls and traditional white subway tile. The floor is tile as well, laid in a herringbone pattern to draw a clear distinction between the existing floor and the new space. Being a professional chef meant Barnieu made a couple of choices that the average cook might not make; including installing a pot filler above his cooktop, which is a 6-burner gas range with a griddle and two ovens.
"Nobody needs that big of a stove in a house, but it has the convenience where if you have a party, one oven can be your holding oven where you just keep it at 300 degrees and you can still cook with those other ones," he said. "I could cook for 50 people on a stove like that."
He hasn't done that yet, but is considering hosting a fundraiser at his home soon. In the meantime, this award-winning chef is working on pleasing a smaller, but more challenging crowd—his four children.
"There are some kids who eat everything, but not mine," Barnieu said. "We do have a tradition now where every weekend I make crepes for them. That's how I get them out of their room, to stop playing games."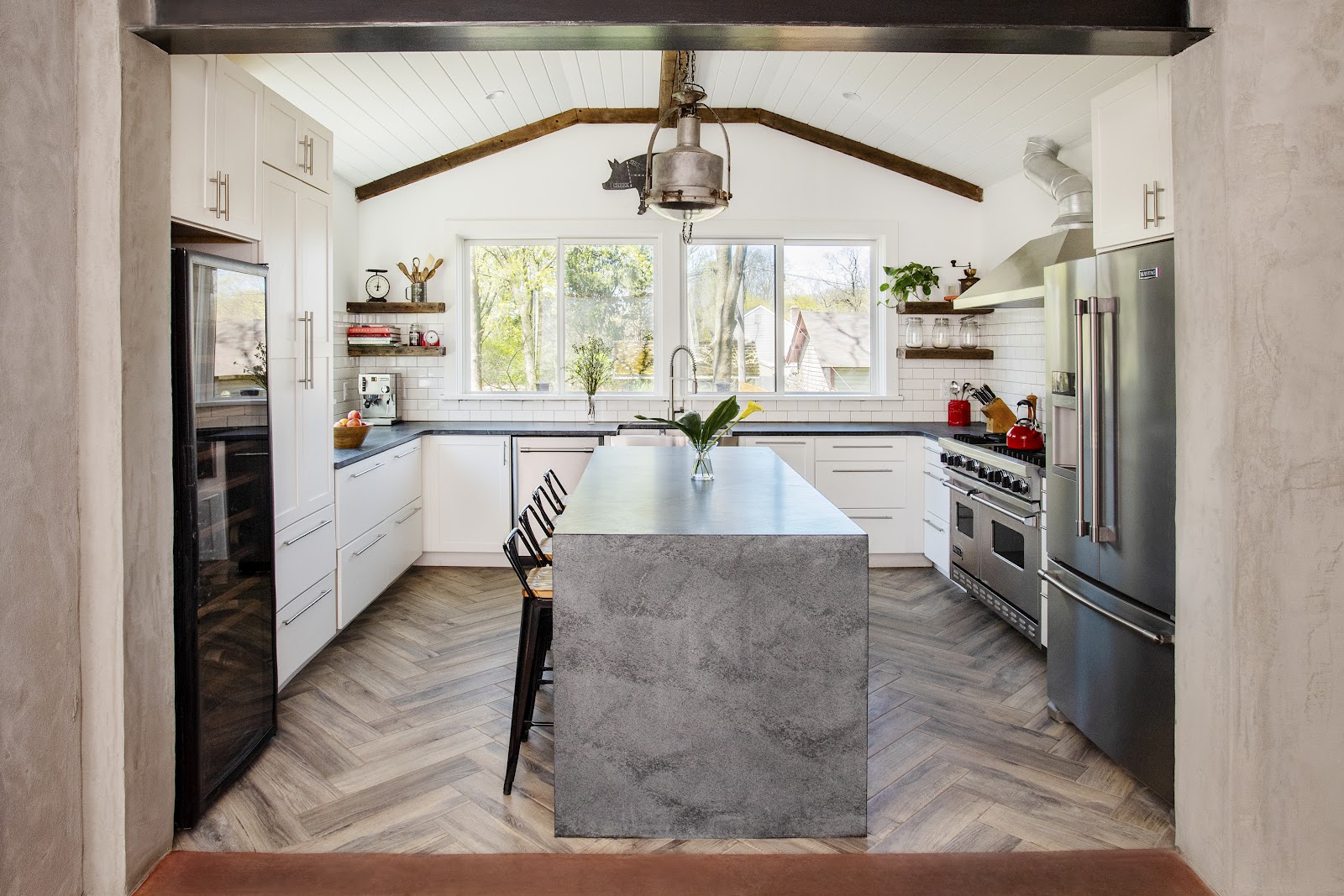 Barnieu designed his home kitchen for aesthetics and function, with nothing sacrificed other than his own time, which he was happy to give.
The family moved into the house a little over a year ago, and the kitchen project began about six months later. The project took about three months from start to finish, and while most people struggle during that time — making meals in microwaves and washing dirty dishes in the bathroom — being a professional chef meant that Barnieu had his choice of his four restaurants for every meal. That might be one reason why he wasn't concerned about how long the project might take, but his fundamental faith in his design vision gave him another reason to not worry – or hurry.
"I didn't rush it. I didn't want to rush it," Barnieu said. "Because I designed it myself it took more time, and I'm happy with that. By taking my time I was able to create it exactly the way I wanted it."