The Fashion Kitchen: Scavolini and Diesel Meld Rustic and Luxury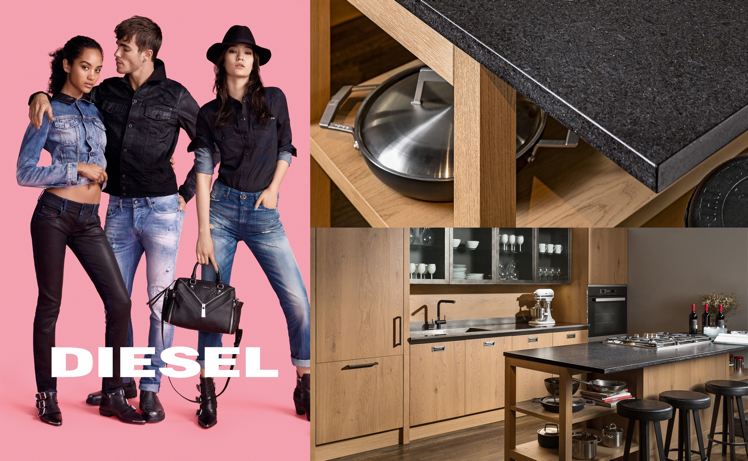 Because you can never go wrong with a great pair of jeans, two Italian creative companies have joined forces to create a luxury kitchen collection that's sleek and modern with a distinctive vintage vibe.
Cabinet maker Scavolini and fashion house Diesel bring you the Diesel Social Kitchen, a high design collection focused on natural materials and textures with industrial elements that is at once sophisticated and relaxed.
The fashion brand "driven by a brave denim spirit" created the look with Scavolini using the combination of rough materials such as knotted oak wood, dark drip stainless metal, 'tempura' painted wooden doors, heavy crown moldings, and interesting decorative pillars.
The two brands have coined the mix of materialsRuxe, rustic and luxurious.Diesel Ruxe wood (with a natural knotted effect) combined with metal mesh-wired glass and drip metal give an industrial image, coupled with the contemporary eye of Scavolini making it industrial, yet very clean.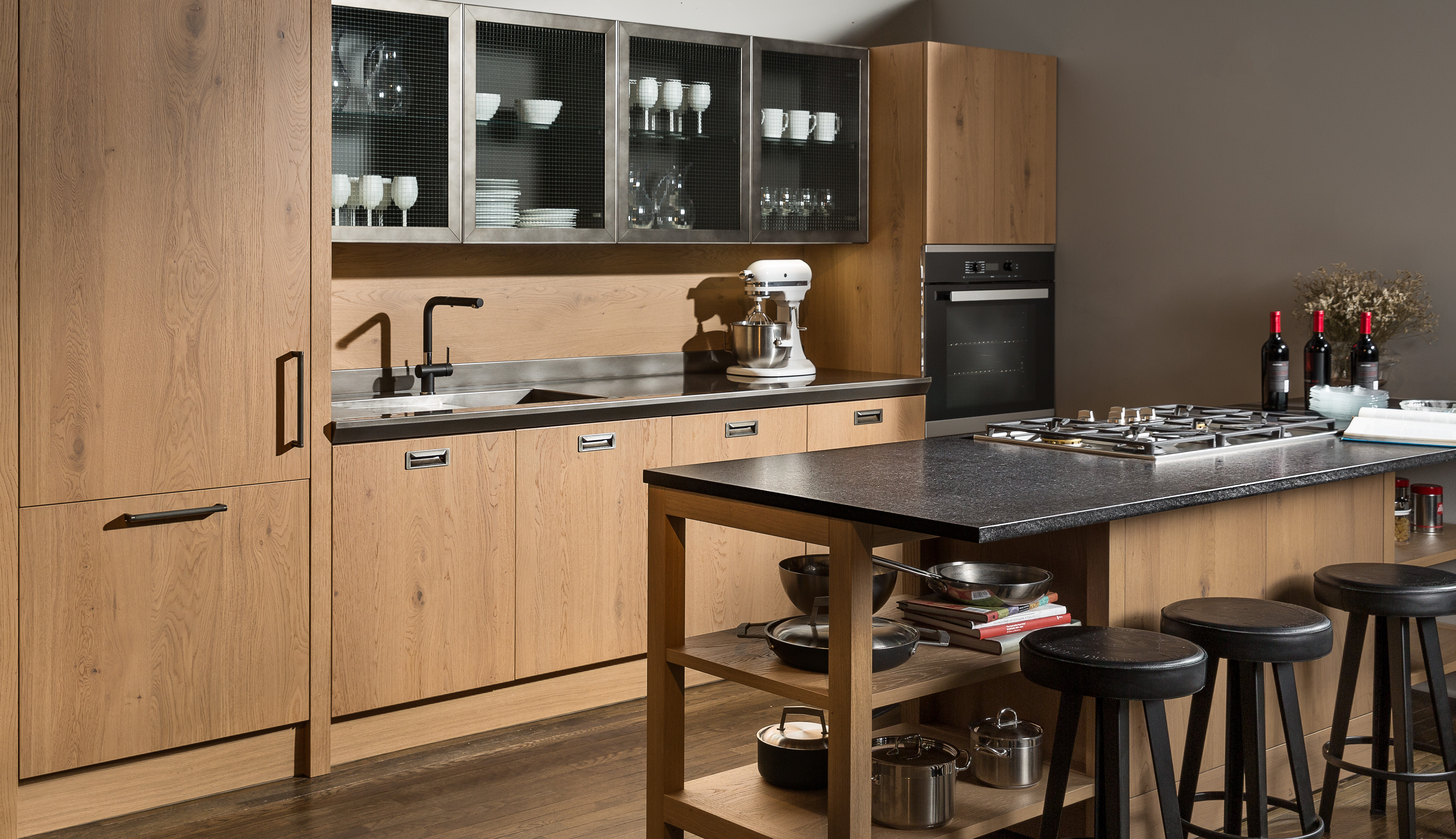 Niki Serras, partner owner of Cucina Moda, a Scavolini cabinetry dealer with locations in Chicago and Detroit,says this is a kitchen for a modern homeowner looking for that signature industrial rustic aesthetic in a kitchen that functions as well as it looks.
"Scavolini wanted to create a line that is conducive to modern and contemporary style, yet casual and comfortable for entertaining," Serras said.
Who is the ideal Diesel Kitchen owner?
Serras says, "Diesel appeals to a variety of clients around the world. The person that is drawn to the Diesel collection is sophisticated and wants a more casual unrefined environment. The home is usually very active, and the kitchen does not need to be 'careful'."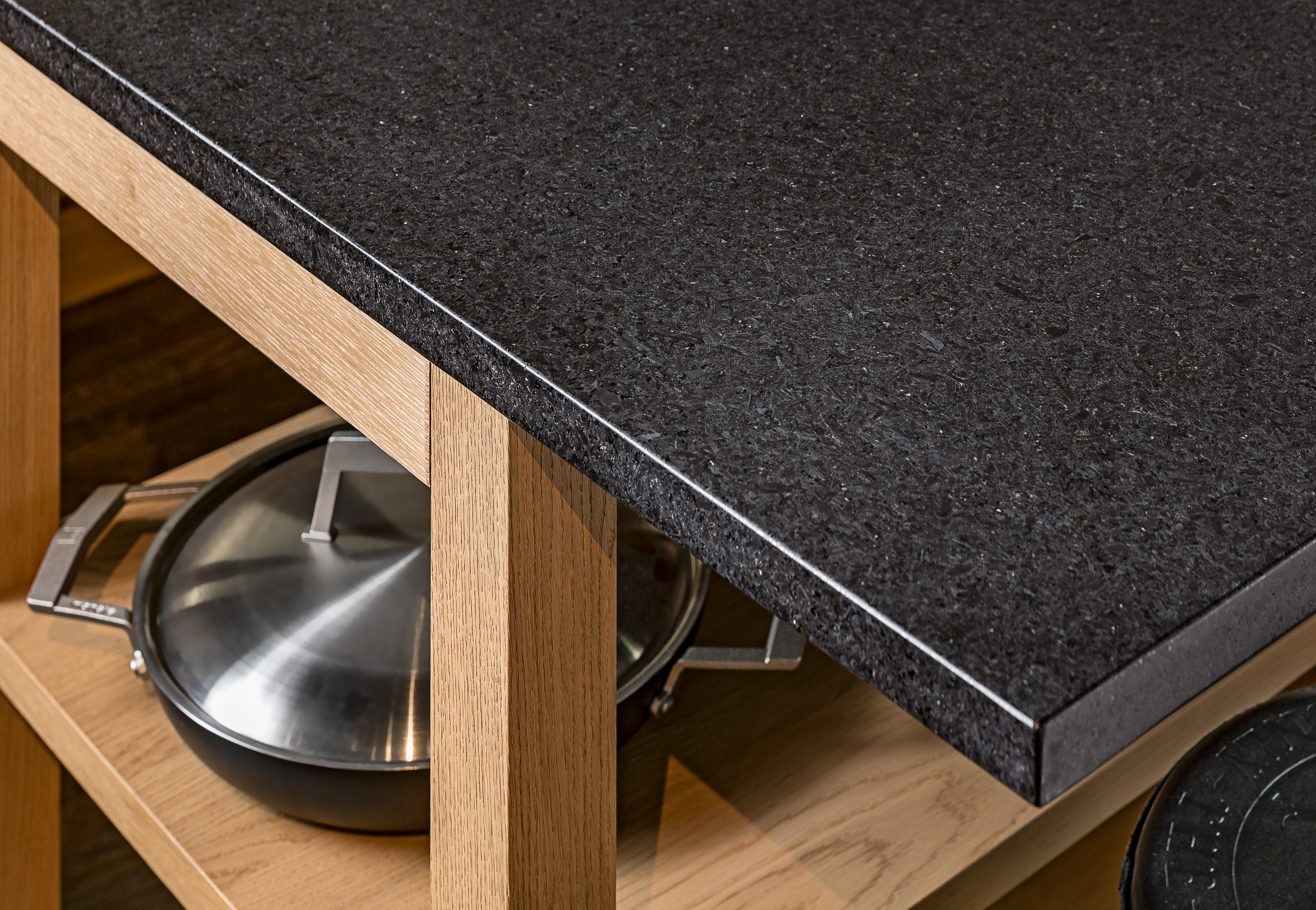 The durable wood cabinetry can be topped with any material, but looks especially good using natural stone with texture. (And how could you go wrong with black in a kitchen rooted in Italian fashion?). The island above, in theScavolini Birmingham, Mich. location, is topped with Cambrian Black granite sourced from Polycor's local Canadian quarry.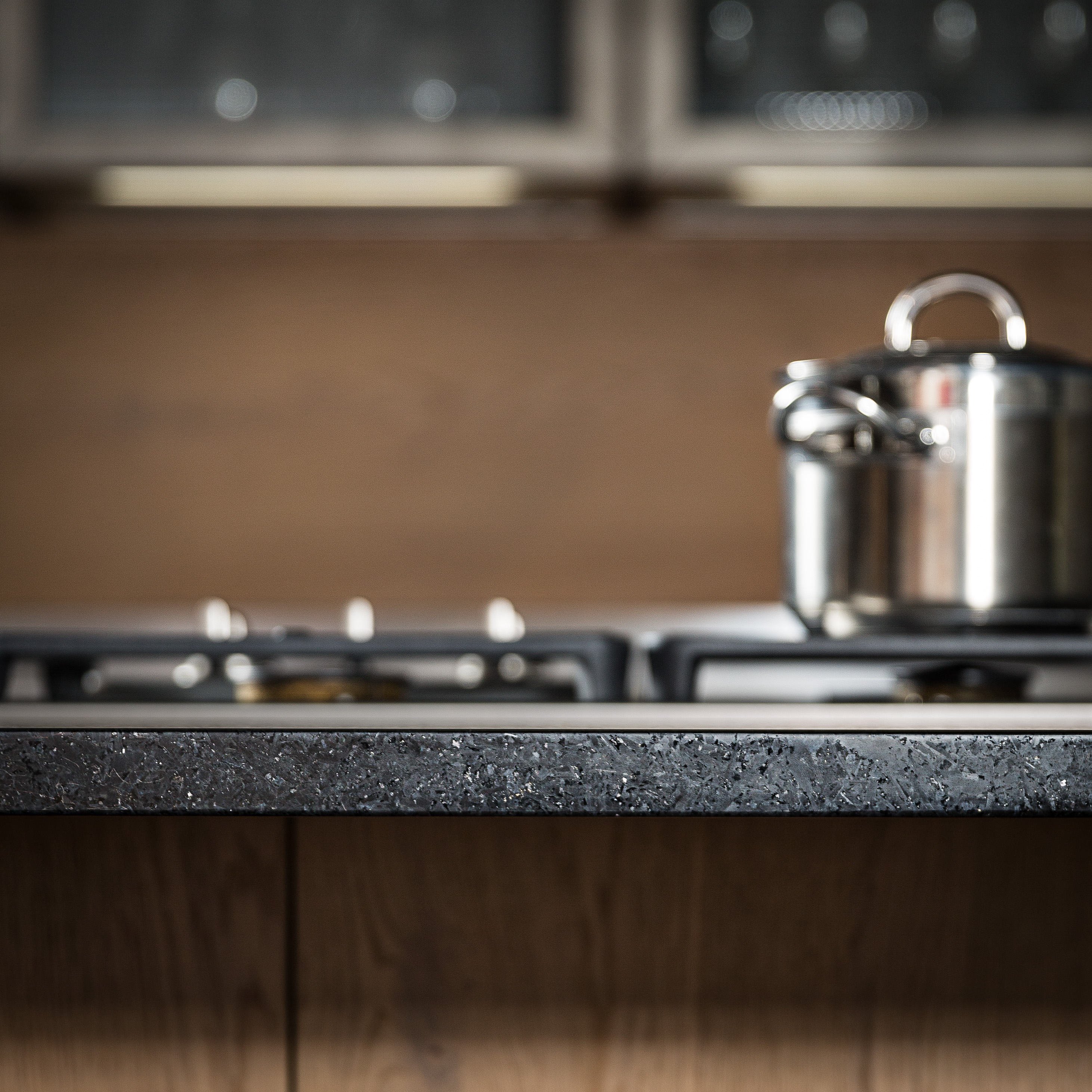 The more 'raw' looking materials work really well with the Diesel style (ie. drip metal, stone, concrete), like Polycor's
CAMBRIAN BLACK® granite. Serras used the same leathered stone in her home kitchen. "The texture was the thing I was looking for. I saw it and died for it. It's so rough hewn," Serras said.
Cambrian Black is unique from other granites like Absolute Black and Black Galaxy because it is a true black throughout the stone. No dyes or resins are used to achieve its rich color. Other granites will turn grey and lose their depth when honed or antiqued because their surfaces are enhanced with various topical products.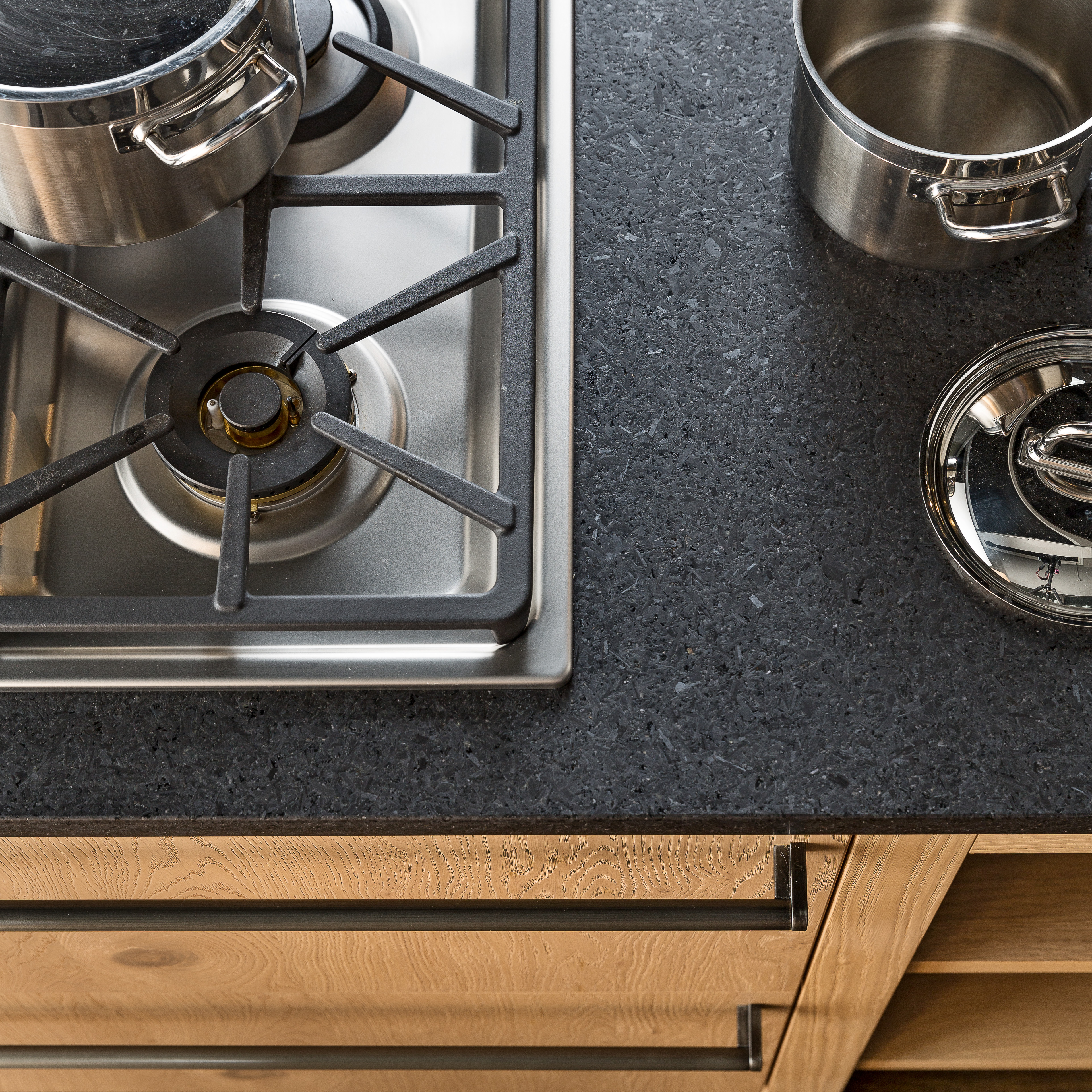 The finish on the stone is achieved by brushing the surface with rigidbristles embedded with diamonds. The process reveals the crystalline structureof the granite, which is an agglomeration of minerals — feldspar, quartz, and silica. Each mineral has its own specific hardness. As the bristles push down, they wear into softer areas and glide over harder ones. As you progress, the surface develops a matte appearance with a subtle luster.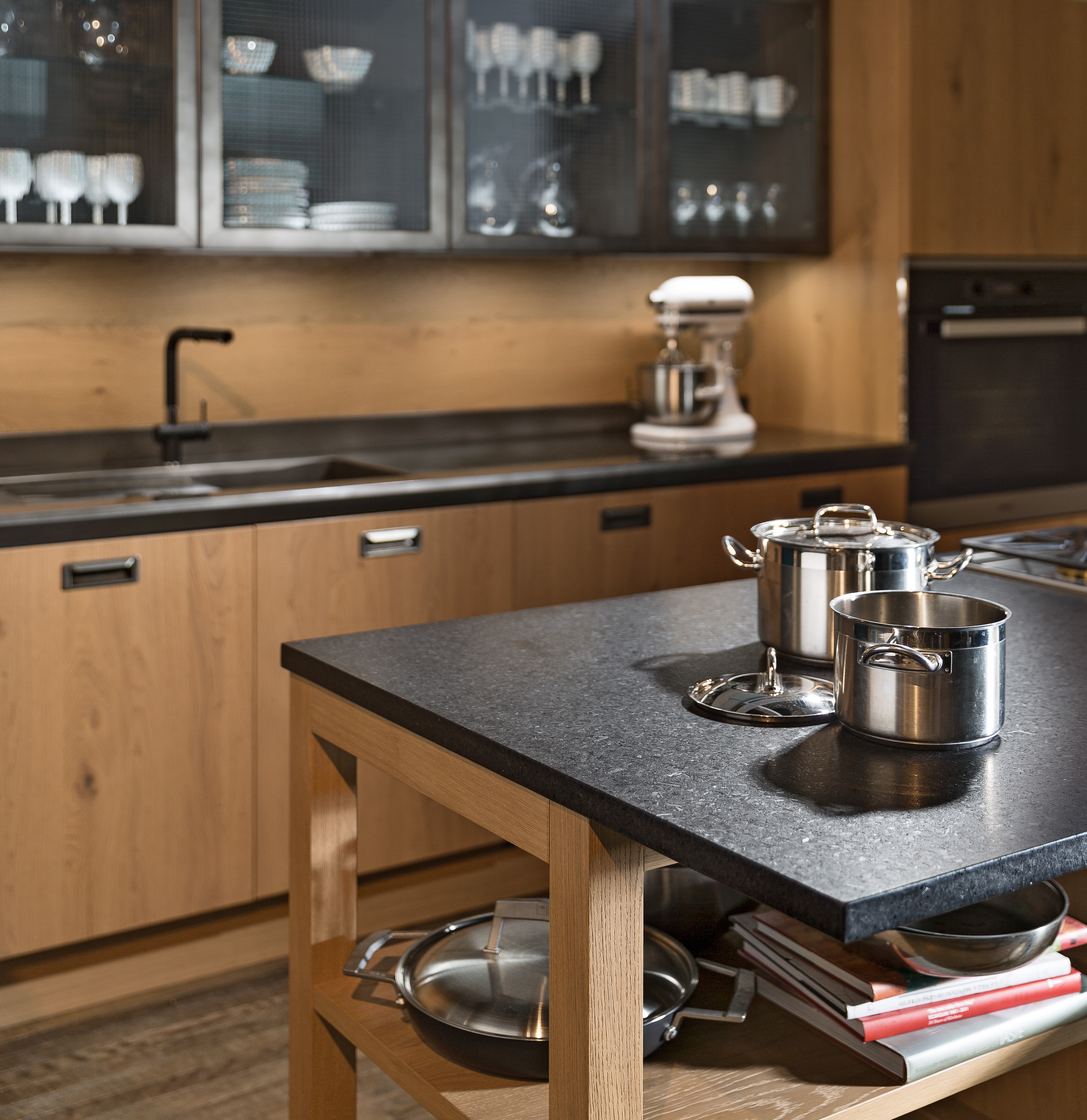 The result of the brushing process is soft, subtle raised ridges and undulations with a feel much like leather. Instead of a flat, polished machine finish, the irregular movements look and feelmoreorganic. It invites you to run your fingers across the surface.
Natural stone with a leather finish is also very forgiving, which makes it great for busy residential kitchens and commercial installations. Granite is a durable material to begin with, but designers like Serras prefer antiqued and textured finishes for high traffic spaces because it's virtually indestructible. Which is why Serras used the same finish on the Cambrian Black countertops in her matte black home kitchen. See Niki's kitchen here.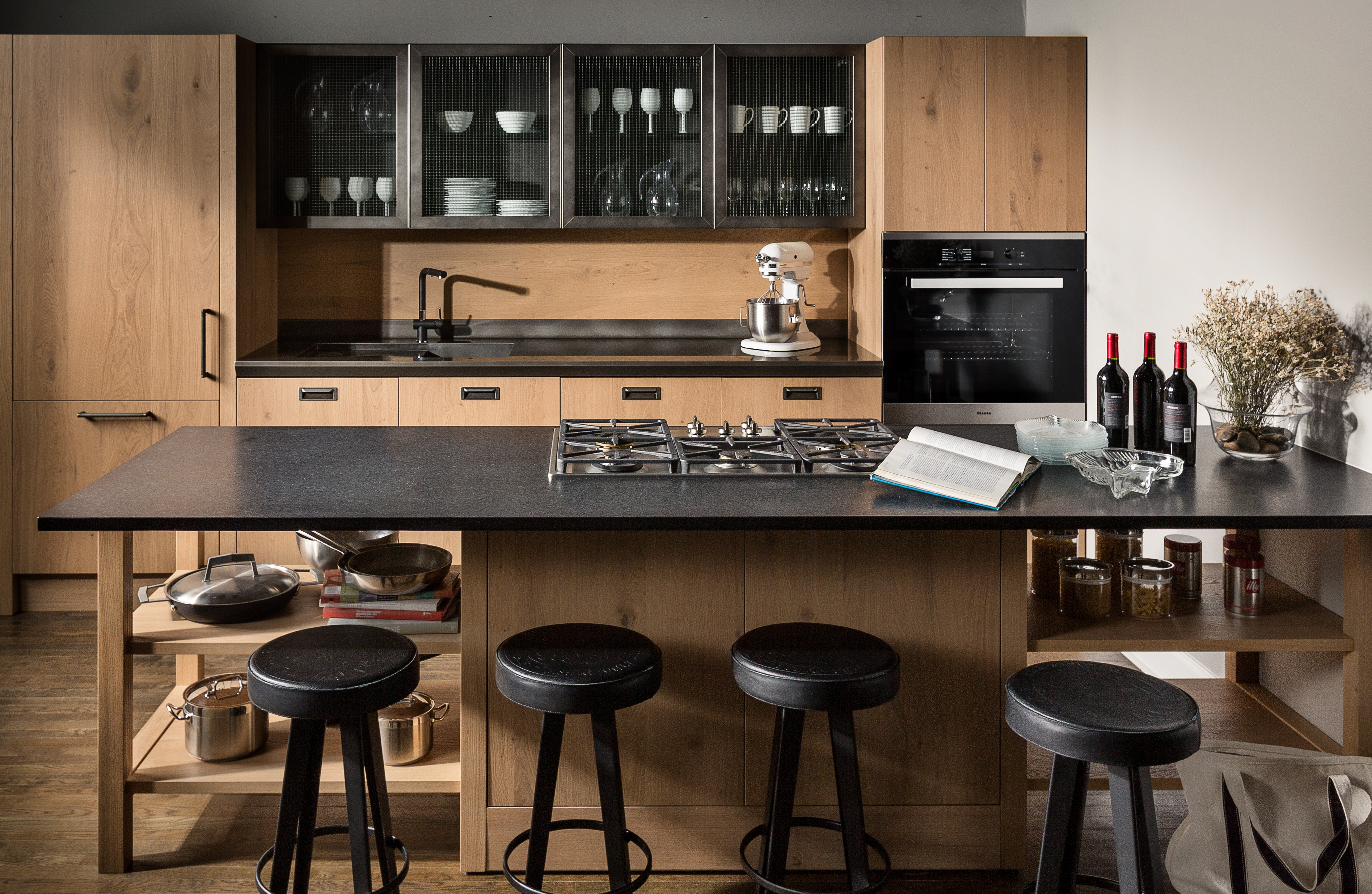 Diesel said itspartnership with Scavolini on a kitchen design was in response to a new way of city living. "Contemporary lifestyle trends are towards smaller and smaller homes, especially in big cities, where the kitchen and living zone often form a single design unit," the brand said in its official announcement. "This means that nowadays the kitchen is no longer just a place where tasks are performed but is also a room for socialising and fun."
The large granite island here provides ample space for cooking, cocktails and socializing. The neutral wood and strong black accents make it the perfect space for an urban dinner party that's more party than dinner, and whose guests are mostlikely to turnup in designer jeans than dresses.