Soft on Color, Hard on Density, Meet SAINT CLAIR™ Marble
Cut it linear or on the rift, rough it up or make it shine. No matter how you slice it, this American marble is the versatile, durable answer to all your soothing grey dreams.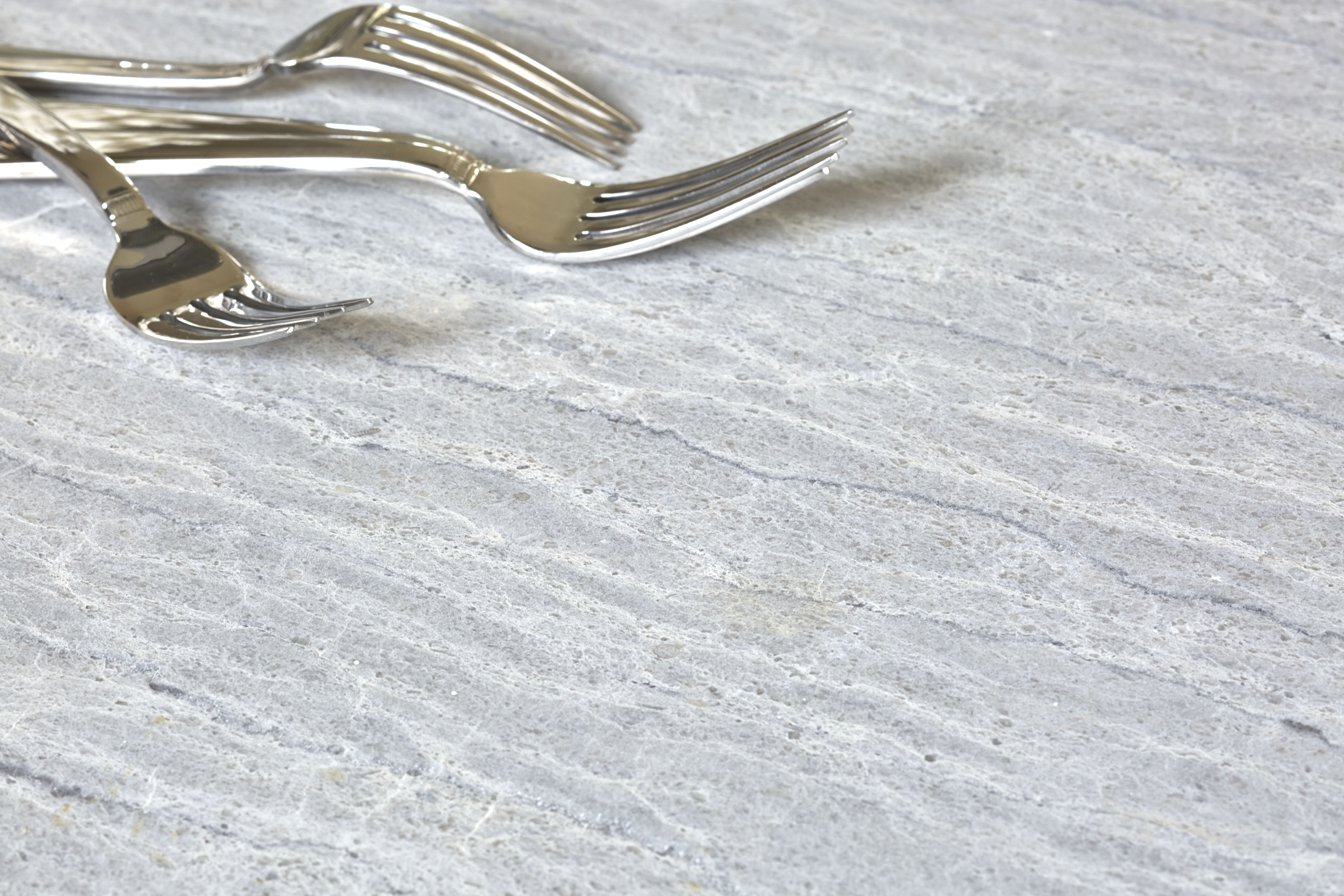 Saint Clair™ Linear marble in a kitchen design by Pam Sessions of Hedgewood Homes.
Quarried in Oklahoma, Saint Clair™ is a high density marble that offers designers and architects a local source for that cravable soft grey palette in a surface suitable for countertops, vanities, flooring, cladding and even pavers. While colorful greige tones continue to be design favorites providing neutral backdrops for other pops of color, it's the unique look and feel of Saint Clair™ marble that designers are loving.
"I am especially attracted to the soft, warm neutral color of Saint Clair™. It works well with so many different color palettes," said Pam Sessions, designer and partner of the design build firm Hedgewood Homesin Georgia.
Sessions has incorporated the material into her program for the upscale neighborhoods she's building around Atlanta.
"It fills the need for a lightly colored top without going to a brighter white. I also like the fact it looks great with both light and dark cabinets."
Get links to products featured here:
Download all our natural stone mOOD boards
Carved from ancient beaches
Along the shores of ancient seas the gradual movement of wind and rain in the arid climate of Oklahoma sifted shells to the bottom and gradually transformed them into the marble we see today. Here in the (now dried up) Saint Clair sea, an abundant marine life once existed – a fascinating fact considering Oklahoma's distance from the nearest ocean. Marble beds were formed from the transformation of calcium and magnesium inside cemented layers of marine fossils like cephalopods and trilobites. Think of it like ancient, prehistoric beaches that were frozen in time over millions of years. (You can't get a kitchen counter with that kind history at Home Depot.)
One stone, two very different cuts
The gently figured marble is available in both linear and fleuri-cut patterns. The fleuri cut has a blue-grey wavy grain pattern that evolves from one slab to another, like sea foam swirling on the ocean's surface. Linear cut creates a soothing organic pattern like sand dunes along the shore. Both cuts are so unique they make for a countertop unlike any otner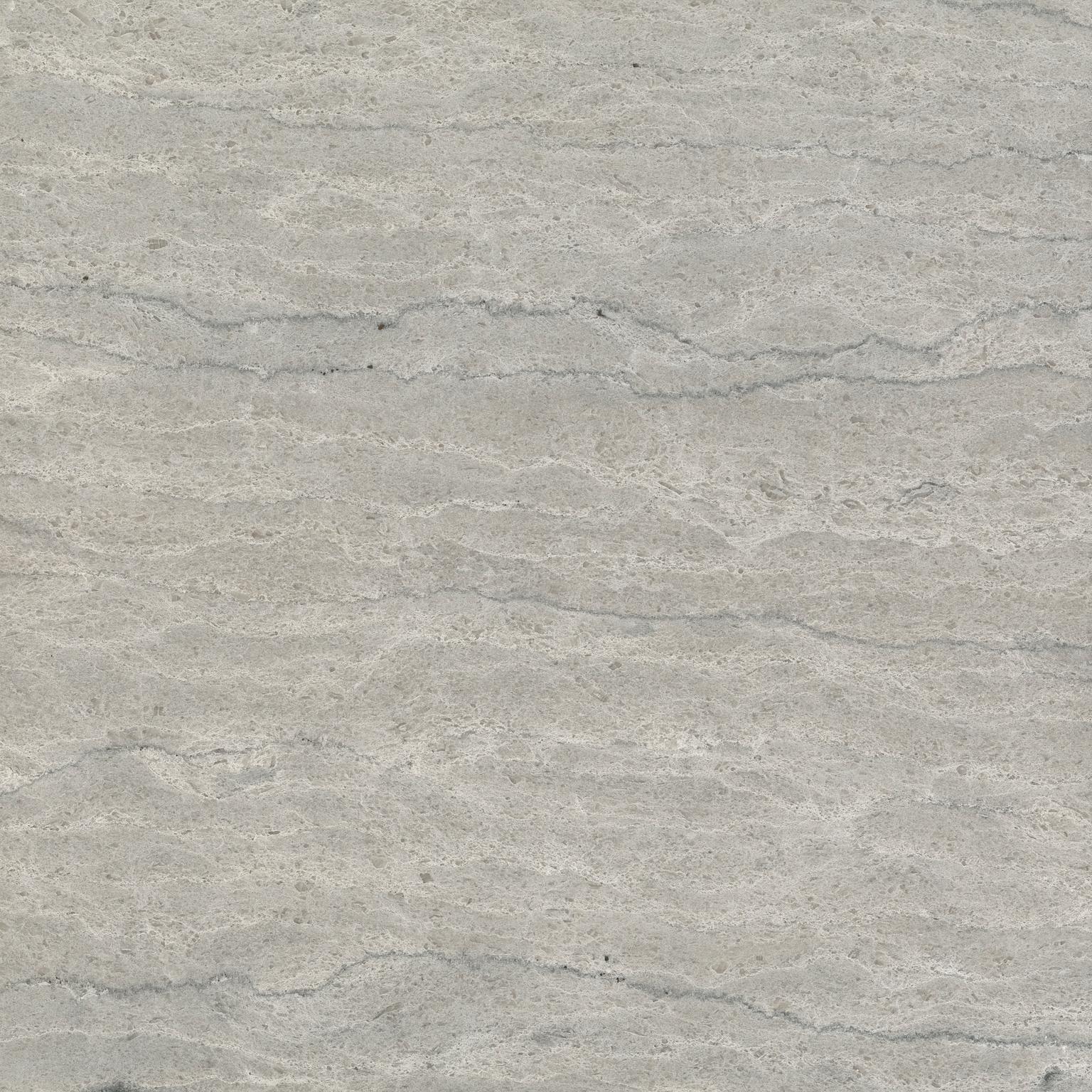 Saint Clair™ Linear marble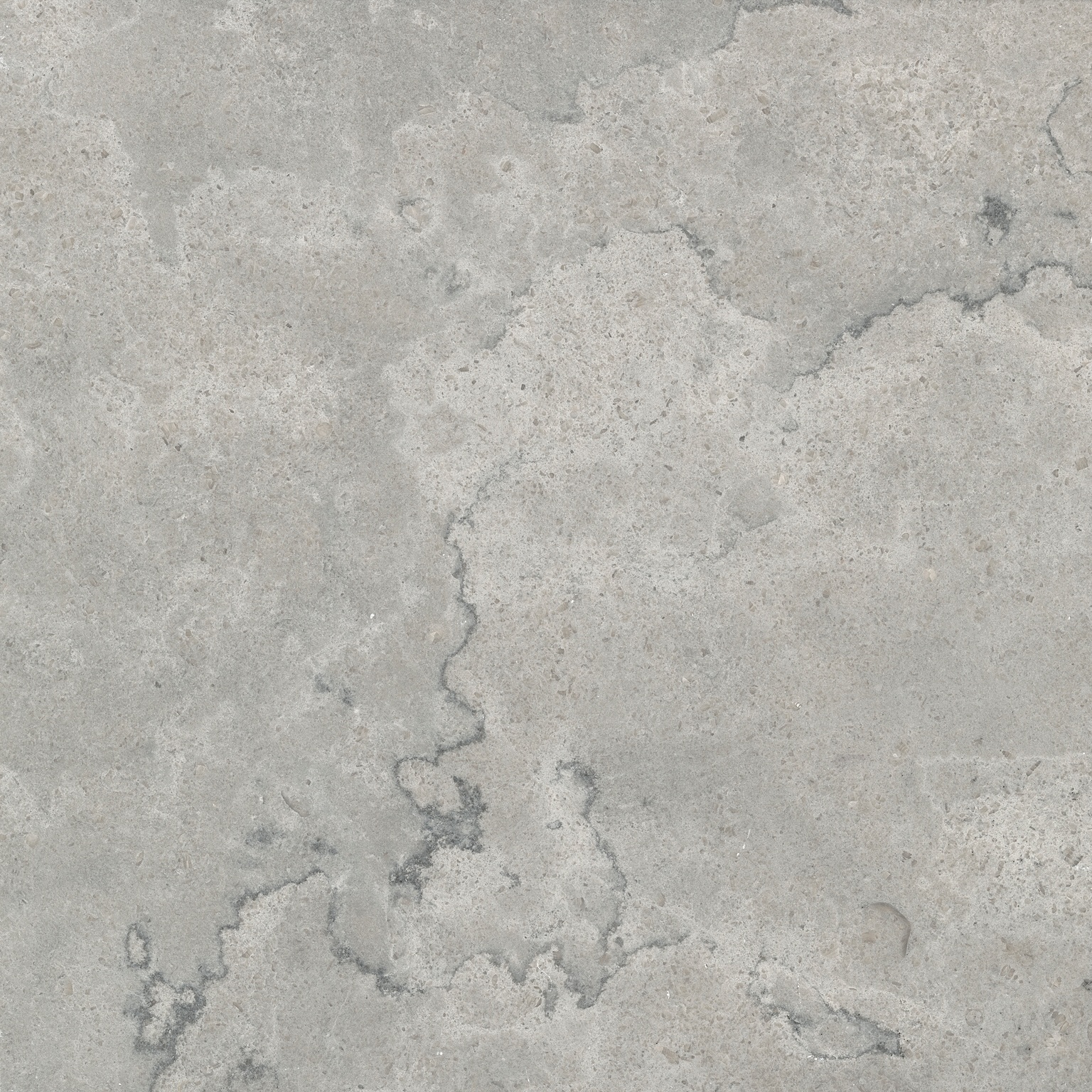 Saint Clair™ Fleuri marble
A spectrum of textures
Dense, hard and able to take a polish, this marble is suitable for multiple finishes including sandblasted, antiqued, honed and polished. Fabricators are able to achieve a high luster shine with Saint Clair™ because of its unique composition, uniformity and density.
Combining different finishes in one installations offers depth and visual texture. You can see the effect here in this home where the designer used a combination of sandblasted and honed Saint Clair™ Fleuri cut tiles for a large feature wall.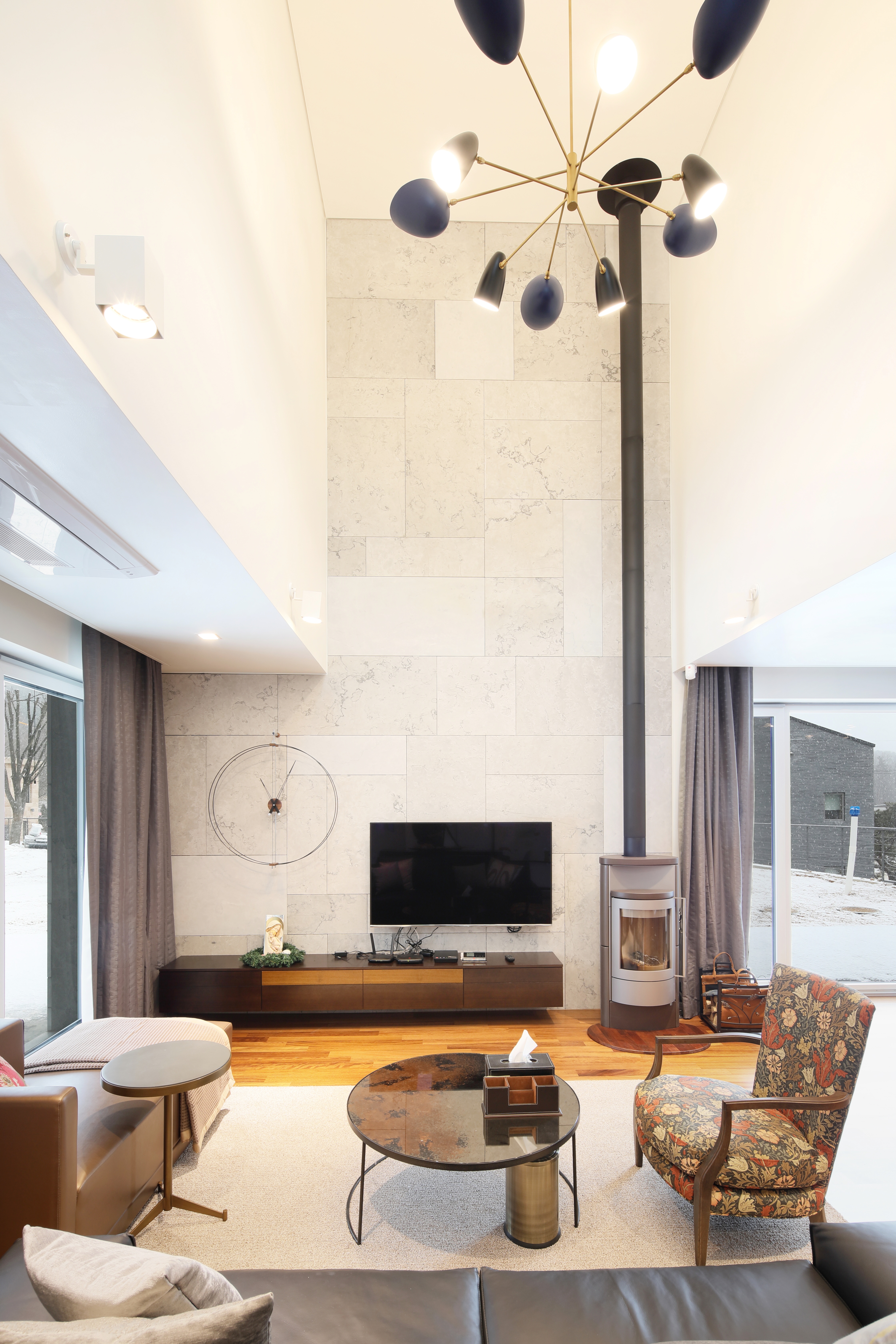 Exterior applications
Like all natural stones, Saint Clair™ works in traditional and ultra modern projects, elevated minimalist and elaborate designs alike. The density of Saint Clair™ marble makes it suitable for exterior applications too. This home, clad entirely in various sized panels is located in an area with extreme shifts in weather.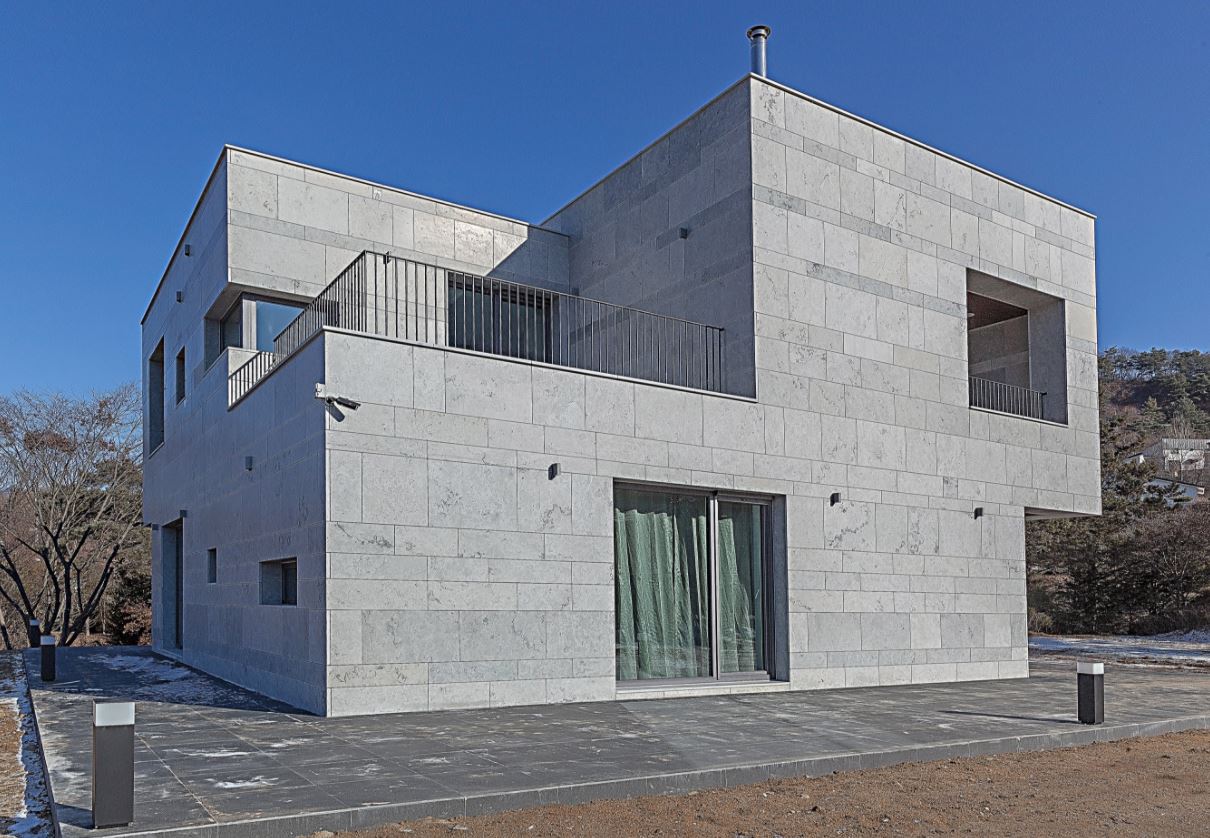 Sandblasted Saint Clair™ Fleuri cut exterior cladding.
Below, a more classically refined residence incorporates both block and carved elements for a more transitional look. The homogeneous grain of the stone allows the carved window stools and moldings to hold a nice crisp edge.
Residential project in British Columbia clad in honed Saint Clair™ Fleuri marble.
POOL coping AND PAVERS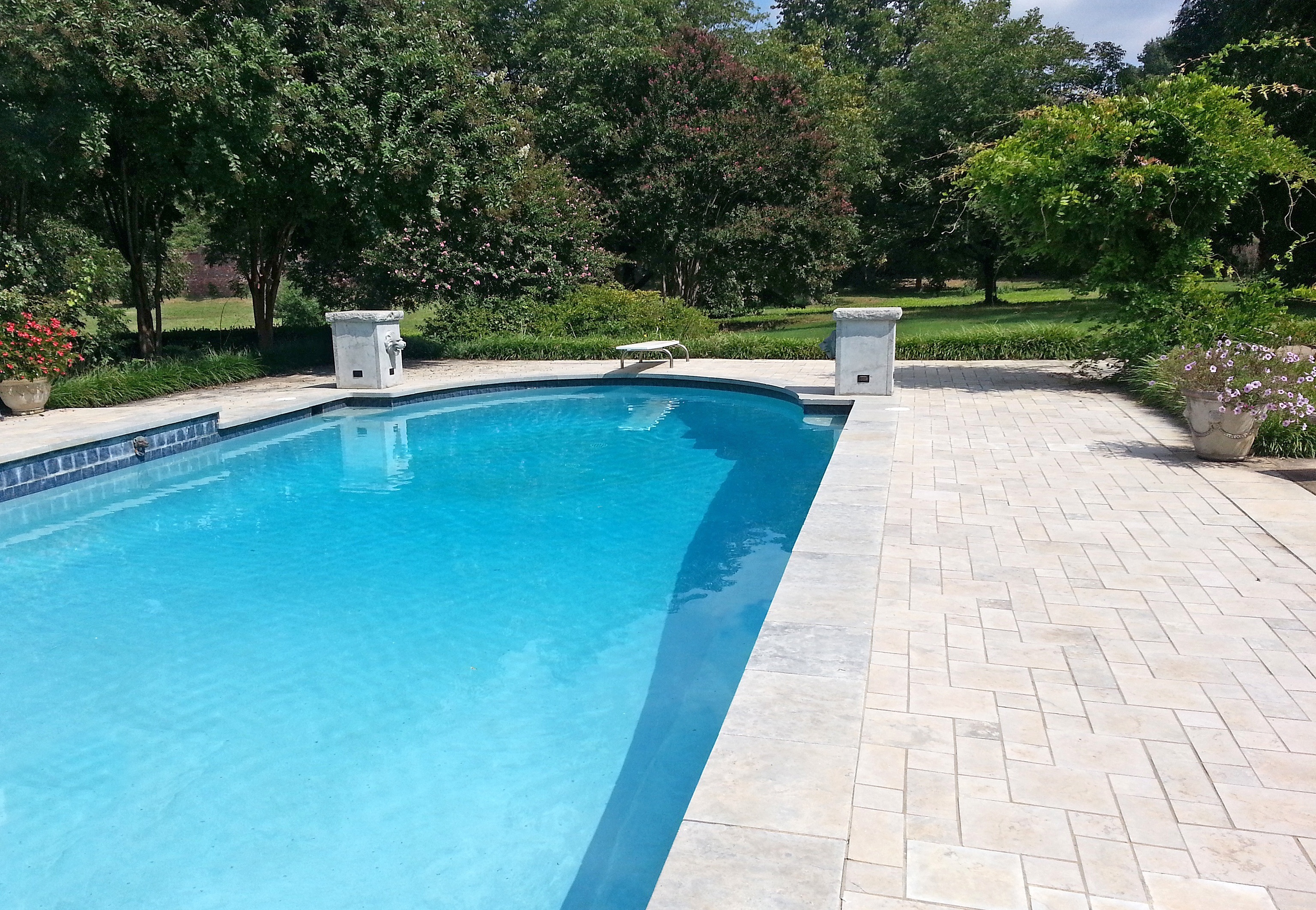 Pool coping and pavers in fleuri cut.
Because Polycor owns its quarries and processing plants it's able to offer custom cut tiles and pavers for residential and commercial jobs of any scope and application (from small bathroom to large airport) – a good alternative to exotic marble which can have long lead times.
Mixing fleuri and linear cuts in a pattern for irregular sized pavers draws attention to the dynamic surfaces.
This American marble is widely available throughout the US, but as with other natural stones, you may see it under different names as distributors like to differentiate their offerings. For example, Stone Source calls Saint Clair, Statesboro Blu, while PMI calls it London Sky.
No matter what you call it, this marble is a beauty.