Natural stone creates modern luxury and Minimalism at this oceanfront Hamptons home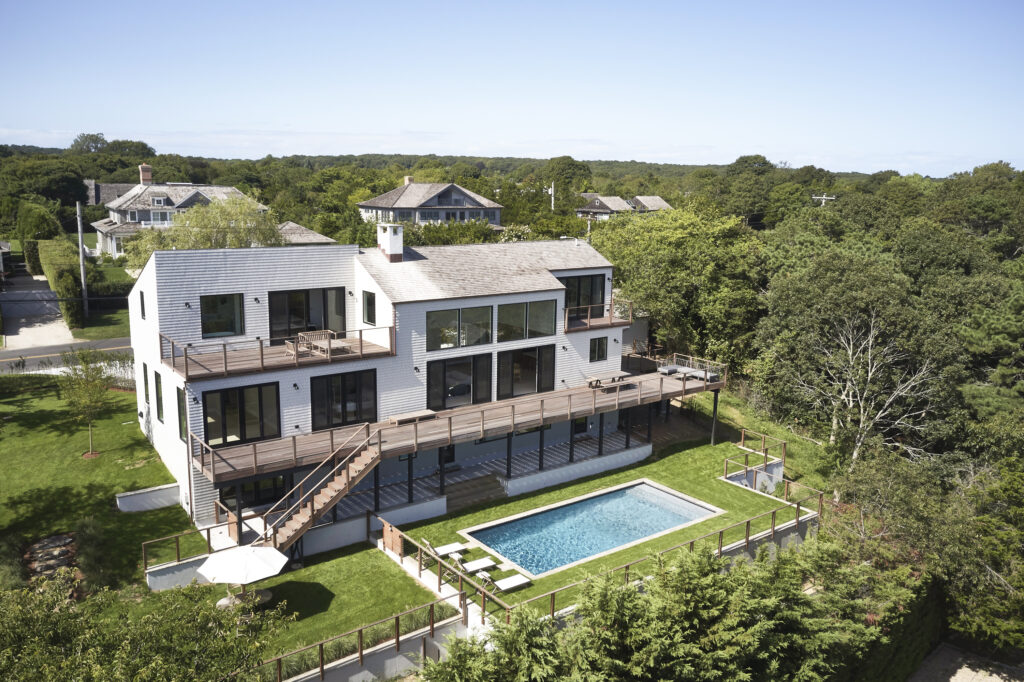 The Hamptons are known to be both luxurious and restorative — a peaceful beach escape with a sophisticated vibe. Amagansett, located in the town of East Hampton, offers a more down-to-earth spin on the upscale charm of The Hamptons. Think miles of white beaches, a lively arts community, and an historic Main Street with prestigious restaurants and shops.
It's no wonder that Studio Zung chose Amagansett for Atelier by Studio Zung, a collection of intelligently designed and meticulously appointed one-of-a-kind residences, fully integrated with sustainable and smart home details. Studio Zung, a lifestyle design firm founded by Tommy Zung, is a modern design studio with a team of award-winning architects, thinkers, designers, and makers inspired to create memorable environments that are both aesthetically beautiful and environmentally sustainable. Known for their eco-friendly design philosophy, Studio Zung ensured that this collection of homes is as ecologically sensitive as possible. So, the Ateliers are not only in a beautiful location, but each features the pinnacle of eco-luxury and integrated smart home technology.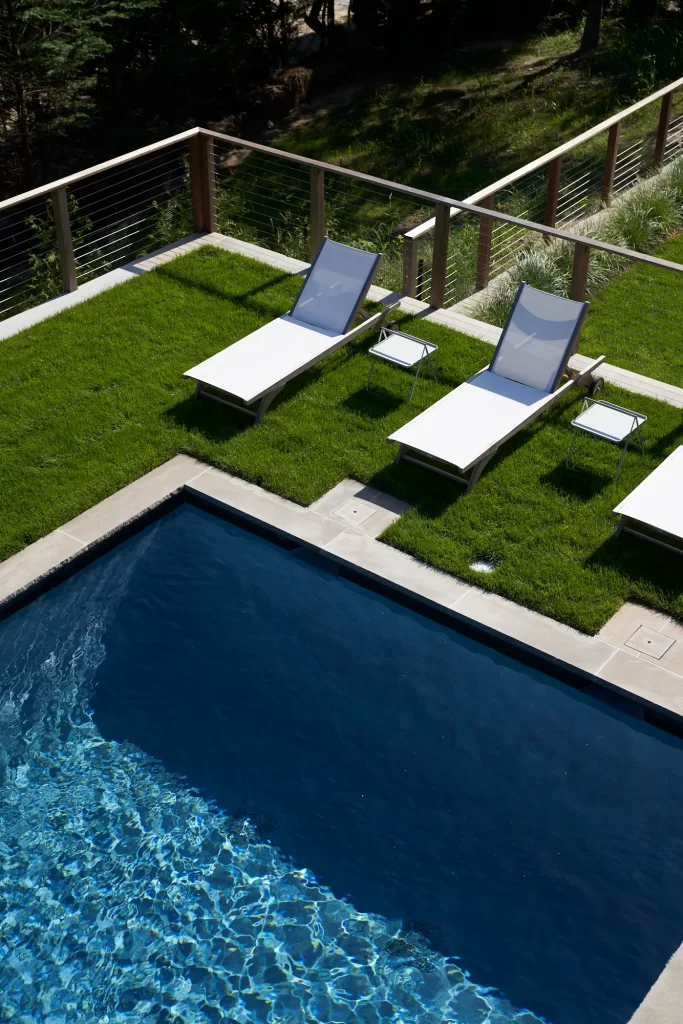 Each Atelier residence is fitted and designed with its own thoughtfully chosen finishes, furnishings, artwork, and landscaping; every lifestyle detail is taken care of so homeowners can enjoy the home from the first day. Details matter deeply to Zung: he didn't just design the Atelier houses he started his own construction company to build them to his standards.
With sweeping ocean vistas and rooted in the Amagansett dunes, Atelier 211 offers a focus on simple materials and a deep connection with the landscape. The lounge and deck overlook a heated eco-smart saline pool surrounded by tiered grass patios and ocean views. Clad in cedar shingles, the house accommodates the needs of the modern homeowner by simultaneously integrating design, luxury, and technology while factoring in sustainability and ecological concerns.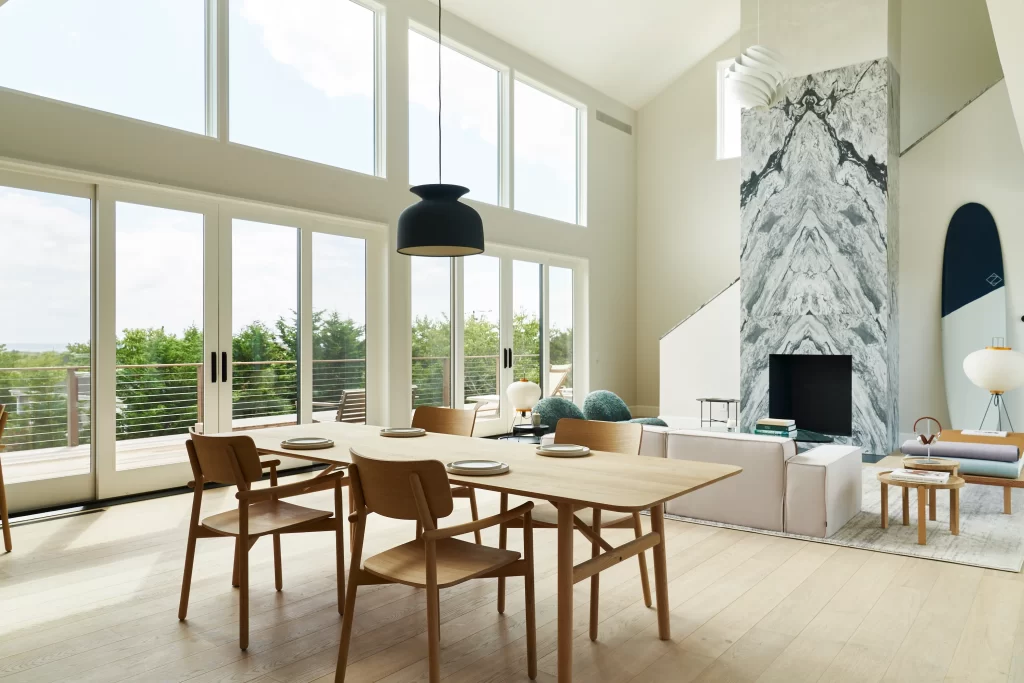 Duality is a recurring theme here – simplicity and luxury, technology and nature. From its entry made of Indiana Limestone – Full Color Blend™ step treads and XL slab pavers, this six bedroom, and six and a half bath residence captures that polarity.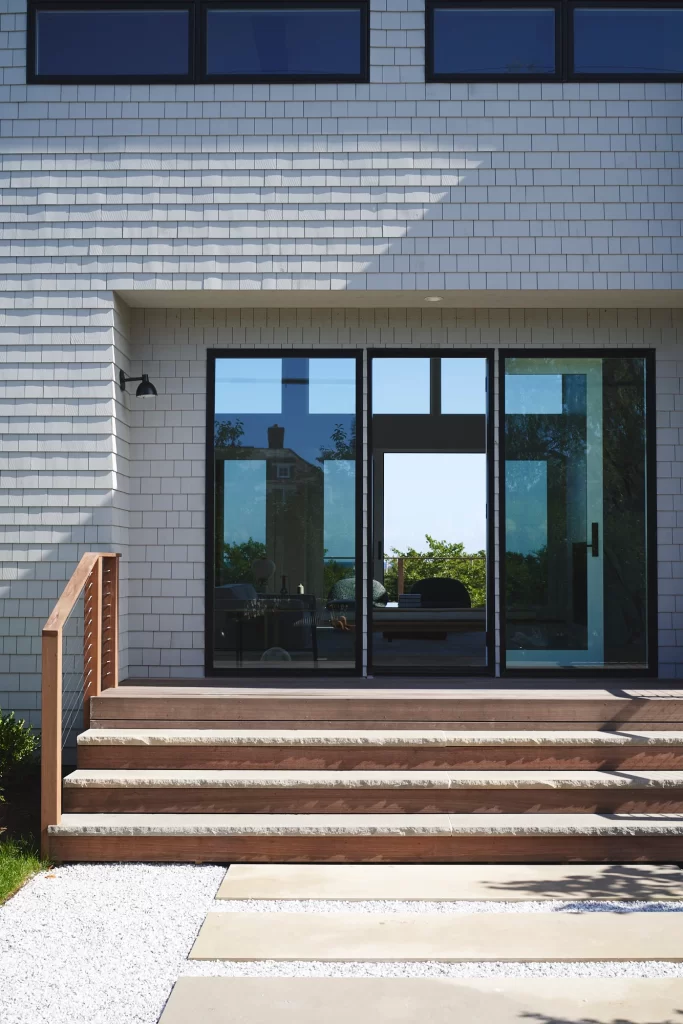 "True luxury and sustainability comes from merging the client's way of living with this sense of mindfulness and design." said Tommy Zung, in an interview with Inhabit.
Atelier 211 is a modern A-Frame 4,150 square foot beach residence with an ocean view that incorporates exquisite detailing, modern conveniences, and fine millwork. It features custom WoodLife European white oak flooring alongside Polycor stone surfaces inside and out, most strikingly the book matched 3cm slabs of Georgia Marble™ – Pearl Grey honed finish on the show-stopping fireplace complete with an Alberene Soapstone™ hearth.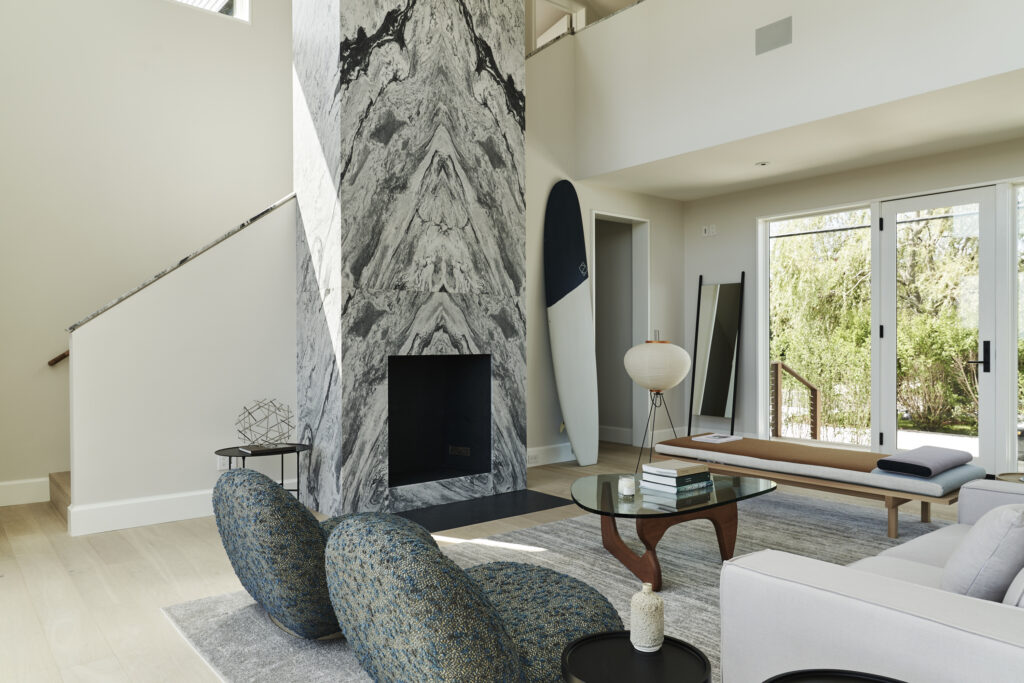 The home was designed to offer balance to the duality of daily life with both stunning open expanses and welcoming private suites. The main living space, with its double-height ceilings and a wall of windows, frame the property's staggering views and capture the ocean breeze.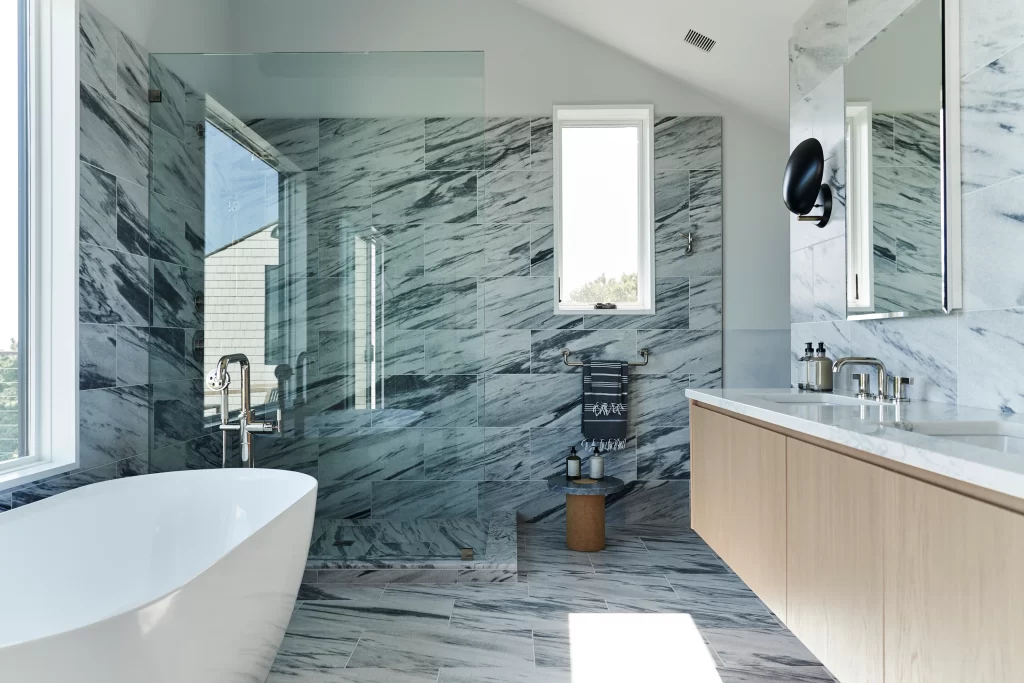 The second-floor master suite with a private outdoor deck balances the main living space below. Elevated ceilings with reclaimed Pennsylvania barn beams provide an expansive panoramic view through custom fabricated Marvin architectural series windows and doors. The bathroom takes advantage of the view as well, with it reflected in mirrors above the bespoke Zung European oak double vanities surrounded by 12"x24" Georgia Marble™ – White Cherokee honed tiles on the walls and floors. Opposite the large soaking tub is a curbless walk-in shower with a rain showerhead and hand shower clad in the same tiles throughout. The natural materials don't detract focus from the view but add to it.
The guest baths are studies in contrasts where American Black® granite honed tiles from Polycor's Pennsylvania quarry cover the floors and shower pans. The shower walls are installed with Georgia Marble™ – White Cherokee tiles that have complementary veining to the American Black®, with grey veins on a white background versus white veins on a black background.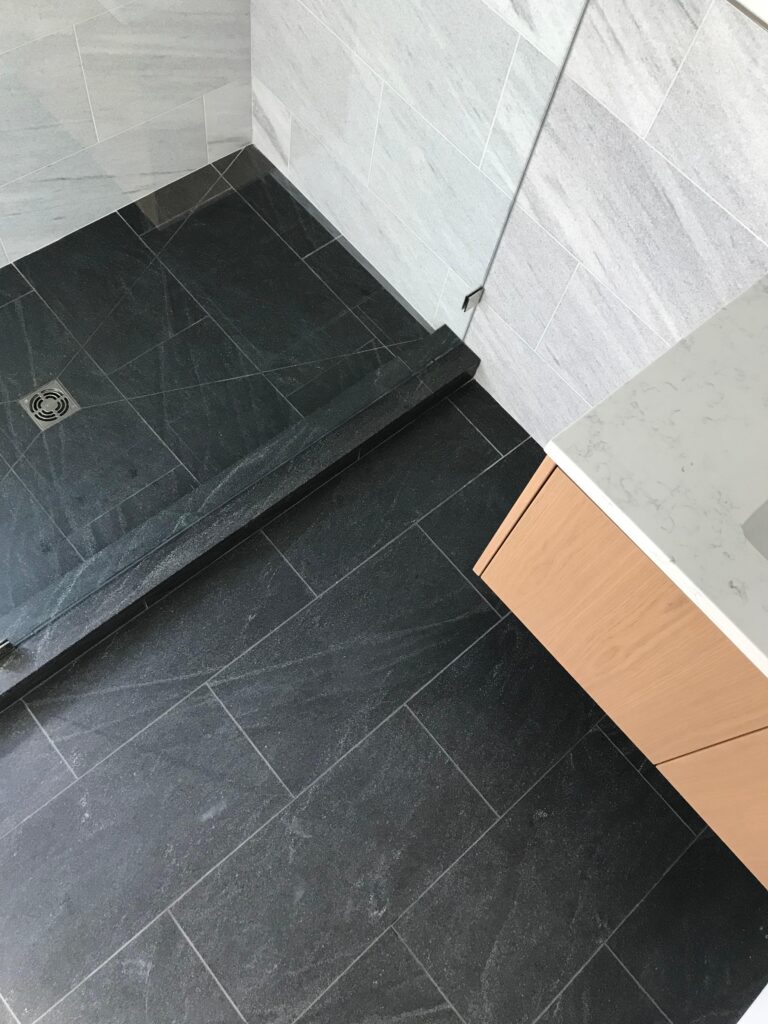 "Each material holds an energetic quality to it," said Zung to Rue magazine. "One does not have to be an architect or designer to feel it. You know when you walk into a space how it makes you feel. The energetic quality of stone is grounding and as well it holds different feeling with its type, color, and cuts. Every space deserves its specific stone, it may sound bizarre, but we look for the stone that the specific space asks for."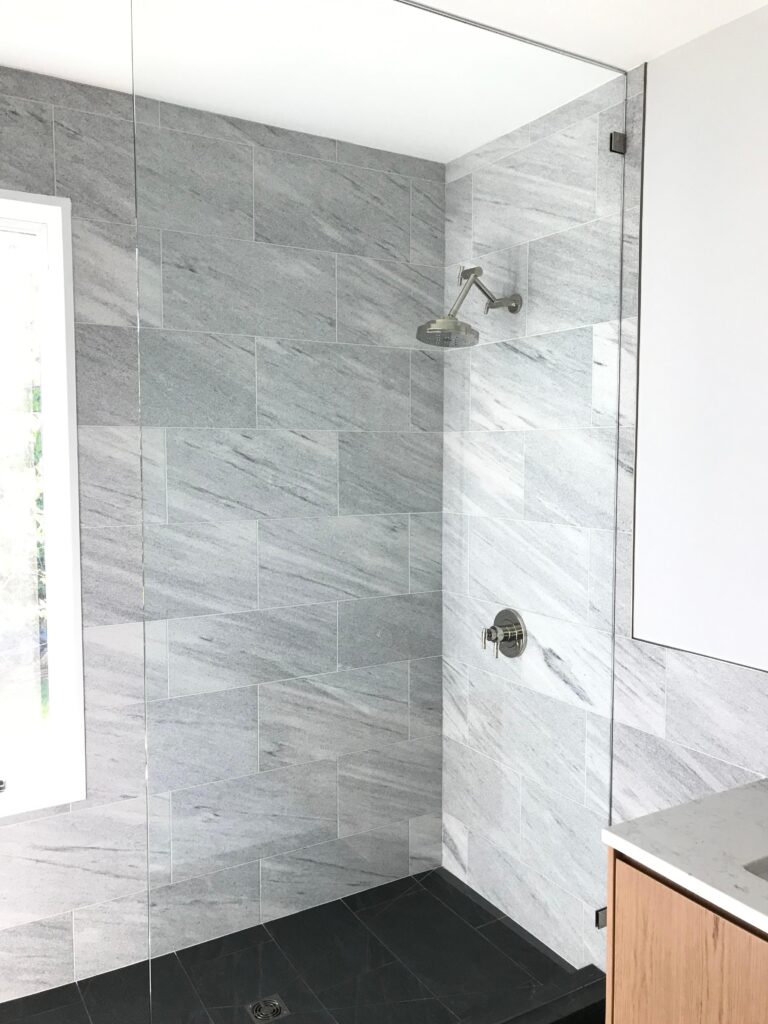 Natural stone is just one way the residence feels deeply connected to the natural world: The lower level provides indoor-outdoor living with enough space to comfortably entertain friends and family. The serene wellness spa featuring a separate sauna and steam room leads to a grand but relaxed entertainment space and then the grass patio and heated outdoor pool. With pool coping and perimeter retaining wall caps in the same Indiana Limestone – Full Color Blend™ as the front entry (and the back landscape steps from the first floor), there is a continuity throughout.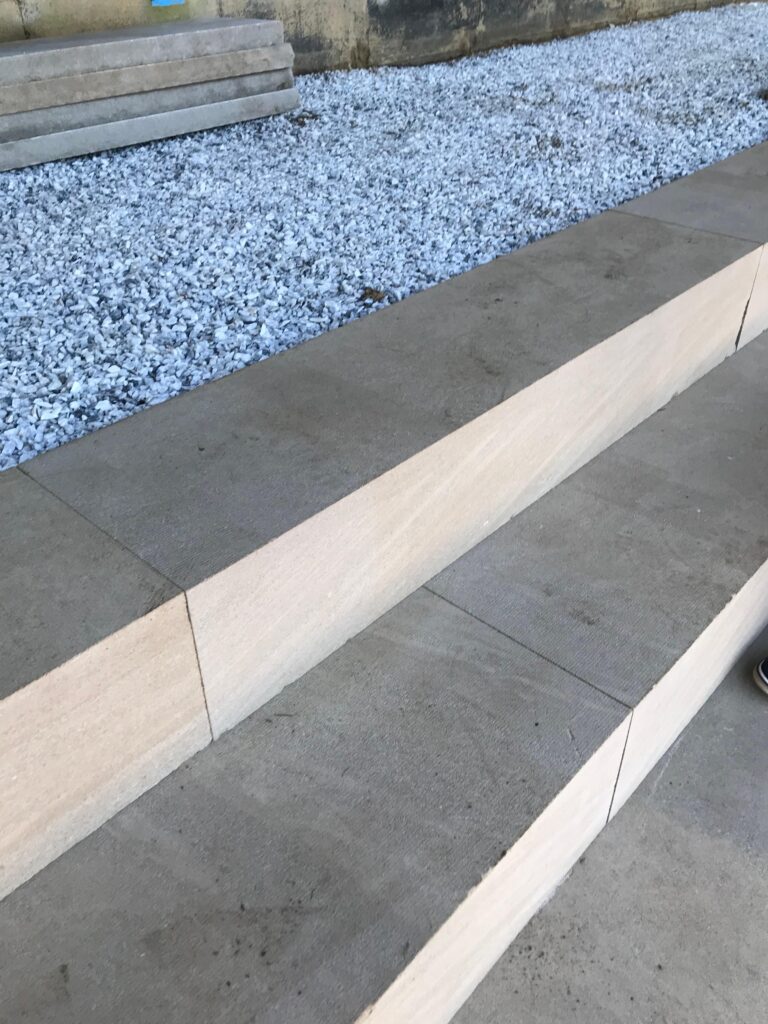 "We like to blur the lines between the inside and the outside," Zung said during a recent Natural Stone Institute interview. "You want your clients to feel elated, happy, inspired. For us, Indiana limestone does that."
Every Atelier by Studio Zung is built on design sciences that integrates eco-luxury into simple, straightforward designs and materials. Intricate architectural details and native landscaping design are coupled with active and passive sustainable design choices, like low VOC paints and locally quarried natural stone from Polycor.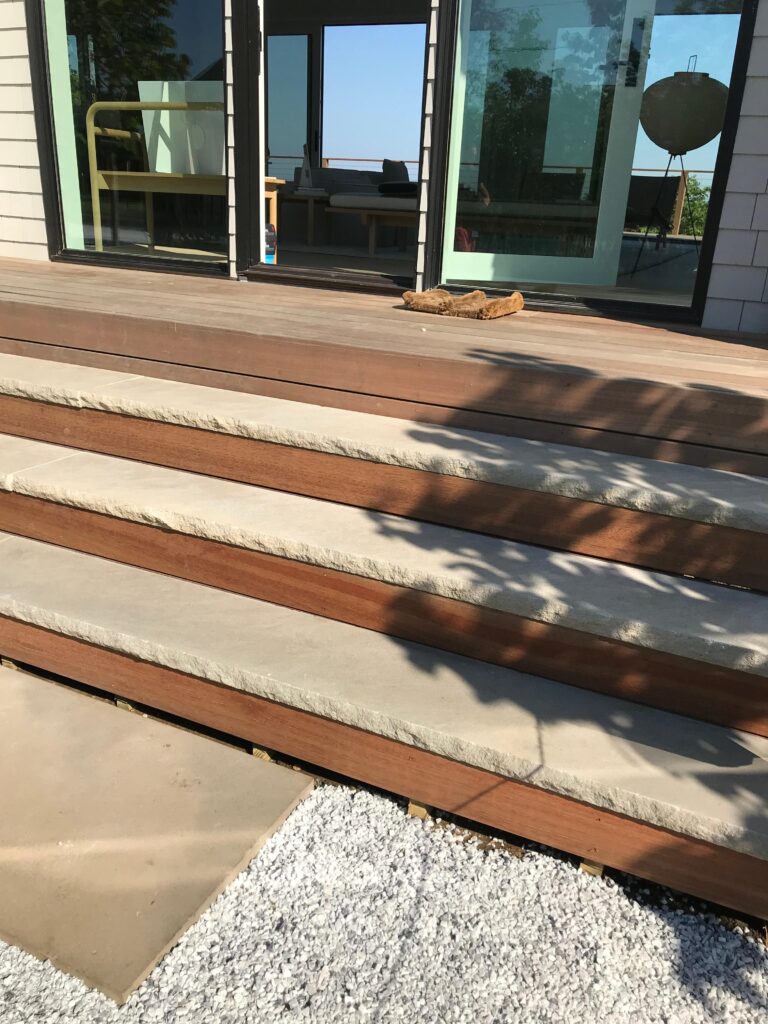 "Polycor has some of the largest local quarries in North America, and more specifically near New York, which makes them a logical sustainable solution for us," said Zung to Rue magazine. "At the same time, the diversity of their stone type, the quality of their stone and precision of their quarry cutting and manufacturing, coupled with their ability and willingness to produce custom slab designs and tiles, make them invaluable to us as a bespoke architecture and design firm. We adore and support artisans with lineage and Polycor has that story."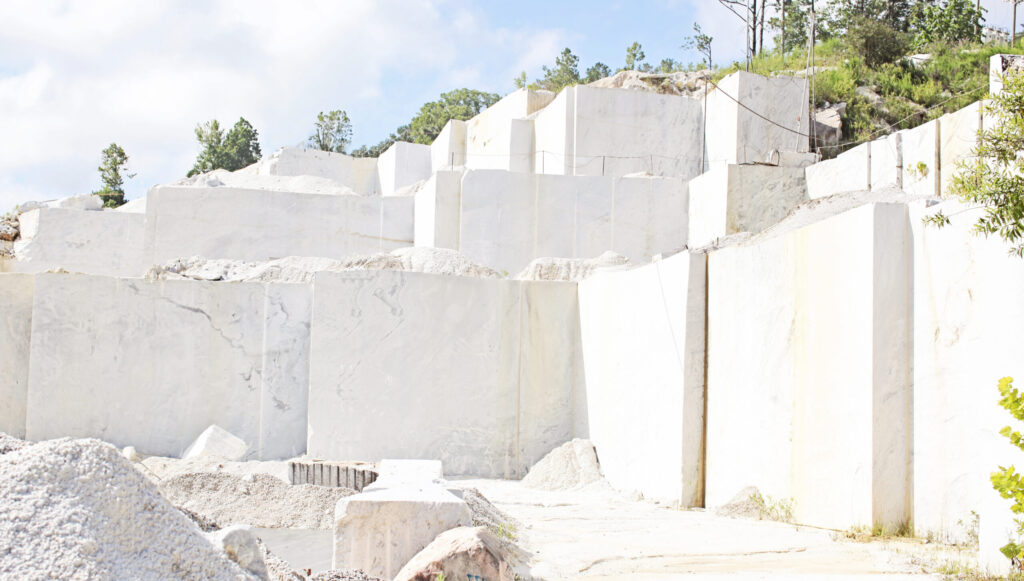 We have worked closely with Zung on multiple projects; his studio requests samples of stones and finishes and shares design drawings with us at the same time. Then we meet in person to perform mock-ups and discuss the cuts, bevels, and finishes before finalizing production.
"(Polycor) always has invaluable insight that makes the process even more seamless and beautiful."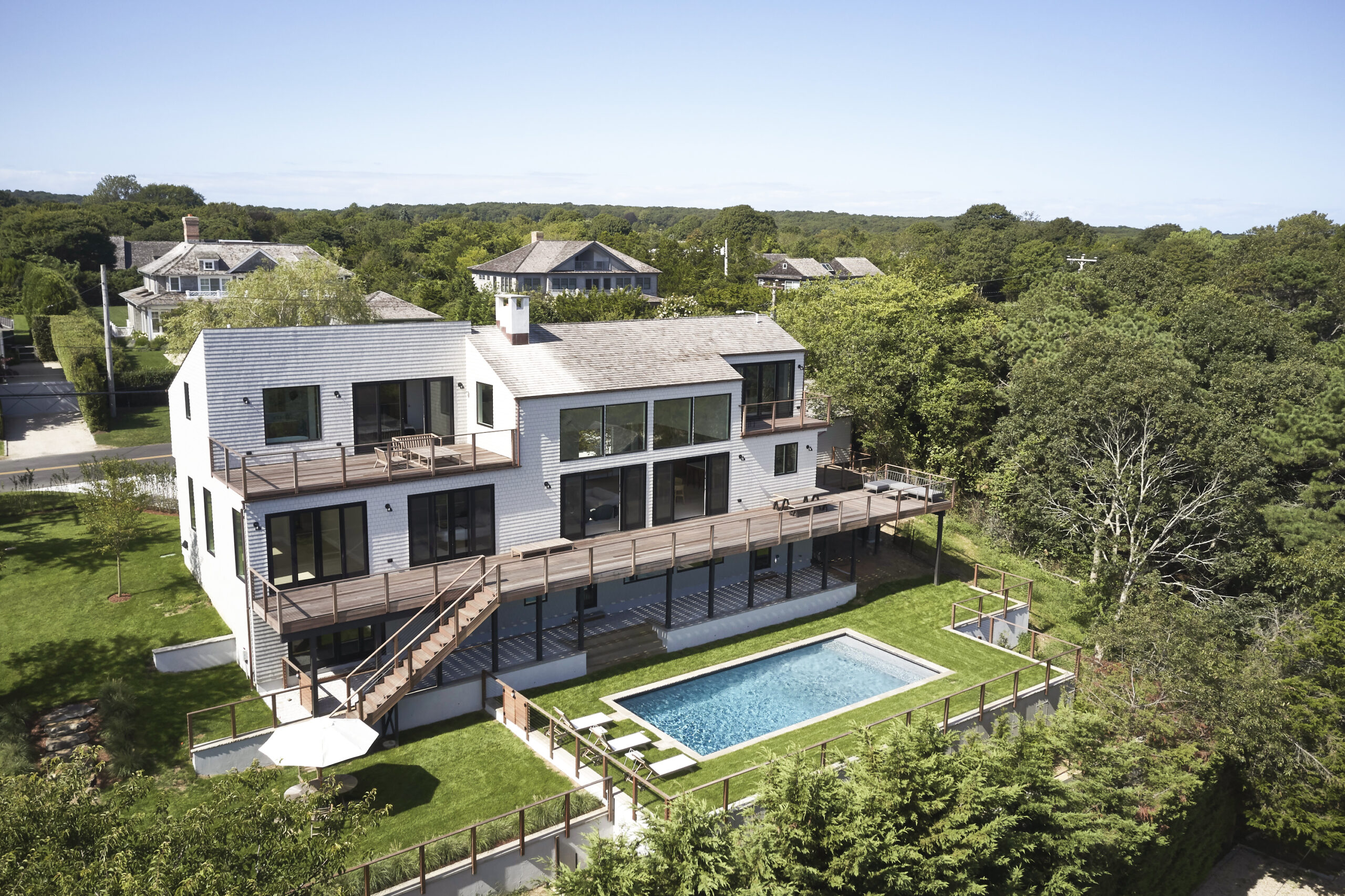 Find an Expert
Ready to talk to an expert
about natural stone?
---