Textures, Colors and Patterns Bring Life to an Expansive Outdoor Living Space Designed with Natural Stone
Virginia-based interiors stylist Sarah Raak of SKG Designs had been planning a project to redo her backyard patio for a while. But if ever there was an impetus to finally get it going it was this thing called 2020. Although this year brought challenges, it taught us to learn to appreciate the nature, air and space around us. It also allowed us to think outside the box and to innovate — challenges that have always informed Raak's approach to design.
Her "up for a challenge" mindset met its match in the redo of what has become one of the most important "rooms" of the house. The backyard patio has become, out of necessity, the place to interact with friends and family.
Raak chose all the natural stones from Polycor Hardscapes and Masonry's portfolio for this project. CAROLINA CORAL™ granite was used for the pavers; INDIANA LIMESTONE ‐ FULL COLOR BLEND™ for the fire pit wall, pergola walls and outdoor kitchen; WOODBURY GRAY™ granite for the all of the caps; and GEORGIA MARBLE ‐ PEARL GREY™ for the countertops.
Raak's backyard redo was part of the popular biannual interior design event One Room Challenge that sees thousands of rooms transformed. "I wanted our patio to be an extension of our living space inside, with different sections of the patio," she said. The project was completed this summer.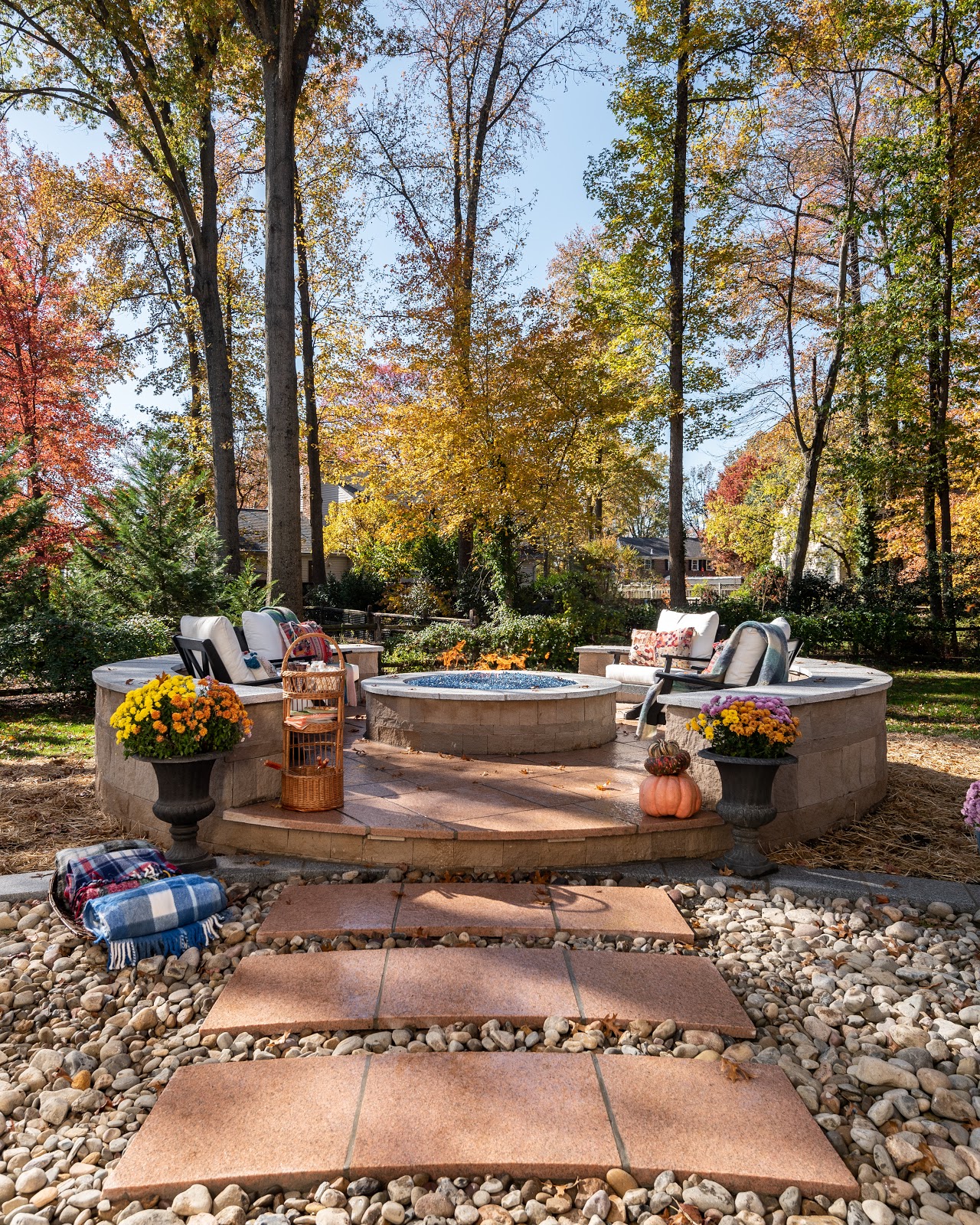 When it came down to specific choices, she wanted to use several color variations. With Carolina Coral granite, you can pair it with any other color and really make the coral itself stand out. She wanted it to be a showstopper, which is why she decided to use it for the pavers.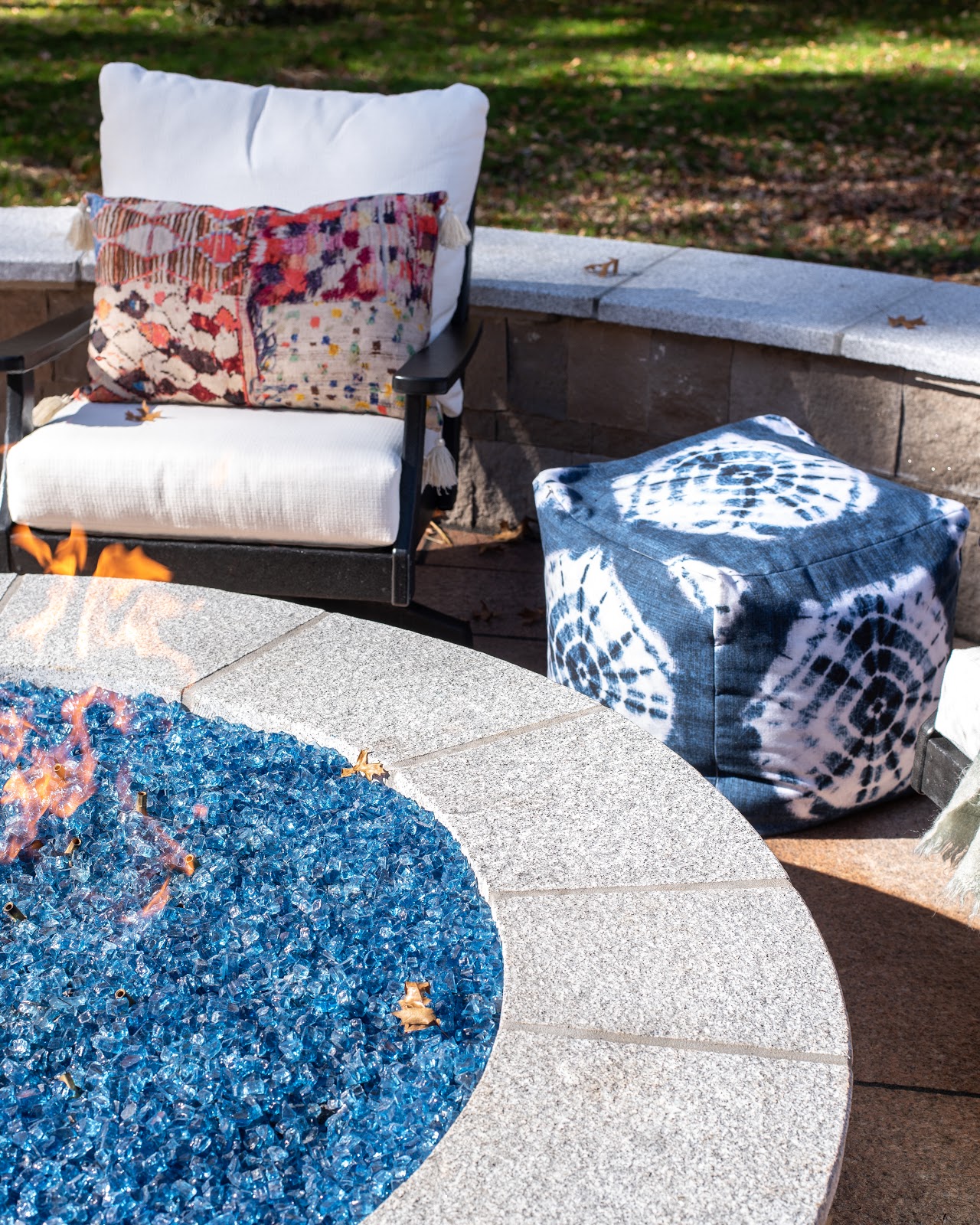 She felt that the Woodbury Gray granite fire pit and wall caps not only compliment any color, but also make the coral work.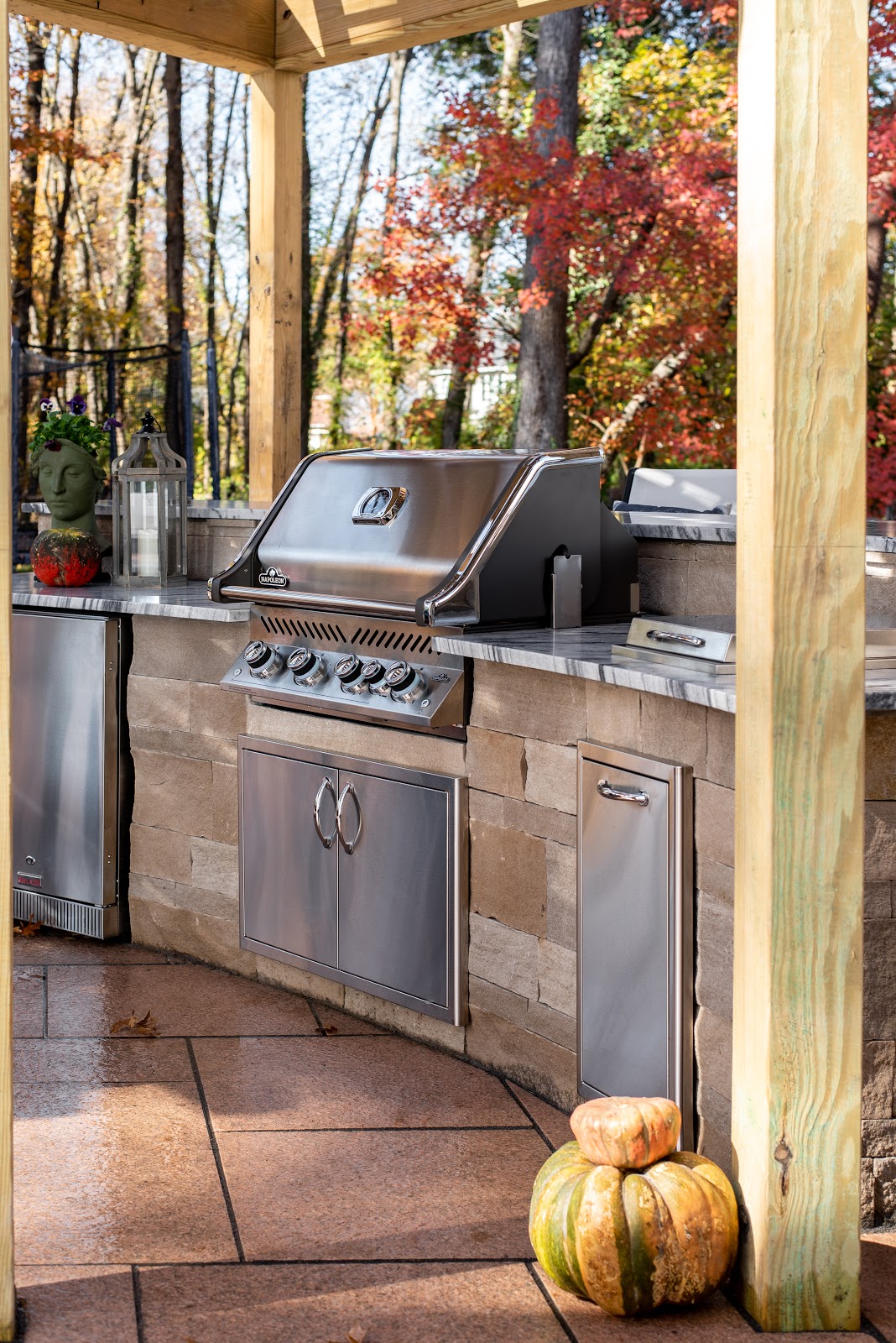 Raak liked the fact that Indiana Limestone – Full Color Blend blends everything together. "It pulls the coral, the gray, all the natural gray — all three of those work beautifully," she said.`
Originally they had thought of using the Woodbury Gray granite for the outdoor kitchen countertops, but Gramaco Stone Solutions in Savage, Maryland, a supplier for Polycor, showed her two slabs of honed Georgia Marble – Pearl Grey. These slabs come from the same quarry where the Georgia Marble is used for many landmark buildings in the nation's capital, including the Rayburn House Office Building where she met her husband. She marked that romantic moment by choosing this stone for the counters of the outdoor kitchen her husband had wanted.
DOWNLOAD THE "BUILDING HARMONY WITH NATURAL STONE" LOOKBOOK
And aesthetically, she is blown away with the results. "The gray of the veined marble is playing in the same color palette but takes you to a more artistic, and dramatic level," she said.
Raak wanted to avoid a design with hard angles, and instead, imagined a place with more poetic delineations of space and curves to give the idea of a radial space. "We wanted it to flow with softer lines — not cut and dry," she said.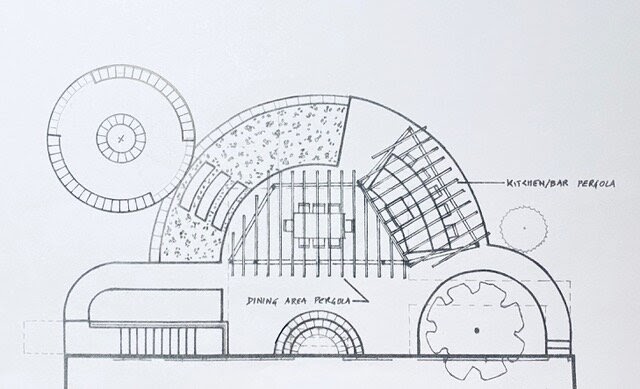 The final drawing for the backyard plans. No sharp angles, a lot of circulars and three stations: outdoor kitchen, dining and fire pit area.
Moreover, she wanted a place full of textures, colors and patterns — a signature style. "Color makes me happy," she said. This resulted in a fascinating use of four varieties of natural stone in a way that visually layers the stone.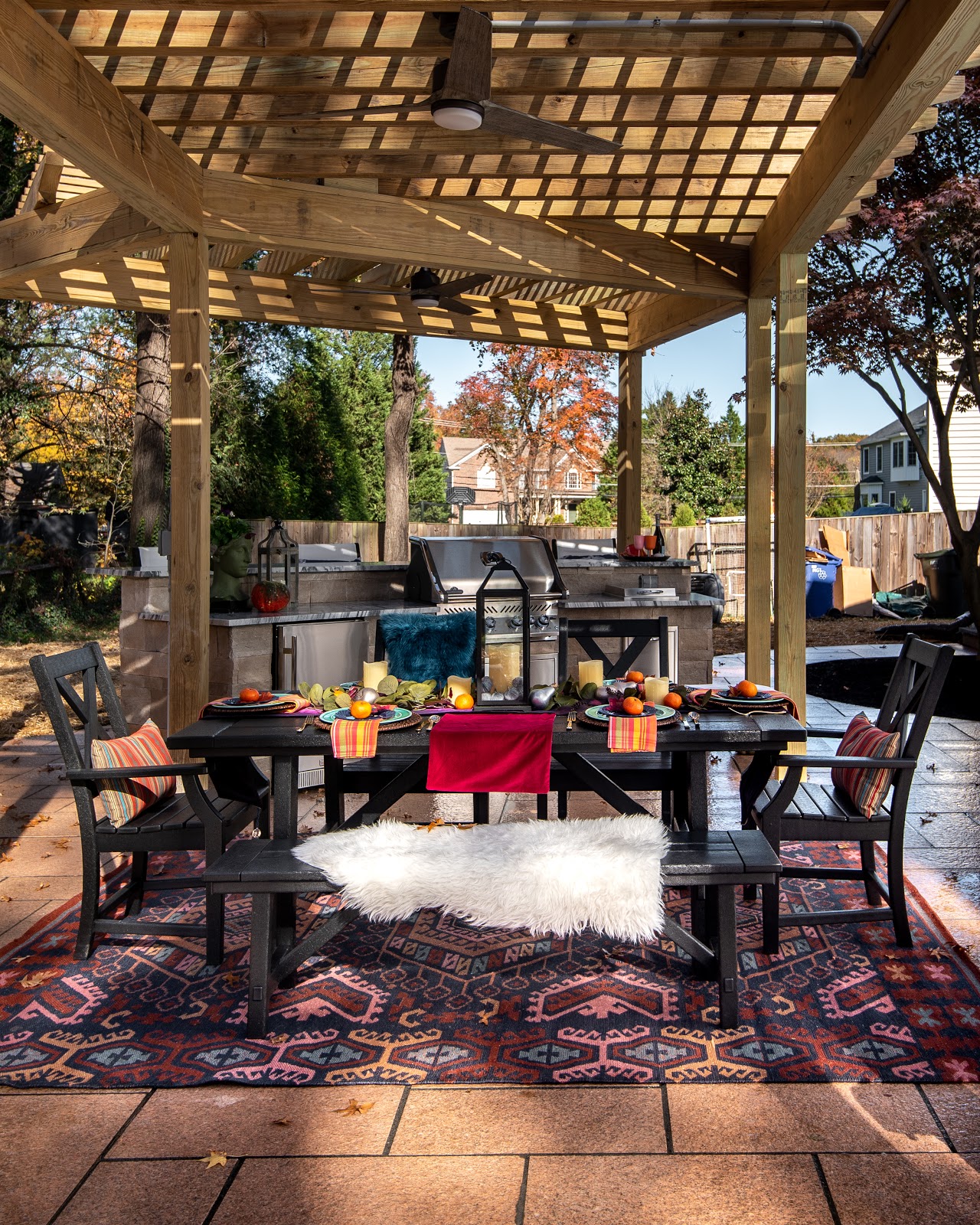 To fulfill that visual layering, curved cut stone required someone who shared her out-of-the-box vision and could make it happen. Raak hired the guy: Luis Figueroa, of CSM Design who is never afraid of approaching new materials that require a higher skill set. Indeed CSM Design is an atypical design and architecturally-driven contracting company — more of an integration between high end carpentry and masonry.
"We generate a lot of designs ourselves," said Figueroa. "Between the different disciples, we have the skill set to come up with a solution for each situation." Figueroa brainstormed with Raak to conceive the space, and made full use of his company's design approach to execute it. CSM Design did the pergola, masonry work, gas fire pit, and the electrical construction of the outdoor kitchen area.
The expansive back garden, ringed by graceful trees, fulfills Raak and Figueroa's vision of a soft large radius, with steps and curves, and the soft transition of spaces Raak wanted.
Figueroa agrees the whole result is "very beautiful" though he admits he saw the project as a challenge at the start. "When I got the sample, my concern was how these were going to relate, but when you see the patterns they all mesh really well," he said. "It's very impressive."
The installation necessitated many creative considerations. The cover for the patio and outdoor kitchen is made up of two very solid pergolas. They meet at the start of the outdoor kitchen making it seem like it's almost one but from above you can see how they connect. "For more coverage from the sun, we decided to go with the cross hatch design which provided not only more shade but also added an extra level of [vertical] detail and interest to the structure and also for the whole patio design," said Figeroua.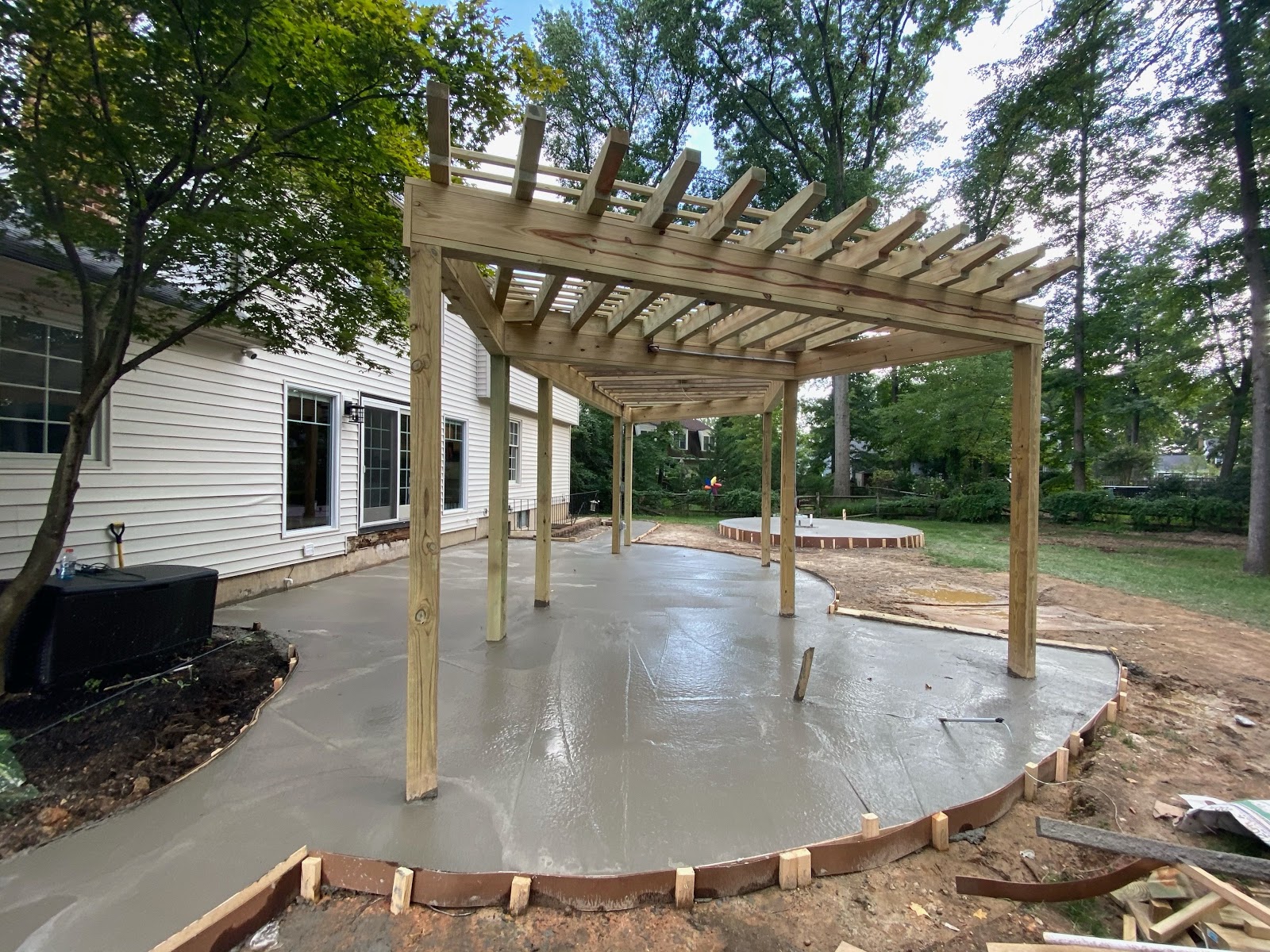 Construction of the pergola
He of course had to pay special attention to the outdoor use for the stones, with various unique considerations to take into account -from the different weight, placement and use of each stone to cutting and measuring stone on a curve.
Raak knew she chose the right team for the job. The fantastic design and installation shows how at each instance CMS Design showed respect for the material. "His masons and carpenters are artists and craftsmen; they take a lot of pride in their work, ' she said. "It was a hard project but done beautifully. I don't know if there is another mason who could have done it."
The eye catching color and texture theme continues through the outdoor furnishings and accessories Raak chose, and which underline the sustainability of natural stone that appealed to her.
"Once we had the design figured out and the color of stones picked out, whatever we put on top of the stone had to harmonize," she said. "Sustainability is important to me." All of her furniture is from Polywood and made of recycled materials, such as milk jugs and products that are oceanbound and are able to sustain all weather conditions just like the stone. SmithHönig provided the colorful outdoor pillows, table runners and Shibori poufs. "I like using and reusing them in different ways, and I can bring them into my home — use them inside and out," Raak said.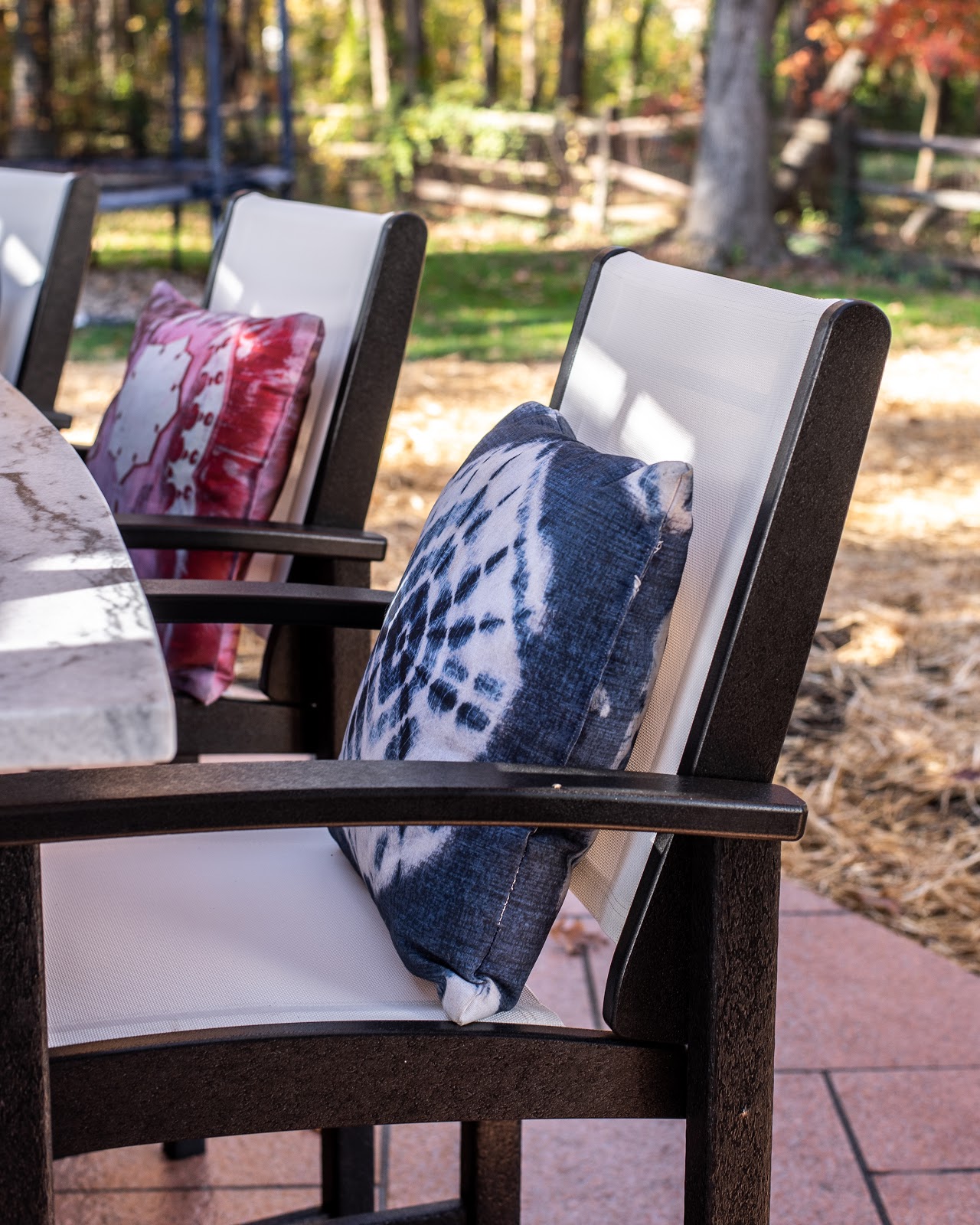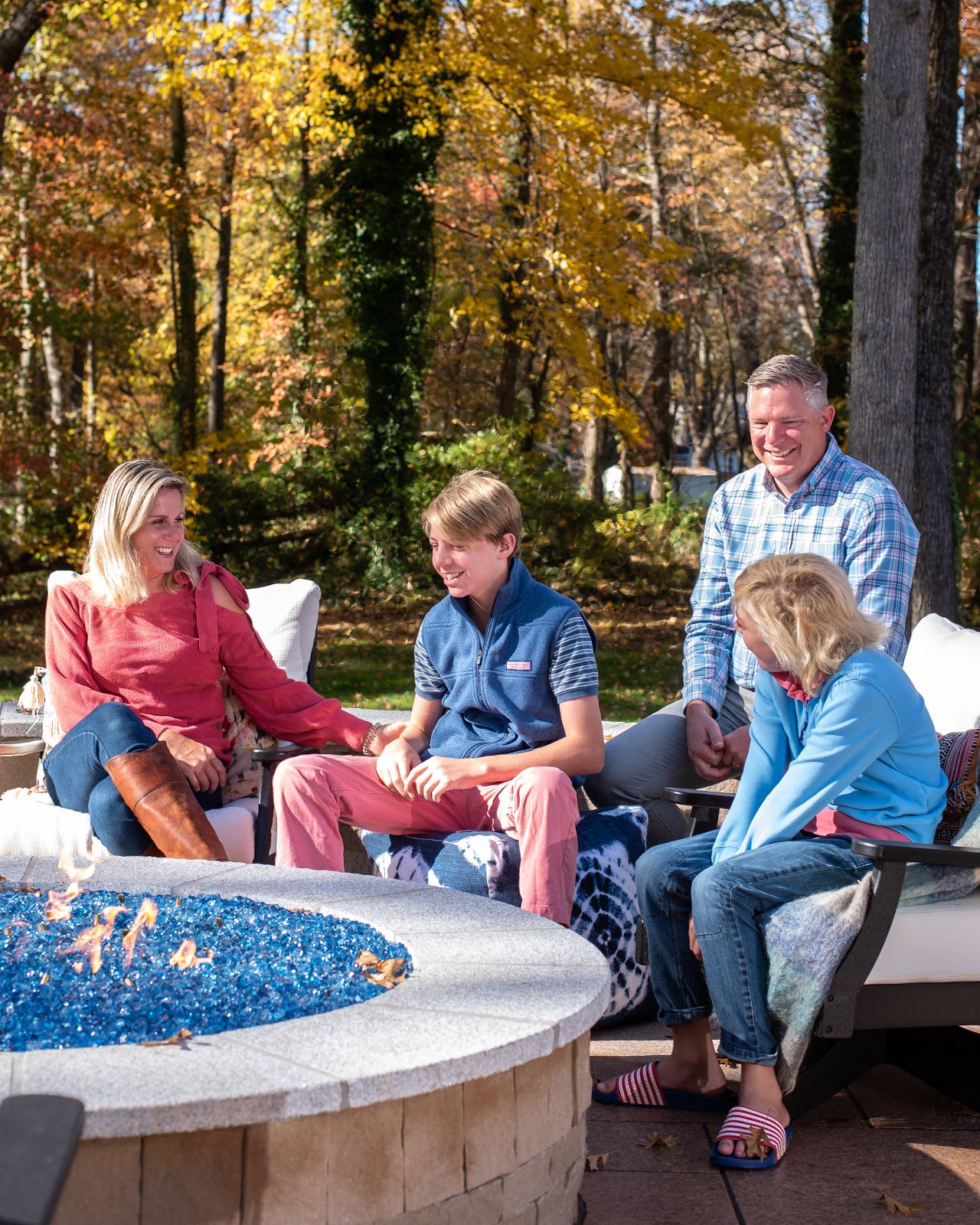 Her love of natural stone is driven by both history and a romantic gesture. Raak's home is located on George Washington's original farm. It's not surprising then she wanted to add to its sense of history. She is surrounded by a magnificent use of natural stone in nearby Washington, DC, which is made up of monuments and historic buildings built with natural stone.
"All three of these stone options come from iconic quarries that built American history such as the U.S. Capitol Building, the Lincoln Memorial, National Cathedral and so many more buildings that play a part of our American history," Raak said. It was as if natural stone was calling out to her.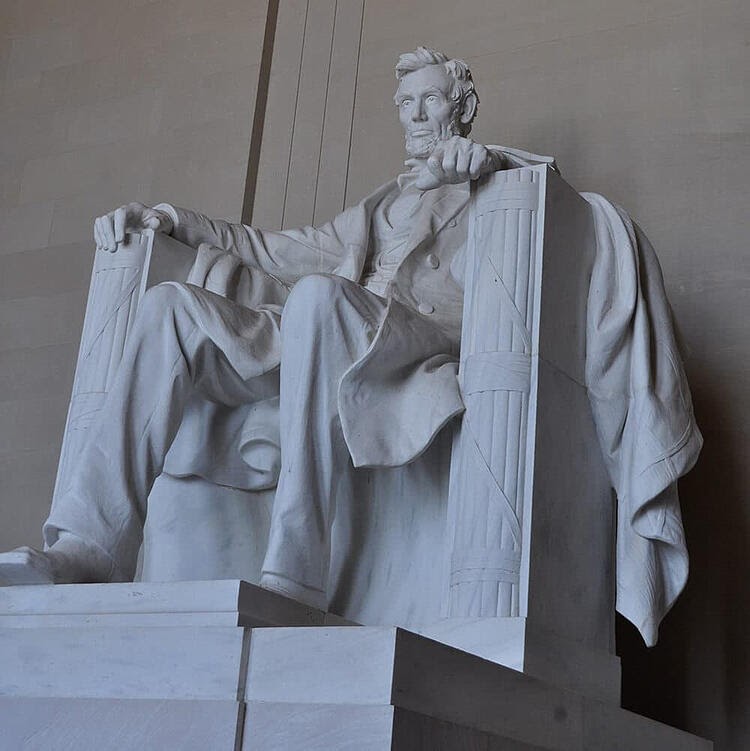 The Lincoln Memorial in Washington, DC
Using Polycor's stones helped Raak conceive up more design possibilities. "There are many more options in color and texture," she said. "When people think of outdoor spaces they think of the obvious brick, concrete pavers and stamped cement. I don't think everyone thinks of natural stones. They think those are options for things you see in a museum or monument — but as you can see here, they certainly go beyond that."
This year may be the year to get an outdoor job done, but the appeal of natural stone will last for decades. "The stones are unique, timeless and sustainable," said Raak. "I get goosebumps knowing that I have a little bit of that history in my own backyard."