The Benefits of 1cm Ultra-Thin Slabs and How They're Fabricated and Installed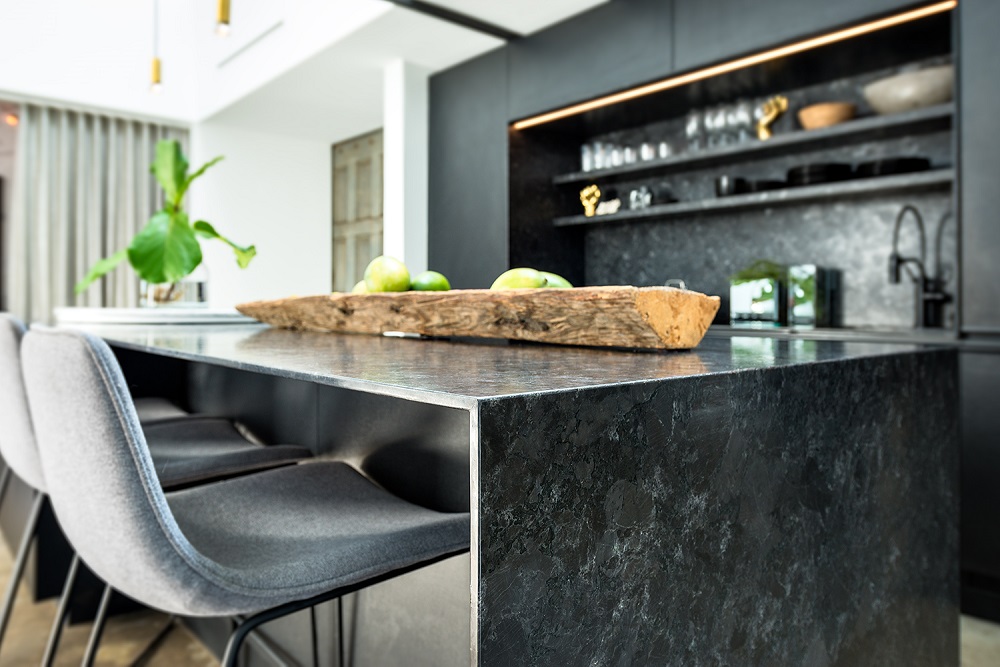 The trend is clear, designers are moving to larger format surface installations. And as a result the custom building products market is following suit. We've been seeing this trend clearly as designers break out of the 24″ X 36″ box and into the world of full slab installations like full wall marble backsplashes, expansive islands with bookmatched waterfall ends and even feature walls of porcelain and natural stone.
As designs call for bigger installations, the building trade's are needing to respond to the design push as well – new modified mortars engineered with better vertical installation capabilities, new handling techniques and hardware like braces, frameworks, rail and suction cup systems to install large slabs vertically.
But thechallenge remains: fabricators must install these heavy, breakable large format pieces. A new mortar isn't the answer here. Instead it's a new material – carbon fiberbacked slabs with one third the weight and 10x the flexural strength of 3 cm slabs.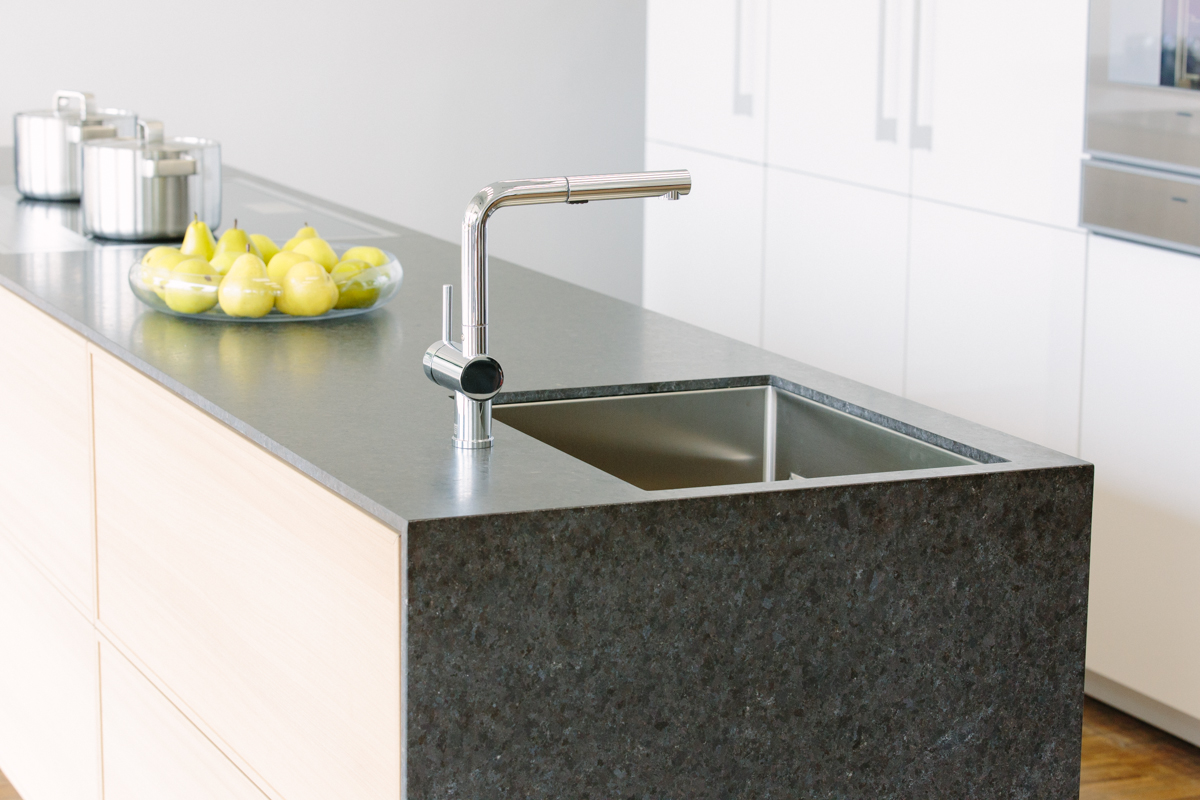 Ultra modern Poggenpohl kitchen with thin countertops in 1cm KODIAK BROWN™ granite with antiqued finish.
At just under a half of an inch in thickness our 1 cm natural stone slabs are produced in a wide range of granites and marbles direct from our own quarries, and are manufacturedto exacting standards with cutting-edge equipmenthere in North America. Thanks to our revolutionary, proprietary composite backing, the slabs offer the following benefits:

CLICK FOR A COMPLETE INFORGRAPHIC OF THIN COUNTERTOP MATERIALS ON THE MARKET
How Does it Work?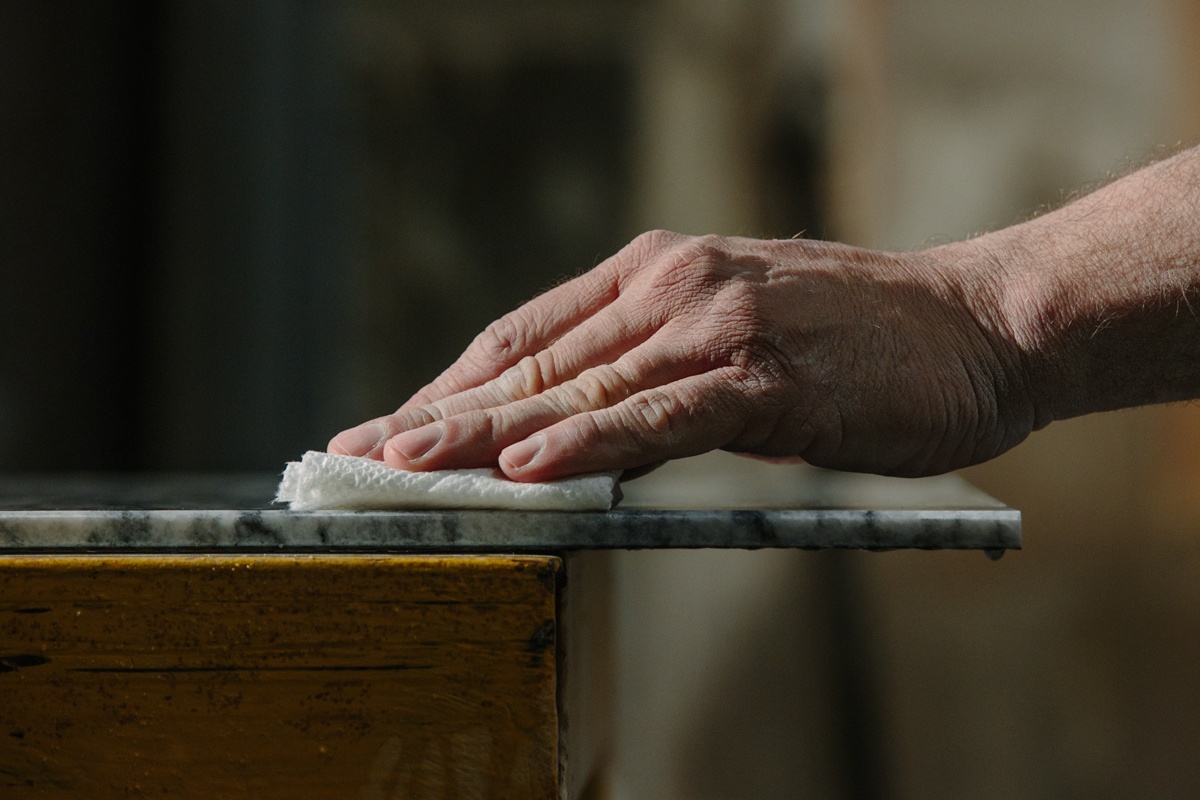 1 cm slabs are a mere3/8″ thick and yet 10 times the strength oftraditional 3cm slabs.
Fabricators and installers appreciate the fact that no special tooling is required to cut and fabricate the material, as compared to the large format porcelain or sintered slabs which present many challenges. A standard segmented diamond blade that would typically be used on 3 cm or 2 cm stone, either mounted on a bridge saw or an angle grinder, along with typical water feed, is all that is required for cutting ultra thin slabs. The material can also be cut using a water jet or CNC machine.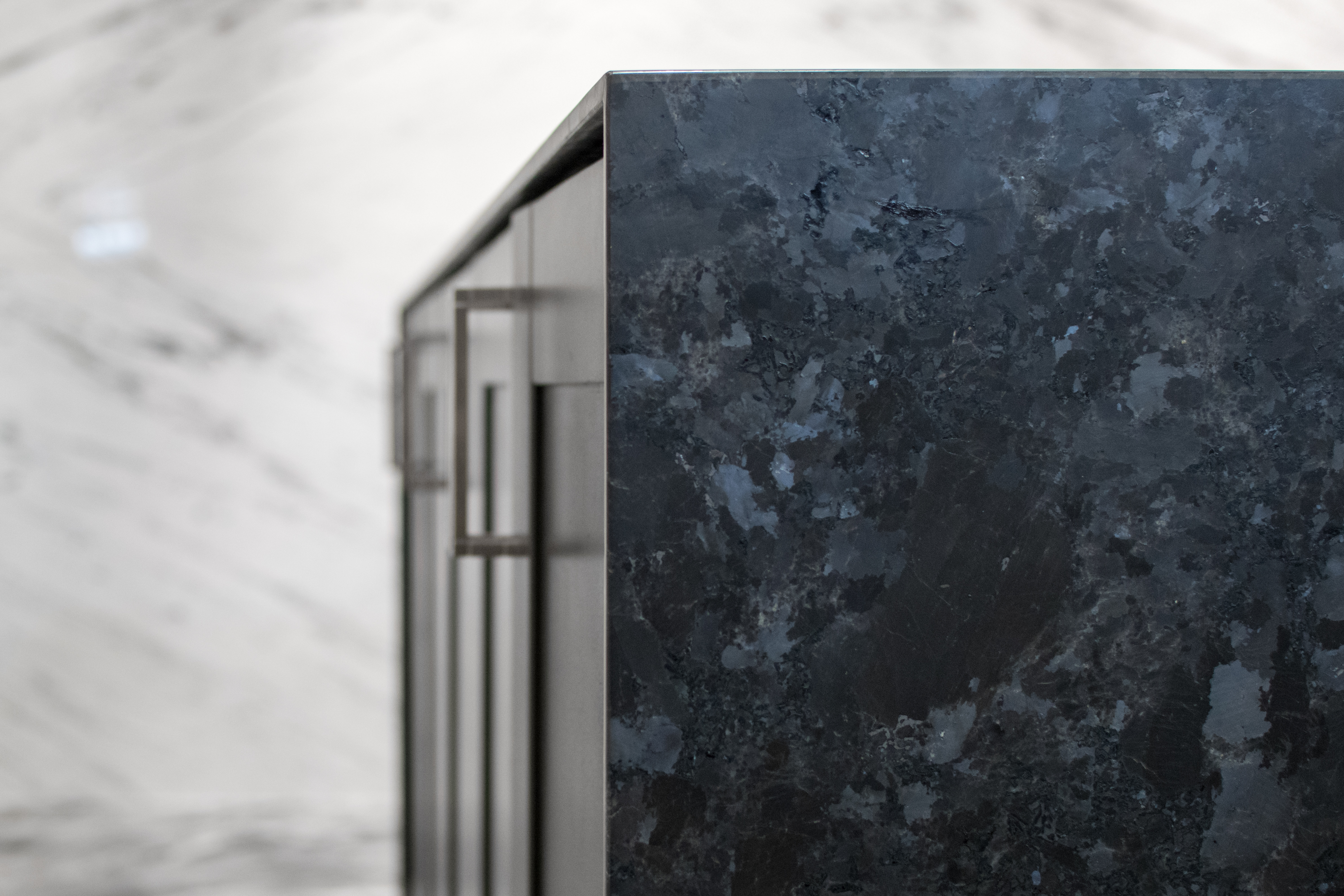 SAINT HENRY BLACK™ antique finish granite cut in 1cm ultra thin slabs add a sleek appearance to this waterfall island.
Standard edge profiles work best with the material such as eased, pencil, ¼ or ½ rounds, bevels of all sizes and laminated or mitered edges. It is recommended to use glue blocks on the rear of mitered edges for additional surface area contact of the adhesive. Ogees, duponts, coves and other ornate profiles are unsuitable due to the thinness of the stone.
Thin and Sleek Countertops
The thinness of 1 cm countertops is striking and opens up new design possibilities like this PARC Office New York city kitchen with GEORGIA MARBLE – PEARL GREY™ countertops wrapping the entire island.
No other material looks as contemporary and modern as does an ultra thin slab. Look at any of the leading European cabinet manufacturer's catalogues or glossy interior design publications and you will see them used time and time again. Countertops are a great application for the material and, again, there is not much difference in their fabrication. Finished tops can be installed directly over the open webbing of the cabinetry itself and there is no need for a continuous substrate or a full contact mortar bed as with many other thin porcelain or sintered products – no cement board and no troweling is required. Unsupported overhangs are best kept to a minimum and should not exceed 2" as cantilevered applications can pose a risk for damage. Sinks should be mounted using undermount kits, available from various manufacturers, like those used with an oversized stainless or cast iron sink.
Large Format Backsplashes
Thin counter, backsplash and integrated shelving sheathed in 1 cm Saint Henry Black™ granite in honed finish by PROJECT Interiors, Chicago. See more of this industrial, modern kitchen design here.
With designers choosing to highlight marble and granite on countertop backsplashes it's becoming popular to take stone slabs up the entire wall to the ceiling line as a focal point, especially behind sinks and range ovens. See an American marble full wall backsplash.
Reaching to the back of the countertop or behind faucets and fixtures to install 3 cm and 2 cm slabs is cumbersome and back breaking work. 1 cm thin stone takes the stress out of the job at a fraction of the weight, plus the slabs can be handled flat with the backing facing down.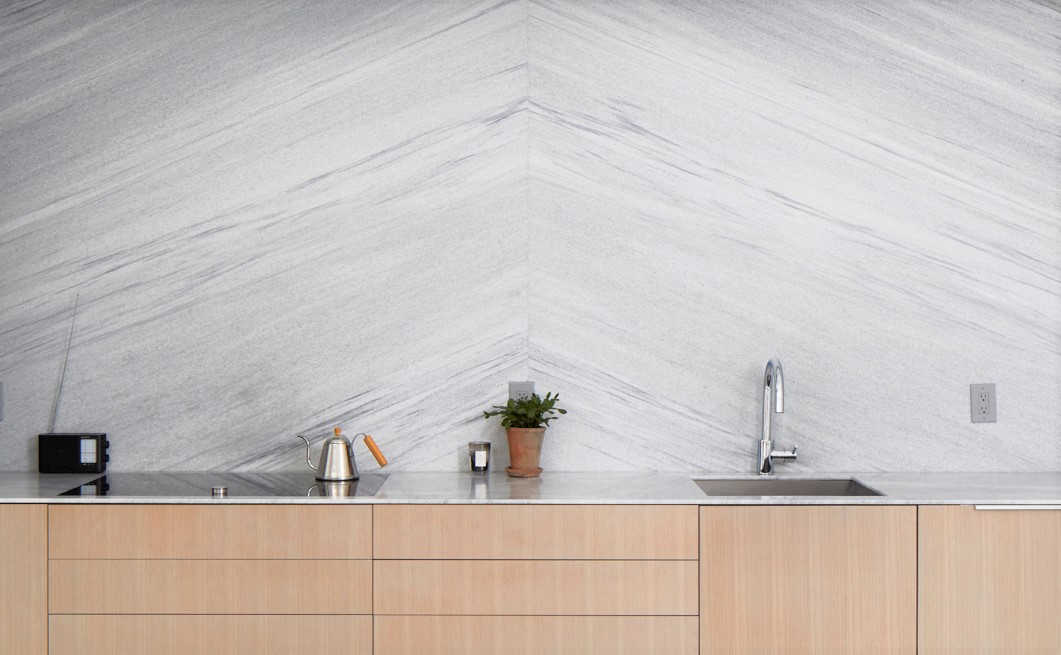 Full slabs of GEORGIA MARBLE – WHITE CHEROKEE™ from Polycor's Georgia marble quarry fill this modern Mediterranean inspired kitchen by Creede Fitch.
Outlet cutouts are a breeze and can be done in half the time with no back cutting required. Screwing outlets and switch covers back in place and mounting range hoods, cabinetry or other hardware over the slab is much easier than with the standard, thicker stone. Also, cuts around window casings and openings benefit from the thinner material and look less bulky and heavy.
Install on Walls and Floors
Architect Raphael deCardenas used large format 1 cm NORDIC BLACK™ granite tiles in Baccarat crystal's New York flagship store to overcome an uneven floor transition in the space.
It's no coincidence that floor tiles have been growing in size over the years. 12 x 12's have almost become a thing of the past, it's now all about 18's and 24's. Not just in a contemporary style, but in many other designs, people are opting for less grout and a more uninterrupted expanse of stone. It's not uncommon to hear designers say they want a floor or wall to look like a continuous "solid slab".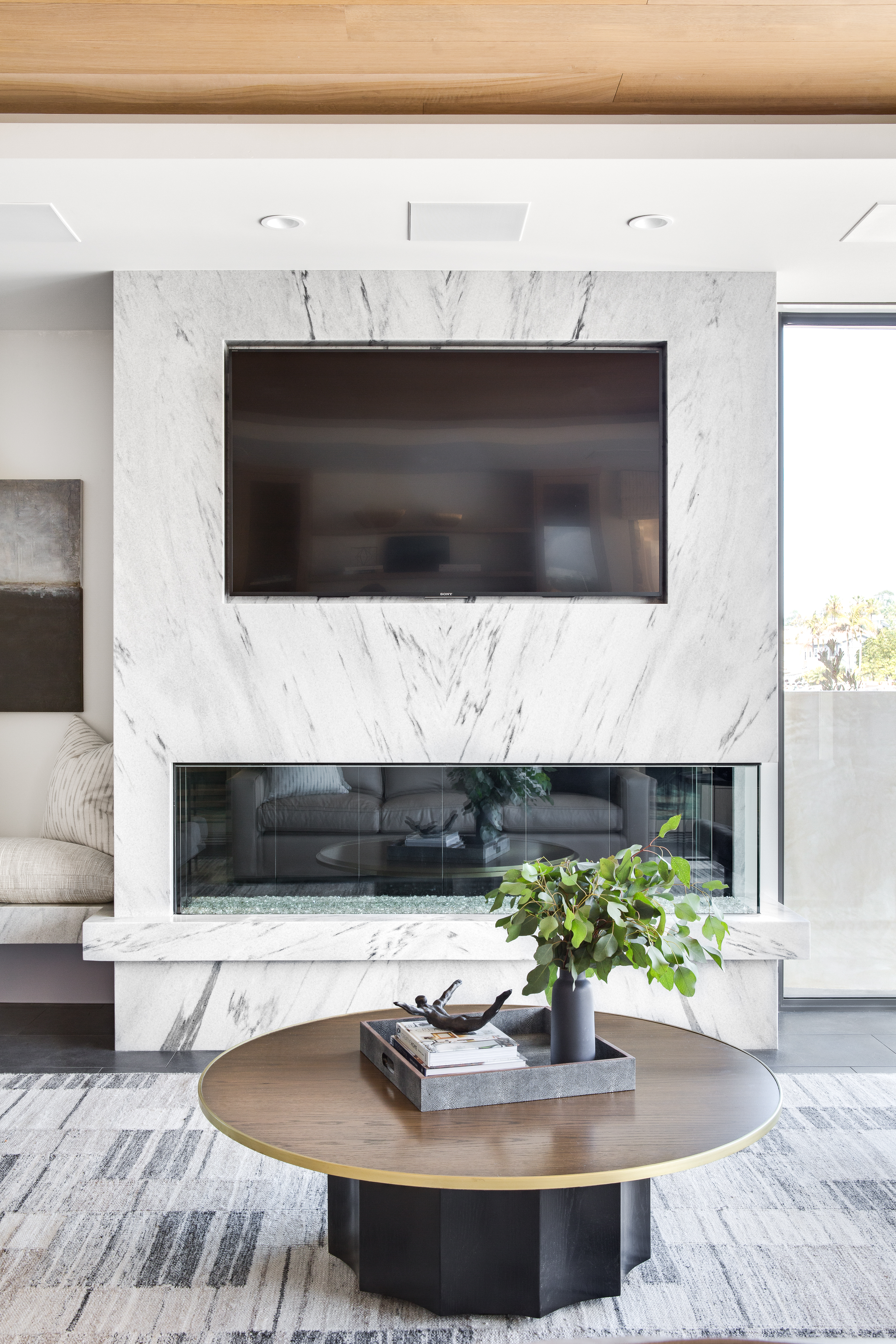 Ultra thin 1cm Georgia Marble – White Cherokee™ slabs define this fireplace feature wall by Brooke Wagner Design.
Ultra thin slabs are well adapted at being used in a vertical or horizontal installation and can stand up to the heavy traffic and physical stress encountered in residential and commercial settings. At 9' x 5' in size, they cover 45 s.f. in one pass and make for a seamless look. When used in showers and bathrooms, contractors and plumbers appreciate the ½" thickness when prepping and installing shower fixtures, since it is not as thick as 1 ¼" and ¾" they don't have to add extensions when roughing-in their work. Thanks to the lighter weight, they're also ideally suited for feature walls and fireplaces, or any other vertical wall cladding where a seamless look is desired – plus they help increase productivity by decreasing installation time.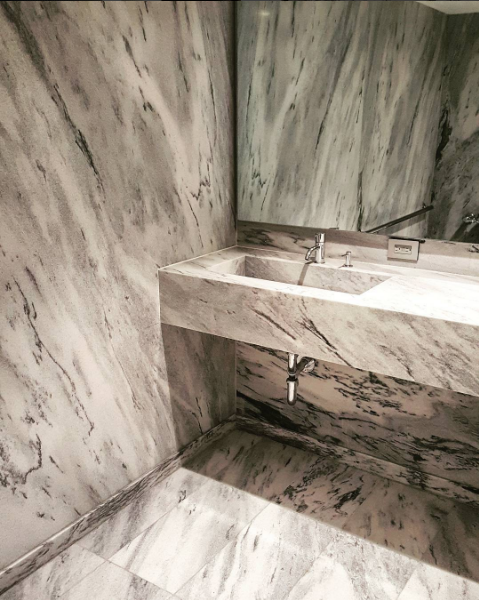 Full walls and seamless vanity with mitered build-up using White Cherokee™ marble 1cm ultra thin slabs.
Contemporary aesthetics and shifting trends in design and architecture are calling for thinner materials with clean lines, but also strength too for more ambitious designs.The increased flexural strength of thereinforced 1 cm granite and marble slabs are enabling designers and fabricators to take their projectsbigger and higher.