How to Talk To Your Fabricator About Granite and Marble Designs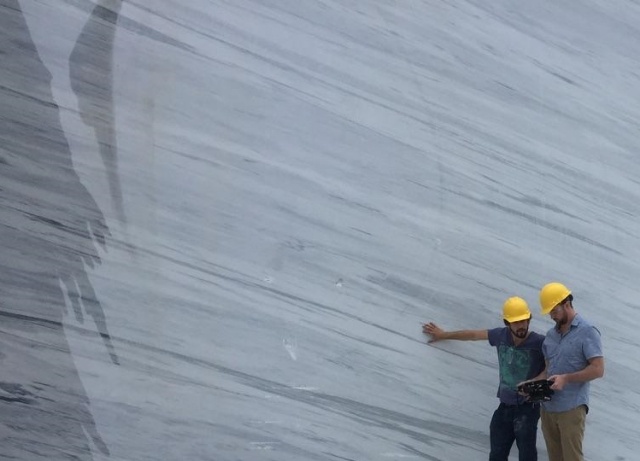 White Cherokee marble block at Polycor's US quarry in Georgia.
In your design repertoire you have go-to materials, favorite pieces and colors. But your ideas are always evolving, growing. You're in a constant search for new possibilities.
As you add to your portfolio you push further in your mind for more unique and memorable compositions. But in reality you are constrained by two strong factors: materials and craftsmanship. The strength, durability and flexibility of your materials restrict you on one side, while the people who actually execute your vision can constrain you on the other.
This is especially true in natural stone. Loved by both traditionalists and trend setters, it has endured from the time of togas to the era of the open kitchen, but with few innovations in cutting or crafting the stone to give designers more freedom. Marble and granite are still hard. Still heavy.
That is until now.
Designers and architects are taking their luxury stone designs to a larger (and higher) scale with the help of a high-tech solution that makes marble and granite thinner, stronger and lighter than the Greeks could ever have imagined.
With a proprietary composite backing, and sliced down to 3/8", Polycor ultra-thin slabs weigh three times less than a traditional slab, but with 10 times the strength. See more in this video.
The backing technique sidesteps typical challenges of natural stone – weight restrictions, tight corners and brittle composition – and allows designers to bring their ideas to life with full slabs of granite and marble.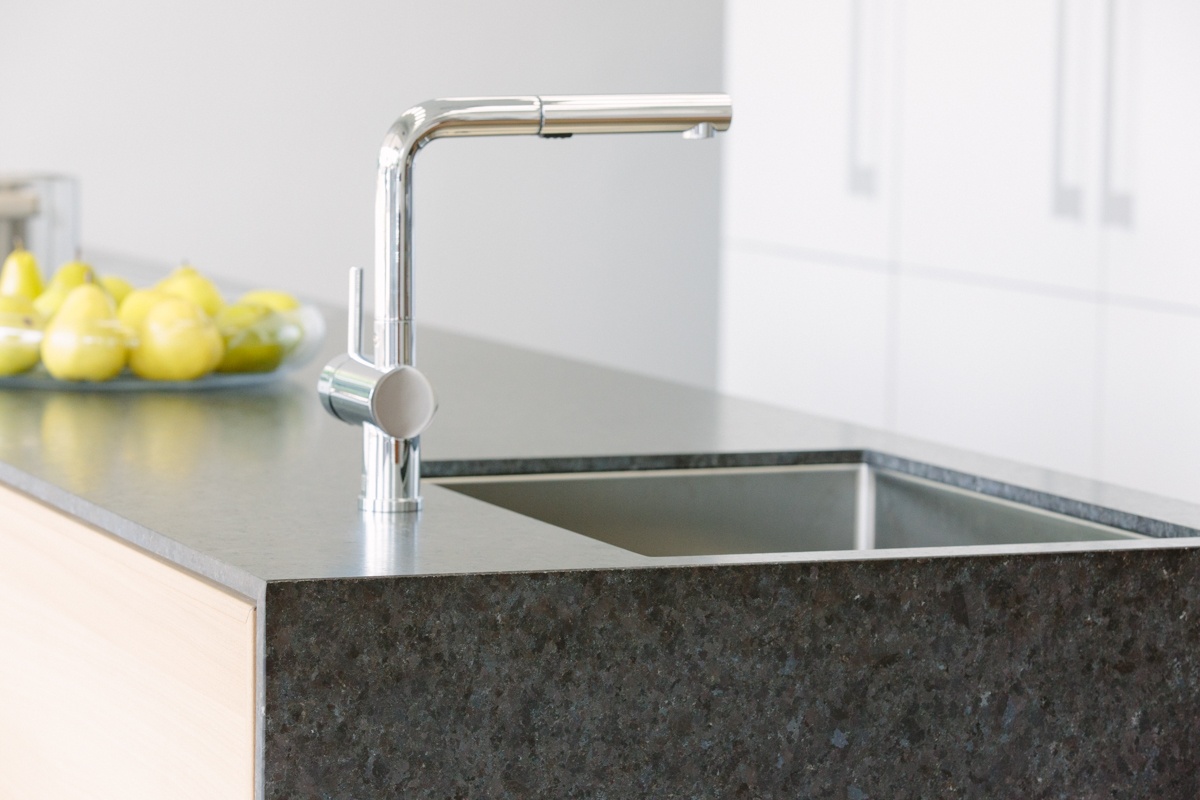 Waterfall island made from Kodiak brown granite in 1 cm thickness at Poggenpohl showroom in Paramus, New Jersey.
Installations like:
Feature walls
Waterfall islands
Sink to ceiling backsplashes
Artwork
Furniture
Movable store displays
Full slab bookmatching
Expansive slab floors
Even, cabinetry
In Texas Aria Stone Gallery designed and installed a bathroom that appears as one solid block of marble, but functions as a vanity with drawers. They were able to deceive the eye and achieve a modern look with 1 cm stone. Thin and able to be mitered like wood, the stone is ideal for cabinetry. But getting someone to make the design wasn't easy.
April Graves, director of marketing and operations at Aria, remembers the response.
'You want me to clad a drawer in stone?'
"It's possible," we said. "[With new designs] We walk the fabricator through it. 'See, this is how you do it.'
"Great designers are really pushing fabricators."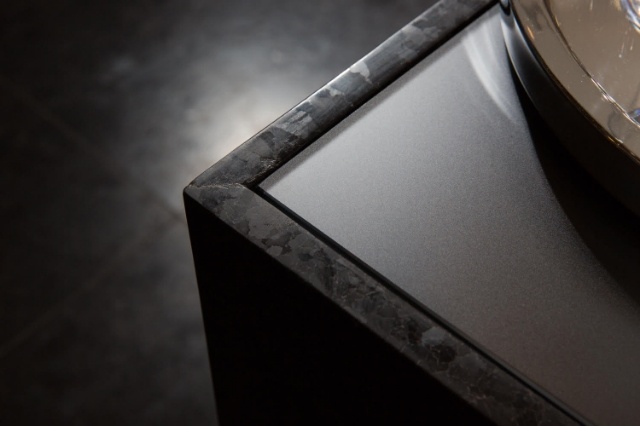 Architecture-At-Large used 1 cm Nordic Black granite to construct movable display plinthes for Baccarat's flagship store in New York City.
If you're conceiving an ambitious natural stone project, you can increase your chances of a fully executed vision and a smooth installation (and wow clients) by talking through your ideas with your fabricator first, you can bring him up to date on technological advances in the stone industry, and answer his objections.
Before you start the conversation, consider his (or her) concerns.
You know the dramatic impact book matched slabs present in a bathroom tub surround. Your fabricator knows that he'll have to take six guys off a job to get it installed. He'll be concerned about the danger of cracking, the difficulty getting in around corners.
If you're using 1 cm natural stone you can point to the weight savings, the increased strength, and the unheard-of-before ability to carry it flat, as well as on its side. He'll need less man power to handle the material, too.
If you're considering 1 cm stone cabinetry, your fabricator may insist on butt joints.
You can share this spec sheet to show that despite being less than an inch thick, ultra-thin slabs can be mitered and can take a variety of edges.
Consider also your fabricator may have past negative experiences working with new materials like porcelain, which is prone to cracking. He might also be worried about the impact on his tools.
You can show him that 1 cm stone is the same natural material he's been working with his whole career. Just thinner and lighter. In fact, he'll find it causes less wear and tear on his tools than 2 and 3 cm stone.
Before you take your design to your fabricator, watch this video to understand the process for cutting and installing ultra-thin reinforced slabs.
You can also share these resources with your fabricator:
When you can show your fabricator that you understand his pains and problems, and offer solutions, he'll be more likely to work with you on more large scale installations.