The Secret To A Glamorous Backyard? Just Add American Marble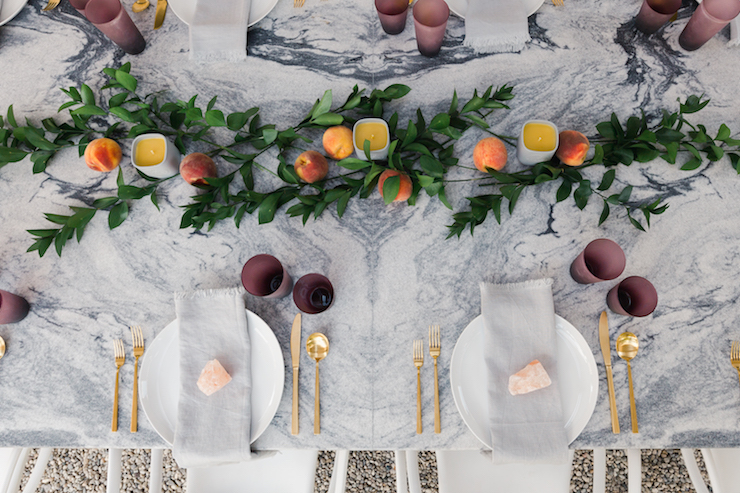 Many dream of hosting glamorous al fresco dinner parties — relaxing on the patio while savoring the night breeze and good company, a glass of wine waving in hand. This is the stuff of daydreams and vacations, but for Ontario interior designer Sarah Walker, it's also home sweet home. Walker, of The Curated House, originally had a space that wasn't quite so dreamy – overgrown and lacking definition — and while she had a vision for what she wanted, she had more than that – she had a plan.
"I wanted our garden to be a destination for friends to really relax and connect, and I wanted it to feel like a departure from the everyday," she said.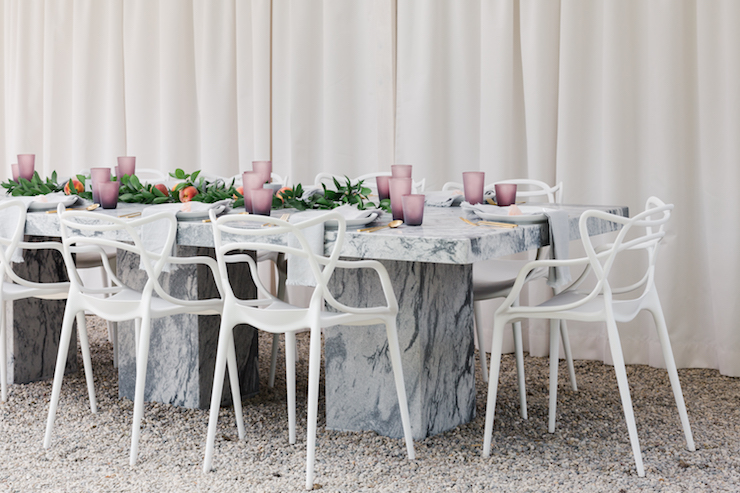 Table supports encased in GEORGIA MARBLE – PEARL GREY™ give this furniture design a weighty look of history and permanence, like a European estate. Photography by Reid Lambshead, William Reid Photography.
A FLOW FOR FAMILY and friends
She started with the essentials — considering the flow of her outdoor space the same way she does for her indoor designs. After carefully thinking through how she and her family live, entertain and relax, what they do (and wanted to be able to do) when they're in those spaces, she designed accordingly. Walker landed on creating two defined spaces, a luxe lounge paired with a dining area that together feel like a private escape, as though you were the VIP guests at an intimate outdoor restaurant that you enter via a secret garden.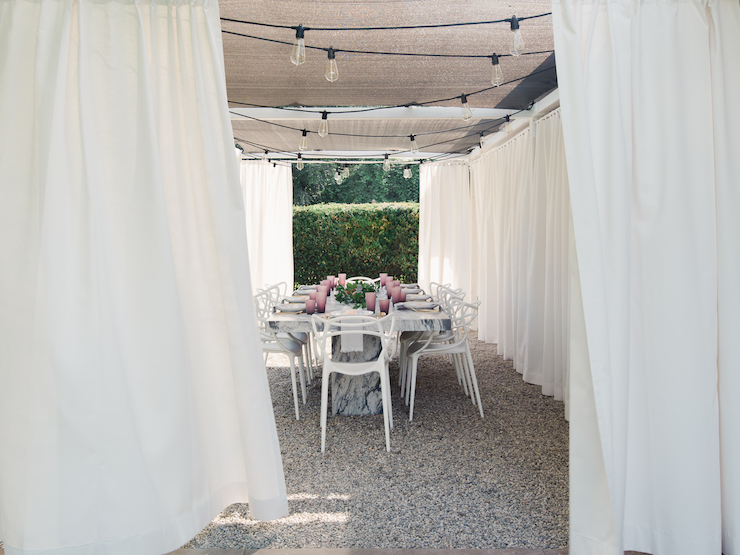 Sunbrella drapery creates a secret garden feeling for this outdoor dining area.
This vision of a grand but welcoming outdoor space perfect for entertaining friends and family first came to life after the designer installed pea gravel, an homage to French courtyards, which helped frame out the patio spaces. Then she built a 20′ long pergola system from Toja Grid to define the outdoor dining part of the space and give it literal structure. Then she painted the pergola with VOC-free, non-toxic Fusion Mineral Paints to blend in with the house, which was recently refinished with stucco.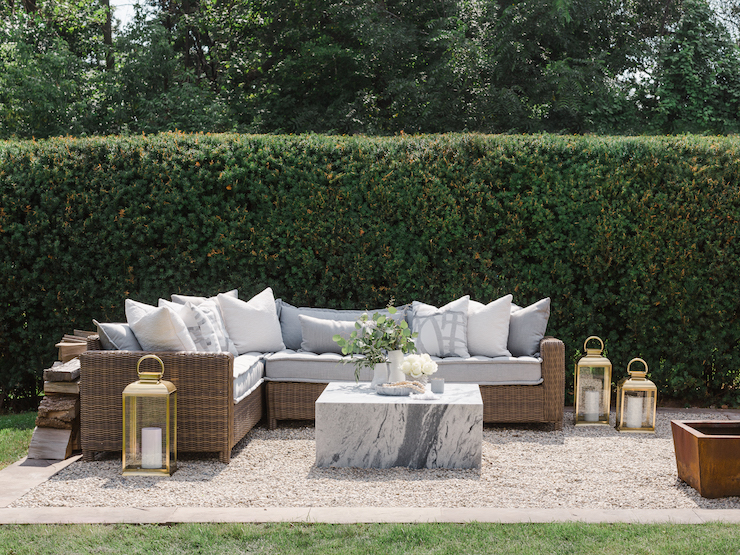 All performance fabrics for sectional, Sunbrella; Decorative outdoor toss cushion fabrics, Holly Hunt Great Outdoors; sewing of all cushions + drapery panels, Deka Home + Patio.
A PLACE TO MAKE MEMORIES FOR A LIFETIME
The dining area was of extra importance to Sarah—gathering around a table with family and friends is the setting of many of her most meaningful memories. A standard outdoor table and chair set wouldn't do: Walker knew she wanted a custom 10-foot table and matching coffee table for the living area to tie the two spaces together. The material for this furniture had to be visually appealing and low-maintenance, and the environmental impact was a factor, too. After a lengthy search she found Polycor and knew custom marble tables were the right choice.
"There are a few materials that are so classic that they instantly ground a project in a way that transcends genres and time periods—marble is one of them," she said. "From historical landmarks to inspiring bistros and cozy kitchens and spa-like bathrooms around the world, marble is one of the most future-proof finishes possible."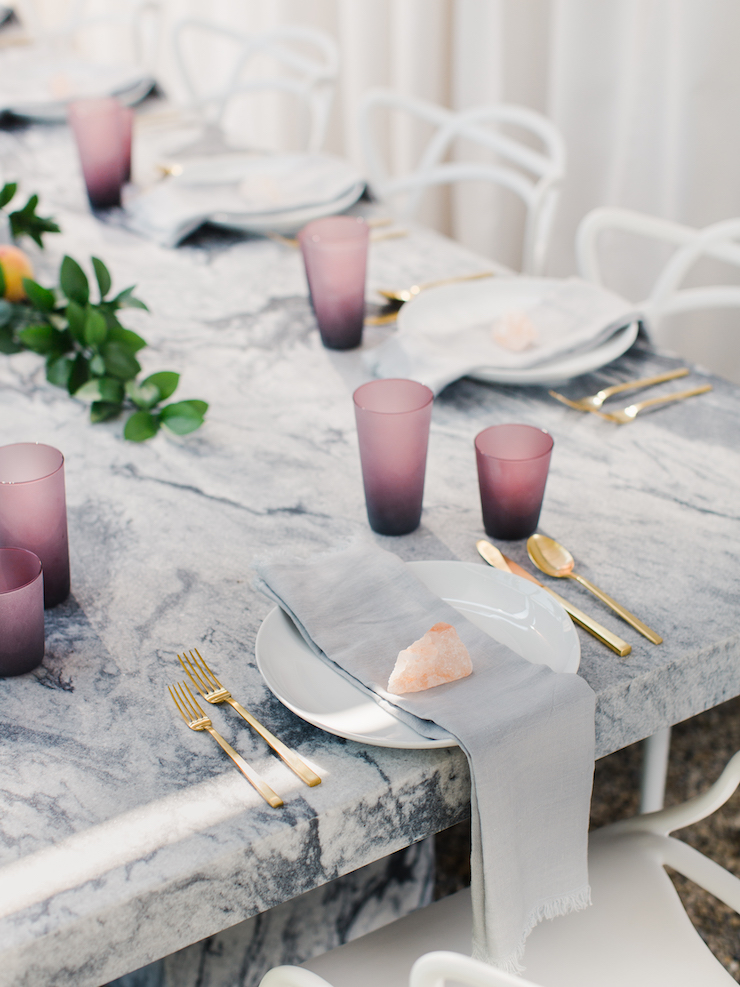 Frosted purple drinking glasses, EQ3; Balinese wood beads with white tassel sitting in grey bowl on coffee table, Lynne Knowlton; Grey linen napkins, Lip Service Napkins.
"I really wanted to think outside the box," she said. "All of the pre-made dining and coffee tables I looked at were predictable at best, and boring or ugly at worst. Stunning Georgia Marble – Pearl Grey™ more than accomplished that goal!"
Sarah's signature style is a mix of mindful luxury and approachable sophistication, and Pearl Grey™marble fits the bill for both. The quarry location in the US made it a sustainable option, while still providing the continental European sophistication she was looking for.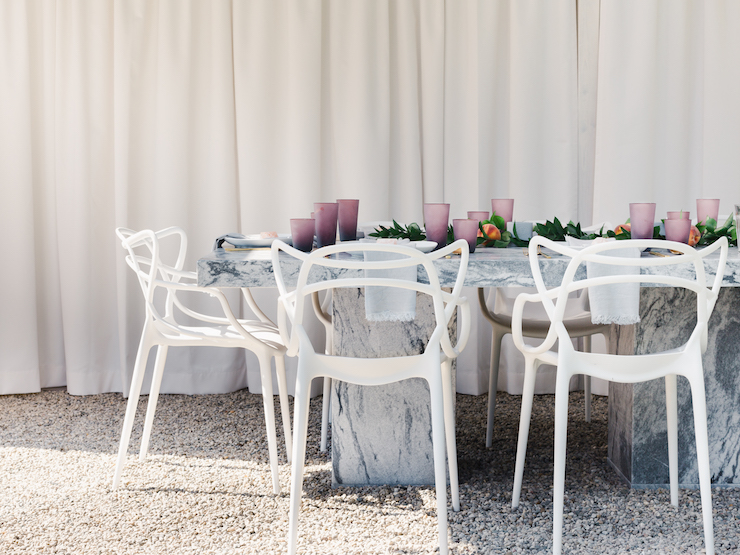 The stone for the table was quarried at Polycor's Tate, Georgia quarry. Masters Dining Chairs, Structube.
WHERE CUSTOM MEETS CLASSIC
The 10-foot-long dining table features a custom top with three box-style base pieces, all wrapped in the American marble, fabricated by the team at Dinuovo Marble + Granite, who created a book-matched top out of slabs that were not actually book-matched. As much as Walker loves the bold Pearl Grey™ marble, she had originally planned on using GEORGIA MARBLE – WHITE CHEROKEE™another Polycor stone with a more subtle character. Although it was a last-minute design change to the Pearl Grey™ marble, it looks as though it was planned all along, particularly with how the bold veining of the marble pairs with the equally bold throw pillows on the lounge sectional.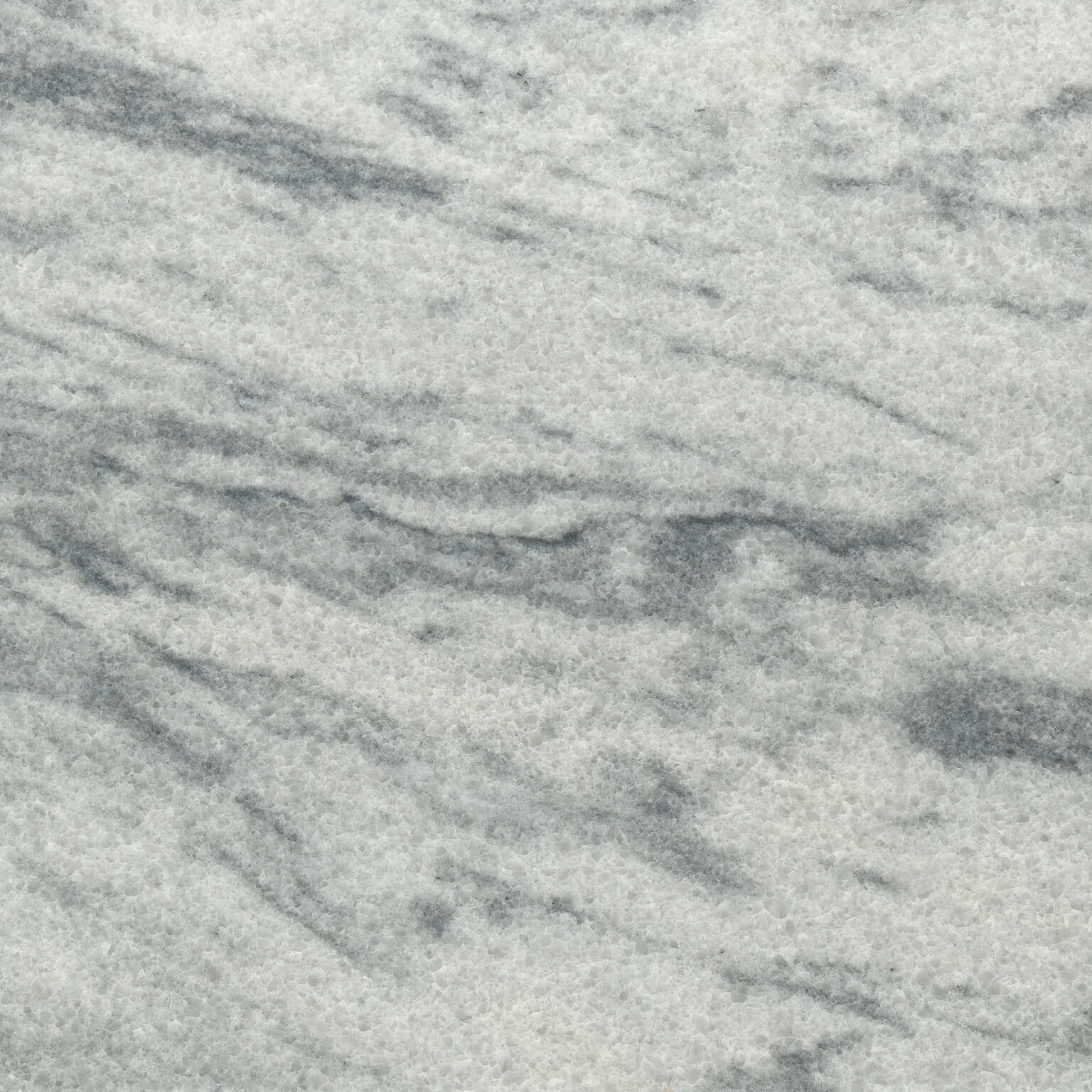 "The aesthetic we were after for the garden makeover was modern classic with an edge," she said. "The marble offers both the classic and the edge, and the vein structure in the Pearl Grey™ marble is statement-making in the most effortless way possible."
She chose to have the marble honed and sealed, given that these are outdoor tables and she wanted a finish that could handle being out in the elements. You can't have a relaxed space if you are constantly worried about or fussing over the fabrics and finishes, after all.
"We love the softer, almost suede-like hand to the honed finish," says Sarah. "Plus, honed and antiqued finishes both have the etching already done for you so that you don't have to worry as much about acids such as lemon juice or wine changing the finish."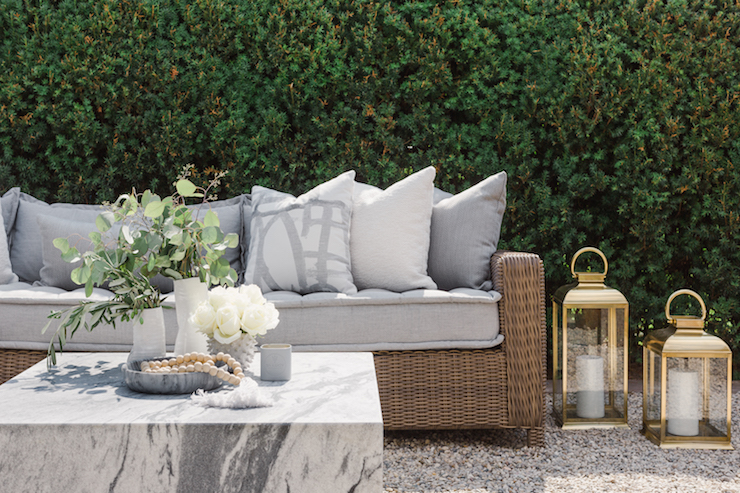 Stone for tables, Polycor via Ciot; Fabrication of stone tables, Dinuovo Marble + Granite.
GRAND BUT UNCOMPLICATED
She applied the same luxe and low-maintenance logic to the rest of her choices. The delicate and modern Masters Dining Chairs from Structube aren't just a fashionable contrast to the table, but functional too, as they are wipeable and stackable.
She knew she wanted to use Sunbrella fabrics for their worry-free performance fabric options, not to mention their plentiful designs. Off-white drapery panels line the pergola while adding some privacy and romance to the space. And for her existing outdoor sectional in the lounge area, she had new cushions and pillows by Deka Home & Patio: new seat cushions with French mattress inspired tufting and new accent pillows in Holly Hunt Great Outdoors fabrics. A study in greys and whites, hard and soft finishes, the finished space is serene and inviting with a timeless feel.