The Skinny on Thin Surfaces of Stone, Quartz, Porcelain [INFOGRAPHIC]
Designers are taking fireplace surrounds to cathedral heights. Clients are asking for seamless shower walls with natural stone veining. And architects want flooring that is thin, durable and rich looking. All that requires fabricators and installers tomake tricky (sometimes vertical) installations of really heavy, breakable material. Thankfully slabs are getting thinner, and in some cases stronger.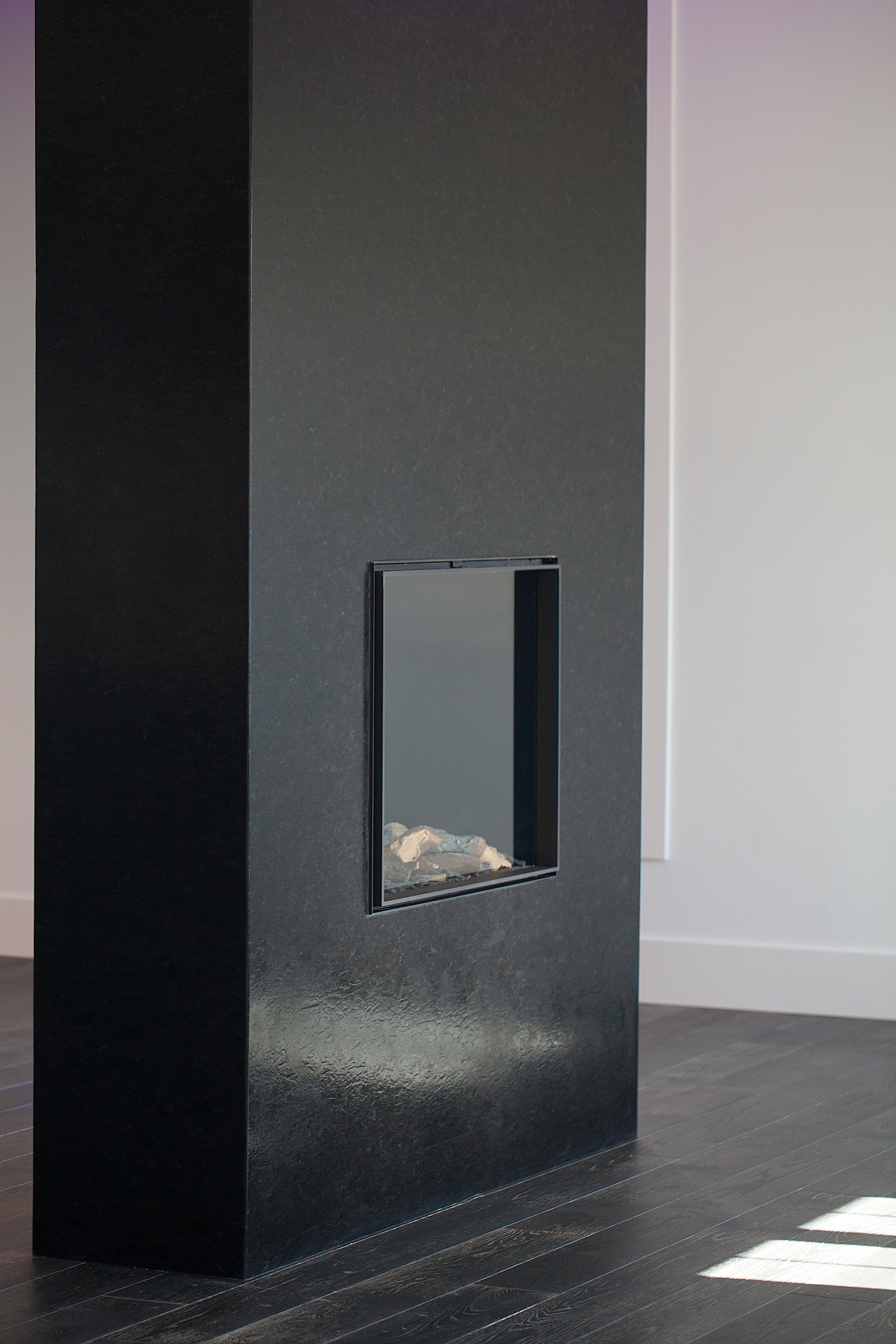 This seamless modern fireplace was fabricated with 1 cm thin slabs of antiqued Saint Henry granite from Polycor through Cosentino. Design byJessica Boily. Fabrication byMountain Granite. Photo by Annie Roy.
When you're in the market for a thin surface, be it a countertop or a full wall backsplash, you've got more options today than ever. Porcelain, quartz and natural stone all come in ultra-thin tiles and slabs now, with a variety of color, pattern and texture.
There is a demand from architects and designers for ultra thin materials that can give a seamless appearance while saving on weight. The fall 2016 issue of StoneWorld devoted several articles to installations featuring ceramic, porcelain and natural stone tiles and slabs. In one case ultra-thin flooring material was used to create an even transition between rooms. It's the same reason that architect Raphael de Cardenas' team chose large format1 cm granite tiles for the Baccarat Crystal flagship store.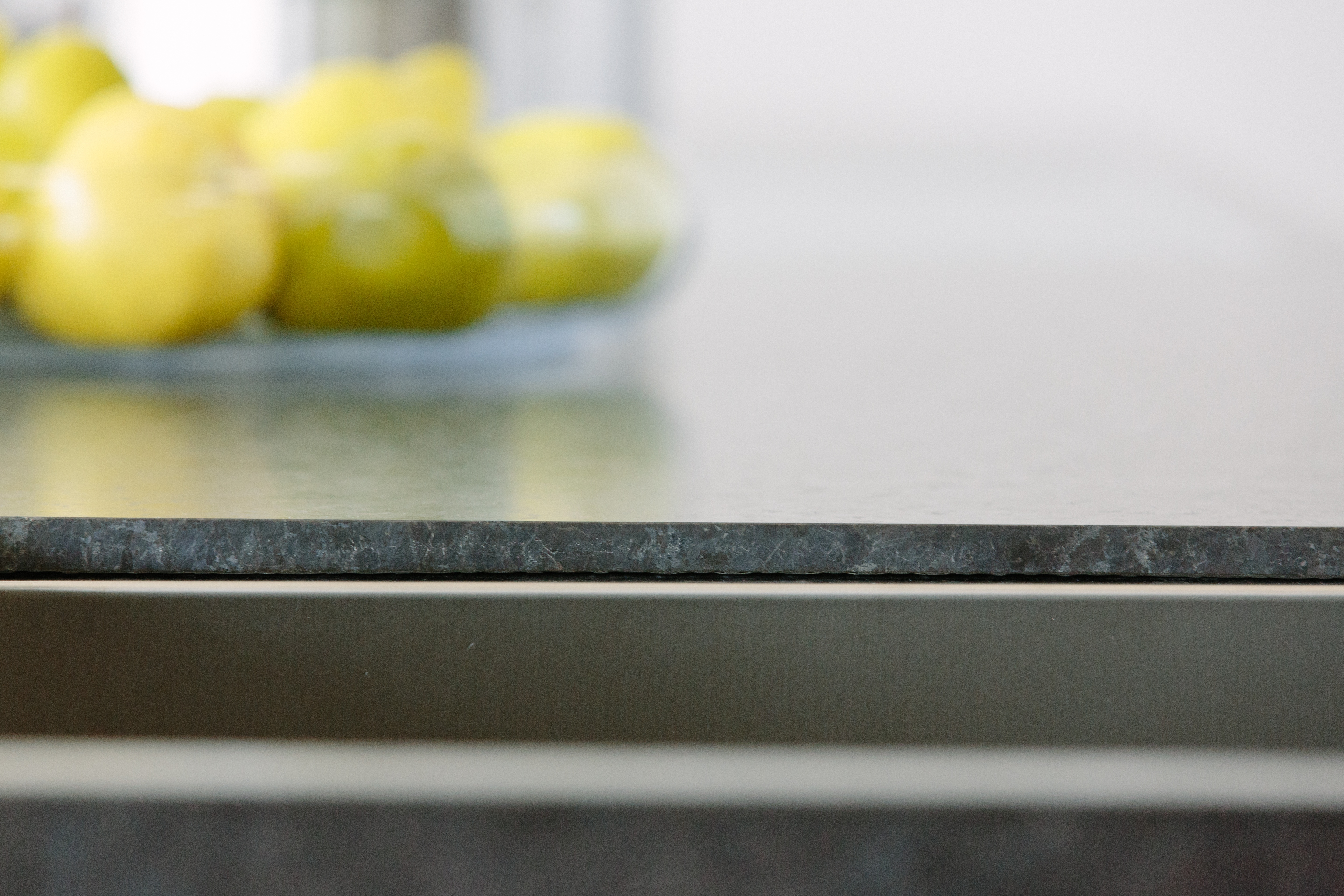 Kodiak granite countertop in 1 cm thickness pairs well with modern European cabinetry.
One of the differences to note is that the 1 cm thick slabs of marble and granite that Polycor quarries in North America have an added composite backing that gives them 10x the flexural strength of a traditional 3 cm slab. They're also two-thirds lighter so clients still get all that natural veining beauty while fabricators get to save their backs. (Am I right?)
I'm working on a thin stone marble project with an Austin, TX designer who's bringing back to life a mid-century gem of a home. He wanted a sleek one wall kitchen that appears like a natural fixture in the home. He chose ultra-thin American marble countertops in Pearl Grey. The 1 cm thickness (that's 3/8″) is so weightless looking your brain keeps saying, "Wait, is that really marble?" And he even carried the look right up to the ceiling with a backsplash of bookmatched slabs. (I can not WAIT to show you this one.)
To help you understand some of the options available to you we've created an infographic to show you how thin surfaces are made and the popular brands to choose from.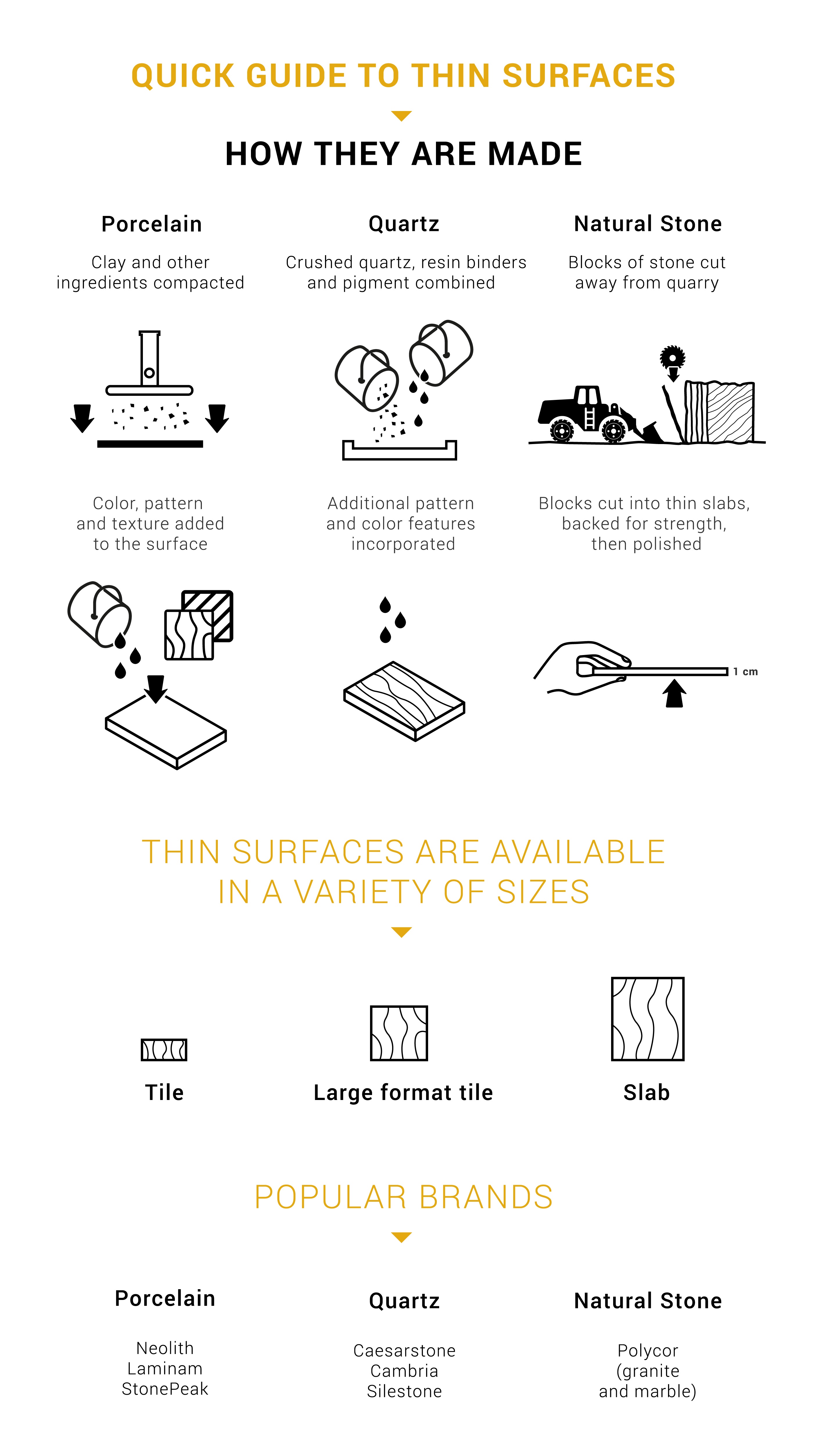 Surely there are even more brands than we've mentioned here, but we've included ones we see in the market most often. Polycor makes ultra-thin slabs, large format tiles and custom cut tiles in all of its marbles and granites.