This Scavolini Dealer's Home Kitchen Will Have You Craving Matte Black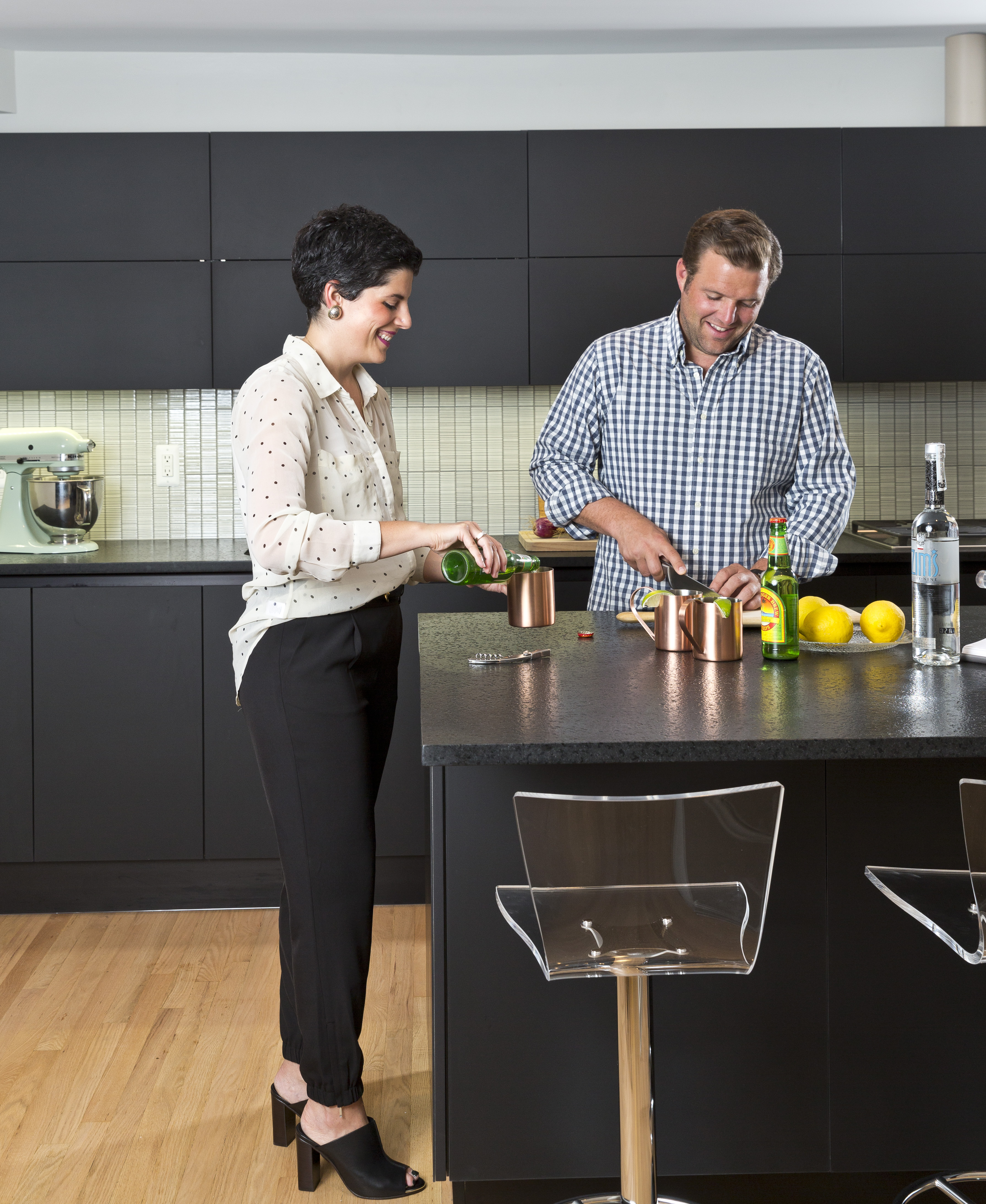 Niki Serras and her husband in their Detroit home kitchen.
Like a Delta One touching down at JFK from a weekend fling in Milan, black is back and it's bringing matte with it. And I couldn't love it more.
With European influence black is coming home to our kitchens and living rooms (even the bathroom) in everything from cabinetry to countertops and lighting to luxury bath fixtures. And it's not stopping there. The black trend is hitting dining furniture and appliances too.
This week I caught up with Niki Serras, partner owner of Cucina Moda, a Scavolini cabinetry dealer, with locations in Chicago and Detroit.
Serras told me she saw the trend beginning last year in Milan, where she saw the modern designs moving from glossy to smoky.
"It's been here before, so we shouldn't be surprised.It's just matte now," Serras said.
Serras also shared her own kitchen redesign with me where matte black design is the major design feature. And as you can see, the effect is dramatic.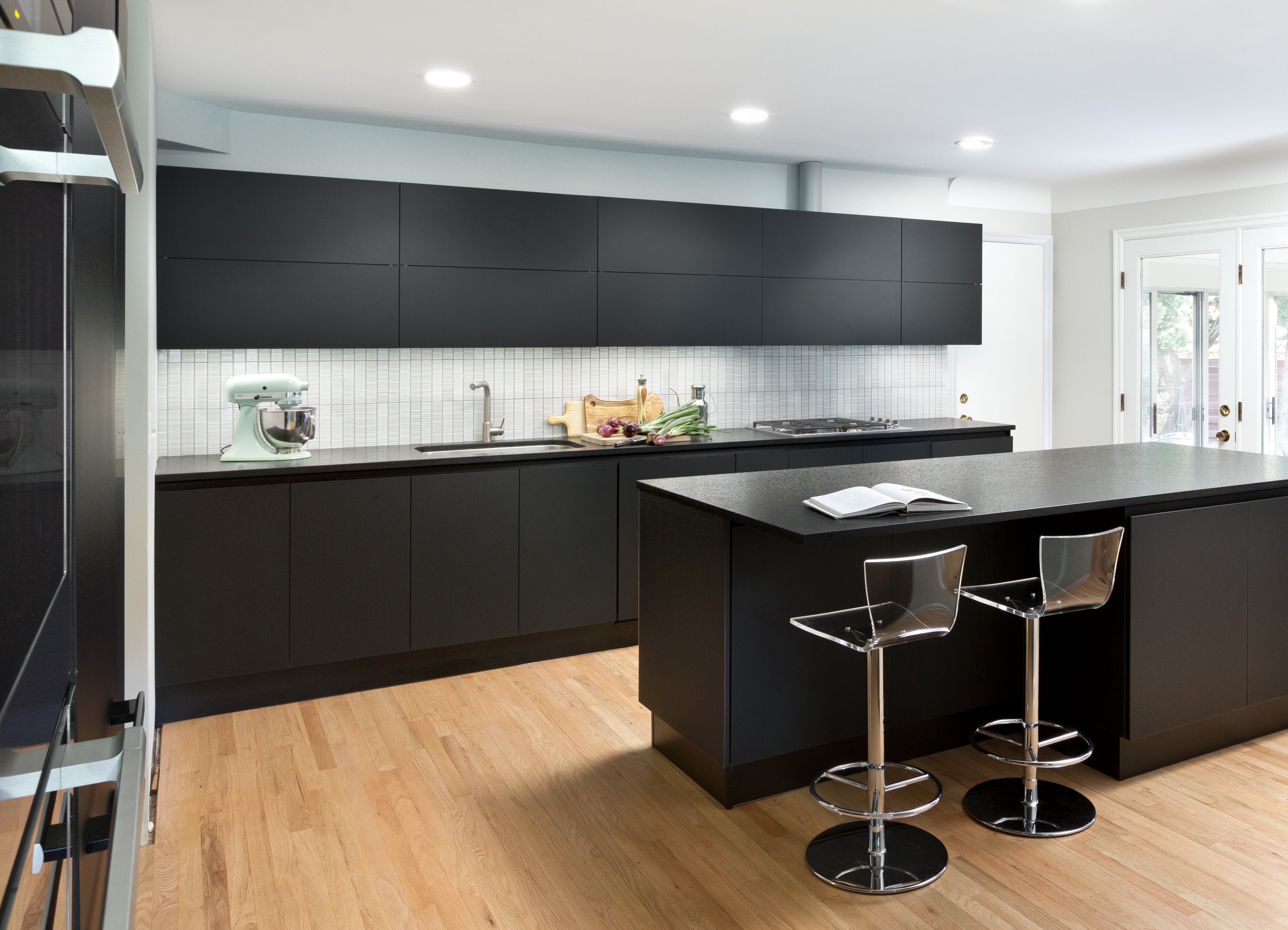 When Serras set out to remodel her Detroit home kitchen, a colonial in a "beige everywhere" traditional neighborhood, she originally considered all white. "I knew I wanted a monochromatic kitchen. I'm in a modern industry; white is the go to."
"But," she said, "I thought, I can be a little be risky here."
Instead of a classic Italian white lacquered finish for her cabinets Serras chose matte black Scavolini cabinets, which are actually glass faced. The 3 mm glass face is applied to engineered wood, which allows for a frameless, super sleek look with no need for handles.
The countertop was Serras' only hesitation. "I was thinking marble or faux marble to brighten it up, but that's so what you would expect."
With cabinet swatch in hand she headed to her stone supplier (and my customer) Ciot, where Design Consultant Emilie Aubuchon introduced her to a completely different material – CAMBRIAN BLACK®granite in a leathered finish.
"I think she was considering manufactured stone when she came to me, but I showed the black granite in a kind of leathered finish that I love," Aubuchon. "It's an elevated look."
Aubuchon said that when her clients are doing a modern kitchen with a lacquer look on cabinets she favors the juxtaposition of a textured stone counter pairing for the high gloss. "That way the countertop and the cabinetry aren't competing."
"The texture was the thing I was looking for. I saw it and died for it. It's so rough hewn."
Serras said she was looking for something organic to add to the design. The forgiving matte finish and texture of the leathered black stone (also called antiqued or brushed) was the key to making the kitchen look and feel like the design she had in mind.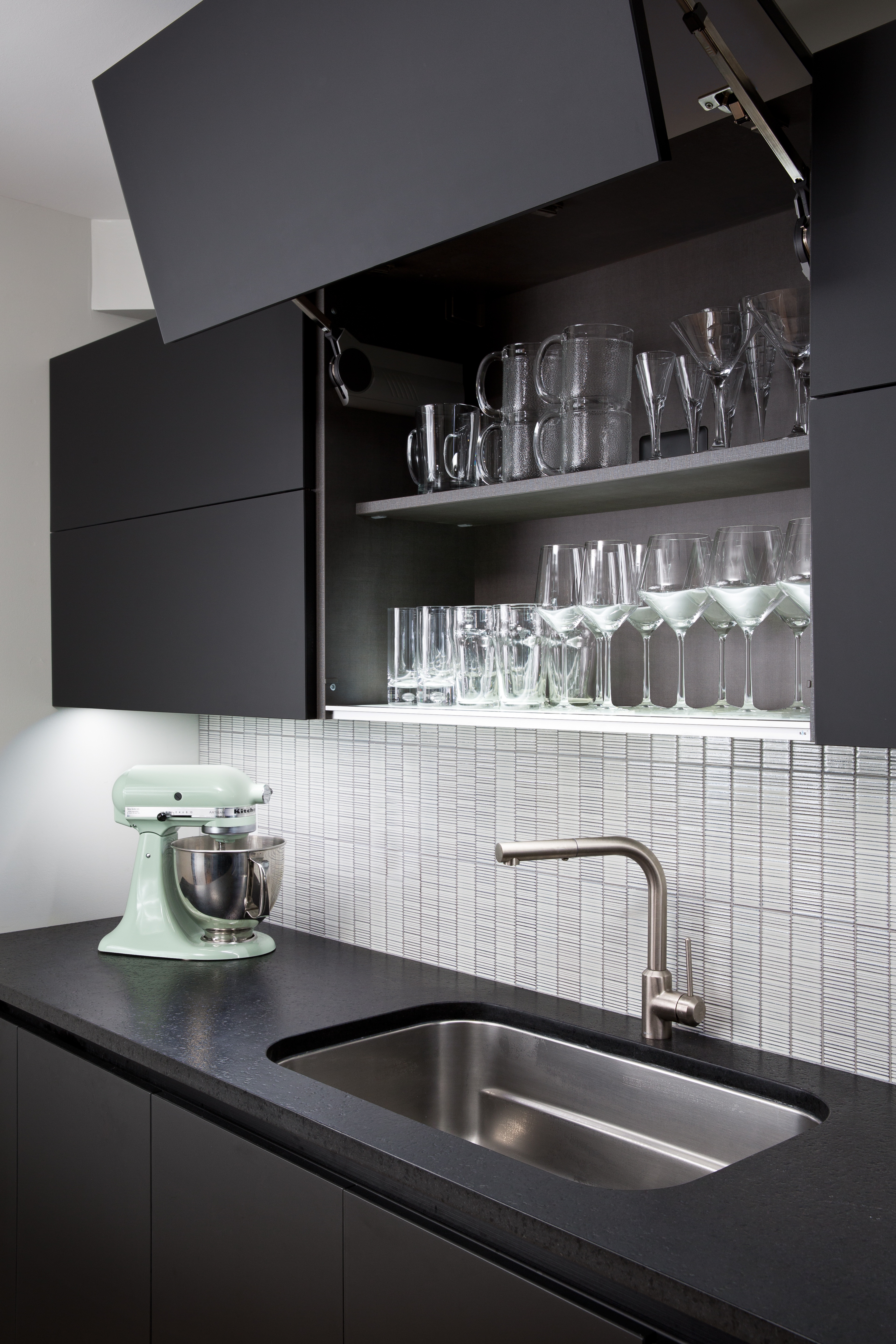 "I loved the idea of a seriously monochromatic kitchen," she said. "I wanted the sleekest, cleanest look with as few lines as possible." And with that brushed finished black granite she could carry the matte black look from cabinet to toe kick.
To keep the room from feeling dark or weighty Serras left the walls white and refinished the existing oak floors with a clear water based poly. She also deliberately chose to mount the cabinets at seven feet, more typical in European kitchens, to give her negative space above the cabinets and further lighten the room.
In her design Serras looked to reflect her work, her fashion sense, and her personality as a risk taker. The materials were what enabled her to make the aesthetic work for her life.
"I cook a lot. We host a lot. The granite is really pretty durable." And finish of the stone, that's critical to making it livable for Serras and her husband. Shiny just doesn't fit her life.
One of the work surfaces in her office has a polished black stone top. "I hate it," she said. "On the glossy surface you can see every single fingerprint, oil marks… this stone doesn't behave that way. It holds up to what I need it for. I don't have any issues with it whatsoever."
Aubuchon said when clients need to factor both durability and cost into their design, she recommends Cambrian Black Granite in honed or leathered finish.
"It's more cost effective than manufactured, but you're getting a real stone and it has the same (or better) performance. The black granite is really just as dense and you don't have that shiny fakey look. It's the real deal."
And the "seriously monochromatic" look Serras hoped to achieve in her kitchen? Serras said, "It's spectacular."
My thoughts exactly!