Designer Ma Allen's Labor of Love Is a Modern Family Home Rich in Maximalist Style and Classic Stone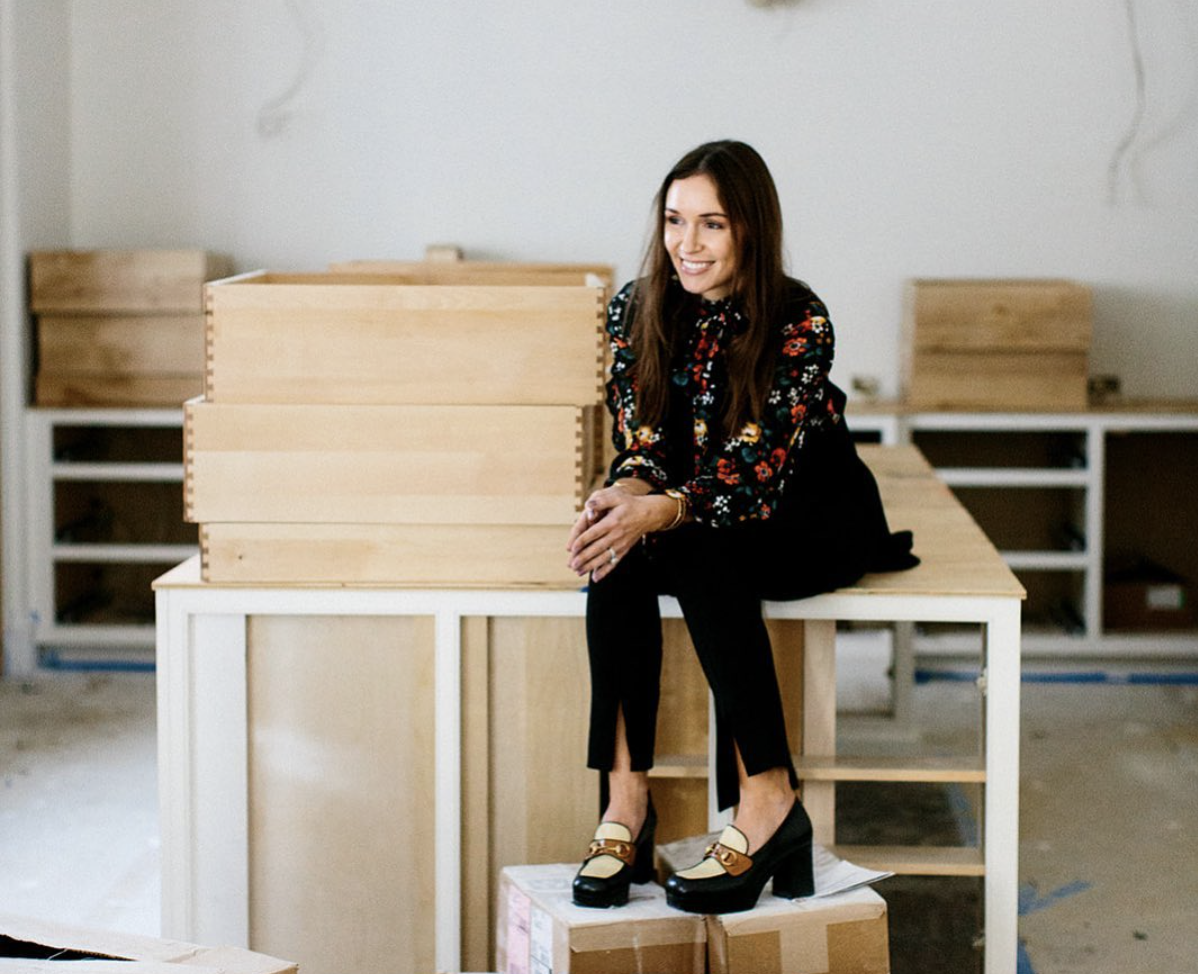 Raleigh, North Carolina–based interior designer MA Allen might not be a household name just yet, but she's definitely on her way. She started 2020 by being included in House Beautiful's class of Next Wave designers, one of 14 of the most promising up-and-comers in the design industry. She founded her award-winning firm, MA Allen Interiors, in 2011 and has increasingly focused on high-end residential projects since.
People flock to her for her signature style which easily bridges the gap between close-to-home Southern charm and inspired by far-reaching travels, classic antiques alongside maximalist modernity, and it all comes together in a way that is fresh but timeless and always one-of-a-kind.
"Turning to classic materials and architecture is key to my design style," said Allen. "Classic selections, inspired by history, not by trends. Colors juxtaposed add a modern edge and speak to my soul."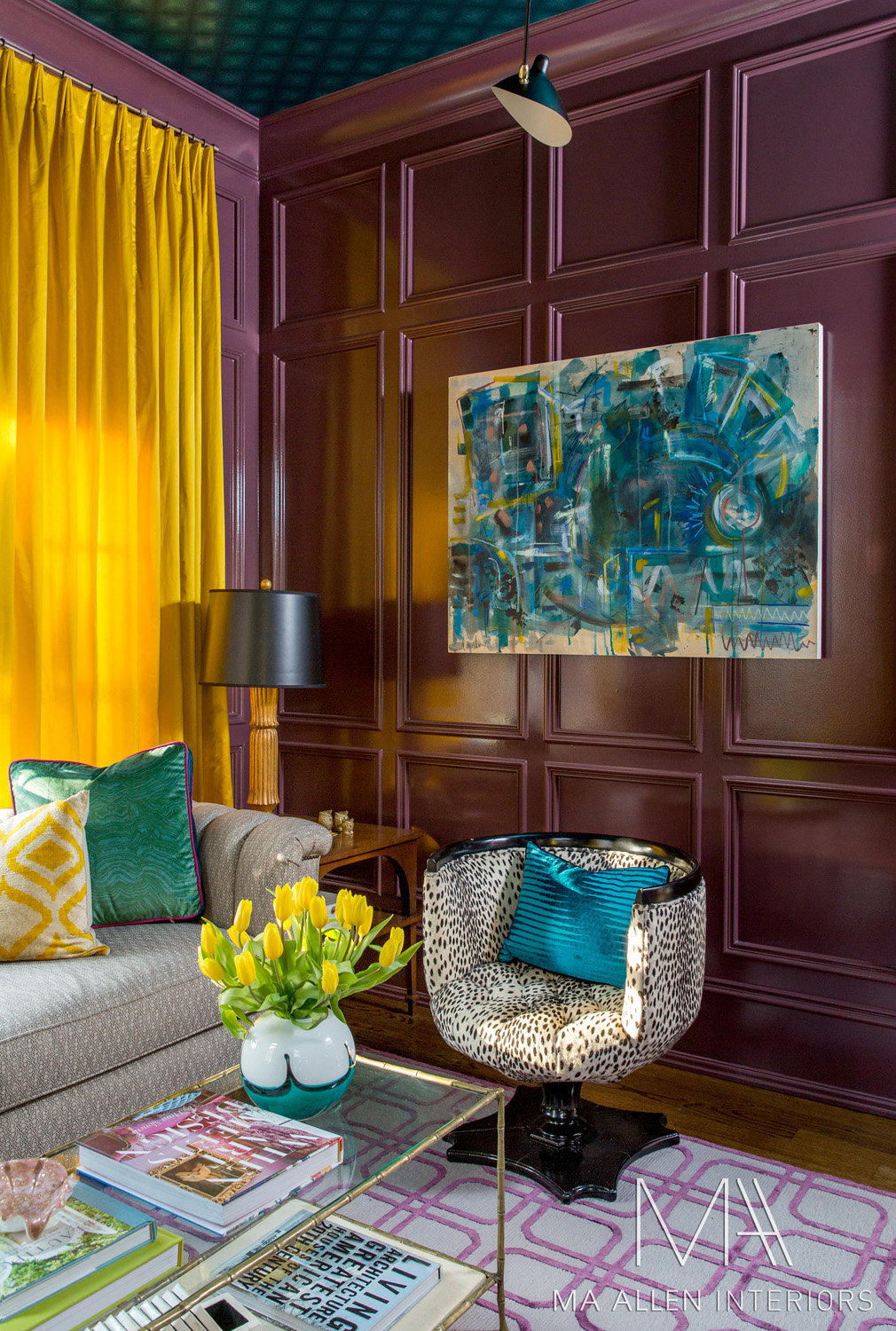 Her latest project presents some unique obstacles: A full remodel of a Georgian home, that she's calling Lakestone Love, for her own family. Challenging? Yes, especially now. Rewarding? Absolutely.
"Designing for myself and family is ten times harder than my pickiest client," said Allen. "Have you ever heard the saying, 'Cobbler's children have no shoes'?"
"As a designer, I'm exposed to so many design styles, past and present, and trends and industry changes, that it makes it difficult to narrow down the field for myself. There are things from every corner that I love."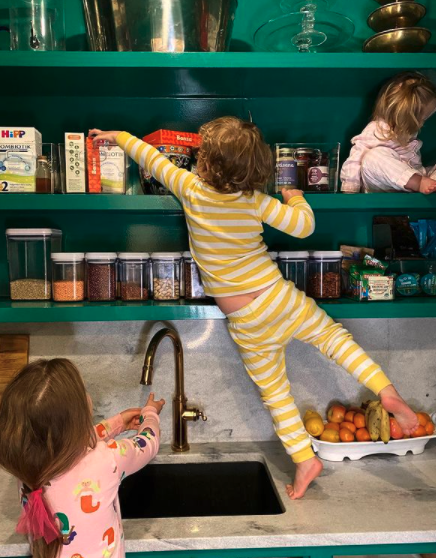 "I totally value the comforts of home and think that home should tell the story of its people. I have added so much detail in this project just to weave in a dialogue."
Her family's dialogue includes the fact that Allen likes to work with natural materials. She leans toward using natural stone; she views it as a forever piece of the home, due to its durability and how well it wears. From a lifestyle perspective, raising a family with growing kids means health and wellness is at top of mind.
"There is a strong connection between your home and sense of wellbeing, I think part of that is why I prefer natural materials." said Allen. "It connects you to the earth and nature. My family doesn't eat processed food, nor do we want processed countertops."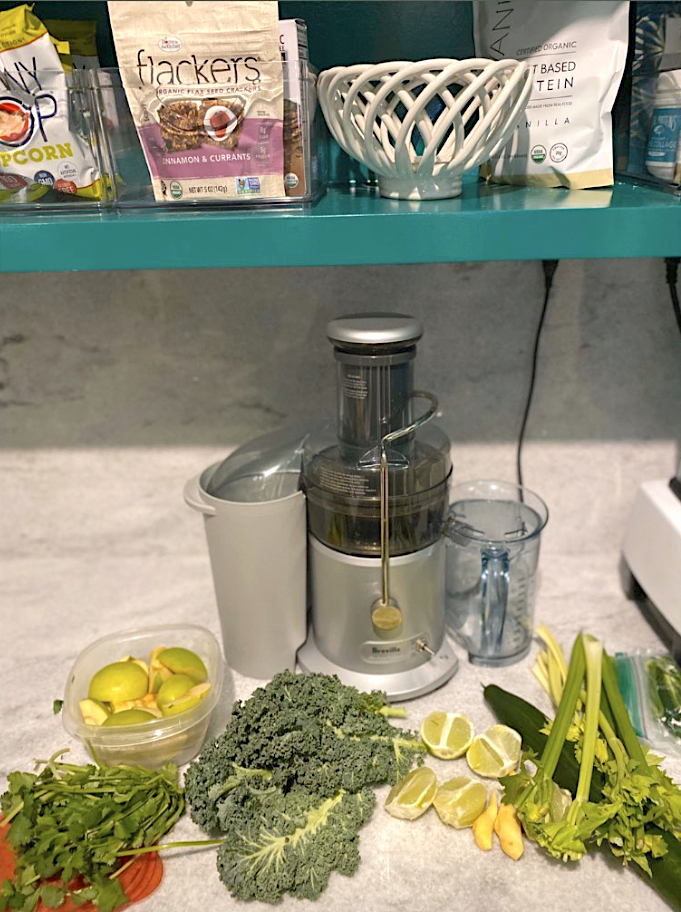 This value she places on natural materials drew Allen to granite and marble. Polycor's focus on sustainability and our initiatives to build, lead and give back to our communities made us a perfect fit for this very personal project.
"I always value working with a community-focused company with an emphasis on excellence and a commitment to sustainability," said Allen. "I love to support American made products whenever possible because that supports our communities and provides jobs here."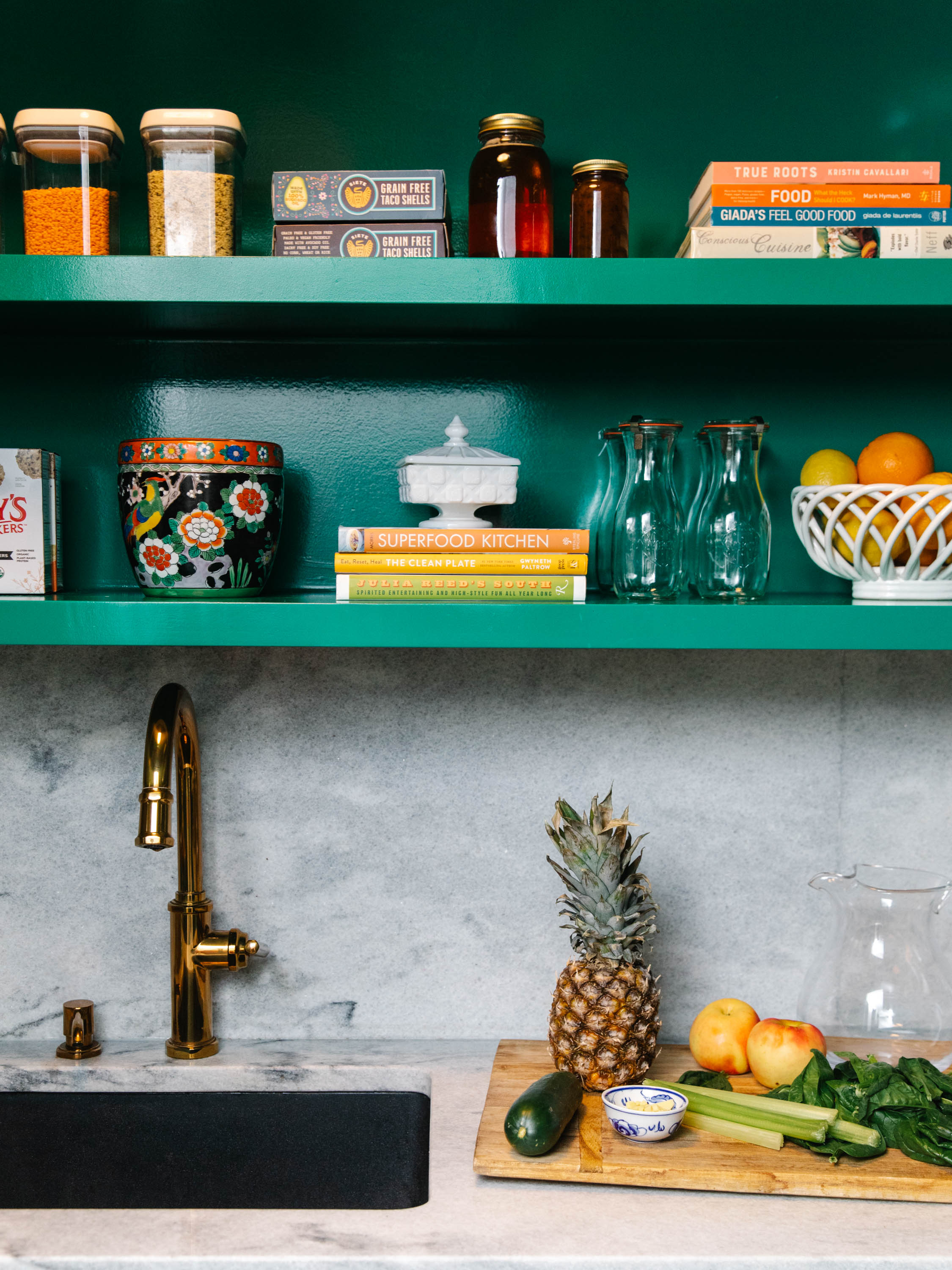 She used Polycor granite and marble throughout Lakestone Love, in the scullery, laundry and her children's bathrooms.
The scullery, a small prep kitchen situated off the mud room and garage entry, has been the perfect design for the "new normal." When anything enters the house, it can stop on the WHITE CHEROKEE® marble counter with a polished finish to be washed and sanitized before making it to the kitchen.
DOWNLOAD THE POLYCOR RESIDENTIAL SLAB BROCHURE
"Initially designed more with entertaining and day-to-day juicing and food prep in mind, it's nice to see how flexible this space is," said Allen. "Adding a full height backsplash was a decision based on function and aesthetic. As anyone who uses a juicer well knows, things have a tendency to go flying."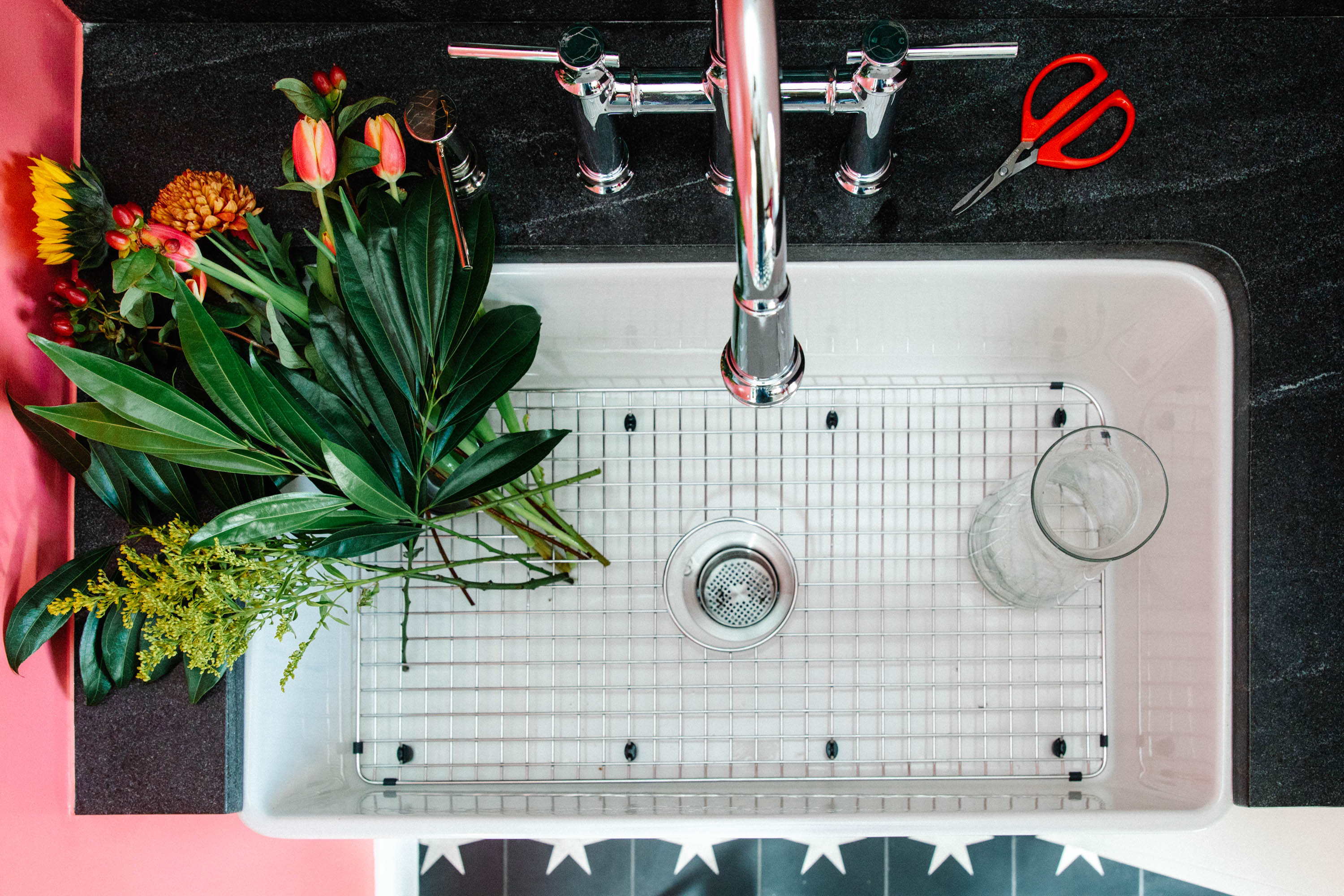 For the laundry room, Allen had her mind set on classic black and white, a theme initiated in the foyer of the home. With white cabinets, our AMERICAN BLACK® granite was the perfect contrast for the countertops.
"I love the natural look and warm feel of the honed American Black granite—it has just enough movement with white veining but not overwhelming," said Allen. "The finishes of this space continue to the adjacent mudroom and scullery through the green basalt herringbone pattern and backsplash tile."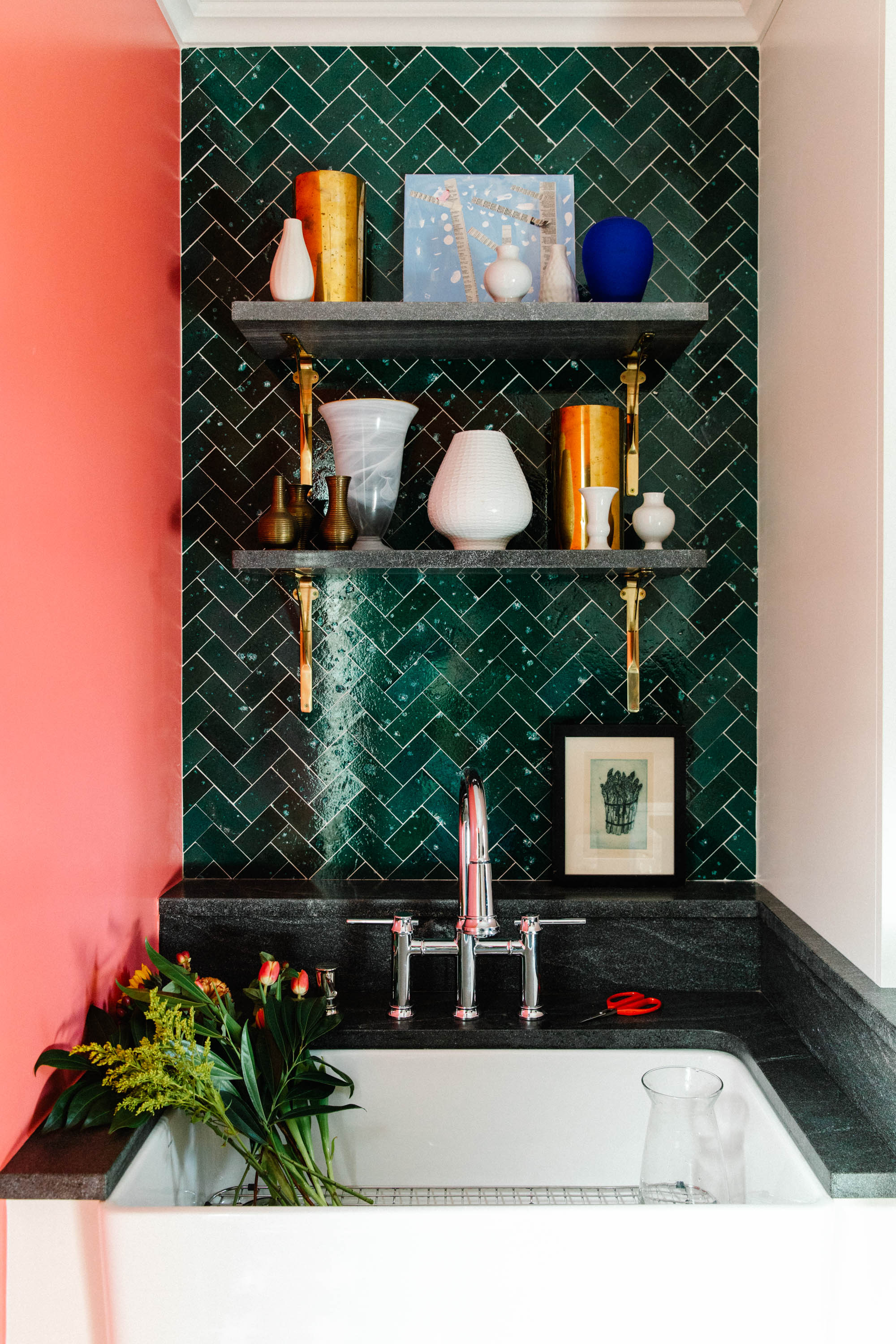 Allen typically designs laundry cabinets around the front-loading washer and dryer to allow for a countertop above. It provides a wide and deep surface at a perfect height for many different projects.
"This isn't just a place where we do our laundry, but doubles as a place where I wrap gifts and arrange flowers," said Allen. "It's another flexible heavy hitter."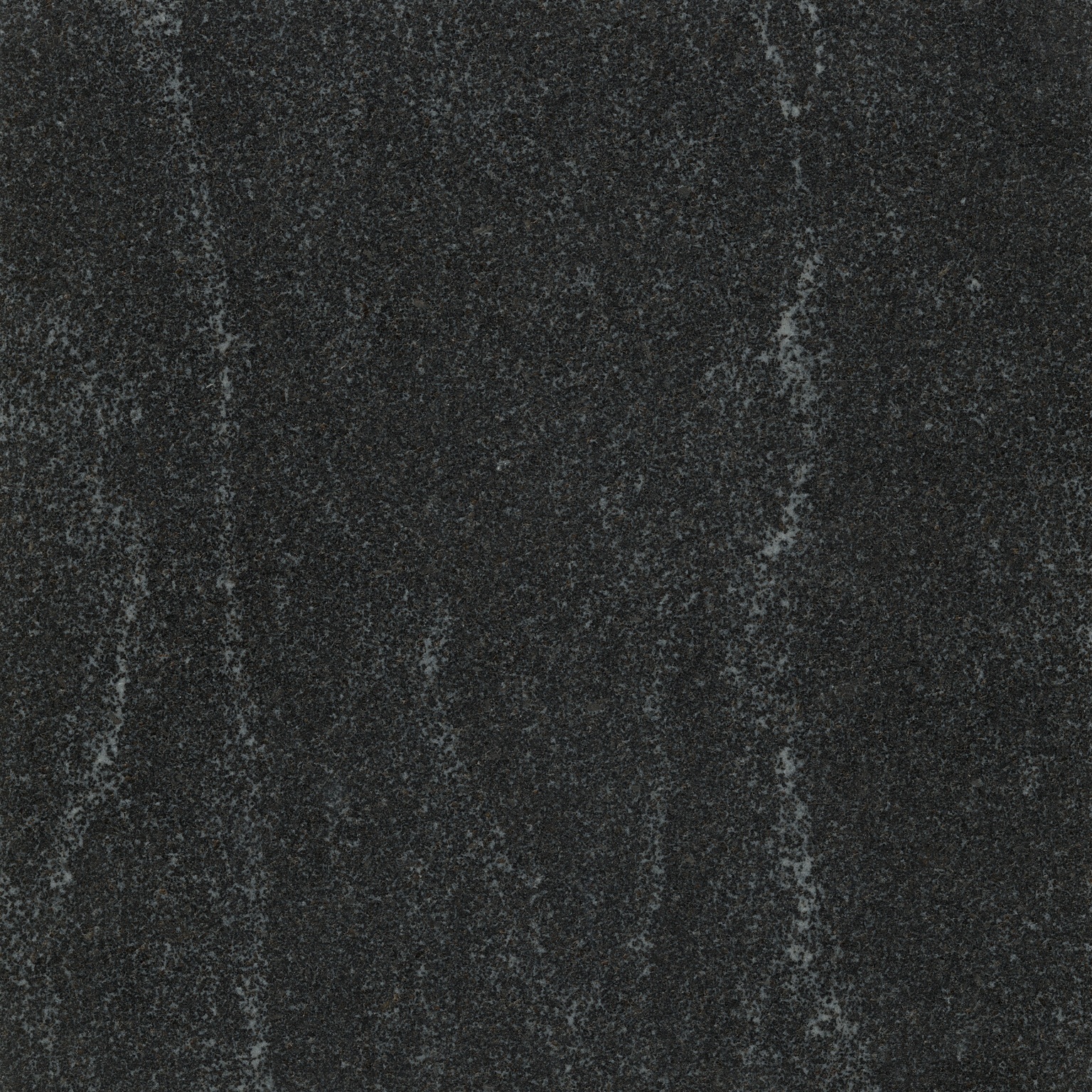 American Black® granite has the look of a black marble, with the benefits of durability and resilience that come with it being granite.
In most homes, bathrooms are among the most heavy hitters of spaces. And that's doubly true of children's bathrooms, where you need to create a space that works for them now and will continue to function and appeal to them as they grow. It's about achieving a balance of practical necessity combined with lasting aesthetic appeal.
DOWNLOAD AMERICAN BLACK SPEC SHEET
Allen's three children—Lil, Lula, and Fisher— each have their own bathroom, so she got to meet this challenge three times, and in three different ways. The one consistency is that each room features White Cherokee marble countertops.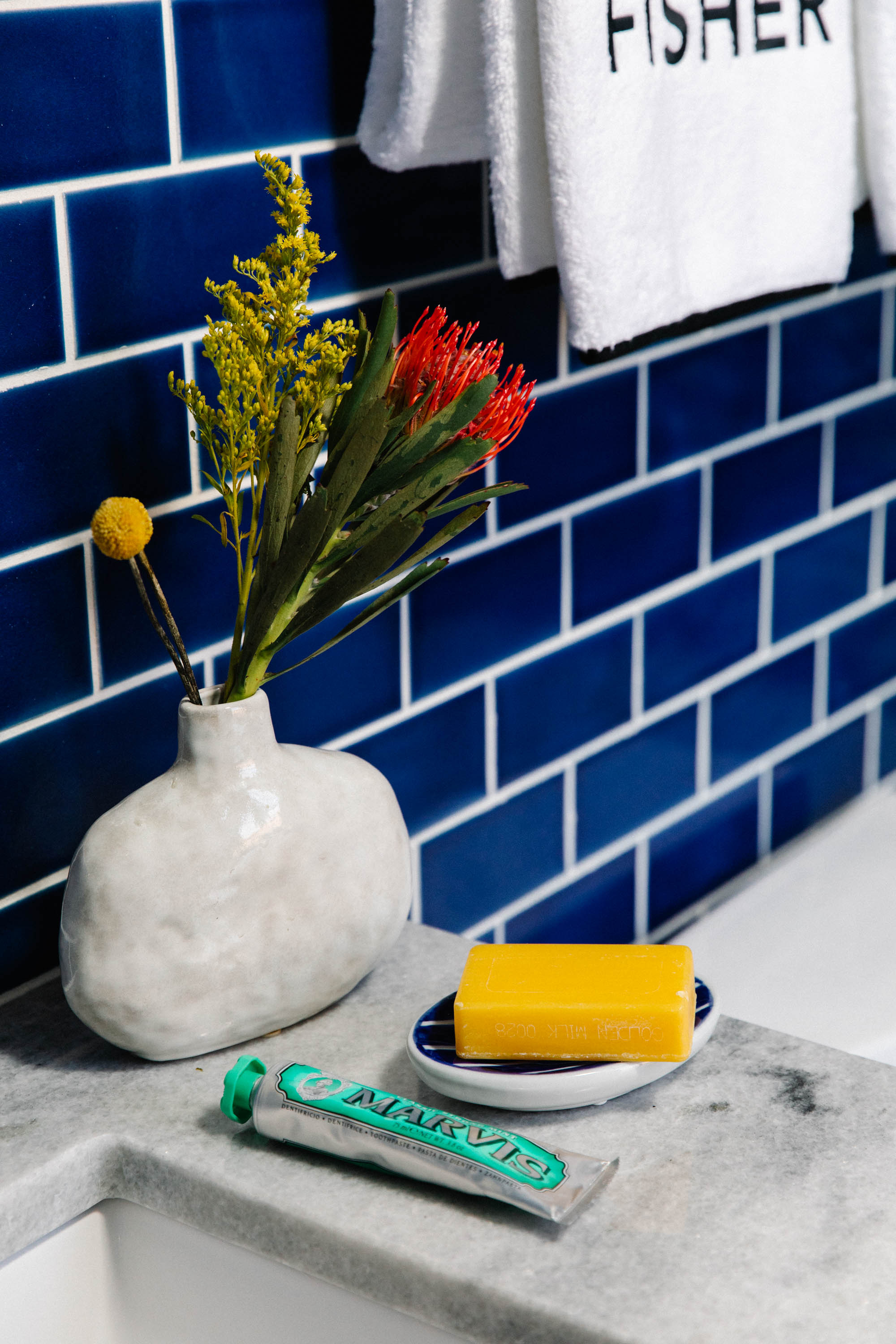 For her son Fisher's bathroom, she used handmade blue subway tile from Fireclay Tile on the walls for an organic feel, carrara marble with a black dot on the floor and black and white trim pieces.
"Fisher's bathroom is tied in with the classic black and white theme with carrara and new marquina marbles," said Allen. "His bathroom is the inverse of the laundry room because it is a black cabinet and white countertop."
In her daughter Lil's bathroom, lilac marble hex floor tiles are accented with a soft pink perimeter border tile, and ceramic basketweave pattern topped with pink penny tile on the wall.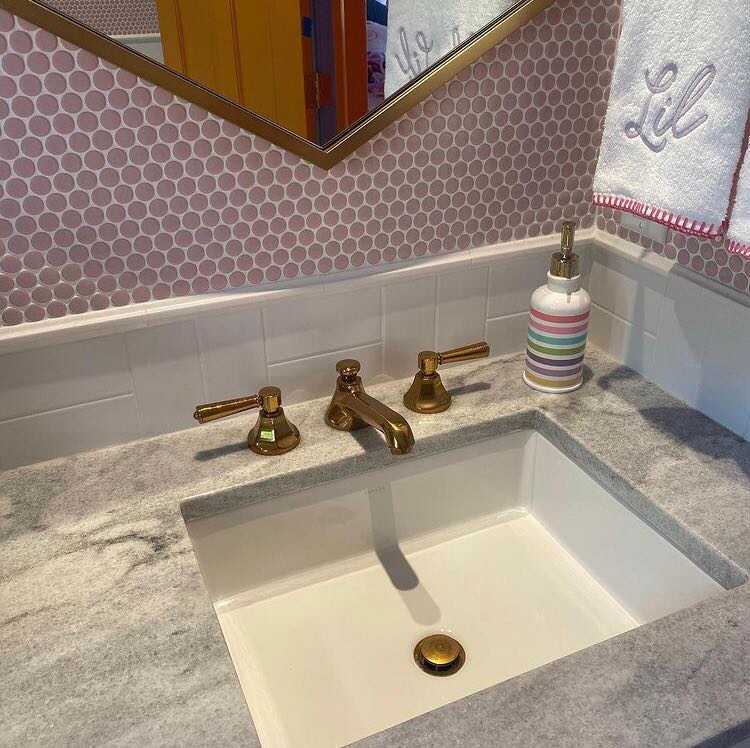 "The neutrality of the white countertop paired perfectly with the lilac marble," said Allen. "I pulled from some of the gray undertones in the portion of the slab I templated for her space, as there were some purple undertones in the gray."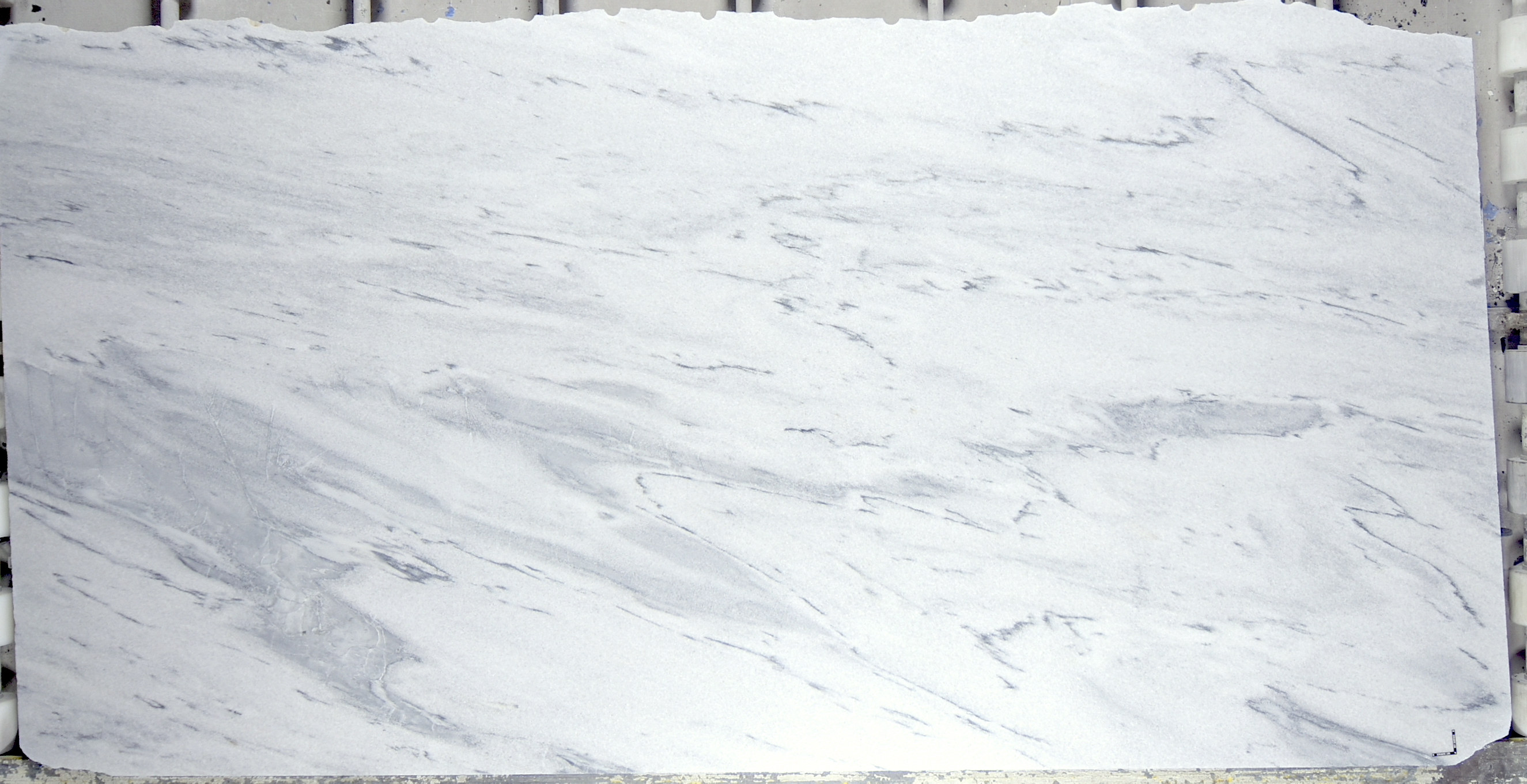 Georgia Marble – White Cherokee®slabs display subtle grey veining set against a white background.
Her youngest daughter Lula's bathroom was initially a challenge. Allen had been thinking of an all-white design but ended up instead with a riot of color, featuring Fireclay Tile's Escher in four colors, 4×4 stacked square tile and grout that coordinates with an inset perimeter of color on the cabinet. With all of this going on, Allen wanted the countertop to give the eye a place to rest.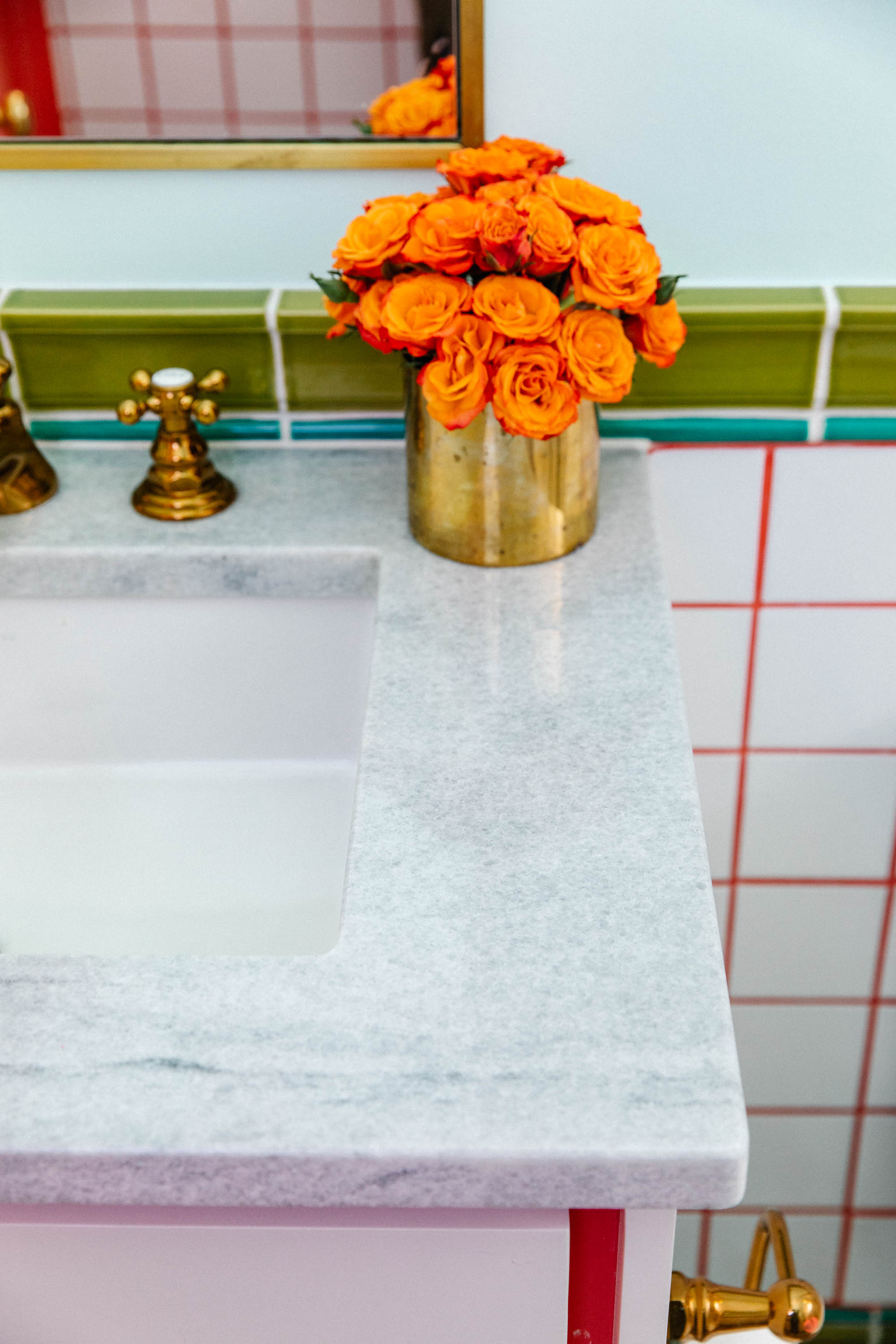 "In Lula's bathroom there is so much color through ceramic tile, I wanted simple, clean, white with little movement," said Allen.
Details make the difference in any design. You can see Allen's attention to detail and meticulous eye, which extends to how she views slabs.
"Never underestimate the power of a well planned template," said Allen. "I never skip the opportunity to go out to the stone yard and place our countertop template on the actual slab."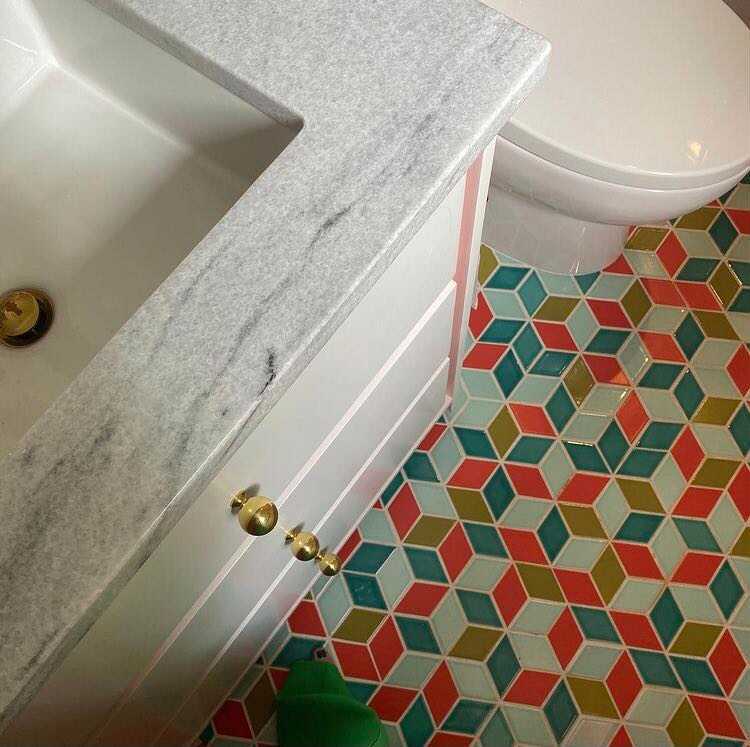 "With the White Cherokee templating in the scullery I wanted to capture the beautiful cloud-like veining for the backsplash and countertops to take center stage," said Allen. "In Fisher's smaller vanity, I pulled from the corner of the slab where the top was a little bit whiter with less movement."
You can follow the journey as Allen continues to work on her forever home—and get more tips and tricks from Allen—on IGTV: her team has created a masterclass series in new home construction and renovation design which she shares along the way. And follow #LakeStoneLove to catch every update.
"I spent so much time and effort on so many decisions, agonizing over everything," said Allen. "Embarking on my personal project has been a real labor of love, hence 'Lakestone Love."