Marble Vs Quartz – Umbra CoFounder Shares His Love Of Natural Stone for Interior Designs
When it comes to materials and design, it's hard to find someone with a more innovative approach than Paul Rowan. The co-founder of groundbreaking home accessories design company Umbra has built a career and life based on a vision of innovation and design-driven solutions.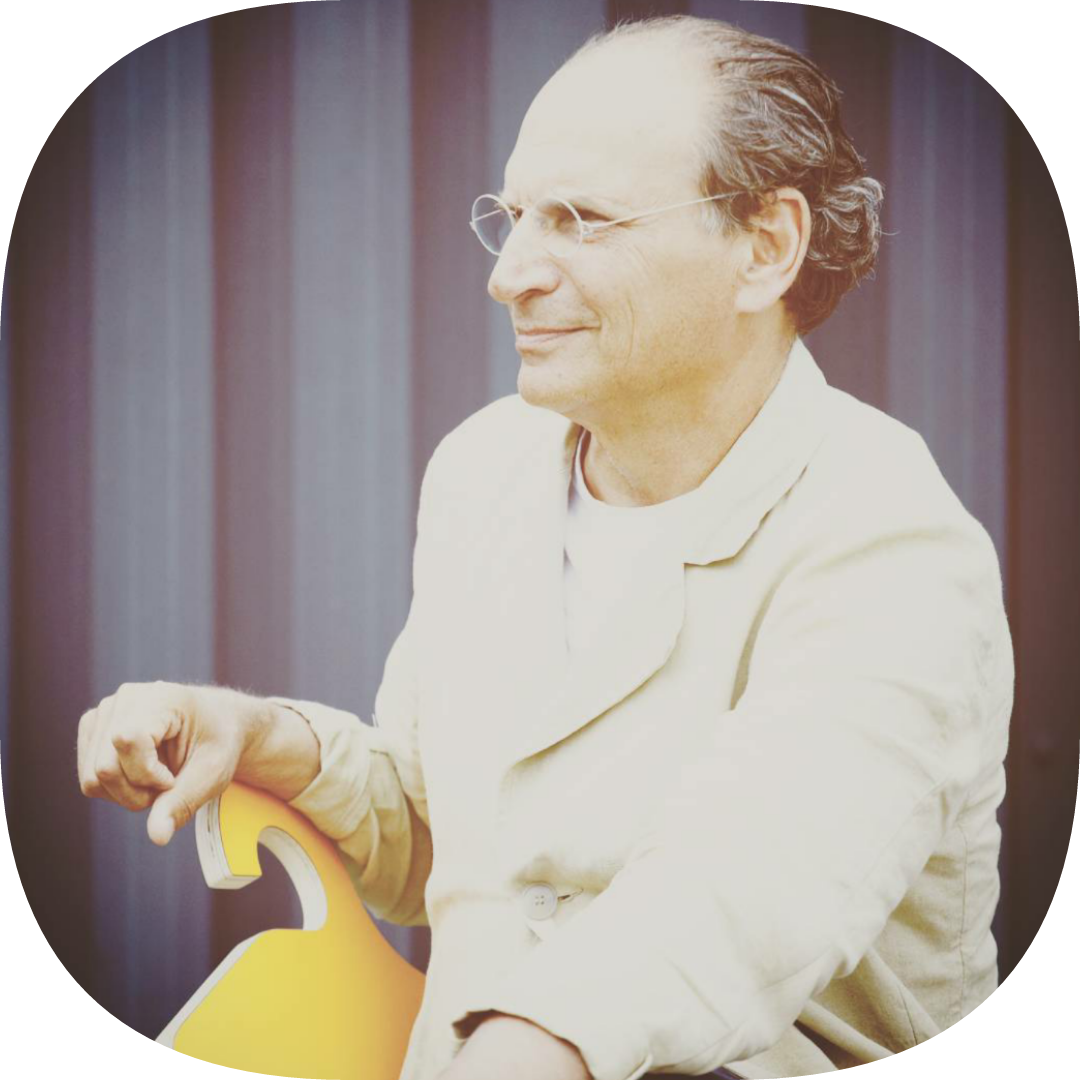 Born and raised in Toronto, Canada, Rowan developed his pioneering approach to design while growing up in his father's hardware store. And he's been hacking and creating ever since. He recently turned his creative problem-solving skills and eye for design toward renovating a 120-year-old, three-story mixed-use space in his native Toronto.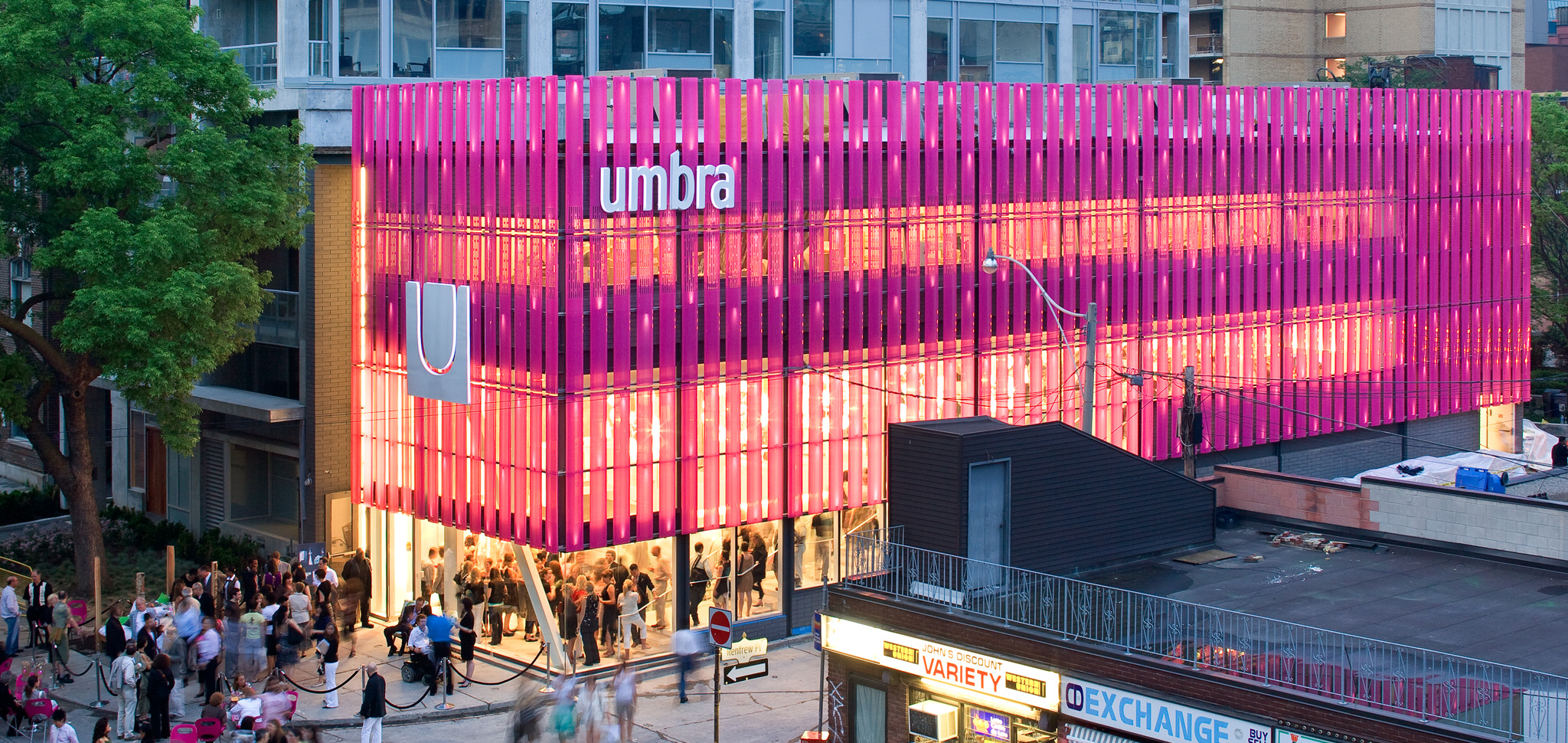 Umbra flagship store
"I think our approach to design—with these old spaces particularly—is to not fight with the space but really try to work with what would naturally fit," Rowan said.
And to find the right fit for these spaces, he started the renovation process with a mood board, and let the choices of materials guide the rest of the design selections.
"I find it really inspiring to have the samples, to lay out the surfaces and bring in the different cabinet materials, the wall materials," said Rowan. "The physicality of working with actual materials kind of moves you in certain directions for your material choice and color."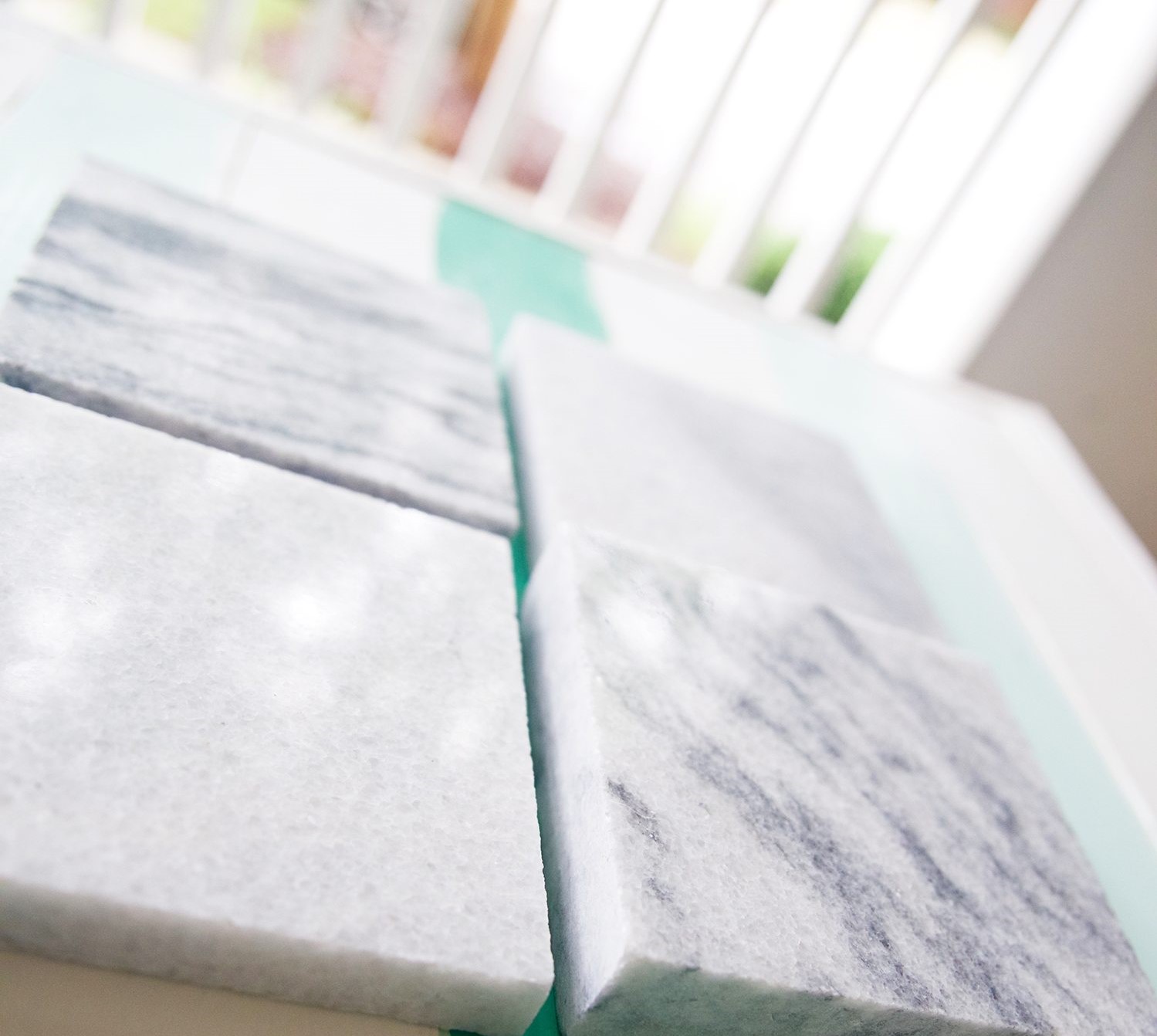 The selections for countertop surfaces relied on 4×4 samples of natural stone and engineered quartz. Pictured: Georgia Marble – Pearl Grey and Georgia Marble – White Cherokee.
Rowan finds the mood board curation process beneficial, to be able to literally see it all together: the compatibility of the walls with the countertops, and how those choices work with the cabinetry and the hardware. The process also gives him visibility to where he can bring more of an artistic sensibility to a project.
"Unique projects need unique solutions, not commodified ones," said Rowan. "I think if you're looking for uniqueness, you're going to want to seek out the types of materials that are hand-crafted, materials that are going to take it to a different level." This was the guiding principle in his choice between natural stone and quartz countertops for the apartments.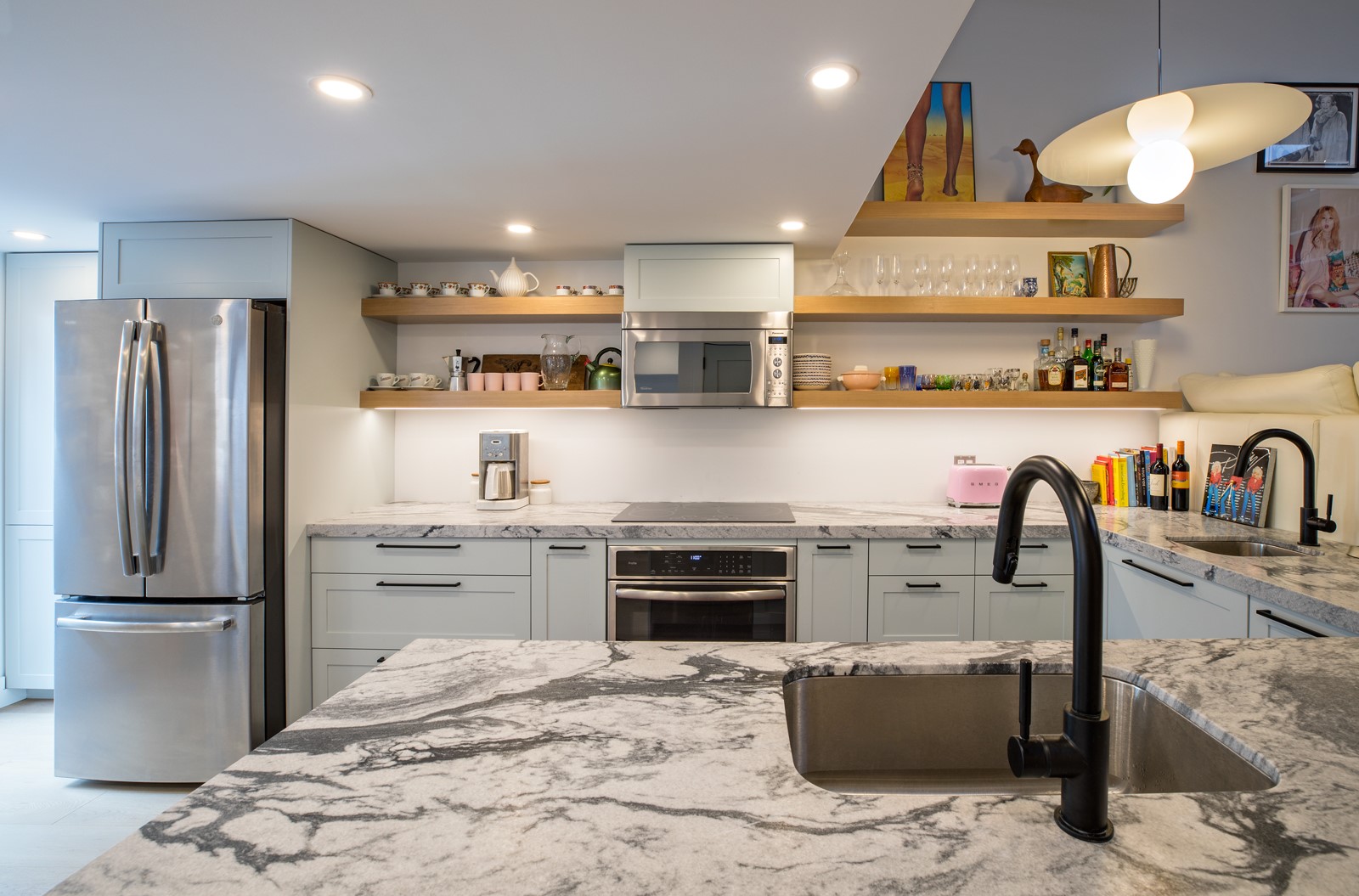 Ultra-thin 1cm slabs of Georgia Marble – Pearl Grey were used throughout the apartments for their sleek and minimal appearance and natural veining.
When it comes to the pros and cons of it was the uniqueness and individuality in each slab of marble, instead of the repetitive veining that quartz has, which caught Rowan's attention. Since every slab of quartz is stamped from the same mold, with the machines applying the same vein printout on all the slabs in the same place, it did not convey that sense of uniqueness he was searching for.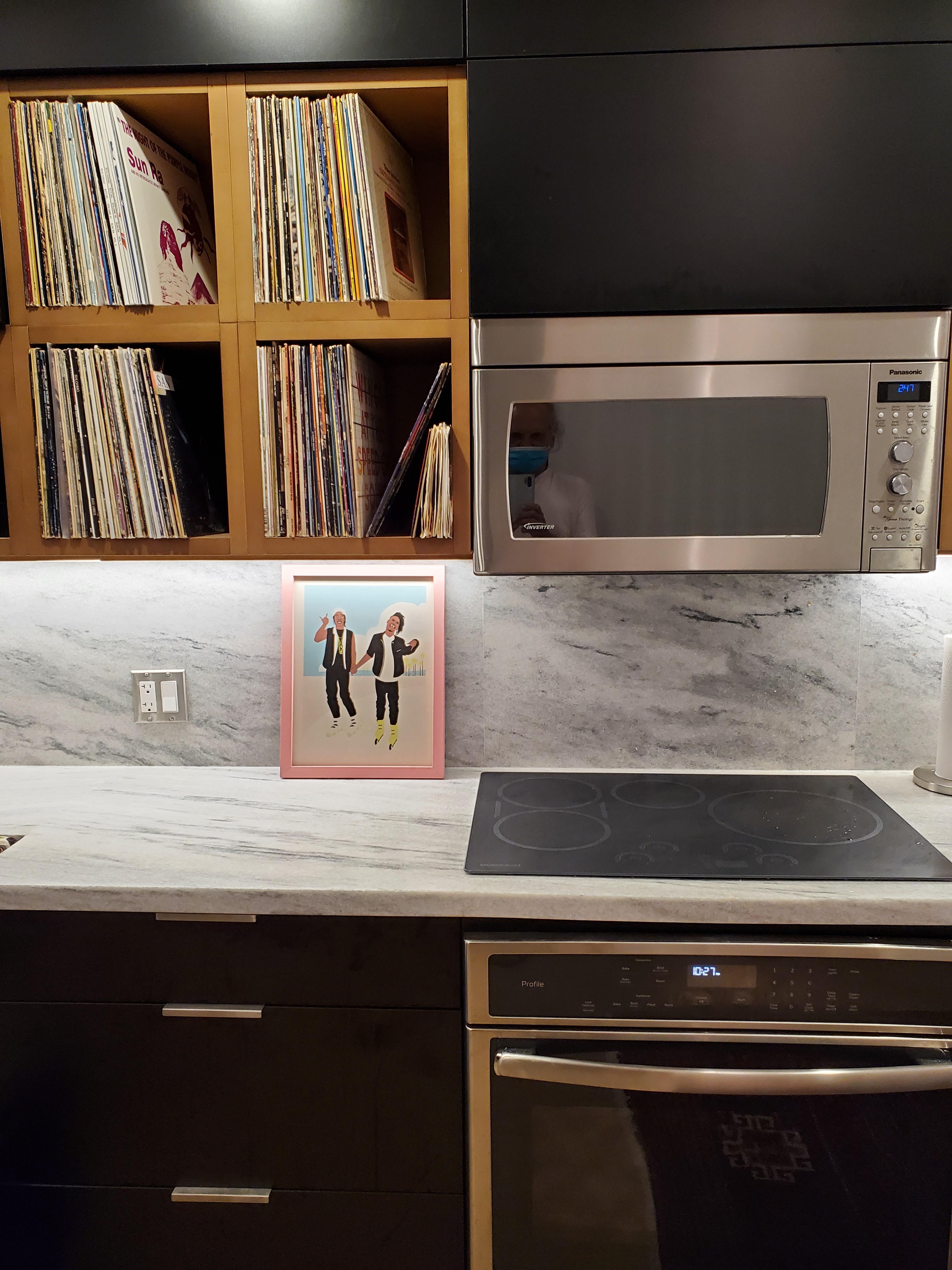 Rowan's passion for music was an integral part of the kitchen design inspiration.
And for this remodel he chose GEORGIA MARBLE™ – PEARL GREY and GEORGIA MARBLE™ – WHITE CHEROKEE thin countertops to help elevate the design to that different plane. He was inspired by modern luxury hotel designs, where the rooms are combined rather than divided by walls, with long, interrupted views throughout the space. In these apartments, he translated that idea into an unbroken view from the far end of the kitchen to the outdoors on the other end of the buildings.
A renovation by previous owners created two bi-level apartments both with a sunken living room and a kitchen above. But rather than changing these floorplans, Rowan leaned into the uniqueness of the spaces and the U.S. marble.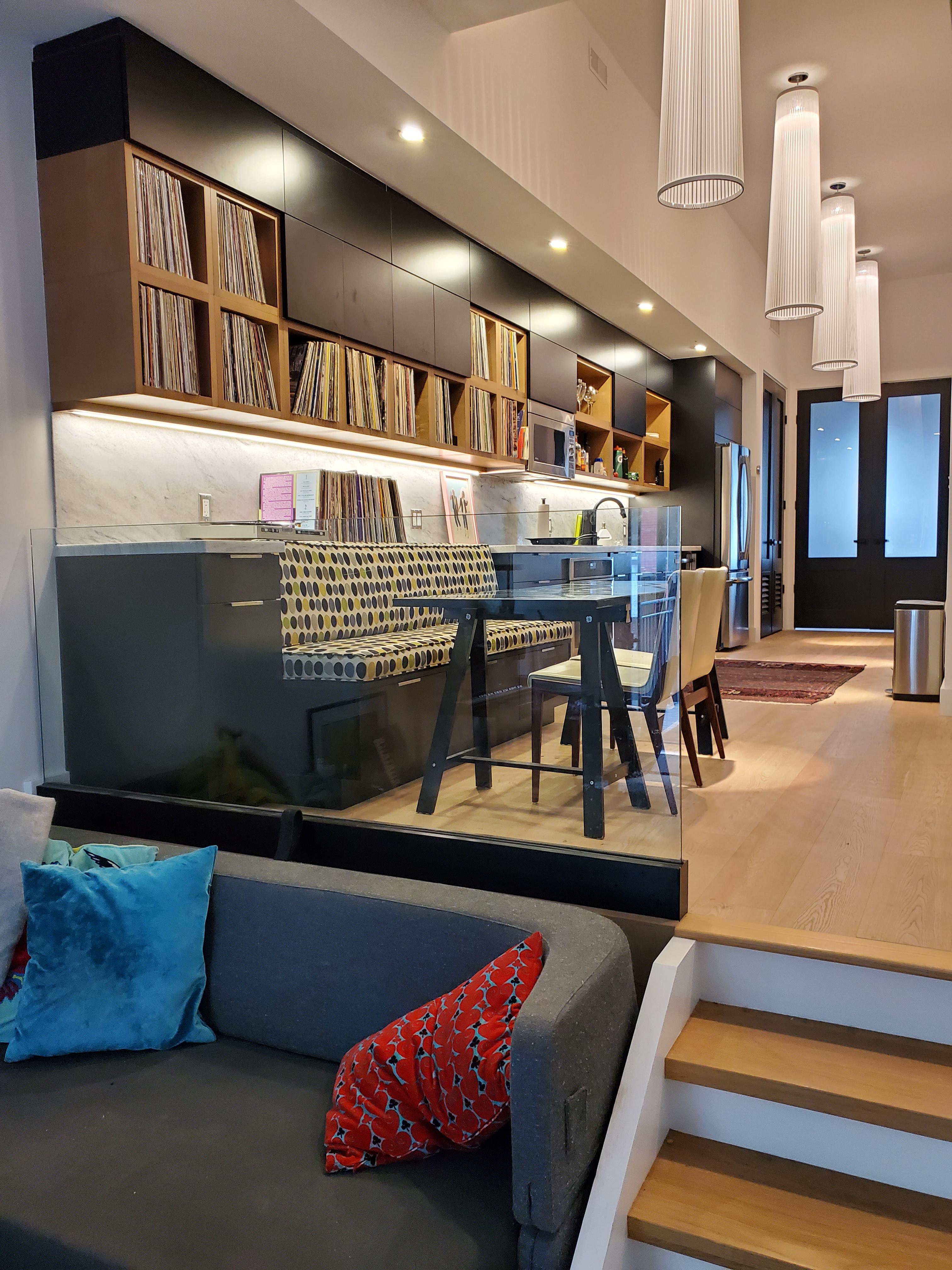 The open-concept floorplans and sunken living rooms create a nice flow through the aparments.
"We worked with that and tried to do something unusual with the split-level aspect to the apartments," said Rowan when describing his intentions for the modern marble kitchens in both spaces. Using Polycor's ultra-thin, half inch marble slabs he was able to seamlessly integrate the surfaces into the open-concept floorplans.
With a turntable sitting on the Pearl Grey marble kitchen counter—beside a built-in dining nook for casual dining—this apartment's kitchen is not your usual space.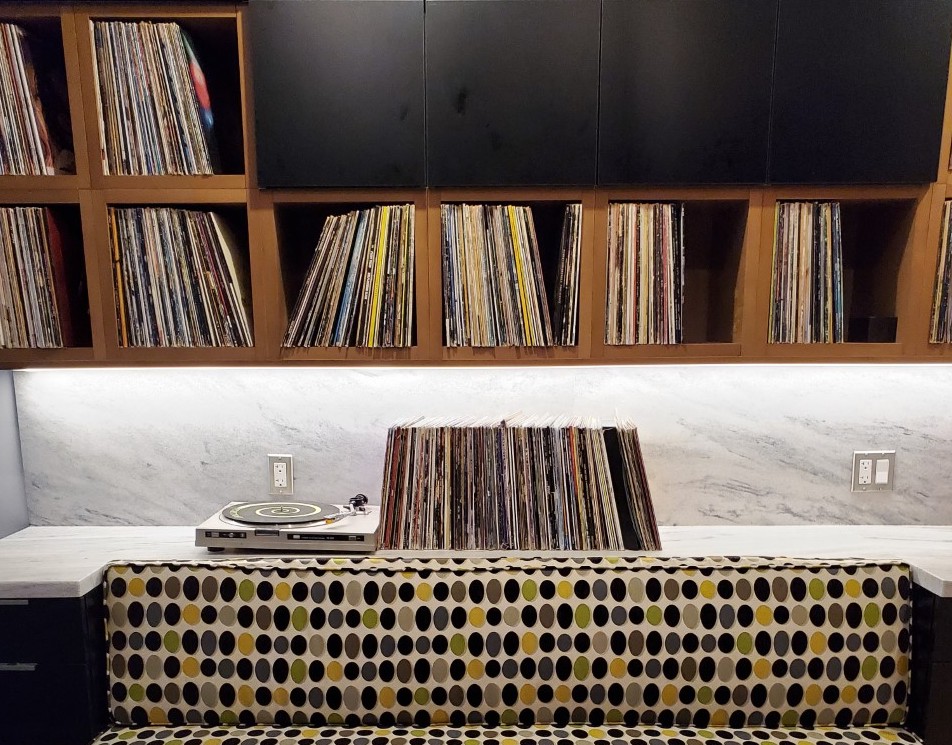 Cooking, entertaining, music, and marble all go hand-in-hand in Rowan's designs.
"I thought that the Pearl Grey American marble was really striking and would be a suitable for that space because it's a very neutral palette for everything else and thought it could just use some kind of accent," said Rowan about the marble slab countertops.
12-by-12 inch cubicles hang above the Pearl Grey natural stone countertops and slab backsplash, with the idea that you could use these cubes as a focal point and to store your albums as well as your dishes. The thin marble slab kitchen backsplash creates a neutral backdrop to the colorful spines of the vinyl records.
"It's unusual to have the mix of the music with the kitchen, but I think it really works," said Rowan. And who doesn't love spinning some tunes to get inspired while cooking?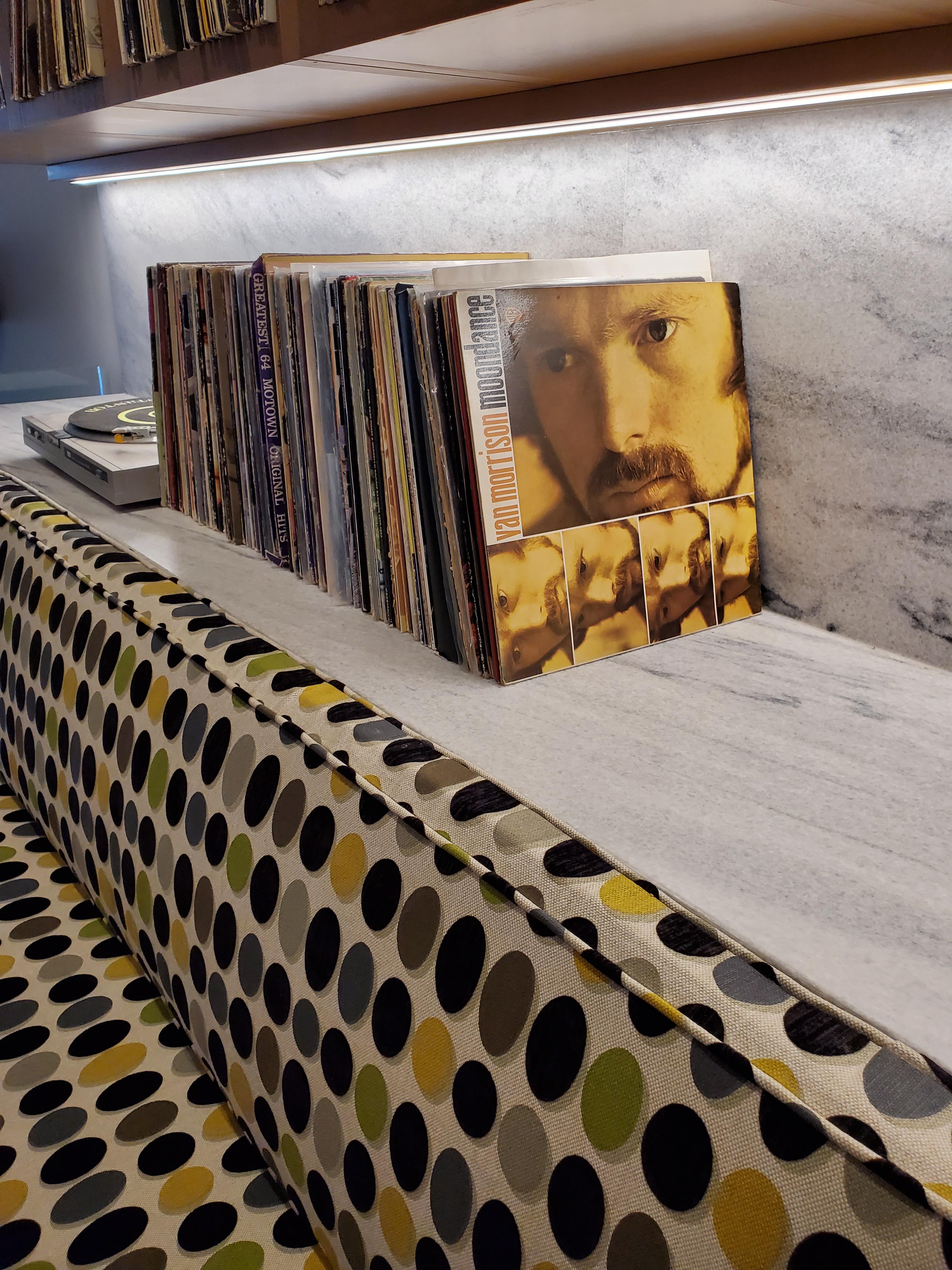 Built-in seating (doing double duta as a dj booth) ties together the marble surfaces.
At the end of the sunken living room space, a custom full wall of curtains covers floor-to-ceiling windows that overlook what was originally just the fire escape, but has become under Rowan's direction, an 8 x 12 foot terrace, too. It's clear that every facet of the space was given careful and creative consideration.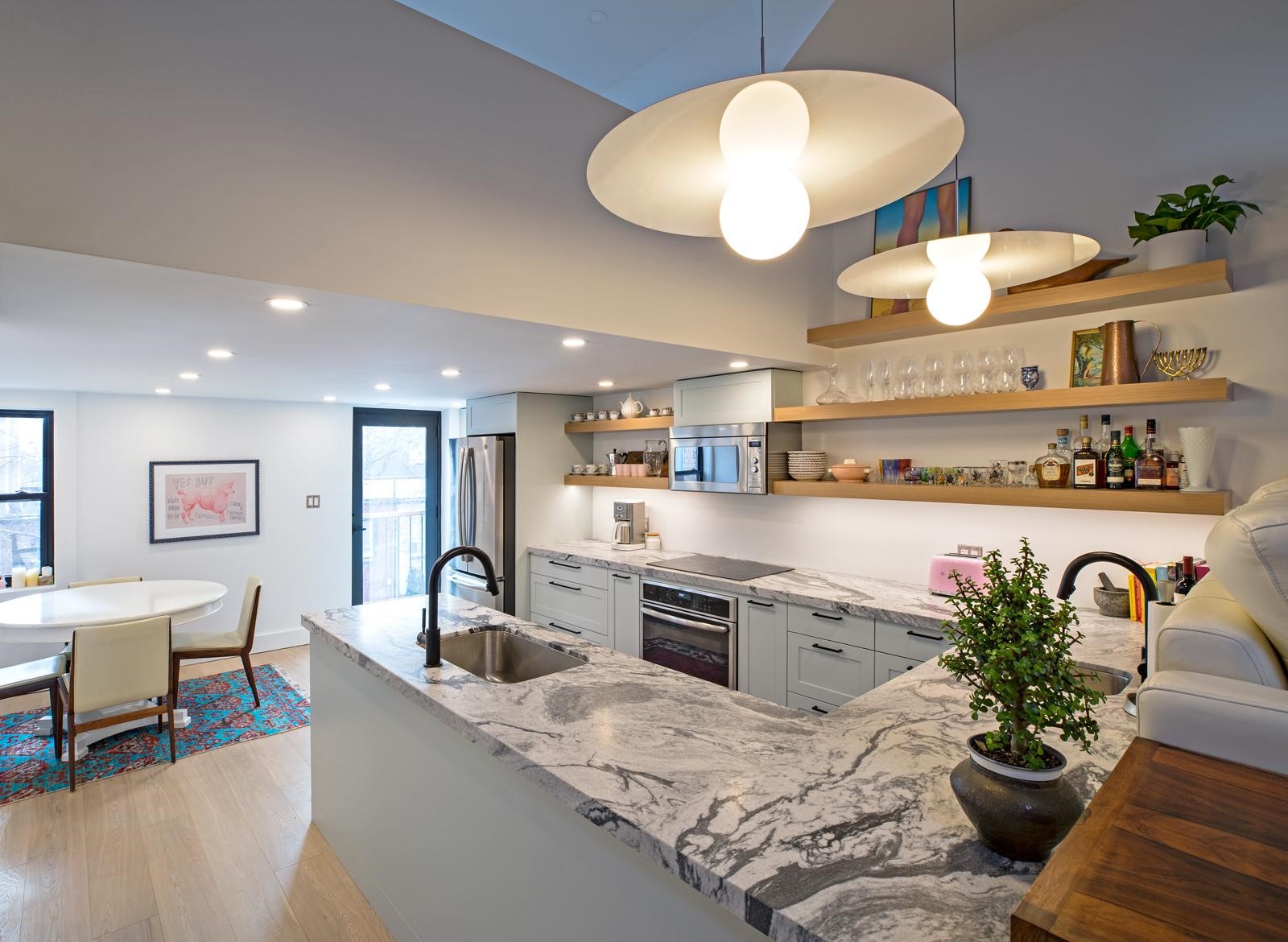 The other apartment has an opposite layout – the kitchen is the sunken area while the living area is above, providing a unique view from which to admire the Georgia Marble – Pearl Grey countertops.
"We've pretty well designed every square inch in these places," said Rowan. "We wanted it to be like what you might find in a five-star hotel where you have a lot of nice form and textures and it's compact, efficient living."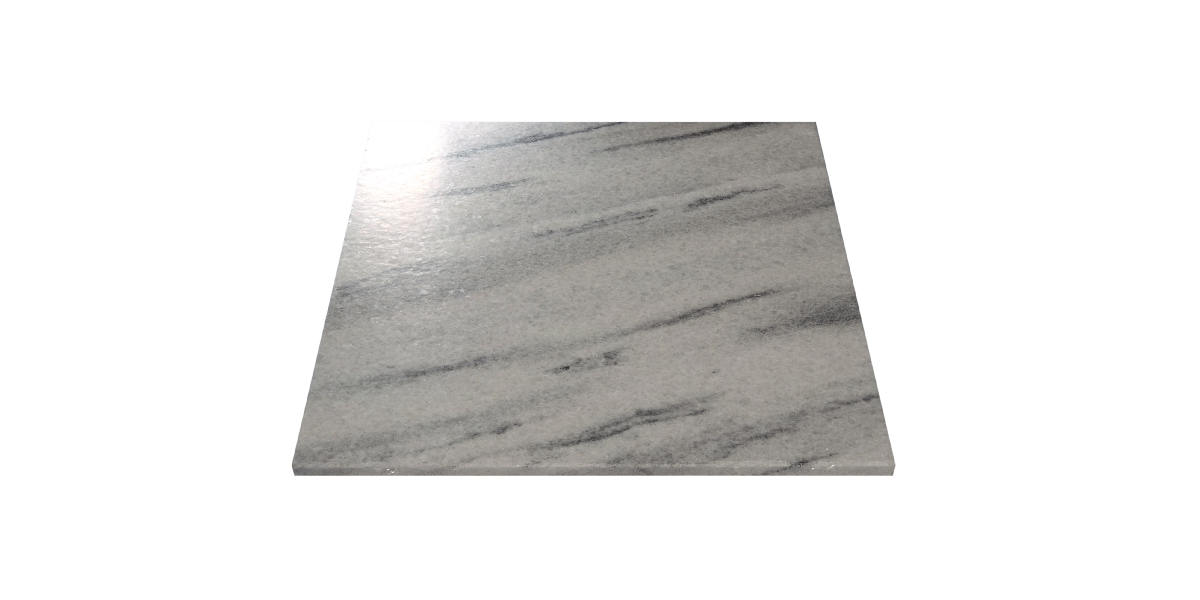 Georgia Marble™ – Pearl Grey with Antiqued finish
Another hotel-inspired touch is the sliding barn door that separates the bathroom and the bedroom from the living area which features a creative sofa bed for guests. Behind the door you'll find a bath that features very large printed ceramic marble-effect tiled walls and Georgia Marble – White Cherokee leathered marble countertops. Rowan went with the White Cherokee marble counter due to its durability as well as how the antiqued texture pairs with the wall tile's honed finishes.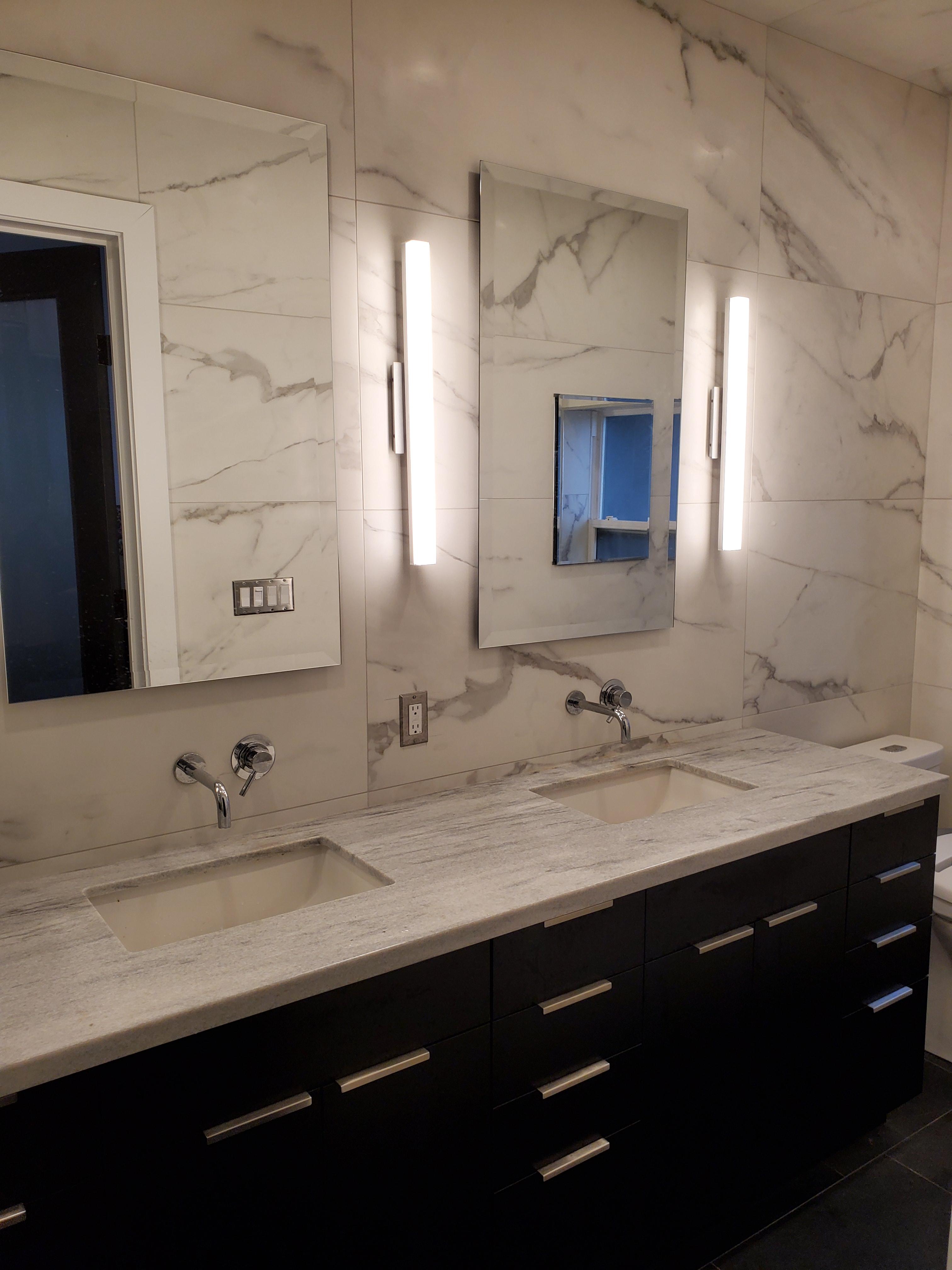 "The countertops are really quiet, really solid looking, and it works well with modern materials," said Rowan. "It has a little spark with the warm veins in it, which is kind of interesting."
Interesting, unique and innovative are concepts that led the design for the entire building—and it's not just due to Rowan's personal preference. It's in direct response to the overwhelming options that glut the landscape.
"Look at the accessibility people have to good design, quality design, "said Rowan. "On Pinterest alone, you have a million examples, there's just so much availability. And with that you have this tendency for everything to become sort of generic." This brings up the countertops discussion again. Quartz has become even more commoditized due to the overwhelming number of manufacturers appropriating their competitor's product lines. Natural stone is timeless and inherently unique – because it is a product of nature, just as it is, every slab from the marble quarry is different and special in its own way.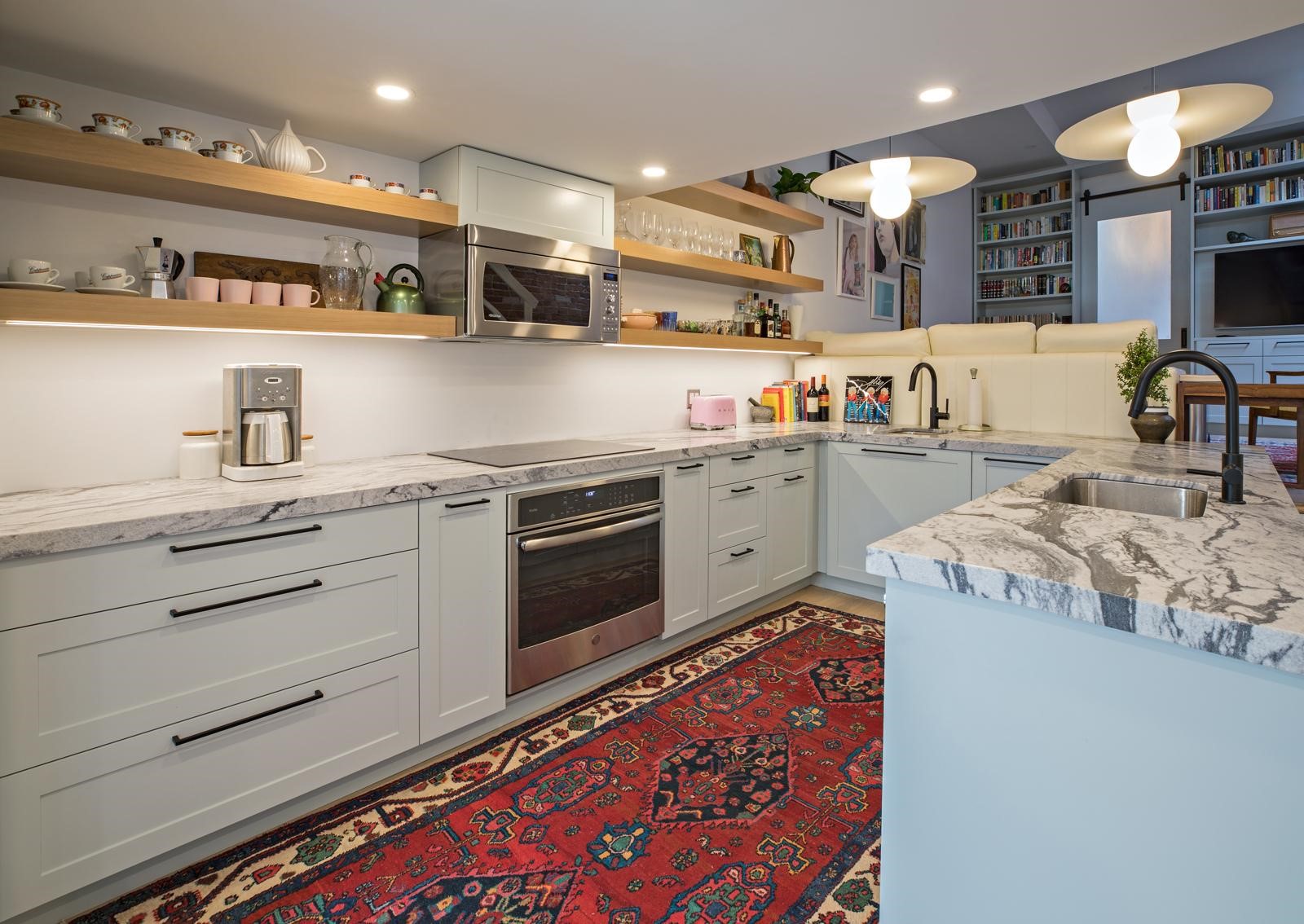 Where many may see a challenge, Rowan sees an opportunity: The chance to be able to do something really and truly interesting versus the standard white quartz countertops.
"This is the fun part," said Rowan. "Like, why am I going to do a project? I want to be able to explore new ideas. I want to take some risks, to do something different, but I think some people do avoid that because they're afraid of risk-taking, they want to go the normal route. But I think for me, I get a lot of satisfaction from unique approaches."
"I think it's very satisfying when you find that place where you can express yourself and by working with vendors like Polycor to source natural stone slabs, you get a very customized, individual style."