Why Thin Stone Countertops Are More Than A Look
Materials have been evolving to meet the growing demands of a savvy modern market, inspired by European aesthetics, and thin countertops have been makingtheir mark. With changing demographics and some US homes downsizing, a ½" thick natural stone countertop can make a smaller kitchen appear larger.
But aside from the aesthetics of the new 1 cm thin stone, if you're a fabricator, installer or designer, you'll also appreciate the physical benefits the material has to offer for various applications:
Feature walls
Floating counters
Fuller backsplashes
Integrated counters
Waterfall islands
These physical benefits provide fabricators and installers more flexibility and creativity in the execution of their work (and give designers more possibilities). The lighter stone allows for installations in urban areas where freight elevators and stairs are often encountered, reducing fatigue in handling and avoiding potential damage to the tops or surrounding space. Built-up edges can easily be achieved to give the stone a thicker appearance, with the benefit of reduced weight, compared to 2 cm or 3 cm stone. The material cuts and fabricates like other natural stone and no special tools or equipment are required to finish and install the product.
Polycor now has its own sleek and modern equivalent, available in marble and granite, with your choice of a honed, antiqued or polished finish. Polycor producesits natural stone slabs fromit's own quarries, including the classic American marble, Pearl Grey from Georgia, the true black granite CAMBRIAN BLACK®from Canada and it's newest color Bethel White from Vermont – all available in 1 cm thin stone slabs.
Here are fourexamples of the applications and designs you can now achieve when using thin stone slabs for your next project:
FEATURE wALLS
1 cm Pearl Grey American marble from Polycor
Where tile is often used to highlight a wall in a design, you can now use full-sized, ultra-thin stone for the installation. Used for interior or exterior applications, it creates a large, uninterrupted expanse with no grout joints (bonus)! It is especially useful in wet areas like shower walls and baths to achieve a full coverage on the wall in one step. The material is easily handled and no special, load-bearing, engineered wall or anchoring system is required to secure the slabs.
Floating Counters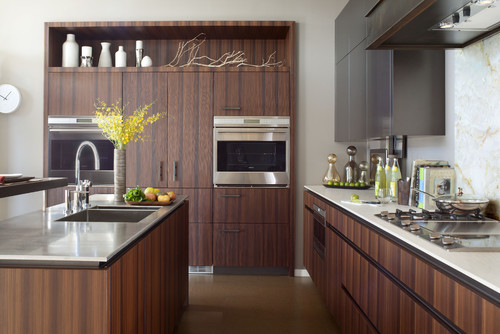 Photo by Exquisite Kitchen Design
Floating counters use thin slabs to sit on a smaller substrate which raises the countertop off the cabinet creating a shadowed reveal around the perimeter and providing a lighter, airier appearance. Cantilevering a countertop from a wall with no cabinet underneath for support is another type of floating counter where this lighter stone finds great use, to reduce the weight and stress on the framework that holds the top.
Fuller Backsplashes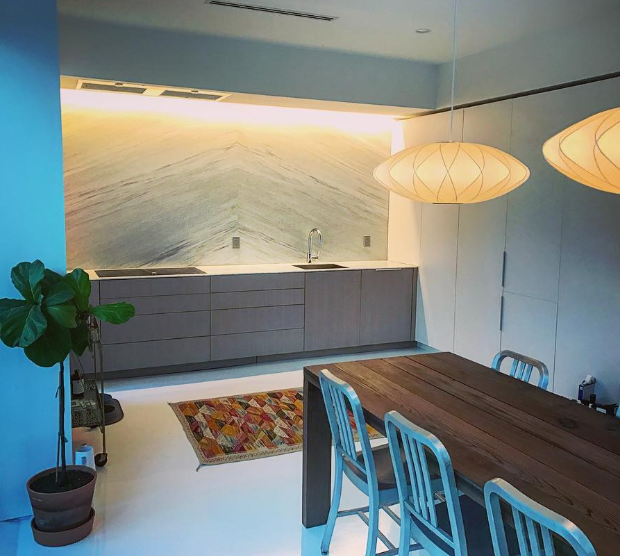 White Cherokee American marble from Polycor. Photo by Creed Fitch.
Some designers are eliminating upper cabinets completely and opting for full backsplashes in the same stone to extend to the ceiling line or wrap around cabinets and behind range hoods. Here Austin designer Creede Fitch installed bookmatched 1 cm panels of American marble in White Cherokee. Previously, a full panel backsplash would be a very difficult installation for fabricators working with 2 cm and 3 cm material, especially between walls and behind faucets or other obstacles. Now it can be done with greater ease due to the reduced weight and strength.
Integrated Counters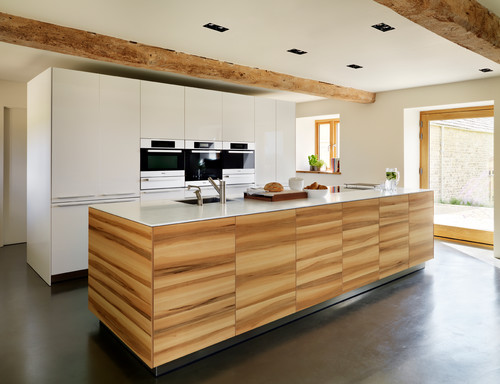 Photo by bulthaup by Kitchen Architecture
Integrated counters sit flat atop the cabinetry and the overhangs are kept flush with the doors, drawers and panels. The resulting look is more like a finished "skin" that is integrated and part of the cabinet itself, as opposed to being a separate element, and some tops occasionally may even be inset into the cabinetry for a more 'built-in' appearance.
Waterfall Islands
Polished 1 cm Cambrian Black Granite from Polycor.Photo by Annie Roy
When a homeowner falls in love with a particular natural stone, the waterfall island is an opportunity to create a striking look with a continuouscountertop plane of their favorite material that wraps to the floor. Ultra-thin 1 cm countertopsand the sleek moderncabinetry seen most often in contemporaryspaces make a strong complementary pairing.
The weight savings and flexural strength of carbon fiber backed ultra-thin slabs enable designers and fabricators to take their designs to greater heights.
---