10 Ways 1 cm Thin Stone Makes A Fabricator's Job Easier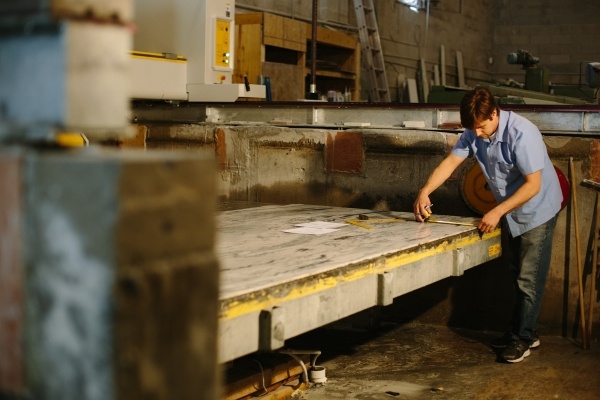 You had your shop tuned for granite and marble. Then came quartz. Then came porcelain and glass. New options for designers, but for you, new materials usually mean new tools, and new problems.
If you've heard about Polycor's new ultra-thin 1 cm slabs you're thinking, "Here we go again. Thanks, but I'll just stick to the 3 cm beast I know."
Once I got a slab into the shop and saw how cleanly it cut and how much less time it took to polish, a flood of ideas for projects came to mind. Plus it's a fraction of the weight of the usual natural stone slab.
In today's post I tell you about my experience with Thin Stone in the shop. (You can also check out this video where I show you exactly how to fabricate 1 cm Thin Stone slabs.)
Here you go, 10 ways 1 cm Thin Stone makes a fabricator's job easier.
1. No need to retool your shop
You can fabricate Thin Stone just like 2 cm or 3 cm with typical shop tooling and stone work techniques. Same for finishing.
2. Easier on your tools
1 cm cuts cleanly with precision and significantly improves blade life over thicker stones.
3. Slabs are reinforced
No rodding required.
4. Install directly over cabinetry with just silicone
No mudding, no substrate.
5. Take a load off your back
Lighter at 1/3 weight of 3 cm, Thin Stone is easily handled during fabrication and installation. (That means less man power to move from shop to install.)
6. Worry less about cracking on install
Navigating stairs and corners and leaning over base cabinets isn't just hard on your back, it can fry your nerves. At 10x times flexural strength of 3 cm slabs, 1 cm is more durable and less nerve wracking to handle.
7. Versatile edge options for them (that are easier for you)
Innovative designers crave the sleek weightless look of thin counters, but for homeowners who still want a thick edge, 1 cm offers versatility. Build up the edge of your slab to your desired thickness (again saving on weight).
8. Take bigger (higher) jobs
Lighter, stronger slabs expand design possibilities and make vertical installations like full slab fireplace surrounds and shower walls, easier to pull off. The thinness makes slabs easier to reposition and wall seams and joints easier to close.
9. Tool it on the job site
With 2 cm or 3 cm slabs cutting on site is difficult (and sometimes impossible). With Thin Stone you can drill on site, cut around rough plumbing and fixtures and make easy quick cuts for outlets, with no back cutting required.
10. Simplify your undermount sink fabrication
With less edge surface area to finish, you can polish your undermount sink cutouts in a fraction of the time. Avoid step cuts and there'll be less material to clean out.
Ultra-thin reinforced slabs really aren't new material, it's the same natural granite and marble you've been cutting for years, just lighter and stronger with a more modern aesthetic.