A Stone Desk Thinner Than An iPad?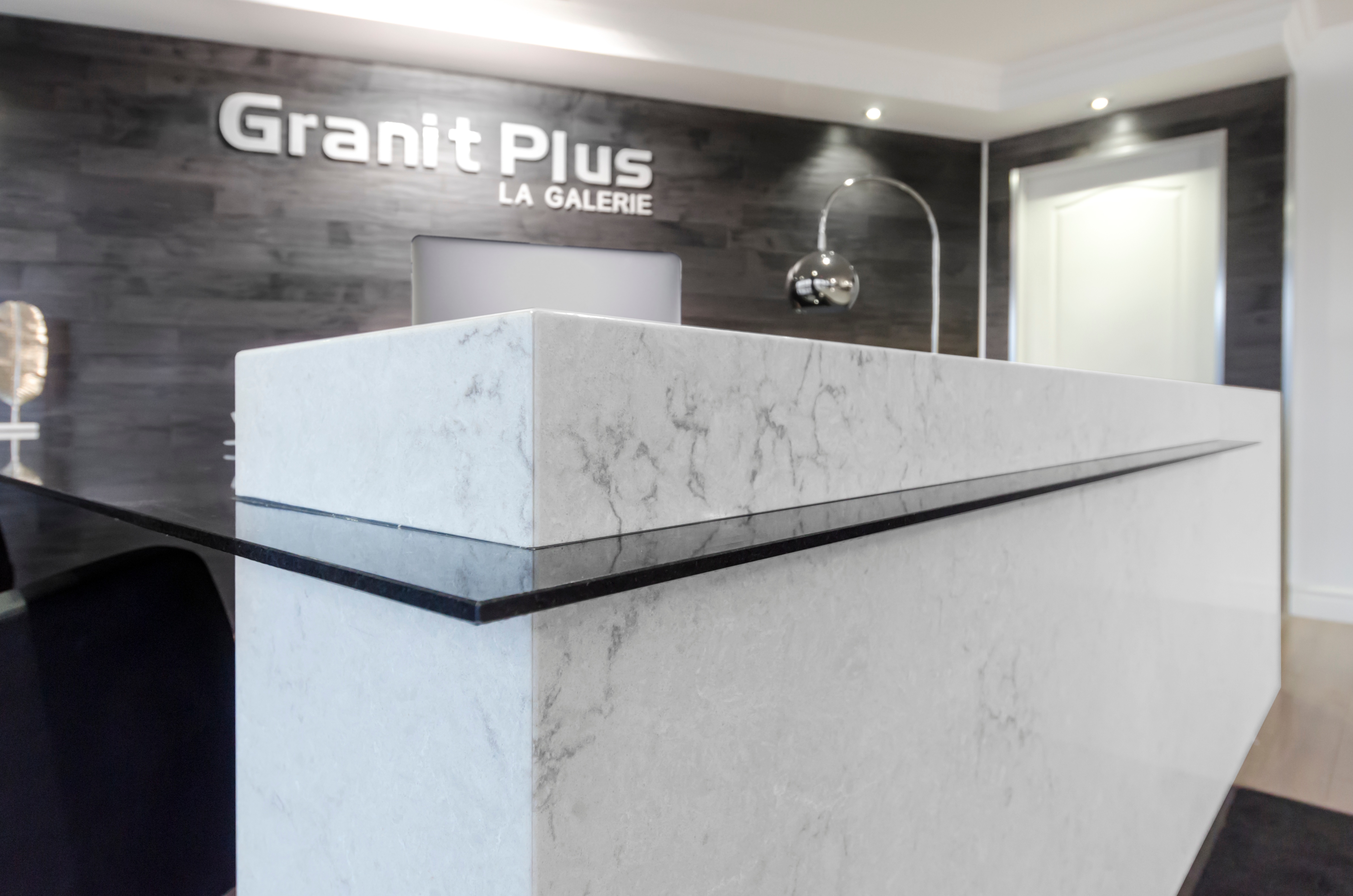 This year we introduced the strongest ultra-thin natural stone slab on the market. We knew it would be a win for designers creating full slab wall installations and giant islands. And we knew fabricators would love that it's a third of the weight of traditional slabs.
What we didn't anticipate was the creativity of distributors using the material right in their showrooms.
When we saw this reception desk at Granit Plus in Quebec we knew we had to share it. Sleek and sexy, it embodies the juxtaposition of thinness and weightiness that only 1 cm Thin Stone can.
Join us now for a conversation with Alex Lacroix, Quebec area manager for Granit Plus.
THIS DESK IS STUNNING. CAN YOU TELL ME WHY YOU CHOSE TO USE 1 CM?
We chose the 1 cm thick slab because we think the product is sharp, elegant and innovative. It's in line with the type of products that Granit Plus likes to promote, and which set us apart from the rest.
WHICH 1CM STONE DID YOU USE ON THE DESKTOP?
We used Cambrian Black slabs with special carbon fiber backing and polished finish.
WHY DID YOU SELECT GRANITE SPECIFICALLY?
Granit Plus has a long family history in the stone industry, so granite was a logical choice for our showroom. Although many other materials have been introduced on the market over the years, granite is and remains forever timeless.

WHY THIS COLOR?
Aside from being a local product (Quebec), Cambrian Black is well-known all over the world. It is considered one of the purest true black granites on the market. There is a depth in this color that can't be found in any other colors.
WHY THIS THICKNESS?
We feel that 1 cm thick slabs could be the new trend for 2016. The look is both discreet and elegant, and can be used for multiple applications such as showers, walls, floors, etc.
I NOTICED YOU USED A CONTRASTING STONE FOR THE COUNTER, TELL ME ABOUT THAT.
The contrasting cream colored stone is quartz. We chose the color and designed it to accent the thin Cambrian Black top.
HOW DID YOU SUPPORT THE COUNTER STONE?
The L-shape reception desk is supported by a steel bar that is attached to the wall at one end and to the vertical quartz portion of the desk at the other.
HOW WILL YOU USE THIS PIECE?
It serves as a reception desk for our sales office. It's the first counter you see when you come into our store so homeowners, designers, architects and fabricators will all interact with it.

WHAT'S BEEN THE REACTION TO THIS INSTALLATION? HAS IT SPARKED ANY CONVERSATIONS WITH VISITORS?
They're all intrigued by it and want to know more about the product. They tell us they've never seen this thin look in natural stone before.
DOES THIS INSTALLATION ENCOURAGE CUSTOMERS TO TRY THIN STONE OR NEW DESIGNS IN NATURAL STONE?
Definitely, the more it's out there, the more people will know about it and eventually ask for it.
IF YOU COULD FEATURE ANY STONE IN YOUR GALLERY, WHY WAS IT IMPORTANT TO USE THIN STONE?
Because we like to be ahead of the pack.