A Kentucky Rye Cocktail, On The Rocks (Literally)
Because we're feeling holidayish here at Polycor, all month long we're featuring classic cocktail recipes from southern distilleries that complement our chilling stones made from Alberene soapstone quarried from the hills of Virginia. With four in a set for $16, they make a rock solid gift for your favorite architect, designer or fabricator.
Last week we brought you the Ole Virginia Accent from Catoctin Creek an organic distillery in Purcellville, VA. You can check out that recipe here.
Today we're heading deep down into the Kentucky Bourbon Trail to Bulleit Frontier Whiskey where they're serving up cocktails made with their own rye and bourbon. Made with an old family recipe the spirits are known for their bold, spicy character with a distinctively smooth, clean finish.
You could drink your rye whiskey neat, but we like it best served over ice cold southern stone. But you probably knew that already.
We hope you enjoy one of these smooth classic cocktails this season with your friends and colleagues.
Cheers from Polycor.
BULLEIT PERFECT MANHATTAN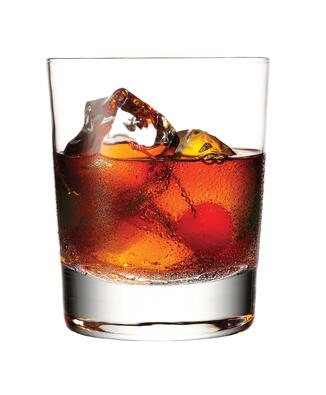 .75 oz. Bulleit® Rye
.25 oz. Dry Vermouth
.5 oz. Sweet Vermouth
Dash of Stirrings Blood Orange Bitters
1 Maraschino Cherry

In a shaker, combine Bulleit Rye, Dry Vermouth and Sweet Vermouth. Shake and pour over an ice or chilling stones. Add dash of bitters and garnish with a Maraschino cherry.
For a new twist on the old favorite, try this variation.
RYES UP
0.6 oz. Bulleit® Rye
0.25 oz. sweet vermouth
0.2 oz. elderflower liqueur
1 dash aromatic bitters
1 dash Peychaud's bitters
0.25 oz. cognac
Stir and strain into a rocks glass. Garnish with a lemon twist.
ABOUT THE STONES
What is soapstone?Soapstone is a natural stone with a velvety texture like wet soap, hence the name. You probably know it as acountertop that wears over time like a great pair of jeans. But it's also a perfect material for sink basins,architectural elements, tableware, and of course, drink chilling when you don't want to be watered down.
This metamorphic rock that we quarry in the Blue Ridge Mountains of Virginia is heat and bacteria resistant and requires zero maintenance. Plus it looks killer on your floor and under your coffee maker and doesn't stain. Want to know more about Alberene Soapstone? Download a spec sheet here.
Chilling stones are durable, reusable and won't alter the taste of your favorite spirit. See them do their magic here.