A World Class Couple Takes on Europe for a World Class Stone Company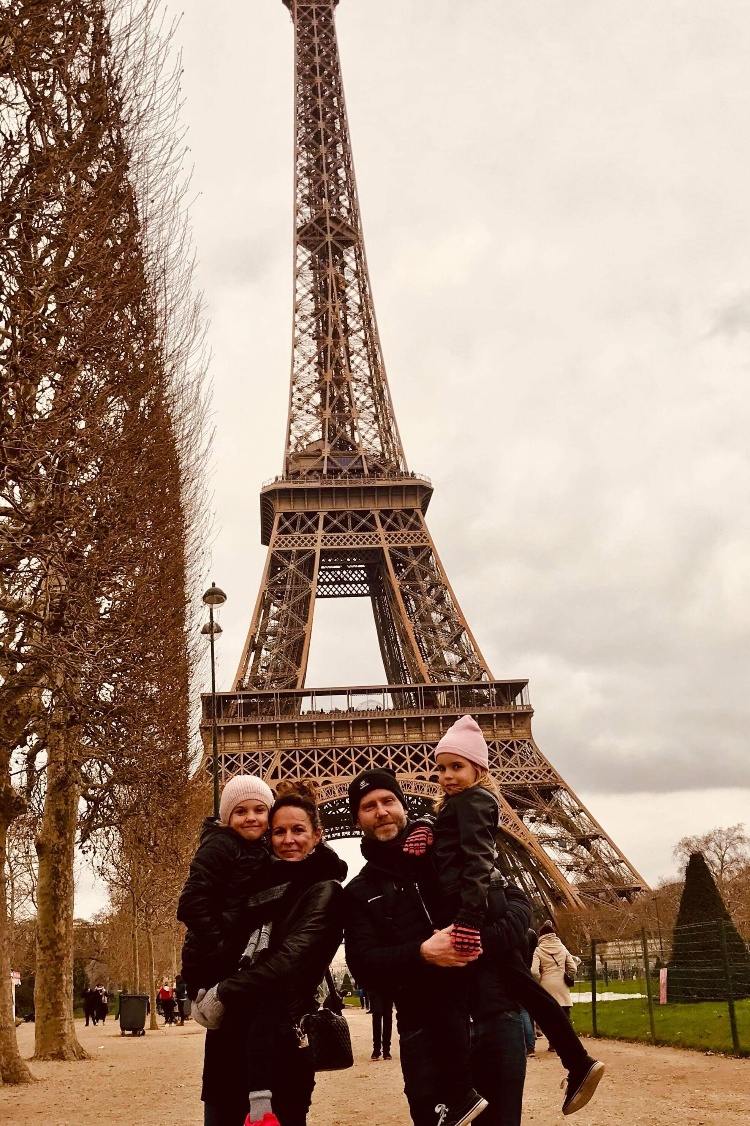 Would you uproot your family from a comfortable life in Canada to settle in a new country, with two new jobs? To lead a new company division?
You would if you are Bryan Thorburn and Valerie Bergeron.
The two transferred from Quebec City to Paris this year to lead the burgeoning European and Middle East sales division of Polycor natural stone. Like a dynamic superhero duo they each bring complementary experiences and skills to the job, working in tandem to help architects and fabricators realize ambitious large scale projects.
Valerie, a former real estate entrepreneur and art dealer, brings to the partnership the power of relationships and negotiations, together with an understanding of design. And Bryan, a former architectural sales manager at Polycor bringing a deep knowledge of natural stone technical specification in architectural projects.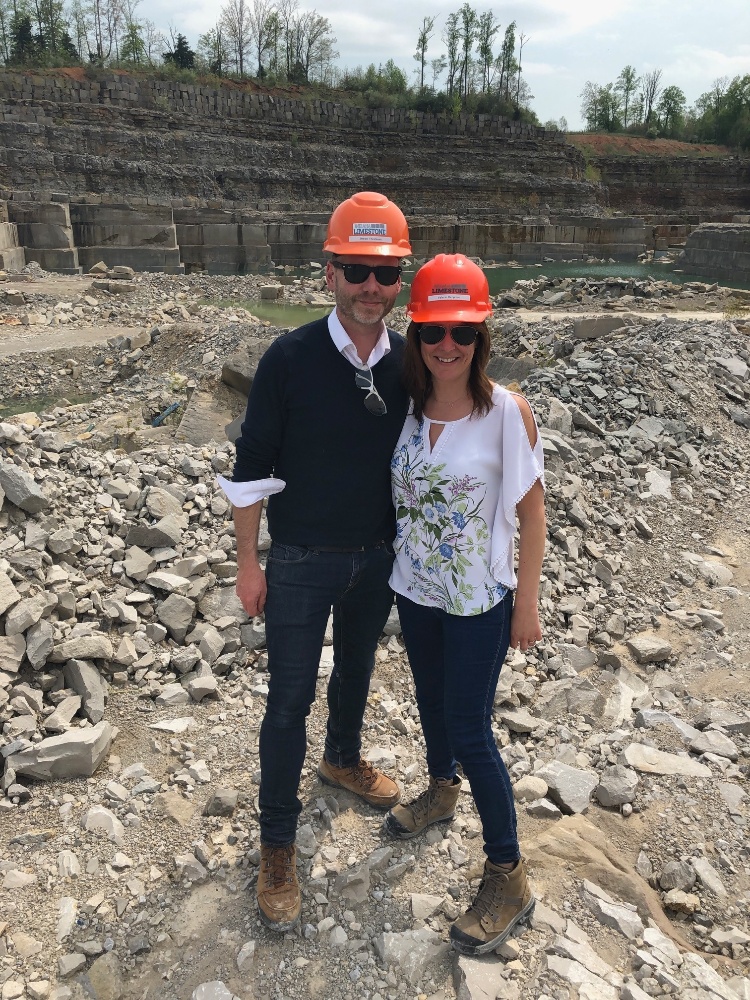 Bryan Thorburn and Valerie Bergeron, the Polycor European sales team (and rock solid couple), bring together a unique mix of technical knowledge, fabricator connections, and the people skills to make ambitious large scale projects possible.
It's not a life the couple could envision in their youth when they met while working as fine art dealers, but it is one they have quickly grown to love.
"If you get past the five-year mark in the natural stone industry, you're in it for good," Bryan said. "You just kind of fall in love with it. It's the coolest, sexiest, most environmentally sustainable thing you can build with."
The Polycor differentiator: service and sustainability
Together Bryan and Valerie work as liaisons between architects and fabricators to surmount the common challenges of large-scale projects – sourcing of skilled artisans, securing a high volume of stone blocks consistent with the design intent, estimating yield and minimizing waste, and contributing to local sustainability requirements in the various European and Mid-East territories they cover.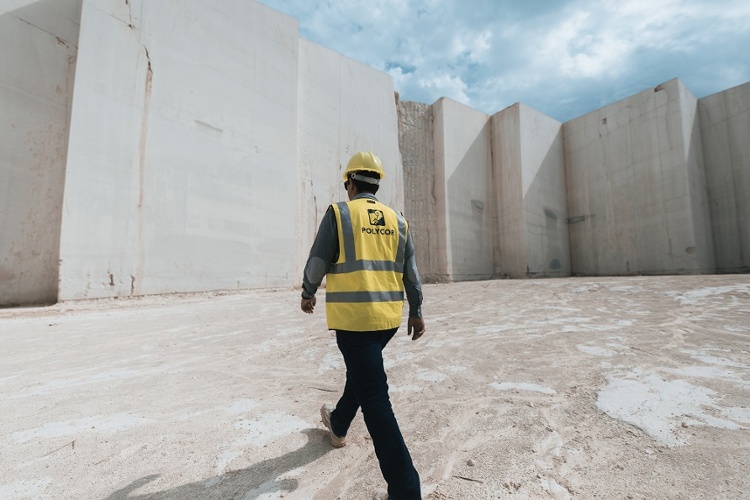 The MASSANGIS ™ French limestone quarry in Burgundy has supplied blocks for Europe's most important landmarks including the Palais de Chaillot at the Place du Trocadéro and the Eiffel Tower base.
"We're hands on from the beginning," Valerie said. "If the architect is in London and the project is in Hong Kong, we'll fly to London and meet with the architect and then our colleagues in Hong Kong are able to pick up the ball when the time comes."
Making a full wall panel specification from a 4×4 sample is tricky if you're not familiar with a stone's character. So is specifying a 60-block project if the design is not matched to a realistic yield. In large projects the team steps in to help professionals understand the limitations and capabilities of each stone, and their unique character, to pair the right stone to the right project. This is, afterall, a natural element cut from the earth with all the variations for which natural materials are beloved: grain, veining, color gradients, mineral inclusions, and sometimes shells and fossils in the case of sedimentary limestones found in France.
"We focus on dimensional building stones, which is our particular area of expertise in the stone industry," Bryan said. "Every project has to be tailored for the physical characteristics and the range. With large projects you may need a lot of volume and you need an understanding of the quarry. We meet with clients at the quarry, in some cases, so they can personally inspect blocks from different locations in the quarry. Our goal is to remove the element of surprise to the best of our abilities and experience…an important approach when working with mother nature."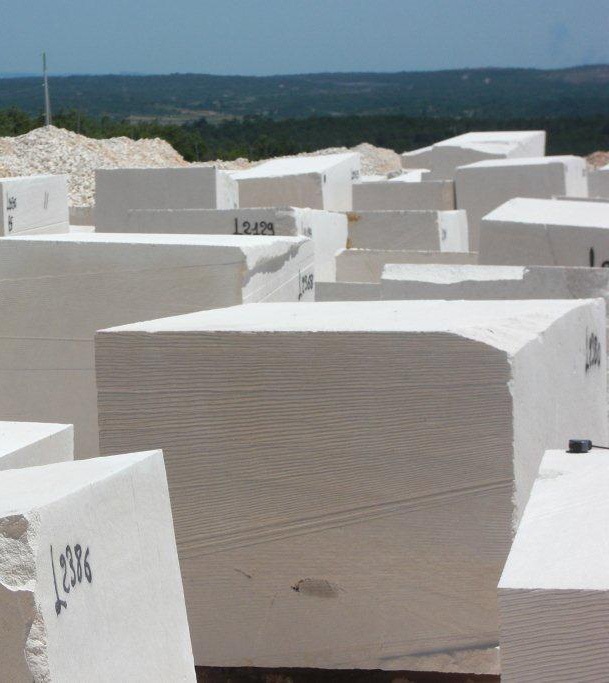 Polycor specializes in dimensional stone from quarries it owns and operates. Here, the LENS ™ French limestone quarry.
Case in point: a large World War II British memorial in France where the design specified MASSANGIS CLAIR ™ limestone. The French limestone from the Burgundy region has been used for generations to build notable European landmarks. In this natural stone, fine, sandy grains are sprinkled across a pale, creamy background producing a clear and uniform surface.
"The design of this project has certainly pushed the limits of the quarry to a new level," Valerie said. "We have worked hand in hand with the fabricator and architectural team to specifically target material which will consistently provide the large bed-heights required for the massive, load-bearing stone pieces used to build this historic monument."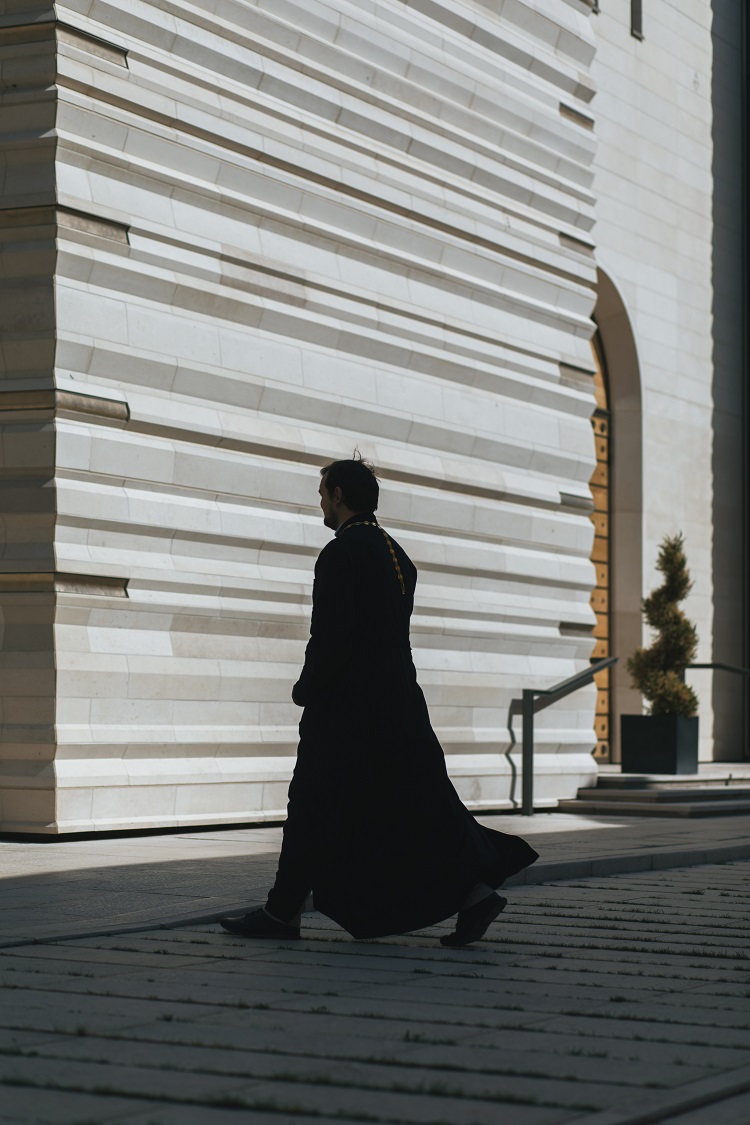 Cathédrale de la Sainte-Trinité – Église Orthodoxe Russe was built from Massangis Clair limestone. The Cathedral was one of the most visited places during the Days of the French National Heritage held in 2017.
"When we brought the team together to understand what they each needed we could then take those requirements and go the extra mile to achieve it," she said.
This impressive project is now well on its way to completion, and its way into history, as it commemorates British soldiers who lost their lives in the battles of Normandy.
"Once you work on a project with stone, you feel like you're going to leave something behind," Valerie said. "I've sold art and houses, and it's nice, people like and need those things, but they're impermanent. People move, paintings are sold. We're helping build monuments that will stand for generations and that's really exciting."
The pair have the support of a global company with 11 offices worldwide. With 50+ quarries, 17 manufacturing plants in North American and Europe, Polycor is now the world's largest natural stone quarrier.
Polycor quarries are located primarily in the US, Canada and France, stable economies where supply is not endangered by political volatility. With complete ownership of the supply chain, what's specified will be delivered.
Bergeron says that control of supply chain has become an advantage in the European market.
"The interest here in sustainability and environmental responsibility is front and center," Valerie said. "Consultants, architects and government officials seek us out when yield, material optimization and energy consumption is a concern because Polycor meets safety and environmental standards, including ANSI/NSC-373 for several of our quarries. We make sure the workers in the quarry are safe and sound and our raw material is extracted in the most responsible manner possible."