An All Hands on Deck Approach to Designing an Outdoor Living Space with Natural Stone
In 2014, TV celebrity, lifestyle influencer and culinary artist Evette Rios and her husband bought a stone house in the Pocono Mountains of Pennsylvania that was built in the late 1700s. Since then, the couple had planned to expand it— not by building an addition to the house, but by making an existing space livable year round. That space is the outdoor deck.
"It always bothered me that there wasn't a way to go outside," Rios said. "That was typical of a house of that time where everything was built so that you could insulate yourself from the environment."
Polycor Hardscapes and Masonry products were chosen for the #NiceBigDeck project, along with TREX Transcend decking in Island Mist color, made with a composite material using plastic bags.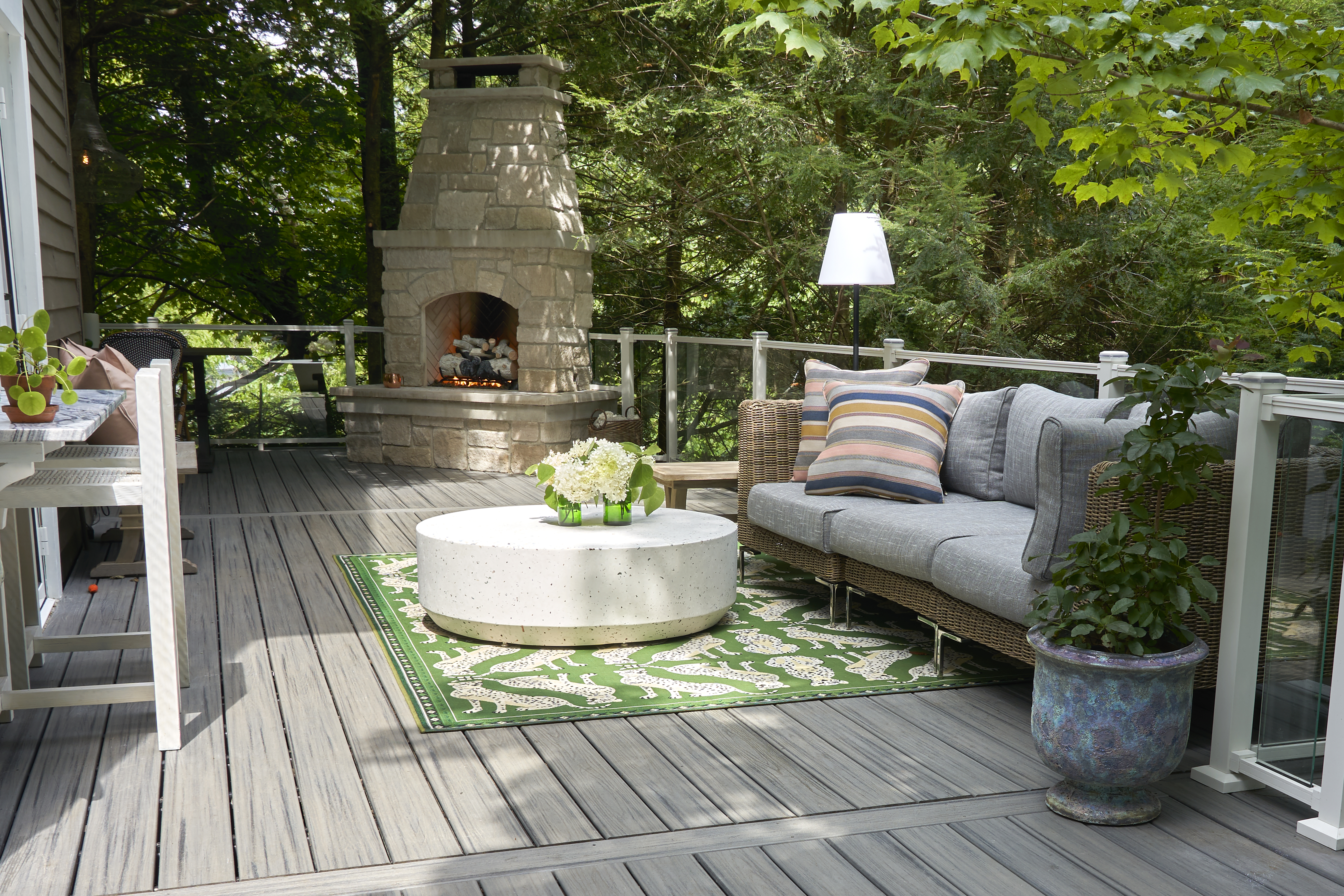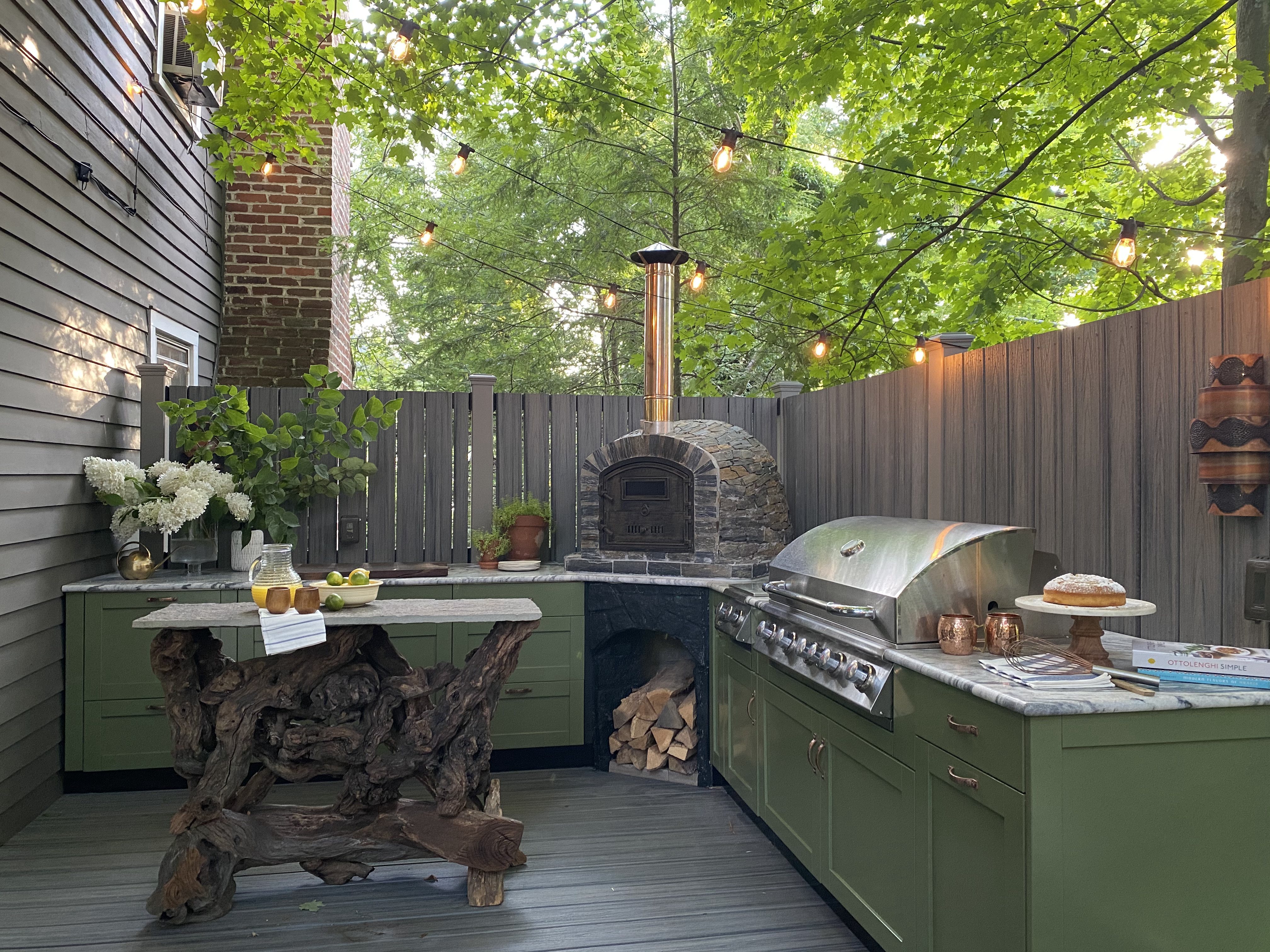 Rios worked with Paul Imbro, a TV producer turned realtor who has worked with Polycor on other projects and whom she calls a lifeline for the project. It was Imbro who suggested using Polycor stone on three different spaces in the deck project: For the hearth and cap of the outdoor fireplace ROCKFORD ESTATE BLEND® Indiana Limestone, a thin veneer limestone with a split face and tumbled texture, was used. The limestone is known for its neutral, buff color with tones of heathery grey, and whose characteristics also include, as Rios describes, "so many muted pastel variations — a little peachy and purple. It was so pretty, and just so cool how the variations are. It's not drastic and it gives it a super old word feel. The way the texture and tone play off each other is a highlight of the design."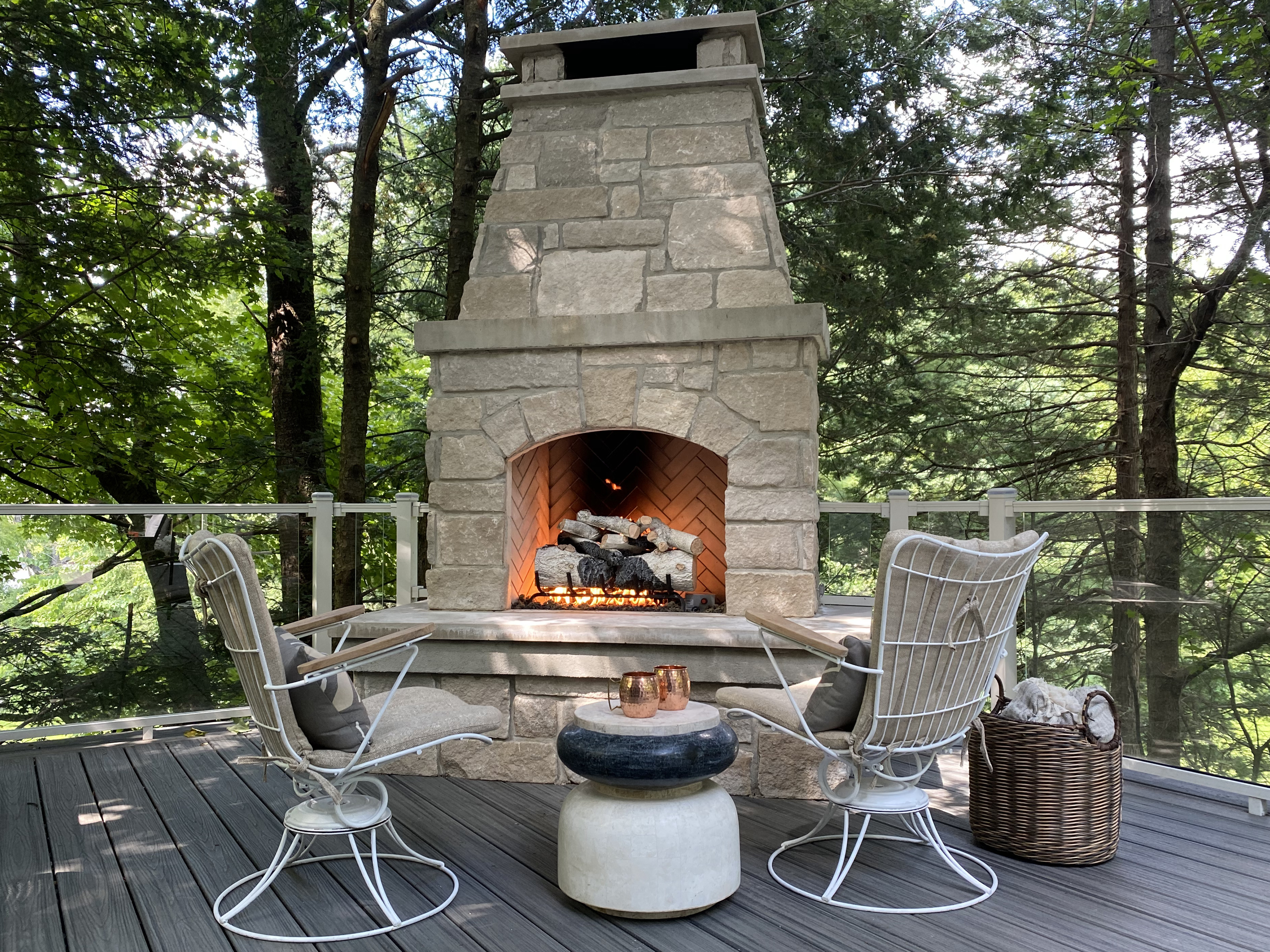 Wait, a masonry fireplace on an elevated deck? How is that possible without a foundation to the ground? Working with thin stone veneers is an increasingly attractive option for contractors as well as homeowners looking to take natural stone places it hasn't gone before, like an elevated deck! Thin, easy to install, and light weight, they are ideal for this type of project. "Weight is an issue when you're putting a fireplace on a deck," Rios said, understating the complexity of the project. Whereas thicker, full bed veneers would have required a more engineered frame or masonry built structure on which to install the stone, thin veneers can be installed onto modular units like these. The result : "Unique. It really turned out so well. Really cool."
Polycor's natural stone veneer was perfect as one of the stone features of the deck. As Rios said: "Ultimately with that type of house it was going to look really chintzy with an engineered, precast stone product." She liked that natural stone veneers were durable for outdoor use and environmentally sound, too. "Sustainability is a value of mine," she says, "so that was a real selling point." There's no building material more sustainable than natural stone, and especially stone quarried in the U.S. It has the longest life-cycle and can be infinitely recycled since it doesn't contain any chemicals or additives.
GEORGIA MARBLE – PEARL GREY™ covers the countertop on the outdoor kitchen. Rios finds it "super durable" and she likes the way it looks a little weathered over time. "I could have gone with a black stone and that would look the same way in a hundred years but I wanted something that looked a little weathered. The Pearl Grey marble seemingly changes colors with the fall and I like that."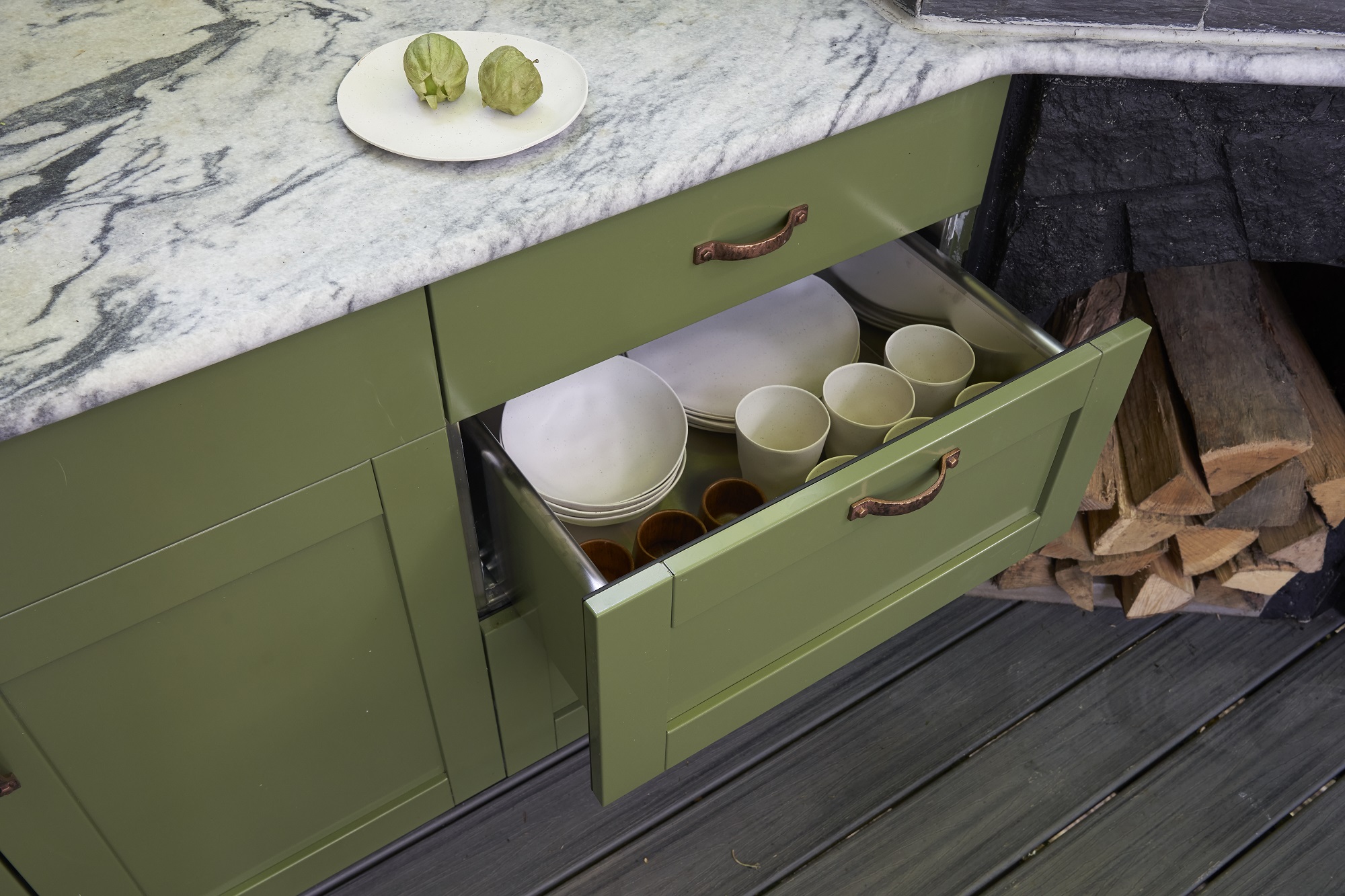 The historic nature of their house was the starting point in thinking about their new deck. This project would be a total overhaul of the existing deck to be replaced by something that would accommodate an outdoor kitchen and a hot tub, as well as a "living" area, each space carved out in her mind. "This is an important part of designing any space: Figure out all the things you want to do in that space whether it's sitting in the sun, or having a place to read, work or a dining area, that's the number one thing. Thinking of all the things you want to accomplish in that space."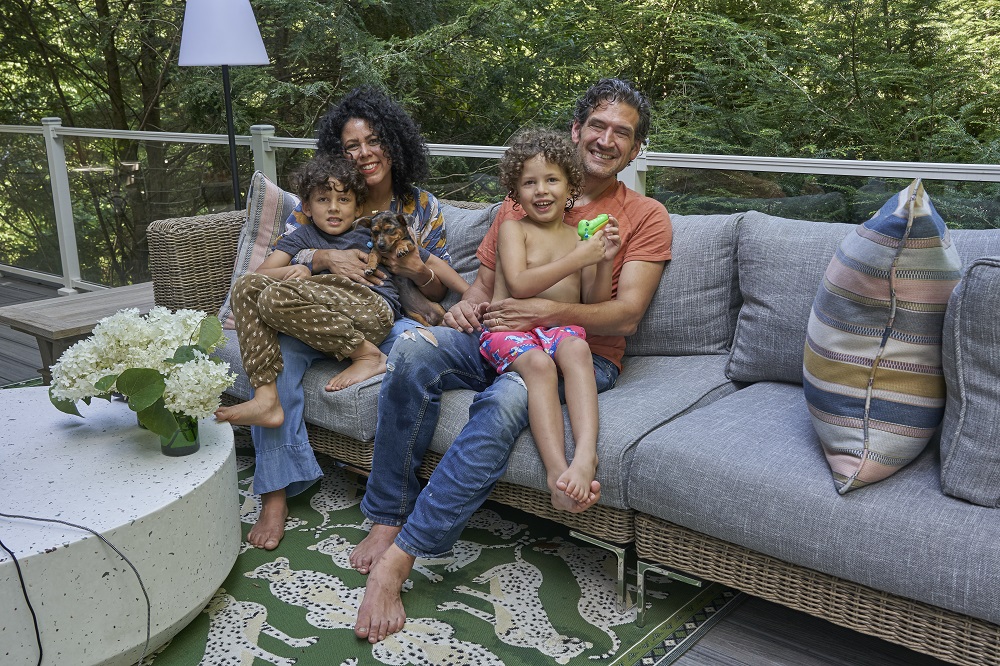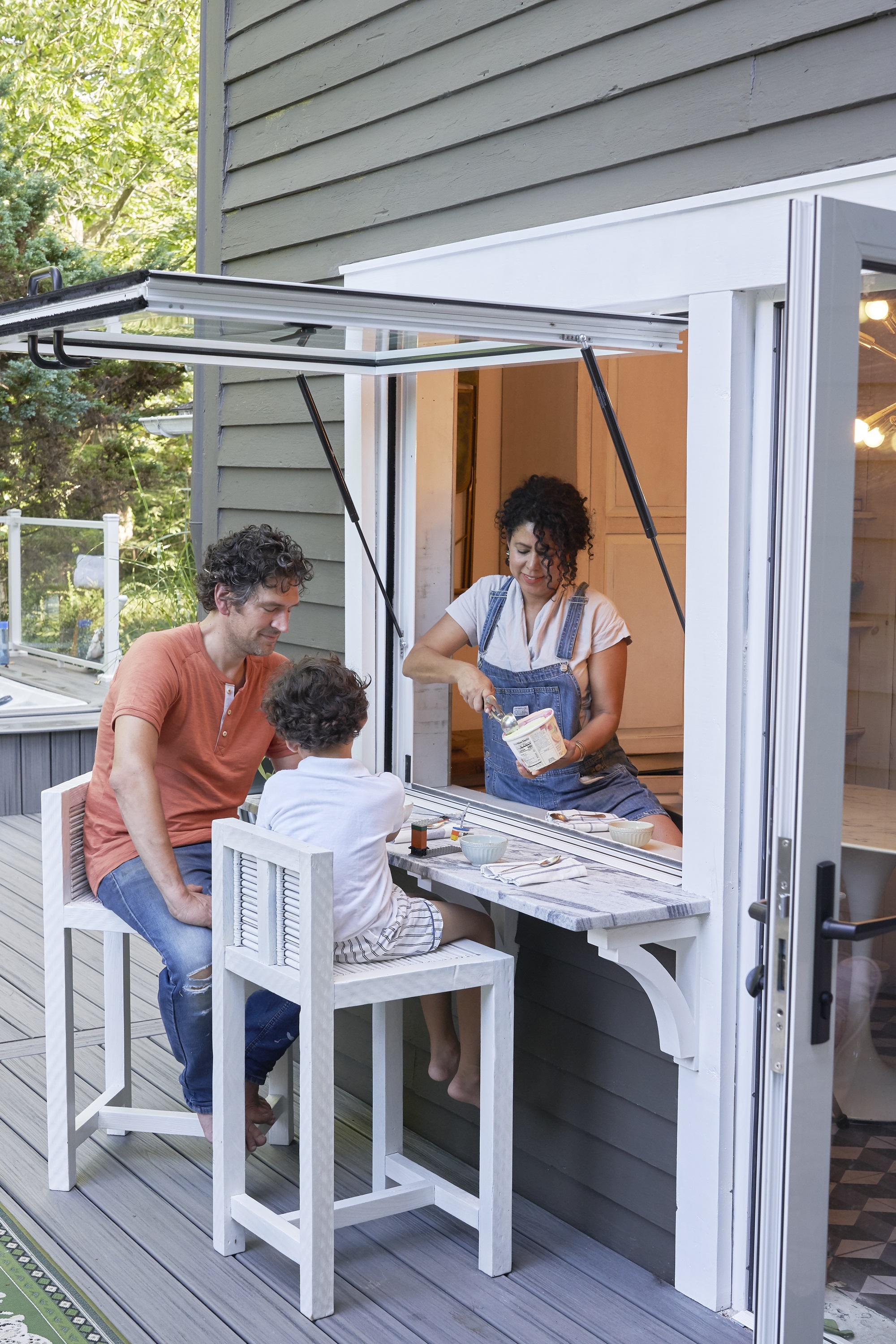 Rios describes the old deck as a "washed out barnwood color" and said "we wanted to retain the historic charm of the historic house in the outside project." They wanted the colors in the new deck to work with all the other colors on the property — green from trees and the muted colors of the stone cladding on the historic home.
The property has thick swaths of trees and shrubbery. "People suggested taking things down. But I wanted to keep as many bushes and trees as possible." A solution was to add in railing with aluminum post cap in white and unobtrusive glass panels. These both blend with the house and allow people using the deck to see far out to the surroundings. "I had a terrific installer who blended the color of the stone as much as possible." she said. Performing dry lays of the veneer before installation allowed her to make design decisions based on size, color and shape.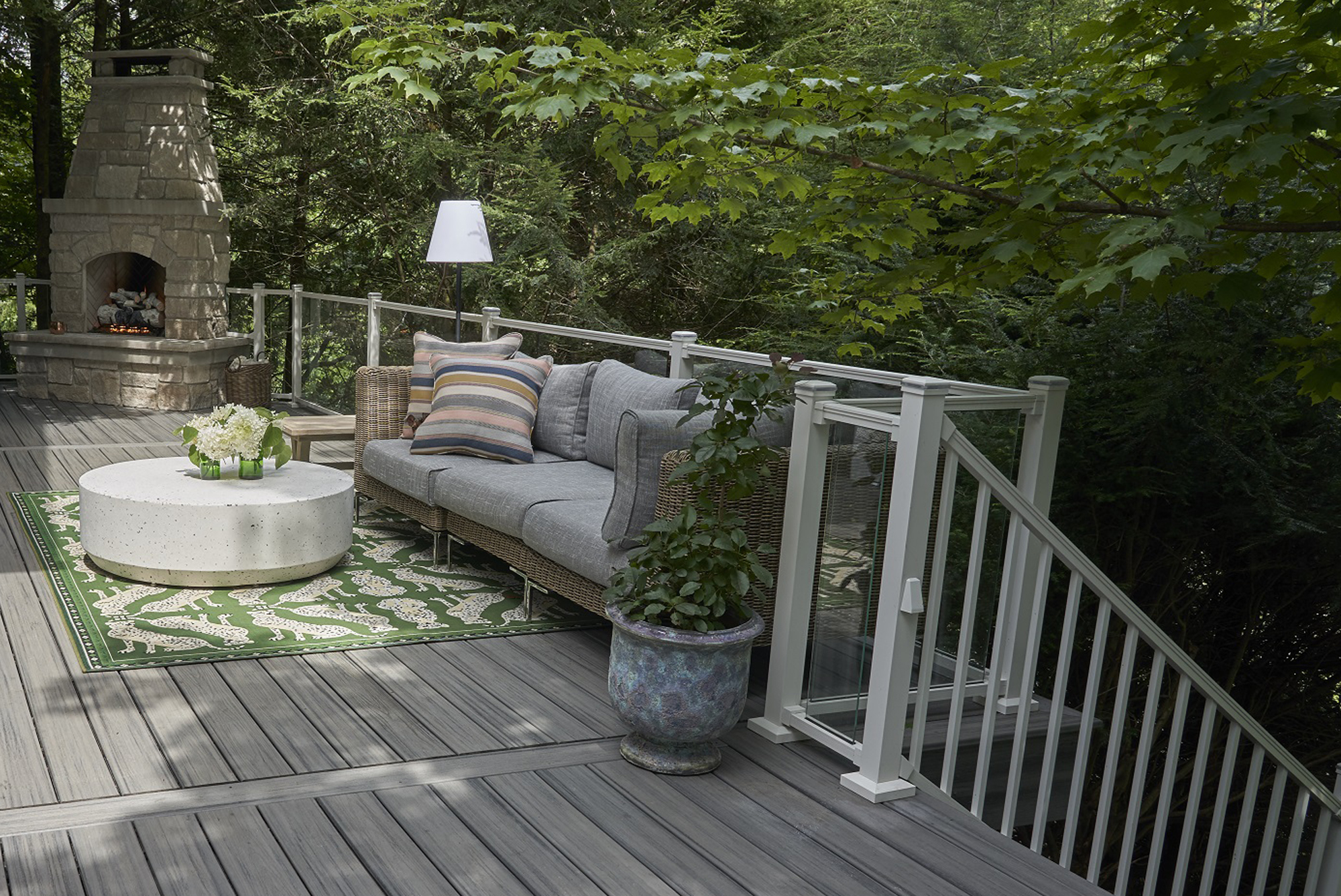 One of the big takeaways from the project, which Rios shares here, is the importance of having a good contractor on the project. "That is essential," she said. "They are going to give you so much insight if they've built decks before. They will come and evaluate your space. They will say, for example, this needs to be a little longer. For instance with the hot tub I wanted it to be sunken. He was very clear that older people would have a hard time getting in."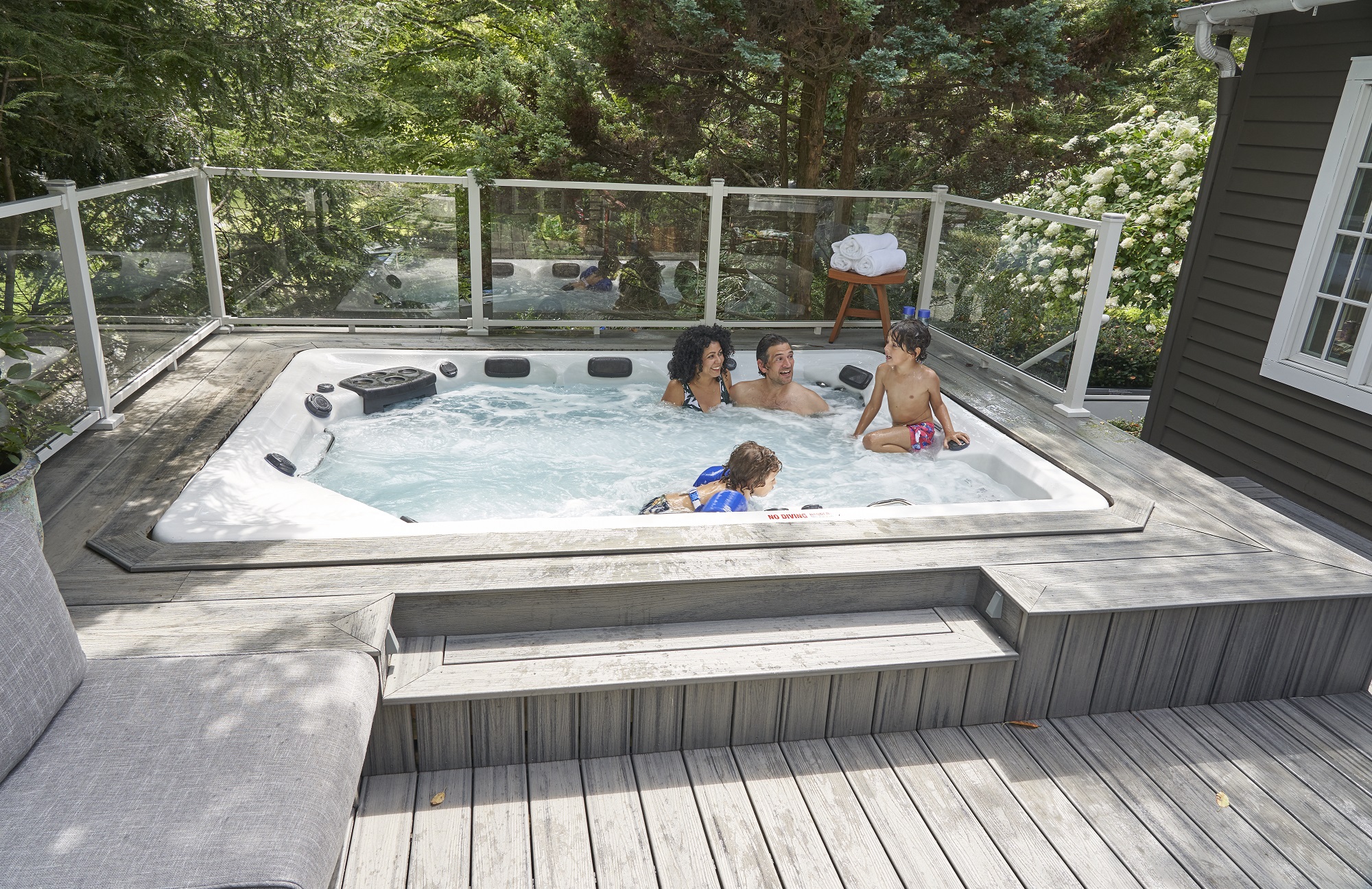 She also learned the value of getting samples of all the materials you are planning on using, and "laying it all out on a nice sunny day and that will help and include the paint color of your house if the deck is attached to your house."
To complete the redo of their outdoor deck and make it into a more livable space the couple added several "interior" design features, such as furniture suites and rugs. A five-piece Outdoor Armless Sectional comes from Live Outer; a Tanzie Indoor/Outdoor Rug from Frontgate while bar stools from Tucker Robbins add to the outdoor kitchen which also includes a Rios' beloved pizza oven.
Rios and her family found the transition to outdoor living quite seamless. "It's such an easy transition to make and change your lifestyle by giving you more opportunities to be outdoors. It gives yourself the longitude to feed differently."