Can You Get Samples of Marble or Granite? Answers for Designers
You've got samples for paint, cabinets, floors, even wallpaper, why not stone? If you've been shopping for materials for a design job you know how difficult it is to cast a vision for your client (or get them to make a decision) without samples. So why is it that the dealers for the most costly aspects of the job don't offer samples?
In today's post we'll cover how the sourcing of stone affects your access to samples of marble and granite and how you can work around those obstacles.
Can you even get samples of marble or granite? For soapstone or limestone? The quick answer is yes and yes. But there's more to the story.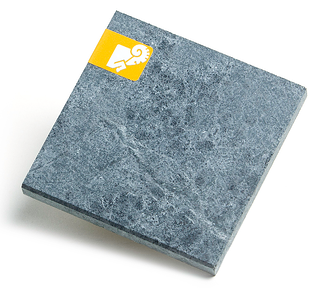 WHY YOU WON'T FIND SAMPLES AT MOST DISTRIBUTORS
Today the stone market is global, with many players. Your stone may be quarried in Iran or Italy, cut in China and sold in New York. In that global sales process you as the designer (or homeowner) don't have easy access to the actual stone that will end up living under your cutting board. Most often it's impossible for a distributor to give you a sample of a stone, because it's moving around the world. And with brokers in the mix, buying and selling the materials in large volume from multiple sources, your distributors may not even be able to say for sure where the stone is originally sourced.
WHY POLYCOR STONES ARE DIFFERENT
Our stone is quarried right in here North America. Pearl grey marble, for instance, a white US marble with beautiful grey veining similar to Carrera marble, is quarried in Georgia, and has been for 150 years. (That's the same quarry that brought you the Lincoln Memorial and the GM building.) You can see a video of it being fabricated here. Because we own our quarries we maintain control and a steady connection with our stone from quarrying to distribution. This enables us to shorten lead times to several days (rather than a couple months). We know the source, who handled it, and exactly what is on every truck. Each block is rigorously inspected in the quarry and throughout every phase of production to ensure the best quality.
CAN I ASK MY DISTRIBUTOR FOR A PIECE OF THE SLAB IN THE STONE YARD OR SHOWROOM?
Probably not. While it once was a common practice to hammer off a corner of stone to give to a customer, distributors rarely do this anymore as it risks sending cracks throughout the whole slab. Breaking off a corner for you could threaten the integrity of the stone you're considering and it could mean ruining an entire slab worth thousands of dollars. Your fabricator might also have an issue in yielding that big island you wanted in one piece when the corners are missing.
HOW DOES POLYCOR OFFER SAMPLES THEN?
When rough blocks of stone are removed from the quarry they will first be squared before going into the gang saw for slabbing. During the process of cutting and finishing the slabs, smaller trim pieces will be reserved for sampling. Small blocks that are intended for tile or other cut to size work will also produce material suitable for samples. These trim pieces are moved to the bridge saw where they will be cut to the appropriate sample sizes.
CAN I GET A SAMPLE IN ANY MARBLE?
Yes, in fact we offer samples of all our stones – American marble, granite, limestone, soapstone and our recycled glass countertops from our Vetrazzo brand. They are available at the distributor (if they don't have them on hand they can be ordered quickly) or also online directly from our website.
CAN I GET A THIN STONE SAMPLE?
Yes. Because 1 cm Thin Stone is available in any of our US marble and granites, the samples you receive are cut from actual slabs to 4" x 8" sizes with the proprietary backing applied, and come in any finish. You can read more about the strength of 1 cm Thin Stone and how it's fabricated here.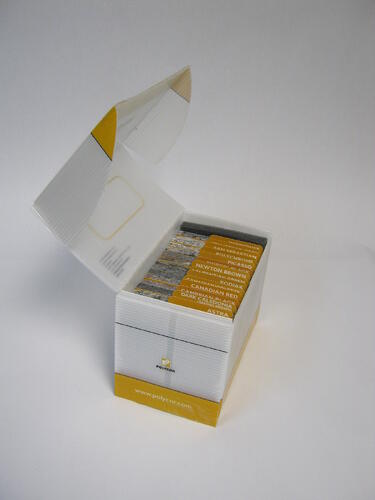 WHAT'S THE SIZE OF SAMPLE?
Natural stones
4'' x 4'' x 3/8'' (or 1 ¼")
6" x 6" x 3/8 (or 1 ¼")
8" x 8" x 3/8" (or 1 ¼")
12" x 12" x 3/8" (or 1 ¼")
Custom sizes are also available. Samples of any of our alternative finishes can be requested such as our antiqued, waterjet, honed, flamed or plasma textures, each of which produce a unique feel and coloration.

Mosaic
6" x 4 ½" cards with actual 3/8" thick mosaic tiles, mounted to an eco-friendly pressboard backing for ease in transporting and presenting to clients.
HOW MUCH DO STONE SAMPLES COST?
All samples are $10, including shipping. Checkout is through a trusted PayPal site. Click here to view samples.
WHAT SHOULD I DO IF MY DISTRIBUTOR DOESN'T OFFER SAMPLES OF THE STONE I'M INTERESTED IN?
You can get a better of idea of how the stone will look in your space by bringing in a cabinet door, floor tile, paint colors and stain samples. You won't get the benefit of the natural light in your space or seeing it every day when you move about the home, but you will have a better sense of how it all ties together.
WHY WE OFFER SAMPLES OF ALL OUR NATURAL STONES
Every year we make a significant investment to bring samples of all our stones to distributors because the stone you choose is a big investment on your part. In a countertop or feature wall, even in your bathroom, the natural stone will be a show piece for your home (and isn't that your biggest investment?). You want to see and touch that granite or marble and get to know it better before you make a decision.