The Ultimate Kitchen and Bath Upgrade, Custom Fabricated Natural Stone Sinks
Cabinetmakers aren't the only ones who can claim their mark on the custom kitchen. Natural stone fabricators are chiseling and carving their way into custom spaces through an unlikely medium – natural stone sinks.
When a client wants a look no one else has, a custom stone sink makes a powerful design statement and can elevate the richness of any bathroom or kitchen. From a rustic modernsink to a hand chiseled double vanity (in a barn, no less) to a formal traditional marble powder room, natural stone sinks are where fabricators can shine, and maybe show off just a little.
Today we're profiling sink fabrications in Alberene Soapstone, American Black granite and the US marble White Cherokee.
THE SOAPSTONE SINK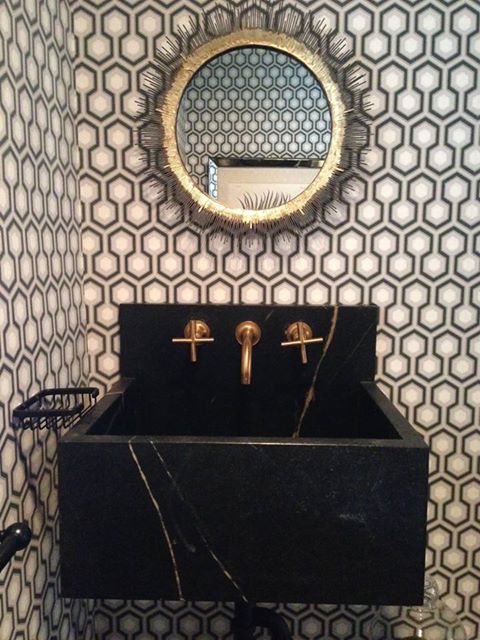 Alberene Soapstone has been mass-producing large utility sinks since they were a mainstay in turn of the century households and industrial buildings. In brownstones, rowhouses, urban centers and suburban homes across the U.S. these slop sinks were used for doing laundry, bathing children, and even mixing harsh chemicals in science labs. With the passing of time and the changing of trends, homeowners are back to inheriting these iconic soapstone sinks and designers are seeking them out for their own projects.
READ THE ULTIMATE GUIDE TO SOAPSTONE COUNTERTOPS
For Jay Tauber, expert craftsmen of handmade farmhouse sinks at Garden State Soapstone, Alberene Soapstone is his go to material. Tauber founded Garden State Soapstone more than 10 years ago, and he continues to work closely with customers from choosing the stone slab all the way to installation. "Our sinks are all handmade by me. So basically customers come to me with their project and they have a sink that they're interested in using on this project, and then I start creating."
Tauber imports and uses soapstone from all over the world, like Brazil, but his favorite to work with is the one made in the USA, born in the USA. "I love Alberene soapstone. I try to make all my sinks out of Churchill and I push that for my customers because it's traditional. I love to tell my customers I'm making a handmade custom sink in the USA that comes from the USA." Not only does he love that it's American made, but Tauber loves that it's easy to work with and also looks great. "The Churchill is a durable stone and it's super clean, simple, black."
Here's a quick look at Tauber's process:
He starts each project by taking dimensions to properly custom make each sink to every homeowner's wants and needs. The standard construction of his sinks are tongue and groove. This means that after the five parts of the sink are cut – a back, front, bottom, and two sides – he creates a dado, which is an interlocking mechanism that holds all the pieces together. "Dadoing has a lot to do with wood parts, but I actually do it to my stone," he said.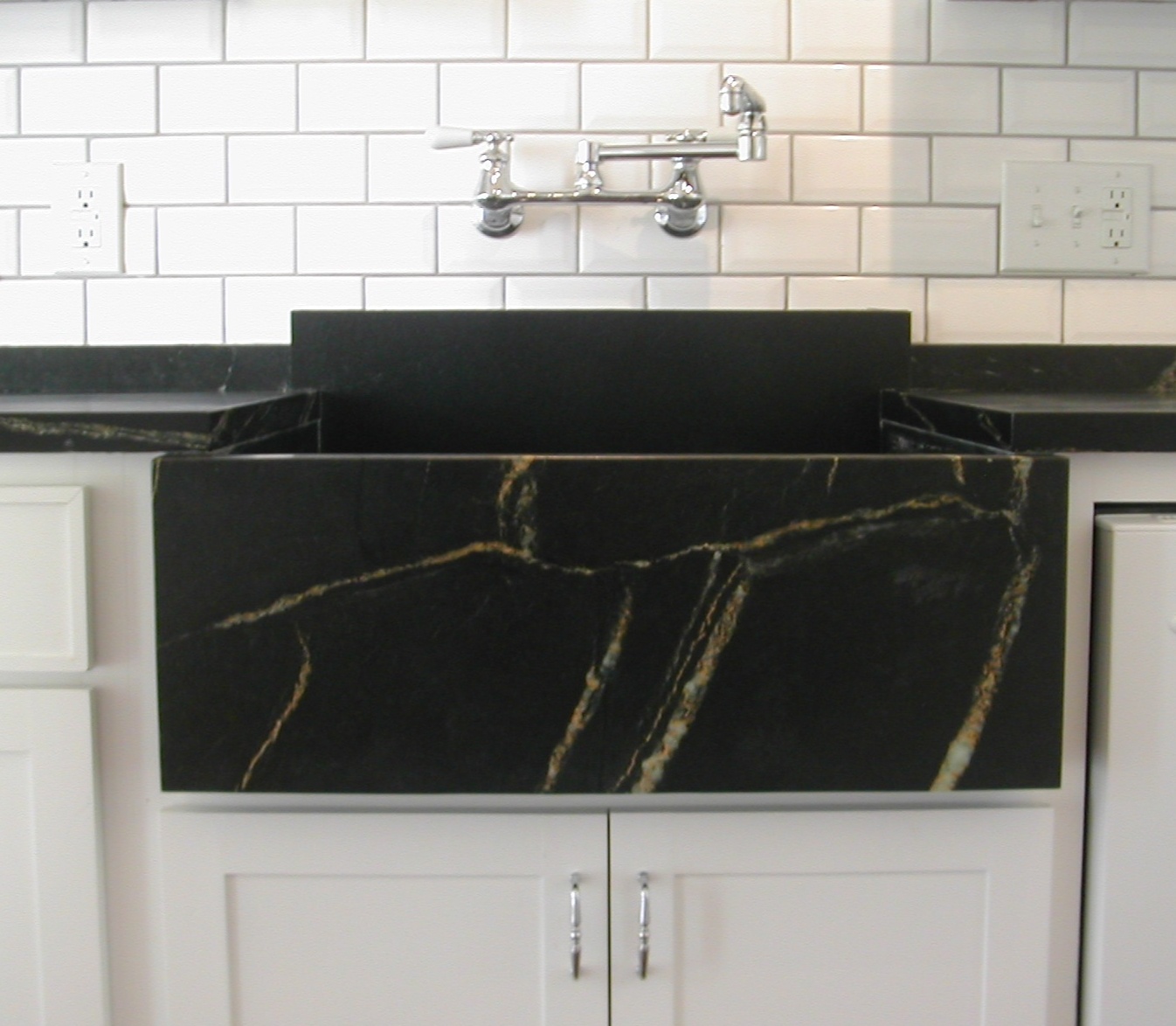 Once the pieces are dry fitted together, the sink bottoms are pitched to a drain hole located at the sink's center or any desired location. To finish up the project, he applies epoxy to the entire sanded sink to hold all the pieces permanently. "Even though the dado will hold it together, it won't hold it together permanently. I put epoxy in all these dados and clamp it overnight. The next day we flip it over on the back side and epoxy the bottom very thoroughly because the bottom is where you want a lot of the strength." Tauber finishes each sink with soapstone wax or soapstone oil, and it's ready for installation.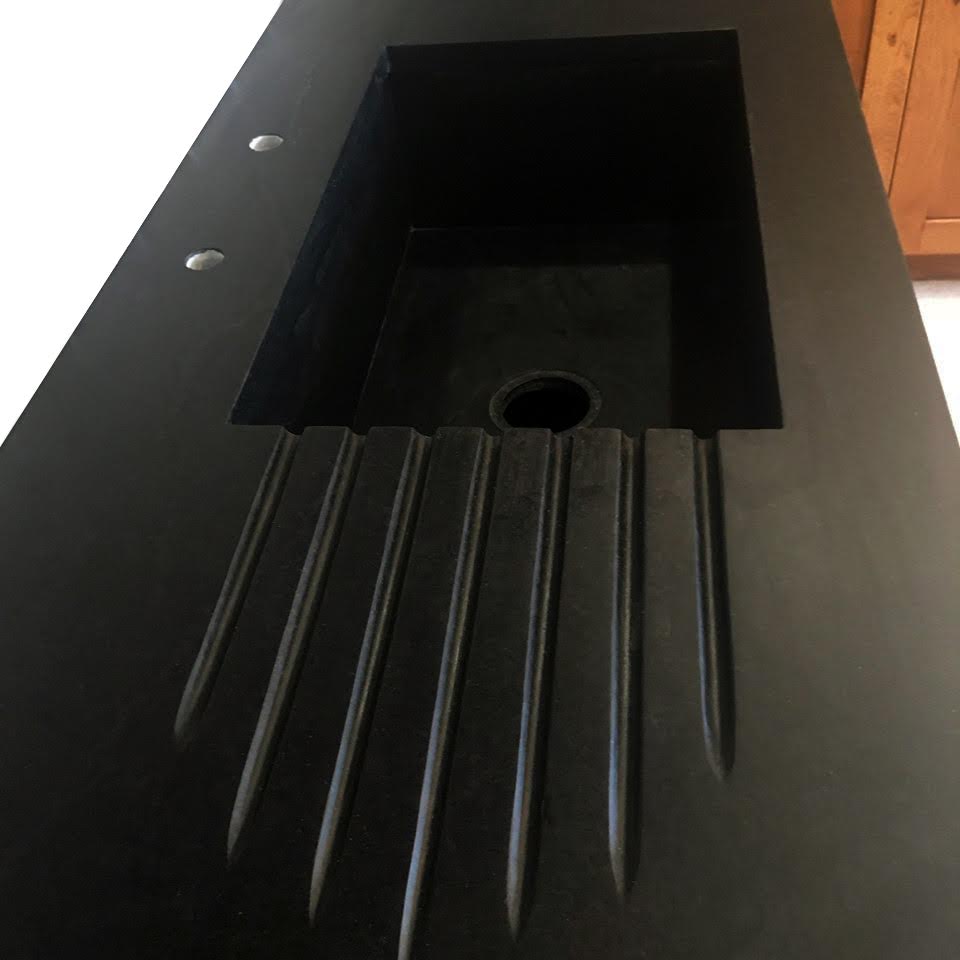 In addition to custom sinks, Tauber fabricates his sinks with built-in counters, backsplashes, runnels and drainboards, and edge details to complete and enhance any project. Apron sinks, though, are his signature style. "An apron farmhouse sink is a look, and people love soapstone, so to them the combination is really cool. These sinks last forever and have an organic, natural look."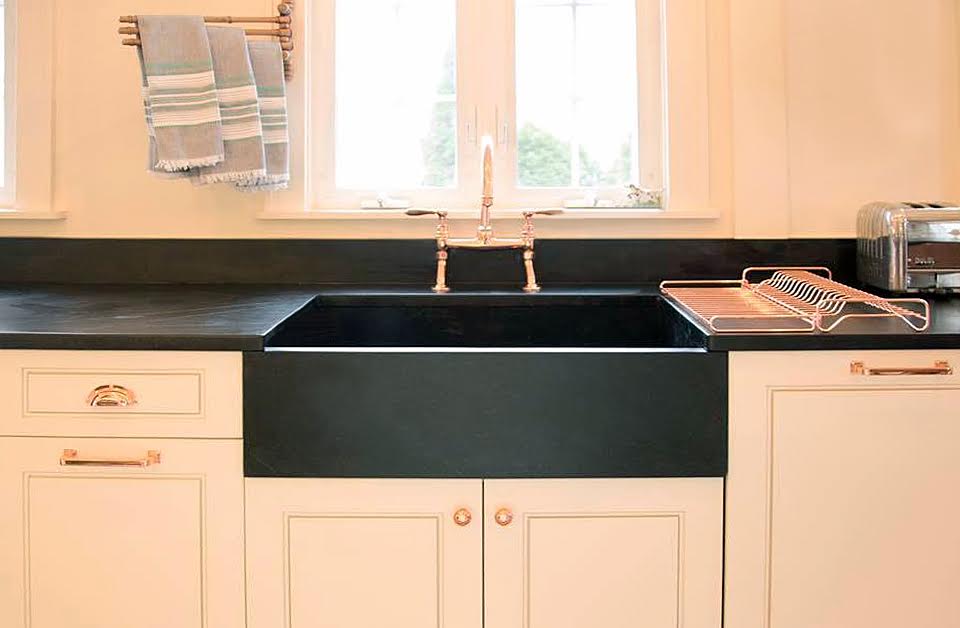 While some soapstone sinks are designed to blend in, some want them to stand out. Tauber's customers' shape the character of their own sink by selecting their own slab of natural stone before custom fabrication. Often times, they select slabs with dramatic veining to bring out the most natural qualities in the stone. "People like the veining, scratching, patina and the dinging. Organically aging over time is all part of the material, and clients are even looking specifically for that. The clients that want these farmhouse sinks like all of that and they're okay with the sink looking organically older over 5-10 years," he said. "Just like there is a big market for distressed woods and worn out jeans, it's something people are willing to pay more money for."
The American Black granite sink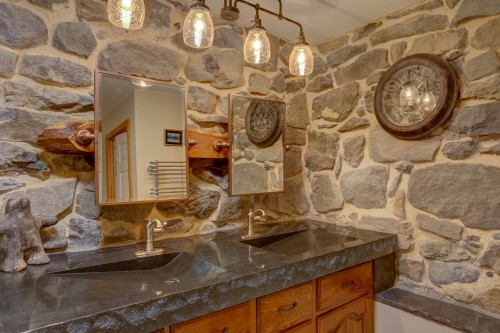 A true American product, this black granite is quarried in Elverson, PA. not far from Frank Lesher of Lesher Natural Stone, Quartz & Tile. He and his team just recently completed an American Black granite double sink vanity for a remodel of a historic 19th century farmhouse / barn in rural Pennsylvania.
American Black® granite has a deep black background with a pronounced, white linear veining giving it a marble-like appearance with granite's durability. This high quality, extremely durable stone can be polished, antiqued, honed, or water jetted.
"The decision was made early on to specify a 4" thick slab so that the sinks could be carved out of a solid block while complimenting the old stone walls," Lesher said.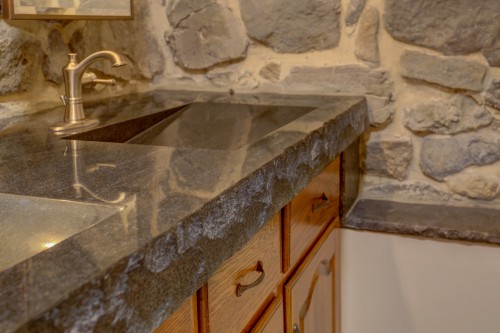 To preserve some of the older elements in the home and maintain the building's character, the homeowners refinished the floors, used ash trees from their backyard for an addition, and purchased furniture from architectural salvage stores to pair with their new custom vanity. Keeping the feel of the rough face of the walls was the inspiration for a rock edge on the vanity.To complete this project, Lesher's shop manager, Jim Good, hand chiseled the rock pitch edge of the vanity.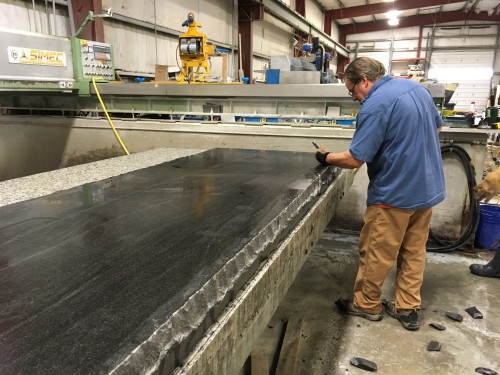 "One of the challenges in making the vanity was the original stone wall from which it extends," Lesher said. "This wall used to be an exterior wall of the original barn and in order to get the vanity flush against the wall, our workers had to cut the vanity to match the bumps and curves of the wall. The curved sink cuts seamlessly flowed right into the counter's polished surface which enhances the deep, dark black granite and its subtle white veining."
The US Marble sink in White Cherokee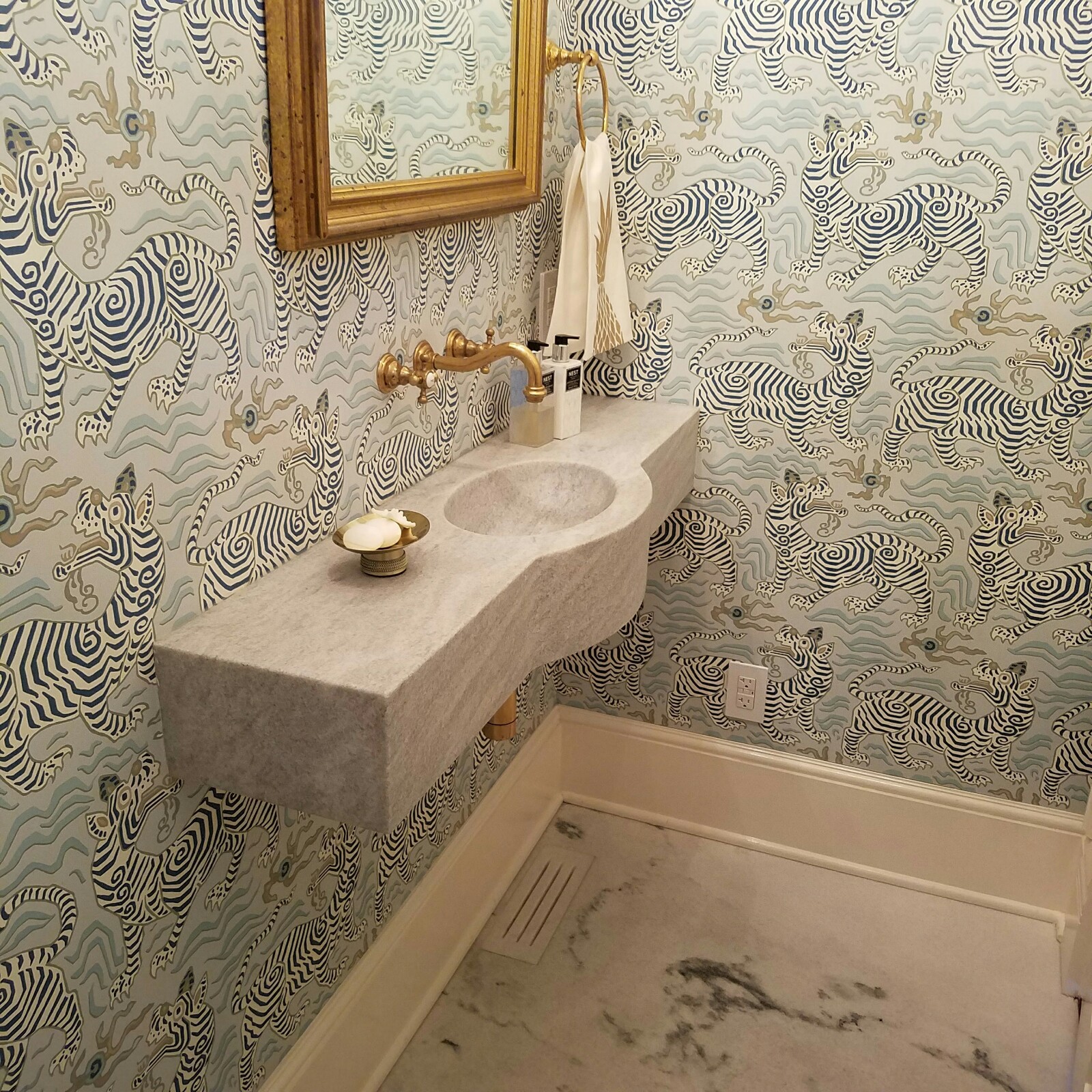 In Charleston, SC fabricators at Tile & Stone Design Studio fabricated a modern carved marble sink for some antique inspiration, making a tiny bathroom into a dramatic space.
Showroom manager Sarah Miles explains how the design by architect and designer Beau Clowney and drawn by Kate Campbell at Beau Clowney came to be.
"The architect and designer found a photo of an antique marble sink that they used for the inspiration, but the top was too wide for the space and not long enough. They contacted me to see if we could create a custom top," Miles said.
"We went through a few different designs but ultimately the client wanted a neutral marble top and White Cherokee marble from Georgia was our favorite option. The floor in this bathroom is a full slab of 2 cm White Cherokee so it helped that we were able to use the same stone for the sink as the floor." (Notice even the floor heating grate is fabricated from marble.)
The size of the tiny powder room presented a challenge.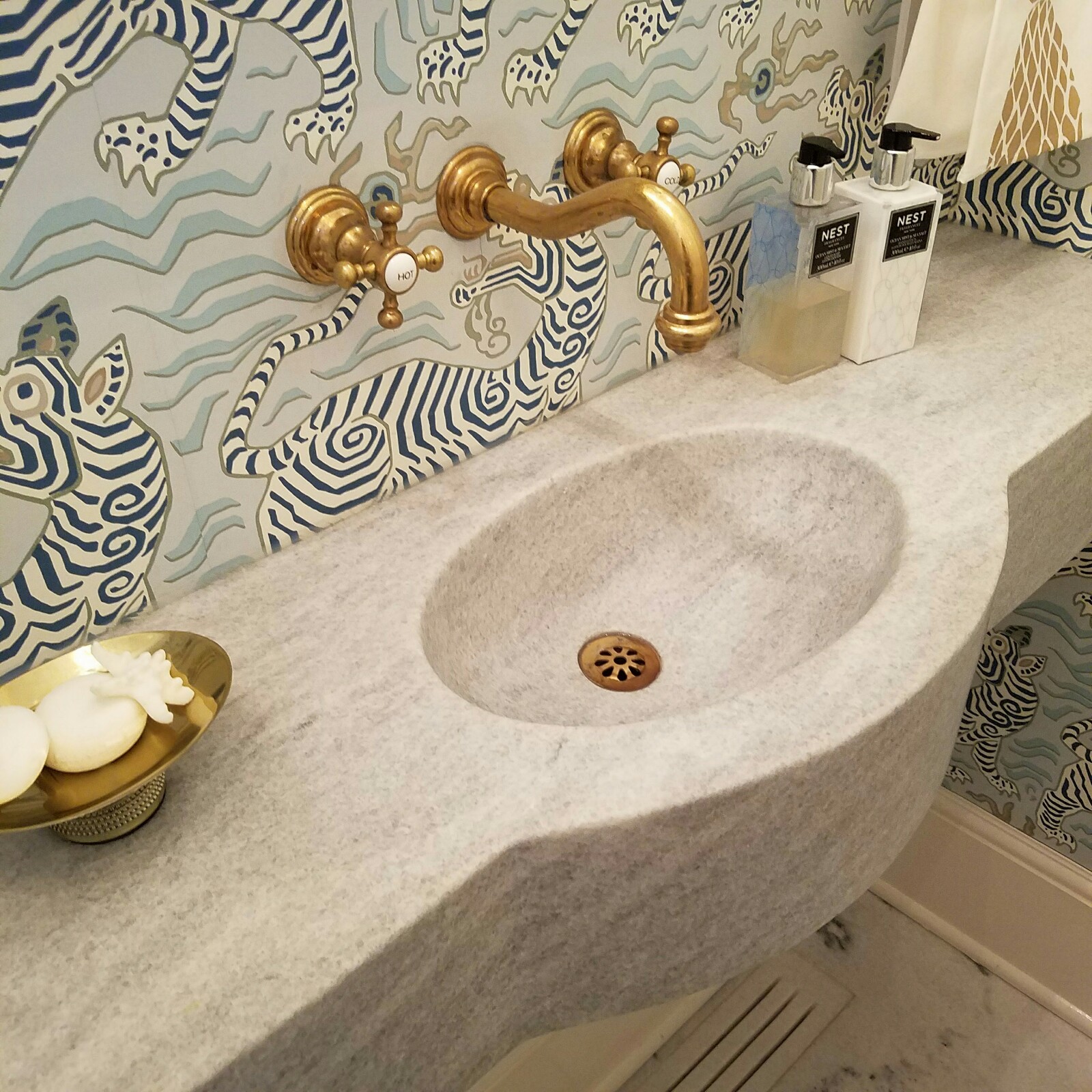 "We had a very narrow space to work with so the size was very important. We made multiple templates and tested them at the house to make sure the door had clearance and you could still move about the room comfortably," Miles said.
The fabrication process was all done by hand with a combination of chisels and small hand tools. The sink took about three days to complete. "The Georgia marble is very dense and was much easier to work with than other marbles," Miles said. "There was very little blowout or chipping during the fabrication which made the process a lot easier than we expected."
One of the challenges to fabricating a carved sink in a custom size is getting the right block size to prevent significant waste.
"The one thing I want to say is how easy it was to work with Polycor on getting this material. We did not have to buy a large, over-sized piece that we would have a lot of waste with," Miles said. Polycor operates a zero waste quarry in Georgia and is able to cut blocks to size on demand.
"I was able to send the exact dimensions I wanted and they cut it to size for me. The fabrication of this sink would have taken a lot more time to create if we were to cut and shape the entire piece ourselves. We were able to use the already cut back and sides to start our form with which was a huge help!"
A custom natural stone sink, whether carved or constructed, is a high end upgrade that fabricators can offer their customers to set themselves apart from the competition. Both homeowners and designers should know that these sinks have heritage value, often outliving their first owners. I just found a double trough soapstone sink circa 1890's at a high end salvage shop in New Jersey. 120 years later all it needs is a fresh coat of wax to make it the centerpiece of a rustic modern design. It goes to show you that quality materials and skilled craftsmanship create lasting design.