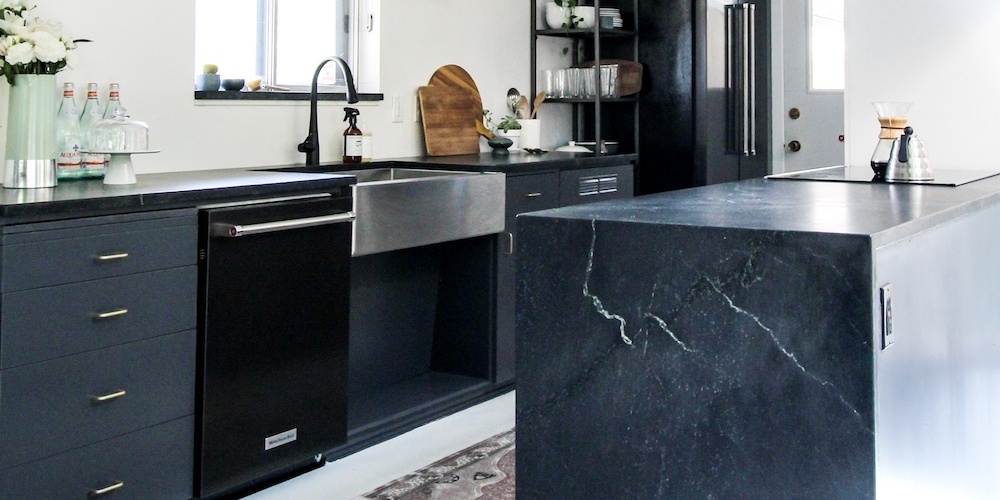 Soapstone Kitchens and Baths
---
Inspiration. Application. Care and Maintenance.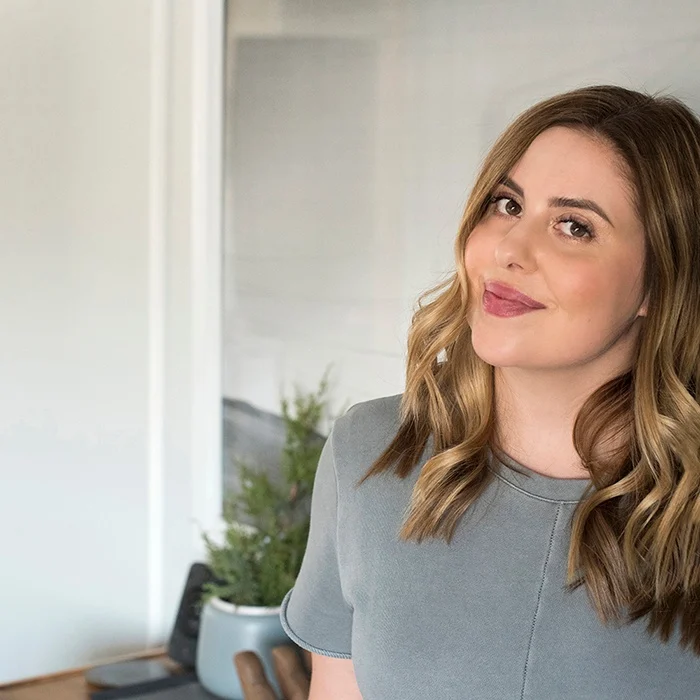 "It's basically my dream countertop material. I love it so much I put it in my kitchen too. "

– Sarah Gibson, Room for Tuesday
If you want to learn how to design with, care for and buy American soapstone ━ then you're in the right place.
---
Design your kitchen with soapstone
---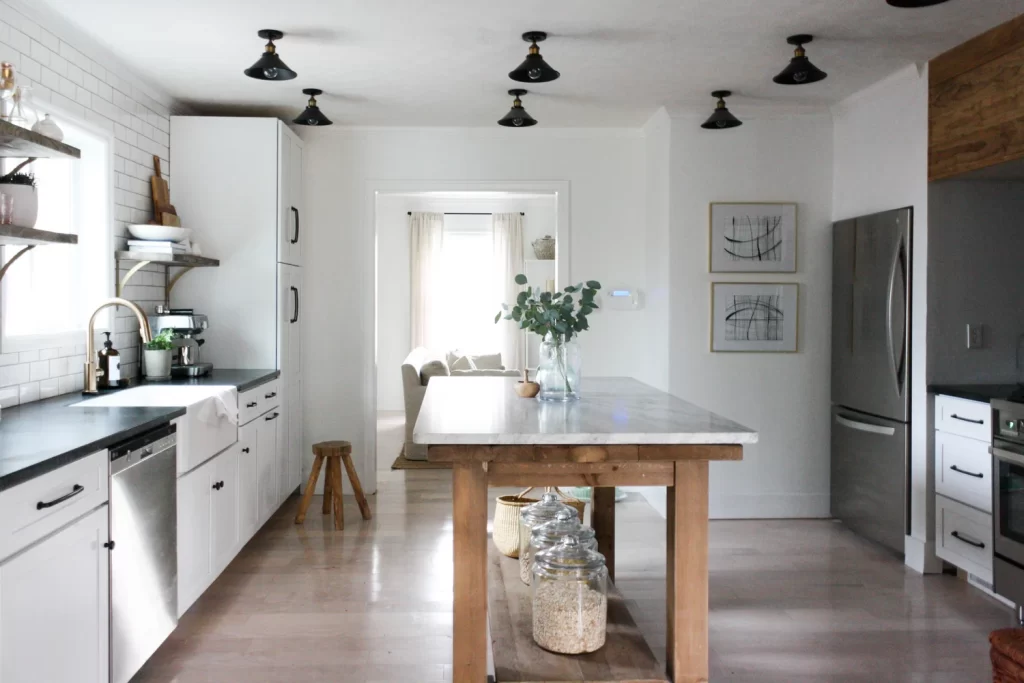 A European Family Kitchen
---
"It was through my favorite designer Lauren Liess' design that I fell in love with soapstone. I had always thought of myself as a marble only kind of girl but the warmth of the soapstone seemed to be just the right choice for our new home. I've had this vision of a warm and cozy European kitchen, the kind you can smell bread baking in just by looking at it. Old and new elements woven together resulting in exactly the right balance of rustic and modern. This is where I fell in love with Alberene Soapstone from Virginia." – Anissa Zajac, House Seven Design Build
Designer Anissa Zajac prefers a pallet of black, white and warm wood tones. Here in her home kitchen, she contrasted her black soapstone countertops with a White Cherokee marble island.
The Mid Century Mod
---
Interior stylist and blogger Kirsten Grove, recently set out on a total renovation of a mid-century Idaho home that was stuck in the 90s. (Think crystal chandeliers and brown countertops.) She and her husband do most of the work themselves adding character, ingenuity and style to every room with simple materials and a monochromatic palette. Grove is also the author of Simply Styling, a practical guide to creating a stylish and lived-in home. "The colors and textures are just so intriguing to me," Kirsten said. "You just don't see the beauty of soapstone on a normal basis. I wanted people to walk in my kitchen and immediately be drawn to the textures. Other materials can be beautiful, but can also feel normal and dull. Soapstone is in a league of its own."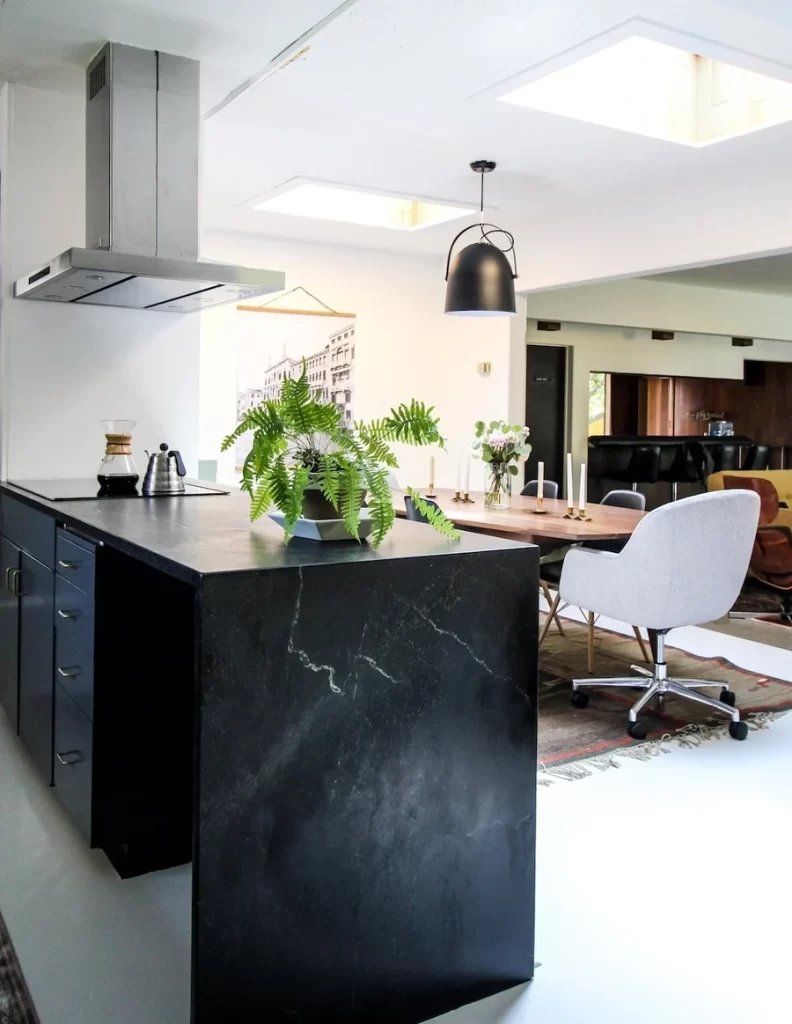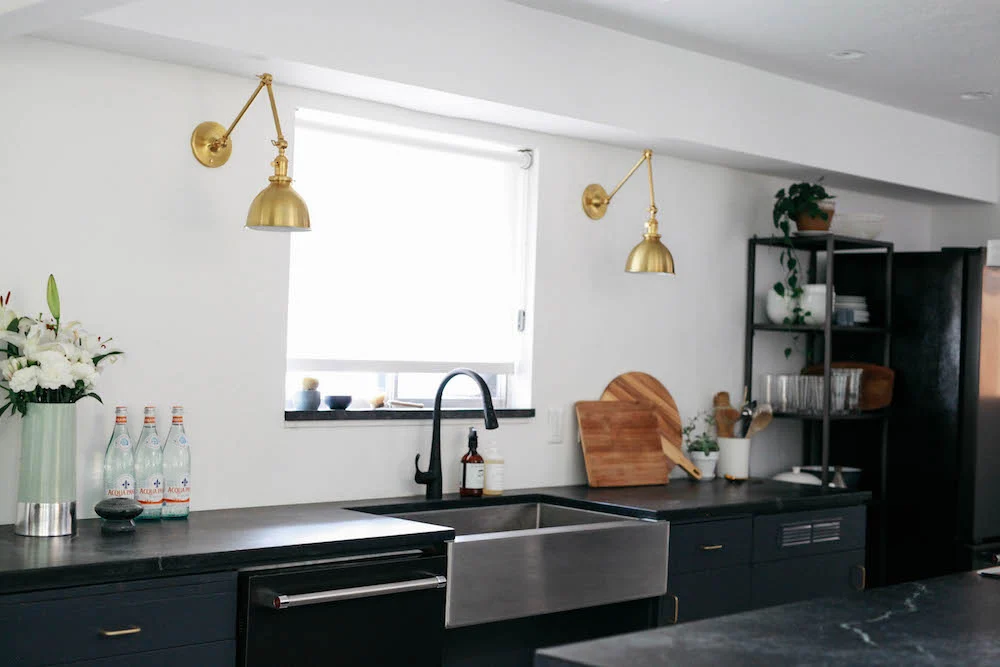 "I chose my cabinet colors around the soapstone," the designer said. "I wanted a dark, moody kitchen. Because the walls are painted white, the space gets a lot of natural light, but the cabinets and counters give it that dramatic look that I wanted."
(You can achieve the same black look with this wax.)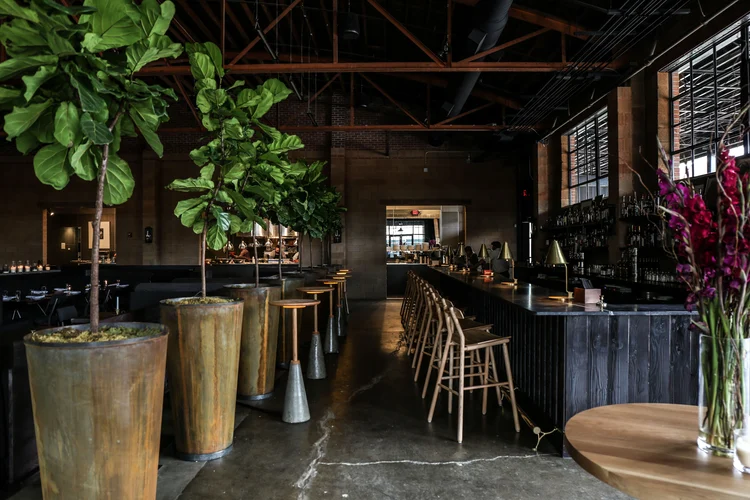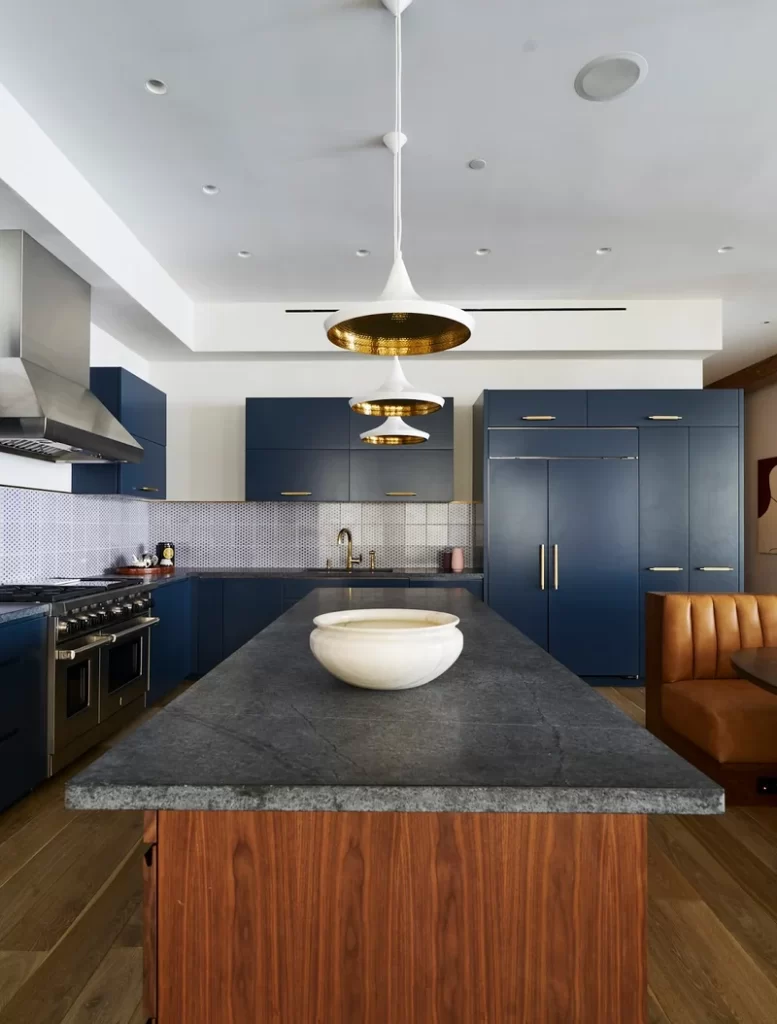 The Urban Loft Softened by Texture
---
Studio Zung's work at Maison Crosby, a modern 5,500 square foot loft in Soho, reflects designer Tommy Zung's love of incorporating natural and local materials into architectural projects.
The original space, which once served as a manufacturing building, featured exposed steel beams, raw woods and plenty of natural light from the over sized warehouse windows. Zung decided he wanted to pay homage to the building's natural architecture.
He built upon the core existing materials — wood, glass, steel and stone, and went from there, adding a cozy fireplace, brass fixtures, luxurious leather seating, deep dark blue cabinets, and a large workable untreated soapstone center island designed to bring the family together.
"I love the characteristics of it," Zung said of the natural stone. "It's really warm and has a deeper energetic quality, where it feels luxurious, but also sensual in a way. There are little aggregates that move through it so you can see the mineral changes in it. It's kind of calm and consistent."
See more of the East Village loft called Maison Crosby here.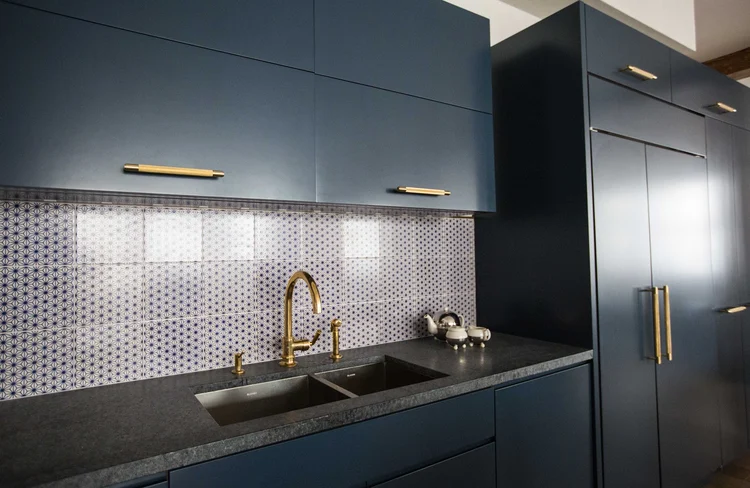 Recently Zung said he has veered away from using Italian travertine countertops in his material selections, and instead opted for soapstone — a material that doesn't have the worry about sealing. Rather than apply wax, the designer opted to leave the countertops in their natural gray. Photo by Adrian Gaut.
The Traditional Two Tone
---
White cabinets and black countertops. Dark cabinets and light countertops. They're classic combos, but today we're seeing designers moving more to two tone kitchens. And who can blame them when you get to have two of everything you love?
Home designers Jamin and Ashley of The Handmade Home used a combination of natural stones to achieve the effect in their home kitchen, mixing White Cherokee marble and Alberene Soapstone on their perimeter and island countertops. The look is timeless and classic, like mixing cookies and cream. See more here.
"Soapstone and marble are organic materials that both have movement in them that can't be manufactured. I love the way that the real stones come together to create something inviting and warm and natural," Jamin said. "It makes the kitchen interesting and personal."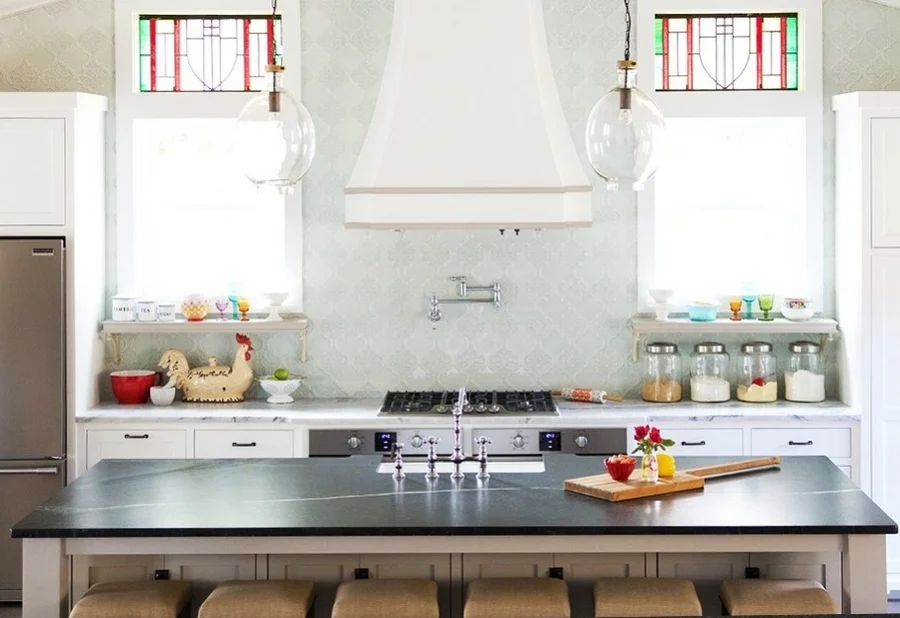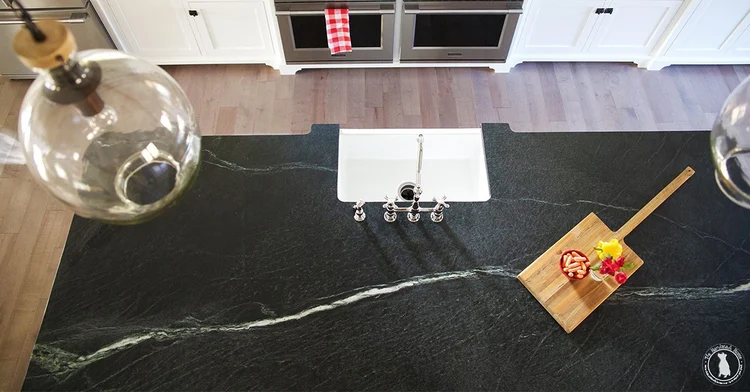 The couple chose an over sized slab of soapstone with a prominent white vein for their massive island, which can seat up to six people and gives the cook a clear overview to the entire open living space.
A Rustic Chef Kitchen
---
When it came to choosing a countertop for his own home kitchen, Quebec based restaurateur and television chef Arnaud Marchand wanted a natural material that ages like wood, with character and patina. He also told his designer he wanted a surface that was alive and would grow with his family.
Soapstone's natural variations were just what the chef wanted, and one reason he left his untreated.
"We have a story in the stone. The slab is not the same on the right side as it is on the left. It's a big slab with big veining. I love that. It's unique," Marchand said. "Yes it gets marks, but I love them. It's the story of my house, of my children. I have two children, 2 and 4 years old. I love to cook with them. On my soapstone I can put a hot pot down and not have to worry."
To learn more about how soapstone wears over time read this post.
An unexpected perk was how the untreated blue-grey stone looks on camera. "It's such a nice background for television. You put a plate on it and it's so rich."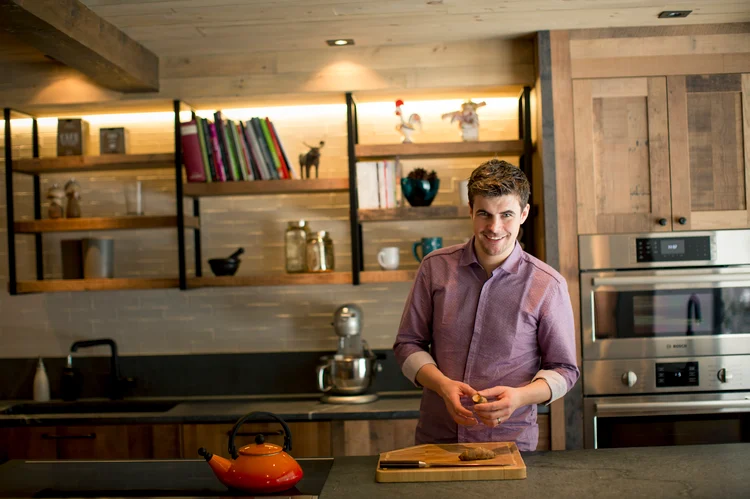 "A feeling of warmth in my kitchen is important to me," Marchand said. "But when I'm in my kitchen I want it to be like I'm in a professional kitchen."
An Insta Worthy Bartop
---
At 5th and Taylor, a sophisticated family restaurant in Nashville, Chef Daniel Lindley has built an homage to the American family meal inside a historic Germantown warehouse. With a deep black palette, the design materials too, reflect our country's history and character. Anchoring the space is a large welcoming bar clad in charred wood and topped with Virginia soapstone.
"We knew straight away we wanted a certain softness that would counterbalance all of the wood," said project manager Jared Dyer of De JONG & Co. "Soapstone came up right away and it had the depth and character we were looking for. Plus it's just a beautiful stone."
"The soapstone is a beautiful complement to our simplistic, layered interior," General Manager Nate Cannon said. "Stunning white veins run throughout the slab, deepening in contrast as we continue to oil the bar top. Our goal is to create timeless experiences through food, service and hospitality. The soapstone is equally as timeless, and it grounds the restaurant without being an ostentatious statement (like marble can often be)."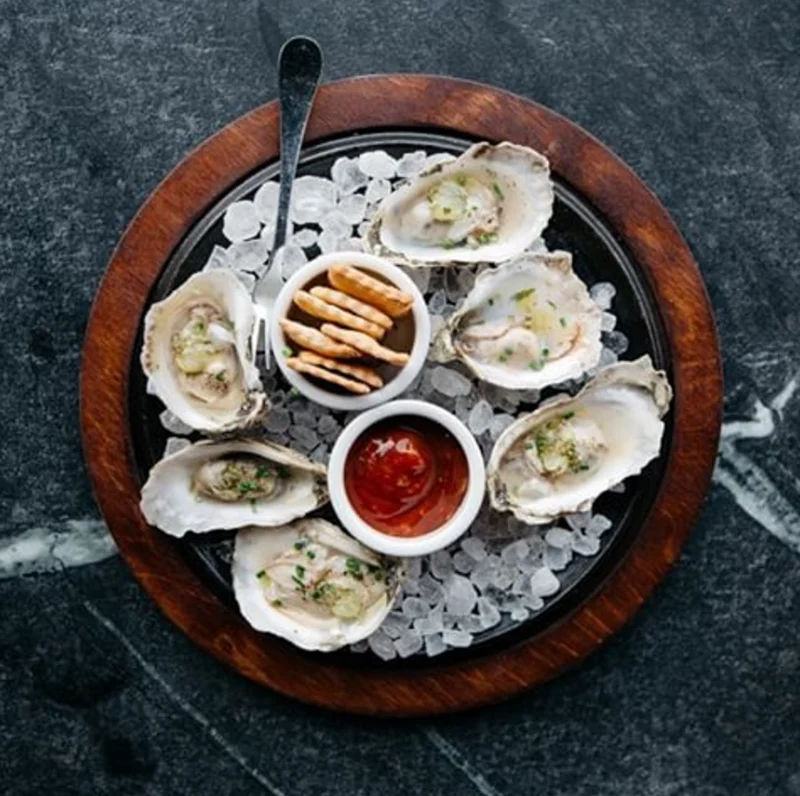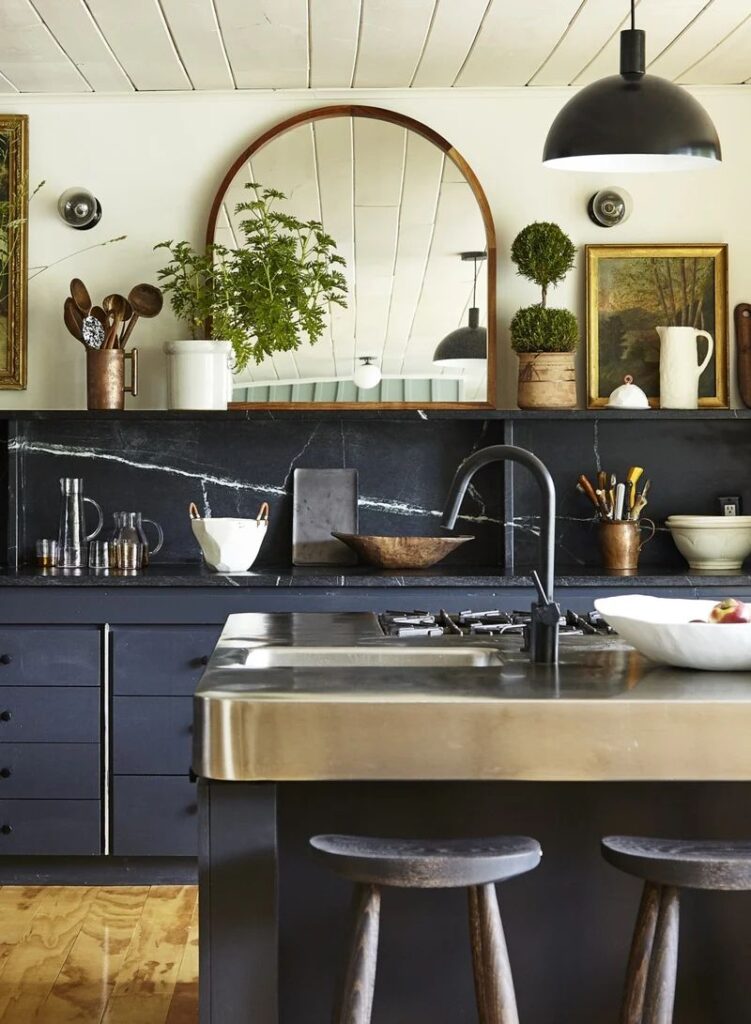 A Rustic Modern B & B
---
Meet Megan Pflug. Designer. Decorator. Fine artist. DIY innovator, and now, owner of New York's hip new Catskills getaway, the Woodhouse Lodge.
Threading through the completely remodeled mid-century modern B & B are natural materials reflective of the environment, starting with the soapstone countertops quarried in Virginia. "In decorating the space, we were really interested in working with a lot of local vendors and makers," Pflug said. "I thought it was really cool that we were able to source soapstone from the east coast. I also think that regional materials are often the most appropriate choice. If I was in Santa Fe, maybe soapstone wouldn't make the most sense architecturally."
Pflug calls the style, Shaker meets mid-century. "I love the rustic farmhouse look that is everywhere upstate, and I wanted to try to bring some of that to this very modernist building, but still respect the architecture," she said.
"I also love the fact that it has a soft finish. It's not shiny so it feels earthy and grounded, which I felt was appropriate for up here. It's also historically accurate. That's what would have been in a farmhouse up here for hundreds of years."
"Treating the counters was one of the most satisfying things I've ever done," she said. "It's such a special material to see it change in front of your eyes and then it just keeps evolving with use. It's a hand print that's unique to each countertop."
How to darken soapstone
---
Natural. Touchable. This stone is known for its texture and the velvet black look it takes on with a little dry wax.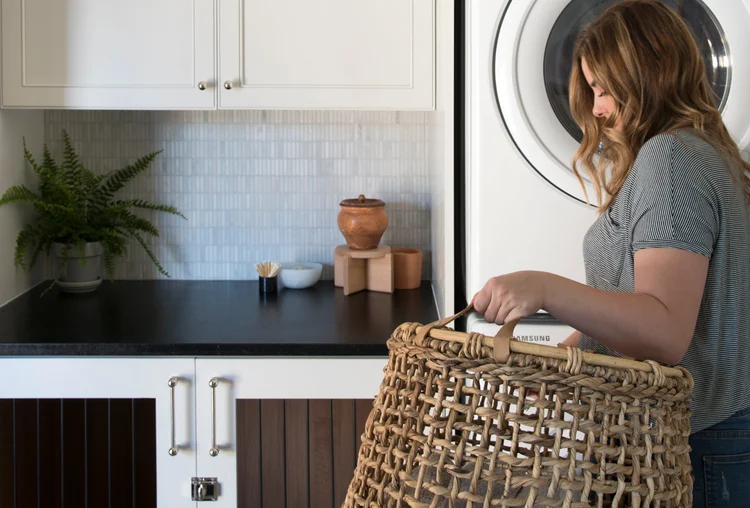 Designer Sarah Gibson of Room for Tuesday continued the look of her kitchen with waxed soapstone countertops in her adjoining laundry room.
Start with a clean surface and apply wax with a towel. That's it.
---
To start off, Zajac says she cleans the surfaces. Then she follows with a dry wax, which is her favorite for treating soapstone countertops because it's 100% natural and food safe. And it can take the beating from three children, a husband and endless Coke cans and pickle jars, Zajac said. The wax gives the natural stone a look that is different from its natural gray color and makes for a much longer lasting effect with less reapplication required.
See a natural soapstone kitchen here.
Simply apply the wax by rubbing it into the stone with a dry towel, or even your hands, and instantly see the difference between the treated and untreated look of the Alberene soapstone.
See more of Anissa's videos on waxing her counters and backsplash.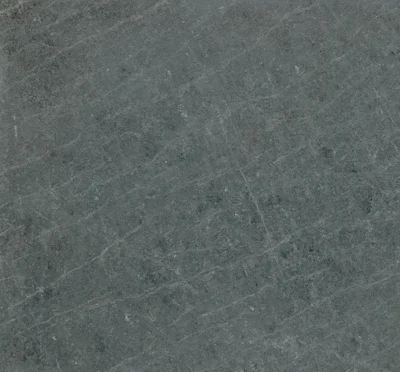 How to clean soapstone
---
It's as simple as soap and water.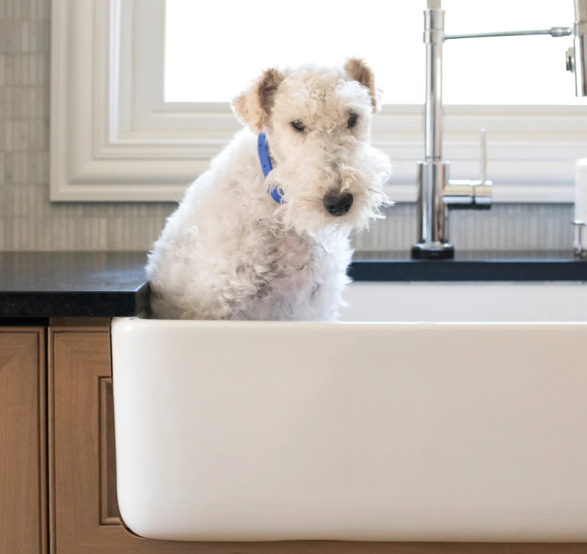 "I was set on soapstone because of its true black color and luxe texture. It's also so easy to care for."
– Sarah Gibson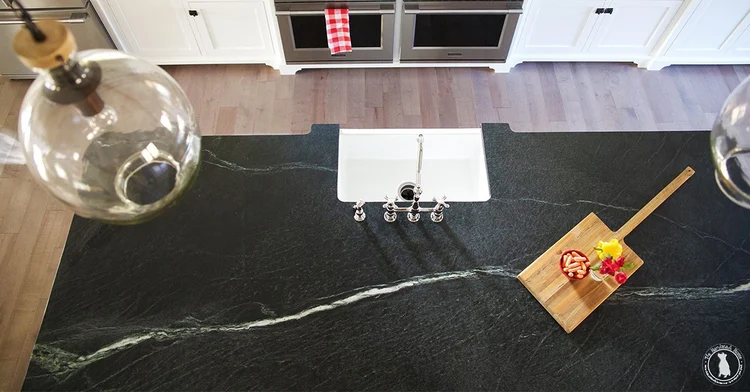 See how easy it is to care
for soapstone counters.
---
Create a bathroom retreat
that's warm on your eyes
(and on your toes).
---
Soapstone is great for bathroom floors because it's slip resistant and feels amazing under bare feet. It also absorbs heat so it's warmer than granite or porcelain. No ice cold shock when you get out of the shower.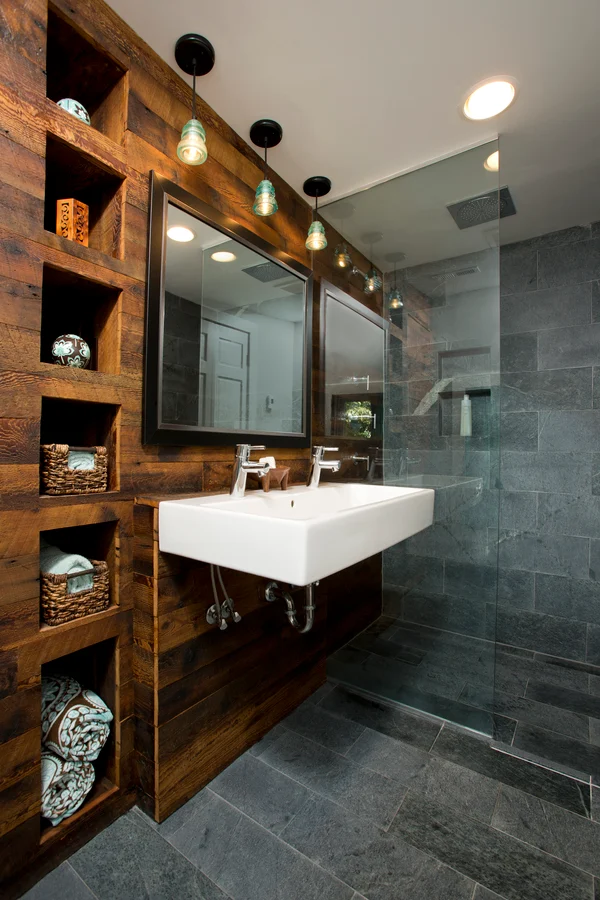 The cold East Coast winters are a little warmer with the naturally heated conductive properties of soapstone in this rustic bathroom.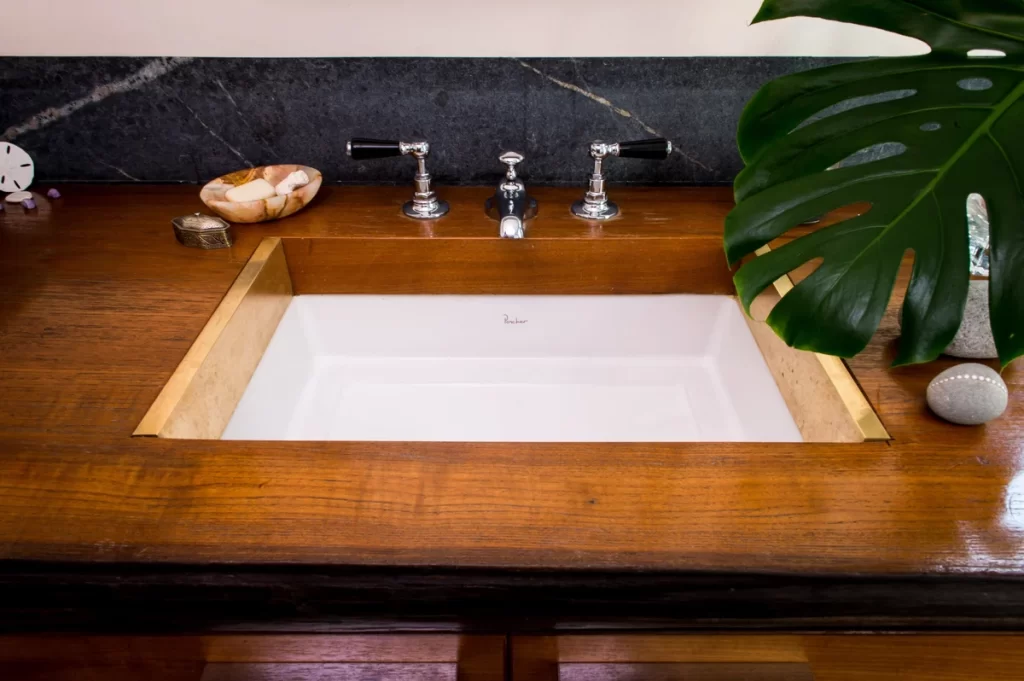 The prominent veining of soapstone adds another level of interest to the backsplash of this custom vanity designed by Studio Zung.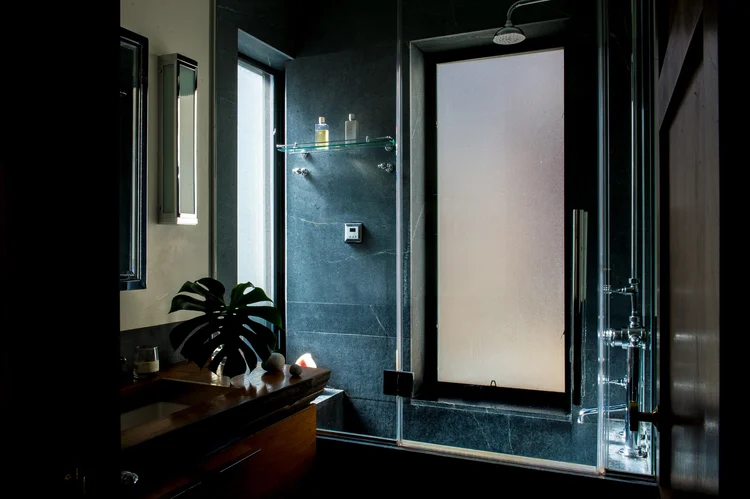 This East Village loft bathroom by Studio Zung features custom cut tiles of natural soapstone. Notice the veining as it moves across the shower wall and how it lends a soft organic look to what is an otherwise masculine space. Image by studiozung.com | @studiozung
A designer favorite.
---
You love their style. They love our stone.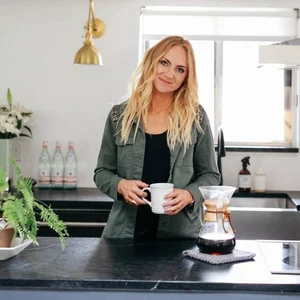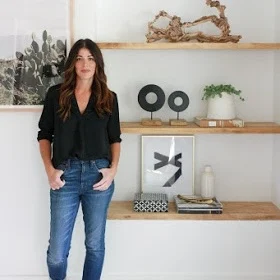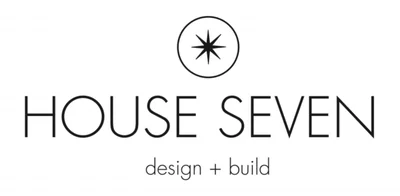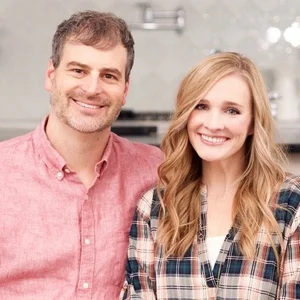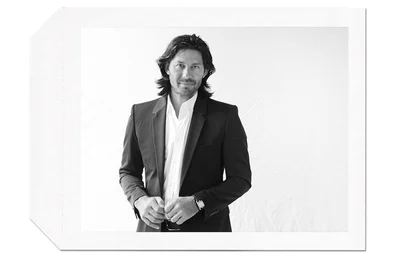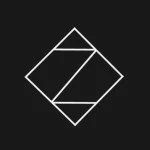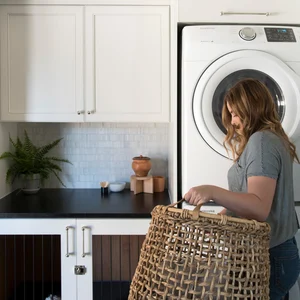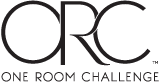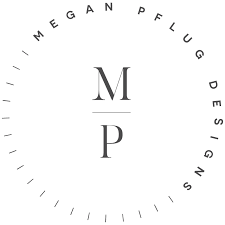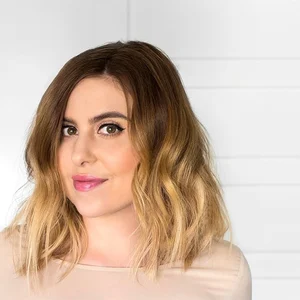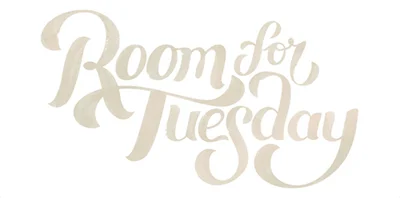 "I would choose a natural stone time and time again. We did quartz in our previous kitchen and it was fine- super practical (although it still chipped thanks to me dropping a glass bottle of olive oil on the edge), but it wasn't anything special. Nothing to write home about. It was obvious that it was manmade and it will look the same as it does today in 50 years. I think as an artist, creative person, and romantic, there's something pretty magical about the way something organically changes over time. It tells a story, feels intimate, and nods to a different time period where quality and a unique composition trumped quantity and all things man-made." Sarah Gibson – Room for Tuesday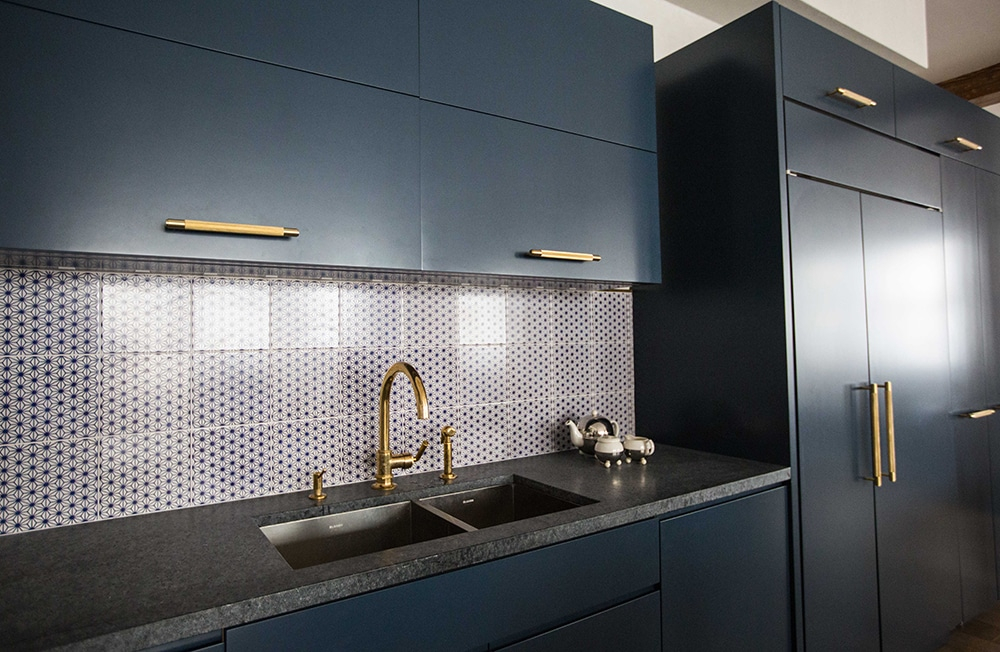 Make soapstone a part
of your next project
---