Dark Kitchen, Light Kitchen? Make it Two Tone With Marble and Soapstone Countertops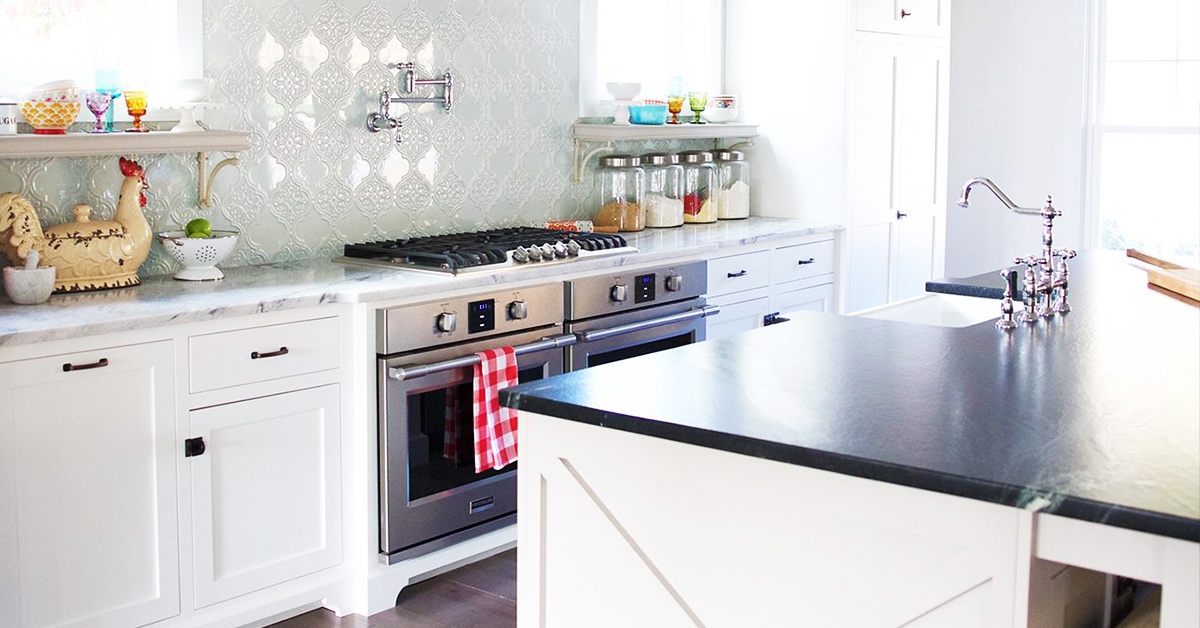 White cabinets and black countertops. Dark cabinets and light countertops. They're classic combos, but today we're seeing designers moving more to two tone kitchens. And who can blame them when you get to have two of everything you love?
Home designers Jamin and Ashley of The Handmade Home are two tone fans for their own spaces. Recently the couple completely remodeled their new home and used a combination of natural stones to achieve the effect in their kitchen, mixing Polycor's GEORGIA MARBLE-WHITE CHEROKEE™and ALBERENE SOAPSTONE™on their perimeter and island countertops. The look is timeless and classic, like mixing cookies and cream.
"Soapstone and marble are organic materials that both have movement in them that can't be manufactured. I love the way that the real stones come together to create something inviting and warm and natural," Jamin told us when we talked to him about his family's new home outside Nashville. "It makes the kitchen interesting and personal. The contrast just ups the anté and truly enhances the beauty."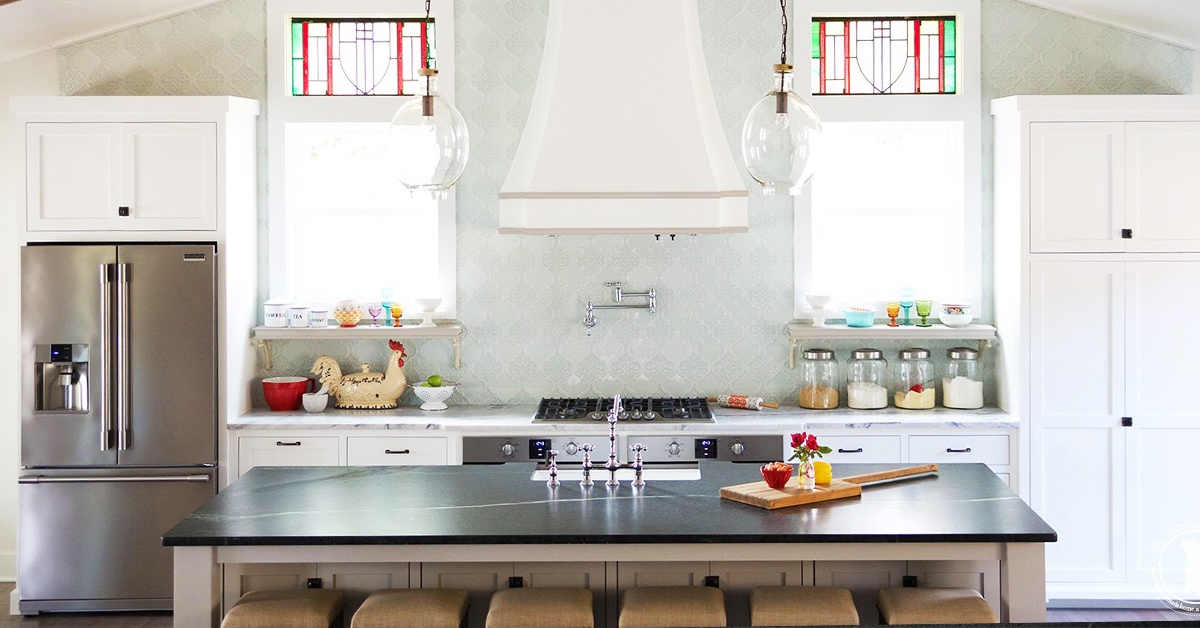 Just as these stones show movement, two toned spaces are becoming a movement. Home designers are shying away from the shiny and new US way and into a more natural and classical European look, creating a balance of rustic yet modern. Think European ice cream shops with charm and bakeries that emanate with the scent of freshly baked bread, or even the Taj Mahal in its gorgeous finishes.
For this, their "big kid kitchen", as they like to call it, they wanted to look past the all white, pristine and polished kitchen to create a space with balance and warmth that invites family members and guests to gather together and achieve their motto, "Love where you dwell."
When they began their research for natural stone they kept gravitating back to Ashley's longtime love for neutral soapstone, with a touchable texture and an ability to pair nicely with pretty much anything, including any cabinet color or additional stone materials.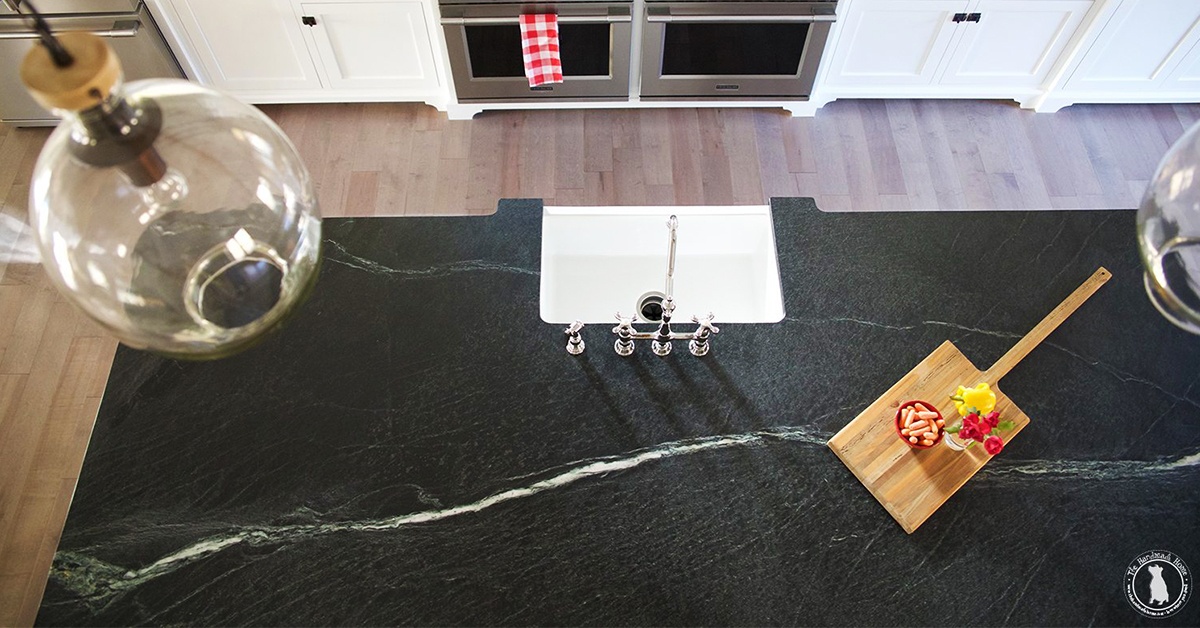 They chose an oversized slab of soapstone with a prominent white vein for their massive island, which can seat up to six people and gives the cook a clear overview to the entire open living space.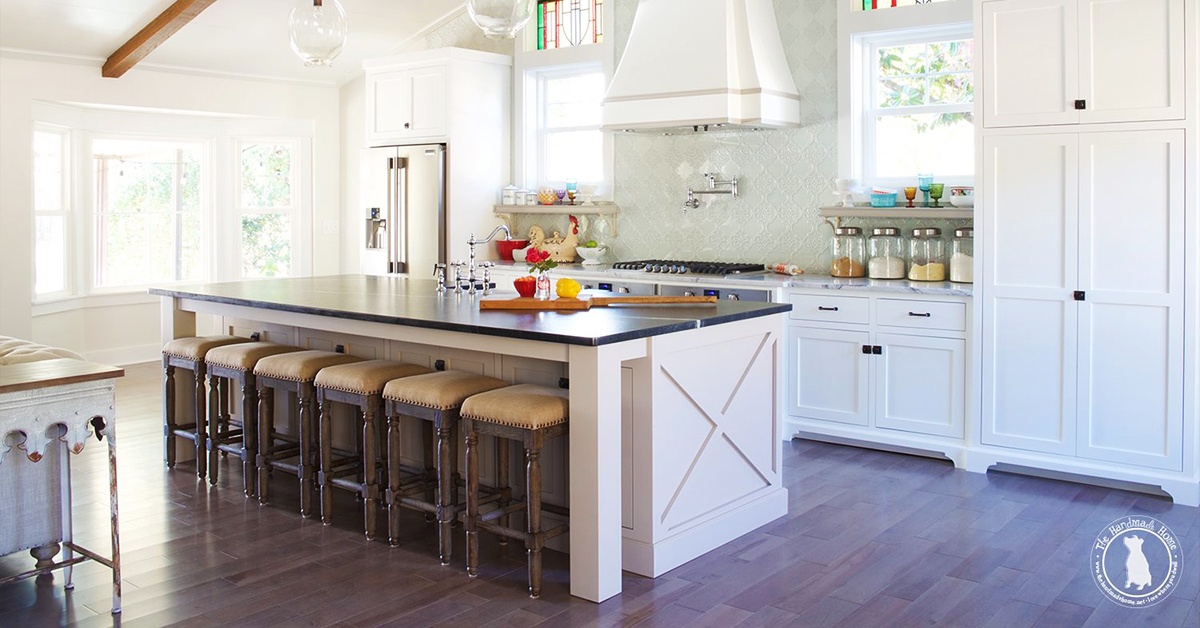 For the surrounding countertops the couple went for White Cherokee US marble to get that black and white contrast. Shaker style cabinetry and glass backsplash tiles balance the traditional and modern elements.
"I paid attention over the last few years and I was surprised by how many people don't consider these amazing options for their countertops," Jamin said. "I knew because I wanted soapstone for so long that I wouldn't regret such a classic, beautiful choice."
Two Tone US Materials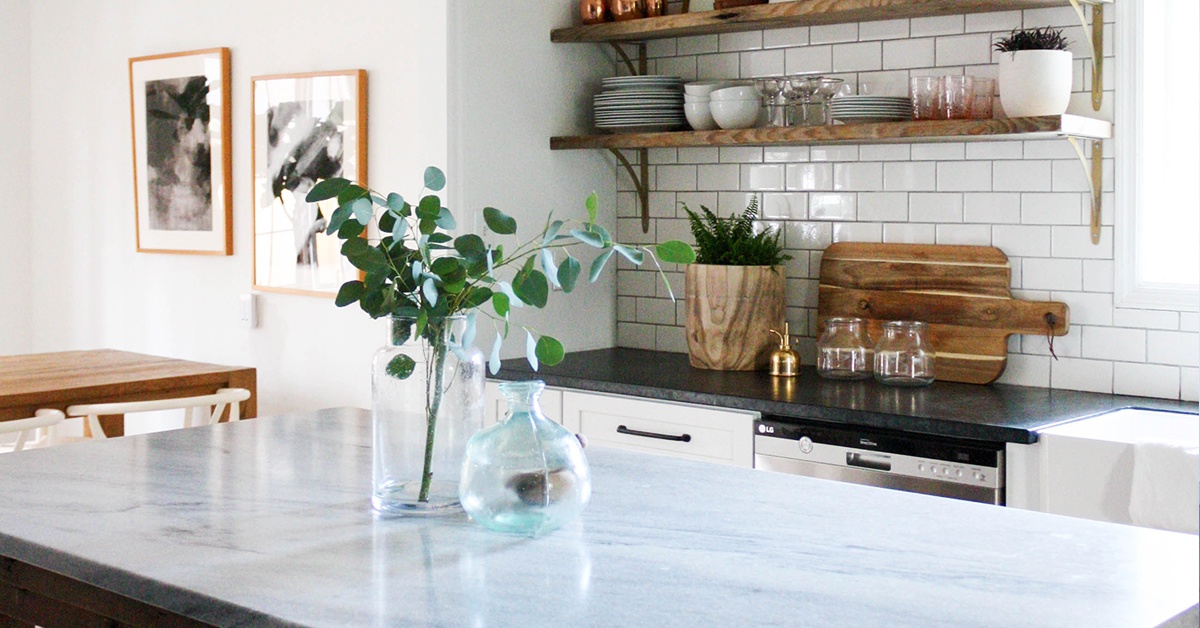 Fellow home designer Anissa Zajac's kitchen (above) is another example of this trend, as she added character and style to her space with natural materials and a palette of white, black and wood tones. Incorporating the Alberene soapstone and White Cherokee marble into her space gave her the warm and cozy European kind of feel she felt it needed.
For both designers it was the first time using both soapstone and US marble, and both were surprised by how durable each surface is, especially when comparing the US marble with Cararra marble counters they've had before.
"We had honed Cararra marble in our last house. With the Carrara, if you put a Coke can (or pickle jar) or something on it, it would leave a ring on the counter. So we kind of just got used to the etching," Zajac said.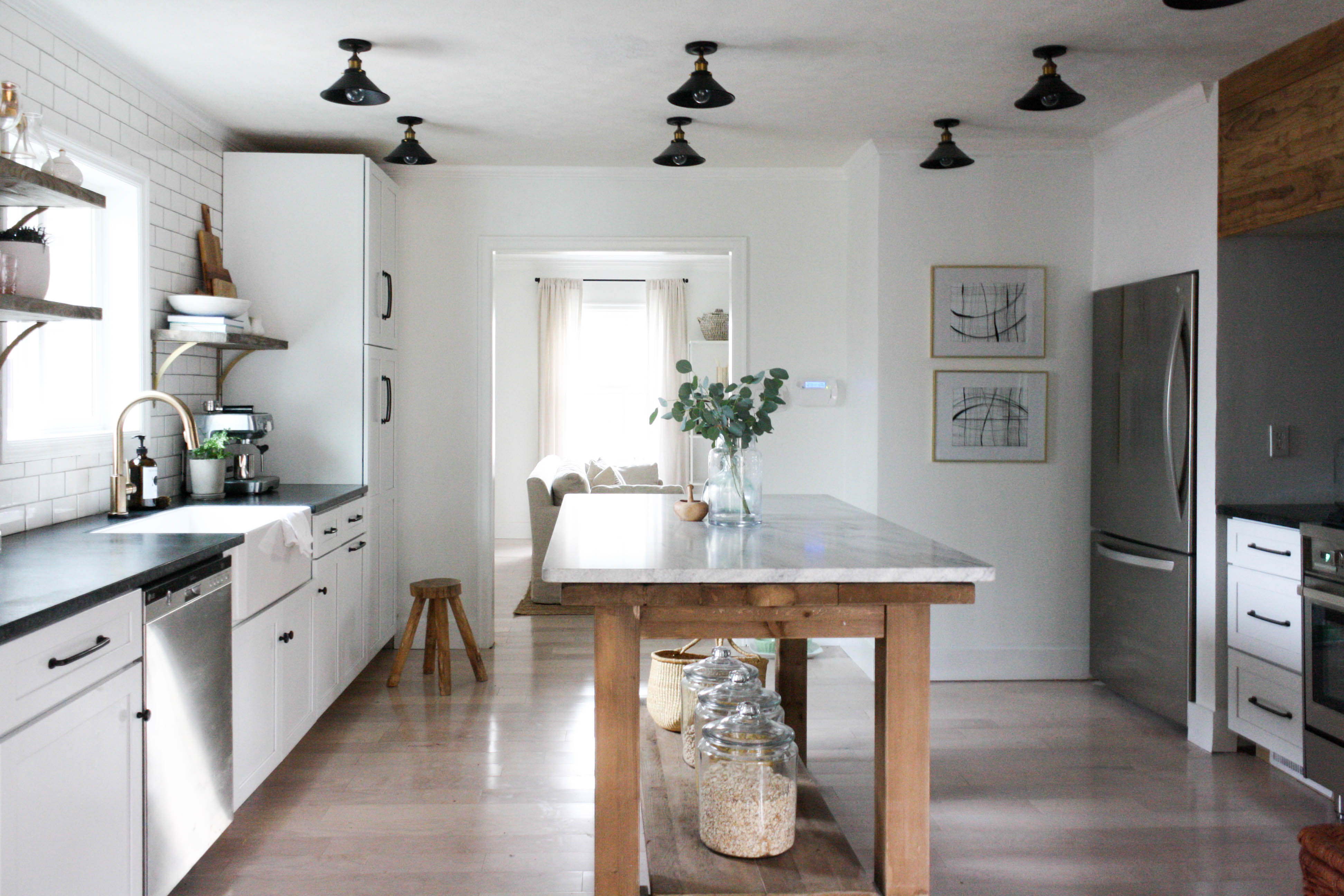 "But I will tell you," she said, "I have never seen marble that does not etch the way this does not etch. We've had White Cherokee marble in our house now for maybe two and half months, and there's no etching on it at all, and I have three kids. I look for it and it's not there. I recommend it to everyone that wants marble because it's amazing that it doesn't etch like the other marbles do. It's a huge benefit."
Jamin said he hears people complain about etching and scratches on marble and soapstone countertops, but it's not from those who have it in their kitchen. "Those are their two biggest qualms, but surprisingly, the people that complain the most are usually the ones that simply haven't had these materials in their own homes before. To us, what some people view as qualms, we view as positives."
Jamin and Ashley are amazed that the etching that comes with marble, fades and evolves to become part of the stone over time.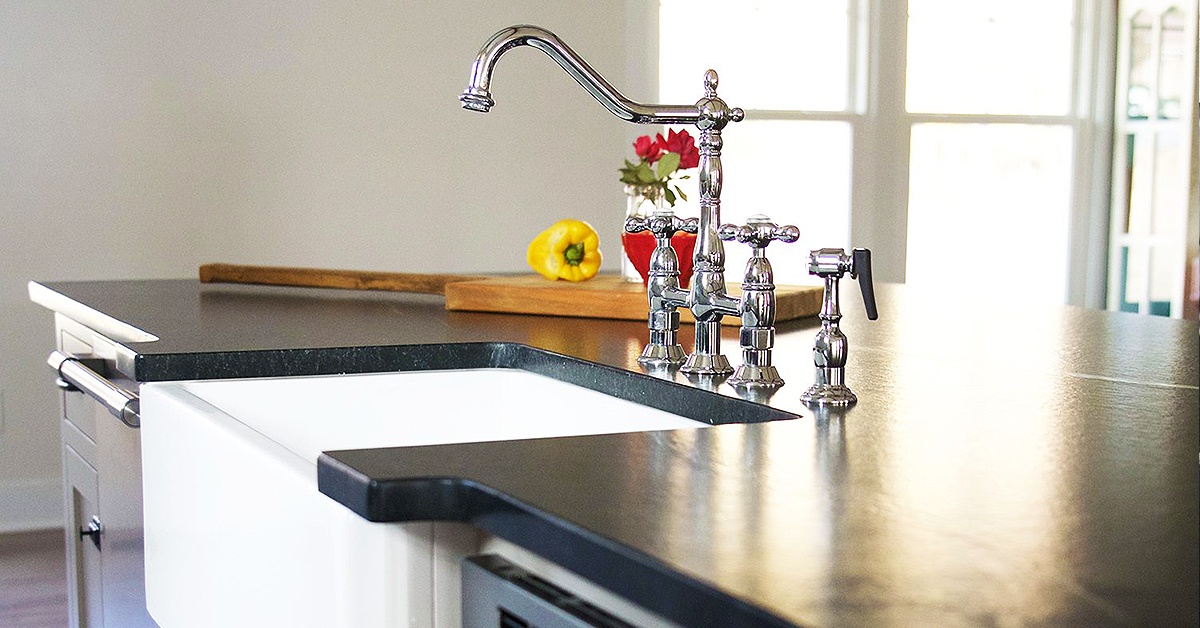 "We've embraced it and we find it appealing as part of its charm. The scratching that can happen with soapstone is easily buffed out, and waxed over to become a part of a show-stopping patina," Jamin said.
For this couple material choice is more about finding a material that matches your aesthetic and your idea of what home should be.
"Learn what you want to live with, but also consider the possibility of natural stone," Jamin said. These choices really are timeless and their character is something that truly makes our kitchen unique and beautiful. It's a way of bringing nature's beauty inside your home, and it truly changes the dynamic of a space."