Delicate and Durable: Baccarat Crystal Uses Stone For Flagship Store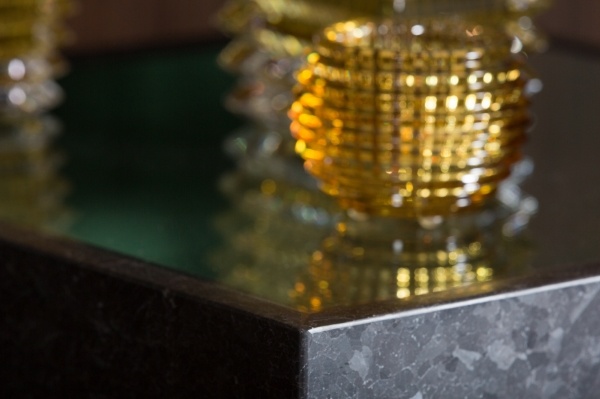 It's a surprising combination, stone and crystal.
When you hear crystal you think bubbles gentlyeffervescing in an elegant flute, not blocks of rock cut from the earth. But contrast and juxtaposition are exactly what drove the design of Baccarat North America's flagship location on Madison Avenue.
Completed in 2013 the two story retail location with a soaring room of glittering chandeliers and a deep moody inner room of crystal accessories, is full of light and dark, delicate and durable,translucent and opaque.
The space was designed by Rafael de Cárdenas / Architecture at Large. Design Director Justin Capuco led the team which used the cutting of crystal and the play of light as their inspiration.
The canvas for the installation was Polycor's Nordic Black granite in 1 cm ultra-thin tiles and slabs, honed to provide a luxurious (yet dirt masking) surface for the high traffic location.
"The weight of the stone gives a luxury and credibility to space, and also a sense of permanence," Capuco said. "It was a storytelling tool for us, for the customer to see the same depth everywhere they looked in the store."
The black stone provides an anchor to the light pieces of crystal, both modern and traditional, displayed on granite plinths of various heights and nestled in with plinths of Macassar Ebony with accents in polished stainless steel, glass and mirror. Everywhere light refracting, glinting, shimmering, on the black backdrop.
About the decision to go with the granite, Capuco said, "Holding up the sample against the crystal and seeing how it interacted with the crystal, we fell in love with it. And Baccarat fell in love as well."
You can visit the store at 635 Madison Ave., New York, NY.