Does Soapstone Turn Green?
I spoke to a designer the other day who specializes in eclectic modern kitchens in high-end residential homes. Besides her talent for design she's also knowledgeable about the products she specs. She doesn't spec a material unless she knows it's origin, it's impact on the environment or how it will hold up in the installation over time. She knows that some marble labeled as Italian for example is sometimes actually Iranian or Chinese in origin and processed in Italy, and she won't believe a product is truly sustainable unless it has a Cradle to Cradle certification.
The point is, she knows her stuff.
But when I asked her if she specs soapstone she said, "No, even though I love it, I don't because of its tendency to turn green."
This smart and savvy designer had unknowingly believed a myth. And like all myths there is an element of truth that keeps them going. Yes, the majority of imported soapstones have a greenish cast, and will turn a deep green when waxed or oiled. However, there is one variety (and it happens to be American) that you can count on to keep its sought after grey color.
Let's talk about how to know if the soapstone you're looking at today is truly grey deep down and whether it will remain so forever.
Origin is everything
Soapstone is a metamorphic rock known as a steatite, which has a magnesium silicate composed mostly of talc and magnesium, which gives the stone it's signature smooth and silky texture.
Soapstone is known to be a soft stone, but actually comes in a range of densities and hardnesses. (More on that later.)
Soapstone is quarried around the world and is most often found in places like Brazil and India. These origins are a major defining factor in two important characteristics of the stone: hardness and color. Soapstone quarried from outside the United States can have a greenish cast that will naturally darken over time. The stone may appear to have a light greenish tinge, green veins or even a green background.
It can also be so soft that it's not suitable for countertops or tiles and therefore not an architectural grade soapstone. (Some soapstone is primarily used by artists for carving.)
The one soapstone that's never green is ALBERENE SOAPSTONE™. Quarried in the Blue Ridge Mountains of Virginia since 1853, it's the ONLY soapstone that comes from North America today and maintains its deep grey tone indefinitely.
Untreated Alberene soapstone from Virginia is a very even, very consistent, neutral blue grey, with occasional white veining. Buy a sample here.
It's also a high density steatite, which makes it durable for everyday use. (Pick up a sample and you'll feel the weight in your hand. It's heavier than some of Polycor's marbles and granites).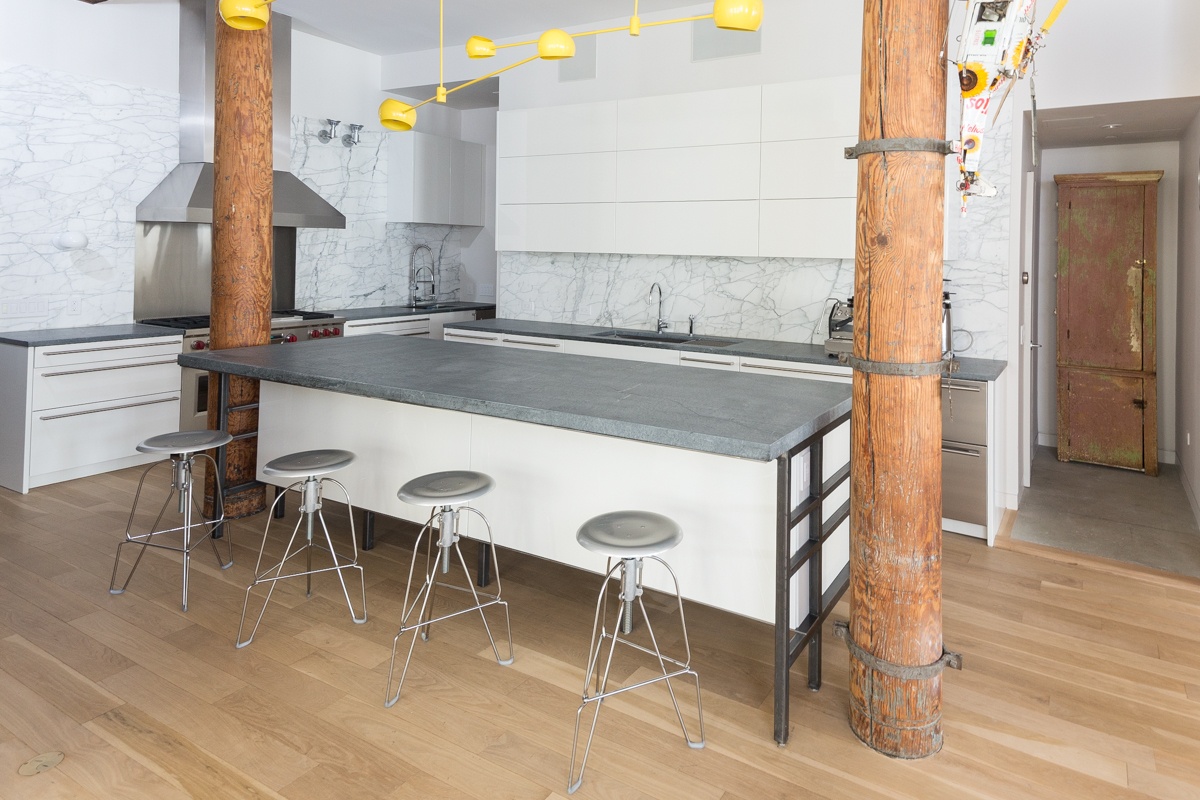 Untreated Virginia soapstone counters in a SoHo, NYC kitchen.
How do you know where your stone was sourced?
Because origin is the strongest factor in long-term appearance you want to be sure that you know where the slab or sample you're considering was quarried. (Because who wants a grey counter today and a green one in three years?)
That's going to take some buyer-beware questioning.
For example, years ago soapstone was quarried in Vermont. Though the quarry is closed now, the company that once operated it still sells soapstone – it's just not domestic stone any longer.
Will distributors volunteer that their soapstone is shipped by container from India? Maybe not.
FIND AN ALBERENE SOAPSTONE DEALER
On Instagram I've seen designers mention Texas soapstone, Oregon soapstone and PA soapstone (often mistaken for Pennsylvania)– those characterizations are all inaccurate. The distributor or fabricator may be from Texas or Oregon, but if it wasn't quarried by Polycor in Virginia – that soapstone is international. And that means it might turn green when enhanced or with use over time.
But will its appearance change overtime?
That depends on whether you apply a treatment such as wax or leave it in its natural state. Soapstone has minimalabsorbency so you won't need a sealer. Some designers like to wax their counters to yield a darkercolor.
Here's how the appearance will change from treatment and time:
Untreated Alberene soapstone has a soft blue grey appearance. The stone itself is permeable – meaning it breathes. But it's not as absorbent like concrete. Soapstone handles spills in a unique way. An oily pizza box, for instance, may leave a mark on the surface, but only temporarily. The oil will eventually dissipate through the stone and become part of the patina. In a sense, the stone breathesout and is refreshed.
What you won't get is etching. Soapstone is incredibly dense and chemically inert, meaning it won't react to everyday common spills like lemon, cleaners, and red wine. (That's why your high school lab table was made of it.)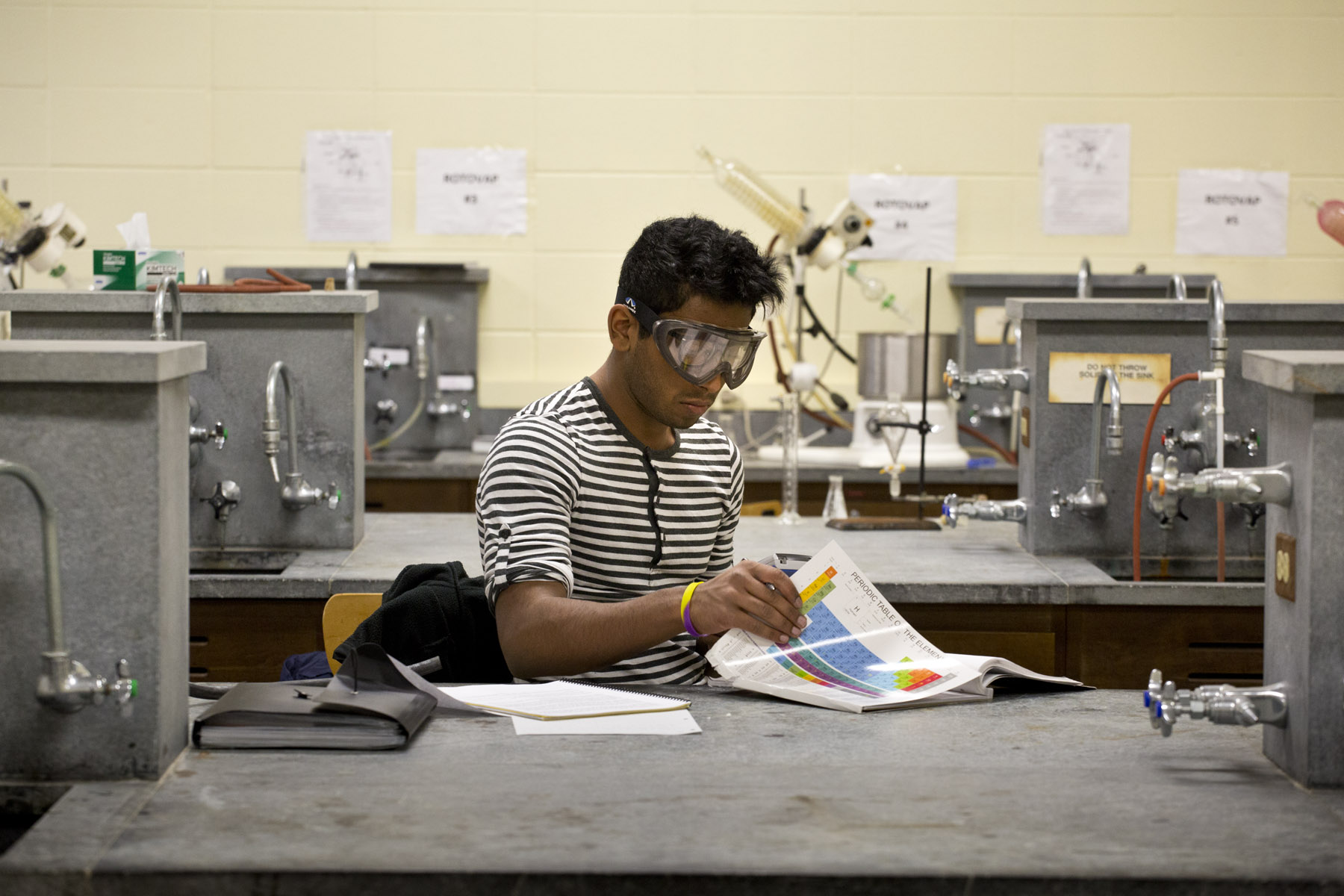 As designer Michelle Jeresek says, "If soapstone can hold up to high school students and Bunsen burners, it might be the right choice for your kitchen or bathroom."
What you will get with time is patina.
Over time with exposure to the elements and everyday things like food, liquids and your own hands, it will patina naturally and appear darker. But it will still remain grey and it's veining (if that appears in a particular slab) will remain white. Again, a slab with a greenish hue will deepen to a more pronounced green tone as it patinas or when it is enhanced.
D.C. area designer Lauren Liess describes the stone's wearing process this way:
"Seeing a little bit of wear and tear on a countertop is actually beautiful to me, so I never minded the gradual imperfections that come about with soapstone. (I prefer it to something like a never-changing granite.)"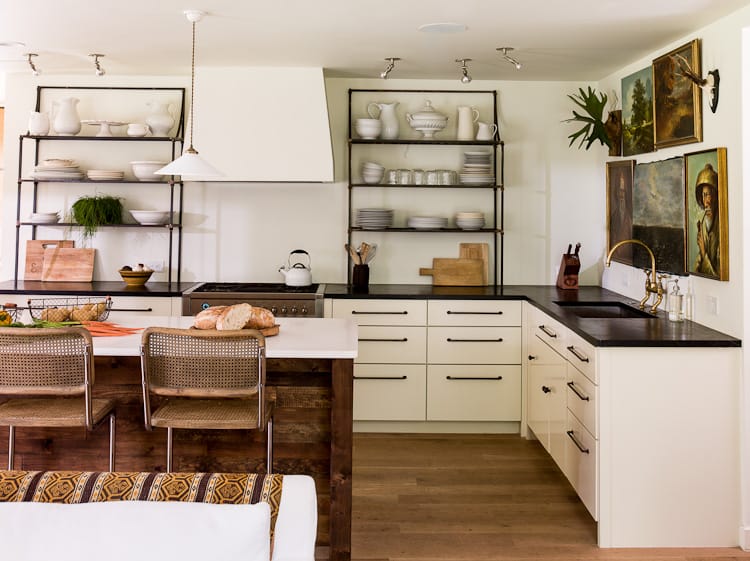 Lauren Liess knows what's up when it comes to natural materials like soapstone. Courtesy Lauren Liess
Like a wood countertop, soapstone can — but doesn't need to be — oiled or waxed . (It doesn't need to be sealed like granite or marble as it doesn't absorb). Treated Alberene soapstone will yield a rich black surface.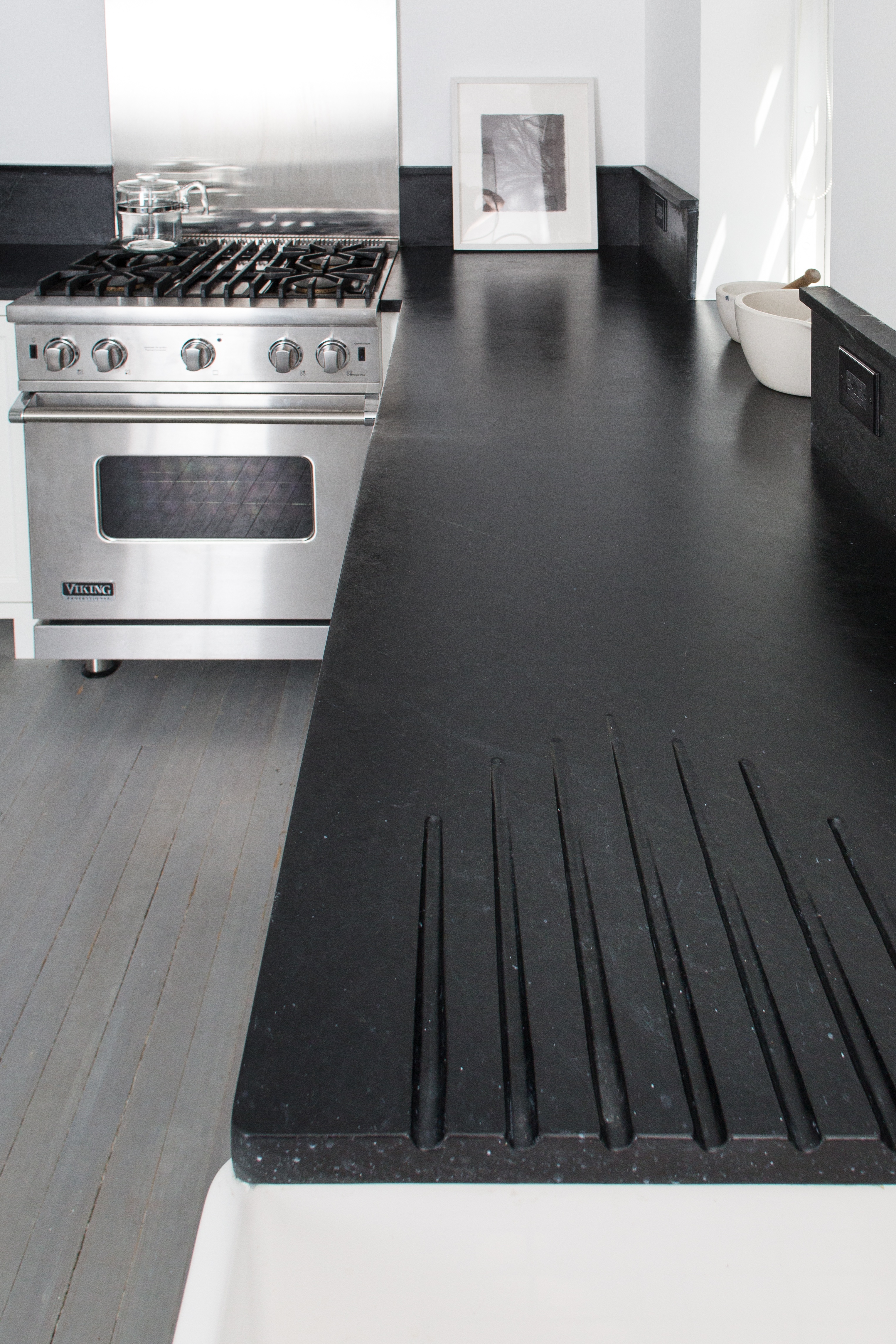 Waxed Alberene Soapstone in a Brooklyn, NY kitchen.
With most Brazilian or Indian soapstone, the treatment brings out the green tonality to almost a hunter green.
With an enhanced finish you can make the appearance of scratches disappear with another application of oil or wax which will turn it from white to black. Some people just prefer the deep dark color, but it also has practical benefits.
Liess said she used a beeswax on hers to keep it free of fingerprints or oil marks, which is similar to our own Alberene Dry Wax formula we recommend for our soapstone.
Treated or left natural, soapstone is always bacteria resistant, never absorbs and is totally inert.