From the Chemistry Lab to the Kitchen: Soapstone Offers Much More Than a Passing Grade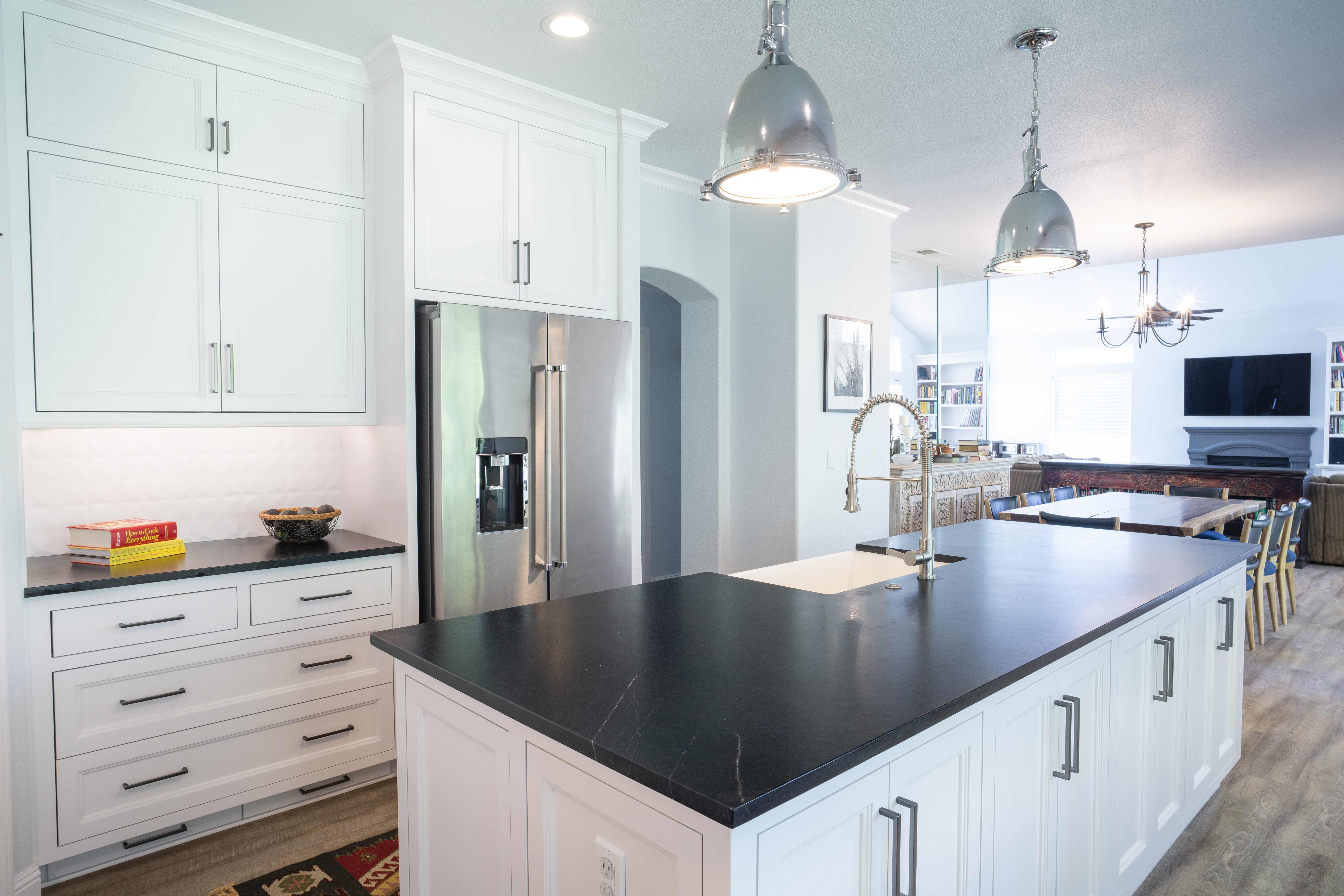 When Stacy Garcia's daughter and son-in-law decided to remodel their kitchen, they naturally chose her parents to design and build the project. Michael and Stacy Garcia are the owners of Garcia Cabinet Makers in Valley Center, California, a custom cabinetry business known for fine design and craftsmanship.
For the countertops Stacy's daughter also chose a material that was near and dear to her heart: ALBERENE SOAPSTONE™.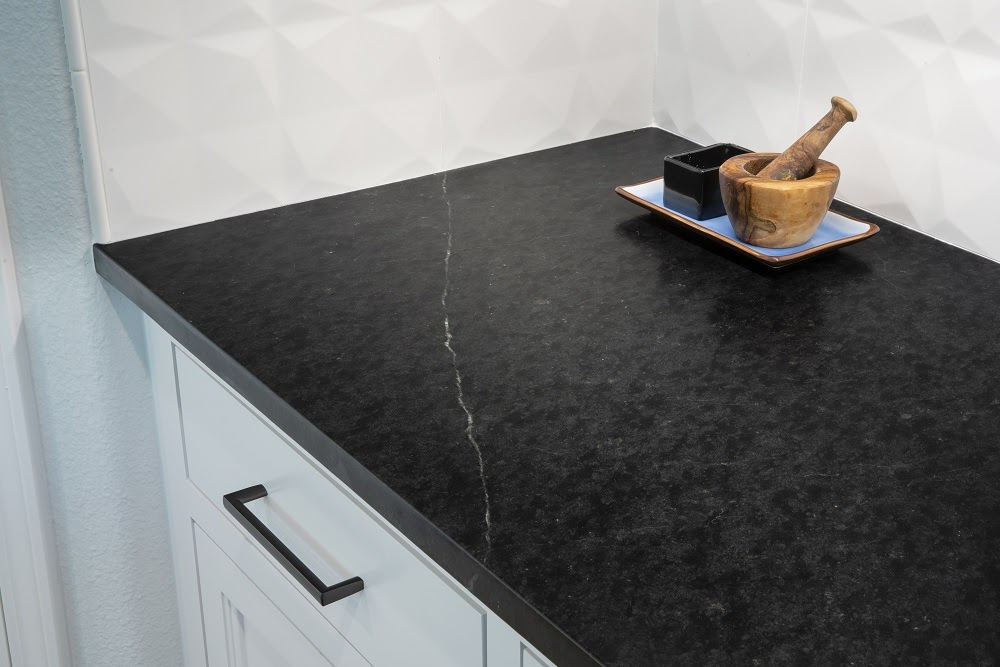 The Garcia's daughter, an emergency room physician, spent a lot of time in chemistry labs throughout her youth. She was accepted into pre-med straight out of high school and the lab counters she worked on were always soapstone. "When she wanted us to do the kitchen she wanted it to be soapstone," said Stacy. She knew it would serve her as good in the kitchen as it did in the chem lab.
"It's definitely a classic, but it fits in with the contemporary look of the kitchen as well," she said. "It's also tough stuff."
Alberene Soapstone has been a staple for chemistry labs in schools and pharmaceuticalcompanies across the U.S.
Harvested from the foothills of the Blue Ridge mountains in Schuyler, Virginia since the 1800's, the history of the quarry runs deep. The once booming soapstone industry was concentrated in this region and used to employ over 1,500 people during its heyday – the town was literally built around the quarry as demand continued to grow. Blocks were fabricated into various utilitarian products from sinks to countertops, making use of all the material down to the finest powders for additives in roofing shingles, talcum powder, and even tires.
Classified as a high-density, foliated, metamorphic steatite, Polycor's Alberene Soapstone is an architectural-grade soapstone due to its unique close-grained structure and lower talc content. It's known for its consistent, silky blue-gray surface with occasional thin white veining when left untreated. A characteristic that sets it apart from imported soapstone from overseas is how it turns a deep, dark black when enhanced with wax, not green as many others will.
As Stacy says: "It's got the black look with a particularly beautiful prominent white vein through the island. It's just beautiful."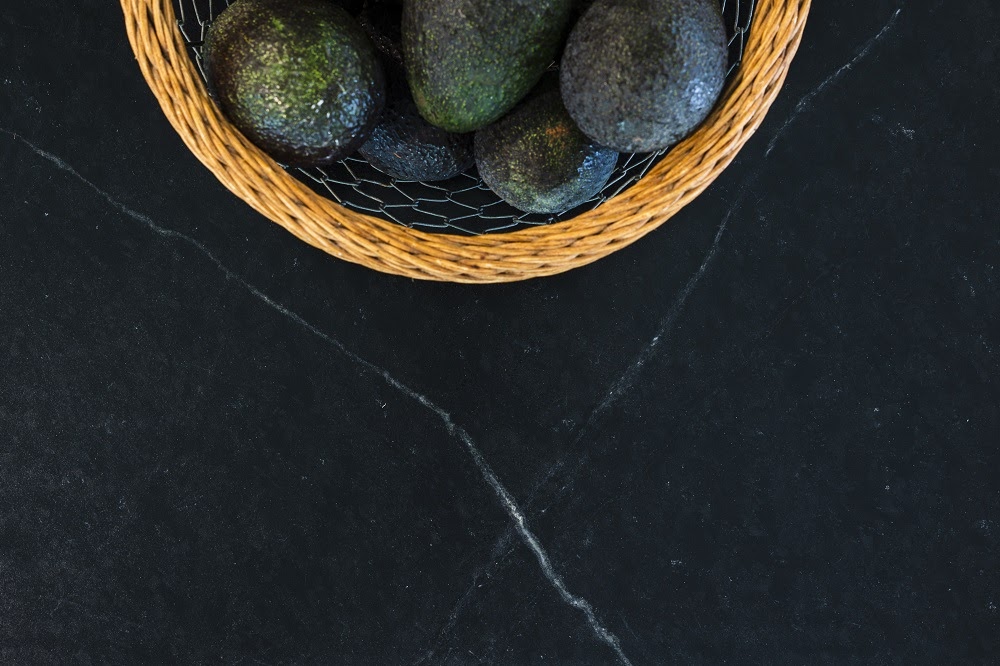 It's also a high density soapstone, which makes it durable for everyday use. The couple love to cook but they are busy professionals so while they chose something beautiful and resilient, they didn't want anything high maintenance.
"My daughter has every food group in her yard," said Stacy. "On her days off she is in the garden with its fruit trees, vegetables and chickens. She likes to cook with food from her garden, and she didn't want to worry about juices on her counter. She remembered from school that soapstone was impervious to chemicals so a bit of citrus juice wasn't going to do any harm to the soapstone. And it lasts and lasts."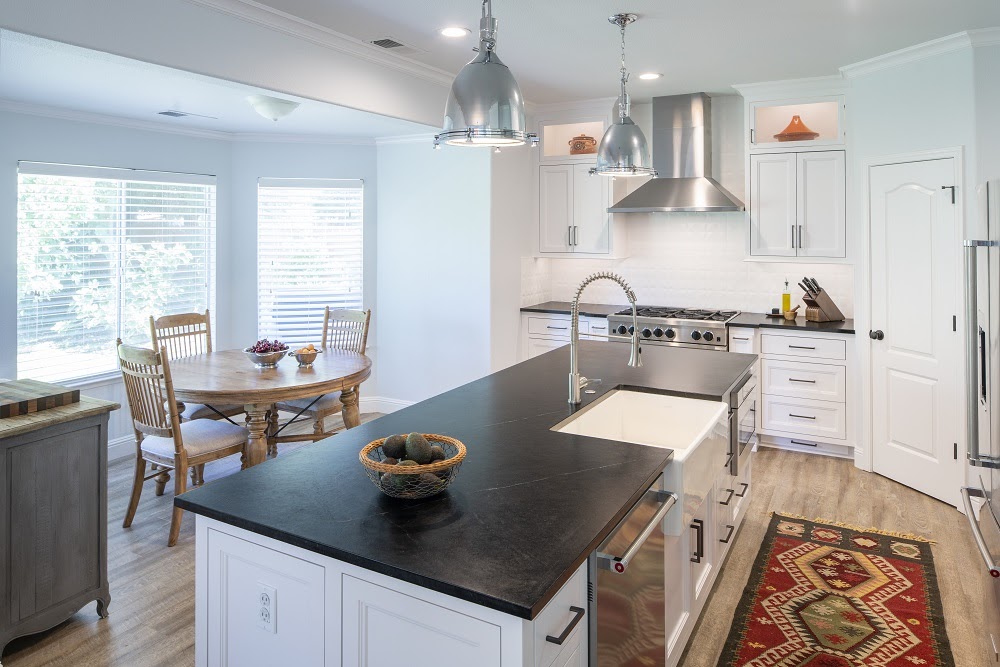 Glass beakers, Bunson burners, and hydrochloric acid are no match for Alberene Soapstone in the chemistry lab, so naturally there is nothing in the kitchen it can't handle.
Her son in-law also appreciates the soapstone counters for the bread making the couple enjoys. "It's a wonderful surface for bread making and other baking. Items can be rolled out right on the countertop," Stacy told us. There's a reason why chefs prefer soapstone in their personal kitchens.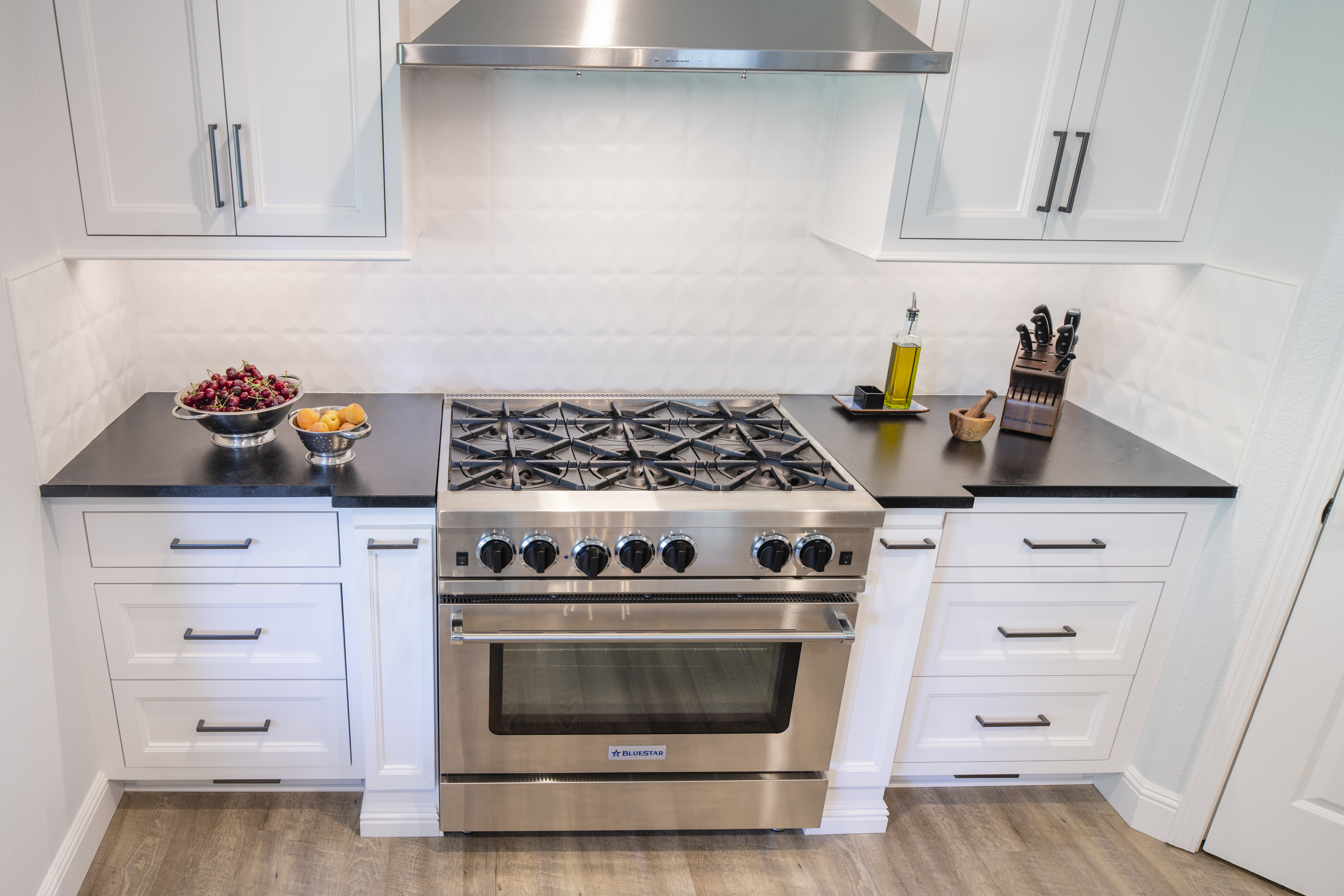 Soapstone has been a staple material in chemistry labs across the country for decades because of its heat and acid resistance. It's called soapstone because it's soft and smooth to the touch, like a bar of soap. "It has such a soft, silky feel. It just feels good," said Garcia. Its silkiness is chalked up to the talc content in the matrix of the stone. But its unique thermal properties and closely-packed grain structure also make it desirable for radiant heated floors as well as for masonry heaters like these from Greenstone Heaters.
Stacy Garcia's husband is a custom cabinet maker and her daughter's design brief included "dad's cabinets" in her contemporary kitchen with gray painted, inset doors. Every opening has a pullout/ organizer of a sort. The Garcias also installed a backsplash of 3 dimensional, large format white tiles with tight joints for a seamless look. The overall effect is striking and modern against the dark Alberene Soapstone countertops.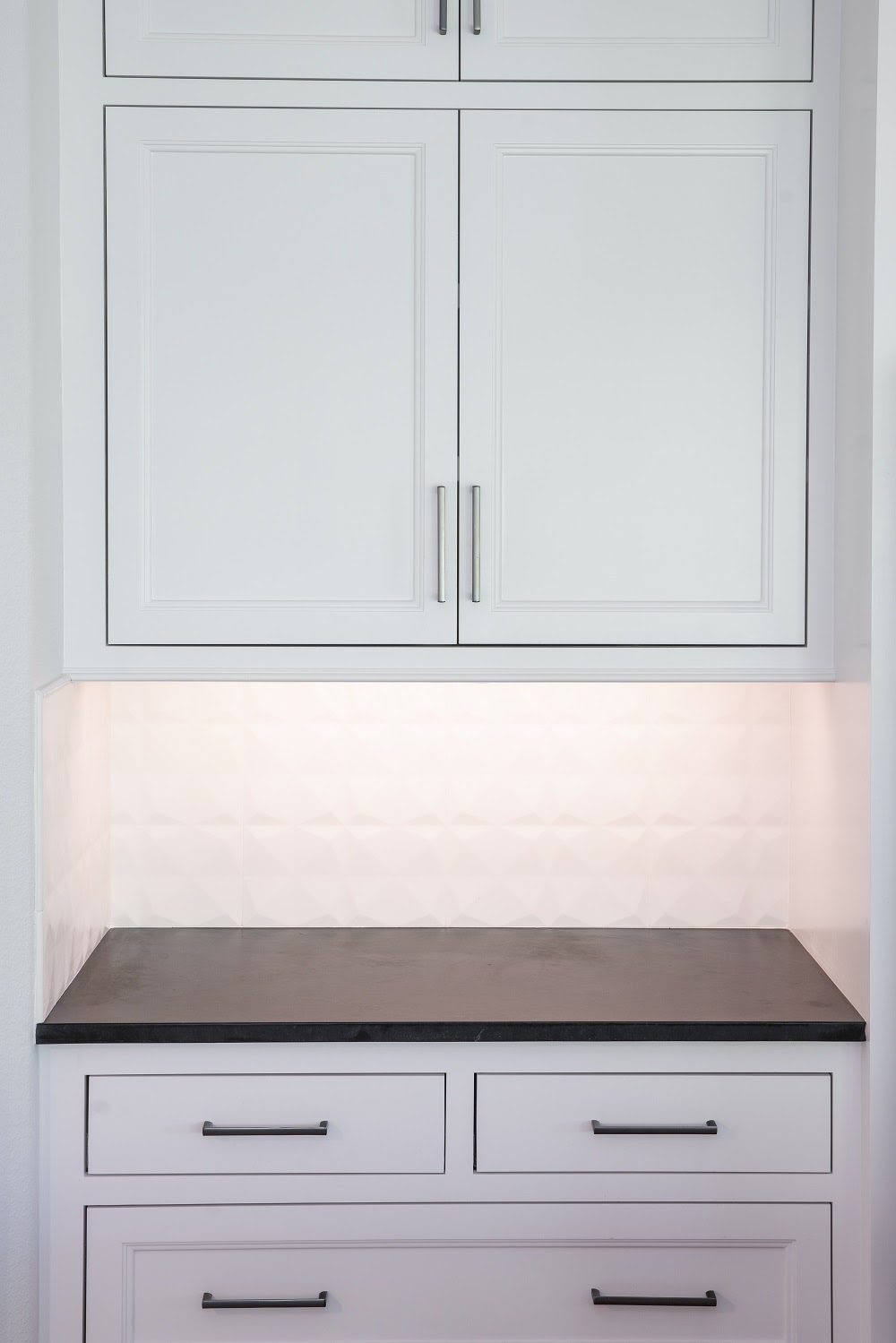 Besides the kitchen, the Garcias also used the soapstone for the counter in the downstairs bathroom. A bumped-out cabinet and rectangle undermount sink allowed for a nice cut detail on the stone. As with the backsplash in the kitchen, they used a large format geometric tile for feature walls behind the counter and in the shower. "It's a very textual white but really looks good with the silky, soft finish of the counter," said Stacy.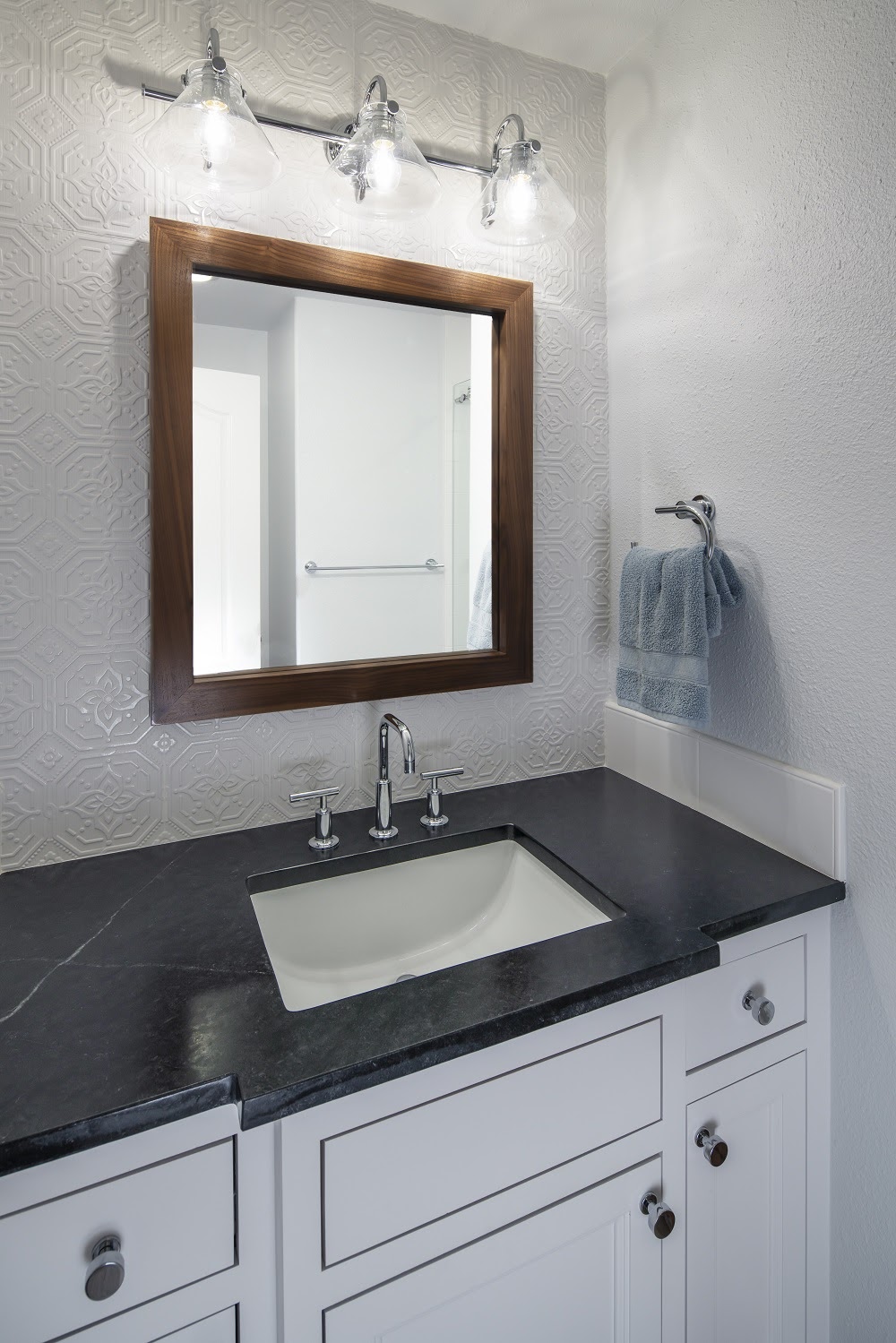 Today, Polycor has ushered in a rebirth of the quarry, and a resurgence in soapstone. Alberene Soapstone continues to be the only soapstone actively quarried in the U.S, and once again the marvelous, unique qualities of the stone are being celebrated in kitchen and bath designs for countertops, flooring and many other architectural applications. In fact, the soapstone is enjoying a resurgence as a kitchen counter material of choice for many design professionals and homeowners (not to mention students of geology).
The Garcias' daughter opted to wax her soapstone counters. Waxing it with Alberene Dry Wax brings out a deep, dark black tonality, and never turns the soapstone green like others will when waxed. Some people opt not to enhance their countertops and instead choose to preserve its natural color where the surface keeps its light bluish gray hue.
4 EASY STEPS TO ENHANCE SOAPSTONE WITH WAX
The choice to darken the stone or not comes down to personal taste. Either way it's beautiful and durable. And as the public gains more knowledge of this timeless stone, it's sure to bring more joy to more kitchens, and more chefs, both professional and amateur.