GEORGIA MARBLE™ Keeps Tradition Alive With Modern Meets Sophisticated Southern Style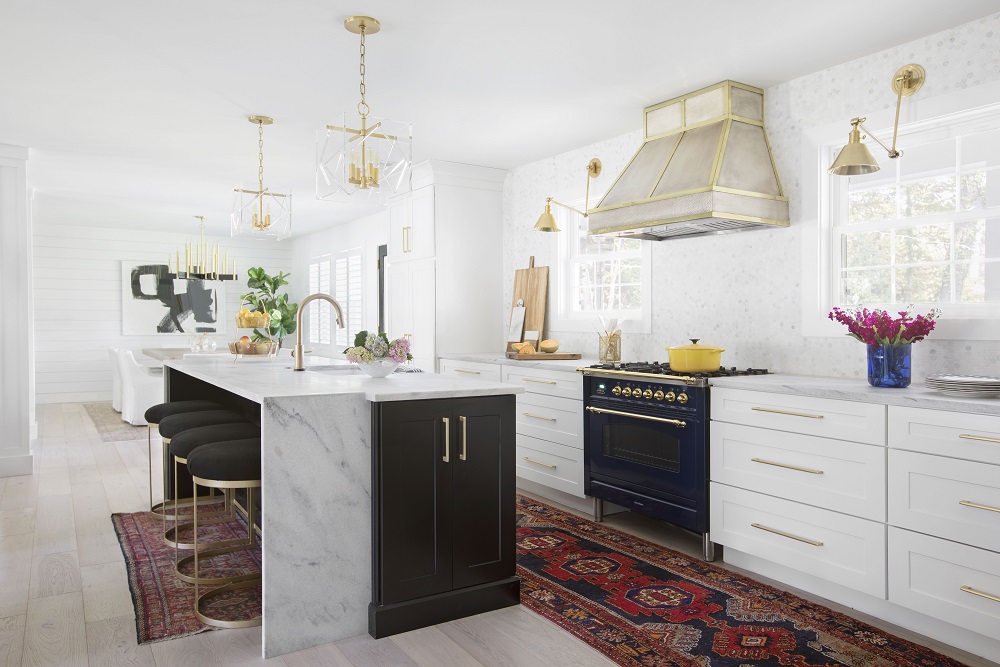 When Charleston-based real estate professional, designer, and mother of three Krystine Edwards began planning her kitchen, one factor was top of mind: incorporating her trademark sophisticated Southern style.
Edwards has been passionate about homes and design since she was a child, spending her weekends happily dragging her mother from open house to open house, criss-crossing her native state New Jersey. And as an adult, in every house she's bought, she's renovated a kitchen or a bathroom. Once she got into real estate, she was doing the same for her clients, guiding them on what to gut, renovate, rehab, and save.
There has always been one other thing that Edwards is equally as passionate about: her home of 20 years, South Carolina.
"I used to come down to South Carolina every summer since I was 18 months old. I would stay here from June to September," Edwards said. "And then one day I told my mom 'I am over the North, I am feeling this whole Southern thing, I don't want to come home'."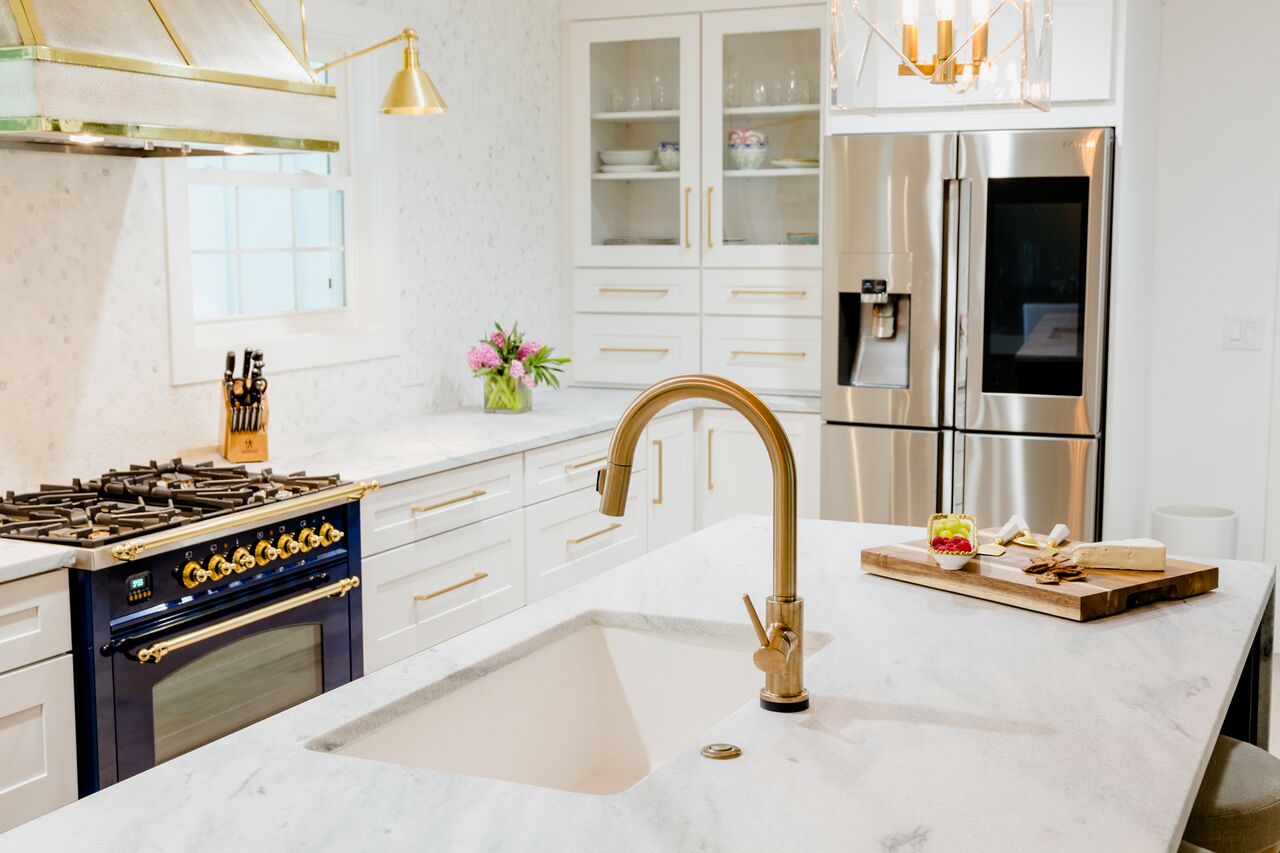 For her personal kitchen, designer Krystine Edwards chose Georgia Marble – White Cherokee™ for it's unique texture and movement, something she couldn't find in quartz.
So it's only natural that when Edwards began renovating her ranch home in Charleston, she had a very clear vision of what she wanted: the charm and grace that denotes new Southern style with a chic twist. To Edwards, a Southern home is more than classic details that add timeless elegance, it's built on a solid foundation of history and full of family and friends. And it incorporates an evolving balance between traditional and modern with a stylish spin.
"What was really important to me when I was doing this house was that I wanted to bring the Southern back to it." Edwards said.
Click here to see how an Atlanta-based husband and wife team brought Southern charm to their home with Georgia marble.
She had sourced gas lanterns from New Orleans and started looking for the perfect countertop. She has used quartz and marble both in clients' homes before, but when it came to the countertop in her kitchen, she knew she wanted marble. She knew what she didn't want (an all-white kitchen) but hadn't yet figured out which marble would properly fit the sophisticated-but-sexy meets traditional look she wanted to capture.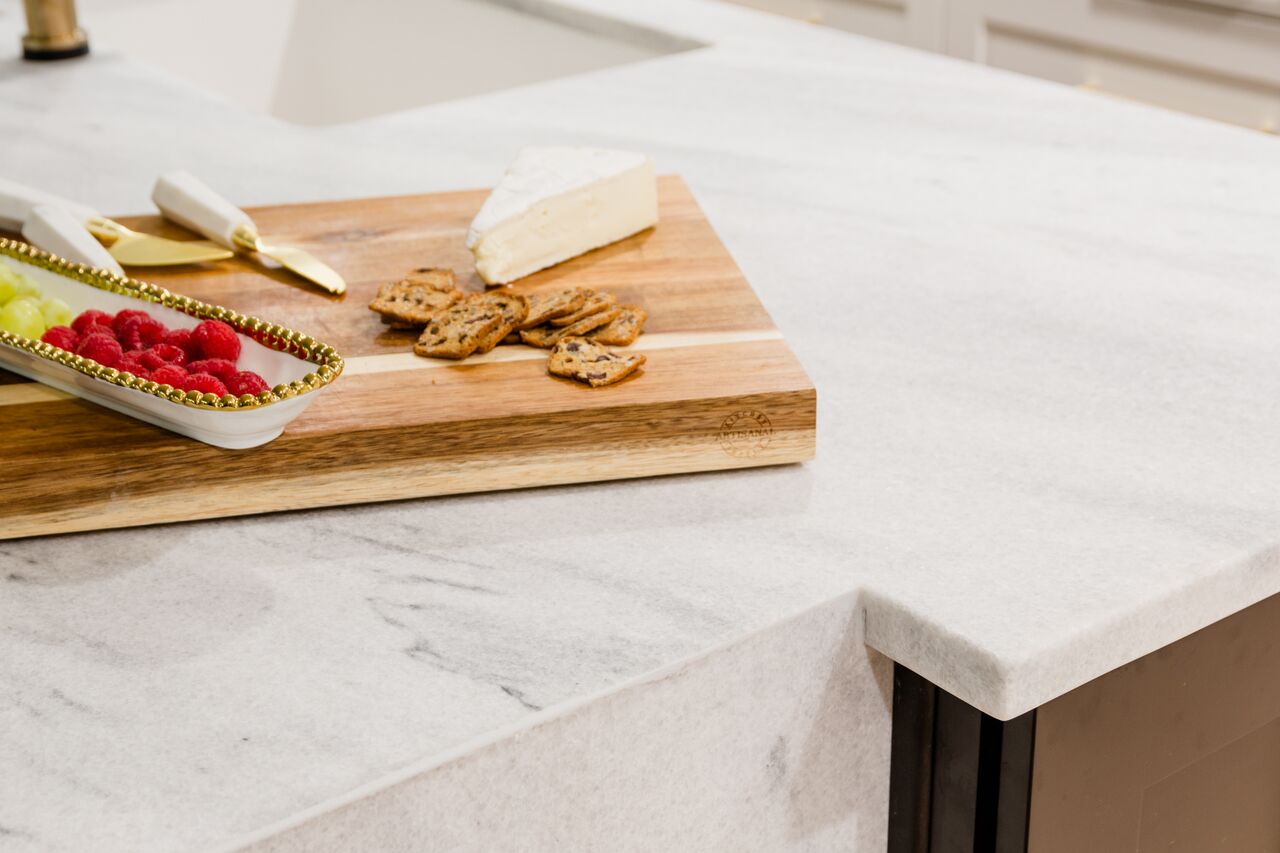 Designer Krystine Edwards insisted on using marble in her kitchen over other surface materials.
"For my house I wanted to bring a natural stone in, I wanted a marble," Edwards said. But finding the right fit for her style and needs was a challenge until, well, it wasn't. What changed? Krystine Edwards discovered Georgia Marble – White Cherokee™.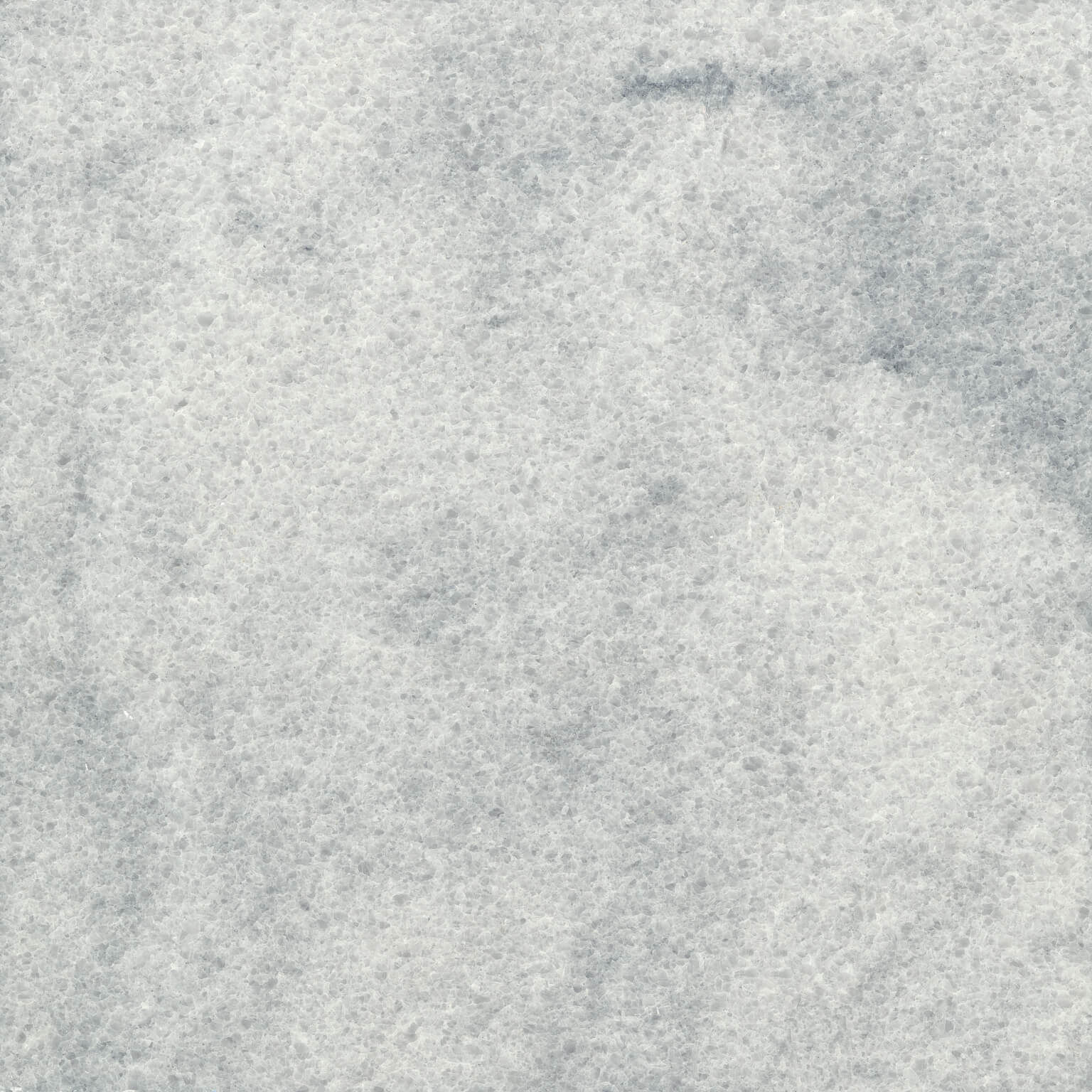 "I've always liked marble," said Edwards. "And I just felt like the Georgia Marble – White Cherokee™ has such a different texture to it, the movement in it is so beautiful. And it looks so good up against my black island and all this brass."
Georgia Mabrle – White Cherokee™ comes from a Polycor quarry in Tate, Georgia, that has been operating for more than a century. Georgia Marble – White Cherokee™ is not just a smart choice for countertops, it's also used in large architectural projects and American heritage building restorations. The white marble featured on the exterior of many buildings across the South were sourced from this quarry, including the Charleston Library Society, which was built in 1914 using marble from the Polycor quarry for the grand steps leading to the entrance. This heritage is important to Edwards.
"When I found out that this marble was also used at the Charleston Library Society in downtown Charleston, I thought that was so special," said Edwards. "And that history is what I wanted to incorporate into this house when I was bringing it back to life."
After visiting her local Triton Stone showroom in North CharlestonEdwards made the final selection of her Georgia Marble – White Cherokee™ slabs and brought in the services of local fabricator, Tile & Stone Design Studio, who have an extensive background working with Georgia marble over the years. You can see the fabrication skills of this shop in this custom marble sink the team hand carved on another Charleston project.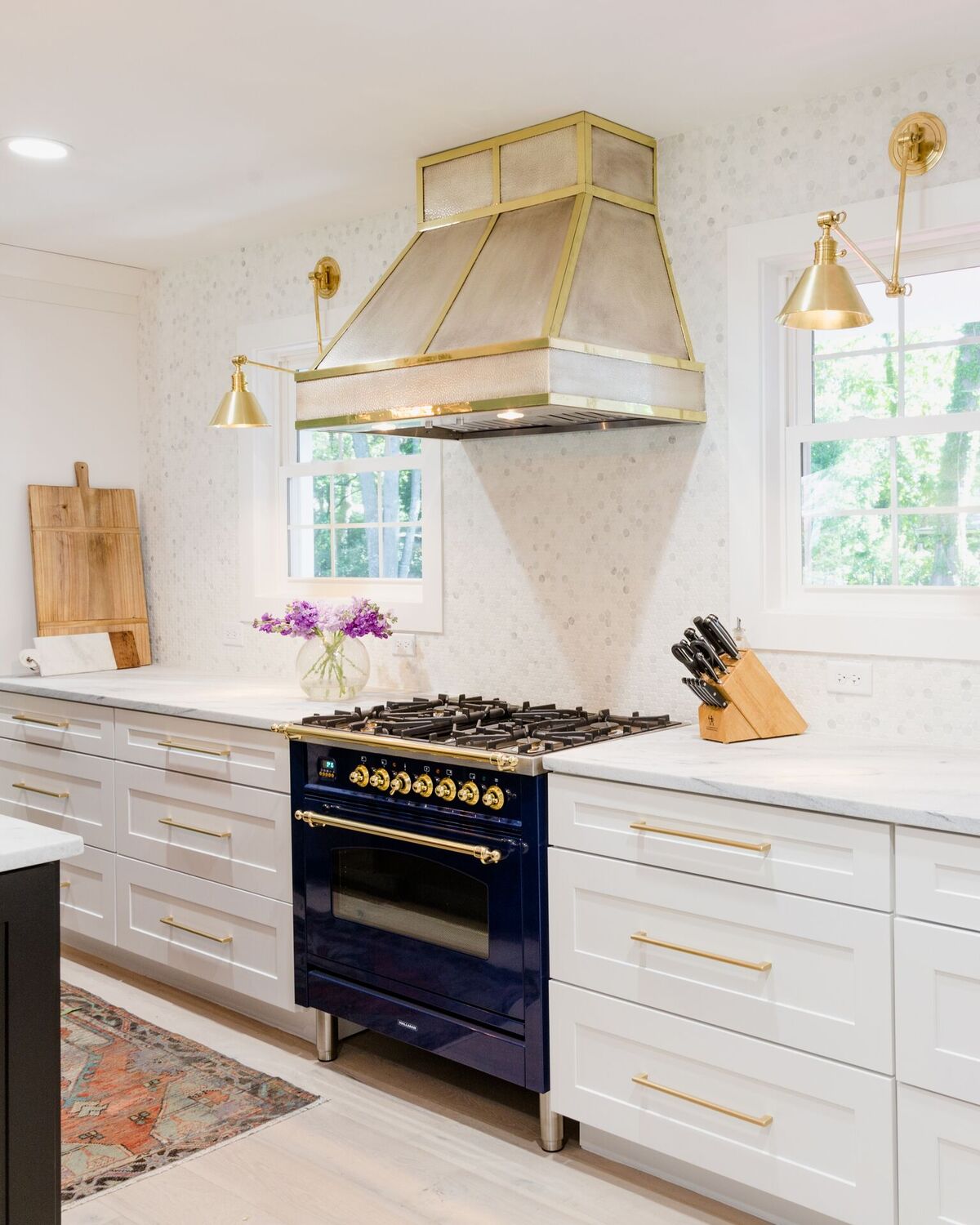 Brass accents add brightness and warmth to the range hood and carry throughout the kitchen in hardware, lighting and appliances.
The redesigned kitchen is a showcase for Edwards' signature style: a beautiful balance between traditional and modern, functional and glamourous.
"The design inspiration was for me to have what I call a classic, timeless kitchen. And when I think about that I think of a white kitchen, but I didn't want all white," she said.
Instead, Edwards utilized the classic combination of black and white to achieve that timeless feel. And to counteract any perceived coolness of the combo, she decided to warm it with the opulent brass tones in the lighting, hardware, and accents, merging the timeless with the warmth. Plus, the softer toned brass, which is having a renaissance at the moment, is a classic element, too.
Read howanothersouthern interior designer brought glamour to her kitchen with Georgia Marble – White Cherokee™.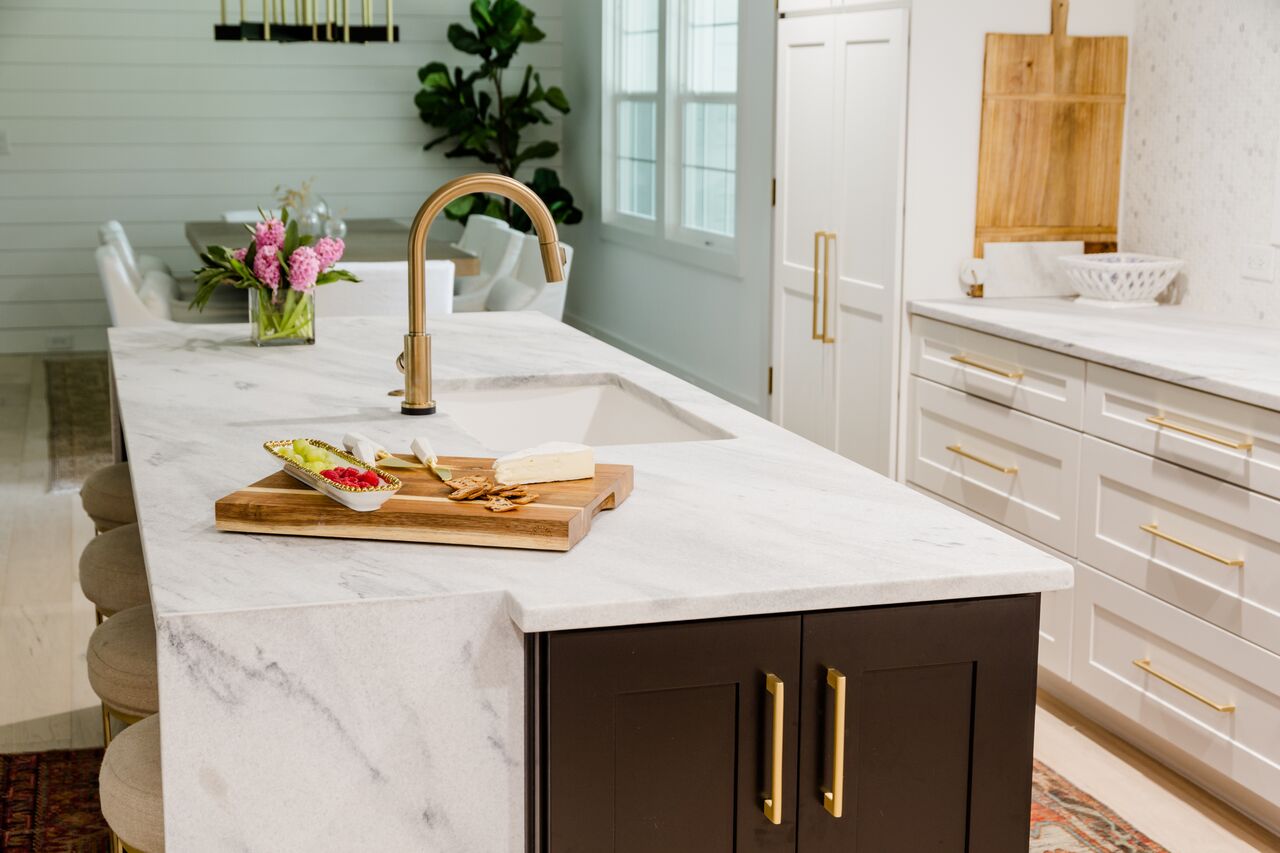 A notched detail in the waterfall island highlights built-in cabinetry in a dramatic black.
"And when I saw the marble, with the black and white in it, I thought it tied it together," said Edwards.
Center to this space, literally, is the Georgia Marble – White Cherokee™ waterfall on the island, which adds an instant "wow" factor to her kitchen.
"The waterfall effect we did on the side really took it from a typical kitchen with marble countertops to another degree higher, made it more high-end," Edwards said. "I just really love it, seeing this beautiful piece of marble running down from the top of my cabinets to the top of my floors."