HGTV Luxury Home Rocks the Block with Timeless GEORGIA Marble SURFACES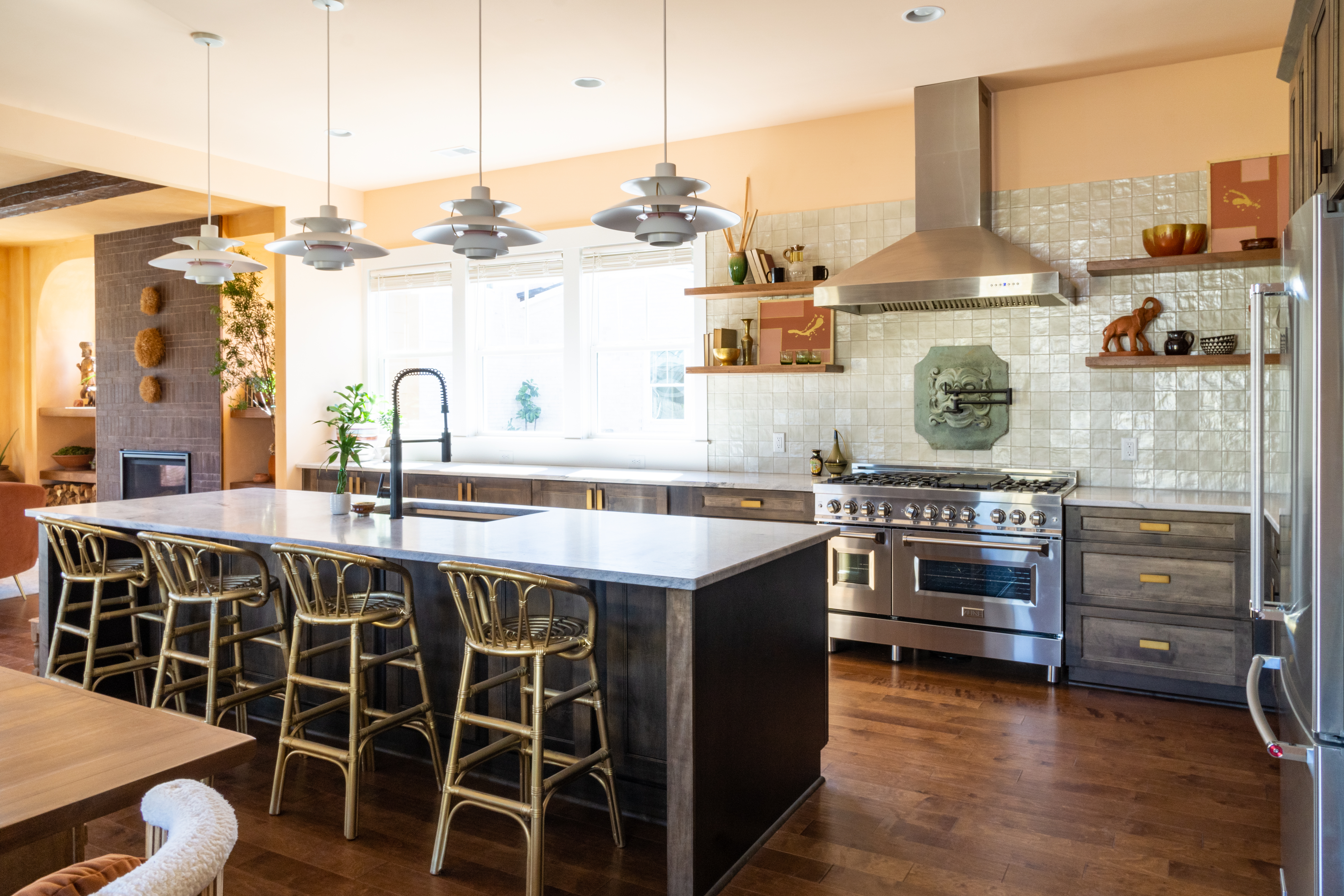 Builder and carpenter Evan Thomas and his partner designer Keith Bynum are known for transforming run-down properties in Detroit into stylish starter homes for first-time homebuyers on their hit HGTV show "Bargain Block."
But the duo — who also run NINE Design + Homes — took a break from revitalizing Motor City one home at a time to take on an all-new challenge: giving a luxury home their signature artistic, homey feel for the third season of HGTV's "Rock the Block".
Rock the Block is a competition-style show, where four groups of celebrity design duos compete against each other, renovating identical new construction homes to see who can best utilize a $225k budget to add the most total value with their designs.
"But we think of houses as an emotional journey, not a financial journey," said Evan.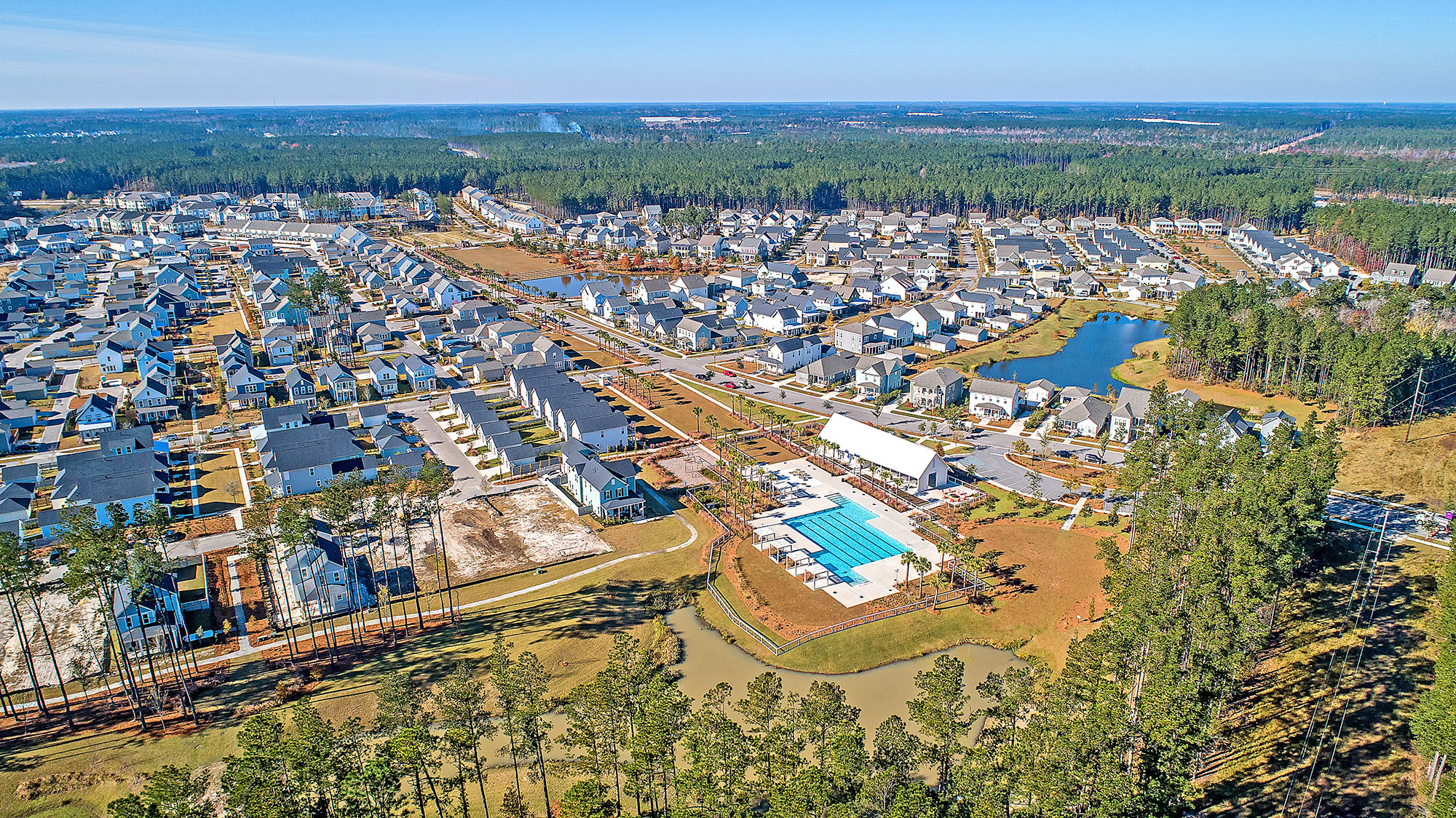 Nexton Development site of Rock The Block Season 3
Built by Hunter Quinn Homes, the 3,500 square feet homes in Summerville, just on the outskirts of Charleston, SC were blank slates valued at $500,000 when the competition began. While the other contestants may have had more of a "mass market" feel, Evan and Keith intentionally took a more bold and artistic approach to their design. And even though Evan and Keith never managed to win one of the weekly design challenges on the show, their creative approach is paying off: their five-bedroom, four-and-a-half bathroom home recently listed for $1.2M.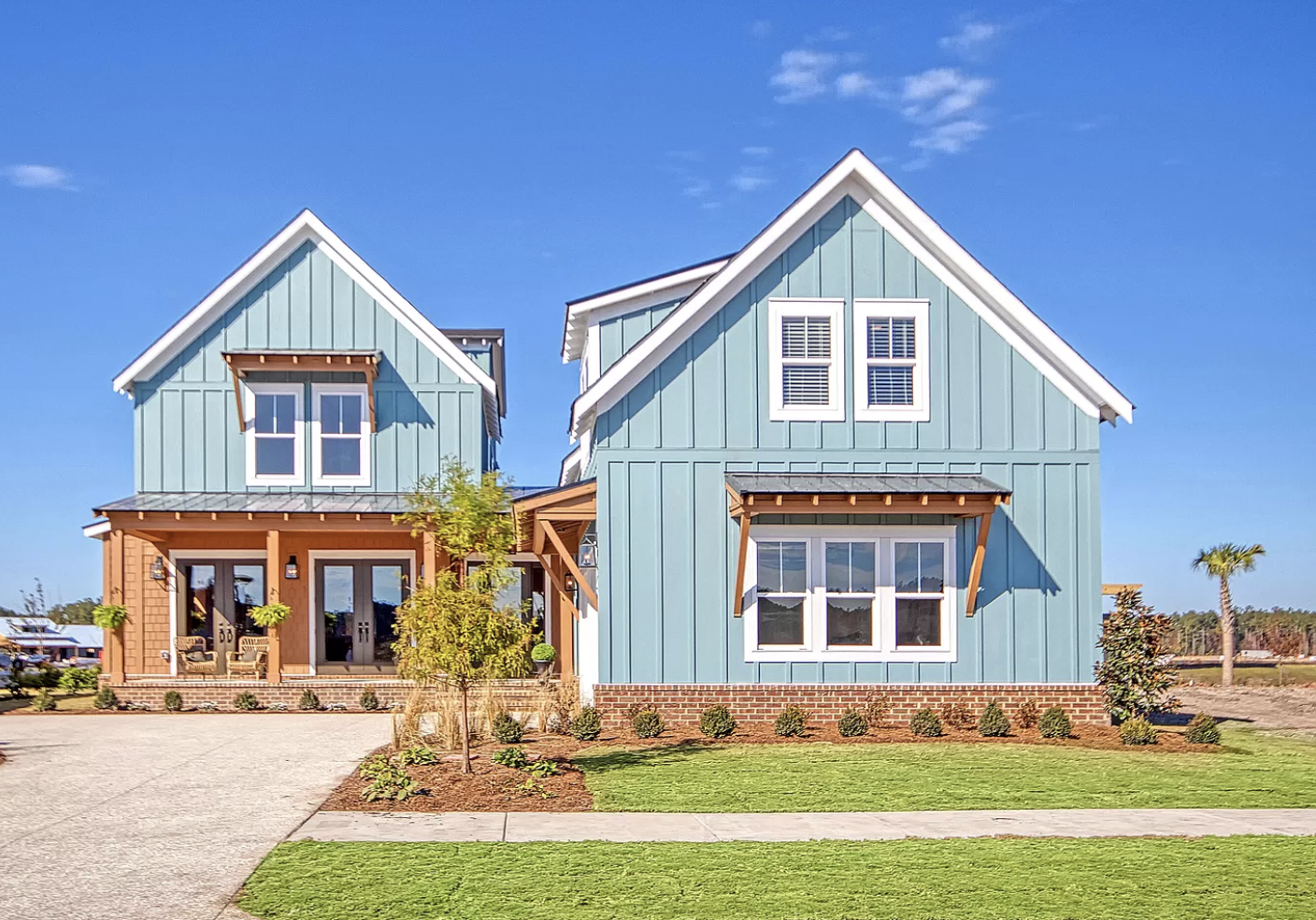 Exterior of the finished home by Keith & Evan, Rock The Block Season 3
"I take it as a compliment when someone tells me it doesn't appeal to the mass market," said Keith. "I like hearing that it's different."
For the house, they wanted to create a cozy, welcoming feel –inspired by some of the churches in downtown Charleston — which they achieved through smart, consistent choices – earthy tones and soft peachy hues, wood shutters, architectural brick from Cherokee Brick, high-end wood floors, and GEORGIA MARBLE™ – WHITE CHEROKEE.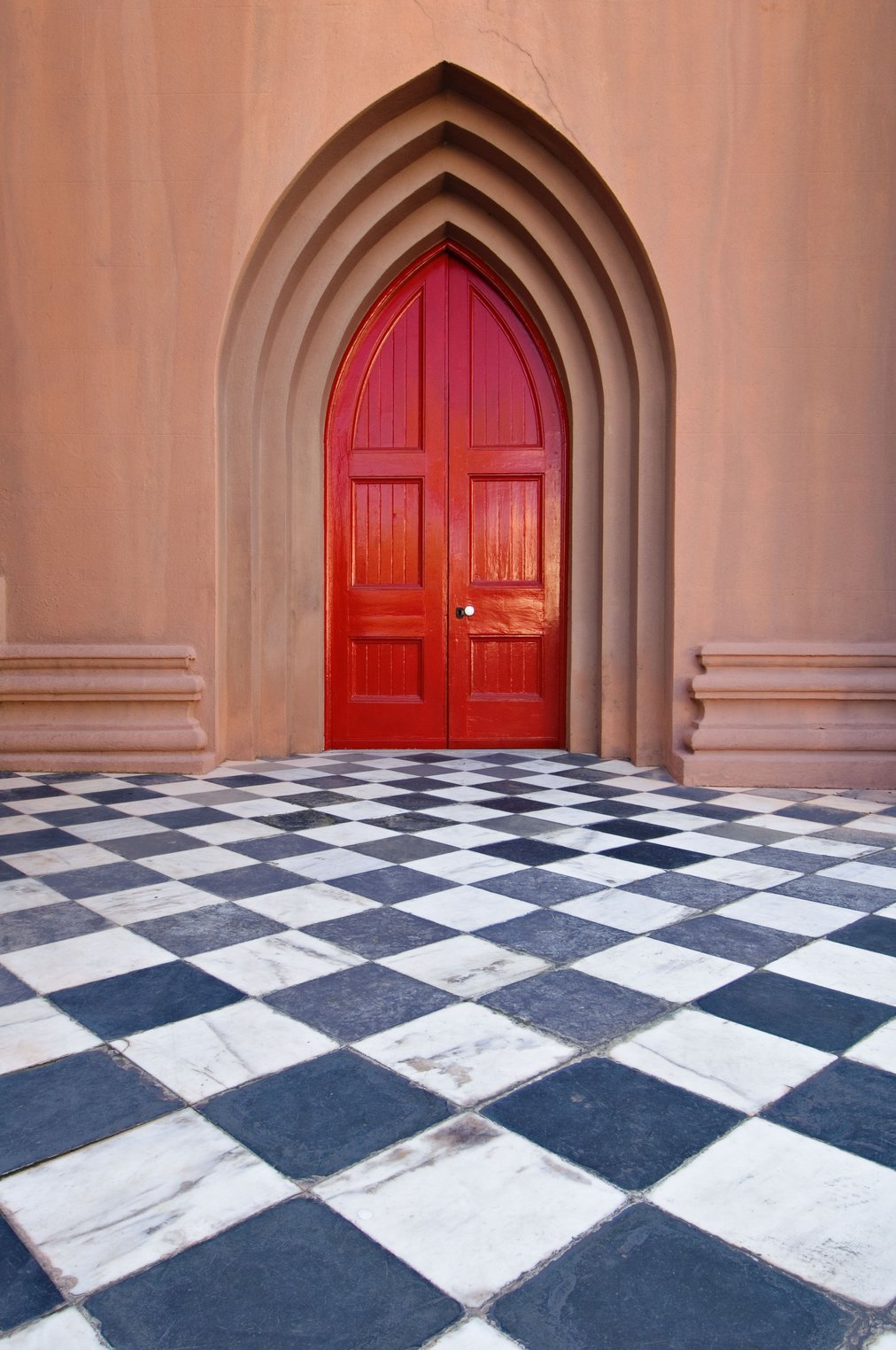 Georgia Marble & Alberene Soapstone™ tiles at Charleston church. Courtesy Daniel Dempster Photography / Alamy
Georgia Marble™ – White Cherokee is not just a smart choice for countertops, it's also used in large architectural projects and American heritage building restorations. You can find it around Charleston—it was used at the City Hall and the Public Library's grand front steps as well as other commercial and institutional buildings around town.
This historic marble comes from a Polycor quarry that has been operating for more than a century in nearby Tate, Georgia.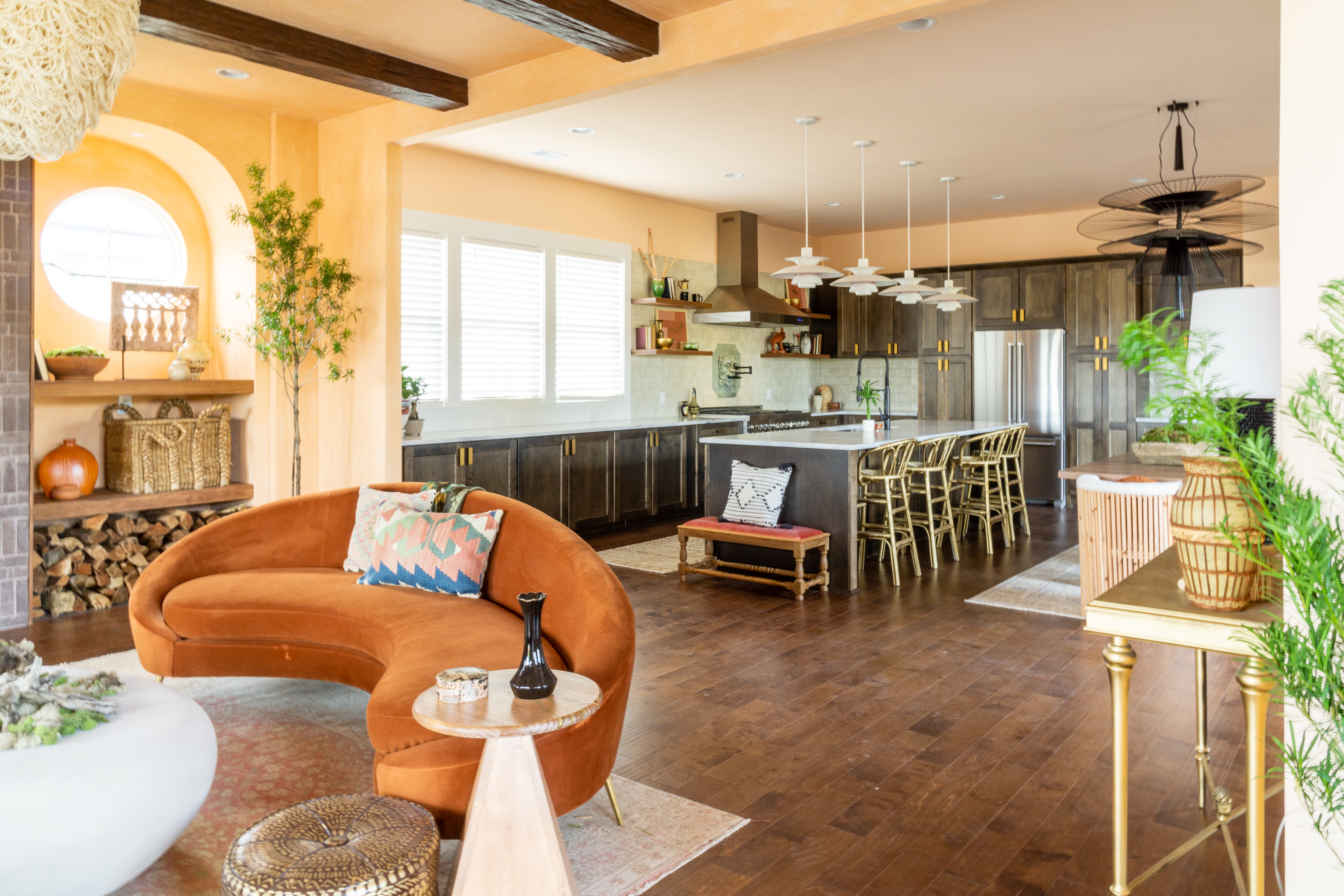 "Part of why I think all the color worked — and all of the things that we did that were more outlandish worked — is because we had some of these more like classic and neutral elements like the White Cherokee marble," said Keith.
"You can't really object to white marble. Nobody is like 'Oh, that's so polarizing.' It's classic. Nobody ever says anything negative about white marble."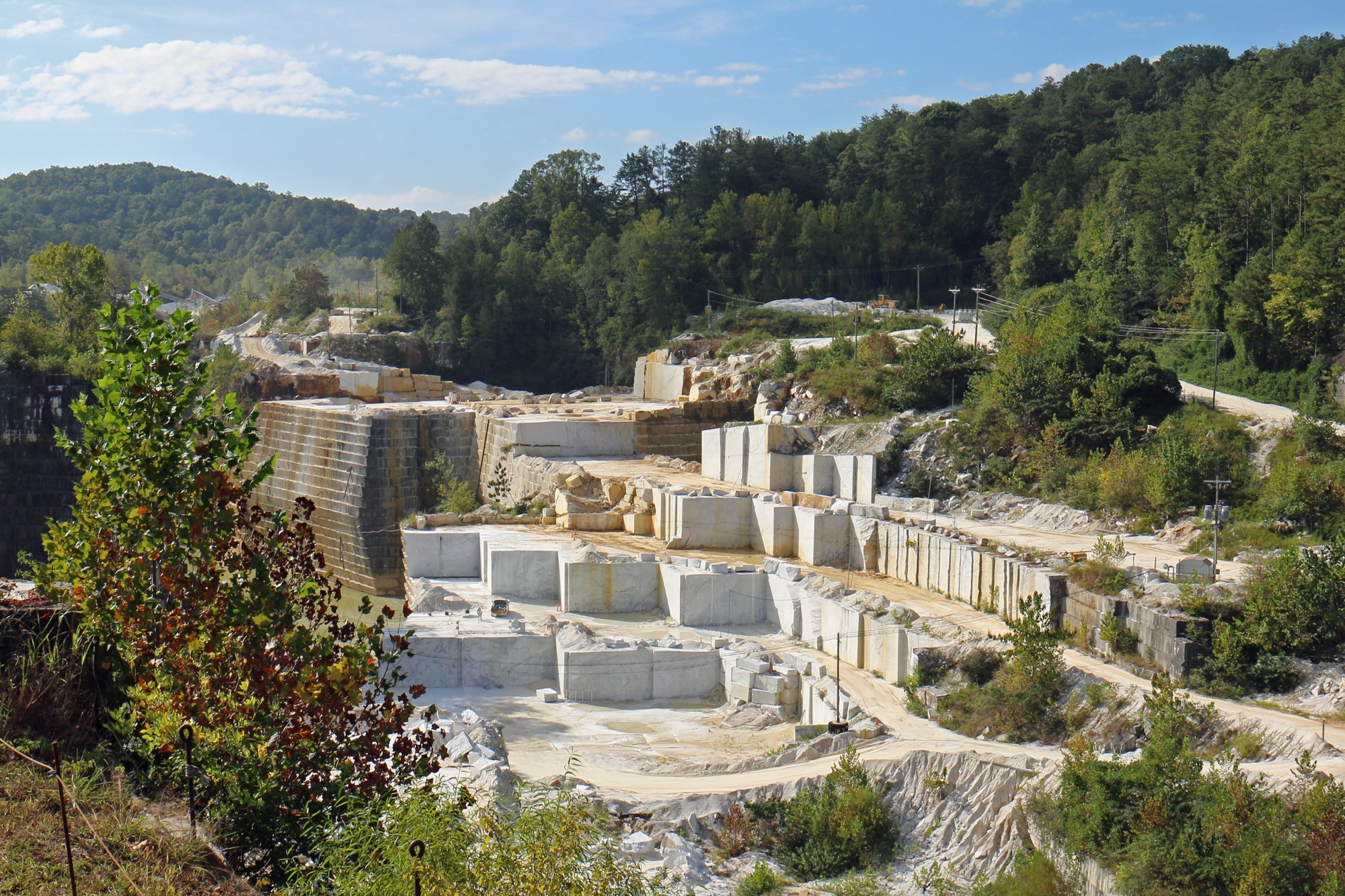 Polycor's iconic U.S. marble quarry in nearby Tate, GA.
The marble is most prominent in the renovated kitchen. Keith and Evan removed the existing awkward corner pantry and wrapped hardwood cabinetry stained a warm nutmeg brown – topped with White Cherokee marble – and open shelving around the corner of the kitchen. They rotated the existing island 90 degrees, topped it with the same Georgia marble, and positioned a custom dining table between it and the exterior doors.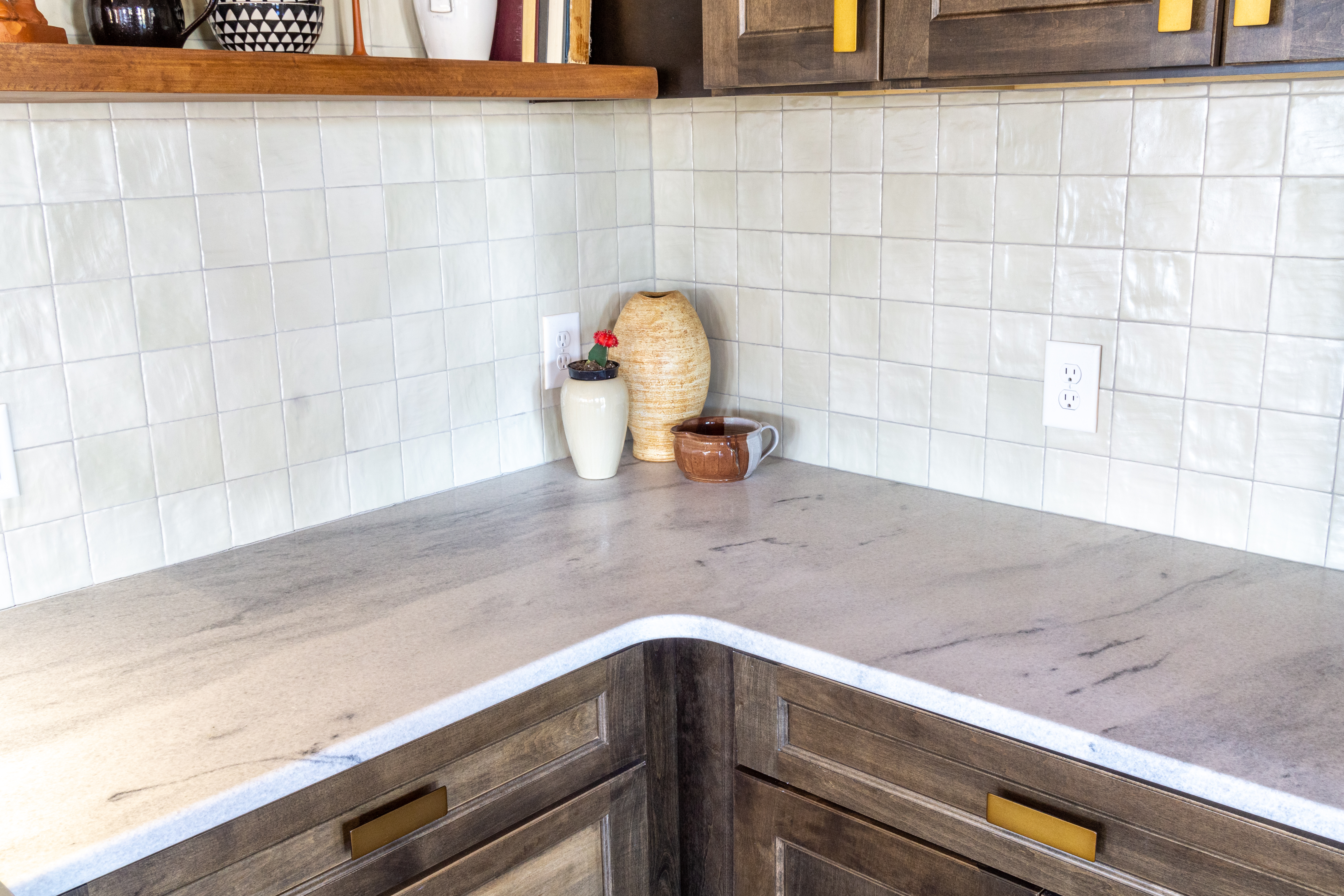 "I think marble is where it's at," said Keith. "It's elegant, it's timeless, and it's something that should hold up for a homeowner for many, many generations."
SEE HOW A LOCAL CHARLESTON DESIGNER USED THIS CLASSIC MARBLE IN HER OWN HOME
"We wanted to create a super usable but stunning kitchen, and the marble really was the key to it being so successfully elevated," said Evan.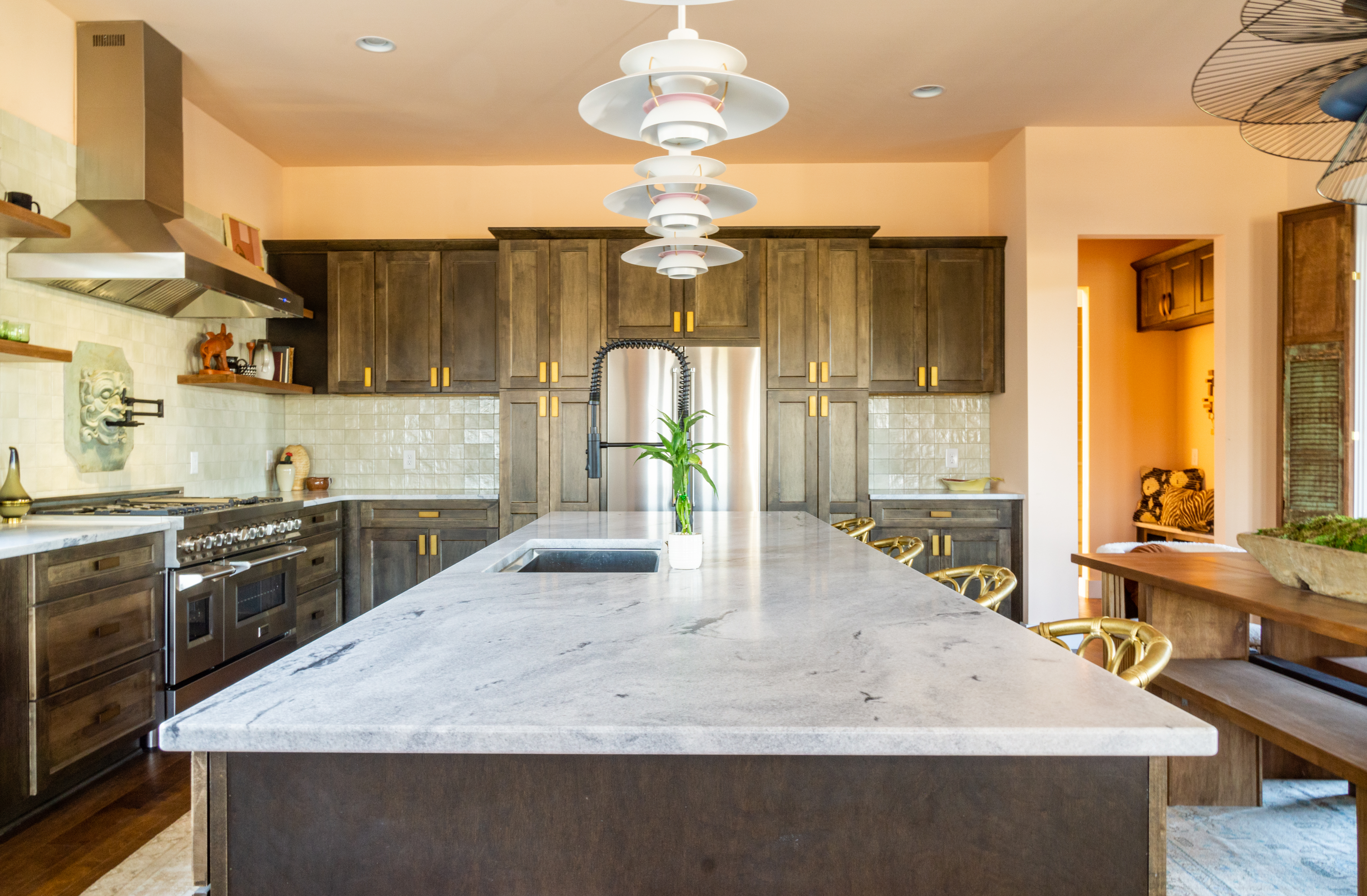 A gigantic slab of White Cherokee marble was used for the centerpiece of the open-plan kitchen.
Opulent touches the duo added include bronze hardware, a combination of metallic and flat-finish handcrafted Zellige tile for a dimensional backsplash, and an upcycled comedy mask sourced from a theater to create a one-of-a-kind pot filler.
"You could really throw some awesome dinner parties in that kitchen," said Keith. "Having that much storage would be a dream and having that much counter space for prep, you'd never run out of space — ever."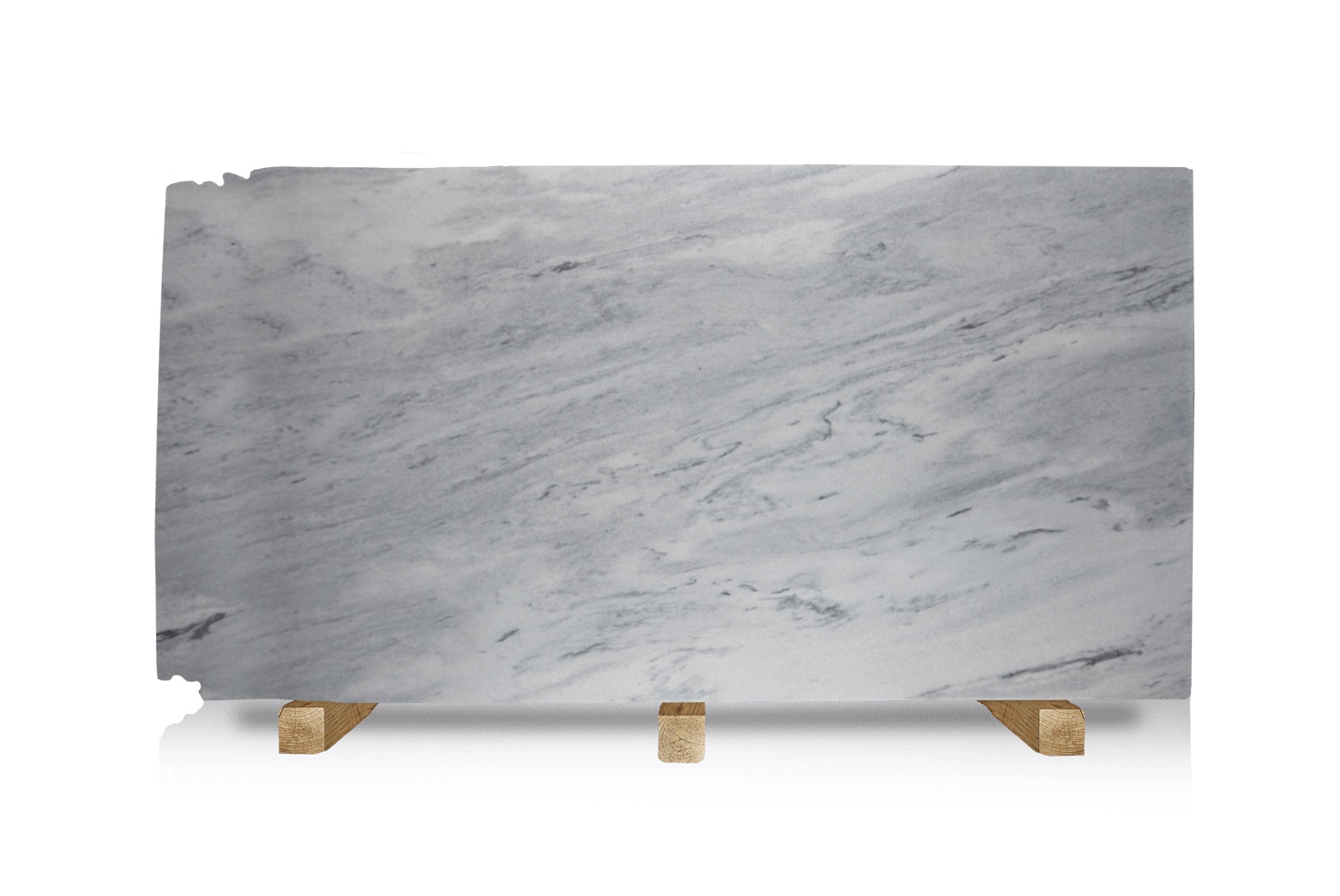 White Cherokee 3cm Honed finish slabs used for the project.
The duo leaned on their "Bargain Block" mentality of using what they have, being strategic with it and its placement to take a whole space to the next level.
"White marble is classic," said Keith. "It's beautiful, it's timeless. So, we put it literally everywhere."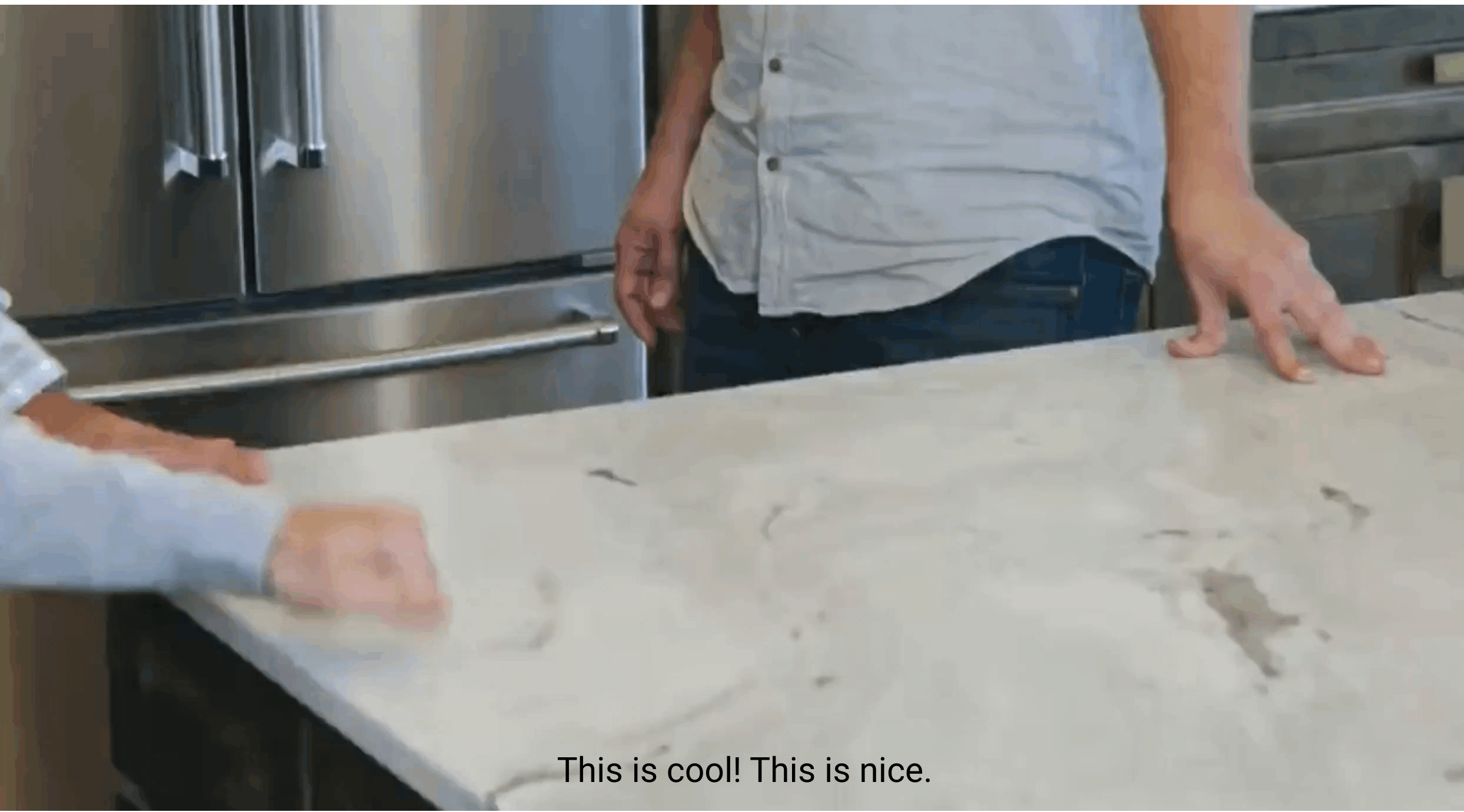 They truly carried the marble throughout the rest of the space – using it in the stop-and-drop area, the powder room, dual vanities in the owner's bathroom, the secondary kitchen in the "F.R.O.G." (finished room over garage) space, the guest bath, and outdoor kitchen.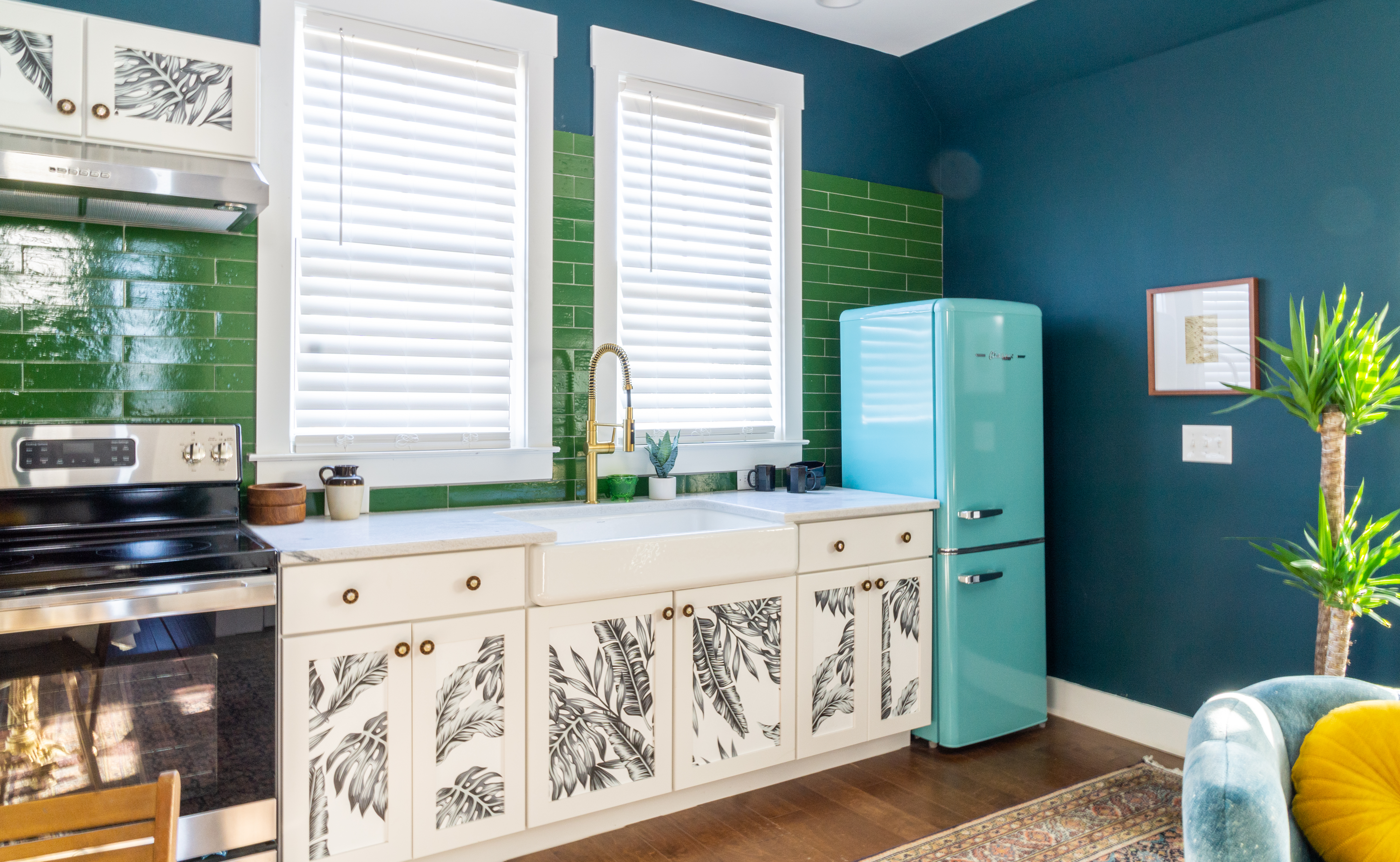 The competitors really turned up the heat with the FROG episode. Unused spaces never looked so good above a garage.
"There are these repeating themes— the woodwork, the custom cabinetry, the marble — strategically placed throughout the house," said Evan. "We had little things that were repeated, that kept it all together and cozy, cohesive."
Even though it's an entertainer's paradise, the entire house has a calming, inviting ambiance. Relaxing areas throughout including the luxe owner's bathroom with a curved shower, freestanding bathtub, dual vanities, and water closets; and a third-floor spa area with a steam shower and private sauna.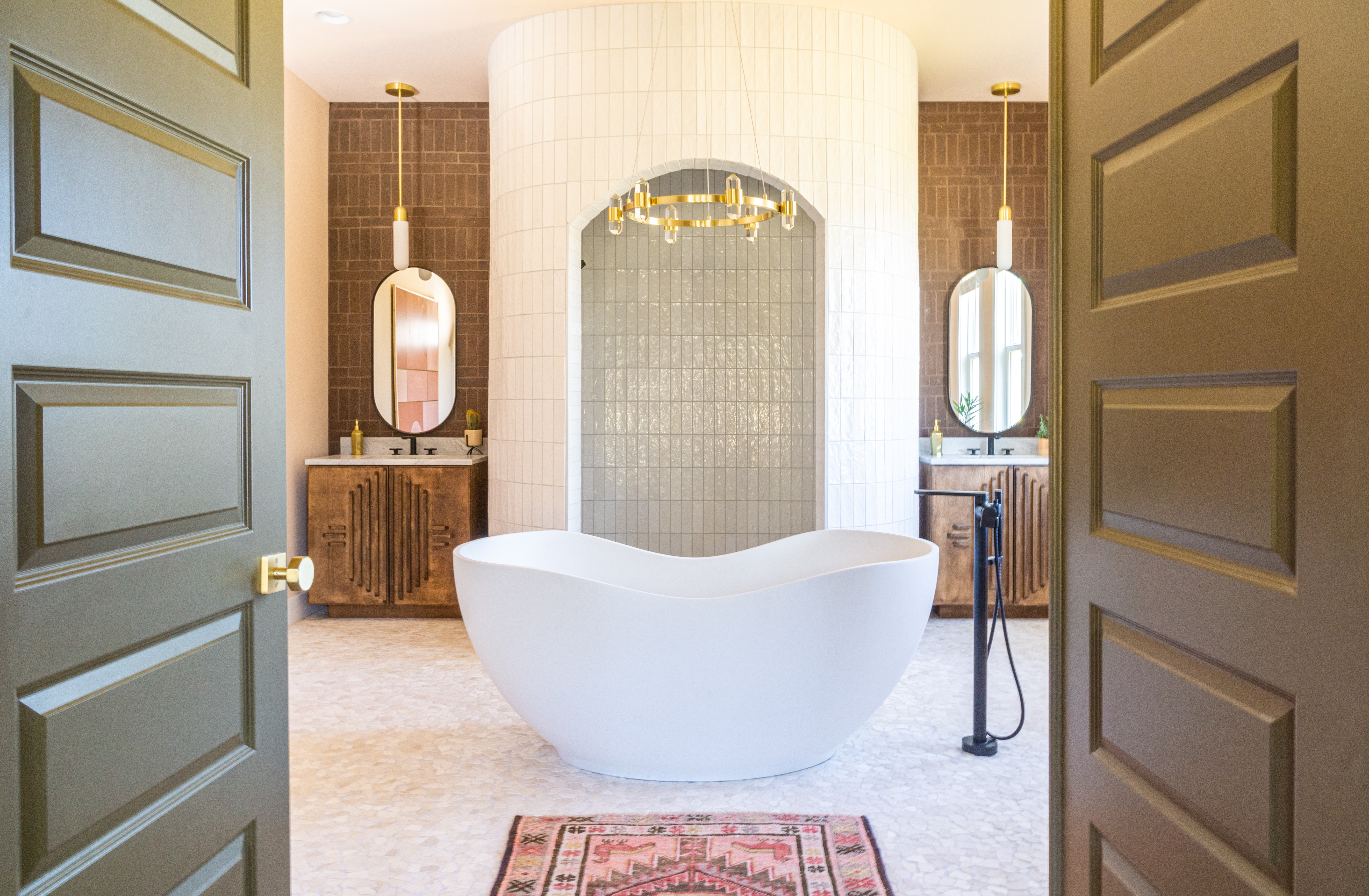 The spacious master bathroom exudes a sense of grandeur and a healthy dose of southern charm.
In another episode, Keith and Evan turned their attention from the interior finishes of the home to the outdoor living areas. They wanted to create a seamless flow from the indoors to the exterior so they designed a functional outdoor kitchen and grilling space complete with the same Georgia Marble countertops.
SEE MORE NATURAL STONE HARDSCAPES & MASONRY POLYCOR PRODUCTS HERE
Marble used outdoors? Yes, you read that right. Georgia Marble is unique among white marbles because it possesses a higher density thanks to its tightly interlocking calcite crystals that gives it greater resilience when exposed to the elements. That is why it has been used extensively for the exterior of buildings for over 150 years, even in cold climates, like the Minnesota State Capital and Museum of Modern Art in New York City.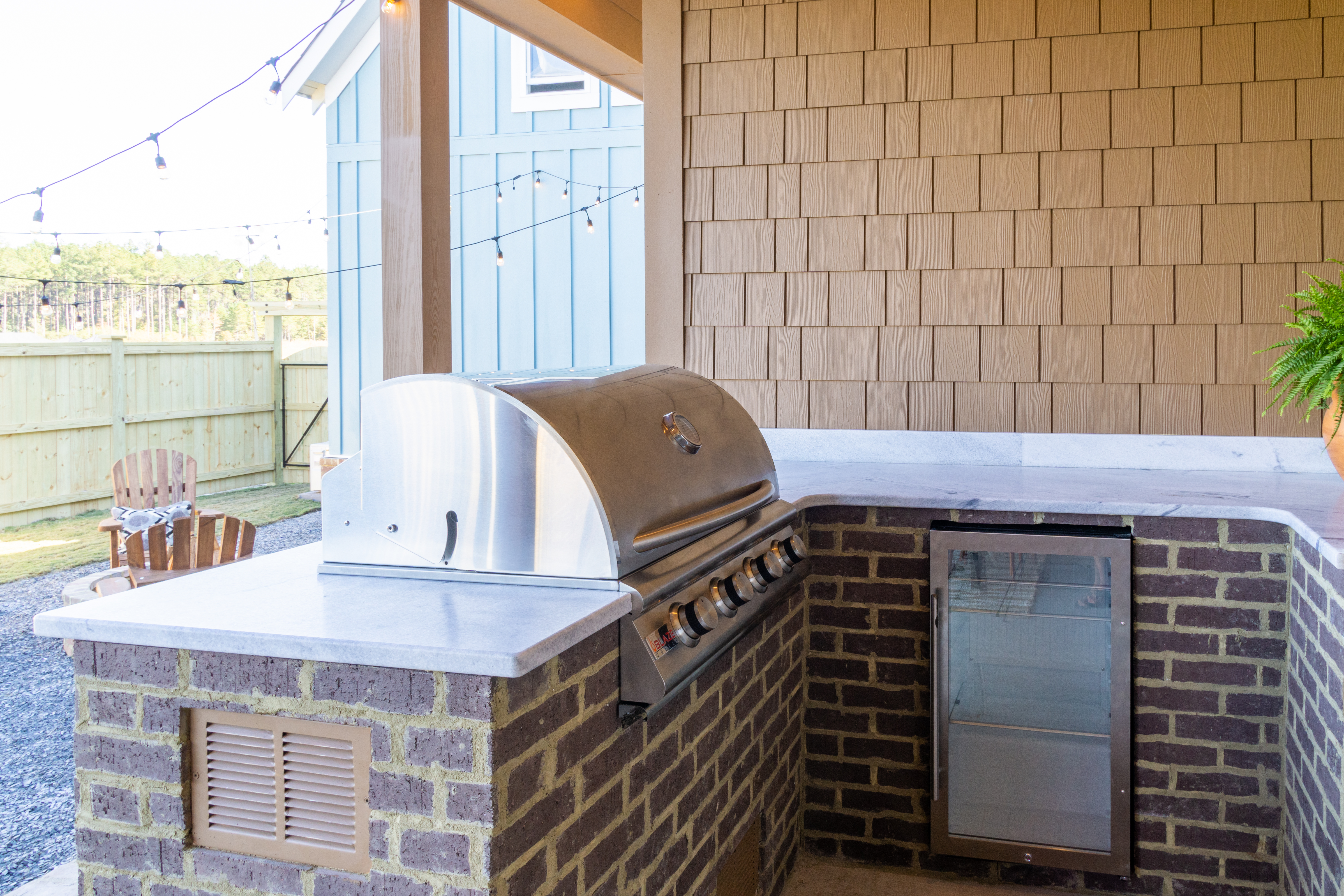 The home was built for entertaining, and this large, masonry-built outdoor grilling space is another continuation of the interior living spaces.
While the overall feel is calm and cozy, getting there wasn't a chill experience. Filming a TV show didn't make them exempt from the supply chain issues and delivery problems plaguing the industry. And the weekly schedule —the show was made over just six weeks in the fall of 2021 — made these issues even more impactful.
"If one thing comes in wrong, or if it misses that ship date, or it's broken on arrival, you've got to pivot, literally that day," said Keith. "You don't have any time to wait."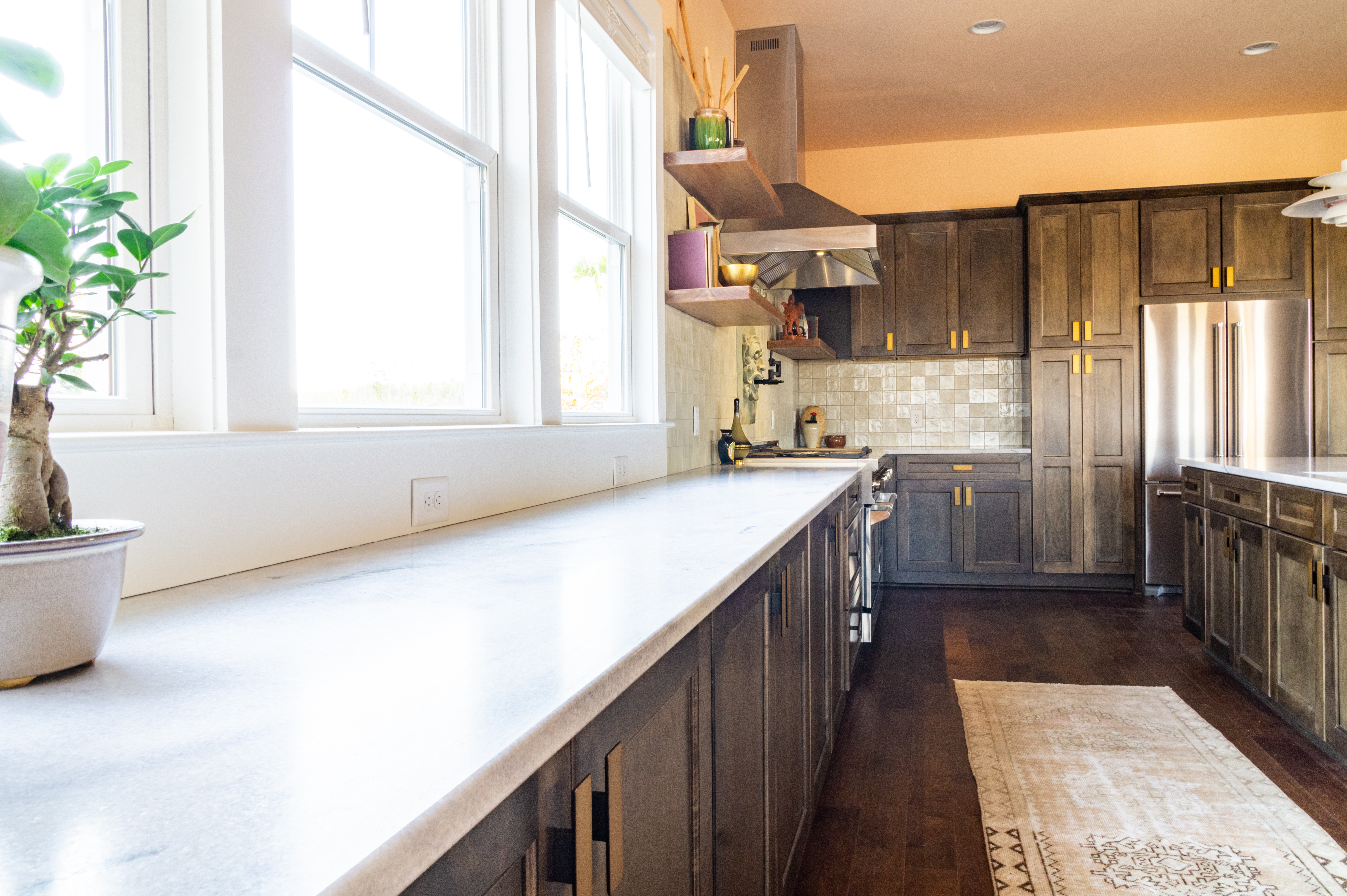 10 slabs of Georgia marble were used for all the countertop surfaces, and with long runs like this, it is clear why.
They had backup options and arrangements for every piece they planned to use in the home — and after hearing they went through dozens of options for lighting with fixtures being unavailable for one reason or another, it's easy to understand why — but had no problems with the multiple slabs of White Cherokee marble.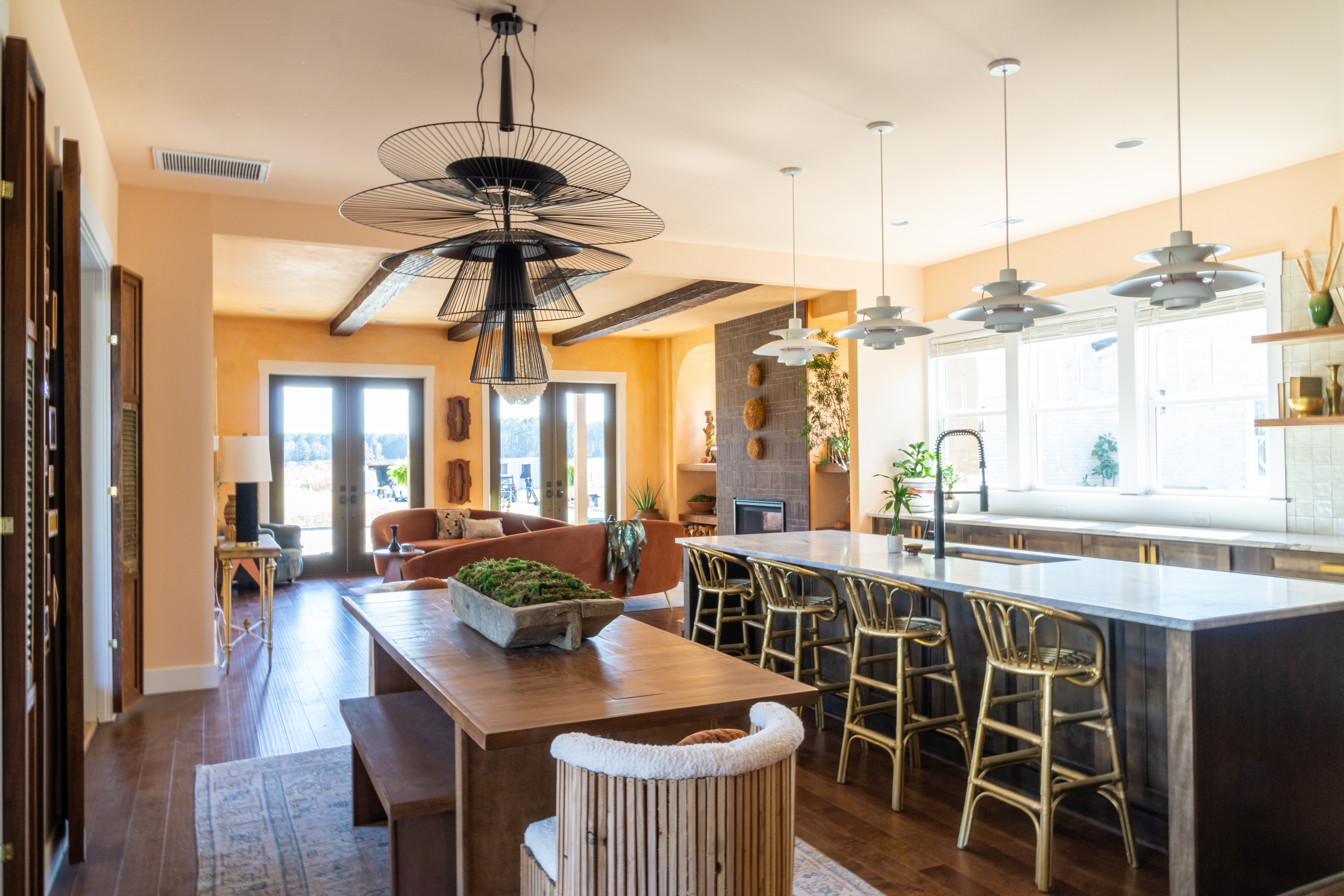 Who said bright and spacious had to be white all over? Keith and Evan showed how to challenge convention with their artist's aesthetic and color palettes.
"I was trying so hard not to get my hopes up so high that I would be devastated if the marble didn't come," said Keith. "But it was not an issue at all. It was delivered on time — and it was stunning."
"We were really happy to work with Polycor because it was very smooth," added Evan. "It was the one part of this process that was beautifully simple."