Deb Foglia of Seeking Lavender Lane Reveals Her New Fireplace Featuring Indiana Limestone Thin Veneer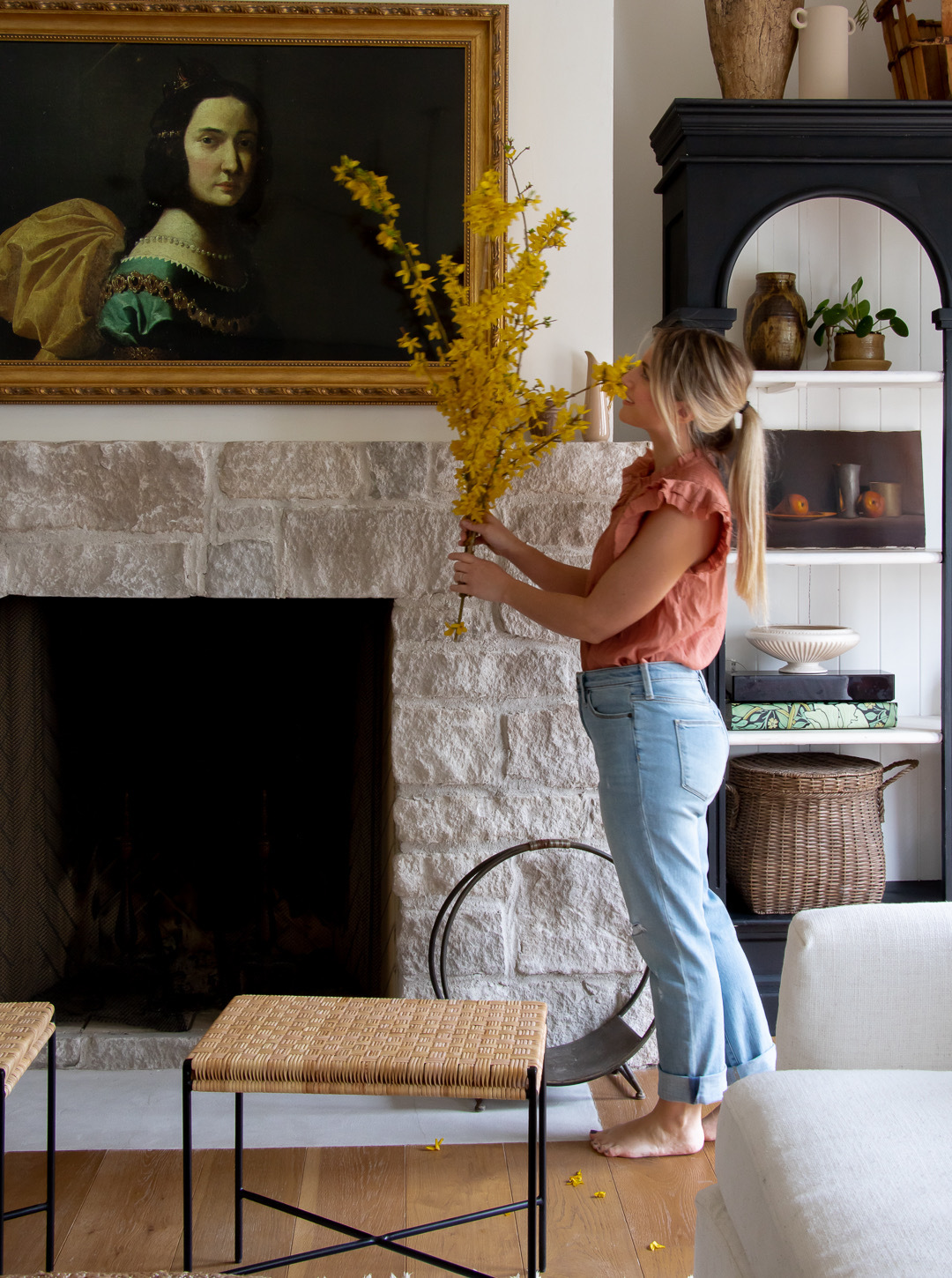 When Deb Foglia, of Seeking Lavender Lane, purchased her fixer-upper home in Farmingdale, New Jersey, she knew she had a lot of projects ahead of her. Foglia is no stranger to do-it-yourself projects, having worked on her first home alongside her husband.
But their new house was a much larger project from day 1; her family lived in a camper for the first 6 months while a fleet of contractors renovated a small standard ranch into the farmhouse of their dreams. The family finally moved into the house the week before Christmas.
Since then, she has been tackling smaller projects to bring her signature European farmhouse style to every room. One project that was on her to-do list was the family room fireplace. The existing fireplace was a starter solution that fit their budget at the time. But when that fireplace started to come apart, the project moved up to the top of her list.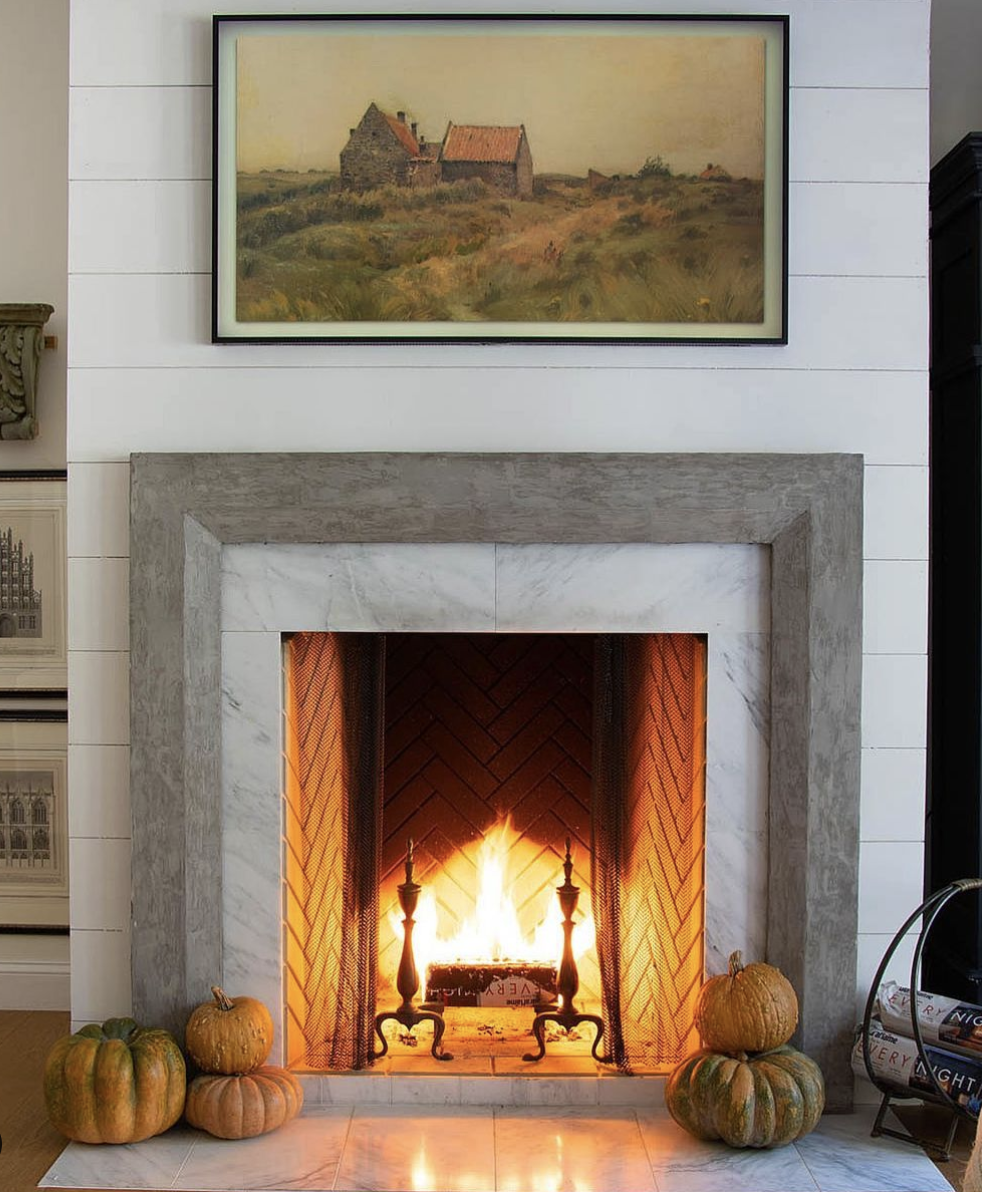 The original fireplace included standard detailing using stock white marble tiles for the hearth and surround, paired with a precast concrete beveled frame.
"We had the builder do a fireplace for us, but we knew it would not be our forever fireplace," said Foglia. When the marble began separating and falling off, they decided that rather than repair it, they should do what they had been wanting to do instead and install a thin stone veneer over the brick. Then came the design questions, "What exactly do we want to do?"
The fireplace design had to check a number of boxes: It had to be in line with her European farmhouse aesthetic, with a casual not too formal feel, while also minimalist and sleek. But above all, Foglia wanted this new piece to look as if it had always been there.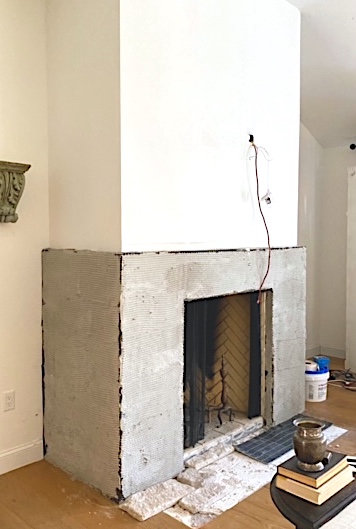 Scratch coat ready for natural stone veneer installation
"I wanted it to look Old World but comfortable," said Foglia . "It couldn't be too formal, and I didn't want something that felt too busy." A white stone veneer would be too stark and similar to the original tile. The family room is a space they truly live in, where the family gathers to watch TV and is in constant use.
Rockford Estate Blend® Indiana Limestone thin veneer easily pulled all of these competing demands together.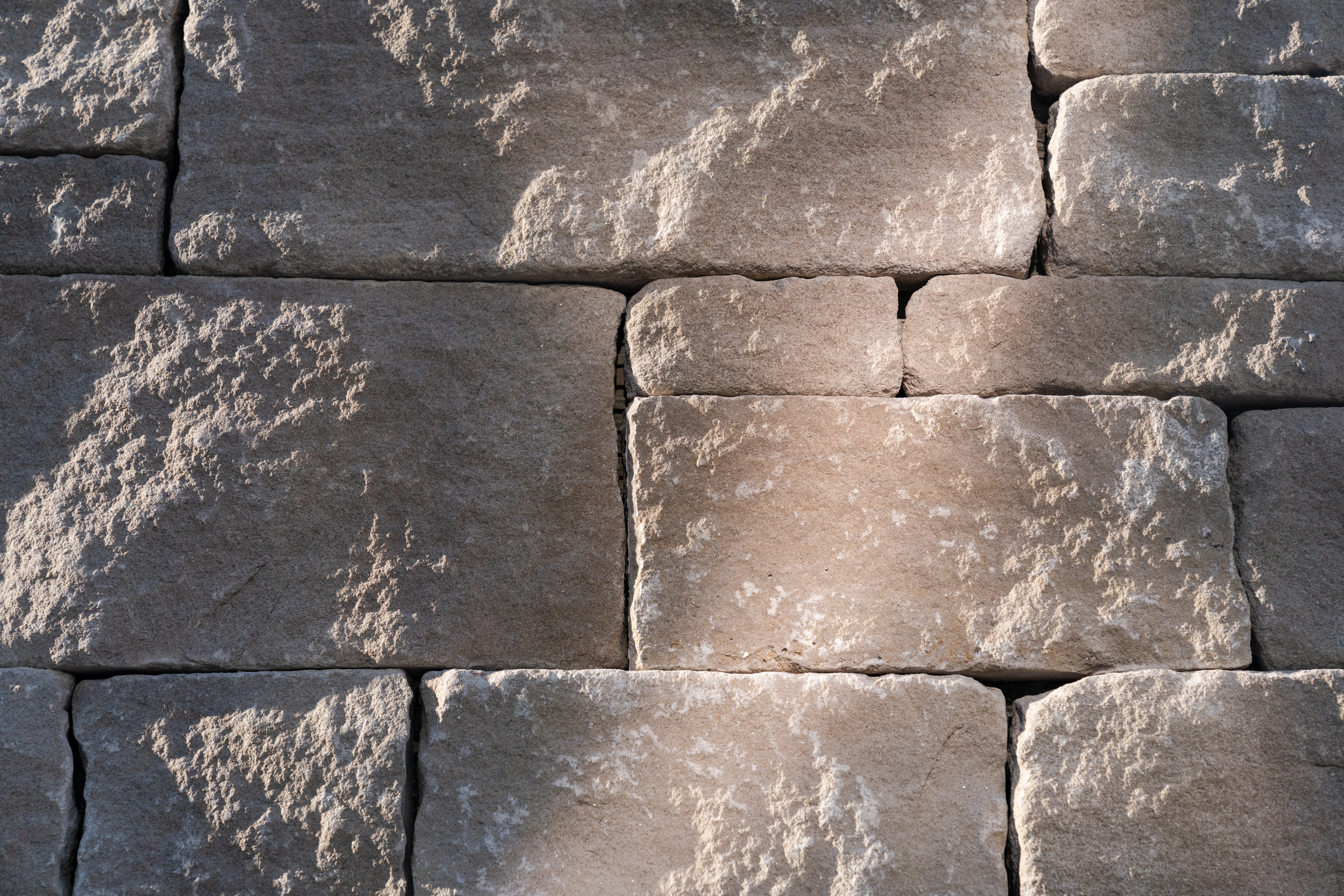 "I saw an inspiration photo and it just hit me," she said. The stone is a natural material in an inherently earthy palette that combines the old-world texture she wanted while also offering the clean minimalism she needed so as not to overwhelm the space. Commonly used for stone veneer siding on the exterior of homes, Foglia decided she wanted the organic textures brought inside her home for a warm, cozy aesthetic.
SEE THE POLYCOR HARDSCAPES & MASONRY FULL BROCHURE HERE
From day one, Foglia loved the idea of using Indiana limestone – Full Color Blend™. "The material has been around forever. There's just something about a natural material versus engineered. A big word I like to use is authentic, it's been there forever. If you choose it, it'll never go out of style. And the color of the Rockford Estate Blend complements the neutral tones in our home." Unlike artificial stone or cultured stone options, the qualities that make genuine natural stone unique are exactly that – every piece is unique and is the most natural building material available because it is truly made by nature.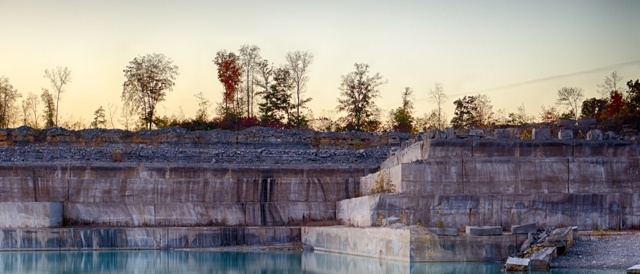 The birthplace of Polycor Hardscapes & Masonry natural stone products happens at quarry sites across North America. Stones are cleanly extracted and cut and finished to various sizes and finishes. Pictured: Indiana Limestone quarry, Bloomington, IN
While Foglia and her husband love DIY projects and sharing the instant results with her followers, she knew that she would be out of her comfort zone with this project. So, they brought in a contractor to do the project, but she still remained very involved with every step, choosing each piece of stone as they were set in stone veneer mortar. It wasn't so much the stone veneer thickness that concerned her, these thin veneers range from 3/4″ – 1 1/4″ thickness, but it was more about the masonry techniques involved.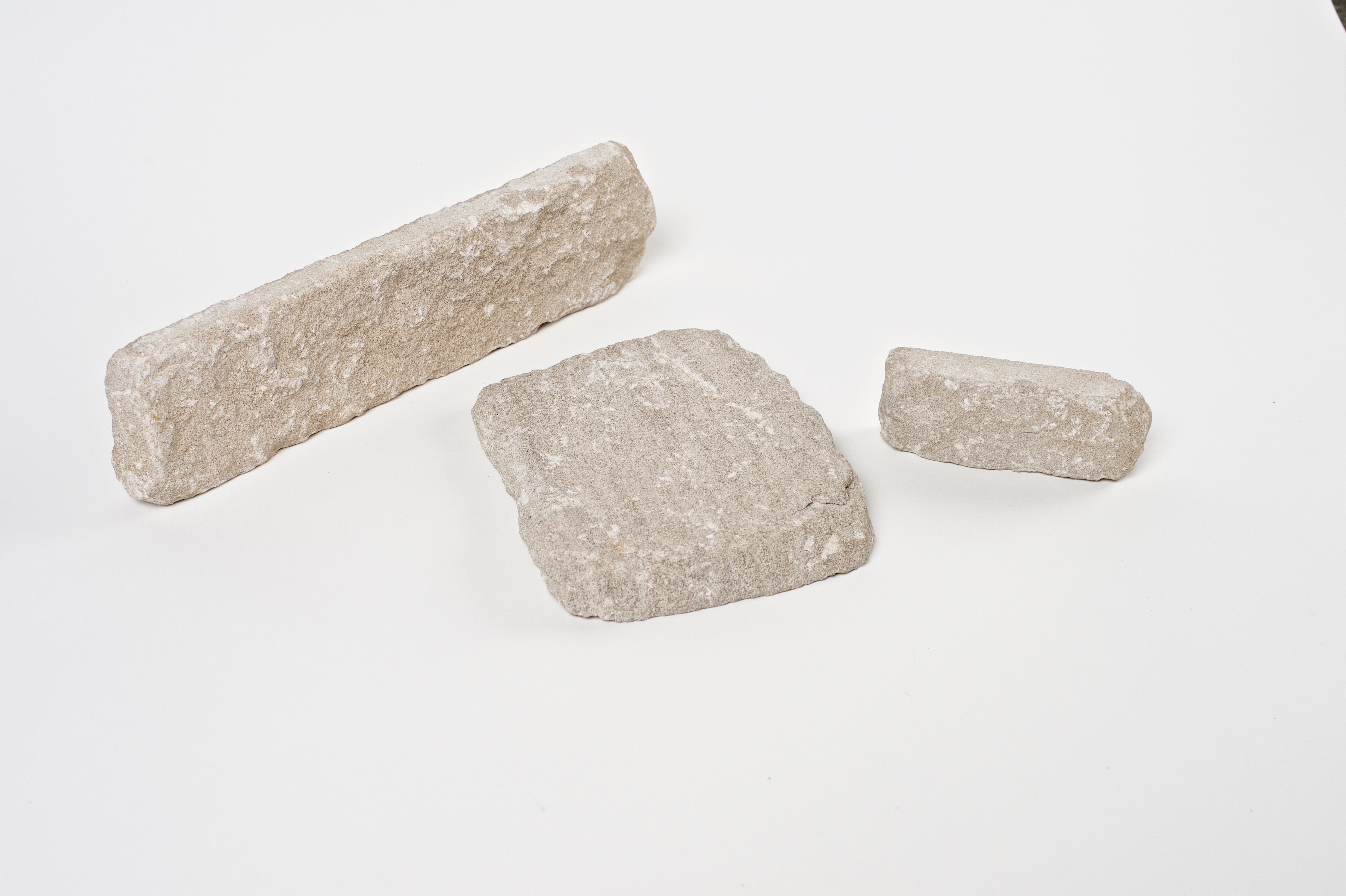 "The contractor started installing the veneer and at this point there's no grout either. I noticed that it started to feel very clean, and I suggested that It needs to feel a little less formal." Foglia said. She mentioned roughing up some of the pieces and convinced the contractor to chisel off some corners to create a slightly larger grout line for a perfectly imperfect feel.
LEARN MORE ABOUT HOW TO INSTALL NATURAL STONE THIN VENEER HERE
She was delighted with the results, which reduced the number of straight grout lines and achieved the less structured, more organic feel she was after. A bonus: The exposed edges of the natural stone look as good as the face does, highlighting the stone's nature all the way through. Faux and cultured stones would show a concrete and aggregate interior that is different from the face after being chiseled or cut.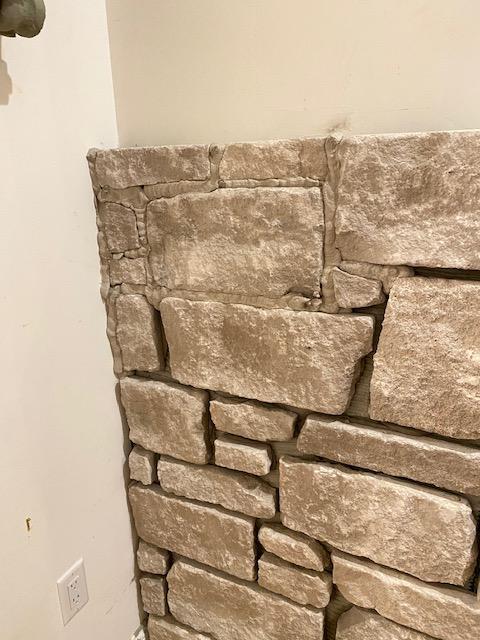 Rockford Estate Blend® is a lightly tumbled, genuine natural stone veneer. Foglia chose to chisel some corners for larger and more irregular grout lines.
The grouting was the last stage and it was one of the most nerve-wracking. She had decided on a warm white grout at the outset and picked a premixed product at a local hardware store. But when the contractor started applying it there was neither warm nor white. "He piped it in and it looked good when it first went on, but then it looked very dark," said Foglia. "We thought it would look lighter as it dried, but it looked darker."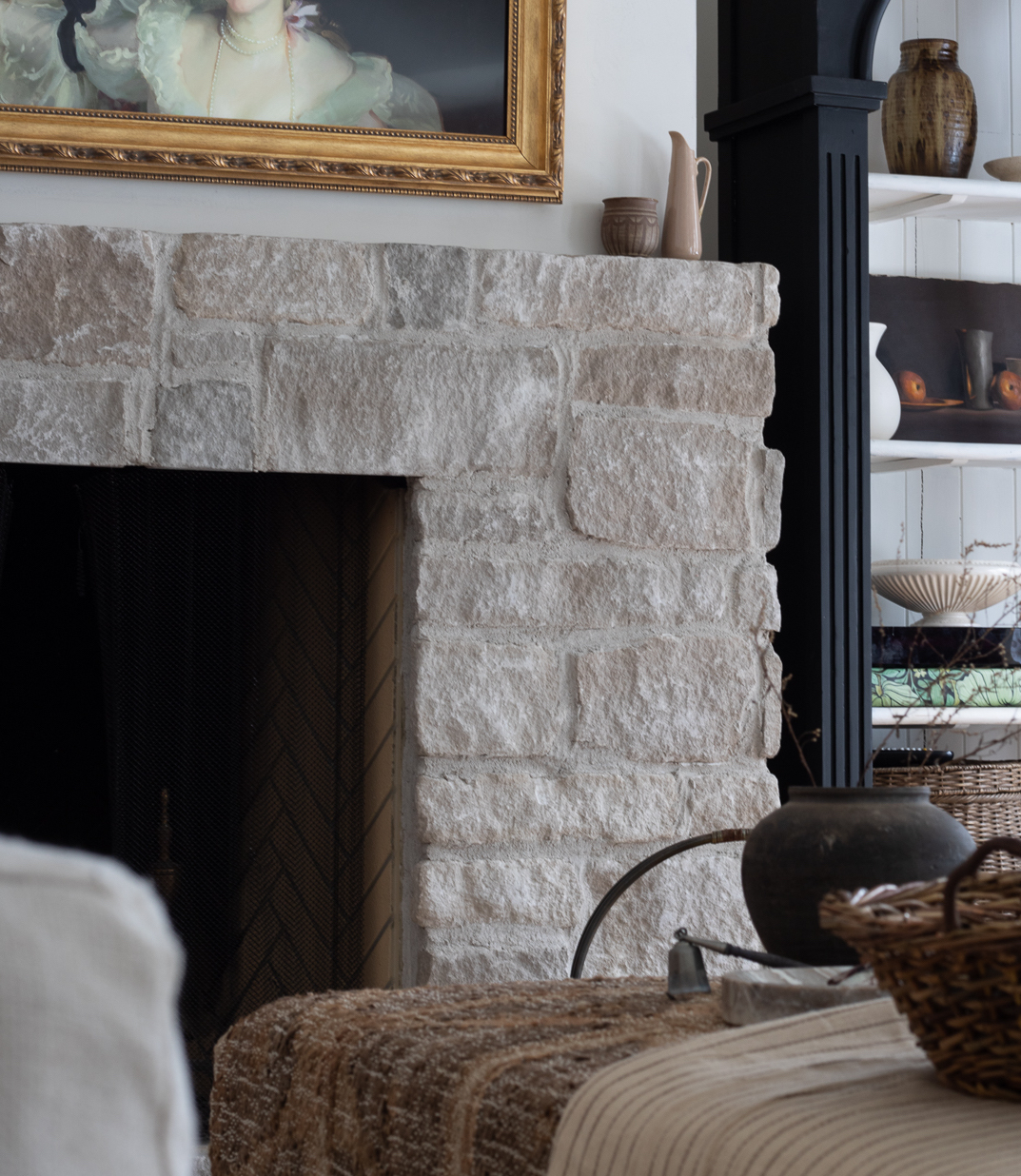 After curing, the grout lines lightened up significantly to the perfect shade of off-white
Panic quickly set in. "I thought 'I am going to end up with a medieval castle,' which was not the right kind of European look." But nine hours later, after it had completely dried, she and her husband loved the final look. "I don't know if it was white or just natural but it's just the perfect color." This panic moment made the journey and final result so much sweeter, she said.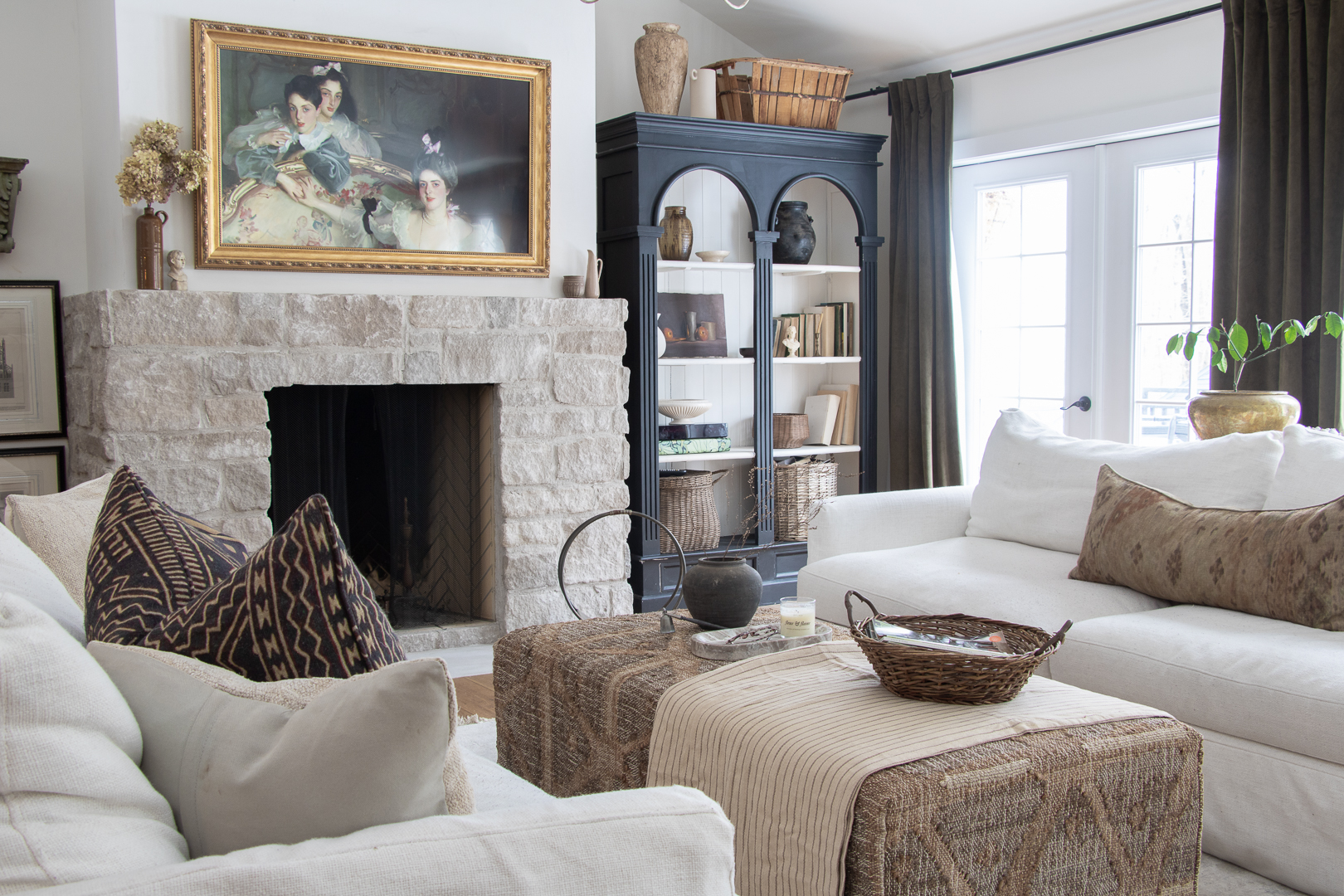 To keep the European feel, she decided that she didn't want the stone to reach all the way to the ceiling, which could feel too like a lake cabin, and to use larger gaps between the stones to leave plenty of room for grout, which would keep the neutral stone from looking too coastal. Instead, the stone veneer ends with a natural edge—with a ledge and no mantle—midway up the wall. Directly above, the TV is in disguise in an old-world style gilt frame as it hangs on the roman clay wall above the revitalized fireplace hearth.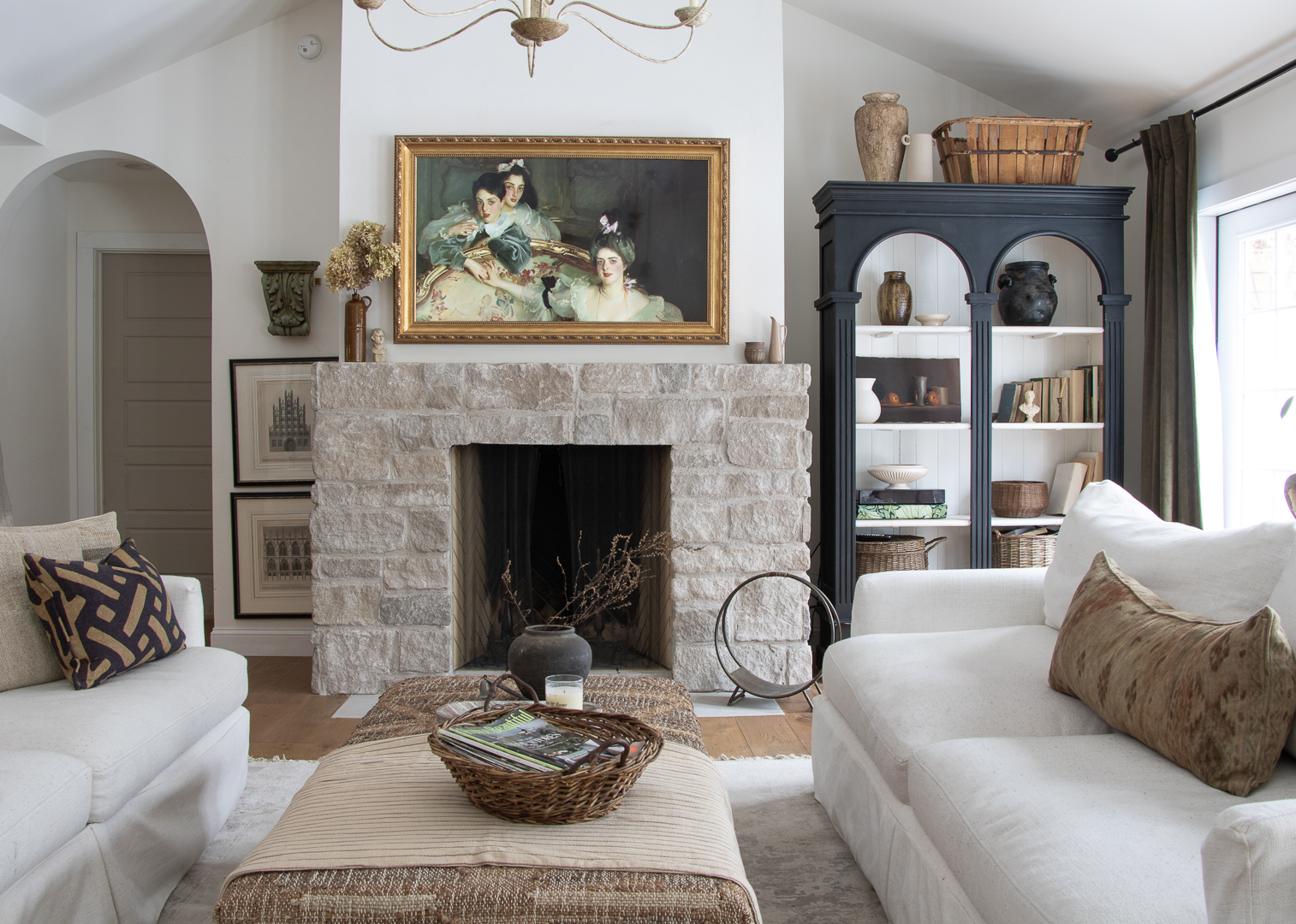 Foglia takes pride in her designs, which always offer something new, not just another copycat take on an oversaturated style. "By pushing that element and saying we're not going to do what everyone else does, we ended up with something unique."