Marble and Granite, Better For Traditional or Modern Design? Yes.
Is there any more classical material than marble?
From large blocks used in historical buildings to slabs for kitchen islands, American marble is THE material for traditionalists. But can it do modern? And what about granite? Can it climb out of the builder-grade kitchen to edgy modern designs or maintain sophisticated classic designs?
The answer to both is, yes.
It's all how you treat it. Today's design professionals are applying modern treatments to traditional stones for innovative results, says Justin Capuco of Rafael de Cárdenas/ Architecture at Large.
"Stone lends a sense of tradition, but is being executed in ways that are both avante-garde and traditional. It's the tradition in the avante-garde that appeals to us," Capuco said. "It adds a little bit of a sense of permanence, timelessness and a level of detail."
Capuco has used both marble and granite in designs with traditional and modern elements. In NYC's Baccarat flagship store he used ultra-thin Nordic Black granite to create monolithic modern displays for traditional 250-year-old crystal merchandise. (See a case study of that installation here.) In a Fifth Avenue residence he used marble to create ultra-modern living and dining spaces.
Like any material in the hands of an architect or designer, stone is a creative medium that will adapt the style you apply to it. Variables like edge, finish, thickness, vein, color, and of course, fixtures, all dictate the design aesthetic stone communicates.
Here, White Cherokee marble is paired with traditional fixtures and a classic tiled backsplash to give the kitchen a traditional feel.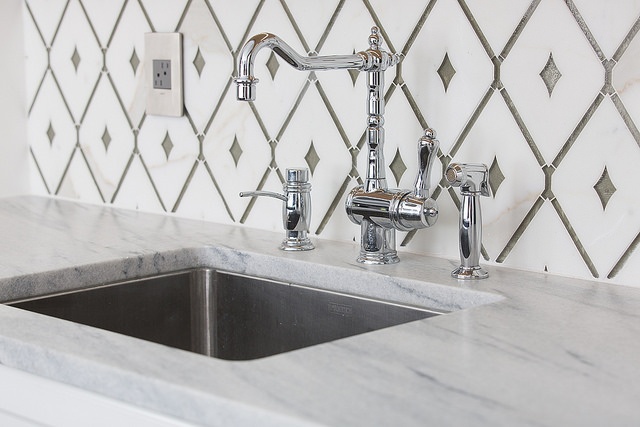 Let's take a look at the other elements affecting the stone's style.
Finish
Designer Christopher Martinez of Poggenpohl said he sees a shift away from classic polished stone to honed finishes for modern applications.
Take the marble island in this transitional kitchen for instance. With the honed finish and square eased edge the countertop leans modern, while the bulkier cabinets give it a traditional grounding. If that island was polished and given an ogee edge the effect would have been more traditional.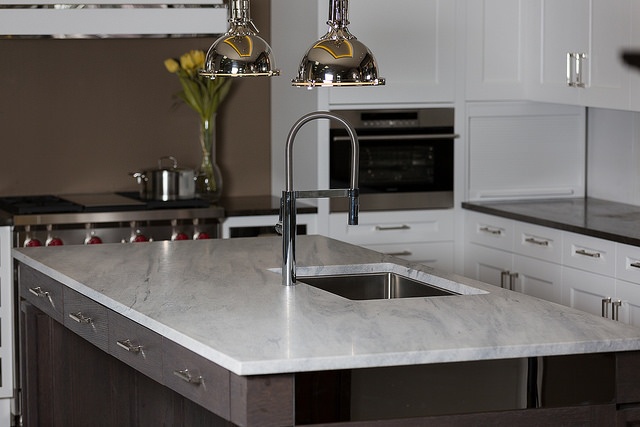 "A shiny top gives off too much glare and conjures a hospital feel," he said, especially for clients who are doing a lacquer base cabinet where Martinez recommends a honed top for a nice contrast.
Thickness
The thickness of the stone itself can dictate a room's style. Polycor developed a composite backing and unique manufacturing process for marble and granite that enables it to mill slabs down to 1 cm thickness. Without building up the edge, countertops and islands in ultra-thin marble or granite take on a fashion forward look.
Here's a 1 cm slab with composite backing.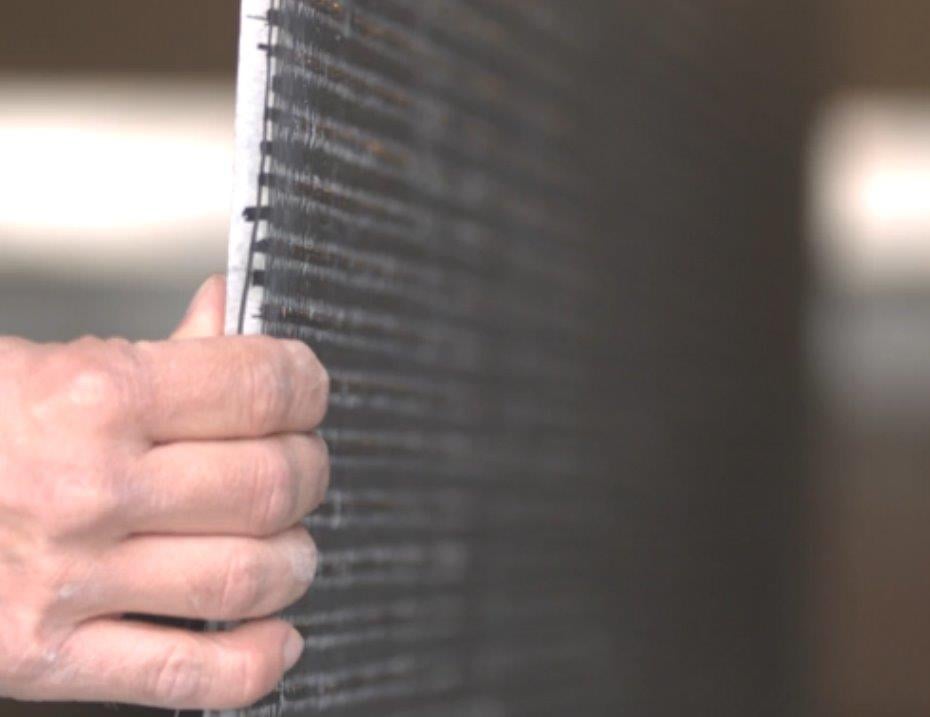 "1 cm is phenomenal for modern kitchens," said April Graves, director of marketing and operations of Aria Stone Gallery in Texas, who pairs ultra-thin stone with cabinet manufacturers like Valcucine, Poggenpohl and Bulthaup.
"The thinness of the stone and the chunkiness of the European kitchen is a nice juxtaposition."
Below is an example of a 1 cm waterfall island in Kodiak Brown antiqued finish granite at Poggenpohl's Paramus, NJ showroom.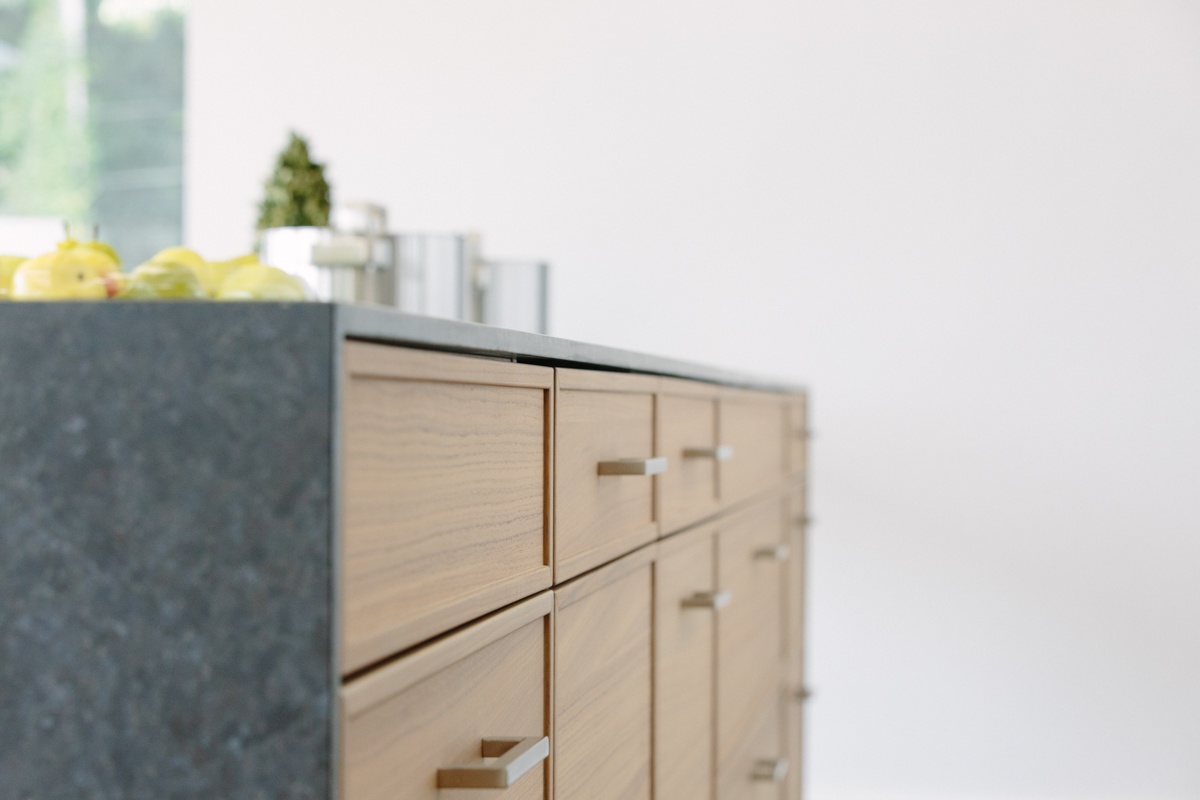 Martinez said he finds European born customers living in the US are attracted to the thin material. Americans, he said, worry it might break, but actually the composite back slabs have 10 times the flexural strength of traditional slabs.
Veining
Unlike artificial quartz, marble and granite possess natural variations in pattern that provide impact even in a simple rectangular island or backsplash. This authentic pattern is true to nature, not engineered by man, adding unique character and artistic expression to any design.
When Graves helps clients select a slab she looks at the composition of stone to determine her cabinet pairings. "With matte cabinets I suggest a client do something on the counter of interest with movement and veining," she said. "When the vein is bold it's perfect for modern application."
Below the prominent vein of this White Cherokee marble sets the bathroom of the NYC HG Stone Gallery in motion.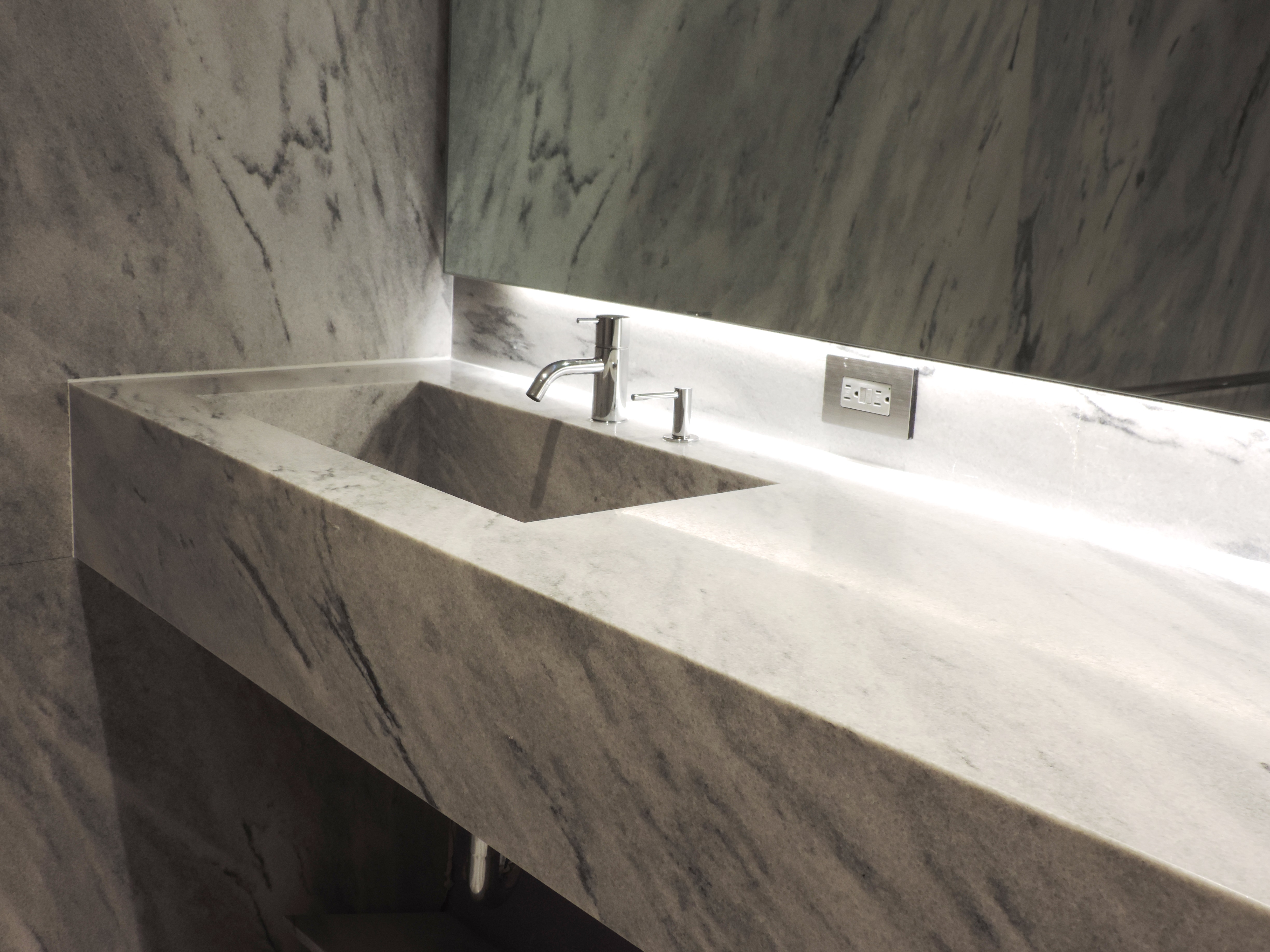 Martinez said he seeks a contrast in pairing cabinets and counters so items aren't fighting with each other.
Here the prominent veining of Pearl Grey marble stands out against the classic white shaker cabinetry. Unobtrusive white Miele appliances propel the modern design forward.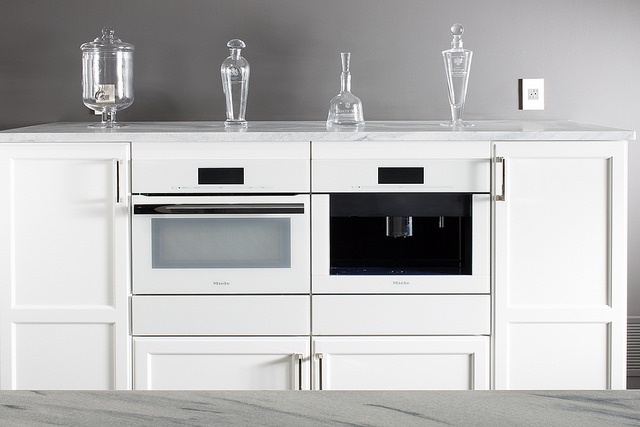 Color
Color of the stone also denotes a strong point of view (as anyone who inherited hunter green counters can tell you). White stones tend to play well in both modern and traditional designs.
"The grey tones of White Cherokee pop now," Martinez said. He leads clients toward this particular marble because the look of White Cherokee is enduring. The style will last a long time because you can't pinpoint it to an era. Unlike the beigeing of America." Where granite is called for Martinez favors the black-brown Kodiak variety for its simple elegant look. "It's not your mother's granite. It doesn't have a ton of speckles. It has areas of interest, but not the eye pollution of granites of yesterday."
To help his clients envision how the vein might appear on a large island, waterfall or even bookmatched application, he uses a large slab of White Cherokee marble in the showroom. "The full slab sample is the trick to getting a client interested in the stone," he said.
Whether you want to capture a traditional feel or give anavante-garde perspective, natural stone can bend to your will with its unique characteristics.